For this May course, a new recruit, in the person of Clément, came to compensate the absence of Pierre and the others.
No major technical problems apart from some freezing and sound problems which did not prevent the Master from delivering the good message.
Below is the report
---
Master's word
---
"So is youth: give them beauty, and you can keep wisdom!" ("Dr Ling" in "Salome", 1945).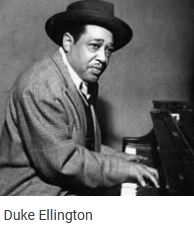 "When a man loves a woman half his age, his love must have three qualities: generosity, tenderness and... generosity" (ibidem).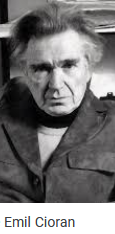 "The French have a ring in their nose. Talking about freedom to oxen will not make them free".
"First condition of a perfect society: to be able to kill all those you hate" (E. M. Cioran).
"It has been claimed that 'God is dead'. But the first word in the sentence automatically cancels out the following words" (Edward K. "Duke" Ellington).
"To triumph, evil needs only the inaction of good men" (E. Burke).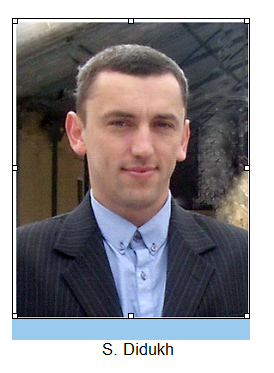 Apotheosis of the creeping King by a former world number 1. Where the White King adopts a curious way to centralize himself: by retreating... in the corner of the chessboard!
A defensive struggle of a Knight, crowning a beautiful defence with two pawns less. Then two studies, a nice model stalemate and a Rook domination by a Bishop (any allusion to a certain September 11 would be pure coincidence).
The last 3 exercises before the summer: after a nice appetizer, a little revision of the Troïtzky zone... with an exception. A wPc4 loses, as everyone knows (or should know), against two Black Knights (if one is on c5), which does not mean that it is a draw with the wP on c5, simply that the win is no longer automatic. In this case, White draws if his king goes to a8, but loses otherwise. The winning technique is not necessary to solve the study!
Then a mid-game study, albeit it concludes in an endgame. White has only one pawn less, which is still on the 7th rank and... impregnable. Great Costeff.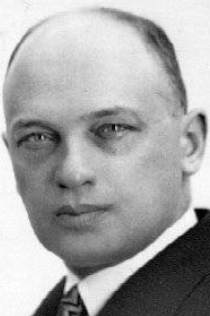 Our great Franco-Russian-Polish player and teacher is the hero of the day: three games selected for exceptionally interesting fragments, two of them against world champions.
A small enigma for linguists: knowing that Rzeszewski (pronounced "jéchevski"), naturalized American, logically became Reshevsky (the "j" does not exist in innegliche), that Aljechin, naturalized French, logically became Alekhine, why did Saviely Tartakower, naturalized French and champion of France 1953 and 1954, not become Xavier Tartacover, even in the "great base" 2018, that is to say more than 70 years after his naturalization?
Let us note that Tartacaviar, therefore of foreign origin, like Cioran and many others, practised a sumptuous French which should put to shame many natives of all ages, but even more so the new generation, vomiting in most cases an unspeakable sabir, when it is not screwed to a mobile TV. If you haven't noticed yet, get on any bus at rush hour. Total failure of the beautiful "republican school".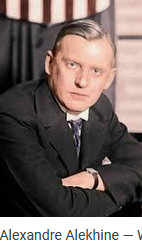 The first game shows us a remarkable refusal of pinning, preparing a... battery. The opening is the speciality of one of the most prominent members of our circle. Then a false win miss against the previous world champion, finally a real win miss against... the future world champion! The latter is a King's gambit, the most beautiful opening in my opinion, notwithstanding what has just been said!
Concerning the "false win", don't miss to compare the analysis of the 25th & 26th moves! Concerning the "true win", see why, of the two moves c6 & d6, one is sometimes better, then the other (30th & 31st). And many other things!
Training: Strydom's 2# seemed simple to me, although it embarrassed some tenors. A few others could make our enthusiasts think, notably the Ukrainian puzzle (our 7th). We finish with two French problems, the first one a bit trickier.
In 3#, a world champion, a Greek... Bohemian, another world champion, finally a festival of interceptions (B/N, B/R & R/N). A German 4# and a French 4#, both equally amusing. The 6# is from the same Ukrainian star and has some "prises en passant". Finally a French helpmate, another Hungarian (the "set play" means that there is a solution in 1.5 moves, i.e. W-B-W mate), and a selfmate by the Russian genius, easier than his usual works.
Have a good time. See you in June for the last lesson before the summer. Idzcie z Bogiem.
Master's diagrammes
[Event "?"] [Site "?"] [Date "2005.??.??"] [Round "?"] [White "Didukh, S."] [Black "0014.10"] [Result "1-0"] [SetUp "1"] [FEN "N7/4n3/8/8/8/3Pk3/1B5K/8 w - - 0 1"] [PlyCount "27"] [EventDate "2005.??.??"] [SourceDate "2010.01.01"] {Extended in 2006 by SD : Kh2, Bb2, Nb5, Pd3 & e6 / Ke3, Ra4, Nh8 ; 1 e7 Ra8 2 Nc7 Ng6 3 Nxa8 Nxe7 : diagram. But let's get to the point! !} 1. d4 $8 {At least one study whose first move is not a headache! !} Nd5 {To lock up the white knight.} (1... Ke4 $6 {is meaningless :} 2. Nb6 $1 {(or on c7)} Nf5 3. d5 $8 $18) 2. Ba1 $3 {[#]To annihilate the plan ...Nb4-d3, which would take away the extra square f2 from wK : see on 12th move.} (2. Kg3 $2 Ke4 $8 {(limits wK}} 3. Kh2 (3. Kg4 {(idem Rg2)} Ne3+ $8 4. Kg5 Nc2 $8 $11 {(... Nf5? d5!)}) (3. Kf2 Nb4 $1 {with 2 threats ...Nd3+ & ...Nc2}) (3. Ba1 Ne3 $1 {for ...Nf5+ or ...Nc2}) 3... Kd3 $8 4. Kg3 {(Kg2 : see 2 Kh1?)} Ke4 $8 $11) (2. Kh1 $2 Kd3 $8 (2... Kf3 $2 3. Ba3 $1 Ke4 4. Bc5 $8 Nf4 5. Nc7 $8) ( 2... Ke4 $2 3. Ba1 $8 {: text}) 3. Kg2 (3. Ba1 Kc2 $1 {or ...Kc4! to a8}) 3... Kc2 $1 (3... Ke4 $1) 4. Ba3 Kd3 $8 5. Bc5 Nf4+ $8 6. Kf3 Ne6 $8 $11) (2. Kg2 $2 Ke4 $8 (2... Nf4+ $2 3. Kf1 $1 Nd5 {(...Ne6 d5!)} 4. Ke1 $3 Nb4 5. Kd1 $8) 3. Kg3 (3. Ba1 Nf4+ $1) 3... Nf4 $1 {(same move on Kf2, threatens ...Nd3+ and ...Ne6)} 4. Nb6 Ne2+ $8) (2. Kg1 $2 Ke4 $8 3. Ba1 Nf4 $3 (3... Nb4 $2 4. Nb6 $1 Nc2 5. d5 $8) 4. Kf1 (4. Nc7 Ne2+ $8) 4... Ne6 $8 $11) 2... Ke4 {White must now pass the move. He will make 4 moves, Black only 3.} (2... Kd3 3. Kg3 $1 {(or on g2)} Ke4 (3... Kc4 4. Kf3 $8 {: see 8th move variation}) (3... Ke3 4. Kg4 $1 {(or h4)} Ke4 5. Kg5 $8 {(for access on f5)} Ne3 6. Nc7 $8 {(same move on ...Nf4 threatening ...Ne6+ & ...Ne2)} Nc2 7. d5 $8 Nxa1 8. d6 $8 Nb3 9. d7 $8 Nc5 10. d8=Q {as e6 is controlled}) (3... Kc2 4. Kf3 $8 Kb1 5. Ke4 $8 {and quickly Bc3}) 4. Kf2 $3 {[%csl Ge4,Gf2] (essential ZZ)} (4. Kg4 $2 Ne3+ $1 {for ...Nc2}) 4... Nb4 (4... Kf4 5. Ke2 $8 Nb4 {(does not have the same efficiency with the bK in f4 but ...Ke4 Kd2! is hopeless) } 6. Nc7 $1 Nc2 7. d5 $1 Nxa1 8. d6 $8 Nb3 9. Ne6+ $8 {followed by d7}) (4... Kd3 5. Kf3 $8 {with access on e4 or f4}) 5. Nb6 $1 Nc2 6. d5 $8 Nxa1 7. d6 $8 $18 { : this would fail with the wK on e2 or d2}) (2... Kf3 $6 3. Kg1 $8 {: text on 7th}) (2... Kf4 $6 3. Kg2 $3) (2... Nf4 3. Nb6 $1) 3. Kh1 $3 {[#]Centralize the King? Pfff! What an old-fashioned idea !} (3. Kg1 $2 Nf4 $8 {as already seen in 2 Kg1?}) (3. Kg3 $2 Ne3 $1 {threat ...Nf5+ or ...Nc2} (3... Nf4 $1)) (3. Kh3 $2 Nf4+ $8 {for ...Ne6}) 3... Ke3 $1 (3... Ne3 4. Nc7 $1 (4. Nb6 $1 Nf5 5. d5 $8) 4... Nf5 (4... Nc2 5. d5 $8) 5. d5 $8 (5. Nb5 $2 Kd5 $8) 5... Ne7 6. d6 $8) ( 3... Kd3 4. Kg2 $8 {: see analyse of 8th move}) (3... Kf3 4. Kg1 $8 {: text on 7th}) 4. Kg2 $8 (4. Kg1 $6 Kf3 5. Kf1 $6 (5. Kh2 $8 Ke4 6. Kh1 $3) 5... Ne3+ $1 6. Ke1 $2 Nc2+ $1 (6... Ke4 $1 7. Kd2 Nf5 $8) 7. Kd1 Nxa1 $8 8. d5 Nb3 $8 $11) (4. Kh2 $6 Ke4 5. Kh3 $2 (5. Kh1 $8) 5... Nf4+ $8 {as already seen}) 4... Kf4 (4... Nf4+ 5. Kh2 $8 Nd5 6. Kg3 $8 Nf4 7. Kg4 $1 $18) (4... Ke4 {as already seen}) 5. Kh3 $8 (5. Kf2 $2 Ke4 $8 {[#](the ZZ encountered in the suite 2...Kd3, but this time on the right side for Black)} 6. Ke2 (6. Bb2 Nb4 $1 $11) (6. Kg3 Nb4 $1 {(or on e3, or on f4)} 7. Nb6 Nc2 $1 8. d5 Ne3 $8 9. d6 Nf5+ $8) 6... Nb4 $1 7. Nb6 (7. Kd2 Nc6 $8) 7... Nc2 $8 8. d5 Nxa1 $8 9. d6 {(won with wK on f2)} Nb3 $1 {(or on c2)} 10. d7 Nd4+ $8) (5. Kf1 $6 Ke3 $1 6. Ke1 $2 ( 6. Kg2 $1) 6... Kd3 $8 7. Kd1 Ne3+ $1 8. Kc1 Nc2 $1 9. d5 Nxa1 $8 10. d6 Nb3+ $8) 5... Ke4 (5... Kf3 6. Kh4 $8 Kf4 7. Kh5 $1 Kf5 8. Bb2 $8 Ke4 (8... Nf6+ 9. Kh6) 9. Kg5 $8 {not allowing a good check of the Knight}) (5... Kf5 6. Kg3 $8) (5... Ke3 6. Kg4 $1) 6. Kh2 $3 {[#]Keep shaving the walls. We are back to the 2nd black move, but changed move.} (6. Kg3 $2 Ne3 $1 {is known}) 6... Kf3 (6... Kf4 7. Kg2 $8 {(simple Z, not ZZ)} Ke3 (7... Ne3+ 8. Kf2 Nd5 9. Ke2) 8. Kg3 $8 Ke4 9. Kf2 $8 $18 {ZZ}) (6... Ne3 7. Nc7 $1 {(or on b6)} Nc2 8. d5 $8 $18) (6... Ke3 7. Kg3 $8) 7. Kg1 $8 (7. Kh3 $6 Ke4 $1 {and on any other move than Kh2! follow ...Ne3! or ...Nf4+!}) (7. Kh1 $6 Ke3 $1 (7... Kg3 8. Bb2 $1 {for Ba3-c5}) 8. Kg2 $1 Kf4 $1 9. Kh3 $8 {: waste of time}) 7... Ke3 ( 7... Kg3 8. Kf1 $1) 8. Kf1 $8 Kf3 (8... Kd3 9. Kg2 $8 (9. Ke1 $2 Kc2 $1 10. Ke2 Kb1 $8) 9... Kc4 (9... Ke3 10. Kg3 $8) (9... Ke4 10. Kf2 $8 {ZZ}) (9... Kc2 10. Kf3 $8) 10. Kf3 $8 Kb5 11. Ke4 $1 (11. Bb2 $1 Kc6 12. Ke4 $8 {idem}) 11... Kc6 12. Bb2 $8 (12. Ke5 $2 Ne3 $3 13. Bc3 Kb7 $1 $11) 12... Nf6+ (12... Kd6 13. Ba3+ $1 Ke6 14. Bc5 $1) 13. Ke5 $8 (13. Kf5 $6 Nd5 14. Ke5 $2 Ne3 $8 15. Bc1 Nc4+ $8 16. Ke6 Kb7 $8 $11 {SD}) 13... Ng4+ (13... Nd5 14. Ba3 $1) 14. Ke6 $8 Ne3 15. Bc1 $3 (15. Ba3 $2 Kb7 $8) 15... Nc4 16. Bf4 $8 {(is given as the main variation by SD, as it is longer and, above all, contains only one interversion dual)} Kb7 17. Nc7 $1 $18) 9. Ke1 $8 {The Creeping King.} Ke3 10. Bb2 $1 (10. Kd1 $6 Kd3 11. Bb2 $8 Ne3+ 12. Kc1 $8 Nc4 13. Ba1 $8 Ne3 14. Kb1 $8 Nd5 15. Bb2 $8 Kc4 16. Kc2 $8 Nb4+ 17. Kd2 $8 Nd5 18. Ke2 $8 Kb3 19. Bc1 $8 Kc4 20. Be3 $8 Kb5 21. Kd3 $8 Kc6 22. Bg5 $8 Kb7 23. Kc4 $8 {and Knight is dominated}) 10... Kd3 (10... Ke4 11. Kd2 $8) 11. Kf2 $1 (11. Kd1 $6 {above}) 11... Ke4 (11... Kc2 12. Ba3 $8 Kd3 13. Bc5 $8 Ke4 14. Ke1 $3 {[#](avoids on Ke2 . ..Nc3-b5)} (14. Nb6 $2 Nc7 $3 15. Na4 Nb5 $8 $11 {and not ...Ne6? Nc3+ then Ne2} ) 14... Kd3 15. Kf1 $1 (15. Nb6 $1 Nc7 16. Na4 $1 Ne6 17. d5 $8) 15... Ke4 16. Kf2 $3 {(here, White to move, should be played Ke1!!)} (16. Nb6 $2 Nc7 $3 { (for ...Ne6)} 17. Bd6 Nb5 $8) 16... Nc3 17. Nb6 $1) (11... Kc4 12. Kf3 $1) 12. Ba1 $3 {[#]Back to the ZZ analysed on 2nd black move.} Kf4 13. Ke2 $8 Ke4 14. Kd2 $8 1-0 [Event "?"] [Site "?"] [Date "1947.??.??"] [Round "?"] [White "Keres, Alexander"] [Black "0404.32"] [Result "1/2-1/2"] [SetUp "1"] [FEN "8/3k2pp/1R6/5N2/8/1P4P1/1r3n1P/6K1 w - - 0 38"] [PlyCount "58"] [EventDate "1947.??.??"] [SourceDate "2010.01.01"] 38. Rb7+ (38. Nxg7 Nh3+ 39. Kh1 Ng5 $1 40. Rh6 Rxb3 41. Rh5 Rb5 42. h4 Rb1+ $8 43. Kg2 Rb2+ 44. Kf1 Ne4 45. Nf5 Ke6 $11) 38... Kc6 39. Rxg7 Nh3+ 40. Kh1 Nf2+ 41. Kg2 Ng4+ 42. Kf3 h5 $2 (42... Nxh2+ 43. Ke4 Nf1 {(b3 is tabou)} 44. g4 Nd2+ 45. Ke5 Nxb3 $11) 43. h3 $1 (43. h4 $1) 43... Rxb3+ 44. Kf4 Rb4+ 45. Kg5 Nf2 46. h4 Rb5 47. Kg6 Kd5 48. Kxh5 $2 (48. Rd7+ $1 Kc5 (48... Kc6 49. Rf7) ( 48... Ke6 49. Re7+ Kd5 50. Kxh5) 49. Kxh5 $18) (48. Re7 $1 Ne4 $1 49. Rxe4 Rb6+ 50. Nd6 $3 {[#]} Rxd6+ 51. Kf5 $8 Rd8 52. Re5+ $1 Kd6 (52... Kd4 53. Kf4 Rh8 54. Rf5 {then g4}) 53. Re6+ $1 Kd5 54. Rh6 $1 $18) 48... Ke5 $2 (48... Ke4 $1 49. Kg6 ( 49. g4 Kf4 $1 {: text}) 49... Rb6+ $8 50. Kg5 Nh3+ $8 51. Kg4 Nf2+ $8) 49. g4 $2 (49. Rg5 $1 Ne4 (49... Rb8 50. Nh6+ $1 Ke4 51. Rf5 $18) 50. Nd6+ $1 Nxg5 51. Nxb5 $8 {(in comparison with the variation below, the white pawns are safe)} Ne4 (51... Ne6 52. Kg6 $1) 52. g4 $1 Kf4 53. Kg6 $8 Kxg4 54. h5 $8 Nc5 55. h6 Ne6 56. Nd4 $1 Nf8+ 57. Kf7 $1 Kg5 58. Kg7 $8 Kh5 59. Nf5 $8 Ne6+ 60. Kf7 $8 Ng5+ 61. Kf6 $8 Nh7+ 62. Kg7 $8 Ng5 63. Ng3+ $1 Kg4 64. Ne4 $3 Ne6+ 65. Kf7 $8 $18) 49... Kf4 $3 {[#]We have no pawns left, our opponent has two? Well, let's attack them !} 50. Rg5 Ne4 $1 (50... Nh3 $1 51. Rg6 (51. Nd4 Nxg5 {below}) 51... Nf2 $1 $11) 51. Nd4 $1 Nf6+ $1 (51... Nxg5 $1 52. Nxb5 Ne6 $8 53. g5 Ng7+ $8 54. Kg6 Nf5 $3 {[#]} 55. h5 Ne7+ $8 56. Kf7 Kxg5 $8 $11) (51... Ng3+ $1 52. Kg6 Rb6+ $1) 52. Kg6 Rxg5+ $1 (52... Rb6 $1 53. Ne2+ Kf3 $8 54. Kf5 Ne4 $1 55. Nd4+ Ke3 $8) 53. hxg5 Nxg4 $8 54. Nc6 Ne3 55. Kh5 Nf5 $1 (55... Kf5 $1 56. g6 (56. Ne7+ Ke6 $1) 56... Kf6 $1 57. Kh6 Nf5+ $8 58. Kh7 Ng7 $8 $11) 56. g6 Ng7+ 57. Kh6 Ne8 58. Nd4 Ke5 59. Nb5 Kf6 $1 (59... Kf4 $1 60. Nc7 Nd6 $8 ) 60. Nc7 Nd6 $8 (60... Ng7 $2 61. Nd5+ $8) 61. Kh7 Nf5 $8 62. Nd5+ {Where would you play your King ?} Ke5 $3 {[#]} (62... Ke6 $2 63. Ne3 $8 Ne7 (63... Nxe3 64. g7 $8) 64. g7 $8 Kf7 65. Nf5 $1) (62... Kg5 $2 63. Ne3 $8 Ne7 64. g7 $8 Kf4 65. Nc4 $1 (65. Nd5+ $2 Nxd5 $11) 65... Kf5 66. Nd6+ Ke5 67. Nc8 $1) 63. Nc3 (63. Ne3 Nxe3 $8 64. g7 Ng4 $1 {or on d5}) 63... Kf6 64. Ne4+ Ke5 $1 (64... Ke7 $1) 65. Ng5 Kf6 66. Nf7 Ne7 1/2-1/2 [Event "?"] [Site "?"] [Date "1925.??.??"] [Round "?"] [White "Bron, Vl"] [Black "0131.02"] [Result "1/2-1/2"] [SetUp "1"] [FEN "8/K7/5N2/6b1/8/R2p4/1p5k/8 w - - 0 1"] [PlyCount "12"] [EventDate "1925.??.??"] [SourceDate "2010.01.01"] {A rook is stronger than two pawns, isn't it? But not only a Queen and a Bishop...} 1. Ng4+ $8 (1. Rb3 $2 Bxf6 $8 2. Kb6 d2 $19) 1... Kg1 (1... Kg3 2. Rxd3+) (1... Kg2 2. Rb3 $1 d2 3. Rxb2 $8 $11) 2. Rb3 $8 d2 3. Nf2 $3 {[#]} (3. Rg3+ $2 Kf1 $1 $19) 3... Be3+ (3... Kxf2 4. Rxb2 $8 $11) 4. Ka8 $3 {[#]} Bxf2 5. Rxb2 $8 d1=Q 6. Rb1 $3 {[#]} Qxb1 $1 {Stalemate.} 1/2-1/2 [Event "?"] [Site "?"] [Date "1985.??.??"] [Round "?"] [White "Carvajal, J."] [Black "0320.11"] [Result "1-0"] [SetUp "1"] [FEN "3K4/8/8/1Pr4p/8/8/7B/k2B4 w - - 0 1"] [PlyCount "17"] [EventDate "1985.??.??"] [SourceDate "2010.01.01"] {How to succeed in not losing either the pawn or a bishop? Or else, in excellent conditions.} 1. Be2 $8 (1. Ba4 $2 Rc4 $8 2. Bb3 Rb4 $11) (1. b6 $2 Rd5+ $8 2. Kc8 Rxd1 $8 $11) 1... Rc2 $1 2. Be5+ $8 (2. b6 $2 Rxe2 $1 3. b7 Rg2 $8 (3... Rd2+ $2 4. Bd6 $1 {: not the only win, but the most spiritual}) 4. Be5+ Ka2 $8 5. Ke7 Rg8 $8 6. Bc7 (6. Kf7 Rd8 $8 7. Bc7 Rh8 $8) 6... Kb3 $1 { (but not on a3)} 7. Kf7 (7. Bd8 Rg7+ $8) 7... Rh8 $8 8. Be5 Rd8 $8 9. Ke7 Rg8 $8 $11) 2... Ka2 (2... Kb1 $6 3. Bd3) 3. Bf1 $3 {[#]} (3. Bf3 $2 Rc5 $8 4. b6 Rxe5 $8 5. Bc6 Re2 $1 $11) (3. Bxh5 $2 Rc5 $8 4. Bf7+ Kb1 $8 5. b6 Rxe5 $8 6. Bc4 Rh5 $3 $11) (3. b6 $2 Rxe2 $8 4. b7 Rg2 $8 (4... Rf2 $2 5. Ke7) 5. Ke7 Rg8 $8 $11 { as already seen}) 3... Rc1 4. Bh3 $8 (4. Bd3 $2 Rd1 $8 $11 {for Rxd3-b3}) (4. Bg2 $2 Rc5 $8) 4... Rc5 $1 (4... Rb1 5. Bd7 $8) 5. Be6+ $8 Kb1 {It is not the ideal square !} (5... Ka3 6. Bd6 $8) 6. b6 $8 Rxe5 (6... Rb5 7. Bc7 $1) 7. Bc4 $3 {[#]} h4 (7... Rf5 8. Bd3+ $8) 8. b7 $8 Rh5 9. b8=Q+ $8 1-0 [Event "Barmen Haupturnier B"] [Site "Barmen"] [Date "1905.08.17"] [Round "4"] [White "Tartacover, X."] [Black "Schenkein, Jo"] [Result "1-0"] [ECO "B20"] [PlyCount "63"] [EventDate "1905.08.14"] [EventType "tourn"] [EventRounds "9"] [EventCountry "GER"] [SourceDate "2010.01.01"] 1. e4 c5 2. b4 {"Without any book knowledge, I believed, at that time, I was the inventor of this line of play, which is however as old as the the Sicilian defence itself. However, it was not until 1925 that the other modern masters (Marshall, Spielmann, then Kérès, etc.) began to pay attention to it too". (XT).} e6 (2... e5 3. f4 d6 (3... exf4) 4. Nf3 Bg4 5. Bc4 Nc6 6. O-O Nd4 $2 7. Nxd4 $2 (7. Bxf7+ $1 Kxf7 8. Ng5+ $8 Qxg5 $2 9. fxg5+) 7... Bxd1 8. Bb5+ Ke7 9. Nf5+ Ke6 10. Nc3 cxb4 11. Nd5 Nf6 $4 (11... Bg4 $19) 12. Nxg7+ Bxg7 13. f5# {Bird,H-NN London 1895}) (2... cxb4 3. d4 (3. a3 d5 $1 (3... e6 4. axb4 Bxb4 5. c3 Be7 6. Nf3 Nf6 7. e5 Nd5 8. Bc4 Nb6 9. Bb3 d5 10. d4 Nc6 11. Qd3 Bd7 12. O-O a6 13. Be3 Na7 {Laigle/Fievee/Touret/ Langlais-De Saint Amant,P Douai 1847}) 4. exd5 (4. e5 Nc6 5. d4 Qb6 {XT}) 4... Qxd5 5. Nf3 e5 6. axb4 Bxb4 7. Na3 (7. c3 Be7 8. Na3 Nc6 9. Nb5 Qd8 $132) 7... Bxa3 (7... Nc6 8. Nb5 Qd8 9. c3 Bd6 10. d4) (7... Nf6 $1 8. Nb5 O-O $3 9. Nc7 $6 Qc5 $1 10. Nxa8 e4 11. Ng1 e3 $1 12. fxe3 Qxe3+ 13. Qe2 Qf4 $1 $19) 8. Bxa3 Nc6 {RR} 9. c4 (9. Qb1 Nge7 10. c4 Qe6 11. Be2 O-O 12. O-O Rd8 13. Re1 Ng6 14. Bb2 Qf5 $1 {Capron,D-Monnard,L Courchevel 1979}) 9... Qd8 10. Qb1 Nge7 11. Bd3 f5 12. Bxe7 Qxe7 13. Bxf5 Bxf5 14. Qxf5 Qf7 15. Qe4 O-O 16. O-O Rad8 17. Rab1 { Bronstein,D-Benkö,P/Budapest 1949}) 3... e6 4. a3 (4. Bd3 Nc6 5. Ne2 d5 6. e5 g6 (6... Qb6 7. O-O Bd7 8. Be3 Nge7 9. a3 {Bird,H-Paulsen,L Vienna 1882}) 7. a3 Bd7 8. O-O Nh6 {Bird,H-Mackenzie,G London 1883}) 4... bxa3 (4... d5) 5. Bxa3 Bxa3 6. Rxa3 Nc6 7. c4 Nf6 8. e5 Ng8 9. f4 Nh6 (9... d5) 10. Nf3 O-O 11. d5 ( 11. Bd3) 11... exd5 12. cxd5 Ne7 13. d6 Ng6 14. Qd2 Qb6 $2 (14... b5) 15. Nc3 ( 15. Bd3) 15... Nf5 $2 (15... Qc5 16. Rb3 b6 17. Rb5) 16. Nd5 $18 Qb1+ 17. Kf2 b6 18. Rg1 (18. g4) 18... Qe4 19. Nc7 Rb8 20. Bd3 {1-0 Greco,G-NN Europe 1620}) (2... b6 {XT} 3. Bb2 Bb7 4. e5 e6 5. Nf3 Ne7 6. c4 Ng6 7. Be2 Be7 {Mariette, C-Renet,O/Alès 1984}) (2... d6 {XT} 3. bxc5 dxc5 4. Nc3 Nf6 5. Bc4 e6 6. Nf3 Be7 7. O-O O-O 8. e5 Nfd7 9. Qe2 {Spielmann,R-Patay,G/Merano 1926}) 3. bxc5 Bxc5 4. d4 Bb6 5. f4 {"Broad front formation" (XT).} Ne7 6. Nf3 d5 7. e5 { "Outpost strategy" (XT).} Nbc6 8. c3 Bd7 9. Bd3 Ng6 10. O-O O-O 11. Kh1 {"White is not taking the easy way out but, with this evacuation inaugurate a frontal action". (XT).} f5 (11... Rc8) 12. Rg1 Rc8 13. g4 (13. Qe1) 13... fxg4 14. Rxg4 (14. Ng5 Nxd4) 14... Be8 (14... Nce7) 15. Ng5 $1 {[#]} Qd7 { "Calm before the storm" (XT).} (15... Nxd4 16. cxd4 Bxd4 17. Nxe6 Qd7 18. Nxd4 Qxg4 19. Qxg4 Rxc1+ 20. Qg1 Rxg1+ 21. Kxg1 Rxf4 22. Bxg6 Bxg6 23. Ne2 Re4 24. Nbc3 Rxe5 25. Rd1 $14) 16. Nxh7 $1 {[#]"Although it was undertaken without the help of the three Queenside pieces (which are still in an embryonic state), this assault is bearing fruit". (XT).} Kxh7 17. Rh4+ (17. Rxg6 {(less convincing for XT)} Nxd4 $1 (17... Kg8 $6 {XT} 18. Rg2 $1 Nxd4 19. cxd4 Bxd4 20. Bb2 Bxb2 21. Rxb2 Rxf4 22. Rg2 $16) (17... Bxg6 $2 18. Qh5+ $8 Kg8 19. Bxg6 $8 $18 {XT}) 18. Rf6+ $1 (18. cxd4 $2 Bxg6 19. Qh5+ Kg8 20. Bxg6 Rxc1+ 21. Kg2 Rxf4 $19) (18. Ba3 Nf5 $1 19. Qh5+ Kg8 20. Bxf8 Bxg6 21. Qxg6 Rxf8) (18. Qg4 $2 Nf5 $1) 18... Kg8 19. Rxf8+ Kxf8 20. cxd4 Bxd4 21. Ba3+ Kg8 22. Bh7+ $8 Kxh7 23. Qxd4 Rc4 $44) 17... Kg8 18. Qh5 $8 Rf5 $1 (18... Nce7 19. Qh7+ Kf7 20. Rh6 Rh8 21. Bxg6+ Nxg6 22. Qxg6+ Kg8 23. Rxh8+ Kxh8 24. Qd3 Qf7 25. Qh3+ Qh5 26. Qxh5+ Bxh5 27. Bd2 Bg6 28. Na3 a6 $44) (18... Nxh4 $2 19. Bh7+ Kh8 20. Bg6+ Kg8 21. Qh7#) 19. Qh7+ $8 Kf7 (19... Kf8 $1 20. Ba3+ Nce7 $8 21. Rg4 Bc5 $3 {[#](hardly predictable !)} 22. Bxc5 (22. dxc5 $2 Qa4 $1 23. c6 Qd1+ $1) 22... Rxc5 $1 23. dxc5 d4 $1 24. Qh3 Qd5+ 25. Qg2 Qxc5 $17) 20. Rg4 (20. Rh6 $2 Nf8 $1) 20... Ke7 $2 {XT does not look at the most natural, the support to the Knight in Peril.} (20... Nce7 $8 21. Bb2 (21. Ba3 Qa4 $1 22. Rg1 Bc5 $3 {as above}) 21... Kf8 $1 $11) 21. Bxf5 $18 exf5 22. Ba3+ Kd8 23. Rxg6 Bxg6 24. Qxg6 Nxd4 $1 {"The counter-surprise" (XT), which nevertheless proves to be insufficient.} 25. cxd4 Bxd4 26. Nc3 $6 (26. e6 $3 Qa4 27. e7+ Kd7 28. Nc3 Bxc3 29. Qxf5+ $8 Kc7 30. Rc1 d4 ( 30... Qxa3 31. Qxc8+) 31. Bd6+ $3 {[#]} Kxd6 32. Qxc8 Kxe7 33. Qxb7+ {win}) 26... Bxc3 $2 (26... Rc6 $1 27. Qh7 Bxc3 28. Rg1 g6 $8 29. Qg8+ Qe8 (29... Kc7 $2 30. Bd6+ Kb6 31. Qxd5) 30. Qxd5+ Kc8 31. Rd1 $16) 27. Qg5+ $2 {"The assault continues" (XT). But not in the right way.} (27. e6 $3 {(" worthless", says XT, in reality the only move)} Qc6 (27... Qa4 28. e7+ Kd7 29. Qxf5+ {as already seen in the 26th}) 28. Qf7 $8 (28. e7+ $2 Kc7 $1) 28... Qe8 29. Rb1 $1 (29. e7+ $2 Kc7 $8 { XT} 30. Qxd5 Qc6 $8 {(...Kb8? Rb1!)} 31. Rd1 Re8 $11) (29. Rd1 $1) 29... b6 ( 29... Rc7 30. e7+) 30. Rb5 $1 Rc5 31. Bxc5 Qxb5 32. e7+ {wins}) 27... Ke8 ( 27... Kc7 $1 28. Bd6+ Kb6 $1 29. Rb1+ Ka5 30. Qg2 Qc6 $1 31. a3 a6 {and Black seems to be better off}) 28. Rg1 d4 $1 {XT is wrong here to say that "nothing saves".} (28... Qf7 $6 29. Qh4 $1) 29. Qh5+ Qf7 $2 {Decisive mistake. } (29... Kd8 $8 {(not mentionned by XT)} 30. Bd6 $1 {(threatens Qh4-h8+)} Qc6+ $8 31. Rg2 $8 Qe4 $8 32. Qf7 $1 (32. Qg5+ Kd7 $8 33. Qe7+ Kc6 34. Qe6 $8 $11) 32... Qe1+ 33. Rg1 Qe4+ 34. Rg2 $11) 30. Rg6 $3 {[#]A nice surprise, which threatens Re6+ or e6 (or Qh8+ followed by e6+). The pinning turns into a battery. } (30. Qh8+ $2 Kd7 $8 31. e6+ Qxe6 $8 32. Qxg7+ $8 (32. Rxg7+ $2 Kc6 $8 $19) 32... Kd8 $8 33. Rg6 $1 Qe1+ 34. Kg2 Qe4+ 35. Kg1 $11) 30... Qd5+ 31. Kg1 $8 ( 31. Rg2+ $2 Kd8 $1 $11) 31... Bb4 (31... Kd8 32. Rd6+) 32. Rxg7+ $1 {"The style of young Tarta is that of an amok runner, but if resistance is shown, he resistance, he must fall" (Jo. Schenkein). "This prognosis was too right to be true" (XT).} 1-0 [Event "New-York"] [Site "?"] [Date "1924.04.15"] [Round "21"] [White "Tartacover, X."] [Black "Lasker, Em"] [Result "1/2-1/2"] [ECO "A28"] [PlyCount "73"] [EventDate "1924.??.??"] [Source "ChessBase"] [SourceDate "1999.07.01"] 1. c4 e5 2. a3 $3 {Holy Tartacaviar !} Nf6 3. e3 Be7 4. Qc2 O-O 5. Nc3 d6 6. Nf3 Re8 7. Be2 Bf8 8. O-O Nc6 9. d4 Bg4 (9... exd4 10. exd4 g6) 10. d5 $1 Ne7 ( 10... e4 11. dxc6 exf3 12. gxf3 Bh3 13. cxb7 Rb8 14. Rd1) 11. h3 Bd7 12. Nh2 ( 12. e4) 12... Qc8 (12... Nf5 13. b4) 13. e4 Ng6 14. f4 {Criticised by Alekhine. The eternal debate: should we open the "f" file, even if it means conceding to Black the strong square e5 ?} (14. Bg5 Be7) 14... exf4 15. Bxf4 Nxf4 16. Rxf4 Be7 17. Raf1 Rf8 18. Qd3 Be8 $6 (18... Qe8 19. Bd1 (19. Rxf6 $2 Bxf6 $1 20. Rxf6 gxf6 21. Bg4 f5 $1 $19) 19... Bc8 {(for ...Nd7)} 20. Nb5 Qd8) (18... Qd8 {avoid trouble}) (18... Ne8 19. Bg4 Bg5 20. R4f2 Nf6) 19. Rxf6 $1 {[#]White misses a quality double sacrifice leading to a draw (on accurate defence defence), but not quite as indicated by XT.} ({He was satisfied with } 19. Qg3 Qd8 $1 {("strengthens the f6 nerve point" XT)} 20. Nd1 $6 (20. Ng4 Nxg4 21. Bxg4 {(Rxg4 ...Bf6)} Bg5) 20... Nd7 $1 21. Ne3 Bg5 $1 22. Rg4 f6 {(and eventually lost after...)} (22... Bf6) 23. Qf2 $2 (23. Nf5 $1) (23. h4 $1) 23... h5 24. Rg3 h4 25. Rg4 Bh5 $17 26. Nf5 Bxg4 27. Nxg4 Qe8 28. Bf3 $2 (28. Qf3 g6 29. Nd4) 28... Ne5 $6 (28... g6 $1 29. Nd4 f5 $1 30. exf5 gxf5 31. Re1 fxg4 $1 32. Rxe8 Raxe8) 29. Nxe5 Qxe5 30. Nxh4 (30. Re1 Bf4) 30... Bxh4 31. Qxh4 f5 $1 32. exf5 Rxf5 33. Re1 Qxb2 34. Bg4 Qd4+ 35. Kh2 Raf8 36. Qe7 Qf4+ ( 36... Re5 $1) 37. Kh1 Re5 38. Rxe5 dxe5 39. Qxc7 e4 (39... Qe3 $1) 40. Qe7 $1 Qf6 41. Qxb7 $6 (41. Qxe4 Qf1+ 42. Kh2 Qf4+ 43. Qxf4 Rxf4 $19) 41... Qa1+ 42. Kh2 Qe5+ 43. Kg1 Rb8 $1 44. Qd7 Rb1+ 45. Kf2 e3+ 46. Ke2 Rb2+ 47. Ke1 Qc3+ 48. Kf1 Qc1+ {0-1}) 19... Bxf6 $1 (19... gxf6 $6 20. Ng4 $1 (20. Bg4 $1 Bd7 21. Bxd7 Qxd7 22. Ng4 Kg7 23. Qd4 Qd8 24. Rf3) 20... Kh8 (20... Bd7 21. Nh6+ Kh8 22. Bh5 Qe8 23. Rf3 {with, among others, the idea Rg3, Qd2-f4, Rg8+! ...Rxg8 Nxf7+}) 21. Nxf6 $1 (21. Qd4 $1 Qd8 22. Nxf6) (21. Nd1 $1 Bd7 22. Nh6 $1 {for a monster in f5}) 21... Bxf6 22. Rxf6 Rg8 23. Qd4 $1 (23. Bg4 $1) 23... Rg7 24. Bg4 $1 Qd8 25. e5 $1 {[#]} (25. Ne2 $2 Qe7 $1 {(...Kg8 Ng3! ...Bd7 Nh5! XT)} 26. Rf3 Qe5) 25... Qe7 26. exd6 cxd6 27. Ne4 Rd8 (27... Qe5 28. Qxe5 dxe5 29. Bf5) 28. Rh6 Bd7 29. Bxd7 Rxd7 30. Kf1 $1 {followed by Nf6+-}) 20. Rxf6 $1 {[#]} gxf6 21. Ng4 $1 (21. Qe3 Qd8 22. Ng4 f5 23. exf5 f6) 21... Qd8 $1 {Described by XT as "the only possible rescue". Good point !} (21... Kh8 $6 22. Nxf6 Rg8 $8 (22... Bd7 $2 23. e5 $1) (22... Kg7 $2 23. e5 $1) 23. Nxg8 $1 (23. Qd4 {XT} Rg7 $8 24. Bg4 Qd8 25. Nh5 Qg5 26. Nxg7 Qxg7 27. Qf2 $44) 23... Kxg8 24. Qg3+ $1 Kh8 25. e5 $1 Qd7 26. Qh4 Qd8 27. Qh6 $8 Bd7 $8 28. Bd3 Qg8 29. exd6 cxd6 30. Qxd6 $16) (21... Kg7 $2 22. Qe3 $1 Rg8 23. Qh6+ Kh8 24. Nxf6 Rg7 25. Bg4 $1 Qd8 26. Bf5 $18 {XT} ) (21... f5 $2 22. Nf6+ $8 (22. exf5 $2 f6 $1) 22... Kh8 (22... Kg7 23. exf5 $1 {(or Qd4!)} Kxf6 24. Qd4+ $8 Ke7 25. f6+ Kd8 26. Qe3 $1 Qf5 {(...Qd7 Bg4)} 27. Qe7+ $8 Kc8 28. Bg4) 23. Qg3 $3 {[#](the most immediate)} (23. Qd4 $1 Qd8 24. exf5 $1 {(or e5!)} h6 25. Nce4 {(the 'reserve cavalry', says XT)} Ba4 26. Qe3 Kg7 27. Nh5+ Kh7 28. Nef6+ {XT}) (23. Qe3 $2 Rg8 $8 {XT}) 23... Qd8 24. Qh4 $18 {followed on ...Kg7 by a mate in 3}) (21... Bd7 $2 22. Nxf6+ Kh8 23. e5 $1 Bf5 24. Qd4 Qd8 25. Bg4 $1 (25. Nb5 $1) 25... dxe5 26. Qxe5 Bxg4 27. hxg4 Rg8 28. Nxg8+ Kxg8 29. Ne4 $18) (21... h5 $2 22. Nxf6+ Kg7 23. Nxh5+ {XT} Kh7 24. Qg3 $18) (21... h6 $2 22. Qe3 $18 {XT}) 22. Qg3 $1 (22. Qd4 c5 $6 ({the safest is } 22... Qe7 $1 23. Nxf6+ Kh8 24. e5 $1 Qxe5 $8 25. Qh4 $8 Qe3+ {(... Qf5 Bf3! . ..Kg7! or immediatly ...Kg7! Nh5+ ...Kh8=)} 26. Kh2 h6 27. Nce4 $1 $44) 23. Nxf6+ $1 (23. dxc6 $6 {XT} Bxc6 $8 24. Nxf6+ Kh8 $8 25. Nd7+ f6 $1) 23... Kh8 $8 24. Qf2 $8 Rg8 $8 25. e5 $1 (25. Qh4 Rg7 $8) 25... Rg7 (25... dxe5 $2 26. Qh4 $1 Rg7 27. Bd3) 26. Bg4 $1 (26. Nce4 $1 dxe5 27. Qf5) (26. Qh4 $2 Qe7 $1 27. Bd3 Qxe5 $1) 26... dxe5 27. Qf5 $1 Qe7 28. Nce4 $16) 22... Kh8 $8 23. Qh4 Rg8 $8 24. Nxf6 Rg7 $8 25. Bg4 $1 c6 $1 {"With the counter-measure ...Qb6+" (XT).} ( 25... Qe7 $1 26. Bf5 Qe5 $8 27. g4 $1 (27. Bxh7 $2 Qg3 $1) (27. Nxh7 $2 Qg3 $1) (27. Ne2 $1 Qxb2 $8 28. Nxh7 {(Nf4 ...Qxa3 for ...Qg3)} Rxg2+ $1 29. Kxg2 Qxe2+ {with perpetual (XT)}) (27. Qh6 $1 Qd4+ $1 {(...Qg3 Ng4! for Bxh7!)} 28. Kh2 Qe5+ 29. Kg1 $11) 27... Qd4+ $1 28. Kh1 Qe3 $1 (28... Qxc4 $1) 29. Nxh7 Kg8 $1 30. Nf6+ Kf8 31. e5 $1 Qc1+ $1 (31... Qxe5 $2 32. Nce4 $8) (31... dxe5 $2 32. Qh8+ $1 Ke7 33. d6+ $1) 32. Kg2 Qxb2+ $8 33. Kf1 Qc1+ 34. Ke2 Qxc3 $8 35. Qh8+ $8 Ke7 $8 36. Ng8+ $3 {[#]} Kf8 (36... Rxg8 $2 37. exd6+ $8) (36... Kd8 $2 37. Qh4+ $8) 37. Nf6+ Ke7 $11) 26. c5 $1 {[#]"sharpening the fight" (XT).} (26. Qh6 $6 Qb6+ $1 27. Kf1 $8 Qxb2 28. Ne2 $8 $44) 26... Qa5 $8 (26... Qe7 $2 27. Bf5 $1 Qe5 28. g4 $1 (28. Nxh7 $2 Qg3 $1) 28... Qd4+ (28... dxc5 29. Nxh7 $1 {(or Kg2!)} Kg8 30. Nf6+ Kf8 31. Kg2 $1 {(threatens Qh8+ then d6+! with either Qxg7 or Ncd5+)} Rd8 32. Kf3 $1 {(with the threat g5 then Qh8xg7)} Qd4 33. Ne2 $1 $18) 29. Kh1 $1 Qe3 30. Nxh7 $8 Kg8 31. Nf6+ Kf8 32. e5 $3 {[#](in comparison with the 25th move variant (with the c5/c6 pawns in c4/c7), the c5 pawn allows miracles)} Qc1+ 33. Kg2 Qxb2+ 34. Kf1 $8 Qc1+ 35. Ke2 $8 Qb2+ (35... Qxc3 36. Qh8+ $8 {followed by mate in 2}) (35... Qg5 36. Qh8+ $1) 36. Kd3 $8 $18) 27. Bf5 Qxc5+ $8 28. Kh2 $8 (28. Kh1 $2 Qe3 $8 29. Nxh7 Qg3 $3 $19) 28... Qd4 $3 {[#]Not considered by XT.} (28... Qe3 $2 29. Nxh7 $8 (29. Bxh7 $4 Qg5 $8) 29... Rg8 ( 29... Kg8 30. Nf6+ Kf8 31. dxc6 $1 {(Qh8+!)} bxc6 32. Qh8+ $8 Ke7 33. Ncd5+) 30. Nf6+ $1 (30. Qf6+ Rg7 31. Qh4 $8 {XT, which is satisfied with a draw}) (30. Nd1 $1 Qd2 31. Nf2 $1) 30... Kg7 31. Nh5+ $1 (31. Nd1 $1 Qd2 32. Nxg8 Kxg8 33. Qg3+ $1) 31... Kf8 32. Qf6 $1 {(immediate mate threat)} Rg5 (32... Qc5 33. Nf4 $1 ) 33. Qxd6+ $8 Kg8 34. Nf6+ $8 Kg7 {(otherwise mate in 2)} 35. Qe5 $3 {[#](two Knights are stronger than two Rooks, aren't they? ?)} Kh6 (35... Kf8 36. Nh7+ $1 Kg8 37. Nxg5 Qxg5 38. Bh7+) (35... Rxf5 36. Qxf5 $1 {(or Nh5+!)} Qh6 37. e5 $1 cxd5 38. Ncxd5 Rd8 39. Nf4 $1 Qh4 40. N6h5+) 36. Ng4+ $1 (36. h4 $1) 36... Rxg4 37. hxg4 {(threatens mate)} Kg5 (37... Qg5 38. Qh8#) 38. Qg7+ $1 Kf4 ( 38... Kh4 39. Qf6+) 39. Qh6+ $8) 29. Nxh7 (29. Ne2 Qxb2 $8 30. Nf4 (30. Nxh7 Rxg2+ $1 31. Kxg2 Qxe2+ 32. Kg1 Qd1+ {and even if wK accesses f6, there will be ...Qg7+!, ...f6+! & ...Rd8+}) 30... Qxa3 $1 (30... Qe5 $1 {is more complex : } 31. Nxh7 {(Qh6 ...cxd5 with Nxh7 ...Rxg2+! or Bxh7 ...Qg5!)} Kg8 $8 32. Nf6+ Kf8 33. g3 $1 c5 $1 34. Qh8+ Ke7 35. Qxg7 Qb2+ $8 {(...Qxf6? Ng6+)} 36. Kg1 Qc1+ 37. Kf2 Qd2+ $8 {and on Ne2 would follow ...Bb5! forcing a draw anyway }) 31. N4h5 $1 (31. Nxh7 $2 Qg3+ $3 32. Qxg3 Rxg3 33. Kxg3 a5 $3 $19 {and the Achilles heel of the Knights, the rook-pawn, appears !}) 31... Qb2 32. Ng4 ( 32. Nxg7 Qe5+ $8 33. Kh1 Qa1+ $8 34. Kh2 $11) 32... a5 33. Nxg7 (33. Nhf6 Qd2 $1 34. Nxh7 Qf4+ $1) 33... Qxg7 $8 34. Bxh7 $1 Qxh7 35. Qf6+ $8 Qg7 36. Qh4+ $8 Qh7 $11) (29. Qh6 $6 Qf2 $1 (29... Qe5+ $1 30. Kh1 Qg3 $1 31. Ng4 $8 $11) 30. Ng4 $8 Qxb2 31. Bxh7 Qxc3 32. Bf5+ Kg8 33. Nf6+ Kf8 34. Ng4 $8 Bd7 $1 35. Qh8+ $1 (35. Bxd7 $2 Ke7 $1) 35... Ke7 36. Qxa8 Bxf5 37. exf5 Rxg4 $8 38. hxg4 Qe5+ 39. Kh3 $11) 29... Qe5+ $8 {This is why the Queen was better on d4 than on e3 ! } 30. g3 $8 (30. Kh1 $2 Qg3 $19) 30... Kg8 $8 31. Nf6+ $1 (31. Kg2 Rxh7 $1) 31... Kf8 32. Kh1 $1 {For g4-g5 or Ne2-f4.} (32. Nh5 $6 c5 $1) (32. Ne2 $6 Qxb2 $1) (32. Nd1 $1 Qd4 33. g4 $11) (32. dxc6 $2 bxc6) (32. Bd7 $2 Rxg3 $1 33. Nh7+ Kg7 $19) 32... Rxg3 {Sharpens the game, but the two "nags" are up to the task} (32... Qxg3 {forces an immediate draw:} 33. Nh7+ $8 Kg8 $8 $11) 33. Nd1 $1 (33. Ne2 $1 Rg7 34. Nf4 Qxb2 35. Qh8+ $8 Ke7 36. Ng6+ $8 fxg6 37. Qxg7+ Kd8 $11) (33. Nh7+ $1 Kg7 34. Ne2 $8 Rg6 (34... Rb3 35. Qg5+ Kh8 36. Qh4 $11) 35. Nf4 $8 cxd5 36. Nf6 $3 {[#]} Rxf6 37. Nh5+ $8 Kf8 $8 (37... Kg8 $2 38. Nxf6+ Kf8 {(on ...Kg7 it's mate in 2)} 39. Qh8+ Ke7 40. Nxd5+) 38. Nxf6 $8 dxe4 39. Nh7+ $8 Kg8 $8 40. Qg5+ Qg7 $8 41. Nf6+ Kf8 $8 $11) 33... Rg7 (33... Rb3 34. Qh6+ ( 34. Nh7+ Kg8 $8 35. Nf2 Qg3 $11) 34... Ke7 35. Ng4 $8 Qd4 36. Ndf2 $44) (33... c5 34. Nf2 Bb5 35. N2g4 Rxg4 $8 36. hxg4 $44) 34. Nf2 Qxb2 35. N2g4 $1 Qa1+ 36. Kh2 Qb2+ 37. Kh1 1/2-1/2 [Event "New-York"] [Site "?"] [Date "1924.03.27"] [Round "9"] [White "Tartacover, X."] [Black "Alekhine, A."] [Result "1/2-1/2"] [ECO "C33"] [PlyCount "78"] [EventDate "1924.??.??"] [SourceDate "2010.01.01"] 1. e4 e5 2. f4 $3 {What a pity that this opening has gone out of fashion...} exf4 3. Be2 {Tarta's speciality.} (3. Nf3) (3. Bc4) 3... Ne7 (3... d5 4. exd5 Nf6 5. c4 c6 6. d4 Bb4+ (6... cxd5 7. Bxf4 dxc4 8. Bxc4 Bb4+ 9. Nc3 { Tartakower,S-Bogoljubow,E/New York 1924}) 7. Kf1 cxd5 8. Bxf4 dxc4 9. Bxb8 Nd5 $1 10. Kf2 Rxb8 {Tartakower,S-Capablanca,J/New York 1924}) (3... Nc6 4. d4 d5 5. exd5 Qxd5 6. Nf3 Bg4 7. Nc3 Bb4 8. O-O Bxc3 9. bxc3 {Tartakower,S-Yates,F/ New York 1924}) 4. d4 d5 $1 5. exd5 Nxd5 6. Nf3 Bb4+ 7. c3 Be7 8. O-O O-O 9. c4 Ne3 10. Bxe3 $8 fxe3 11. Qd3 (11. Nc3 Nc6 (11... c5 $1) 12. d5 Nb8 13. Qd3 Na6) 11... Bf6 (11... c5 $1 12. d5 (12. Nc3 cxd4) 12... Bf6 13. Nc3 Re8 14. Rae1 Na6 ) 12. Nc3 Nc6 13. Nd5 Bg4 (13... Re8) 14. Nxf6+ Qxf6 15. d5 $1 (15. Qxe3 Bxf3 16. Bxf3 Qxd4 17. Qxd4 Nxd4) 15... Bxf3 (15... Nb4 16. Qb3 a5 17. h3 Bf5 18. Rac1) 16. Rxf3 Qxb2 17. Rb1 $8 Qxa2 $8 18. Rxe3 (18. dxc6 Rad8 $8 19. Qb3 Qxe2 20. Rxe3 Qg4 21. cxb7 Rd2 22. Rg3 Qd4+ 23. Kh1 Rb8 {(the material and the black radiation in the centre compensates the strong b7 pawn)} 24. h3 c5 (24... g6) 25. Re1 (25. Re3 g6 26. Re7 Qf2) 25... Rb2 26. Rge3 $8 g6 27. Re8+ Kg7 $8 28. Qxb2 Qxb2 29. Rxb8 Kh6 $1 30. Kh2 {(for Re7)} Qb6 $8) 18... Nd4 (18... Na5 19. Rh3 h6 20. Bf1) 19. Rxb7 Nxe2+ 20. Rxe2 Qa1+ 21. Rb1 Qf6 22. c5 Rfd8 {It's not the simpler.} (22... Rfe8 $11) ({Interesting is the upstart} 22... a5 23. d6 cxd6 (23... Rad8) (23... Rfd8 24. Rf1 Qg6 25. Qd5 cxd6 26. cxd6 Qxd6 $4 27. Re8+) 24. cxd6 a4 25. Rf1 Qg5 26. d7 a3 27. Qc4 Qd8 $1 (27... h5 $2 28. Re8 $3 $18 {rather than Rxf7? ...Kh7!}) 28. Rd1 h6 29. h4 $44) 23. Rbe1 Qg6 (23... a5 24. d6 h6) 24. Qd4 (24. Qf3 h6 25. Re7 Qf6 $11 26. d6 $2 Qxf3 27. gxf3 cxd6 28. c6 Rdc8 $1 29. c7 a5 30. Rd7 a4 31. Ree7 Rf8 $1 $17) 24... Qf6 { The Russian genius seems to be in a peaceful mood.} (24... h6) 25. Re5 $1 (25. Qd3 $11) (25. Qe4 h6) 25... Kf8 $2 {Seems like a decisive mistake. Would Black feel outraged by the refusal of a draw by repetition, which they would probably provoked themselves ?} (25... Rab8 $1 26. Rf1 Qg6 27. h4 Rb1 $11) ( 25... h6 $1 26. Rf1 Qg6 27. h4 Re8 $1 {(no Rg5)} 28. Rfe1 Rxe5 29. Qxe5 Rd8 $11) 26. Rf1 $1 Qg6 (26... Qc6 $2 27. Rxf7+ $1 Kxf7 28. Re7+ $3) 27. h4 $3 {[#] "Tartacaviar" is winning against the man who will be world champion 3 years later !} Rd7 (27... a5 28. h5 Qh6 $8 29. d6 $1 (29. g4 a4) (29. Ref5 Rd7 30. Qf2 f6 31. Qd4 $1) 29... cxd6 30. Qd5 $1 Ra7 31. Re6 $3 {[#]} g6 32. cxd6 Kg8 33. Qe5 $1 {(threatens to promote the "d" pawn, as the black Queen is out of the game)} Qxh5 (33... Raa8 34. Re7 $1 Qxh5 35. Qd4 Rf8 36. Qc4 g5 37. Qd5) 34. Re8+ Rxe8 35. Qxe8+ Kg7 36. Qe3 $3 {(pawn d6 is a mountain)} (36. d7 $2 Qc5+ $8 37. Rf2 Qc1+ $8) 36... Rd7 37. Qc3+ $1 Kh6 38. Rf3 $8 Qd5 {(otherwise Rh3)} 39. Rd3 $1 (39. Rh3+ Kg5 40. Rd3) 39... Qe6 (39... Qe4 40. Rh3+ Kg5 41. Qd2+ Kf6 42. Rf3+) 40. Rh3+ $8 Kg5 41. Qg3+ Kf6 (41... Kf5 42. Qf2+) 42. Qh4+ Kf5 43. Rf3+ Ke5 44. Re3+) ( 27... Rac8 {(less evil ?)} 28. h5 $1 Qh6 29. d6 $1 (29. c6 $6 f6 $1) 29... cxd6 30. Rxf7+ $3 {[#]} Kxf7 31. Qd5+ $8 Kf8 32. Rf5+ Qf6 33. Rxf6+ gxf6 34. cxd6 Kg7 (34... Rd7 35. Qe6) 35. g4 $1 Rf8 (35... h6 36. Qf5 $18) 36. Qb7+ Kh6 37. Kg2 $1 {(to h4)} Kg5 38. Kf3 Rc3+ 39. Ke4 Rc4+ 40. Kd3 Rcc8 41. Qxa7 Kxg4 42. Qxh7 $16) (27... Kg8 28. Re7 $1 Rac8 (28... Rf8 29. Rxc7) 29. Qe5 $1 h5 30. c6 $1 {(threatens Rxc7 with next Qb8+ & c7)} f6 31. Qe6+ $8 Kh8 32. d6 $3 {[#]} cxd6 33. c7 Rf8 34. Qxd6 Kh7 (34... Rfe8 35. Rfe1) 35. Rfe1 $1 (35. Rd7 $2 Rf7) 35... a5 36. Rd7 $1 Rfe8 (36... Rf7 37. Rxf7 Qxf7 38. Re7) 37. Rxe8 Rxe8 (37... Qxe8 38. Re7 $1) 38. Rd8 $1 $18) (27... Re8 $2 28. Rg5 $1 Qh6 29. Rgf5 f6 30. Rxf6+) 28. h5 $1 (28. c6 $1 Rd6 29. h5 $1 Qh6 30. Qe4 $1) (28. d6 $1 cxd6 29. h5 $3 Qh6 30. Qd5 $8 {below}) 28... Qh6 29. Qe4 $1 {"Although I felt sure that the tense situation lent itself to multiple complications, I could not synthesize in my calculations anything concrete and decided for the simple 29 Qe4" (XT). But XT ignores that this "simple" move, which threatens d6 then Te7, does not let anything escape. This said, another win "equally deep and brilliant" (XT) was discovered by an amateur.} (29. c6 $3 Rd6 (29... Qxc6 30. Re7 $3 {[#](deviation)} f6 {(...Kxe7 Qe5+ or ...Kg8 Rfxf7)} 31. Rxg7 $3 {("the atrocities continue" XT)} Rxd5 {(...Rd6 Rg8+! ...Kxg8 Qg4+ XT)} 32. Rxf6+ $8 Kxg7 33. h6+ $1 Kg8 34. Qg4+ $8 Kh8 35. Qg7# {: it is not every day that you checkmate Alekhine, even in your dreams !}) (29... Rdd8 30. Ref5 $3) 30. Qb4 $1 { (for Qb7)} ({also} 30. Qe4 $1 Qd2 {(...f6 Qe2!)} 31. Re7 $1 Rf6 32. Re1 $8 g5 33. Re2 $18) (30. Rfe1 $1 Rdd8 31. Re7 $1) 30... Rad8 31. Rfe1 $1 { (renew the threat)} (31. Qb7 $2 Qd2 $1) 31... g5 $1 (31... Rc8 32. Re7 $1 { (Db7? ...Tdd8!)} Qf6 {(threat was Rxc7!)} 33. Rd7 $1 a5 34. Qe4 $18) 32. Re7 $1 (32. Qb7 $2 Qf6 $3 33. Qxc7 Rxd5 $8 34. Rxd5 Rxd5 35. Qb8+ Kg7 $11) 32... Kg8 33. Re8+ $1 (33. Rxc7 $2 Rxd5) (33. Qc3 $1) 33... Kg7 (33... Rxe8 34. Rxe8+ Kg7 35. Qc3+ Qf6 {(...f6 g4!)} 36. h6+ $8 Kxh6 37. Qxf6+ Rxf6 38. Rd8 $8) 34. R1e6 $3 {[#](magic square !)} Qxe6 (34... fxe6 35. Rxd8 Rxd8 36. Qe7+ Kg8 37. Qxd8+ Qf8 38. Qxf8+ Kxf8 39. d6 $8) 35. Rxe6 $8 fxe6 36. Qd4+ $1 Kf7 37. Qxa7 Rxd5 38. Qxc7+ Kf6 39. Qxh7 Rc5 40. Qg6+ Ke7 41. h6 $18) ({Also} 29. d6 $1 cxd6 (29... c6 30. Qg4) (29... Rad8 30. Re7 $1) 30. Qd5 $3 Rad8 (30... Rc8 31. c6 $1 Rdc7 32. Re6 $1) (30... Re8 31. Rxe8+ $8 Kxe8 32. Re1+ Kd8 33. Qa8+ Kc7 34. c6) 31. Re6 $3 {(as usual !)} g6 32. Ref6 $1 Qe3+ 33. Kh1 $8 Qe7 ( 33... Kg7 34. c6 $1 {(cxd6? ...Qe8)} Rc7 35. Rxf7+ Rxf7 36. Qxf7+ Kh6 37. c7 $18) 34. cxd6 $1 (34. h6 $1 Kg8 35. c6 $1 Rc7 36. Rxf7 Qxf7 37. Rxf7 Rxf7 38. Qe6 $3 Kf8 39. c7 $1 Rxc7 40. Qf6+ $8 Ke8 41. Qh8+) 34... Rxd6 35. Rxf7+ $8 Kg8 36. Qc4 $3 {[#]} Qe6 37. Qf4 $8 Qe8 (37... gxh5 38. Rf8+ {followed by mate in 2}) 38. Qh6 $8 Qxf7 39. Rxf7 Kxf7 40. Qxh7+ Kf6 (40... Ke6 41. hxg6 $1 $18) 41. Qxg6+ $1 ( 41. hxg6 $2 R8d7 $1) 41... Ke5 42. Qg5+ Ke6 43. h6 $18) 29... f6 $1 30. g4 $6 { Let the monster escape !} (30. Rf4 $2 Rad8 $1) (30. d6 $3 Rad8 31. Re7 $1 Qxh5 (31... cxd6 32. Rxd7 Rxd7 33. Re1 $1 Qxh5 34. Qa8+ $8) 32. Qc6 $3 Qh4 $1 ( 32... Rxe7 33. dxe7+ Kxe7 34. Qxc7+ $8) 33. Rd1 $3 {[#](prevents check on d4)} Qg4 34. Qd5 $3 Qg6 35. Rxd7 $1 Rxd7 36. dxc7 $1 $18) (30. c6 $2 Rdd8 $1 31. g4 Re8 $11) 30... Rad8 $1 31. c6 $6 {Again !} (31. d6 $1 cxd6 (31... Qd2 32. Re7 $1 Qc3 33. Kg2 $8 cxd6 34. Rxd7 $8 Rxd7 35. Re1 $8) 32. Re6 $8 Rc7 (32... dxc5 $2 33. Re1 $18) (32... Rf7 33. cxd6 f5 34. Qe5 $1 Qg5 35. Rf4 $1 Kg8 36. h6 $1 {(d7? ...h6!)} gxh6 37. d7 $1 $18) 33. Re1 $1 Rcc8 $8 34. Rxd6 $1 (34. Re7 Qg5 $8 35. Qe6 $1 Qxc5+ 36. Kg2 Qc2+) 34... Re8 35. Re6 $8 Red8 36. Rc6 $3 Rb8 37. Rc7 Kg8 38. Re7 $1 {(threatens mate in 4)} (38. Rxa7 $2 Qg5 $1) (38. c6 $1 f5 39. Qc4+ $1) 38... f5 $1 (38... Rf8 39. c6 $1) 39. Qc4+ $8 (39. Qxf5 $2 Rf8) 39... Kh8 40. Qb5 $3 {[#]} (40. c6 $1) 40... g6 (40... Qc1 41. Rxc1 Rxb5 42. c6) 41. Qc4 $1 {(return)} gxh5 42. Qc3+ $1 Kg8 43. c6 $18) 31... Rf7 $1 $11 32. Re6 Qg5 $1 33. Qxh7 Qxg4+ 34. Kf2 Qf4+ 35. Ke2 Qc4+ 36. Kf2 Qf4+ 37. Ke2 Qc4+ 38. Ke1 Qc1+ 39. Ke2 Qc4+ 1/2-1/2 [Event "2#"] [Site "?"] [Date "2014.??.??"] [Round "?"] [White "Khachaturov, S."] [Black "0285.63"] [Result "1-0"] [SetUp "1"] [FEN "1KB2N2/5pp1/8/2P1kp2/2P1NR1P/2P1B2P/2b3Pb/n3R3 w - - 0 1"] [PlyCount "0"] [EventDate "2014.??.??"] [SourceDate "2010.01.01"] 1-0 [Event "2#"] [Site "?"] [Date "1937.??.??"] [Round "?"] [White "Peris Pardo, J."] [Black "4584.15"] [Result "1-0"] [SetUp "1"] [FEN "q7/5p2/B1NRpP2/BR6/2kp4/n2r2p1/3pQbK1/1b6 w - - 0 1"] [PlyCount "0"] [EventDate "1937.??.??"] [SourceDate "2010.01.01"] 1-0 [Event "2#"] [Site "?"] [Date "1991.??.??"] [Round "?"] [White "Strydom, J."] [Black "1544.35"] [Result "1-0"] [SetUp "1"] [FEN "8/3p4/3Pn3/1Q1pK3/P2p4/r1k4p/p1PN3R/b1R3B1 w - - 0 1"] [PlyCount "0"] [EventDate "1991.??.??"] [SourceDate "2010.01.01"] 1-0 [Event "2#"] [Site "?"] [Date "2013.??.??"] [Round "?"] [White "Pallasz, E & Parzuch S"] [Black "1148.14"] [Result "1-0"] [SetUp "1"] [FEN "1K3N2/3p1p2/1n6/2QbkBP1/3p2RN/3p4/3n4/8 w - - 0 1"] [PlyCount "0"] [EventDate "2013.??.??"] [SourceDate "2010.01.01"] 1-0 [Event "2#"] [Site "?"] [Date "1963.??.??"] [Round "?"] [White "Mlynka, K."] [Black "1758.13"] [Result "1-0"] [SetUp "1"] [FEN "4KR2/Bp6/3P3p/1pQ1N3/4kNB1/r5n1/8/3rbn2 w - - 0 1"] [PlyCount "0"] [EventDate "1963.??.??"] [SourceDate "2010.01.01"] 1-0 [Event "2#"] [Site "?"] [Date "1964.??.??"] [Round "?"] [White "Glinskih, N."] [Black "1125.05"] [Result "1-0"] [SetUp "1"] [FEN "8/1p1BK3/1p6/1Q3p2/5N1p/4pknN/8/4B1R1 w - - 0 1"] [PlyCount "0"] [EventDate "1964.??.??"] [SourceDate "2010.01.01"] 1-0 [Event "2#"] [Site "?"] [Date "2016.??.??"] [Round "?"] [White "Tkachenko, SI & Vasilenko A"] [Black "1775.65"] [Result "1-0"] [SetUp "1"] [FEN "5bb1/1K4p1/PP2P1p1/pNkN2Br/r1PRP3/P2p3p/8/2Q1n3 w - - 0 1"] [PlyCount "0"] [EventDate "2016.??.??"] [SourceDate "2010.01.01"] 1-0 [Event "2#"] [Site "?"] [Date "1929.??.??"] [Round "?"] [White "Kubbel, L."] [Black "4457.24"] [Result "1-0"] [SetUp "1"] [FEN "1B1nq3/3pp2b/NK3P2/2pk2r1/R7/1nP2p1B/5N2/4Q3 w - - 0 1"] [PlyCount "0"] [EventDate "1929.??.??"] [SourceDate "2010.01.01"] 1-0 [Event "2#"] [Site "?"] [Date "1979.??.??"] [Round "?"] [White "Haralovic, M."] [Black "1555.42"] [Result "1-0"] [SetUp "1"] [FEN "Q7/8/1PP1K3/bkB1P3/p2pN2R/1r6/nN2P3/R2B4 w - - 0 1"] [PlyCount "0"] [EventDate "1979.??.??"] [SourceDate "2010.01.01"] 1-0 [Event "2#"] [Site "?"] [Date "1957.??.??"] [Round "?"] [White "Scotti, L."] [Black "1285.21"] [Result "1-0"] [SetUp "1"] [FEN "6b1/3R1p2/Q6n/1N2Nkb1/R6P/8/B3P3/BK6 w - - 0 1"] [PlyCount "0"] [EventDate "1957.??.??"] [SourceDate "2010.01.01"] 1-0 [Event "2#"] [Site "?"] [Date "1957.??.??"] [Round "?"] [White "Delaliau, E."] [Black "1011.11"] [Result "1-0"] [SetUp "1"] [FEN "8/8/8/3K2B1/4pN2/8/3k2P1/1Q6 w - - 0 1"] [PlyCount "0"] [EventDate "1957.??.??"] [SourceDate "2010.01.01"] 1-0 [Event "3#"] [Site "?"] [Date "1977.??.??"] [Round "?"] [White "Shavyrin, V."] [Black "3785.33"] [Result "1-0"] [SetUp "1"] [FEN "3R1B2/1bp4N/4kP1P/1rn3RB/1bP3NK/q2pr1p1/8/8 w - - 0 1"] [PlyCount "0"] [EventDate "1977.??.??"] [SourceDate "2010.01.01"] 1-0 [Event "3#"] [Site "?"] [Date "2017.??.??"] [Round "?"] [White "Lambrinakos, P."] [Black "1065.13"] [Result "1-0"] [SetUp "1"] [FEN "6nb/7b/2N1p3/3pP3/K3k3/2p4N/8/5Q2 w - - 0 1"] [PlyCount "0"] [EventDate "2017.??.??"] [SourceDate "2010.01.01"] 1-0 [Event "3#"] [Site "?"] [Date "1999.??.??"] [Round "?"] [White "Marandiuk, M."] [Black "1052.55"] [Result "1-0"] [SetUp "1"] [FEN "3Q4/1pBP1Kp1/4Pp2/1ppN4/4k3/1BP2N2/3P2P1/b7 w - - 0 1"] [PlyCount "0"] [EventDate "1999.??.??"] [SourceDate "2010.01.01"] 1-0 [Event "3#"] [Site "?"] [Date "1960.??.??"] [Round "?"] [White "Copping, P."] [Black "4855.35"] [Result "1-0"] [SetUp "1"] [FEN "5Bq1/2Np3P/KPkP1R1r/2pp2p1/2n3B1/p2N2Q1/4r3/bR6 w - - 0 1"] [PlyCount "0"] [EventDate "1960.??.??"] [SourceDate "2010.01.01"] {After K. Harder, 1926.} -- 1-0 [Event "4#"] [Site "?"] [Date "1961.??.??"] [Round "?"] [White "Speckmann, W."] [Black "0211.23"] [Result "1-0"] [SetUp "1"] [FEN "8/8/R7/1N6/2P1p3/1p2p3/PBR1K3/1k6 w - - 0 1"] [PlyCount "0"] [EventDate "1961.??.??"] [SourceDate "2010.01.01"] 1-0 [Event "4#"] [Site "?"] [Date "1867.??.??"] [Round "?"] [White "Grosdemange, E."] [Black "0355.22"] [Result "1-0"] [SetUp "1"] [FEN "8/3r4/3P1N2/1Np2n2/p7/Pk6/3B3b/1K3B2 w - - 0 1"] [PlyCount "0"] [EventDate "1867.??.??"] [SourceDate "2010.01.01"] 1-0 [Event "6#"] [Site "?"] [Date "2006.??.??"] [Round "?"] [White "Marandiuk, M."] [Black "0788.24"] [Result "1-0"] [SetUp "1"] [FEN "K1B5/4B1n1/1k2p3/2R2pN1/2p1p3/4n3/1PNP4/3brrb1 w - - 0 1"] [PlyCount "0"] [EventDate "2006.??.??"] [SourceDate "2010.01.01"] 1-0 [Event "h#2 with Set Play"] [Site "?"] [Date "1964.??.??"] [Round "?"] [White "Kardos, T."] [Black "1684.48"] [Result "1-0"] [SetUp "1"] [FEN "8/6p1/4p1P1/Np2B3/bP6/1p1kpB1p/1P1rpp1P/2KQbrn1 b - - 0 1"] [PlyCount "0"] [EventDate "1964.??.??"] [SourceDate "2010.01.01"] 1-0 [Event "h#3 3 sol"] [Site "?"] [Date "1964.??.??"] [Round "?"] [White "Galmard, abbé R & Trillon JM"] [Black "0132.00"] [Result "1-0"] [SetUp "1"] [FEN "7K/8/8/3NN1R1/4k3/8/4b3/8 b - - 0 1"] [PlyCount "0"] [EventDate "1964.??.??"] [SourceDate "2010.01.01"] 1-0 [Event "s#3"] [Site "?"] [Date "2006.??.??"] [Round "?"] [White "Selivanov, A."] [Black "3554.73"] [Result "0-1"] [SetUp "1"] [FEN "7N/3PpP2/4K3/8/3pk2P/bP1R3P/1p1PP2r/1B2BRnq w - - 0 1"] [PlyCount "0"] [EventDate "2006.??.??"] [SourceDate "2010.01.01"] 0-1