In the post-Easter course, we had pleasure to meet Antoni again who joined the usual participants.
The day's game was very time-consuming, and for good reason, since it was Tal - Keller, so the fairy part was seriously shortened.
Below is the animated report
---
Master's word
---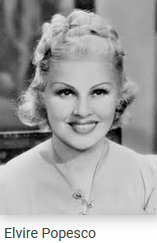 "You are going to give him a crane as a mistress? -- No doubt, or an actress -- I want her to be romantic and disinterested -- Then she will be a crane" (E. Popesco & L. Jouvet in "Education de prince", 1938).
"The barbarian is the one who does not remember".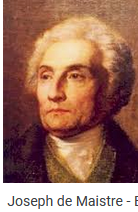 "May your hands always be busy, May your feet always be swift, May you have a strong foundation When the winds of changes shift. May your heart always be joyful, May your song always be sung, May you stay forever young".
"When one hears these so-called republicans speak of liberty and virtue, one believes to see a faded courtesan, playing the airs of a virgin with a carmine modesty" (J. de Maistre).
"You will reap what you sow" (L. Reed).
"All the great things I have done in my life I have done by disobeying" (Marshal Leclerc).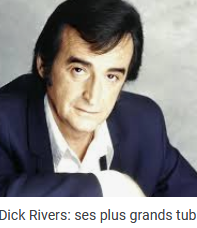 A tribute to Hervé Forneri, alias Dick Rivers, who is also leaving us. I had the pleasure of listening to him and his "Chats sauvages", at... 150 metres from my present home, in the summer of 1961. I don't know if his girlfriend was "bitchy", or even "almost as bitchy as him", but I think he was right to advise her (at least to pretend) to be "more serious". https://www.youtube.com/watch?v=oGXHUeSzRDY It was on this that I played, in a café where we smoked and listened to the music box, my first competitive games (by teams) well before my first tournament. To God Hervé.
The day's game being literally monstrous, we had to drastically limit the endgame section, just correcting the exercises.

The "Viking" Aivars Gipslis, a compatriot of the hero of the day and almost the same age, starts the endgame with one pawn less. Later he will play for the win! The way in which a single pawn on the "a" file nullifies the pawns on the kingside is reminiscent of some games of Kortchnoi.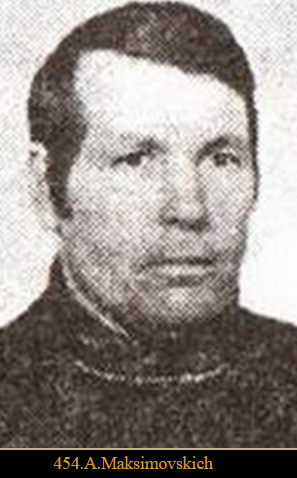 A promotion to Bishop to counter a stalemate threat coming after... mate threats, and leading itself to mate. A ballet of rooks enriched with a nice idea... not foreseen by the author.
As homework for the next time, a king placement, a stalemate rescue and a rook domination.
The insane game is led by the one who would become, the following year, the 8th world champion and the youngest of them all: the magician of Riga, whose style remains, 60 years later, the most appreciated by all the players.
On a sub-forum, people argue about the spelling: is it Tahl or Tal? The second is the usual one. But Camil Seneca (1903-1977), a famous problemist and columnist, founder of the journal Thèmes/64, chose the former, no doubt to express that it was not a simple "l" (in Cyrillic Таль). More accurate (but inelegant) might have been "Talh". In any case, the only correct one is Tāls, as demonstrated in Riga's Vērmanes Park!

This phenomenal game is even more exciting after sifting through the analysis engines. In spite of its faults (white on the 18th, 19th & 22nd moves, black on the 16th, 18th, 23rd & 28th) it contains remarkable intuitions, including from Black's player, "simple" Swiss IM. How many criticized moves at the time, which turn out to be excellent! And how many new tracks... in cinemascope, like the French invention of the same name!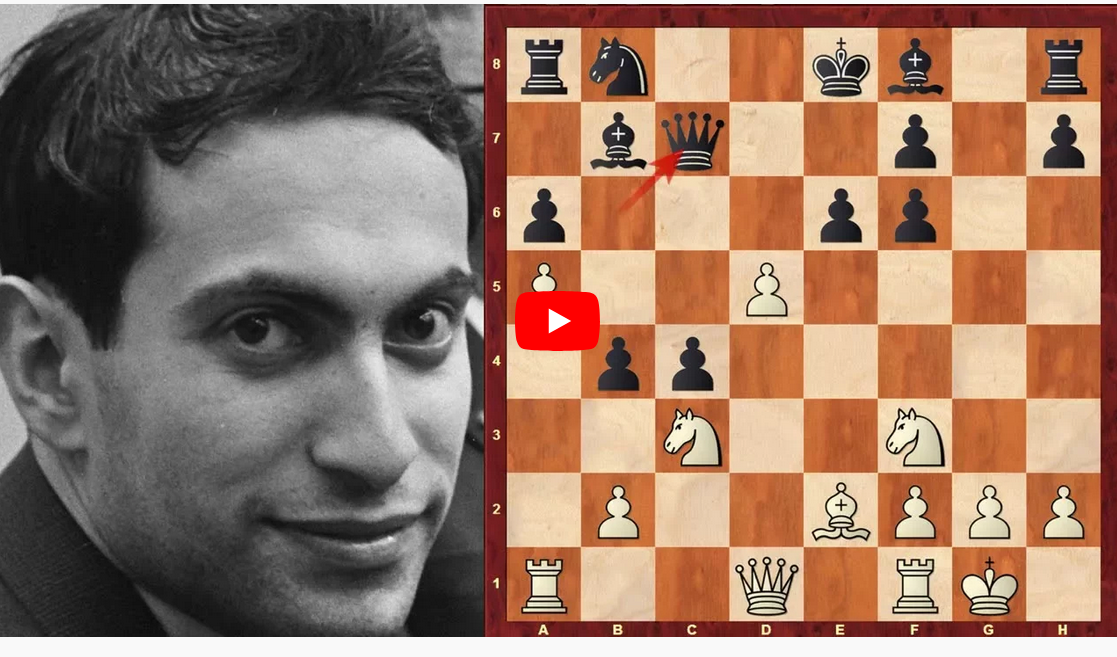 Among the numerous dishevelled analyses, which took us a record time, let us point out the study included in the 15th Black move, with the pretty point Qd4!! followed by Qd1!!, while the immediate Qd1? goes as far as losing. Another skirmish, in the analysis of 17...Rg5, about the "mosquito bite": your master builder had naturally seen 21 exf7? Rxg3+! followed by mate, moreover a theme of this game, but had forgotten it. And he remained unmoved when his listeners proposed exf7! But in 18 Qe8+, 23 Qe3?! variation, we all overestimated the same move 25...Rxg3+?!
Very few fairytales, which is understandable. An amusement on a toric chessboard not having convinced the (numerous) listeners, we send them back to the masterpiece of the genre (serie helpmate in quadruplet) already fifty years old. http://lecoursdumaitre.e-monsite.com/pages/cours/cat-2007/6-mars-2007.html
Training. In 2#: blockade, cycle, sacrifice, generous key, then a Danish festival of 5 problems, the most amazing being the most recent. A French work on a well-known theme, an Albionesque surprise and a performance where something (what is it?) happens 8 times.
The first 3#, also French, was proposed at the 2017 European Championship in... Riga. This is followed by a German riddle and a combination of two themes by the Russian giant. An easy 19th century 4#, by a German author with a French surname. An amusing exercise from Nice. Then, in 5 moves, a beautiful use of space.
Two 3# helpmates, one with a twin, the other (Alsatian) as an entry test to our brotherhood. Finally, in selfmate, a nice Macedonian cycle.
Have a good time. See you in a few weeks. Deus vos custodiat.
Master's diagrams
[Event "?"] [Site "?"] [Date "1981.??.??"] [Round "?"] [White "Gipslis, Vitolinsh"] [Black "0044.44"] [Result "1/2-1/2"] [SetUp "1"] [FEN "7k/1p1Nnp2/6pP/pB6/3b4/5P2/PPK5/8 b - - 0 39"] [PlyCount "63"] [EventDate "1981.03.??"] [SourceDate "2010.01.01"] {32/343. Black has virtually one more pawn, but his weak Queen-side will give White a counterplay, or even a hope of advantage.} 39... Kh7 40. Kd3 $1 (40. b3 $6 Kxh6 41. Kd3 (41. Bc4 f5) 41... Bg1 {for ... Kg5-f4}) 40... Bxb2 (40... Bg1 41. Ne5) 41. Nc5 $1 Be5 (41... b6 42. Nd7 Nc8 ( 42... Kxh6 43. Nxb6 {/\ Nc4= AG}) 43. Ba6 Nd6 44. Nxb6 Kxh6 45. f4 Bc1 46. Nd5 Kh5 47. Kc2 $11) 42. Nxb7 Bc7 43. Be8 $1 f6 (43... f5 44. Kc4 Kxh6 45. Kb5 Kg5 46. Nxa5 Bxa5 47. Kxa5 Kf4 48. Kb5 $1 Kxf3 49. a4 f4 50. a5 $1 (50. Bxg6 $1 Nxg6 51. a5 $8 Ke3 52. a6 $8 $11 {because the Knight is further away than in the variation below}) 50... Ke3 51. Bxg6 f3 {(Bf7 seems to draw comfortably, but what about the immediate a5-a6 ?)} 52. a6 $2 {(a undue haste)} (52. Bf7 $3 Nf5 (52... f2 53. Bc4 $8) 53. Bc4 {(or Kc5)} Nd6+ 54. Kc5 Nxc4 55. a6 $8 $11) 52... f2 $8 (52... Nc6 53. Kxc6 $1 f2 54. Bd3 $1 {but not a7?}) 53. Bd3 Kxd3 $8 54. a7 f1=Q $1 (54... Nd5 $2 55. Kc6 $8 f1=Q 56. a8=Q Qc1+ {(...Qf6+ Kc5!)} 57. Kd6 $8 Qh6+ 58. Kc5 $8) (54... Kd4 $1) 55. a8=Q Kd4+ $8 56. Kb6 Qb1+ $8 (56... Nd5+ $2 57. Ka7 $8 Qa1+ 58. Kb8 $8 {(no check on d6 or g3)} Qb2+ 59. Qb7 $8) 57. Ka7 (57. Kc7 Nd5+ $8 58. Kd8 Qb6+ $8 59. Kd7 Qc7+ $8 60. Ke6 Qe5+ $8) 57... Qa2+ $8 58. Kb8 (58. Kb7 Qd5+ $1 59. Kb8 Qe5+ $1 60. Ka7 Qa5+ $1 61. Kb7 Qb5+ $8 62. Kc7 Nd5+ $8 63. Kd6 Qc5+ $1 ) 58... Qg8+ $1 (58... Qh2+ $1 59. Kb7 Qb2+ $8 60. Ka7 Qa3+ $8 61. Kb8 Qd6+ $1 62. Kb7 Qb4+ $1 63. Ka7 Qa5+ $1 {as above}) 59. Ka7 Nc8+ $3 {[#](nice recycling of the Knight)} 60. Kb7 (60. Ka6 Qc4+ $1) 60... Nd6+ $8 61. Ka7 Nb5+ $8 62. Kb7 Qd5+ $8 63. Kb8 Qd8+ 64. Kb7 Nd6+ 65. Ka7 Qa5+ {and mate in 2}) 44. Kc4 ( 44. Nc5 {AG} Kxh6 45. Kc4 $11) 44... Kxh6 45. Kb5 (45. a4) 45... Nf5 (45... a4 46. Kxa4 Nf5 47. Kb5 Nd4+ 48. Kc5 Nxf3 49. a4 $1 $11 {AG}) (45... Kg5 46. Nxa5) 46. Kc6 (46. Nxa5 $2 Nd6+) 46... Bh2 47. Nxa5 Nd4+ 48. Kd5 $1 Nxf3 49. Nc4 $1 { A pawn less, certainly, but isn't the a2 pawn stronger ?} f5 (49... g5 50. Bd7 $1 $11 {AG}) 50. a4 Bg1 51. a5 g5 52. Ne5 Nh4 (52... Nxe5 53. Kxe5 $11 {AG}) 53. Nf7+ (53. Bd7 $11 {AG}) 53... Kg6 54. Ne5+ Kf6 {Black may, despite his material advantage, find himself in danger, the "a" pawn being dangerous.} (54... Kh6 $11) 55. Bh5 (55. a6 {(threatens Nd7-c5, not considered by AG)} g4 $1 (55... Ba7 $1 56. Nc6 Bb6 57. Ne5 Ba7 $11) 56. Nd7+ Kg5 57. Nc5 g3 $8 58. a7 Bxc5 59. a8=Q g2 $8 60. Qd8+ (60. Qa1 $6 g1=Q 61. Qg7+ $8 Kf4 62. Qc7+ $8 Kg4 63. Qxc5 $8) 60... Kg4 $8 61. Kxc5 $1 g1=Q+ 62. Qd4+ Qxd4+ 63. Kxd4 $11) (55. Nd7+ Ke7 56. Nc5 $1 Bh2 $8 57. a6 Bb8 $8 58. Kc6 Ba7 59. Bd7 g4 60. Nd3 g3 61. Nf4 $8 $11) 55... Ng2 56. Nd7+ Ke7 57. Kc6 Nf4 (57... g4 58. a6 g3 59. Nc5 Bxc5 60. Kxc5 Ne1 61. a7 g2 62. a8=Q g1=Q+ 63. Kc4 $11) 58. Nb6 (58. Nc5 $6 Ne6 $1) 58... Nd3 $1 {Not the "one move", but you have to be vigilant.} (58... Nxh5 $2 59. a6 $1 $18 {AG}) (58... g4 $2 59. a6 $8 $18) (58... Bxb6 $1 {(not considered by AG)} 59. Kxb6 (59. axb6 Ne6 $8 $11) 59... Nd5+ $8 60. Kc5 (60. Kb7 Nb4 $8 61. Kb6 Kd6) 60... Nc7 $8 61. Kc6 Kd8 $8) ( 58... Ne6 $1 59. a6 Nd8+ 60. Kb5 (60. Kc7 Ne6+ $1) 60... Kd6 $1 61. a7 Ne6 $8) 59. Be2 (59. a6 Nb4+ $8 60. Kb5 $8 (60. Kb7 $2 Bxb6 $8 $19) 60... Bxb6 (60... Nxa6 61. Kxa6 Ke6 $11) 61. Kxb4 $8 (61. Kxb6 $2 Nxa6 $8 62. Kxa6 Kd6 63. Kb5 Kd5 $19) 61... Kd6 62. Kc4 $11) 59... Ne5+ 60. Kc7 Bh2 $1 (60... Bxb6+ $2 61. axb6 $8 g4 62. b7 $8 Nd7 63. Bb5 $8 $18 {AG} g3 64. Bxd7 $8 g2 65. b8=Q $8 g1=Q 66. Qe8+ $3 {[#]} (66. Qd8+ $2 Kf7 67. Qe8+ Kg7 $8) 66... Kf6 67. Qf8+ $8 Ke5 68. Qd6+ $8 Ke4 69. Bc6+ $8 {followed by an enfilade}) (60... Nf7 $1 {(only other possible move)} 61. a6 Nd6 $1 (61... Bh2+ $1 62. Kc6 Nd8+ $8 63. Kb5 Bb8 $8) 62. Kc6 Bxb6 $8 63. Kxb6 $8 g4 64. Kc7 g3 $8 (64... Ne8+ $2 65. Kc6) 65. a7 g2 66. a8=Q Ne8+ $1 67. Kc6 g1=Q $8 $11) 61. Nc8+ $1 (61. Kb7 Bg1 (61... Nd7 $1 { AG}) 62. a6 Nd7 $8 $11) (61. a6 $6 Nc4+) 61... Ke6 62. a6 Nd7+ (62... Nd3+ 63. Kd8 Nb4 $8 $11) 63. Kd8 Nb8 $8 {This time, it's really the only move !} ( 63... Bg1 $2 64. Bc4+ $8) (63... Ne5 $2 64. Bc4+ $8 Kf6 65. Bd5 $8 Bg1 66. Kc7 $8 {for Nb6}) 64. a7 Nc6+ $8 65. Ke8 Nxa7 $8 66. Nxa7 g4 (66... Ke5 67. Nc6+ Ke4 68. Kf7 (68. Ne7 $11 {AG}) 68... g4 (68... Bd6 69. Kg6 g4 70. Nd4 $1) 69. Ne7 g3 70. Nxf5 g2 71. Bf3+ $8) 67. Nc6 Kf6 68. Nd4 g3 69. Bf3 Bg1 70. Ne2 Bf2 1/2-1/2 [Event "?"] [Site "?"] [Date "1982.??.??"] [Round "?"] [White "Sochniev, A."] [Black "0071.31"] [Result "1-0"] [SetUp "1"] [FEN "N7/5b2/8/P7/5k1p/5P2/4P2K/4b1B1 w - - 0 1"] [PlyCount "17"] [EventDate "1982.??.??"] [SourceDate "2010.01.01"] {White has the material advantage, but his King is confined. Is there time to promote ?} 1. a6 $8 (1. Bb6 $2 Bc4 $1) 1... Bc4 (1... Bg3+ 2. Kg2 $8 Bc4 3. e3+) (1... Ba5 2. Bb6 $1) 2. Nc7 $8 (2. a7 $2 Bg3+ $1 3. Kg2 $8 Bxe2 4. Be3+ $3 {[#]} (4. Nb6 $2 h3+ $8 5. Kxh3 Bf1# $1 {: the fact that the mat is a model one does not really console}) 4... Kxe3 5. Nb6 $8 Bxf3+ 6. Kh3 $11) 2... Bxe2 (2... Bg3+ 3. Kg2 $8 Bxe2 4. Nd5+ $1 Ke5 5. a7 $18) 3. Nd5+ $8 (3. Ne6+ $2 Ke5 $8 $11 ) 3... Kxf3 4. a7 $8 Bg3+ 5. Kh1 $8 (5. Kh3 $4 Bf1#) 5... Kg4 {still threatens mat.} (5... Bf1 6. Ne3 $1) 6. Ne3+ $8 Kh3 (6... Kf4 7. a8=Q $1 (7. Ng2+ $1) 7... Bf3+ 8. Ng2+ $8) 7. a8=B $3 {[#]Play strong, but not too strong !} (7. a8=Q $2 Bf3+ $8 8. Qxf3 {stalemate}) 7... Bf2 (7... Bb8 8. Bf2 $8) (7... Be1 8. Bh2 $8) (7... Bf4 8. Bg2+ $8 Kg3 9. Bh2+ $8 Kf2 10. Bxf4 $8) 8. Bg2+ $8 (8. Bxf2 $2 Bf3+ $8 9. Bxf3 {stalemate}) 8... Kg3 9. Bh2# 1-0 [Event "?"] [Site "?"] [Date "1976.??.??"] [Round "?"] [White "Maksimovskikh, A."] [Black "0500.02"] [Result "1/2-1/2"] [SetUp "1"] [FEN "7k/2R5/8/8/K7/8/p1p3R1/3r4 w - - 0 1"] [PlyCount "29"] [EventDate "1976.??.??"] [SourceDate "2010.01.01"] {A sweeping session... demolished. As is often the case, the demo is instructive and, in a sense, enhance the study.} 1. Rc8+ $1 (1. Rh2+ $1 Kg8 2. Rg2+ $1 Kf8 3. Rc8+ $8 (3. Rf2+ $2 Ke8 $8 4. Re2+ Kd8 $8 5. Rc8+ Kd7 $8 {(...Kxc8? Rxc2+)} 6. Rc7+ Kd6 $8 7. Rc6+ Kd5 $8 8. Rc5+ Kd4 $8 9. Rc4+ Kd3 $8 $19) 3... Ke7 4. Rc7+ $8 Kd6 5. Rc6+ $8 Kd5 6. Rc5+ $8 Kd4 7. Rc4+ $8 Kd3 8. Kb3 $3 {[#](with self-control)} a1=Q (8... c1=N+ 9. Rxc1 $8) (8... a1=N+ 9. Kb4 $8 Rb1+ 10. Kc5 $8 ) 9. Rg3+ $8 Ke2 $8 {(otherwise mat in 2)} 10. Rxc2+ $8 Rd2 (10... Kf1 11. Rf3+ $8) 11. Rg2+ $8 Ke3 12. Rcxd2 $11) 1... Kh7 2. Rc7+ $1 (2. Rh2+ $1 Kg7 3. Rg2+ $1 { as above}) 2... Kh6 3. Rc6+ $1 Kh5 4. Rc5+ $1 Kh4 5. Rc4+ $1 Kh3 6. Rc3+ $1 (6. Rh2+ $1 Kg3 7. Rg2+ $1 Kf3 8. Rc3+ $8 Rd3 $1 9. Rf2+ $8 {: text}) 6... Rd3 $1 (6... Kxg2 7. Rxc2+ $8) 7. Rh2+ $3 {[#]} (7. Rxd3+ $2 Kxg2 $8 8. Rd2+ Kf3 $19) 7... Kg3 (7... Kxh2 8. Rxc2+ $8) (7... Kg4 8. Rc4+ $1 (8. Rg2+ $1)) 8. Rg2+ $8 Kf3 9. Rf2+ $8 Ke3 10. Re2+ $8 Kd4 (10... Kxe2 11. Rxc2+ $8 Rd2 12. Rc1 $8 Rb2 (12... Rd1 13. Rc2+ $8 Rd2 14. Rc1 $8 $11) 13. Ka3 $1 Rb1 14. Rc2+ $8) 11. Rc4+ $3 {[#]} Kd5 {The d3 square is unavailable, compare with 3 Rf2+ in 1 Rh2+.} (11... Kxc4 12. Rxc2+ $8) 12. Rc5+ $8 Kd6 13. Rc6+ $8 Kd7 14. Rc7+ $8 Kd8 15. Rc8+ $8 {Three systematic movements. A study much appreciated by V. Tsechkovsky.} 1/2-1/2 [Event "Zuerich"] [Site "Zuerich"] [Date "1959.??.??"] [Round "?"] [White "Tal, M."] [Black "Keller, D."] [Result "1-0"] [ECO "D44"] [PlyCount "67"] [EventDate "1959.05.19"] [EventType "tourn"] [EventRounds "15"] [EventCountry "SUI"] [SourceDate "2010.01.01"] 1. Nf3 {The Reti opening is usually a slow, calm and level-headed game, isn't it? ?} Nf6 2. c4 e6 3. Nc3 d5 4. d4 c6 5. Bg5 dxc4 6. e4 b5 7. a4 (7. e5 {is habitual move}) 7... Qb6 (7... Bb4 8. e5 h6 9. exf6 hxg5 10. fxg7 Rg8) (7... b4 8. Nb1 Be7 9. e5 Nd5 10. Bxe7 Nxe7 11. Bxc4 c5 (11... a5 12. Nbd2 {Tukmakov-Pinter/Szirak/1985 40/522}) 12. Bb5+ Nd7 (12... Nbc6 13. dxc5 Qxd1+ 14. Kxd1 O-O) 13. dxc5 Bb7 14. O-O Rc8) (7... Bb7 8. axb5 cxb5 9. e5 (9. Nxb5 Bxe4 10. Bxc4 Bb4+ {(...Be7)} 11. Nc3 Nbd7 $10 { Ribli-Inkiov/Dubai ol/1986 42/542}) 9... h6 $8 10. Bxf6 (10. Bd2 Ne4 11. Nxb5 Nxd2 12. Qxd2 Bxf3 13. gxf3 Nc6) 10... gxf6 11. Nxb5 Bb4+ 12. Nc3 fxe5 13. Nxe5 Nc6 {Osnos-Ivanov,S/UdSSR/1985 41/485}) 8. Bxf6 gxf6 9. Be2 a6 {Almost no longer played 60 years later, but not refuted.} (9... Nd7 10. O-O (10. d5 Nc5 $1) 10... Bb7 (10... Bb4 11. d5 $1 Bxc3 12. bxc3 Nc5 13. dxc6 $1 Nxe4 {(... Cxa4 Txa4! & Dd6!)} 14. Qc2 f5 15. axb5 Qxb5 16. Nd4 $16) 11. d5 (11. axb5 cxb5 12. b3 Rc8 {(...Bb4! Na2 ...a5)} 13. bxc4 bxc4 14. Rb1 Qc7 15. d5 $1 {Livaic,L (2461)-Lagunow,R (2357) Mamaia 2017}) (11. a5 Qc7 12. a6 Bc8 13. d5 Bc5 14. b3 b4 15. Na4 {(Lutz,C (2605)-Hansen,C (2590) Tilburg 1993)} cxd5 16. exd5 c3 $11) 11... cxd5 12. exd5 b4 13. a5 Qa6 14. dxe6 fxe6 15. Na4 Rg8 16. Qc2 O-O-O { Eingorn-Dolmatov/UdSSR/1985 40/(522)}) (9... Bb7 10. O-O Bb4 (10... Bg7 $6 11. axb5 cxb5 12. b3 b4 $6 13. Na4 Qc7 14. Bxc4 Bxe4 15. Nc5 $18) (10... a6 {: text}) (10... Nd7 {above}) 11. Qc1 Nd7) (9... Bg7 10. axb5 cxb5 11. b3 cxb3 12. Bxb5+ Bd7 13. Qxb3 O-O 14. O-O Rc8 $11 {Kozul,Z (2612)-Zelcic,R (2508) Zagreb 2018}) 10. O-O Bb7 (10... Nd7 11. d5 $1 Rb8 (11... Bc5 12. b3 b4 13. a5 Qa7 14. Na4 c3 15. Bc4 cxd5 16. exd5 e5 {Sasikiran,K (2652)-Korneev,O (2594) Corsico 2005}) 12. dxc6 (12. Nd4 Ne5 13. dxe6 Bc5 $1 14. exf7+ Nxf7) 12... Qxc6 13. axb5 axb5 14. Nd4 Qc5 15. b4 $1 (15. Ra5 Be7 16. Rxb5 Rxb5 17. Ndxb5 O-O) 15... Qxb4 (15... cxb3 16. Ndxb5 Be7) 16. Ncxb5 Rxb5 17. Ra4 $8 Qb2 18. Nxb5 Qxb5 19. Rxc4 {(Garcia Gonzales,G-Santos,L Portimao 1975)} Bc5 $1 20. Qc2 Bb7 $11) (10... Ra7 11. b3 (11. Qd2 {(or on c2)} Bg7) (11. d5 Rd7 {(...Fg7)} 12. axb5 cxb5 13. b3 cxb3 14. Qxb3 Bc5 {(...Bg7)} 15. e5 $1 f5 16. Ng5 $16) 11... b4 (11... cxb3 12. Qxb3 Nd7 13. Rfc1 Rc7 14. Rab1 Be7 15. d5 Nc5 16. Qd1 b4 17. Qd4 Nd7 18. Qxb6 Nxb6 19. Na2 {(a5 ...Na8)} a5 20. Rxc6 Rxc6 21. Bb5 Kd8) 12. a5 Qd8 13. Na4 c3 14. Nb6 Nd7 15. Nxc8 Qxc8 {Lukacs,P-Hoelzl,F/Budapest 1987}) 11. d5 $1 {[#]Recommended by Unzicker.} (11. b3 cxb3 (11... b4 12. a5 Qc7 13. Na4 c3 14. Nb6 Ra7 15. d5 {(or Bc4 ...Nd7 d5 : Comas Fabrego,L (2510)-Korneev,O (2615) Cala Galdana 1999)} cxd5 16. exd5 e5 {(...Bc5)} 17. Nh4 Nd7 {Gyimesi,Z (2624)-Acs,P (2518) Hungary 2005}) 12. Qxb3 Nd7 13. d5 cxd5 (13... Nc5 14. Qb1 cxd5 15. exd5 Qa5 {Watson,J (2345)-Nakamura,H (2520) Seattle 2003}) 14. exd5 Nc5 (14... bxa4 15. Qxb6 $6 {(Qxa4 ...Qb4 Qa2!)} Nxb6 16. Rab1 $2 Nxd5 $1) 15. Qb4 Nxa4 $1 {[#]} (15... Nd7 16. Qh4 $16 {Lerner-Kaidanov/Moskau II/1985}) 16. Nxa4 Qxf2+ 17. Kxf2 Bxb4 18. Rfb1 Bd6 19. Nc3 f5 $44) (11. Qc2 Nd7) (11. axb5 cxb5 12. d5 Nd7) 11... cxd5 (11... Nd7 12. dxe6 (12. dxc6 $6 Bxc6 13. axb5 {(Nd4? .. .b4!)} axb5 14. Rxa8+ Bxa8 15. Nd4 {(b3 ...Fb4)} Bc6 {(or ...b4)} 16. Bh5 Nc5) (12. Nd4 Ne5 $1) (12. b3 $6 cxd5 $1 13. exd5 b4 14. a5 Qd6 15. dxe6 fxe6 16. Na4 c3 {Gyimesi,Z (2618)-Horvath,C (2546) Budapest 2004}) 12... fxe6 13. Nd4 c5 14. Bh5+ Kd8 $1 (14... Ke7 $2 15. Nxe6 $1 {[#]} Qxe6 16. Bg4 Qc6 17. Nd5+ Kd8 18. axb5 Qd6 {(...axb5 Rxa8+ & Nxf6)} 19. Bxd7 Qxd7 20. Nb6 $16) 15. Nde2 (15. Nxe6+ Qxe6 16. Bg4 Qc6) 15... Kc7 16. axb5 axb5 17. Rxa8 Bxa8 $11) (11... b4 $2 12. dxe6 $1 bxc3 (12... fxe6 13. Nd4 $1 bxc3 14. bxc3 c5 15. Rb1 Qd6 16. Nf5 $1 $18) 13. exf7+ Kxf7 14. Bxc4+ Ke8 15. bxc3 Nd7 (15... Qc5 16. Qb3) 16. Rb1 Qc7 17. Nd4 $18) (11... Bc5 12. dxe6 fxe6 13. b3 (13. Nh4 $6 Nd7 $1 14. Bg4 {(Bh5+ ...Ke7)} O-O-O {(...Ke7? Bxe6!)} 15. Bxe6 Kb8 $6 {(better ...Qc7 or ...Kc7)} 16. Bxd7 Bc8 {(...Qc7? Qh5!)} 17. Nd5 $1 cxd5 $8 18. Bxc8 $8 dxe4 $11 {Farago, I-Flear/Hastings/1984-85 39/(522)}) (13. e5 Nd7 14. exf6 O-O-O {Lputian,S (2530)-Ribli,Z (2615) Sarajevo 1985}) 13... Qd8 (13... Bb4 14. Rc1) 14. Qc1 ( 14. Qxd8+ Kxd8 15. bxc4 $2 b4 16. Nb1 Nd7) 14... Nd7 15. axb5 cxb5 16. bxc4 b4 17. Na4 Qc7 (17... Qe7 {Ragozin-Szily/Moskau-Budapest/1949}) 18. Qh6 O-O-O $11) 12. exd5 b4 $6 {A simple development was perhaps preferable.} (12... Bc5 13. axb5 axb5 14. Rxa8 Bxa8 15. Bxc4 (15. b3 O-O) 15... bxc4 16. Qa4+ Bc6 17. dxc6 Qxc6 $11) (12... Nd7 13. axb5 axb5 14. Rxa8+ Bxa8 15. Nd4 {(b3 ...Bb4 Na2 ...Bc5)} (15. dxe6 $2 fxe6 16. Nd4 Bc5 17. Bh5+ (17. Ndxb5 Ne5 $1 18. Qa4 $2 { (Rh1)} Ke7 $1 $19 {Trifunovic-van den Berg/Amsterdam/1950}) 17... Kd8 {(... Kf8! Ndxb5?! ...Ne5!)} 18. Ndxb5 Rg8 19. Bf3 Bc6 $11 {Vegh,E (2278)-Berczes,D (2453) Plovdiv 2008}) 15... Bc5 16. Ndxb5 Ne5 17. b4 $1 {[#]} (17. Qa4 O-O 18. Bxc4 Rd8 $1 19. dxe6 $2 Qc6) (17. Na3 $2 Qxb2) (17. Kh1 exd5 18. b4 Bxf2) (17. b3 exd5 18. Nxd5 Bxd5 19. Qxd5 O-O 20. bxc4 Rd8 21. Qe4 Rd2 22. Nc3 Kg7 {(...Rd4 Qe3)} 23. Na4 Qb4 $11) 17... Be7 $8 (17... Bxb4 $2 18. Qa4 Ba5 19. Ra1 $18) ( 17... cxb3 $2 18. Na4 $18) 18. Kh1 (18. d6 Bd8 19. Qa4 Bc6) 18... O-O (18... exd5 19. Nxd5) 19. f4 (19. d6 Bd8 20. f4 Qc6) 19... Nd3 20. Bxd3 cxd3 21. Rf3 Kh8 22. Qxd3 Bxb4 23. Rh3 (23. Na4 Qa5 $8 24. Rh3 f5 $8 $10 25. Rxh7+ { Gorelov-Kischnjev/Barnaul/1984}) 23... f5 24. Rxh7+ {1/2-1/2 Hillarp Persson,T (2535)-Robson,R (2389) Reykjavik 2008}) 13. a5 (13. dxe6 fxe6 $8 (13... bxc3 $2 14. exf7+ Kxf7 15. Bxc4+ Kg7 16. Nd4 $1 {(Nh4? ...Bc8! =)} Bc8 17. a5 Qd6 18. bxc3 Ra7 19. Rb1 Be7 20. Qh5) 14. Bxc4 (14. a5 Qd6 15. Na4 Rg8) 14... bxc3 15. bxc3 (15. Nd4 $2 Rg8 16. g3 Nc6 $19) (15. Re1 cxb2 16. Rb1 e5 17. Nxe5 $1 fxe5 18. Rxe5+ Be7 19. Qh5+ Qg6 20. Rxe7+ $8 Kxe7 21. Qe5+ Kd8 22. Qxh8+ Kc7 23. Qe5+ Kc8 $11) 15... Qc6 (15... Nd7 16. Nd4) 16. Bxe6 $1 Nd7 $1 (16... Qxe6 17. Re1 Be4 18. Nd2 $1 {(Nd4 ...Qe5 f3 ...f5 fxe4 ...f4!)} f5 19. Nxe4 fxe4 20. Qd4 Nc6 21. Qxh8 Ra7 22. Re3 $16) 17. Re1 (17. Bxd7+ Qxd7 18. Re1+) 17... O-O-O 18. Rb1 Bc5 19. c4 Qc7 {and the defence is satisfactory}) 13... Qc7 $1 (13... Qd8 $2 14. dxe6 $1 Qxd1 $8 (14... fxe6 15. Nd4 $1 bxc3 $2 16. Bh5+ Ke7 17. Re1 $18) (14... bxc3 $2 15. exf7+) 15. exf7+ Kxf7 16. Bxc4+ (16. Nxd1) 16... Kg7 17. Nxd1 Bxf3 18. gxf3 Bc5 19. Ne3 $16) (13... Qd6 $2 14. Ne4 $1 Qf4 15. dxe6 $1 Qxe4 16. exf7+ Kxf7 17. Rc1 c3 $8 18. bxc3 Bh6 (18... b3 19. Qxb3+) 19. Rb1 $16 ) 14. dxe6 $1 {In comparison to the immediate 13 dxe6, Black holds the c4-square but no longer e6.} ({Also promising is} 14. Na4 $1 Nd7 $1 (14... exd5 $2 15. Nb6 $1 Bc5 $6 {(...Nd7 Re1 or ...Ra7 Nxd5)} 16. Nxd5 Qd6 17. Bxc4 O-O 18. Qd3 Kh8 19. Qf5 $3 {(threatens Bd3)} Bc8 {(...Rg8 Nxf6)} 20. Qh5 Rg8 {(... Nc6 Qh4!)} 21. Qxf7 Rf8 22. Qh5 Ra7 23. Nf4 $1 $18) (14... Bxd5 15. Nb6 Nd7 { (...Qb7 Re1)} 16. Nxd5 exd5 17. Qxd5 Rd8 18. Qe4+) (14... Qxa5 $2 15. dxe6 fxe6 16. Bxc4 $18) 15. dxe6 fxe6 16. Nd4 $1 (16. Rc1 Rg8 $1 17. Rxc4 Qxa5 18. g3 Rd8 ) 16... Rg8 17. Bh5+ Ke7 18. g3 Qxa5 19. Nxe6 $1 {[#](the King-Knight sacrifices himself, instead of the Queen-Knight in the game)} (19. Qe1 Qd5 20. Bf3 $8 Qxd4 21. Qxb4+ Kf7 22. Qxb7) (19. f4 Rc8) 19... Kxe6 $8 20. Bf7+ $3 Kxf7 21. Qxd7+ Be7 22. Rfe1 Rge8 23. Qxb7 Rad8 $8 24. Nb6 Qb5 25. Re4 {with a good chance of an advantage}) 14... bxc3 (14... fxe6 15. Nd4 $1 bxc3 16. Bh5+ $3 {(see analysis on 15th black move)} (16. bxc3 $2 Rg8 $1 {: see 15th white move})) 15. Nd4 $1 {[#]} (15. bxc3 $2 fxe6 $1 (15... Bg7 $2 16. exf7+ Kxf7 {(...Qxf7 Ng5!)} 17. Rb1 $1 Be4 {(...Rd8? Rxb7!)} 18. Nd4 $1 {(Re1 ...Rc8! Rb4)} Rd8 {(...Bxb1 Qxb1)} 19. Bf3 Bxb1 20. Qxb1 Ra7 21. Qxh7 Rxd4 22. cxd4 $16) (15... Bc5 16. exf7+ Qxf7 17. Ng5 Qd5 18. Bh5+ Kf8 $8 19. Qxd5 {(Ne6+ is no good because the bK has the square g7)} Bxd5 20. Rfd1 h6 $1 21. Rxd5 hxg5 22. Rxc5 Rxh5 $11) (15... Rg8) 16. Nd4 $8 Rg8 $1 (16... Bd5 $2 17. Bg4 $1 {(Bh5+ ...Ke7 Re1 ...Nc6 Nf5+)} Rg8 18. Nxe6 Bxe6 19. Re1) 17. Bf3 Qd7 $1 18. Re1 e5 19. Rb1 Ra7 $8 20. Rb6 Kf7 21. Bh5+ Kg7 22. Bg4 $8 Qe8 (22... Qf7 23. Be6) 23. Bh5 Qd7 $11) 15... Rg8 $1 {The Swiss master plays... what Tal would have played in his place: the most active and undoubtedly the best, if not the only one.} (15... fxe6 $2 16. Bh5+ $3 (16. Nxe6 $2 Qd6 $1 (16... Qd7 $6 {(was keenly analysed at the time)} 17. Bh5+ $1 ( 17. Re1 $1) 17... Ke7 18. Qg4 $1 (18. Re1 $6 Qxd1 19. Raxd1 f5 20. Nxf8+ { (Nc7+!)} Kxf8 {(...Be4 bxc3)} 21. Rd8+ Kg7 22. Re7+ Kf6 23. Rf7+ Ke5 $1 {(and not ...Kg5? Rxh8 ...c2 Rg8+! ...Kf4 Rg4+)} 24. Rxh8 c2 25. Re8+ Kd4 26. Re1 Be4 $11) 18... Bd5 (18... Qc6 19. Nf4) 19. Rfe1 $3 {[#](this was missed by the experts)} ( 19. Rad1 $2 {(too soon !)} c2 $8 20. Rxd5 {(Rd2? ...Bh6!)} Qxd5 21. Nc7 Qe5 $11 ) (19. Nf4 $2 Qxg4 20. Nxd5+ Kd6) 19... Bxe6 (19... c2 20. Nc5+) 20. Rad1 $1 Qc6 21. Qf5 $1 {(threatens mate in 3 with Rxe6+!)} Nd7 22. Bf3 $18) 17. bxc3 $1 (17. Bh5+ Kd7 $1 {(...Ke7? Nd4!)} 18. Bf3 $2 cxb2 $1) 17... Rg8 18. Bh5+ (18. g3 Qxe6 19. Re1 Be4) 18... Ke7 $1 {(Nd4 impossible: the good and the bad are reversed because bxc3 ...Rg8 have been intercalated)} (18... Kd7 $2 19. Bf3 $3 Bxf3 20. Nxf8+ Rxf8 21. Qxf3) 19. Qxd6+ Kxd6 20. Rfe1 $8 Rxg2+ 21. Kf1 Rg5 22. Rad1+ Rd5 23. Nxf8 $16) 16... Ke7 17. Re1 $1 (17. Nxe6 $1 Qd6 18. Nd4 $1) 17... Bd5 (17... e5 18. Nf5+ $1 Ke6 19. Qg4 $1 Bc8 20. Rad1 $1 {(or bxc3!)} c2 {(here, we can announce mate in 4 !)} 21. Rxe5+ $3 fxe5 {(...Kxe5 Qe2+ or ...Qxe5 Qxc4+)} 22. Ng7+ {(or Nh6+, but Nd6+ only mate in 6 !)} Kf6 23. Qh4+ {( Ne8+ then mate in 2)} Kxg7 24. Qg5#) 18. Nxe6 $1 {(certainly not the simplest !)} (18. Qg4 $1 Qc8 19. Rxe6+ $1 Bxe6 20. Re1 Qd7 21. bxc3 Ra7 22. Nxe6 $18) (18. Bf3 $1 Qc5 {(...Qd7 bxc3 threatens Nxe6 then Bd5)} 19. b4 $3 cxb3 20. Nxe6 $1 Bxe6 21. Qxb3 $18) 18... Bxe6 {(this diagram can be seen as an artistic study)} 19. Rxe6+ $3 {[#]} (19. Bg4 $2 cxb2 20. Rb1 Nd7 $1 21. Rxe6+ {(Dd5 ... Rf7!! puis ...Rg7)} Kf7 22. Bf5 c3 23. Qh5+ $8 Kg7 $8 {(...Kg8? Rxf6!!)} 24. Qg4+ Kf7 $8 $11) (19. Qe2 $1 Qc8 20. Bg4 Nc6 21. Bxe6 Nd4 22. Bxc8+ Nxe2+ 23. Rxe2+ Kf7 24. Be6+ Kg7 25. bxc3 $16) (19. Qd5 $2 Qc6 $8) 19... Kxe6 20. Qg4+ $8 Kd5 21. Qf3+ $3 Kc5 (21... Ke6 22. Re1+ $8) 22. b4+ $3 {(again a b4 !)} Kb5 ( 22... Kxb4 23. Rb1+ $8 Kc5 24. Qe3+ $8 Kd6 {(...Kc6 Be8+)} 25. Qd4+ $8 Ke7 26. Re1+ $8) (22... cxb3 23. Qxc3+ $8 Kd6 24. Rd1+) 23. Be8+ $8 Nd7 24. Qd5+ $8 ( 24. Qf5+ Kc6 $1 {(...Kxb4 Rb1+ ...Ka3 Bxd7)} 25. Qe4+ Kb5 26. Qd5+ $8 {idem}) 24... Kxb4 25. Rb1+ $8 Ka3 26. Qd4 $3 {[#]} (26. Bxd7 $4 c2 $8) (26. Qd1 $4 Rb8 $3 27. Qc1+ {(Ra1+ ...Kb4!)} Ka4 $8) 26... Bb4 (26... Rb8 27. Qxc3+ $8 Ka4 28. Rxb8) (26... Qxa5 27. Qxc4 $8) (26... Nc5 27. Qxc3+ Nb3 28. Ra1#) (26... Qe5 27. Qxc4 $8) 27. Qd1 $3 {[#](now that b4 is obstructed, a mate in 2 threatens)} ( 27. Bxd7 $6 Qxd7 $1 28. Qxc4 {(Qxd7 ...c2!=)} Qa4 $3 {(really ?)} 29. Ra1+ $8 Kb2 30. Rxa4 Ba3 $1 $16) 27... c2 (27... Bxa5 28. Bxd7 $8 Qxd7 29. Ra1+ $8 Kb4 30. Qxd7) 28. Qxc2 $8 Qe5 $1 29. Bxd7 $8 Qe1+ 30. Rxe1 Bxe1 31. Qc1+ (31. Qxc4 Rhd8 32. Qc1+) 31... Kb3 32. Qxe1 $18) (15... Nc6 $2 16. exf7+ $1 Kxf7 (16... Qxf7 17. Bh5 {(Nxc6 ...c2)} O-O-O 18. Bxf7 Nxd4 19. Qa4 $18) 17. Bxc4+ Ke8 18. Qh5+) (15... cxb2 $2 16. exf7+ $1 {(Rb1 ...Bd5 Bf3!)} (16. Qa4+ $2 Nc6 $2 ( 16... Bc6 $1 17. exf7+ Kd8 18. Ne6+ Kc8 19. Nxc7 Bxa4 20. Rxa4 Kxc7 21. Rxc4+ Kd8) (16... Kd8 $2 17. Rad1 $1) 17. exf7+ $1 Qxf7 18. Nxc6 $3 {(in Tal's style !)} ( 18. Rad1 $6 {(indicated by Tal, suddenly shy)} Rg8 $1 {(...0-0-0? Bg4+!)} 19. Nxc6 Rxg2+ 20. Kh1 {(Kxg2 ...Qg6+!)} Bd6 $3 {[#]} 21. Kxg2 {(Rxd6 ...Rxf2!! =)} Qg6+ 22. Kh1 Qe4+) 18... bxa1=Q 19. Rxa1 Qd5 (19... Qc7 20. Bh5+ $1 Kd7 21. Bg4+ Ke8 22. Ne5+ Ke7 23. Rd1 Rd8 24. Qb4+ Rd6 25. Nxc4 $18) 20. Bh5+ Kd7 ( 20... Qxh5 21. Ne5+ $8) 21. Rd1 Qxd1+ 22. Qxd1+ Kxc6 23. Bf3+ Kc7 24. Bxb7 Kxb7 25. Qd5+ Ka7 26. Qd7+ Kb8 27. Qd8+ Kb7 28. Qb6+ Kc8 29. Qxf6 Kb7 {(...Kb8 g4)} 30. Qxh8 Rc8 31. Qxh7+ Kb8 32. Qb1+ Ka8 33. Qb6 $18) 16... Qxf7 (16... Kxf7 17. Bh5+ Kg8 {(...Ke7 Re1+)} 18. Qg4+ Bg7 19. Qe6+ Kf8 20. Qe8#) (16... Ke7 17. Rb1 c3 18. Nf5+) 17. Bh5 bxa1=Q 18. Bxf7+ Kxf7 19. Qh5+ Kg8 20. Rxa1 $18) (15... Bg7 $2 16. Qa4+ $1 Kf8 (16... Nd7 17. exf7+ $1 {(stronger than exd7+)} Kxf7 18. Bxc4+ Kg6 19. Qc2+) 17. exf7 Qd7 (17... Qxf7 18. Bxc4) 18. Qb4+ Kxf7 (18... Qe7 19. Ne6+ Kxf7 20. Bh5+ Kxe6 21. Rfe1+) 19. Bh5+ Kg8 20. Rae1 $1 Bf8 21. Qxc3 $18) (15... Bd5 $2 16. Bf3 $1 (16. Qa4+ Kd8 $1 17. Rad1 cxb2 18. exf7 Bd6) (16. Bh5 Bc5 $1 17. exf7+ Kf8) (16. exf7+ $1 Bxf7 17. Bh5 $1 Nc6 18. Bxf7+ Kxf7 19. Qh5+ Kg8 20. Qd5+) 16... Qc5 (16... fxe6 17. Bxd5 exd5 18. Re1+) (16... Bxf3 17. Qxf3 Ra7 18. Qxf6) (16... Qb7 17. Qa4+ $1 Kd8 18. Rad1 $1 $18) (16... Bxe6 17. Nxe6 fxe6 18. Qe2 $1 {or of course Bxa8}) (16... c2 17. Nxc2 $1) 17. b4 $3 {[#] (as in variation 15...fxe6?)} (17. Nb3 $2 Bxf3 18. Qxf3 cxb3 19. Qxa8 { (Qxf6? fxe6-+)} Bd6 $1) (17. Re1 $1 Be7 {(...Nc6 exf7+)} 18. bxc3 fxe6 19. Rxe6 $1) (17. exf7+ $1 Bxf7 18. Bxa8 cxb2 19. Rb1) 17... Bxf3 (17... cxb3 18. Nxb3 Bxb3 19. Qxb3 $18) 18. Qxf3 Qxd4 19. Rfd1 $1 {(it's the best Rook: comparing with the 18th move of the game, one does not fear ...cxb2 but ...c2) } (19. Rad1 Qe5 20. Rde1 {(Rfe1 ...c2!)} Qd6 21. Qxf6) 19... Qe5 (19... Qa7 20. Qxf6) 20. Re1 $18) 16. Qa4+ $1 {[#]Only move !} (16. exf7+ $2 Kxf7 $8 (16... Qxf7 $2 17. Bf3 $16) 17. Bh5+ Rg6 $17) (16. g3 $2 Nc6 $1 (16... fxe6 17. Bh5+ Rg6 18. Nxe6 Qc6 $2 {(...Qd6! or ...Qd7!=)} 19. Qd8+ Kf7 20. Qxf8+ Kxe6 21. Rae1+ Kf5 22. f3 $8 Nd7 23. Qf7 $8 {(for Qxh7)} Nf8 24. bxc3 $18) 17. exf7+ Qxf7 $8 18. Nxc6 Bxc6 $17) 16... Kd8 $2 {But the Swiss master is now weakening.} (16... Nd7 $2 17. exf7+ $1 Kxf7 18. Bxc4+ Kg7 19. Ne6+ Kh8 20. Nxc7 Rxg2+ 21. Kh1 Rxf2+ 22. Bd5 $18) (16... Ke7 $2 17. Nf5+ $1 Kxe6 18. g4 $1 Nc6 ( 18... Qc6 19. Nd4+) 19. Qxc4+ Kd7 20. Qxf7+) (16... Nc6 $1 {(less evil)} 17. exf7+ $1 Qxf7 (17... Kxf7 $2 18. Qxc4+ Kg7 19. Ne6+) 18. Nxc6 Bc5 $1 (18... Bd6 $1) 19. bxc3 (19. Ne5+ $2 Kf8 $8 $19) 19... Kf8 $1 20. Bf3 (20. Bxc4 $2 Rxg2+ $1 21. Kxg2 Qd7 $1 22. f3 $8 Bxc6 23. Qa2 Qg4+) 20... Rc8 21. Rad1 Rg5 22. h4 Bxc6 23. Bxc6 Re5 24. g3 $16) 17. g3 $8 $18 {It is now winning, yet the fun is just beginning !} (17. Rfd1 $4 Rxg2+ 18. Kf1 Rxf2+ $8 19. Ke1 (19. Kxf2 Qxh2+ 20. Kf1 Qg2+ 21. Ke1 Qg3+ 22. Kf1 Bg2+ 23. Kg1 Bh3+ 24. Kh1 Qg2#) 19... Bd5 $1 20. Nc6+ Kc8 $1 21. Rxd5 Rxh2 $1 22. Ne5 (22. Nxb8 Qg3+) 22... fxe6 $19) 17... Bd5 (17... Nc6 18. exf7 $1 {(Rfd1!)} Qxf7 ( 18... Nxd4 19. Qe8#) 19. Nxc6+ $1 (19. Bxc4 Nxd4 20. Rad1 $1 {(Bxf7?? ...Ne2#)} Qd7 21. Rxd4 Qxd4 22. Rd1) 19... Kc7 20. Bxc4 $18) (17... Bc5 18. Rad1 $1 (18. exf7 $1 Qxf7 19. Rad1 $1 {but not Bxc4? ...Rxg3+! hxg3 ...Qh5}) 18... Kc8 19. exf7 Qxf7 20. Bxc4 Bd5 21. Bxd5 Qxd5 22. Nb3 Qc6 23. Nxc5 Qxc5 24. Rc1 $18) ( 17... Rg5 18. Rad1 $1 (18. Rfd1 $6 Bd5 $1 19. Bf3 cxb2 $1) (18. Bxc4 $1 {is also strong}) 18... Bd5 (18... Rd5 19. Bxc4) 19. Bf3 $1 (19. exf7 Qd7 20. Qc2 Re5 21. Qxc3) (19. bxc3 $1 Bc5 20. Bxc4 $1 Bxd4 21. e7+ $3 {[#](but not Rxd4? ... fxe6; even less exf7? ...Rxg3+! followed by mate; this mosquito bite is a wink to the 20th move of the game)} Kxe7 {(...Qxe7 Rxd4)} 22. Bxd5 Rxd5 23. Rfe1+ Re5 24. cxd4 $8 Rxe1+ 25. Rxe1+ Kf8 26. Qa3+ $1 Kg7 27. Re8 $8 $18) (19. f4 Bc5 {(...Rg7? Bf3! or ...cxb2 fxg5)} 20. fxg5 cxb2 21. Bxc4 $1) ( 19. Nf3 fxe6 {(...Rf5 g4)} 20. Nxg5 fxg5 21. Bxc4 Qc6 22. Bxd5 $3 Qxa4 23. Bc6+ Qxd1 24. Rxd1+ Kc7 25. Bxa8 $16) 19... c2 (19... cxb2 20. Rfe1 $1 Ra7 21. exf7 $18) 20. exf7 $1 {(threatens mate)} Qxf7 21. Nxc2 Ra7 22. Ne3 $18) (17... cxb2 18. Rad1 $1 (18. exf7 $1 Qxf7 19. Rad1 Bd5 {(...b1Q Ne6+ ...Ke7 Rxb1)} 20. Bxc4 Rg5 21. Bxd5 Rxd5 22. Rfe1 $18) 18... Bd5 (18... b1=Q 19. Nb5+ Qxd1 20. Rxd1+ Kc8 21. Na7+ $1 {and mate in 2}) 19. Bf3 $1 {(analysed move at the time)} ({even better} 19. exf7 $1 Qxf7 20. Bxc4 {as already seen}) (19. Nb5 $4 Qc6 $1) (19. e7+ $2 Bxe7 $8 20. Nf5 Qd7 21. Qc2 Rg5 22. Ne3 Nc6 {(or ...Bc5)} 23. Bxc4 Nb4 $8 24. Qxb2 Ke8 $11) (19. Bh5 $2 Rg5 $1 20. Bxf7 {(exf7? ...Qd7! or Bf3 ... Ra7!)} Kc8 $1 21. Qe8+ $8 Qd8 22. Qxd8+ Kxd8 23. h4 $8 Re5 24. f4 $8 Re4 $17) 19... b1=Q (19... Bxf3 20. exf7 $1 Qxf7 21. Ne6+ $8 Ke7 22. Qb4+ $3 Kxe6 23. Qxc4+ $8) (19... Rg5 20. Rfe1 $3 {(Ral ; and not h4?? ...Rxg3+, nor exf7? ... Qxf7= Nc6+? ...Kc7!)} b1=Q {(...Kc8 Qe8+ or ...Re5 Bxd5 or ...Ra7 Bxd5)} 21. Rxb1 Bxf3 22. Nxf3 $8 {(exf7? ...Qxf7)} Rd5 23. exf7 $1 Qxf7 24. Qxc4 Qd7 {(... Nd7 Rbd1)} 25. Rb6 $1 {(Qb3! for Rbd1)} Bc5 26. Rbe6 $3 {[#](Rxf6? ...Nc6)} Rd6 27. Re8+ Qxe8 28. Rxe8+ Kxe8 29. Qe4+ {(or Qxc5)} Kd7 30. Qxa8 $18) 20. exf7 $1 (20. Rxb1 $1 Bxf3 21. Nxf3) 20... Qxf7 21. Ne6+ $1 Qxe6 (21... Ke7 22. Rxb1) 22. Bxd5 $8 Qd7 (22... Qxd1 23. Rxd1) 23. Qxd7+ Nxd7 24. Rxb1 $18) 18. Rfd1 $2 {A new episode of the "bad rook".} (18. Rad1 $1 cxb2 (18... Kc8 19. Qe8+) (18... Rg5 19. Bf3 $1) 19. exf7 $1 Qxf7 20. Bxc4 $18 {as already seen}) 18... Kc8 $2 {Not exploited !} (18... cxb2 $1 19. Rab1 c3 $1 20. Bf3 $1 (20. e7+ $2 Bxe7 21. Nf5 Qc6 $1 $19) (20. exf7 $1 Qxf7 21. Bc4 $1 Rg5 $1 $11) 20... Rg5 $1 (20... Bxf3 $2 21. exf7 $1 Qxf7 22. Ne6+ Ke7 23. Qb4+ Kxe6 24. Qc4+ Ke7 25. Qc7+ Ke6 26. Re1+) 21. h4 $1 Re5 (21... Rxg3+ 22. fxg3 Qxg3+ 23. Kf1 Qh3+ 24. Kf2 Qxh4+ 25. Kg2 $11) 22. exf7 $8 Qd7 $1 (22... Qxf7 23. Nc6+ Nxc6 24. Bxd5 Qxd5 25. Rxd5+ Kc7 26. Rxe5 fxe5 27. Qc2 Bb4 28. Qxh7+ Kd6 $11) 23. Qc2 $8 Bxf3 24. Nxf3 Rd5 $8 25. Rxd5 Qxd5 26. Rd1 Qxd1+ 27. Qxd1+ Nd7 28. Nd4 $8 Rc8 29. Kg2 $1 Rc4 30. Ne6+ $8 Ke7 $8 31. Nxf8 $8 Nxf8 (31... Ne5 32. Nxh7 $8 Kxf7 $11) 32. Qe2+ $8 Ne6 (32... Kd6 33. Qd3+ Ke7 $11) 33. f8=Q+ $1 Kxf8 34. Qxc4 b1=Q 35. Qxe6 $11) (18... Bd6 $2 19. exf7 $1 Qxf7 20. Nf5 $1 cxb2 21. Nxd6 $1 (21. Rab1 Qe8) 21... Qd7 (21... Qe6 22. Rab1 c3 23. Ne4 Nd7 24. Nxc3 $8 Bb3 25. Rxd7+ Kc8 26. Qb4 $18) 22. Nxc4 $3 {[#]} Re8 (22... bxa1=Q 23. Qxa1 Rg5 24. h4 $18) ( 22... Qxa4 23. Rxa4 Nd7 24. Rb4) 23. Nxb2 $1 (23. Bh5 $1) 23... Rxe2 24. Qf4 $3 (24. Nc4 $2 Re4 $1) 24... Ke7 25. Na4 Re4 26. Qc1 $1 Rxa4 27. Rxa4 Qxa4 28. Qc5+ $8 Ke8 29. Qxd5 $18) (18... Rg5 $6 19. Nf3 $1 (19. bxc3 Ke7 $1 {(...Bc5? Bf3!)} 20. Kf1 {(for f4)} fxe6 21. f4 Rg8 22. Nf5+ $1 Kf7 23. Rxd5 $1) (19. exf7 $1 Qd7 20. bxc3 Qxa4 21. Rxa4 Nd7 22. f4 Rg7 23. Bxc4 $16) 19... Rh5 $1 ( 19... cxb2 $2 20. Nxg5 $1 bxa1=Q 21. Qxa1) (19... fxe6 $6 20. Nxg5 fxg5 21. Bxc4 cxb2 22. Rab1) 20. bxc3 fxe6 21. Nd4 Re5 22. Nxe6+ Rxe6 23. Rxd5+ Nd7 24. Rad1 Rd6 25. Bxc4 Rc8 26. Bb3 $44) 19. bxc3 $2 {Tal gives his valiant opponent a chance.} (19. Qe8+ $1 Kb7 (19... Qd8 20. exf7 $18) 20. bxc3 $1 Nc6 (20... fxe6 21. Nxe6 $1 {(Rab1+!)} Bxe6 22. Qxe6 Rg7 23. Bf3+ Ka7 24. Rab1 Re7 {(...Qxa5 Rd7+! and mate in 2 ; or ...Bc5 Qd5!)} 25. Qb6+ Qxb6 26. axb6#) 21. Rab1+ (21. exf7 $1 {followed by Rab1+}) 21... Ka7 (21... Bb4 22. Qxf7 $1 {(threatens Nxc6 ...Kxc6 Rxd5)} Qxf7 23. exf7 Bxf7 24. Bf3 $18) 22. exf7 Rg5 (22... Nxd4 23. fxg8=Q $1 {(or Rxd4!)} Rxe8 24. Qxd5) (22... Rh8 23. Qe3 $1 Bc5 24. Nb5+ $3 {Unzicker}) 23. Nf3 $1 {(among other wins)} (23. Bxc4 $6 Nxd4 $1 24. Bxd5 Rxd5) (23. Rb6 $2 Nxd4 $11) (23. Qe3 $6 Nxd4 $8 {(...Bc5? Nb5+!)} 24. Qxd4+ Bc5 $8 25. Qxf6 Rg6 {(nor ...Rxg3+ hxg3 ...Qxg3+ Kf1 nor ...Qe5 Qxe5! ...Rxe5 Bf3! ... .Rd8 g4! nor ...h6 Rb6!! or Timman's suggestion Rxd5! ...Rxd5 Bf3, provided to continue, on ...Rd2, by Qe5!!)} 26. Qh4 $1 {(Qf5? was analysed at the time, but after ...Be6! Qe4 ...Rf6! Bf3! ...Rxf3! Qxe6, instead of ... Rxf7!= or ...Rd3!=, one played ...Rxf2? without capturing Qb6+!! ...Qxb6! axb6+ ...Kb7 Rd7+ ...Kc6 Rc7+ and Rxc5)} Bc6 27. Qxc4 Bb5 28. Qd5 $1 Rf6 {(... Bxe2? Qxc5+!)} 29. Bf3 $16) (23. Ne6 $1 Bxe6 24. Qxe6 Rd8 25. Bf3 Rc5 26. Rxd8 Nxd8 27. Qe8 $18) (23. Bf3 $1 Nxd4 24. Rxd4 Bxf3 25. Rd7 $18) 23... Bxf7 (23... Qe7 24. Qxe7+ Nxe7 25. Nxg5 fxg5 26. Bxc4 $1) (23... Rf5 24. Qe3+) 24. Rd7 $1 Rxe8 25. Rxc7+ Ka8 26. Nxg5 $18) (19. Bf3 $1 Bxf3 20. Qe8+ $8 Kb7 (20... Qd8 21. exf7) 21. exf7 $8 Rh8 22. bxc3 Bxd1 23. Rxd1 Ka7 (23... Nc6 24. Rb1+) 24. Ne6 $8 $18) (19. Bxc4 $2 Bxc4 $8 (19... Qxc4 $2 20. Qe8+ Kb7 21. bxc3) 20. Rac1 Rg5 $1 21. Rxc3 Rxa5 $8 22. Qxc4 (22. Qe8+ Kb7 23. Qxf8 Nc6 $11) 22... Qxc4 23. Rxc4+ Kb7 24. exf7 Rd5 25. Rdc1 Nd7 $8 26. Ne6 $14) (19. Rac1 $1 cxb2 20. Rc2 $1 c3 21. exf7 $1 Bxf7 22. Ne6 $3 {[#]} Bxe6 23. Qe8+ Kb7 24. Qxe6 Rg7 25. Bf3+ $8 Ka7 26. Rxc3 $3 Qxa5 27. Rb3 $3 {(threatens mate in 3 by Rd7+!!)} Rc7 28. Rxb2 $1 (28. Qe4 $2 Nc6 $8) 28... Bb4 29. Rdb1 $18) 19... Bc5 $3 {[#]Bravo !} ( 19... fxe6 $2 20. Nxe6 $1 (20. Qe8+ $1) 20... Bxe6 21. Qe8+ $8 Kb7 22. Rab1+ Ka7 23. Qxe6 $18) (19... Bd6 $2 20. exf7 $1 (20. Nf5 $1) 20... Qxf7 (20... Bxf7 21. Bf3) 21. Nf5 $3 Bc5 (21... Bf8 22. Rxd5 Qxd5 23. Nd4 $1 Rg5 24. Bf3 $18) 22. Nh6 $1 Qe6 23. Rxd5 $1 (23. Nxg8 $1 Qxe2 24. Ne7+ $1 Qxe7 25. Rxd5 $18) 23... Qxd5 24. Nxg8 Qxg8 25. Bxc4 $1 Qf8 26. Be6+ Kc7 27. Rd1 $18) (19... Nc6 $2 20. exf7 $1 (20. Bxc4 $1) 20... Rg5 (20... Nxd4 21. fxg8=Q Nxe2+ 22. Kf1 Bxg8 23. Qe8+ $8 Kb7 24. Rab1+ $8 Ka7 25. Qe3+ {followed by mate in 4}) 21. Nf3 $1 (21. Bxc4 Nxd4 22. Rxd4 Bc6 23. Qb3) 21... Rf5 (21... Bxf3 22. Bxf3 Rc5 23. Rd5 $1 {(Re1!)}) 22. Bxc4 Qd7 (22... Bxf3 23. Be6+) 23. Rd2 Ra7 24. Rad1 $18) ( 19... Kb7 $2 20. Rab1+ $1 Ka7 21. exf7 $1 Qxf7 22. Bxc4 Bxc4 23. Qc6 $3 $18 { followed by mate, comment from... Tal}) 20. e7 $1 {This pawn seems to have no future but will be hero of the game.} (20. exf7 $2 Qxf7 $1 (20... Bxf7 $2 21. Bxc4 $1) 21. Nf5 Rg5 $1 $17) (20. Bxc4 fxe6 $8 21. Bxd5 (21. Nxe6 $2 Rxg3+) 21... exd5 22. c4 (22. Ne6 Qd6 $8 {(...Rxg3+? Kf1)} 23. Nf4 Qc6 $1 $11) 22... Bxd4 (22... Qd7) 23. Rxd4 Nc6 24. Rxd5 Rd8 $11) 20... Nc6 {Much criticised, yet...} (20... Bxe7 $11 21. Rab1 $6 (21. Bf1 $6 {Tal} Qc5 $1 {(or ...Nd7!) } 22. Bh3+ Kc7 23. Nf5 Rd8 $1 $17 {but not ...Nc6? Nxe7!}) (21. Nf5 $1 Be6 $1 22. Nd4 $1 $11 Bd7 23. Qc2 Nc6 24. Bxc4 Ne5 25. Bxf7 Nxf7 26. Qxh7 $44) (21. Qc2 Bc5 22. Qxh7 Rd8 23. Qf5+ $1 Qd7 24. Qxf6 Ra7) 21... Nc6 $2 {(analysed at the time)} (21... Nd7 $1 22. Nf5 Nc5 $8 23. Qb4 Be4 $1 $17) 22. Nf5 $6 (22. Bf1 $1 {(for Bh3+)} Nxd4 23. Rxd4 Be6 24. Rb6 $3 $18) 22... Be4 $2 (22... Rd8 $1) (22... Be6 $2 23. Qxc6 $1) 23. Rb6 $3 Ne5 24. Bg4 $3 {[#](not planned before the arrival of the monsters)} (24. Nxe7+ $2 Qxe7 25. Bxc4 Rd8 $1) 24... Nxg4 (24... Rxg4 25. Qe8+) (24... Nf3+ 25. Bxf3 Bxf3 26. Nxe7+ Qxe7 27. Rc6+ $8) 25. Nxe7+ $8 Qxe7 26. Qxc4+ Qc7 27. Qxe4 Ra7 28. Rc6 $18) (20... Qxe7 $11 21. Bxc4 Bxc4 $1 (21... Qe4 $2 22. Bxd5 Qxd5 23. Nb3 $1 Qf5 24. Nxc5 Qxc5 25. Rd4 Qb5 26. Qa2 $1 Ra7 27. Rb1 $16) (21... Rd8) (21... Bb7) 22. Qxc4 Ra7 23. Nf5 (23. Rab1 Rc7) 23... Qc7 $8 24. Rd5 Nd7 $8 25. Rad1 Kb8 $1 (25... Bxf2+ $2 26. Kxf2 Qxc4 27. Nd6+) 26. Kg2 (26. Qe4) (26. Rxd7 $2 Bxf2+) 26... Qc8 27. h4 $44) (20... Nd7 $2 21. Nf5 $1 (21. Bg4 Rb8 22. Ne2 Be6 23. Bxe6 fxe6 24. Nd4 Rb2 $1 $132) 21... Qc6 (21... Be6 22. Ng7 $1 Bxe7 23. Nxe6 fxe6 24. Bxc4) 22. Rxd5 $3 {[#]} Qxd5 23. Rd1 Qxf5 (23... Qe6 24. Ng7 $1 Qxe7 25. Qc6+) 24. Bg4 $3 Qxg4 (24... Qxf2+ 25. Kh1 Ra7 26. Qc6+ Kb8 27. Rb1+) 25. Qc6+ $8 Kb8 26. Rb1+ Bb6 27. axb6 $8 Qf4 28. e8=Q+ Rxe8 29. gxf4 $18) 21. Bg4+ $1 {Also wrongly criticised.} (21. Bxc4 $6 Bxc4 (21... Nxe7) 22. Qxc4 Ne5 $8 $11) (21. Nf5 $1 {(not so winning as they said)} Qe5 $8 (21... Be6 $2 22. Ng7 $3 {[#](stronger than Bf3 ...Bxf5 Qxc6!)} Nxe7 {(on Bishop's capture, we will play Nxe6 & Bf3!)} 23. Nxe6 fxe6 24. Bxc4 $8 Rd8 {(...Nd5 Rxd5!)} 25. Rxd8+ Kxd8 26. Rd1+) (21... Be4 $2 22. Bg4 $1 Kb7 23. Qxc4 Bxf5 {(...Rxg4 Qxc5 for Nd6+)} 24. Bxf5 Ne5 25. Qf4 $1 Rac8 {(...Rab8 Be4+ & Qxf6)} 26. Rab1+ Ka7 27. Bxc8 Rxc8 28. Qxf6 Bxe7 29. Qf5 $18) 22. Bxc4 Bxf2+ $3 {[#](the only move, considered by analysts at the time, but underestimated)} (22... Qxf5 $2 23. Bxd5 Qxf2+ 24. Kh1 $18) (22... Bf3 $2 23. Nd4 $3 {(neither Nh4? ...Be4! nor Re1?? ...Qxf5-+)} Bxd4 24. cxd4 Qxe7 25. Rd3 $1 Be4 26. Re3 $18) (22... Be4 $2 23. Bd3 $1 Qxf5 {(...Bf3 Re1! or ...Rg4 Bxe4 for e8Q+)} 24. Bxe4 Qxf2+ 25. Kh1 $18) 23. Kf1 $8 (23. Kxf2 $2 Qxf5+ 24. Kg1 Bf3 $17) 23... Qxf5 $8 (23... Bxc4+ $2 24. Qxc4 Kc7 25. Rd5 $18) 24. e8=Q+ (24. Rxd5 Qh3+ $3 {[#](the forgotten move, returning the material)} 25. Kxf2 {(Ke2 ...Kc7 Qa3 ... Bxg3!)} Qxh2+ $8 26. Kf1 $8 Kc7 $8 {(with a beautiful Knight, friend of the King)} 27. Rad1 Qh1+ 28. Kf2 Qh2+ $8 29. Ke1 Qxg3+ $8 30. Kd2 Rab8 $11) 24... Kc7 (24... Rxe8 $6 25. Rxd5 Qh3+ 26. Kxf2 Kc7 27. Rad1 $16 Qxh2+ $2 28. Kf3 $18) 25. Qaxc6+ $8 Bxc6 26. Qxf7+ Bd7 27. Qxd7+ Qxd7 28. Rxd7+ Kxd7 29. Bxg8 Rxg8 30. Kxf2 Rg5 $1 31. Ke3 $14 {: the extra pawn is not easy to achieve}) 21... Kb7 $8 $11 (21... Kb8 $2 22. Nb5 $3 {(the move of the game is excellent when the square e8 is not controlled by the Ra8)} (22. Nb3 $6 Bxe7 {(...Nxe7? Nxc5 or ...cxb3? Rxd5! ...Nxe7 Qxb3+! then Rd7)} 23. Rxd5 Rxg4 24. Nd4 Rxd4 $1 25. cxd4 Ka7 26. Rc1 Qb7 27. Qxc4 Rc8) (22. Nf5 $1 Be6 23. Bf3) 22... Qe5 (22... Qb7 23. Nd6) (22... axb5 23. Qxb5+ Qb7 24. Qxc5) 23. Rab1 $3 Rxg4 24. Rxd5 $1 Rxg3+ (24... Qxe7 25. Nd4+) 25. Kf1 $3 $18) 22. Nb5 $2 {What? The magician of Riga cracks first ?} (22. Rab1+ $1 Ka7 $8 23. Nf5 $1 (23. Nxc6+ $1 Bxc6 24. Qxc4 Rg5 25. Kf1 $8 {analysed below}) 23... Be6 $8 (23... Rxg4 $2 24. Rxd5 $18) 24. Bf3 $8 Bxf5 (24... Rac8 25. Ng7 $1) 25. Qxc6 Qxc6 $8 26. Bxc6 Bxb1 27. Rxb1 Rae8 28. Rb7+ Ka8 $11) (22. Nf5 $1 Be6 $8 (22... Qe5 $2 23. Rxd5 $3 {(Re1? ...Qxc3 Red1 ...Be4)} Qxd5 24. Rd1 $8 Qe4 25. Rd7+ $8 Kb8 26. Qd1 $3 {[#](for Rd8+)} Ne5 {(care d7 for Rd8+ ...Kc7!)} 27. Nd6 $8 Qc6 28. Qb1+) 23. Rab1+ Ka7 24. Bf3 $8 $11 {as above}) (22. Nb3 $1 cxb3 $6 (22... Bxf2+ $1 23. Kxf2 Nxe7 24. Rab1 Ka7 $1 $11) 23. Rxd5 $8 Ne5 24. Rb1 $1 {(or Rxe5 for Bf3+)} Ka7 25. Bd7 $3 {[#]} (25. Rxb3 $2 Qxe7 $1) 25... Bxe7 26. Qd4+ $8 Qc5 $3 ( 26... Bc5 $2 27. Rxc5 $8 Nf3+ 28. Kg2 Nxd4 29. Rxc7+) 27. Qxc5+ $1 (27. Rxc5 Nf3+ $8 28. Kg2 Nxd4 29. Rc4 $11) 27... Bxc5 28. Rxc5 $16) (22. Nxc6 $1 { (unanimously condemned at the time)} Bxc6 $8 (22... Qxc6 $2 23. Rxd5 $8 Qxd5 24. Bf3 Qxf3 25. Qd7+ Kb8 26. Rb1+) 23. Rab1+ $8 Ka7 $8 (23... Bb5 $2 24. Rd7) 24. Qxc4 $8 Rg5 $8 {(Tal stops there in his analysis, considering that the position does not please him; and indeed, it is not winning, but there is no win anyway after 21...Kb7!!)} (24... Qxa5 $2 25. Bf3 $1 Rac8 26. Rd7+ $1) (24... Qxe7 $2 25. Rb6 $1 {(Be2! ...Bb7 Rxb7+!!)} Bxb6 {(...Bb5 Rd7+ . ..Qxd7 Qxc5)} 26. Qxc6 $8 Bxa5 27. Rd7+ Qxd7 28. Qxd7+ Kb8 29. Qd6+ $1 Ka7 30. Bf3 $1 Rac8 31. Qd5 $18) (24... Bb5 $2 25. Rxb5 $8 axb5 {(...Bxf2+ Kxf2, Queen is tabou)} 26. Qxf7 $3 {(for e8Q or Rd7 ; but not Qxb5? ...Rab8! Qa4 .. .Rxg4! Qxg4 ...Qc6!)} Qxe7 27. Rd7+ $8) (24... Be8 $2 25. Be2 $1 Bb5 {(... Rxg3+ Kf1! or ...Qc6 Bf3!)} 26. Rxb5 axb5 27. Qxb5 $18) 25. Kf1 $3 {[#] (completely "forgotten" by the 1959 analysts: because we have one less piece, one could not play a "quiet" move? The threats are f4 and especially Be2 ...Bb5 Rxb5 ...axb5 Qxb5 now that there is no more ...Bxf2+ ; this said, the 30th move tip, worthy of a correspondence world champion, should have been foreseen.)} (25. Qxf7 $2 Re8 $8 $19) (25. Rb6 $2 Bxb6 $8 26. axb6+ Kxb6 $1 {(...Qxb6? Bd7!)} 27. Qb4+ Ka7 $19) (25. Bf3 $2 Bxf3 $1 26. Qf4 Qxe7 $19) (25. Be2 $2 Bb5 $8 26. Qxf7 {(Rxb5 ...axb5 Qxb5 ...Bxf2+)} Rxg3+ $3 27. Kf1 Bxe2+ 28. Kxe2 Rg5 $3 29. Kf1 {(e8Q ...Rxe8+ for ...Re5+)} Bxe7 $8 30. Qe6 Rd8 $8 $19) (25. h4 $4 Qxg3+) 25... Re5 $1 (25... Rc8 $1 26. Be2 $1 {(Rb6 is possible but daredevil)} Bb7 $8 27. Qa4 Bc6 $8 28. Qc4 Bb7 $11) (25... Re8 $1 26. f4 $8 Qxe7 27. fxg5 fxg5 {(strongly threatens ...Qf6+; ...Qe3 Rd4! is a little less good)} 28. Rd4 Qf6+ 29. Kg1 {(or Rf4=)} Qe7 30. Kf1 $11) 26. f4 $8 Bb5 $8 27. Rxb5 $8 axb5 28. Qxb5 $8 Rxe7 $8 29. Be2 $8 Qc8 $8 {(what do we do now with one less rook ?)} 30. Rd6 $3 {[#](we seem to offer a second one !)} Qh3+ $8 (30... Bxd6 $4 31. Qb6#) (30... Rb7 $2 31. Ra6+ $8 Kb8 32. Rxa8+ $8 Kxa8 33. Bf3 $8 $18) 31. Ke1 Rxe2+ $8 32. Kxe2 $8 Qxh2+ 33. Kd3 Qxg3+ $8 34. Kc2 $8 Qf2+ $8 35. Kb3 Bxd6 $8 {(b6 is defended)} 36. Qd7+ $8 Ka6 37. Qxd6+ $8 Kxa5 38. Qb4+ Ka6 39. Qa3+ Kb7 40. Qe7+ $8 $11) 22... Qe5 $3 $19 {Now Black wins !} (22... axb5 $4 23. Qxb5+ $8 Ka7 24. Qxc5+ Ka6 25. Rxd5 (25. Rdb1) 25... Rxg4 26. Rd6 Rc8 27. Rxc6+) (22... Qxe7 $4 23. Rxd5 $1 Rxg4 24. Rb1 $8 axb5 (24... Kc8 25. Nd6+) 25. Qxb5+ Ka7 26. Rd7+ $1 { and mate in 2}) (22... Qxa5 $2 23. Qxa5 $8 (23. Qc2 $2 Qxa1 {(or ...Qxb5)} 24. Nd6+ Bxd6 25. Rxa1 Rxg4) (23. Rxd5 Qxa4 $8 24. Rxa4 Nxe7 25. Rxc5 Kb6 26. Rcxc4 axb5 $11) 23... Nxa5 24. Rxd5 Nb3 $8 25. Bf3 $1 (25. Re1 $2 Rxg4 $1 {(...axb5? Bf3 or ...Kc6? Rxc5+)} 26. Rd8 $2 Rg8 $19) (25. Rxc5 $1 Nxc5 26. Bf3+ Kb6 27. Nd4) 25... Kb6 $8 26. Ra4 $1 $16) 23. Re1 $1 {Creates maximum difficulties.} (23. Bd7 $6 Rxg3+ $1 24. Kf1 Bg2+ {follwed by mate in 2}) (23. Rab1 Rxg4 $8 24. Nd6+ (24. Rxd5 {won with bK in b8}) 24... Kc7 $8 25. e8=N+ (25. e8=Q Rxg3+ {followed by mat in 4}) 25... Rxe8 $8 26. Nxe8+ Kc8 $8 27. Rxd5 Rxg3+ $1 28. hxg3 Qxg3+ $1 29. Kh1 Qh4+ 30. Kg2 Qxf2+ 31. Kh3 Qf3+ 32. Kh2 Qxd5 $19) 23... Be4 $2 {But it is difficult to stay at the highest level.} (23... Qg5 $3 24. Red1 (24. Bd7 Qh5 $1 {(not ...Qd2? Nd4! ...Nxd4 cxd4 ...Bxd4? -- ... Qxd4= -- Bc8+!! (yeah !) ...Raxc8 Qd7+ ...Rc7 -- ...Kb8 Rab1+ ...Bb2 Qd6+!! -- Rab1+ ...Bb2 Qd8!! ...Rc8 Qb6+ but ...Qf4! or ...Ne5!-+)} 25. Nd4 Rxg3+ $1 26. fxg3 Nxd4 $19) (24. Rad1 Rae8 $8 $19) (24. Rab1 Qxg4 $8 25. Nd6+ Kc7 $8 26. e8=N+ Raxe8 27. Nxe8+ Rxe8 28. Rxe8 Qf3 $19) 24... Rae8 $8 (24... Qe5 $6 25. Re1 $1 Qg5 $8 {répetition}) (24... h5 $4 25. Rab1 $3 {(Bh3? ...Qe5! Kf1 ...Qe4! Rxd5 ...Qh1+!! to avoid Bg2 on the capture)} hxg4 26. Qxc4 $3 {[#] (not easy !)} Bxf2+ {(...Bxc4 leads to mate in 2)} 27. Kxf2 Qf5+ 28. Kg1 $8 $18) 25. Rab1 Rxe7 $8 26. Rxd5 Qxd5 27. Nd4+ Kc7 $8 28. Bf3 Re4 $3 {[#]} (28... Qd6 $1 29. Bxc6 Bxd4 30. Rb7+ Kd8 31. cxd4 Rxb7 32. Bxb7 Qxd4) 29. Nxc6 (29. Qxc6+ Qxc6 30. Nxc6 Rf4 $3) 29... Qd3 $3 30. Bxe4 Qxe4 $19 {with a deadly double attack}) (23... Rxg4 $2 24. Rxe5 $8 fxe5 25. Qd1 $1 (25. Rb1 $6 Nxe7) (25. Rd1 $1 Nxe7 26. Nd6+ Kc7 $8 27. Ne8+ Rxe8 $8 28. Rxd5 Nxd5 29. Qxe8 Rg6 $11) 25... Nxe7 $8 (25... axb5 $2 26. Qxd5 $18) (25... Be6 $2 26. Nd6+ $1) 26. Qxg4 axb5 $11) 24. Rab1 $8 {White is unharmed.} Rxg4 $8 {threatens ...Rxg3+} ( 24... Bxb1 $2 25. Rxb1 $8 (25. Rxe5 $2 Nxe5 $17) 25... Bxf2+ (25... Bb4 26. Nd4 $8 Nxd4 27. Qd7+ $1 Qc7 28. Rxb4+ Nb5 29. Bf3+) (25... Rxg4 26. Nd4+ Nb4 27. Qc6+) (25... Nb4 26. Bf3+ $1 {(cxb4? Bxf2+! but Nd4!)} Kc8 27. Na3 $1 $18) 26. Kxf2 $8 Qc5+ 27. Nd4+ Kc7 28. Rb6 $1 (28. Bf3 $1 Nxd4 29. Rb7+ $1 Kd6 30. Qd7+) 28... Nxa5 (28... Ne5 29. Bf3 $3 Rae8 30. Rxa6 $8) 29. Rxf6 $3 {[#]} Rxg4 30. Rxf7 $1 (30. Rf5 $1) (30. e8=Q $2 Rxe8 31. Rxf7+ $8 {(Qxe8? ...Rxd4!)} Re7 $8 $11) 30... Rxd4 31. Qxa5+ $1 (31. e8=Q+ $1 Rd7+ 32. Kf1 $8) 31... Qxa5 32. e8=Q+ $8 Kb6 33. Qe6+ $8 Kb5 34. Rf5+ $8) 25. Rxe4 $8 $11 Qxe4 $1 (25... Rxe4 $6 26. Nd4+ $8 Nb4 $8 27. Qd7+ $1 (27. Qc6+ $1 Kb8 28. Rxb4+ $1 Bxb4 29. Qb6+ $1 Kc8 30. Qd8+ Kb7 31. Qd7+ $8 Qc7 32. Qd5+ $8 {idem}) 27... Qc7 28. Rxb4+ $1 (28. Qd5+ $6 Ka7 $8 29. Qxe4 Qxe7 $11) 28... Bxb4 29. Qd5+ $8 Kb8 $8 30. Qxe4 $1 ( 30. Nc6+ Qxc6 31. Qxc6 Rxe7 $11) 30... Bxe7 31. Nc6+ $8 Kb7 32. Nxe7+ Kb8 $1 33. h4 $1 Qc5 34. h5 $1 Qd6 (34... Qxh5 $2 35. Nd5 $3 {[#](a Knight against a Rook, this is called an "exchange", isn't it?)} Qe5 36. Qb1+ $8 Kc8 37. Nb6+) 35. Kh2 $16) (25... Rxg3+ $2 26. Kf1 $8 $18) 26. Nd6+ Kc7 27. Nxe4 Rxe4 28. Qd1 { Black will still call it off, unless...} Re5 $2 {The drama... There were 3 ways to swallow that damned e7-pawn, probably all acceptable... } (28... Rxe7 $1 29. Qd5 Re5 $1 (29... Ba7 $2 30. Qxc4 Re6 31. Kg2 Rb8 32. Rxb8 Bxb8 33. Qxa6 $16) 30. Qxc4 (30. Qxf7+ Be7 31. Qxh7 Rxa5) 30... Be7 $1 (30... Rb8 $6 31. Rxb8 Nxb8 32. Kg2) 31. Qxf7 h5 32. f4 Rxa5 33. Re1 Kd7 $11) (28... Bxe7 $1 {(the best ?)} 29. Qd5 (29. Qh5 {Tal} Re5 30. Qxf7 h5 {idem}) 29... Re5 $1 (29... Re6 30. Rb6 {(Qxc4 ...Re5)} Rb8 31. Rxa6 Rb2 32. Qxc4 Kb7) 30. Qxf7 h5 $1 31. f4 (31. Rb6 $2 Nxa5) 31... Rxa5 32. Re1 (32. Qxc4 Rc5) 32... Rd8 33. Rxe7+ Nxe7 34. Qxe7+ Rd7 35. Qxf6 Ra2 36. Qe5+ $8 Kd8 37. Qxh5 Rdd2 $11) ( 28... Nxe7 $1 29. Qh5 $1 (29. Qf3 $6 f5 $8) (29. Qc2 f5 $1 30. Qb2 Rc8 {(... Kd6 Qb7 ...Ra7 Qb8+ ...Kd7! Rb6 ...Nc6)} 31. Qb7+ Kd8 32. Qxa6 Re2) (29. Rb7+ Kxb7 30. Qb1+ Kc7 31. Qxe4 Rd8) 29... f5 $1 30. Qxf7 (30. Qxh7 Rd8 31. Qxf7 Rd3 32. Kg2 $2 Rxc3) 30... Rd8 $1 (30... h6 31. Qf6 $14) 31. Rb2 (31. Qxh7 Rd2 $1) 31... Rd3 32. Qf6 Rd6 33. Qh8 Rd8 $1 34. Qxh7 Rd3 35. Qg7 f4 $11) 29. Rb7+ $3 {[#]} Kxb7 30. Qd7+ Kb8 31. e8=Q+ {The crowning achievement.} Rxe8 32. Qxe8+ Kb7 33. Qd7+ Kb8 34. Qxc6 1-0 [Event "2#"] [Site "?"] [Date "1925.??.??"] [Round "?"] [White "Ten Cate, P."] [Black "0575.21"] [Result "1-0"] [SetUp "1"] [FEN "1b1n3K/p1krPbR1/R2NB3/N2P4/8/8/8/8 w - - 0 1"] [PlyCount "0"] [EventDate "1925.??.??"] [SourceDate "2010.01.01"] 1-0 [Event "2#"] [Site "?"] [Date "2015.??.??"] [Round "?"] [White "Kuzovkov, A."] [Black "1845.04"] [Result "1-0"] [SetUp "1"] [FEN "n3N2r/5p2/1p3p2/3k4/3BRr1R/2QNp2B/2K2b2/8 w - - 0 1"] [PlyCount "0"] [EventDate "2015.??.??"] [SourceDate "2010.01.01"] 1-0 [Event "2#"] [Site "?"] [Date "2000.??.??"] [Round "?"] [White "Vinagre, J."] [Black "1858.12"] [Result "1-0"] [SetUp "1"] [FEN "8/1pBQK3/8/3NP3/4k2p/1R3Nbn/r3rn2/3B1R2 w - - 0 1"] [PlyCount "0"] [EventDate "2000.??.??"] [SourceDate "2010.01.01"] 1-0 [Event "2#"] [Site "?"] [Date "1909.??.??"] [Round "?"] [White "Alvey, G."] [Black "4878.14"] [Result "1-0"] [SetUp "1"] [FEN "B3NN2/1r1R4/pb3Rnr/2k2p2/K3nQ2/1Pp4q/3p4/7b w - - 0 1"] [PlyCount "0"] [EventDate "1909.??.??"] [SourceDate "2010.01.01"] 1-0 [Event "2#"] [Site "?"] [Date "1973.??.??"] [Round "?"] [White "Knuppert, H."] [Black "4212.13"] [Result "1-0"] [SetUp "1"] [FEN "8/3Q4/1p2p3/3qP3/1p2R3/RN1k4/1B1N4/1K6 w - - 0 1"] [PlyCount "0"] [EventDate "1973.??.??"] [SourceDate "2010.01.01"] 1-0 [Event "2#"] [Site "?"] [Date "1962.??.??"] [Round "?"] [White "Knuppert, H."] [Black "1578.04"] [Result "1-0"] [SetUp "1"] [FEN "2K1R1N1/1pb2N2/7R/1r1k1p2/bp4p1/4B3/4Q3/4n2n w - - 0 1"] [PlyCount "0"] [EventDate "1962.??.??"] [SourceDate "2010.01.01"] 1-0 [Event "2#"] [Site "?"] [Date "1978.??.??"] [Round "?"] [White "Knuppert, H."] [Black "4528.46"] [Result "1-0"] [SetUp "1"] [FEN "nN6/2p2K1p/p1Pp4/Rq1k4/1B1P1Pp1/2RNQ1p1/5P1r/5B1n w - - 0 1"] [PlyCount "0"] [EventDate "1978.??.??"] [SourceDate "2010.01.01"] {Many trials.} -- 1-0 [Event "2#"] [Site "?"] [Date "1994.??.??"] [Round "?"] [White "Knuppert, H."] [Black "4458.35"] [Result "1-0"] [SetUp "1"] [FEN "7Q/2r5/q2npP2/pb1p2R1/4kNp1/4Pp2/2P4B/K2N1B1n w - - 0 1"] [PlyCount "0"] [EventDate "1994.??.??"] [SourceDate "2010.01.01"] {All the moves of a certain figure (except the key) are trials, and the refutations are all different !} -- 1-0 [Event "2#"] [Site "?"] [Date "1961.??.??"] [Round "?"] [White "Knuppert, H."] [Black "4855.26"] [Result "1-0"] [SetUp "1"] [FEN "1B6/4bQ1B/R3r3/1KPkNp1p/2pp3r/1Np1p3/1P1Rn3/1q6 w - - 0 1"] [PlyCount "0"] [EventDate "1961.??.??"] [SourceDate "2010.01.01"] 1-0 [Event "2#"] [Site "?"] [Date "1978.??.??"] [Round "?"] [White "Doukhan, G."] [Black "1258.13"] [Result "1-0"] [SetUp "1"] [FEN "8/1Q1R1p2/2p1nPp1/4n3/R1b1k1B1/K7/2N3N1/B7 w - - 0 1"] [PlyCount "0"] [EventDate "1978.??.??"] [SourceDate "2010.01.01"] 1-0 [Event "2#"] [Site "?"] [Date "1981.??.??"] [Round "?"] [White "Beal, EW."] [Black "1578.04"] [Result "1-0"] [SetUp "1"] [FEN "2n5/1K1p4/N2p1RN1/bp1k1p1n/2R5/8/4Q3/1b1r2B1 w - - 0 1"] [PlyCount "0"] [EventDate "1981.??.??"] [SourceDate "2010.01.01"] 1-0 [Event "2#"] [Site "?"] [Date "1929.??.??"] [Round "?"] [White "Hannemann, K & White AC"] [Black "4585.62"] [Result "1-0"] [SetUp "1"] [FEN "3R4/2p1P3/1P1N2B1/R1Nkpr2/1K1Pnb1Q/2BP1P2/2b1P1q1/8 w - - 0 1"] [PlyCount "0"] [EventDate "1929.??.??"] [SourceDate "2010.01.01"] 1-0 [Event "3#"] [Site "?"] [Date "1981.??.??"] [Round "?"] [White "Morice, J."] [Black "4558.82"] [Result "1-0"] [SetUp "1"] [FEN "rN2BBRn/2P5/3P1P1p/1qRPk3/bPp1P1P1/6P1/n1N1Q3/K7 w - - 0 1"] [PlyCount "0"] [EventDate "1981.??.??"] [SourceDate "2010.01.01"] {Presented at the 2017 European Championship. Got the scalp of Tummes.} -- 1-0 [Event "3#"] [Site "?"] [Date "1928.??.??"] [Round "?"] [White "Zepler, E."] [Black "1625.23"] [Result "1-0"] [SetUp "1"] [FEN "6B1/3rr3/Q3p2P/2pk4/6p1/6B1/1n1NNPK1/8 w - - 0 1"] [PlyCount "0"] [EventDate "1928.??.??"] [EventType "game"] [SourceDate "2010.01.01"] {Version A. Feoktistov. Presented at the Russian championship 2017. Was only solved by one competitor.} -- 1-0 [Event "3#"] [Site "?"] [Date "1973.??.??"] [Round "?"] [White "Loschinsky, L."] [Black "4772.17"] [Result "1-0"] [SetUp "1"] [FEN "5bN1/r3pN2/1p1B1RB1/pKPk4/3p4/1p1pp1Q1/5r1q/7b w - - 0 1"] [PlyCount "0"] [EventDate "1973.??.??"] [SourceDate "2010.01.01"] 1-0 [Event "4#"] [Site "?"] [Date "1837.??.??"] [Round "?"] [White "D'Orville, A."] [Black "1000.30"] [Result "1-0"] [SetUp "1"] [FEN "8/8/8/8/1Q6/4k3/2P1P1P1/5K2 w - - 0 1"] [PlyCount "0"] [EventDate "1837.??.??"] [SourceDate "2010.01.01"] {Contrary to appearances, Peter August d'Orville, who was born in Offenbach on May 15 1804 and christened (in the Reformed Church) on May 21, was not a Frenchman, but German, though French-speaking.} -- 1-0 [Event "4#"] [Site "?"] [Date "1961.??.??"] [Round "?"] [White "Schiffmann, An"] [Black "0150.11"] [Result "1-0"] [SetUp "1"] [FEN "1K1k4/3b4/8/6pB/8/B2R2P1/8/8 w - - 0 1"] [PlyCount "0"] [EventDate "1961.??.??"] [SourceDate "2010.01.01"] 1-0 [Event "5#"] [Site "?"] [Date "1911.??.??"] [Round "?"] [White "Weyl, P."] [Black "1354.38"] [Result "1-0"] [SetUp "1"] [FEN "8/4p2P/4P3/2Npp1p1/1Qnk2P1/p3p3/pr2B1p1/B5Kb w - - 0 1"] [PlyCount "0"] [EventDate "1911.??.??"] [SourceDate "2010.01.01"] 1-0 [Event "h#3 b) bBf7 on g4"] [Site "?"] [Date "1963.??.??"] [Round "?"] [White "Than, S."] [Black "0173.10"] [Result "1-0"] [SetUp "1"] [FEN "2R5/2b2b2/4k3/6n1/8/8/4P3/1BK5 b - - 0 1"] [PlyCount "0"] [EventDate "1963.??.??"] [SourceDate "2010.01.01"] {AV Correction.} -- 1-0 [Event "h#3"] [Site "?"] [Date "1963.??.??"] [Round "?"] [White "Zeller, J."] [Black "0413.01"] [Result "1-0"] [SetUp "1"] [FEN "8/8/8/1kr5/1p3K2/5RB1/8/3n4 b - - 0 1"] [PlyCount "0"] [EventDate "1963.??.??"] [SourceDate "2010.01.01"] 1-0 [Event "s#3"] [Site "?"] [Date "2006.??.??"] [Round "?"] [White "Janevski, Z."] [Black "4541.43"] [Result "1-0"] [SetUp "1"] [FEN "8/3R1p2/p5QP/r1Rb3K/p2P1k2/6q1/3P2PB/3N4 w - - 0 1"] [PlyCount "0"] [EventDate "2006.??.??"] [SourceDate "2010.01.01"] 1-0