Some freezing during the course, perhaps due to the winter weather.
Pierre was live from Kenya and warmed up the atmosphere with exotic animal calls around his hut.
For the course he was probably in the only village in Kenya with 64 huts.
With all good wishes for 2018, here is the masterful report.
---
Master's words
---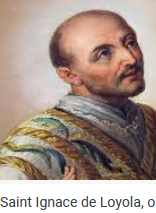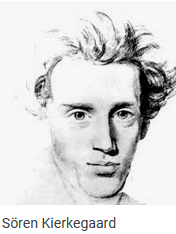 "He who demands joy and not transient pleasures, soul and not money, is not at home in this world" (H. Hesse). But he is welcome with us, for the year of grace 2018 as for the others...
"Trust in God, acting as if the success of every thing depended entirely on you and by no means on God, and yet, employing all your care to make it succeed, count on them no more than if God alone should do everything and you nothing" (St. Ignatius of Loyola).
"I am so little understood that my complaints about not being understood are not even understood" (S. Kierkegaard).
The wonderful introductory book to art studies, Endgame magic, has just been republished, corrected and expanded. If you only read one chess book in 2018, be it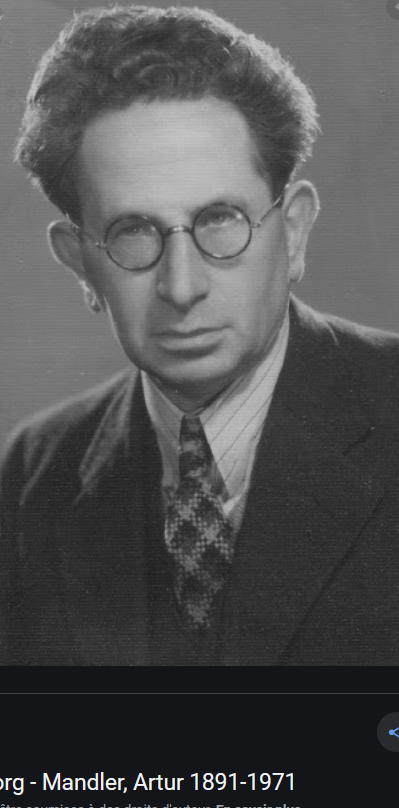 this one. Thanks to John Beasley, whose BESN review, the most enjoyable I've known on studies, is sorely missed. A delightful little pawn ending, by one of our favourite composers (also in problems) which reminds us of another book of John's entirely dedicated to this author.
Then a study of the brilliant but prolific Pogossians. How should we write his name? The VdH bases write Pogosiants, Pogosjants or Pogosyants. Chéron (but in German) writes Pogosianz. Lommer writes Pogosjants. In Cyrillic it is (phonetically) Pogossiants. I think it is correct to write two "s" (as for Petrossian). On the other hand, I will not be scandalised if it ends with "nts". I had only chosen for my book what seemed to me to be the simplest. To the ear, the distinction between "annss" and "anntss" is imperceptible, except perhaps for Croatians who sometimes align 7 consonants in a row. In 1981 (for my first volume) I asked myself this kind of question. I quickly calmed down when I discovered that the Russians themselves had a counterbalance! So, like many others, I Frenchified the well-known names (such as Yusupov), which had become commonplace, and kept the international script for the others. Hence this paradox: we talk about the Petroff defence, but we write D. Petrov, the composer of studies, although it is obviously the same name. We say "Isaac" Albeniz for the music composer, grandfather of the former Mrs Charkeuzy, but "Itzhak" Perlman for the violinist, even though it is the same first name! French also has this distinction between the common and the relatively rare. Otherwise, how to explain the difference in pronunciation between, on the one hand, "equivalent", " équilibre", "equinox" and on the other hand "equipollent", "equilateral" etc.?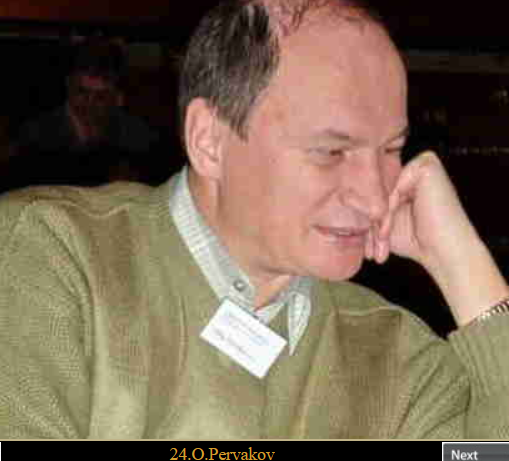 The "homework" given for the Christmas holidays was not very easy (especially the first one) but, after all, it comes from a world champion...
Lots of endgames in the previous courses. Let's balance it out a bit with some... wild middle-game! First a Germanic tussle from 20 years ago, ending in an orgy of Queens.
Then the game of the day, which features the same world champion as in the two previous courses, but the fight is much wilder.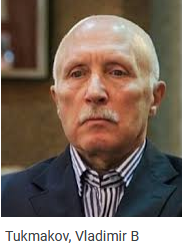 His Ukrainian opponent, unimpressed, is a great player of the 70's who became later a brilliant coach. In the analyses, one will note several echoes of brilliant moves: ...Bf5!, ...Re8!, Bg8! including a bicolor (...f6! & f6!).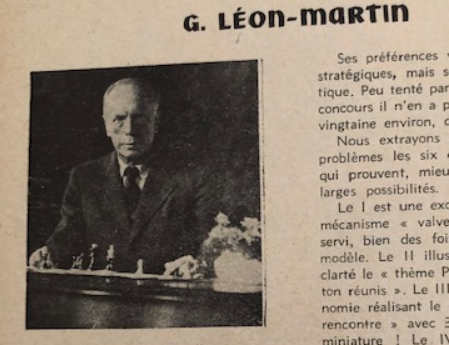 After the traditional 2# training (the unknown author one is the most formidable), a tribute to Gabriel Léon-Martin. A former bridge partner of Alekhine and a very talented problemist, he agreed to write the retroanalysis column in the early days (1959-62) of a French journal with European pretensions. Loewenton, then Hazebrouck, succeeded him. This initiative, unique in the world, favoured the blossoming of the genius of a certain shy young man in the late 1970s. He was to become the world's greatest specialist in the genre, Michel Caillaud, of course.
GLM was essentially composed of strategic 3 & multimoves. A funny 2# though, with 3 false lanes. Then a 3# illustrating the Palatz theme; you don't know? I don't either, but that doesn't stop you from solving. In the first 4#, the c8 square is checked three times. Knowing that we're in the artistic field, you can guess what's going to happen! Then a kind of mousetrap. The same idea, 20 years earlier, probably his most famous work. The last 4#, like the 5#, is much more difficult: great class. Finally, a 6# that I had already presented in a short-lived review, more than 30 years ago. Like the 5#, it illustrates the "Renaud theme", which I don't know more about, but I remember Georges Renaud, co-author of "L'art de faire mat", an excellent schoolboy read.
Still, let's not forget Daniel, with a few easy helpmates (only the first one took me a bit longer). Helpmate 3# was composed by the father-in-law of a former French champion, who visited us when the course was held in a Parisian room: how far away that seems... A rather strong Polish selfmate, to finish.
Have a good time. See you in February. Deus vos custodiat.
---
Master's diagrams
[Event "?"] [Site "?"] [Date "1929.??.??"] [Round "?"] [White "Mandler, A."] [Black "0000.21h5b7"] [Result "1-0"] [SetUp "1"] [FEN "8/1k6/4p3/7K/3P1P2/8/8/8 w - - 0 1"] [PlyCount "11"] [EventDate "1929.??.??"] [SourceDate "2000.07.25"] {What is the key-square ?} 1. Kh6 $8 {[%csl Yc6,Gd6,Rd7,Gf6,Rf7,Yg6]} (1. Kg6 $2 Kc6 $8 2. Kg7 (2. Kf7 Kd7 $8 3. Kf8 Kd8 $8) 2... Kc7 $8 3. Kg8 Kc8 $8 4. d5 Kd7 $3 {[#]} 5. Kg7 (5. dxe6+ Kxe6 $8 6. Kg7 Kf5 $8) 5... exd5 $8 6. f5 d4 $8 $11) ( 1. Kg5 $2 Kc7 $8 2. Kg6 Kc6 $8 $11 {as already seen}) (1. d5 $2 exd5 $8 2. f5 d4 $8 3. f6 (3. Kg4 Kc7 $1) 3... d3 $8 4. f7 d2 $8 5. f8=Q d1=Q+ $8 $11) ({Black to move would draw} 1. -- Kc7 $8 2. Kg5 Kd7 $8 3. Kg6 Kc6 $3 $11) 1... Kb6 {[%csl Gc7,Rc8,Gg7,Rg8]} (1... Kc6 2. Kg6 $8 Kd6 3. Kf6 $8 Kd7 4. Kf7 $8 Kd6 5. Ke8 $8 $18) (1... Kc7 2. Kg7 $8 {: see below} (2. Kg5 $2 Kd7 $8 )) (1... Kb8 $6 2. d5 $1 {: see text}) 2. Kh7 $8 Kb7 3. Kh8 $3 {Here it is ![#]} Kb8 (3... Kc7 4. Kg7 $8 Kc6 5. Kf8 $3 {(overflow)[#]} Kd6 (5... Kd7 6. Kf7 $8) 6. Ke8 $8 $18) (3... Kc6 4. Kg8 $8 Kd6 5. Kf8 $8 Kd7 6. Kf7 $8 $18) (3... Kb6 { (the rectangle b6-b8-h8-h6 does have sides with an odd number of squares, but the obstacle e6 disturbs everything)} 4. Kg8 $8 Kc6 5. Kf8 $8 Kd6 6. Ke8 $8 $18 {: pas de ...Re6}) (3... Kc8 4. Kg8 $8 Kc7 5. Kg7 $8 Kc8 6. d5 $1 (6. Kf6 $1 Kd7 7. Kf7 $8) 6... Kd7 7. dxe6+ $8 Kxe6 8. Kg6 $8 Ke7 9. f5 $8 Kf8 10. Kf6 $8 $18) 4. d5 $3 {[#]Compare with try 1 Kg6? : black King cannot defend his pawn. } exd5 5. f5 $8 d4 6. f6 $8 {And promotion will be with check.} 1-0 [Event "?"] [Site "?"] [Date "1975.??.??"] [Round "?"] [White "Pogossians, E."] [Black "=0416.00f5e8"] [Result "1/2-1/2"] [SetUp "1"] [FEN "4k1nB/3n3r/8/5K2/8/8/8/5R2 w - - 0 1"] [PlyCount "17"] [EventDate "1975.??.??"] [SourceDate "2000.07.25"] {After Herbstmann 1934. A refined version of a classic is not to be refused even if it has to be slightly shortened due to "modern technology". } 1. Kg6 (1. Re1+ Ne7+ $1) (1. Bd4 Rf7+ $1) 1... Rh6+ $2 {Present the study from here, or one move later.} (1... Rxh8 $2 2. Kg7 $8 $11) (1... Rh3 $1 2. Bd4 Rd3 $1 3. Rf4 Ne7+ $1 4. Kg5 Nf8 $1 {wins according to the inhuman monster}) 2. Kg7 $8 (2. Kg5 $2 Rxh8 $1 $19) 2... Ndf6 3. Re1+ $8 (3. Rxf6 $2 Rxf6 $8 4. Kh7 (4. Kxg8 Rg6+ $1 5. Kh7 Kf7 $19) 4... Rh6+ $1 5. Kg7 Rh1 6. Kxg8 Rg1+ $1 7. Kh7 (7. Bg7 Ke7 8. Kh7 Kf7 $8) 7... Kf7 $1 8. Kh6 Rh1+ $8) (3. Ra1 $2 Rh7+ $1 4. Kg6 Rxh8 $8 5. Ra8+ Kd7 $19) 3... Kd8 (3... Kd7 4. Ra1 $1 (4. Re7+ $1 Kd6 5. Rf7 $3 Rh7+ 6. Kf8 $8 Rxh8 7. Rh7 $8 {as in the text}) 4... Ke6 5. Ra6+ $8 Ke7 6. Ra7+ $8 (6. Rxf6 $2 Rxf6 7. Kxg8 Rg6+ $1 8. Kh7 Kf7)) 4. Ra1 $3 {[#] Sometimes as far as possible is still the best.} (4. Re7 $2 Rh7+ $1 (4... Ne8+ $1 5. Rxe8+ Kxe8 6. Kxg8 Rg6+) 5. Kf8 Nxe7 $8 (5... Rxe7 $2 6. Bxf6 $8 {[#]} Nxf6 {stalemate}) 6. Bxf6 Kd7 $8 $19) (4. Rb1 $2 Rh7+ $1 5. Kf8 Rxh8 $8 6. Rb8+ Kc7 $8 $19) (4. Rd1+ $2 Kc7 $1 5. Rc1+ Kd6 $1 $19) (4. Re8+ $2 Nxe8+ $8) 4... Rh7+ (4... Rh2 5. Ra8+ $1 (5. Kf8 $1) 5... Ke7 (5... Kd7 6. Rxg8) 6. Ra7+ $8 Ke6 7. Kf8 $8 Rxh8 8. Rh7 $8 {idem}) 5. Kf8 $8 Rxh8 6. Ra8+ $8 Kc7 7. Ra7+ $8 Kd6 8. Rh7 $3 {[#]} Nxh7+ (8... Rxh7 {stalemate}) 9. Kg7 $8 1/2-1/2 [Event "?"] [Site "?"] [Date "2011.??.??"] [Round "?"] [White "Pervakov, O."] [Black "4411.13"] [Result "1/2-1/2"] [SetUp "1"] [FEN "8/Q2N2R1/8/rq1p2p1/4p3/4K2B/5P2/7k w - - 0 1"] [PlyCount "16"] [EventDate "2011.??.??"] [SourceDate "2000.07.25"] {The solution requires only 8 moves, all inclusive. But of a certain... density. You will have to find the most poisonous 3rd & 4th black moves and the replicas of the 4th & 5th white moves. The rest will be easy} 1. Bg2+ $8 {It's nice to have two more tricks, but you have to ward off the threat of mate in one and the attack on the Queen.} (1. Qd4 $2 Ra3+ $1 (1... Qb3+ 2. Ke2 Ra2+ 3. Ke1 Qb1+ $8 4. Qd1 Qb2 5. Bg2+ Kg1 $8) 2. Kd2 Rd3+ $1) 1... Kg1 { In order not to give the wK the f4 square.} (1... Kxg2 2. Rxg5+ $8 Kf1 3. Qd4 $8 Qb3+ (3... Ra3+ 4. Kf4 $8) 4. Kf4 $8 $11) (1... Kh2 $2 2. Qc7+ Kg1 3. Qc1+ {and it's White who checkmate}) 2. Bxe4 $8 (2. Rxg5 $2 Qb3+ 3. Kf4 Rxa7 $8 4. Bxe4+ Kxf2 $19) (2. Qd4 $2 Qb3+ $1 (2... Ra3+ $1)) 2... dxe4 (2... Qb3+ 3. Bd3 $8 Rxa7 $8 4. Rxg5+ $8 Kh2 5. Rh5+ $8 Kg2 6. Rg5+ $8 Kh3 7. Rh5+ $8 Kg4 $2 8. Nf6#) (2... Rxa7 3. Rxg5+ $8 Kf1 4. Bd3+ $8 Qxd3+ 5. Kxd3 $11) 3. Qd4 $3 {[#]} Qf5 $1 (3... Qb1 4. Rxg5+ $8 (4. Qc3 $2 Qd1 $1) 4... Rxg5 5. f3 $1 (5. Kf4 Rb5 6. f3+ $1 Kh1 7. Ne5 $8 Rb4 8. Qe3 $8 exf3+ 9. Kg3 $8 $11 {OP}) 5... Kg2 6. Qxe4 $8 Qc1+ (6... Qb3+ 7. Kf4) 7. Kd3 Qa3+ 8. Kd2 Qb2+ 9. Kd3 Qb3+ 10. Kd4) (3... Qb3+ 4. Kxe4 $8 Qc2+ (4... Ra4 5. Rxg5+ $1 Kf1 6. Ne5 $11) 5. Kf3 $8 Ra3+ 6. Kg4 $8 Ra4 7. Qxa4 $8 Qxa4+ 8. Kxg5 $11) (3... Qf1 4. Rxg5+ $1 (4. Qd2 $6 Qb1 $1 5. Nc5 $1) 4... Rxg5 5. Kf4 $8 Rg2 6. f3+ $1 Kh1 7. Qxe4 Re2 8. Qd5 $1 Qc1+ 9. Kf5 $8 Rd2 10. Qc5 $11) (3... Ra3+ 4. Kxe4 $8 Ra4 5. Rxg5+ $1 Qxg5 6. Qxa4 $8 $11) (3... Qc6 $2 4. Qd1+ Kg2 5. Qg4+ $1 Kf1 6. Qe2+ $1 Kg1 (6... Kg2 7. f3+) 7. Qe1+ Kg2 8. Qxa5 $18) (3... Ra2 4. Qd1+ $1) 4. Ne5 $3 {[#]It is difficult to distinguish this move with the immediate sacrifice of the Rook.} (4. Qd1+ $2 Kg2 $8 5. Rf7 Ra3+ $1 6. Kd4 Qxf7 $19) (4. Qxe4 $2 Ra3+ $1) (4. Rxg5+ $2 Qxg5+ 5. f4 (5. Kxe4 Qf5+ ) 5... Qg2 $3 6. Qd1+ Kh2 $8 7. Ne5 Ra3+ $8 8. Kd4 e3 $1 (8... Rf3 $1 {OP}) 9. Qh5+ (9. Ng4+ Kh3 10. Nxe3 Qg7+ $8 11. Ke4 Qe7+) 9... Kg1 $8 10. Qd1+ Kf2 $1 ( 10... Qf1 $1 11. Qg4+ Kf2) 11. Ng4+ Kg3 $8 12. Nxe3 Qb2+ $8 13. Ke4 Qb4+ $8 14. Qd4 Qb1+ $8 15. Ke5 Qb8+ $1 (15... Qe1 $1 16. Ke4 Qh1+ $8) 16. Kd5 (16. Ke4 Qxf4+) 16... Ra5+ $1 17. Ke4 (17. Ke6 Qe8+ $1) (17. Kc6 Ra6+ $1 18. Kc5 Qb6+) 17... Qxf4+ $8 18. Kd3 Ra3+ $8 19. Ke2 Ra2+ $1 {avoiding the nasty fork}) 4... Rxe5 (4... Qxe5 5. Qxe5 (5. Qd1+ Kg2 $8 6. Qg4+ $8) 5... Rxe5 6. f4 $1 exf3+ $8 7. Kxf3 $8 $11) (4... Qf4+ 5. Ke2 Ra2+ (5... Rxe5 6. f3+) (5... Qxe5 6. Qd1+ Kg2) 6. Kd1 $8 Rxf2 7. Rf7 $1) 5. Rxg5+ $8 (5. Qd1+ $2 Kg2 $1 6. Rf7 Qh3+ $8 7. Ke2 (7. Kd4 Qe6 $1) 7... Qg4+ $1 8. Ke1 Qh4 $3 {[#](threatens ...Ra5)} ( 8... Qxd1+ $2 9. Kxd1 Kf1 10. Kd2 $8) 9. Ke2 (9. Qe2 Ra5 $3 10. Qf1+ Kh2 $19) 9... e3 $1 (9... Ra5 $1 10. Qb3 Ra7 $3) 10. Qf1+ Kh2 11. fxe3 Qc4+ $8 12. Kd2 Rd5+ 13. Ke1 Qc1+ 14. Kf2 Rd2+ $8) (5. Rf7 $2 Qxf7 $8 6. Qxe5 Qf3+ $8 7. Kd4 Kxf2 $19) 5... Qxg5+ 6. f4 $3 {[#]} exf3+ (6... Qg3+ 7. Ke2+ $8 e3 $1 (7... Kg2 8. fxe5 $8 $11) 8. Qd1+ $1 {(or on a1)} Kh2 9. fxe5 $8 $11) 7. Kxf3+ $8 Kh1 (7... Kh2 8. Qf2+ $1 {in addition to text}) 8. Qh4+ $3 {[#]} (8. Qa1+ $2 Kh2 9. Qb2+ Kh3 $8 $19) 8... Qxh4 {Mirror stalemate. The five white units (one of each kind) will have sacrificed.} 1/2-1/2 [Event "?"] [Site "?"] [Date "2010.??.??"] [Round "?"] [White "Pervakov, O."] [Black "3210.54"] [Result "1-0"] [SetUp "1"] [FEN "8/p7/P5kP/P7/3p3K/p2R1R1P/P5p1/1q1B4 w - - 0 1"] [PlyCount "29"] [EventDate "2010.??.??"] [SourceDate "2000.07.25"] {Dedicated to the memory of Z. Birnov.} 1. Rg3+ $8 Kh7 $1 {Can be started here, because on the most natural move 1...Kxh6, one misses the thematic try. Now, do you think 2 Rxg2 is a good move ?} (1... Kxh6 2. Rxg2 $8 {: text}) 2. Rg7+ $3 {[#]} (2. Rxg2 $2 Qxd3 $8 3. Bc2 Kxh6 $8 {ZZ[#]} 4. Rg6+ ( 4. Bxd3 {stalemate}) 4... Qxg6 $8 5. Bxg6 Kxg6 $8 6. Kg4 d3 $8 7. Kf3 Kg5 $1 8. Ke3 Kh4 $1 9. Kxd3 Kxh3 $8 10. Kc4 Kg4 $1 11. Kc5 Kf5 $1 12. Kc6 Ke6 $1 13. Kb7 Kd7 $1 14. Kxa7 Kc7 $1 $11) (2. Rxd4 $2 Qf5 $1 (2... Qb2 $1 3. Rd7+ Kh8 $8 4. Bg4 Qf6+ $1 {(ou ...Df2!)} 5. Kh5 g1=Q $8 6. Rxg1 Qf5+ $3 7. Kh4 Qf2+ $8) 3. Rdg4 Qf6+ $8 4. Rg5 $8 Qf4+ $1 5. R3g4 Qf2+ $8 6. Kh5 Qf7+ $8 7. Rg6 Qf5+ 8. R6g5 $8 $11) 2... Kxh6 (2... Kh8 3. Rxd4 $8 Qb8 4. Rxg2 $18) 3. Rxg2 $8 Qxd3 4. Bc2 $8 {ZZ. [#] Strangely, this move is stronger when it doesn't pin the Queen}. Qxa6 { The bP prevents ...Qa3 hiding the bQ : Rg6+ ...Kh7 Rg3+ ...d3!!.} (4... Qc3 5. Rg6+ $8 Kh7 6. Rc6+ $8) 5. Rg6+ $8 Qxg6 6. Bxg6 $8 Kxg6 7. Kg4 $8 {As in try 2 Rxg2? but without Pa6.} (7. Kg3 $2 Kg5 $1 8. Kf3 Kh4 $8 $11) 7... d3 (7... Kf6 8. Kf4 $1) 8. Kf3 $8 Kg5 9. Ke3 $8 Kh4 10. Kxd3 $8 Kxh3 11. Kc4 $8 Kg4 12. Kb5 $8 Kf5 13. Ka6 $8 {And therefore a major square available for the wK.} Ke6 14. Kxa7 $8 Kd7 15. Kb7 1-0 [Event "GER-ch"] [Site "Dudweiler"] [Date "1996.??.??"] [Round "8"] [White "Bastian, H."] [Black "Zeller, F."] [Result "0-1"] [ECO "B13"] [WhiteElo "2365"] [BlackElo "2410"] [PlyCount "156"] [EventDate "1996.11.26"] [EventType "swiss"] [EventRounds "9"] [EventCountry "GER"] [Source "ChessBase"] 1. e4 c6 2. d4 d5 3. exd5 cxd5 4. Bd3 Nc6 5. c3 g6 6. Bf4 Bg7 7. Nf3 Nh6 8. Qc1 Nf5 9. Nbd2 O-O 10. O-O f6 11. Re1 g5 12. Qb1 e6 13. Be3 Nxe3 14. Rxe3 f5 15. b4 g4 16. b5 $1 Ne7 (16... gxf3 17. bxc6 fxg2 18. cxb7 Rb8 $11) 17. Ne5 Ng6 18. Nxg6 hxg6 19. Nb3 Qe7 20. Qe1 $6 (20. c4) 20... Kf7 (20... f4) 21. g3 (21. c4) 21... Bd7 22. a4 Rae8 23. c4 Qd8 24. Qc3 Bc8 25. Rae1 b6 26. c5 Rh8 27. cxb6 ( 27. a5) (27. c6) 27... axb6 28. f4 gxf3 29. Rxf3 Bd7 30. Rf2 Qb8 31. a5 Rc8 32. Qb4 bxa5 33. Qxa5 Rc4 $1 {[#]} (33... Qc7 $1) 34. Nc5 (34. Bxc4 dxc4 35. Nc5 Bxd4 36. Nxd7 Qd6 37. Ne5+ (37. Kg2 Qxd7 38. Rf3 Rb8) 37... Bxe5 38. Rd2 Bd4+ $1 39. Kf1 Qd5 40. Qc7+ Kf6 41. Qc6 Qxc6 42. bxc6 Bc3 43. Rd7 Bxe1 44. Kxe1 Rc8 45. c7 g5) 34... Bxd4 35. Nxd7 Bxf2+ $2 {Too optimist.} (35... Qd6 $1 36. Bxc4 dxc4 { as above}) 36. Kxf2 Rxh2+ 37. Kf3 $8 $18 Qh8 (37... Qb7 38. Qd8 $1 d4+ 39. Kf4 Qc7+ 40. Ne5+) (37... Qc8 38. Ne5+ $8 Kg7 39. Bxc4 dxc4 40. Qa7+) 38. Ne5+ $8 Kf6 39. Nxc4 $6 (39. Bxc4 $1 dxc4 40. Qc3 $18) 39... d4 {The only chance. Now we have to return material to avoid mat. But how can we ?} (39... dxc4 40. Qc3+) 40. Rxe6+ $3 {[#]} (40. Rg1 $2 Qh5+ $8 41. g4 $8 fxg4+ 42. Rxg4 $8 Rh3+ 43. Kf2 $8 Qxg4 44. Qd8+ $8 Kg7 $8 45. Qe7+ Kh6 46. Qf8+ $8 Kg5 47. Qe7+ Kh6 $8 $11) 40... Kg5 (40... Kxe6 41. Qb6+ Kf7 (41... Ke7 42. Qd6+ Ke8 43. Qxg6+) 42. Nd6+ Ke7 (42... Ke6 43. Nxf5+) 43. Qc7+ $8 Kf6 44. Qf7+ Kg5 ( 44... Ke5 45. Nc4#) 45. Qe7+ $8 Kh5 46. b6 $18) 41. Qd2+ $2 {The bad check.} (41. Rxg6+ $3 {(echo sacrifice)} Kxg6 42. b6 $1 Qh5+ 43. Kf4 $8 Qg5+ 44. Ke5 $8 Qxg3+ 45. Ke6 $1 $18) (41. b6 $4 {(thematic try)} Qh5+ $8 42. g4 Qxg4#) 41... Rxd2 $11 42. Nxd2 Qh1+ 43. Ke2 Qg2+ 44. Kd1 Qxg3 45. Kc2 Qc7+ 46. Rc6 Qa7 47. Kb2 Kf4 $6 (47... Qa5 48. Nb3 Qb4 49. b6 Kh4 $11) 48. Nb3 Ke3 (48... g5 49. b6) 49. b6 Qd7 (49... Qa8 50. Rxg6 $6 (50. Rc7 Qb8 $1) (50. Bb5 $1 d3 51. Rd6 Qh8+ 52. Kb1) 50... Kxd3 51. Nc5+ Kc4 52. b7 Qh8 53. Rh6 $3 {[#]} (53. Rc6 $2 { (thematic try)} d3+ $8 54. Ka2 (54. Kb1 Qh1+ $8) 54... Qh2+ $8 55. Ka3 d2 56. Nb3+ (56. Nd7+ Kd5 $8) 56... Kd3 $8 $19) 53... Qe5 (53... Qxh6 54. b8=Q Kxc5 55. Qe5+) 54. Rc6 $3 d3+ 55. Kb1 $8 (55. Ka2 $2 Qh2+ $8 56. Ka3 d2 $8 $19) 55... Qe1+ {(less effective than in h1)} 56. Ka2 $11) 50. Rxg6 (50. Rc1 Qb7 51. Re1+ Kf4 52. Re6 $16) 50... f4 $2 (50... Qc8 $8 51. Bb5 d3 52. Rd6 Qh8+ 53. Nd4 d2 54. Kc2 f4 55. Nf5+ Ke4 $8 56. Bd3+ Ke5 57. Kxd2 Qa8 $132) 51. Ba6 (51. Nc5 $3 Qc8 52. Re6+ Kf2 (52... Kd2 53. Re2+ Kd1 54. Ne4 Qc1+ 55. Ka2 Qc6 56. Nf2+ Kc1) 53. b7 $18) 51... d3 (51... Qf7 52. Rc6) (51... Qe7 52. b7) (51... Qe8 52. Rd6) 52. b7 $8 Qe8 53. Rb6 $18 (53. Rd6 $18) 53... Qe5+ (53... Qb8 54. Re6+ $1 (54. Bxd3 $2 Kxd3 55. Nc5+ $8 Kc4 56. Nd7 Qh8+ $8) 54... Kf2 55. Nc5 $1 d2 56. Re2+) 54. Kb1 $8 (54. Ka2 $2 d2 $1 55. Nxd2 $2 Qa5+) 54... Qb8 55. Re6+ $1 (55. Bxd3 $1 {(the simplest)} Kxd3 56. Nc5+ $8 Kc3 57. Nd7 $1 Qe8 58. Rc6+ $8 Kd2 59. Rc2+ $8 Ke3 60. b8=Q $8 $18) 55... Kf2 56. Rc6 (56. Nc5 $1) 56... Qe8 57. Rc8 (57. Bxd3 Qxc6 58. b8=Q $18) (57. Rb6 Qe4 58. Bxd3 Qxd3+ 59. Kb2 $18) 57... Qe1+ 58. Ka2 Qe2+ 59. Ka3 $8 Qe7+ 60. Ka2 (60. Ka4 $1) 60... Qe2+ 61. Ka3 Qe7+ 62. Ka4 Qd7+ 63. Kb4 $1 (63. Ka5 $1 Qd5+ 64. Nc5 $18) 63... Qd6+ 64. Kb5 (64. Kc3 $1 d2 65. Nxd2 $8 Qf6+ 66. Kc2 $18) 64... Qd5+ 65. Nc5 $2 (65. Kb6 $2 Qxb3+ $8 66. Ka7 d2 67. Rd8 $8 $11) (65. Ka4 $1 Qd7+ 66. Ka5 $8 {as already seen}) (65. Kb4 $1 Qd6+ (65... d2 66. b8=Q d1=Q 67. Qxf4+ Q5f3 68. Rc2+ $1) 66. Kc3 $1 { as already seen}) 65... d2 $8 66. b8=Q d1=Q $8 67. Qxf4+ Q1f3 $8 (67... Q5f3 $2 68. Ne4+) 68. Qh2+ $1 (68. Qxf3+ Qxf3 $8 69. Rd8 Qe2+ 70. Rd3 Qe8+ 71. Kc4 Qe2 $11) 68... Ke1 $8 69. Re8+ (69. Kb6 $1 Qe3 (69... Qf6+ 70. Ka7 $18) 70. Qh4+ Kd1 71. Qa4+ Kc1 72. Qb5 $1) 69... Kd1 $8 70. Qg1+ $1 Kc2 $8 71. Qh2+ (71. Qe3 $1 Qxe3 72. Rxe3 Qf5 $1 $11 (72... Qd4 $1 $11) 73. Bb7 Qf1+) 71... Kc3 (71... Kd1) 72. Qh8+ (72. Qe5+ Qxe5 73. Rxe5 Qf1+ 74. Ka5 Qa1+ 75. Kb6 Qg1 $11) 72... Kc2 $8 (72... Kd2 $2 73. Qb2+ $8 Kd1 74. Qb1+ $1 Kd2 75. Qe1+ $1 Kc2 76. Re2+ $8) 73. Qh7+ $6 (73. Qh2+ Kc3 74. Qc7 $1 Qfd3+ $1 (74... Kb2 $1) 75. Ka5 Qd2 $3 {[#]( battery formation)} 76. Re2 Q5a2+ (76... Q2g5 77. Kb6 Qgd8) 77. Na4+ Kb3+ $8 78. Rxd2 Qxd2+ 79. Kb6 Kxa4 $11) 73... Kb2 $1 {Three pieces (one of which is "heavy") are normally stronger than the Queen Even more so by adding a Queen to each side. But here, they are badly coordinated, so that the advantage is rather black. Unless...} 74. Re4 $2 {Pare the threat ... Qfb3+, but intercepts the White Queen.} ({harmonious move was} 74. Qe4 $3 Qfb3+ 75. Qb4 $8 Qdc4+ 76. Kc6 $8 {[#](curious cases of cross-attacks)} Qcxb4 ( 76... Qbxb4 77. Bxc4 $8 Qxc4 $11) 77. Nxb3 $8 Qa4+ 78. Bb5 $8 Qxb3 $11) (74. Qg7+ $2 Ka2 $1 $19) (74. Qh2+ $2 Ka3 $8 75. Qc2 Qc6+ $8 76. Ka5 Qc7+ $8 (76... Qxe8 $4 77. Qc1+ $8) 77. Kb5 Qfc6+ $8) 74... Qfd3+ $8 (74... Qfb3+ $2 75. Rb4 $8 Qdc4+ $8 76. Kc6 $8 {(same cross-attacks as above)} Qbxb4 ( 76... Qcxb4 77. Nxb3 $11) 77. Bxc4 $8 $11) 75. Kb6 Qd6+ $8 76. Kb7 Q3d5+ $8 77. Ka7 Q5xc5+ 78. Ka8 Qd8+ 0-1 [Event "USSR (ch)"] [Site "?"] [Date "1973.??.??"] [Round "12"] [White "Tukmakov, V."] [Black "Karpov, A."] [Result "1/2-1/2"] [ECO "B42"] [PlyCount "85"] [EventDate "1973.??.??"] [SourceDate "2000.07.25"] {16/294. "A very lively fight, where both opponents showed great energy and great tactical ingenuity". (AK).} 1. e4 c5 2. Nf3 e6 3. d4 cxd4 4. Nxd4 a6 (4... Nc6 5. Nc3 Qc7) 5. Bd3 (5. Nc3 b5 6. Bd3 Bb7 7. O-O {Keres,P-Benko,P/Curaçao 1962}) 5... Nf6 (5... Nc6 6. Nxc6 bxc6 7. O-O d5 8. Nd2 Nf6 9. Qe2 (9. b3 Bb4 $1 $11) 9... Be7 10. b3 O-O 11. Bb2 a5 12. f4 a4 ( 12... g6 {Spassky,B-Petrosian,T/Moscow 1969 : see commentary on 13th black move in the text}) 13. Rf3 g6 $1 $11) 6. O-O (6. e5 $6 Qa5+) 6... Qc7 (6... d6 7. Nc3 g6 8. a4 Bg7 {Franot,P-Villeneuve,A/Paris 1991}) (6... d5 $2 7. e5 Ng8 ( 7... Nfd7 $2 8. Nxe6 $1) 8. Nd2 {Szmetan,J (2435)-Najdorf,M (2525)/Buenos Aires 1977}) 7. Nd2 (7. c4 Nc6 8. Be3 (8. Nxc6 dxc6 9. f4 e5 10. Kh1 Bg4 11. Qc2 O-O-O {Murey,J (2380)-Tal,M (2625)/Sukhumi 1972}) 8... Ne5 {VT}) (7. Qe2 { AK} d6 8. c4 g6 9. Nc3 Bg7 10. Rd1 (10. Nf3 Nc6 11. h3 O-O 12. Bf4 Nh5 13. Bd2 b6 14. Rac1 Bb7 15. Be3 Ne5 16. Rfd1 Nxd3 17. Qxd3 Rad8 18. Na4 Qc6 {Svidler,P (2722)-Caruana,F (2709)/Moscow 2010}) (10. Be3 Nbd7 11. Rac1 O-O 12. Rfd1 Ne5 13. f3 Bd7 14. b3 Nxd3 15. Qxd3 Rfd8 16. Nde2 $14 {Saric,I (2618)-Gorovets,A (2524)/Minsk 2017}) 10... O-O 11. Nf3 Nc6 12. h3 Nd7 13. Be3 (13. Bd2 b6 14. Rac1 Bb7 15. b3 Rae8 16. Bb1 f5 {Bacrot,E (2709)-Zagorskis,D (2509)/Ohrid 2009 }) 13... b6 (13... Bxc3 14. bxc3 e5 15. Nh2 f6 16. Nf1 Re8 17. Bc2 Nd8 18. Ba4 $16 {Bosiocic,M (2567)-Cvitan,O (2497)/Porec 2016}) (13... Nde5 14. Rac1 Qe7 15. Bb1 Bd7 16. Nh2 f5 17. f4 Nf7 18. Qd2 Be8 19. Nf3 Rd8 20. exf5 gxf5 21. Bf2 $16 {Nakamura,H (2787)-Shabalov,A (2528)/Saint Louis 2016}) 14. Rac1 Bb7 15. Bb1 Rfc8 16. Qd2 Bf8 17. Nb5 axb5 18. cxb5 e5 19. Bh6 Be7 20. Bg5 (20. Ng5) 20... Bf8 {1/2-1/2 Smeets,J (2601)-Aronian,L (2750)/Wijk aan Zee 2009}) (7. Nc3 d6 (7... b5 8. Re1 Bb7 9. Bg5 Nc6 10. Nxc6 Qxc6 11. Qf3 $16 {Radjabov,T (2742)-Artemiev,V (2692)/Tbilisi 2017}) 8. a4 b6 9. Re1 Be7 10. Qf3 Nbd7 11. Qg3 Ne5 12. f4 Nxd3 13. cxd3 O-O 14. Be3 Bb7 15. f5 e5 16. Nf3 {Radjabov,T (2742)-Artemiev,V (2692)/Tbilisi 2017}) 7... Nc6 (7... d6 8. a4 (8. Kh1 g6 9. f4 Bg7 10. N2f3 O-O 11. Qe1 {Mazur,S (2459)-Solak,D (2641)/Minsk 2017}) (8. c4 Nbd7 9. b3 g6 10. Bb2 Bg7 11. Rc1 O-O 12. Bb1 b6 13. Re1 Bb7 {Polivanov,A (2400)-Rychagov,A (2586)/Moscow 2007}) 8... Nbd7 (8... b6 9. a5 b5 10. c4 e5 { (Campora,D (2503)-Korneev,O (2566)/Seville 2004)} 11. Nf5 $1) 9. a5 g6 10. Nc4 Bg7 11. b3 O-O 12. Ba3 Nc5 {Nataf,I (2533)-Berg,E (2610)/Salou 2009}) (7... Bc5 8. N2b3 (8. N2f3 d6 9. Bg5 Nbd7 10. Qd2 h6 11. Bxf6 Nxf6 12. Rad1 e5 13. Ne2 O-O $11 {Le Roux,J (2494)-Shchekachev,A (2561)/Paris 2006}) 8... Ba7 9. c4 d6 10. Bd2 e5 11. Nc2 O-O 12. Be3 Be6 13. Bxa7 Rxa7 14. Ne3 a5 15. Rc1 a4 16. Nd5 Bxd5 17. cxd5 Qb6 18. Nd2 Qxb2 19. Nc4 Qb4 20. Qe2 $16 {Najer,E (2653) -Stukopin,A (2546)/Vladivostok 2014}) 8. Nxc6 bxc6 (8... dxc6 9. a4 e5 10. Nc4 Be6 11. Qf3 Nd7 12. a5 f6 13. Qh5+ g6 14. Qe2 Bc5 15. Kh1 O-O 16. c3 $14 { Zhang Pengxiang (2640)-Lin Chen (2406)/Jiangsu Wuxi 2008}) 9. f4 d5 (9... Bc5+ 10. Kh1 d6 11. Nf3 e5 $6 (11... Ng4 12. Qe2 Qa7) 12. fxe5 dxe5 13. Nh4 (13. Qe1 ) 13... O-O (13... Ng4 14. Qf3 O-O) 14. Nf5 (14. Rxf6) 14... Be6 (14... Bxf5 15. Rxf5 Rfd8 16. Qf3) 15. Qe2 a5 16. Bc4 Kh8 17. Bg5 Nd7 $6 (17... Bxf5 18. Rxf5 Ne8) 18. Rad1 $1 (18. Qg4 Bxf5 19. Qxf5 f6) 18... Nb6 $2 (18... Bxf5 19. exf5 {(Rxf5 ...f6)} Nf6) 19. Nxg7 $3 {[#]} Bxc4 (19... Kxg7 20. Bf6+ Kg8 21. Qd2) ( 19... Be7 20. Nxe6 fxe6 21. Bh6) 20. Bf6 $1 {(threatens Nf5+ followed by mat)} Be7 21. Qf3 {1-0 Stein,L-Portisch,L/Stockholm 1962/IZT}) 10. b3 (10. c4 Be7 (10... dxe4 11. Nxe4 Nxe4 12. Bxe4 f5 13. Bd3 Bc5+ 14. Kh1 O-O) 11. b3 (11. e5) 11... dxe4 12. Nxe4 c5 13. Bb2 Bb7 14. Qe2 Rd8 {Bellon Lopez,J (2400)-Quinteros,M (2520)/Olot 1974}) 10... Be7 {"Passive" (AK).} (10... Bb4 {AK}) (10... Bc5+ 11. Kh1 Be3 {AK} 12. e5 Nd7 13. Nf3) 11. Bb2 a5 12. c4 (12. Qe2 {VT} O-O (12... Ba6 {AK}) 13. c4 (13. Kh1)) 12... O-O (12... a4 {(more risky according to AK)} 13. Qc2 { VT}) 13. Qc2 (13. e5 {(Some commentators have called it "forcing draw", wrongly according to AK)} Nd7 14. Bxh7+ $2 (14. Bd4) 14... Kxh7 15. Qh5+ Kg8 16. Rf3 f6 $3 {[#]} (16... f5 17. Rh3 Rd8 $11 {(ou ...Cc5 Fd4=)} 18. Qh7+ {AK}) 17. Rh3 fxe5 18. Qh7+ (18. fxe5 Rf5 $1 19. Qh7+ Kf7 20. Rg3 Nf8 {(AK ; ou ...Ff8 Cf3 ...Re7)} 21. Rxg7+ Ke8 22. Qh6 Qb6+ 23. Kh1 Ra7) 18... Kf7 19. fxe5 (19. Qh5+ g6 20. Qh7+ Ke8 21. Qxg6+ Kd8) 19... Ke8 {AK} 20. Qxg7 Qb6+ 21. Kh1 Qf2 $1 22. Rh7 Bc5 $17) 13... h6 $1 ({According to AK, "Petrossian had preferred"} 13... g6 {(but in his game, the 1st of the 1969 match against Spassky, there was no c4, ... Qc7 and the wQ was on e2 instead of c2)} 14. Kh1 (14. Rad1 {(played by BS in the above-mentioned game)} Qa7+ 15. Kh1 Ng4 {: the difference}) 14... a4) 14. Kh1 Qb6 15. Rae1 $6 (15. Nf3 dxe4 16. Bxe4 Nxe4 17. Qxe4 {(mastering black squares AK)} c5 $1 18. Qxa8 Bb7 19. Qxf8+ Bxf8 20. Rad1 a4 $11) (15. Rf3 {(for g2-g4, direct attack AK)} Ng4 (15... d4) 16. exd5 cxd5 17. h3 Nf2+ 18. Kh2 Nxd3 19. Qxd3 Bb7 $11) 15... Ng4 16. exd5 {The other choice, Nf3, is difficult to assess, often leading to an exchange sacrifice.} (16. Nf3 dxe4 $1 {(or ... dxc4 or ...Bb7)} (16... Ne3 17. Qc3 (17. Qf2 {(also possible Rxe3 ...Qxe3 exd5)} dxc4 $1 (17... Bc5 $6 18. Qg3 f6 {(...d4 Rxe3)} 19. exd5 Nxf1 20. Qg6 Ne3 21. Qh7+ Kf7 22. Bg6+ Ke7 23. Rxe3 {AK} Bxe3 24. Qxg7+ Kd8 25. d6 $1 $18) 18. Rxe3 cxd3 19. Qg3 f6 $8 20. Rxd3 a4 {(...Ba6 Rd7)} 21. Rc1 $11) 17... f6 { AK} (17... Bf6 $2 18. e5 Be7 19. Rxe3 $18) (17... d4 18. Qxd4 Qxd4 19. Nxd4 Nxf1 20. Nxc6 {AK} Bd6 21. e5 Bc5) 18. Rxe3 Qxe3 19. exd5 Qxf4 $8 20. Nd4 Bb4 21. Qc2 Qd6 22. dxe6 Bc5 23. Nf5 Qxe6 24. Nh4 $44) 17. Rxe4 {(c5? Qxc5)} (17. Bxe4 f5 18. Bd4 (18. Bd3 Ne3 $1 19. Qf2 Bc5 20. Ba3 {(Qg3 ...Ra7 AK)} Bxa3 21. Qxe3 Qxe3 22. Rxe3 {AK}) 18... Qc7 $6 {AK} (18... Bc5 $1 19. Bxc5 Qxc5 20. Bd3 Rd8 {threatens ...Ne3 without fear Qf2}) 19. Ne5 $1 {[#](not considered by AK)} (19. Bd3 {AK} c5 {(not ...Qxf4? h3!)} 20. Ba1 Bd6) 19... Rd8 (19... Bf6 20. Bf3) ( 19... Nxe5 20. Bxe5 Qb6 21. Bf3) 20. Nxc6 fxe4 21. Nxd8 Bxd8 22. Qxe4 Ra6 23. Rd1 $14) 17... f5 (17... Bc5 18. h3 Ne3 {(or ...Nf2+ Rxf2 then c5 and Rc4)} 19. Rxe3 Bxe3 20. Ne5) (17... Ne3 $2 18. Rxe3 Qxe3 19. Qc3 $18) (17... a4 18. f5 axb3 19. Rxg4 bxc2 20. Rxg7+ Kh8 21. f6 $8 Qxb2 22. Rh7+ Kg8 $11) 18. Re2 $1 Ne3 19. Bd4 $1 Nxc2 20. Bxb6 Nb4 21. Ne5 $1 (21. Bb1 c5 $11 {AK}) 21... a4 $1 ( 21... Bf6 22. Bb1 $18 {AK}) (21... Nxd3 22. Nxd3 a4 23. b4) (21... c5 22. Ng6 Nxd3 23. Nxe7+ Kf7 24. Rd2 Ra6 25. Bc7 $1 Kxe7 26. Rxd3 $16 {AK}) (21... Ra6 22. c5 Nxd3 23. Nxd3 a4 24. b4) 22. Ng6 Nxd3 23. Nxe7+ Kf7 24. Nxc6 (24. Rd2 Kxe7 25. Rxd3 Re8 26. b4 Ba6 27. Rc1 g5) 24... Ra6 25. c5 axb3 26. axb3 Bd7 27. Ne5+ (27. Nd4 Nxf4) 27... Nxe5 28. Rxe5 $8 Ra2 $44) 16... cxd5 (16... Ne3 $2 17. Rxe3 Qxe3 18. Qc3 $18 {AK}) (16... Nf2+ $2 17. Rxf2 Qxf2 18. Rf1 Qb6 19. dxe6 $1 {[#]} (19. dxc6 {AK} f5 20. Be2 Ra6) 19... Ra7 (19... fxe6 $2 20. Bh7+ Kh8 21. Bxg7+ Kxg7 22. Qg6+ Kh8 23. Bg8 $1) (19... Bxe6 $2 20. f5 Bd7 21. f6 $18) ( 19... Qc7 20. exf7+) (19... c5 20. exf7+ {(...Kxf7 Be4)} Rxf7 21. Bg6 Rf8 22. Nf3 Rxf4 {(...Bf6 Ne5)} 23. Re1 Ra7 24. Bh7+ Kh8 25. Ne5) 20. exf7+ Rxf7 21. Nf3 (21. Bg6 Rf8 22. Nf3) 21... Bf6 22. c5 Qd8 23. Bxf6 Rxf6 24. Ne5 Qe8 25. h3 $16) 17. cxd5 (17. Nf3 Bc5 (17... Bb7 18. cxd5 Bxd5 19. Bd4) (17... Ba6 18. h3 Nf6) 18. f5 (18. cxd5 exd5 {(...Nf2+? Rxf2 then Re2 & Qc3!)} 19. Ne5 $1 Nf2+ $4 20. Rxf2 Bxf2 21. Bh7+ {followed by mat in 3}) 18... exf5 (18... Nf2+ $2 19. Rxf2 Bxf2 20. f6 $3 {[#](threatens mat in 2)} g5 {(...g6 Qd2)} 21. Re5 $1 Rd8 22. Bh7+ Kh8 23. Rxg5 $3 hxg5 24. Nxg5 Qc7 25. Bg8 $1) 19. cxd5 Nf2+ 20. Rxf2 Bxf2 21. Rd1 $44) 17... Nf2+ 18. Rxf2 Qxf2 19. Re2 $1 {The very active white play and the bishops pointed against black king compensate for the loss of exchange.} (19. Rf1 Qc5 $15 {AK}) (19. Nf3 $6 Qxc2 20. Bxc2 Bb4 $17 {AK}) 19... Qxf4 ({ Also possible} 19... Qc5 20. Nc4 $1 {VT} exd5 $1 21. Ba3 Qd4 $3 {[#](not considered by AK)} (21... dxc4 $2 22. Bh7+ Kh8 23. Bxc5 Bxc5 24. Be4 $18 {AK}) 22. Bxe7 (22. Bb2 Qxf4 23. Rxe7 dxc4 24. Bxc4 Be6) 22... dxc4 23. Bh7+ $8 (23. Bxc4 $4 Qa1+) 23... Kh8 24. Qe4 (24. Bxf8 Bg4 $17) (24. Rd2 $2 Qxf4 $1 25. Rf2 Qe5 $1 26. Re2 Qa1+) 24... Rd8 $3 25. Bxd8 Qxd8 26. h3 Be6 $15) 20. Re4 Qd6 ( 20... Qg5 21. Re5 {VT} Qg4 22. Nf3 Ba6 23. Bh7+ $1 Kh8 24. Re4 Qh5 $8 25. Re5 Bg5 (25... Qg4 $11) 26. dxe6 fxe6 27. Be4 Rac8 28. Qd1 Rfd8 29. Qe1 $44) (20... Qb8 21. Nc4 {(Qc3 ...e5 or Nf3 ...Rd8 or Rg4 ...Bg5)} (21. dxe6 $6 Bxe6 22. Rxe6 fxe6 23. Bh7+ $2 (23. Qc6 Bf6 24. Qxe6+ Rf7 $1 25. Bc4 Qe8) 23... Kh8 24. Bxg7+ Kxg7 25. Qg6+ Kh8 26. Bg8 Rf1+ $3 {[#]} (26... Rf7 $1 {AK} 27. Qxf7 {(Bxf7 ... Qf4!)} Qxg8 28. Qxe7 Qd8 $1 {is not so bad, but....}) 27. Nxf1 Qxg8 28. Qxh6+ Qh7 29. Qxe6 Rf8 $19) 21... f5 $1 {(not considered by AK)} (21... exd5 $2 22. Rxe7 dxc4 23. Bh7+ Kh8 24. Bxg7+ Kxg7 25. Qg6+ Kh8 26. Qxh6 $18 {AK}) (21... Bb4 $1) 22. Re2 (22. Re1 Bh4) 22... Qc7 23. dxe6 Ra6 24. Be5 Qc5 (24... Qb7 25. Bc3 {(Bxf5? ...g6!)} Rxe6 26. Ne5) 25. Nb2 $1 Rc6 26. Bc4 Bxe6 27. Nd3 Qb6 28. Bd4 $3 {[#]} Qxd4 29. Bxe6+ Rxe6 30. Rxe6 $11) 21. Nc4 (21. Qc3 e5 $1 (21... Bf6 $4 22. Qxf6 {AK}) (21... f6 $1 22. Nc4 {(dxe6 Rd8)} Qxd5 {(or ...Qb4)} 23. Nb6 Qb7 24. Nxa8 Qxa8 25. Qc7 Rd8 26. Rg4 Rxd3 27. Rxg7+ Kxg7 $11 {AK} 28. Qxe7+ Kg8 29. Qe8+ Kg7 30. Qe7+) 22. Nc4 Qb4 (22... Qc7) 23. Qc2 Bf5 24. Rxe5 Bxd3 25. Qxd3 Bf6 26. Ba3 Qb5 27. Bxf8 (27. Re1 Rfe8 28. Rd1 a4 $15 {AK}) 27... Bxe5 28. a4 $1 Qa6 29. Bc5 Qf6 30. d6 $44) (21. Rg4 e5 $1 (21... f6 $4 22. Bh7+ Kh8 23. Qg6 $18) (21... Bg5 22. Ne4 Qd8 $11) 22. Rg3 Bb7 23. Nc4 Qxd5 24. Nxe5 (24. Nb6 Qd6 $15) (24. Bxe5 f6) 24... Rfc8 $1 (24... Rac8 $2 {(allows mat in 5)} 25. Bh7+ Kh8 26. Ng6+ $3 {[#]} fxg6 27. Bxg7+ $3 {and mat in 2}) 25. Qf2 {(threatens Qf5)} Qe6 26. Bf5 Qd5 27. Bd3 $11) 21... Qxd5 (21... Qd8 22. Rg4 (22. d6 Bf6 23. Re3 a4 24. bxa4 Ba6) 22... Bf6 $1 (22... Bg5 $1 {(AK, or ...e5 immediatly)} 23. Qc3 {(d6 f5)} e5 $1 24. Rg3 Re8) (22... f6 $2 23. Bh7+ Kh8 24. Rxg7 $1 Kxg7 25. Qg6+ Kh8 26. Bg8 $3 {[#](Qxh6? ...Rf7! is clearly less convincing)} Rf7 27. Bxf7 Qf8 28. Nb6 $1 Rb8 29. d6 $3 Bd8 30. Nxc8 Rxc8 31. d7 $1 Rb8 {(...Rc5 Bxf6+)} 32. Bxe6 {(even stronger than Bxf6+)} Rb6 {(...Fe7 Fc1)} 33. Qe8 Kg7 34. Ba3 $1 Rb4 35. Bc1 $3 Rh4 36. g3 $18) 23. Qd2 (23. d6 Bxb2 24. Qxb2 e5) 23... Bg5 $1 {(or ...Bxb2 then ...g5, or even ...g5 immediately)} (23... Kh8 24. Rh4 $1 Bxb2 $1 {(not considered by AK)} (24... Bg5 $2 25. Rxh6+ $1 Kg8 26. Rh7 $1 e5 27. Bxe5 Bf6 {on ...f6 similarly follows Qxg5 and on ...Bxd2 it's mat in 3)} 28. Qg5 $1 Bxe5 29. Rh8+ Kxh8 30. Qh5+ {AK}) (24... Kg8 $1 25. Rxh6 Bxb2 {idem}) 25. Rxh6+ Kg8 26. Bh7+ Kh8 27. Be4+ Kg8 $11) 24. Bxg7 $2 (24. h4 $2 exd5 $1 {(better than ...e5 AK)} 25. Rg3 dxc4) (24. Qc3 $1 e5 $1 25. Rg3 Re8 26. Be4 {(Nxe5? ...Bf6)} Bf4 27. Rf3 Qh4 28. h3 a4 $17) 24... Bxd2 (24... Kxg7 25. h4 exd5 $19 {AK}) 25. Bxh6+ Bg5 $1 26. Bxg5 f5 $3 27. Rg3 Qxd5 $19) 22. Rg4 {Again, a difficult choice: a fork or the threat of mate ? } (22. Nb6 {(the "!" given by AK seems unjustified)} Qb7 23. Rg4 (23. Qc3 e5 { (VT ; or ...f6)} 24. Nxa8 Qxa8 25. Re3 {(Qxe5? Bf6)} Bf6 26. Qe1 Rd8 27. Bf1 Bg4 28. Qf2 Rd1 29. Re1 Qd5 $17) (23. Nxa8 Qxa8 24. Qe2 {(Rg4 ...e5 AK or Qc7 . ..Rd8)} Rd8 25. Rg4 f6 26. Rg3 Qd5 $15) 23... e5 $1 {(...f6? Bh7+ and Rxg7!)} ( 23... Bg5 $6 24. Nxa8 Qxa8 (24... e5 25. Rxg5 hxg5 26. Nc7) 25. Qc3 e5 (25... f6 26. h4 e5 27. hxg5 Bxg4 28. Qc4+ {AK}) 26. Rxg5 $1 hxg5 27. Qxe5 f6 $8 {AK} 28. Qe2 $3 {[#](not consideredby AK ; threatens Qh5)} (28. Bc4+ $2 Kh7 29. Bd3+ Kh6 $1 30. Qe3 Rd8 $17) (28. Qe7 $2 Bg4 $1 29. Bc4+ Kh8 $19) 28... Qc6 (28... g4 29. Qe7 $1 {(threatens Bc4+ while dominating the bB)} Bb7 $2 {(...Ba6 Qe6+ & Qxa6 is the lesser evil)} 30. Qe6+ $8 Rf7 {(...Kh8 Qf5)} 31. Bc4 {(or Bg6)} Qf8 32. Qd7 $3 {[#](Ba3?! ...Bc8!)} Ba8 {(...Ba6 Bd5!)} 33. Ba3 $18) 29. Bc4+ $1 (29. Qh5 $1 Rd8 {(Re8 Qh7+ then Ba3+ & Bc4)} 30. Bg6) (29. Bb5 Qd6 30. Bc4+ Rf7 31. Bxf6 gxf6 32. Qe8+) 29... Rf7 30. Bxf6 $3 {[#]} (30. Qe7 $2 Qxc4 $8) 30... gxf6 (30... Qxf6 31. Qe8+ Kh7 32. Qxf7 Qa1+ 33. Qf1 Qxa2 34. b4 Qa4 $8 {(...Qa3? Qd3+!)} 35. Bd3+ Kh6 36. Qc1 $1 Kh5 $1 {(...Qxb4?? Qc6+)} 37. h4 $1 gxh4 $8 {(...Kxh4 Qe1+)} 38. Qc5+ g5 $8 39. Be2+ Bg4 $8 40. Bxg4+ Kxg4 41. bxa5 $14) 31. Qe7 $3 Qd7 (31... Qxc4 {(no longer fits because Pg7 is moved)} 32. Qe8+ $8 Rf8 33. Qg6+ $8 Kh8 34. bxc4 $18) 32. Bxf7+ Kg7 33. Qxd7 Bxd7 34. Bc4 $16) 24. Bh7+ Kh8 25. Rxg7 $1 Bd6 $1 {(not considered by AK)} (25... Qxb6 $2 26. Bxe5 Bf6 27. Bg8 $3 {AK [#]}) (25... Kxg7 26. Bxe5+ Bf6 $8 {(f6? Qg6+)} 27. Bxf6+ Kxf6 28. Qc3+ Ke7 29. Qc5+ {(or Qe3+ Be6 Be4=)} Ke8 30. Nd5 $1 {(Bd3)} Ra6 31. Nc7+ Kd7 32. Bf5+ Re6 33. Nxe6 fxe6 34. Qxf8 exf5 {AK} 35. Qxf5+ Ke8 36. Qxa5 Qe4 37. Qh5+ Ke7 38. Qc5+ Kf7 39. Qc7+ Kg6 40. Qg3+ Kf6 $11) 26. Be4 $8 (26. Rg3 $2 Qxb6) 26... Bf5 $3 {[#](the point of 25...Bd6!)} (26... Kxg7 $2 27. Bxb7 Bxb7 28. Nxa8 Rxa8 29. Qf5 $18) (26... Qxb6 $2 27. Rh7+ $8 Kg8 28. Qd2) 27. Rg4 $6 (27. Bxf5 Kxg7 28. Nxa8 Qxa8 $17) 27... Bxe4 $1 (27... Qxb6 28. Qc1 Bc7 29. Bc6 Bxg4 30. Qxh6+ Kg8 31. Qg5+ $8 Kh7 $11) 28. Qd2 $8 f5 $1 (28... Kh7 $2 29. Bc1) 29. Rg6 $6 (29. Qxh6+ Qh7 30. Rh4 Qxh6 31. Rxh6+ Kg8 32. Rxd6 Rfd8 $1 33. Nd7 Kf7 $17) 29... f4 $1 30. Rxd6 Qg7 $3 31. Nxa8 f3 $3 32. Qxh6+ (32. Kg1 f2+) 32... Qxh6 33. Rxh6+ Kg7 34. gxf3 Rxf3 35. Kg1 Kxh6 $19) 22... e5 $8 (22... f6 $4 23. Be4 $18) ( 22... Bg5 $2 23. Be4 $16) 23. Rg3 (23. Be4 $2 Qc5 24. Rg3 Ra6 $17) 23... Ra6 $1 {"The position is full of all kinds of tactical ideas" (AK).} (23... Rd8 24. Nxe5 Ra6 {below on the 24th black}) (23... Qe6 $1 24. Nxe5 (24. Bxe5 Bf6 25. Bc3 a4 $17) 24... Bf6 25. Re3 (25. Bc4 Qd6 $17) 25... Ra7 $15) (23... Bb7 24. Bxe5 f6 25. Bf4 (25. Bc3 Rad8 26. Bxa5 Rd7) 25... Kh8 26. Bxh6 gxh6 27. Qc1 Qh5 28. Bg6 Qh4 29. Rg4 Bxg2+ $1 (29... Qh3 30. Rg3) 30. Rxg2 $8 Bb4 $1 31. a3 (31. Re2 $2 Rg8) 31... Qe1+ 32. Qxe1 Bxe1 $15) (23... Qc5 24. Bxe5 Bg5 $8 25. h4 Re8 26. hxg5 Rxe5 27. Nxe5 Qxe5 28. Qe2 $1 Qxe2 $8 29. Bxe2 hxg5 30. Rxg5 Kf8 $11) ( 23... Ba6 $1 24. Bxe5 (24. Be4 Qc5) 24... Bg5 $1 25. Be4 Qe6 26. Bxa8 Rxa8 $15 {AK}) 24. Nxe5 Bf6 (24... Re6 {(criticised by AK & VT)} 25. Bc4 Qd6 $1 (25... Rxe5 $2 26. Rxg7+ $1 {VT & AK} Kxg7 27. Bxd5) (25... Qxe5 $6 26. Bxe5 Rxe5 { (Rf3!+/=)} 27. Bxf7+ $6 Rxf7 28. Qxc8+ Rf8 29. Qc4+ {(Qc1 ...Bh4)} Kh8 30. h4 Bd6 $1 $11) 26. Bxe6 Qxe6 27. Nd3 f6 (27... Bg5 28. Qc3 f6) 28. Bd4 Bd6 29. Re3 Qd5 $11) (24... Rd8 25. Nxf7 Qxf7 26. Bxa6 Bxa6 27. Rxg7+ Qxg7 28. Bxg7 Kxg7 29. h3 a4 $15) 25. Bc4 Qd6 $6 (25... Qd8 $1 {("preventing any sacrifice on f7" AK)} 26. Bxa6 $8 (26. Nxf7 $2 Rxf7 $8 27. Bxf6 Raxf6 $8 {(Qxf6? Bxf7+: see at the 27th black move of the text)} 28. Bxf7+ Rxf7 $19) 26... Bxa6 27. Re3 (27. Nc6 $2 Re8 $3 {[#](rather than ...Qe8? AK h3=)} 28. Be5 {(h3 ...Re1+ & ...Qb6 Rg4 ...h5)} Qd6 $1 $19) (27. Nd7 $2 Bxb2 28. Qxb2 {(Nxf8 Qd4!)} f6 29. Qd4 Rf7 $19 {AK}) ( 27. Ng4 $2 {("drives to a fantastic position" AK)} Bxb2 $8 {(Bg5? h4!)} 28. Nxh6+ Kh8 29. Rh3 Re8 $3 {[#]("there is no more parade" AK)} 30. Nf5+ {(Nxf7+ Kg8 is not better)} Kg8 31. Ne7+ Kf8 $8 {AK} 32. Rh8+ Kxe7 33. Qc5+ Kd7 34. Qa7+ Kd6 35. Qxa6+ {(Rxe8 ...Qxe8 and one can interpose the Queen in c6)} Kc5 $8 36. b4+ $1 Kd4 $3 $19) (27. h3 Qd6 28. Re3 Rd8 29. Bc3 Bg5 30. Rf3) 27... Qb6 28. Re1 Re8 29. Nf3 (29. Qd2) 29... Rxe1+ 30. Nxe1 Qb5 (30... Bxb2 31. Qxb2 Qe3 32. Nf3) 31. Nf3 $8 Bd8 32. Bd4 Qf1+ 33. Ng1 Bb7 $15) (25... Qb7 $1 26. Bxa6 Qxa6 27. Nc4 Re8 $15) 26. Nxf7 $1 {[#]} (26. Bxa6 $2 Bxa6 27. Nf3 $8 (27. Re3 $2 Re8 $19) (27. Nd3 $2 Rd8 28. Qf2 $1 Bxb2 $1 29. Qxb2 f6 $19) 27... Rc8 28. Qb1 (28. Qf2 Qf4 $3 29. Ba3 Bh4 $1 $19) 28... Bb7 29. Bxf6 Qxf6 $17) 26... Rxf7 27. Bxf6 {The Black Queen intercepts her Ra6, which is why she would be better off on d8. } (27. Bxf7+ $2 Kxf7 28. Bxf6 Bf5 $3 {[#]} 29. Rxg7+ Kf8 $1 {VT & AK} (29... Kxf6 $2 30. Qc3+) 30. Qc1 (30. Be7+ Qxe7) 30... Qxf6 $19) 27... Be6 $8 (27... Qxf6 $2 28. Bxf7+ Kxf7 (28... Qxf7 29. Qxc8+ $8) 29. Rf3 $8) 28. Rd3 $8 (28. Bxa6 $2 Qxa6 29. Qf2 Bd5 $19) 28... Qc7 (28... Qc6 $2 29. Rd8+ Rf8 30. Qg6 $1 {AK} Qc7 31. Rxf8+ Kxf8 32. Bxg7+ Qxg7 33. Qxg7+ Kxg7 34. Bxa6 $18) (28... Qb4 $6 29. Rd8+ Rf8 30. Bc3 $1 (30. Rxf8+ Kxf8 31. Bc3 {AK}) 30... Qb7 31. Rxf8+ Kxf8 32. Qf2+ Kg8 33. Bxa6 Qxa6 34. Kg1 $16) (28... Bxc4 29. Rxd6 Rxd6 30. bxc4 Rdxf6 $11 {AK }) 29. Rd8+ Qxd8 $1 (29... Rf8 $6 30. Rxf8+ Kxf8 31. Be5 $3 {[#]} (31. Bxg7+ {VT} Kg8 $8 {(on a g7 capture follows Qb2+ or Qf2+AK)} 32. Qg6 Bxc4 $8 33. Bf6+ Kf8 $8 34. Qxh6+ Ke8 $8 35. bxc4 Re6 $11) 31... Qxe5 (31... Qc8 32. Qf2+ Kg8 33. Bxa6 Qxa6 34. h3 $16) 32. Qf2+ $8 Kg8 (32... Qf5 33. Qxf5+ Bxf5 34. Bxa6 $16) 33. Bxa6 $8 Qa1+ 34. Bf1 a4 35. bxa4 Bc4 36. Kg1 Bxf1 37. Qxf1 Qd4+ 38. Kh1 Qxa4 39. Qb1 $16) 30. Bxd8 Bxc4 31. h3 (31. Qxc4 $2 Rc6 $1 {VT & AK}) 31... Bf1 ( 31... Bd5 {AK} 32. Kh2 Bb7 (32... Rc6 33. Qd2) 33. Qe2 Rg6 34. Qe8+ Kh7 $8 35. Qxf7 Rxg2+ 36. Kh1 Bc6 37. Qf5+ Kh8 $8 $11) 32. Qe4 a4 33. bxa4 Rd6 34. Ba5 Rdf6 35. Be1 Ba6 36. Kh2 Bb7 37. Qc4 Rc6 38. Qb3 Rg6 39. Bg3 Rg5 40. Qc4 Bd5 41. Qc8+ Rf8 42. Qc2 h5 (42... Rf6 43. h4 (43. Bh4 $4 Rc6 $1 44. Qe2 Rxg2+) 43... Rgg6 44. a5 Rc6 45. Qd2) 43. a5 (43. a5 h4 44. Bxh4 Rxg2+ 45. Qxg2 Bxg2 46. Kxg2 $15 {(= according to VT and AK, but it would be lost without the "a" pawns, although a draw with PNg6 !)} Rf4 47. Be1 Ra4 48. Kf3 Rxa2 49. Kg4 $11) (43. h4 Rg4 44. a5 Bc4) 1/2-1/2 [Event "2#"] [Site "?"] [Date "1953.??.??"] [Round "?"] [White "Ellerman, A."] [Black "4855.04"] [Result "1-0"] [SetUp "1"] [FEN "3b4/p1RN1K2/q3p1N1/n1Bk4/r3p1r1/3p4/5Q2/2R4B w - - 0 1"] [PlyCount "1"] [EventDate "1953.??.??"] [SourceDate "2000.07.25"] 1. -- 1-0 [Event "2#"] [Site "?"] [Date "1958.??.??"] [Round "?"] [White "Fulla, A."] [Black "4828.12"] [Result "1-0"] [SetUp "1"] [FEN "K3R3/1BB5/8/Np2pr2/n2k3q/Q1RN1r2/n4P2/8 w - - 0 1"] [PlyCount "1"] [EventDate "1958.??.??"] [SourceDate "2000.07.25"] 1. -- 1-0 [Event "2#"] [Site "?"] [Date "1959.??.??"] [Round "?"] [White "Ten Cate, P."] [Black "4585.46"] [Result "1-0"] [SetUp "1"] [FEN "nRb1Nb2/1Rp1kNpK/1p4Pp/1BPP1p2/6p1/2B1qr2/3P4/4Q3 w - - 0 1"] [PlyCount "1"] [EventDate "1959.??.??"] [SourceDate "2000.07.25"] 1. -- 1-0 [Event "2#"] [Site "?"] [Date "1958.??.??"] [Round "?"] [White "Ten Cate, P."] [Black "1454.45"] [Result "1-0"] [SetUp "1"] [FEN "6BK/3p2RP/4N3/3n1k1P/1pp2PpB/rp4P1/4Q3/b7 w - - 0 1"] [PlyCount "1"] [EventDate "1958.??.??"] [SourceDate "2000.07.25"] 1. -- 1-0 [Event "2#"] [Site "?"] [Date "1954.??.??"] [Round "?"] [White "Palkoska, E."] [Black "1828.11"] [Result "1-0"] [SetUp "1"] [FEN "8/4R1Q1/3pr2N/4r1n1/2BNkn1R/8/4PB2/3K4 w - - 0 1"] [PlyCount "1"] [EventDate "1954.??.??"] [SourceDate "2000.07.25"] 1. -- 1-0 [Event "2#"] [Site "?"] [Date "1933.??.??"] [Round "?"] [White "Van Dijk, J."] [Black "1185.23"] [Result "1-0"] [SetUp "1"] [FEN "N1b4b/3p4/n4p1Q/2kB4/P5R1/P2pN2K/8/6B1 w - - 0 1"] [PlyCount "1"] [EventDate "1933.??.??"] [SourceDate "2000.07.25"] 1. -- 1-0 [Event "2#"] [Site "?"] [Date "1954.??.??"] [Round "?"] [White "Potocny, V."] [Black "4132.24"] [Result "1-0"] [SetUp "1"] [FEN "8/1pp5/2k2N2/1pqN1P1b/1P1RQ3/8/2p5/2K5 w - - 0 1"] [PlyCount "1"] [EventDate "1954.??.??"] [SourceDate "2000.07.25"] 1. -- 1-0 [Event "2#"] [Site "?"] [Date "1891.??.??"] [Round "?"] [White "X..."] [Black "1455.32"] [Result "1-0"] [SetUp "1"] [FEN "B6B/4P1R1/2pp4/KPk5/P4N1Q/6n1/3N4/2r3b1 w - - 0 1"] [PlyCount "1"] [EventDate "1891.??.??"] [SourceDate "2000.07.25"] 1. -- 1-0 [Event "2#"] [Site "?"] [Date "1891.??.??"] [Round "?"] [White "Munck, A."] [Black "4558.31"] [Result "1-0"] [SetUp "1"] [FEN "nQ4B1/4nr2/6bR/PNk5/p1q2N2/P7/5P1K/2R3B1 w - - 0 1"] [PlyCount "1"] [EventDate "1891.??.??"] [SourceDate "2000.07.25"] 1. -- 1-0 [Event "2#"] [Site "?"] [Date "1892.??.??"] [Round "?"] [White "Jespersen, J."] [Black "4858.56"] [Result "1-0"] [SetUp "1"] [FEN "B1nr3B/6Rp/1N1P1R1P/2p1k1pr/pPP3p1/2K1Np2/2P3q1/Q4b1n w - - 0 1"] [PlyCount "1"] [EventDate "1892.??.??"] [SourceDate "2000.07.25"] 1. -- 1-0 [Event "2#"] [Site "?"] [Date "1926.??.??"] [Round "?"] [White "Leon-Martin, G."] [Black "1032.10"] [Result "1-0"] [SetUp "1"] [FEN "8/4Q3/7N/8/3b1kN1/3P4/6K1/8 w - - 0 1"] [PlyCount "1"] [EventDate "1926.??.??"] [SourceDate "2000.07.25"] 1. -- 1-0 [Event "3#"] [Site "?"] [Date "1930.??.??"] [Round "?"] [White "Leon-Martin, G."] [Black "0130.32"] [Result "1-0"] [SetUp "1"] [FEN "2R5/kpb1P1P1/1p6/1P6/K7/8/8/8 w - - 0 1"] [PlyCount "1"] [EventDate "1930.??.??"] [SourceDate "2000.07.25"] 1. -- 1-0 [Event "4#"] [Site "?"] [Date "1936.??.??"] [Round "?"] [White "Leon-Martin, G."] [Black "0206.00"] [Result "1-0"] [SetUp "1"] [FEN "3k4/8/1n1nK3/2R5/8/4R3/8/8 w - - 0 1"] [PlyCount "1"] [EventDate "1936.??.??"] [SourceDate "2000.07.25"] 1. -- 1-0 [Event "4#"] [Site "?"] [Date "1955.??.??"] [Round "?"] [White "Leon-Martin, G."] [Black "0432.22"] [Result "1-0"] [SetUp "1"] [FEN "7r/p2N4/kpP5/1N6/K1P2b2/8/8/4R3 w - - 0 1"] [PlyCount "1"] [EventDate "1955.??.??"] [SourceDate "2000.07.25"] 1. -- 1-0 [Event "4# "] [Site "?"] [Date "1932.??.??"] [Round "?"] [White "Leon-Martin, G."] [Black "0035.44"] [Result "1-0"] [SetUp "1"] [FEN "6n1/pKp4p/P1P1Nb1k/6pP/4N1P1/8/8/8 w - - 0 1"] [PlyCount "1"] [EventDate "1932.??.??"] [SourceDate "2000.07.25"] 1. -- 1-0 [Event "4#"] [Site "?"] [Date "1960.??.??"] [Round "?"] [White "Leon-Martin, G."] [Black "1358.32"] [Result "1-0"] [SetUp "1"] [FEN "Q7/1n1r2n1/5PB1/1p1p3P/8/7K/3N1P1B/2b1N2k w - - 0 1"] [PlyCount "1"] [EventDate "1960.??.??"] [SourceDate "2000.07.25"] {Version of a 1925 problem.} 1. -- 1-0 [Event "5#"] [Site "?"] [Date "1928.??.??"] [Round "?"] [White "Leon-Martin, G."] [Black "1612.14"] [Result "1-0"] [SetUp "1"] [FEN "2N5/pNB1p2K/k1P1p3/7Q/r7/2p1R3/2r5/8 w - - 0 1"] [PlyCount "1"] [EventDate "1928.??.??"] [SourceDate "2000.07.25"] 1. -- 1-0 [Event "6#"] [Site "?"] [Date "1929.??.??"] [Round "?"] [White "Leon-Martin, G."] [Black "3513.34"] [Result "1-0"] [SetUp "1"] [FEN "k3q3/P1p1p1r1/2P3Pn/2B5/4R3/K2pp3/8/1R6 w - - 0 1"] [PlyCount "1"] [EventDate "1929.??.??"] [SourceDate "2000.07.25"] 1. -- 1-0 [Event "h#2 2 sol"] [Site "?"] [Date "2015.??.??"] [Round "?"] [White "Haymann, J & Shamir S"] [Black "3877.08"] [Result "1-0"] [SetUp "1"] [FEN "1b4b1/p3nr2/2p3p1/RqNn2kp/3p2pp/2r5/K1pR4/2B5 b - - 0 1"] [PlyCount "1"] [EventDate "2015.??.??"] [SourceDate "2000.07.25"] 1... -- 1-0 [Event "h#2 2 sol"] [Site "?"] [Date "2016.??.??"] [Round "?"] [White "Semenenko, V."] [Black "0655.02"] [Result "1-0"] [SetUp "1"] [FEN "r1BKN2r/B2n3p/3b2N1/8/4k3/3p4/8/8 b - - 0 1"] [PlyCount "1"] [EventDate "2016.??.??"] [SourceDate "2000.07.25"] 1... -- 1-0 [Event "h#3 2 sol"] [Site "?"] [Date "1960.??.??"] [Round "?"] [White "Savalle, A."] [Black "3130.11"] [Result "1-0"] [SetUp "1"] [FEN "8/3Rq3/3b4/4kp2/8/8/1K3P2/8 b - - 0 1"] [PlyCount "1"] [EventDate "1960.??.??"] [SourceDate "2000.07.25"] 1... -- 1-0 [Event "h#5 2 sol"] [Site "?"] [Date "2015.??.??"] [Round "?"] [White "Gasparyan, A."] [Black "0313.13"] [Result "1-0"] [SetUp "1"] [FEN "3r4/n7/1p1Bk3/1p1p4/3P4/3K4/8/8 b - - 0 1"] [PlyCount "1"] [EventDate "2015.??.??"] [SourceDate "2000.07.25"] 1... -- 1-0 [Event "s#4"] [Site "?"] [Date "1990.??.??"] [Round "?"] [White "Tura, W."] [Black "4872.55"] [Result "0-1"] [SetUp "1"] [FEN "3b4/2pp1P1p/rpb4B/1q1RR1PK/prN2k2/8/2Q1PNPP/8 w - - 0 1"] [PlyCount "1"] [EventDate "1990.??.??"] [SourceDate "2000.07.25"] 1. -- 0-1