A small problem with the Master's computer did not prevent the session from taking place.
All the usual hairy men were there to tackle the positions set by the Master.
A very nice work, as you can see by reading the report below
---
Master's words
---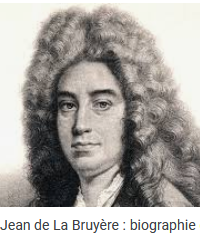 "One should never risk a joke, even the sweetest and most permissible one, except with polite or witty people. Fools are always ready to get angry and to believe that they are despised" (La Bruyère).
"When I wrote The Zero Degree of Writing, I was not sure of myself. I was afraid of being stupid. That's why I wanted to be a bit hermetic, so that no one would see that I was" (R. Barthes, told by J.-Ch. Pichon, the same RB, a hairdressing expert, who also says: "there are two categories of women: those who shave you, and those who mow you"). Strange how this quote (I mean the first one!) makes me think of the composers of modern studies... See below, in the same spirit, Pervakov's comment.
A remark inspired by a nonsense (one more) read lately. Chess has never been for me a game and, like Stefan Zweig, I find this term insulting. However, if it always annoyed me concerning our art-science-sport, I never felt the same irritation for the one of "player". Is it because it evokes in Chess, in opposition to the "problemist" one, a greater realism? And more generally, even without thinking of Dostoyevsky's book, the term "player" seems to me to present more nobility: somebody who risks a lot, if not his life, who goes to the coal, who gets wet, almost a warrior. Whereas "game" (even more than "play") evokes fun. But I have used this term, especially in the form of "noble game", as it does suit a marquis... !
Moravec's pawn endgame is all in his white 2nd move. Then a White Bishop comes four times in a row on the same square, to then occupy insolently... the square best controlled by Black. Finally the best choice: we lose the rook, but not the game. Because the White King controls the RN+CN pair.
"Since the 6-unit tablebases are available on the internet [summer 2006, AV's note] I have refused on principle to use them. Any creative person will understand me: you want to find something yourself, from start to finish. But, seeing the lack of talent modern composers show in using these tablebases, I decided to use them six months ago" (O. Pervakov, August 2017). We give a rather pleasing study by the aforementioned OP world champion, long before these words, and then two more (from the same period) in exercises for January.
A Kortchnoi endgame is almost always interesting, but this one is Homeric. The great Viktor is better, then winning, then equal, then... losing (!), again equal, then losing again, finally a draw. And his analyses are remarkable, at a time when computer assistance was just threatening to exist: a few mistakes, of course, but how many leads guiding us through the sifting by the analytical monster... Moreover, we see in the 51st move an interesting reply to a famous article http://www.france-echecs.com/article.php?art=20061225181612247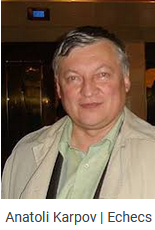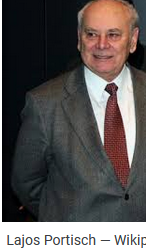 The Bishop fight against two linked pawns was dealt with a year ago, on 8 November 2016. This time the pawns are three and it's not sad. As Han noted, White makes a foreground to foreground (!) to end up with a phenomenal ZZ, as there is only one square on the board where the Bishop has to be to get the draw.
The game of the day is 35 years old, but its opening does not go out of fashion. We develop it further, as some walkers have reproached us for not giving enough importance to this phase of the game. The way the black position suddenly collapses is surprising. Especially when you consider who Black was led by, a player who was a candidate for the world championship the following year.
A few days ago, the World Problem Solving Champion (niech żyje Polska!) beat our ex- (and vice-) French "normal" Chess Champion. An occasion for pseudo-pedagogues, federal officials and journalists of our "beautiful country", who unceasingly boycott artistic chess, to make amends? One can always dream. Na zdrowje!
Fairy: the climax is a masterpiece of our MC (Master of Chess) which looks very much like his other masterpiece of Jurmala given in http://www.france-echecs.com/article.php?art=20080831123235557 (see 10/09/2008) and thus of the same year.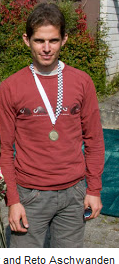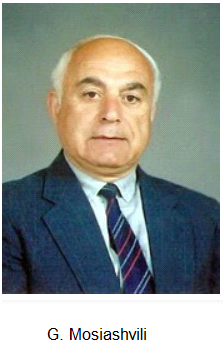 Training. After the ten or so non-trivial 2#, a 3# showing us the Swiss Retro Gifted in an unusual role, then a non-boring cyclic and a magnificent paradox given at the 2016 Polish Championship. In 4#, two world champions at work; one was offered at the 1990 world championship, the other, 40 years later, shows us second moves that... are also third moves. Then, in a more restful way, two 60-year-old French problems: reciprocal interceptions of black pieces in the style of Pierre Drumare, then a focal play of the best taste. Finally, a longer problem, also French, to which I had the pleasure of giving the first prize this year. I inexplicably forgot to remove the solution.
The 2# helpmate is very tactical, the 3# helpmate (with twin) more strategic. Then two 4# helpmates. The first one offers us model mats. The second, a Romanian masterpiece, is strangely always misquoted: half of the problem is cut out by forgetting the twin. We finish with three selfmates. None of them are difficult, although the second was given at the Finnish championship and the third at this year's Lithuanian championship. The first one has a twin, which is common in helpmate but rare in selfmate.
Have a good time. See you in January if Deus vult. Good end of the year.
Master's diagrams
[Event "?"] [Site "?"] [Date "1955.??.??"] [Round "?"] [White "Moravec, J."] [Black "(+0000.22g5c4)"] [Result "1-0"] [SetUp "1"] [FEN "8/8/8/4p1K1/2k5/P3p3/4P3/8 w - - 0 1"] [PlyCount "31"] [EventDate "1955.??.??"] [SourceDate "2000.07.25"] {The first move is easy, but the second ?} 1. a4 $8 (1. Kf5 $2 Kc3 $1 2. Ke4 $2 (2. a4 $8 Kd2 $11) 2... Kd2 $8 3. Kf3 e4+ $8 {wins}) 1... Kb4 (1... Kc3 2. a5 $8 Kd2 3. a6 $8 {: text with bKg5 instead of f6, which facilitates the win by allowing Qa6-f6+}) 2. Kf6 $3 {[#]White King escapes the battlefield ?} ({The natural move fails :} 2. Kf5 $2 Kc3 $8 3. a5 Kd2 $8 4. a6 Kxe2 $8 5. a7 Kf2 $8 6. a8=Q e2 $8 7. Qa2 Kf1 $8 8. Qc4 Kf2 $8 9. Qh4+ (9. Qc2 Kf1 $8) 9... Kf1 $8 10. Qh3+ Kf2 $8 $11 {: compare with the text where White has an excellent 11th move !}) 2... Kc3 (2... Kxa4 3. Kxe5 $8 Kb5 4. Kd4 Kc6 5. Kxe3 $8 Kd5 6. Kf4 $8 Ke6 7. Ke4 $8 $18) 3. a5 $8 Kd2 4. a6 $8 Kxe2 5. a7 $8 Kf2 6. a8=Q $8 e2 7. Qa2 $8 (7. Qa7+ $6 {JM} Kf1 $1 8. Qa6 $8 Kf2 9. Qa2 $8 {: text two moves late}) 7... Kf1 8. Qc4 $3 {[#]} (8. Qa6 $6 Kf2 $1 9. Qa2 $8) 8... Kf2 9. Qh4+ $1 (9. Qc2 $1 Kf1 (9... Ke3 10. Qc5+ $1 Kd2 11. Qd5+ $1 Kc2 12. Qxe5) 10. Qf5+ $8 {idem}) 9... Kf1 10. Qh3+ $8 Kf2 11. Qf5+ $3 {[#]This square had to be left empty.} Ke3 (11... Kg2 12. Qxe5 $8) 12. Qxe5+ $8 Kd2 13. Qd4+ Kc2 14. Qe3 $8 Kd1 15. Qd3+ $8 Ke1 16. Kf5 1-0 [Event "?"] [Site "?"] [Date "1925.??.??"] [Round "?"] [White "Moravec, J."] [Black "0010.13"] [Result "1/2-1/2"] [SetUp "1"] [FEN "8/8/8/8/5p2/5P1k/2p2B1p/7K w - - 0 1"] [PlyCount "19"] [EventDate "1925.??.??"] [SourceDate "2000.07.25"] {Reversal of an unsolvable study by JM. Warning: the 4th move is indefinite.} 1. Be1 $8 {This stalemate blackmail is obviously the only way to avoid... mate.} c1=N $1 {Threatens ...Ne2-g3+.} (1... c1=R {stalemate}) (1... c1=B 2. Bd2 $1 Bb2 3. Bxf4 $11) 2. Bd2 $8 Nd3 {Threatens mate.} (2... Ne2 3. Bxf4 $8 $11 ) 3. Be1 $3 {[#]Again.} Nb2 (3... Ne5 4. Bd2 $1 Kg3 5. Bxf4+) (3... Nxe1 {stalemate }) 4. Bd2 $1 {Or elsewhere.} Nd1 5. Be1 $8 {Again.} Ne3 {Threats this time ... Nf5 or ...Nf1.} 6. Bd2 $8 (6. Bc3 $2 Nf5 $1 7. Be1 Ng3+ $8 8. Bxg3 fxg3 $8 9. f4 g2#) 6... Kg3 7. Be1+ $8 {For the 4th time.} (7. Ba5 $2 Nd1 $8 8. Bb6 Nf2+ $8 9. Bxf2+ Kxf2 $8 10. Kxh2 Kxf3 $19) (7. Bc1 $2 Kxf3 $8 8. Ba3 Ke2 9. Be7 f3 10. Bh4 Nf5 $19) 7... Kxf3 8. Bg3 $3 {[#]Strangely, the move that demolished Moravec's study is a move... in Moravec style !} (8. Kxh2 $2 Ke2 $8 9. Bh4 Nf5 $3 $19 {was original JM's idea}) 8... Nf1 9. Bxf4 $8 Kxf4 10. Kg2 1/2-1/2 [Event "?"] [Site "?"] [Date "1870.??.??"] [Round "?"] [White "Loewenthal, J."] [Black "=0103.22h3d6"] [Result "1/2-1/2"] [SetUp "1"] [FEN "8/8/1pk5/1R1n3p/1P5P/7K/8/8 w - - 0 1"] [PlyCount "23"] [EventDate "1870.??.??"] [SourceDate "2000.07.25"] {How to best negotiate the loss of the rook?} 1. Rxb6+ $3 {[#]How, we prefer to "exchange" our Rook for a pawn rather than a Knight ?} (1. Rxd5 $2 Kxd5 $8 2. Kg3 Ke4 $8 3. b5 (3. Kf2 Kf4) 3... Ke3 $19) (1. Ra5 $2 bxa5 2. bxa5 Ne7 (2... Kd6 3. a6) (2... Kc5 3. Kg3)) 1... Nxb6 (1... Kxb6 2. Kg3 $8 { (prevent ...Nf4-g6)} Kb5 3. Kf3 $8 Kxb4 4. Ke4 $8 Nc3+ (4... Nf6+ 5. Kf5) 5. Kf5 Ne2 6. Kg5 Ng3 7. Kf4 $8 $11) 2. Kg3 $8 {Threatens Kf4-g5.} Nd5 3. b5+ $3 {[#]} (3. Kf3 $2 Kd6 $1 4. Ke4 Ke6 $8 5. b5 Nc3+ $3 {[#](fake fork preparing a real one !)} (5... Nb6 $6 6. Kf4 Kf6 $8 7. Ke4 Na4 $1 8. Kf4 Nc3 $8 9. b6 Nd5+ $8 {idem}) 6. Kf4 Kf6 $8 (6... Nxb5 $2 7. Kg5 $8 $11) 7. b6 Nd5+ $8) 3... Kxb5 ( 3... Kd6 4. b6 $8 Kc6 5. Kf3 $1 $11) 4. Kf3 $8 Kc6 5. Ke4 $8 Kd6 6. Kf5 $8 Ke7 {Here, we have choice.} 7. Kg6 $1 ({The simplest :} 7. Kg5 $1 Nf6 8. Kg6 $8 Ke6 9. Kg5 $8 Ke5 10. Kg6 $8 Kf4 11. Kxf6 $8 Kg4 12. Ke5 $8 $11) 7... Nf6 8. Kg5 $8 Kf7 (8... Ke6 9. Kg6 $8 Ke5 10. Kg5 $8) 9. Kh6 $3 {[#]} (9. Kf5 $2 Ne8 $1 ( 9... Nh7 $1 10. Ke5 Kg6 $1 11. Kf4 {(Ke6...Ng5+!)} Kf6 12. Ke4 Nf8 $3 13. Kf4 Ng6+ $8) 10. Kg5 Ng7 $8 11. Kh6 (11. Kf4 Kf6 12. Ke4 Nf5) 11... Kf6 $1 12. Kh7 Nf5 $1 $19) 9... Kf8 (9... Ke6 10. Kg6 $1 (10. Kg5 $1 Ke5 11. Kg6 $8) 10... Ke5 11. Kg5 $8 $11) 10. Kg6 $8 (10. Kg5 $2 Kg7 $8 11. Kf5 Nh7 $8 $19) 10... Ke7 11. Kg5 $8 (11. Kg7 $2 Ne4 $8 (11... Ke6 $2 12. Kg6 $8 {as already seen}) 12. Kg6 Ng3 $8 13. Kg5 Ke6 $8 14. Kf4 Nf5 $8 15. Kg5 Ng7 $8 $19) 11... Kf7 12. Kh6 $8 1/2-1/2 [Event "?"] [Site "?"] [Date "2010.??.??"] [Round "?"] [White "Pervakov, O."] [Black "4000.63"] [Result "1-0"] [SetUp "1"] [FEN "8/6p1/6P1/1p6/kPp5/q7/P1P2PP1/KQ6 w - - 0 1"] [PlyCount "17"] [EventDate "2010.??.??"] [SourceDate "2000.07.25"] {The white material advantage is offset by some congestion.} 1. Qb2 $8 (1. Qe1 $2 Qc3+ $8 2. Qxc3 {pat}) (1. Qd1 $2 Qc3+ $8 (1... Kxb4 $2 2. Qd6+) (1... Qxb4 $2 2. c3+ $8) 2. Kb1 Qxb4+ $8 3. Ka1 (3. Kc1 $6 c3 $1) 3... Qc3+ 4. Kb1 $11) 1... Qc3 $1 (1... Qxb4 2. Qxb4+ Kxb4 3. f4 $18) 2. a3 $8 (2. Kb1 $2 Qe1+ $1 3. Qc1 Qxb4+) 2... Qe1+ (2... Qd2 3. Ka2 Qc3 4. f4) (2... Qxb2+ 3. Kxb2 c3+ 4. Kxc3) 3. Ka2 $8 (3. Qb1 $6 Qc3+ 4. Qb2 $8 {(otherwise mat)} Qe1+ 5. Ka2 $8) 3... Qxf2 (3... Qc3 {(idem on ...Qe6 or ...Qd1)} 4. f4) (3... Qf1 $6 4. Qb3+ cxb3+ 5. cxb3#) 4. Qc3 $3 {[#]} (4. Qxg7 $2 Qxc2+ $8 5. Qb2 Qxg6 $8 6. Qf2 (6. g4 Qd3 $8 7. g5 Qd1 $8 8. g6 c3 $8 9. Qxc3 Qb1+ $1) 6... Qh7 $3 {[#](holds the squares a7 & c2: compare with the text at move 7)} 7. Qe2 (7. g4 c3 $8) 7... c3 $8 ( 7... Qd3 $2 8. Qxd3 $8 cxd3 9. Kb2 $8 d2 10. Kc2 $8 Kxa3 11. g4 $8 Kxb4 12. g5 $8 Ka3 13. g6 $1 b4 14. g7 $1 b3+ 15. Kxd2 $8 b2 16. Kc2 $8 $18) 8. Qd1+ $8 c2 $8 9. Qd5 $1 c1=N+ $8 10. Kb2 $8 Qg7+ 11. Kxc1 (11. Kc2 Kxa3) (11. Kb1 Kxa3) 11... Qc3+ 12. Kd1 $11 Qd3+) (4. g4 $2 Qe3 $3 5. Qxg7 c3 $3 6. Qf7 Qe6+ $3 7. Kb1 Qe1+ 8. Ka2 $11) 4... Qxg2 (4... Qd2 5. Qxd2 $8 c3 6. Qh6 $3 {[#]} gxh6 7. g7 $18) (4... Qe2 5. g4 $1 Qe6 (5... Qg2 6. Qxg7 $8 Qxc2+ 7. Qb2 Qxg6 8. Qg2) 6. Kb1 $8 (6. g5 $2 Qd5 $8 7. Kb2 Qd1 $3 8. Qxg7 c3+ $8) 6... Qxg4 7. Qxg7 $8 Qd1+ (7... Qg1+ 8. Ka2 $8 Qe3 9. Qb2 $18) 8. Ka2 $8 Qxc2+ 9. Qb2 $8 {: text}) (4... Qf5 $6 5. Qb3+ {followed by mat}) 5. Qxg7 $8 (5. Kb2 $2 Qe2 6. Qxg7 Qe3 7. Qc3 Qc1+ $8 8. Ka2 Qb1+ $8 9. Kxb1 {stalemate}) 5... Qxc2+ (5... Qf2 6. Qb2 $1 Qe3 7. g7 Qe6 8. Kb1 $8 Qe1+ 9. Qc1 $8 Qe6 10. c3 $18) 6. Qb2 $8 Qxg6 (6... Qd1 7. g7 $8 c3 8. g8=Q $8) 7. Qf2 $3 {[#]} Qh7 8. Qg2 $3 {[#]The g2-pawn has disappeared compared to the try on 4th move. It is now more difficult for the Queen to hold the squares a8 & c2, as the i8 square does not exist !} c3 9. Qa8+ $8 1-0 [Event "?"] [Site "?"] [Date "1991.??.??"] [Round "?"] [White "Kortchnoi, Morovic Fernandez"] [Black "0503.56"] [Result "1/2-1/2"] [SetUp "1"] [FEN "8/1p1nkr1p/p4pp1/4p3/PP6/8/2P2RPP/3R2K1 b - - 0 27"] [PlyCount "60"] [EventDate "1991.??.??"] [SourceDate "2000.07.25"] {52/168. White has a clear advantage, which will increase further, but things will go wrong.} 27... e4 (27... Rf8 28. Rfd2 Nb8 29. b5 axb5 30. axb5 Rc8 31. g4 Rc7 (31... Rc4 $2 32. Rd8 $1) 32. b6 (32. Rd8 Nd7 33. Rg8) 32... Rc8 33. Kf2 $16) 28. Rfd2 $1 Ne5 29. Rd8 (29. Rd6 {VK} Rf8 (29... f5 $2 30. R1d5) 30. Rb6 Rb8 31. Rd4 f5 32. c4 Nd7 33. Rbd6 Nf6 34. c5 $16) (29. Rd5 Rf8 30. R1d4 $1 Ke6 31. Rd8 $1 $16) 29... f5 30. Rc8 (30. R1d5) 30... Kf6 31. b5 $1 axb5 32. axb5 Kg5 (32... Ke6 33. Re8+ Re7 $8 34. Rdd8 $16) 33. Rd6 $1 Re7 (33... e3 34. Re6 $6 {VK} (34. b6 $1 Ng4 {(or ...Re7 Kf1! also)} 35. Kf1 $1 $18) 34... Rd7 $1 {(threatens mat)} 35. Kf1 Ng4 36. h3 Rd1+ 37. Ke2 Rd2+ 38. Ke1 Nf6 39. Rxe3 Rxg2 40. b6 Kf4 $132) (33... f4 34. Rc5 Kf5 35. Kf1 $16 {then b6}) 34. b6 $1 e3 (34... f4 35. Rc7 $1 Re8 36. Kf1 $1 (36. Rxb7 $2 e3 $1 {VK} 37. Rd5 {(Rf1? ... e2+ Ke1? ...f3-+)} Kf6 38. Kf1 f3 39. Rxe5 fxg2+ 40. Kxg2 Rxe5 41. Kf1 $8 Rb5 42. c4 Rb1+ $8 43. Ke2 Ke5 44. c5 Kd5 $8 45. Rc7 Kd4 $8 $132) 36... f3 (36... e3 37. Ke2 f3+ 38. gxf3 Nxf3 39. Rd1 $18 {VK}) 37. gxf3 exf3 38. Rxb7 Ng4 39. Rd2 {(/\ h3)} (39. h3 $1 {is immediately decisive} Nh2+ 40. Kg1 $8 Re1+ {(... Kf4 Rxh7)} 41. Kxh2 f2 42. Rf7 {pour Td5-b5}) ({also} 39. Rf7 $1 Nxh2+ { (...Ta8 Ta7)} 40. Kg1) 39... f2 40. Rxf2 Nxf2 41. Kxf2 Re6 $1 42. Kf3 $1 {(/\ Rb8)} (42. Rb8 $2 Rc6) (42. c4 Rc6) 42... Rc6 43. Ke4 (43. h4+ $1 Kh6 44. Ke4) 43... Rxc2 (43... h5 44. Kd3 $18 {VK}) 44. Rxh7 Rb2 45. b7 $18 {VK}) (34... Rd7 35. Rxd7 Nxd7 36. Rc7 Nxb6 37. Rxb7 Nc4 38. Rxh7 $18) (34... Nf7 35. Rd4 $1 Re6 36. Rc7 Ne5 37. Rxb7 Ng4 38. Rd1 $18) (34... Ng4 35. Rc7 Re5 36. g3 $1 (36. Rxb7 Rb5) 36... e3 37. h4+ Kh6 38. Rdd7 Nf6 39. Re7 $18) 35. Kf1 $1 $18 {The old lion is winning, but will be less accurate than usual.} Nf7 (35... e2+ 36. Ke1 $8 f4 37. Rc7 $3 {(criticized by VK)} (37. Rc5 Kg4 38. Rdd5 {VK} Nc6 39. Rd2 Re4 40. Rxe2 Rb4 41. Kf2) 37... f3 (37... Re8 38. Rd5 Kf6 39. Kxe2) 38. Rxe7 $8 fxg2 39. Rxe5+ $8 Kf4 40. Rd4+ $3 {[#](a tip forgotten by VK)} (40. Rxe2 $2 g1=Q+ 41. Kd2 $11) (40. Kf2 $4 Kxe5 $19) 40... Kxe5 (40... Kf3 41. Rg5 $1) 41. Rg4 $8 $18) 36. Rd3 {VKgives himself a severe "?".} (36. Rd5 Re6 37. Rc7 Ne5 (37... Nd6 38. c4 $18 {VK}) 38. Rb5 f4 39. Rxb7 $18) (36. h4+ $1 {(the most convincing)} Kh6 (36... Kxh4 37. Rd4+ Kg3 38. Rc7 $18 {VK}) 37. Rd5 Re6 38. Rd7 (38. Rc7) 38... Nd6 39. Rcc7 (39. Rcd8) 39... Kh5 40. Rxh7+ Kg4 41. Rhe7 $18 {VK}) 36... Re6 37. Rc7 Nd6 38. Ke2 $2 (38. c4 $1 {VK} f4 39. c5 Nf5 { (threatens strongly ...e2+ Ke1 ...Nh4)} 40. Rd5 $1 Kg4 41. Rxf5 $1 Kxf5 42. Rxb7 $18) 38... Ne4 $2 (38... f4 $1 39. c4 (39. Rxh7 {VK} Kg4 40. Rc7 $1 Nf5 $1 41. Rxb7 Nh4 $1 $132) 39... Nf5 (39... Ne4 40. Rxb7 $1 {(the fork ...Nc5 does not work)} Kg4 41. Rd4 $1 g5 {(...Nc5 Rf7)} 42. Rb8 $1 Nc3+ 43. Ke1 Rc6 44. Re8 Rxb6 45. Rxe3 $18) 40. Rxb7 Rc6 41. Rdd7 (41. Rd1 Rxc4 42. Rbd7 Rc2+ 43. Kd3 Rb2 {(...Rxg2 Kc3)} 44. b7 Kg4 45. Ra1 e2 {(...f3? Ra4+)} 46. Re1 f3 47. gxf3+ Kxf3 $132) 41... Rxc4 42. Rbc7 Rb4 43. b7 Rb2+ 44. Kd3 e2 45. Rc1 f3 46. gxf3 Kf4 $132 47. Re1 Kxf3 $8 48. Rxe2 Rb3+ $8 49. Kc4 Rxb7 $8 50. Rxb7 Kxe2 51. Rxh7 Kf3 $11) 39. Rxh7 $2 {VK's same severity towards himself, this time more justified.} (39. Rb3 $3 Kf6 (39... f4 40. Rxb7 Rd6 {(...Cc5 Tb5)} 41. Re7 $18 {VK}) (39... h5 40. c4 $1 {(this time Rxb7 is refuted by the fork . .Nc5)} h4 41. c5 {VK} f4 {(...h3 g3)} 42. c6 $1 {(stronger than h3 ...Ng3+)} h3 43. Rb5+ $1 Kg4 {(...Kf6 cxb7)} 44. gxh3+ $8 Kxh3 45. cxb7 $18) (39... Rd6 40. Kxe3) 40. c4 $1 (40. Rxb7 $2 Nc5) (40. Rxh7 f4 41. Rc7 g5) 40... Re5 41. Rd3 $3 {[#]} (41. Rxe3 f4 42. Ra3) 41... Kg5 (41... f4 42. Rxb7 Nc5 43. Rd6+ $8) (41... Rc5 42. Rxc5 Nxc5 43. Rd5) (41... Nc5 42. Rd6+ Kg5 43. Rd5) (41... Re6 42. c5 $18) 42. Rxb7 $1 Nc5 43. Rbd7 Nxd7 44. Rxd7 $18) (39. Rxe3 $2 Rxb6 40. Rxh7 Rd6 41. Rb3 (41. Ke1 {VK} Ra6 42. Rb3 b5) 41... Rc6 42. Kd1 b5 (42... Rd6+ 43. Kc1 Rd2 44. Rg3+ $1) 43. h4+ Kg4 $132) 39... Rxb6 40. Kxe3 {The win is now hypothetical.} (40. Rxe3 Rd6 {as already seen}) 40... Rc6 $44 {Knight is now a mountain, which compensates material disadvantage.} 41. h4+ (41. Rb3) 41... Kg4 $1 (41... Kf6 $2 42. Rxb7 $2 (42. g4 $1 Rxc2 43. g5+ Ke6 44. Rdd7 $1 {(stronger than Rb3)} Rc3+ 45. Kf4 $1 Nd6 46. Rhe7+ Kd5 47. Rg7 Rc4+ 48. Kf3 Rc3+ 49. Ke2 $18) (42. Rdd7 $1 Rc3+ 43. Kd4 Rxc2 44. g4 $1) 42... Rxc2 $2 (42... Nc5 $1) 43. Rb6+ Ke5 44. Rxg6 $2 (44. Rb5+ $1 Ke6 45. g4 $1) 44... f4+ $8 45. Kf3 $11 Kf5 $2 {(= according to VK)} (45... Rf2+ $1 {(also given by VK)} 46. Kg4 Rxg2+ 47. Kh5 Ng3+ 48. Kh6 $11) 46. g4+ $3 {[#]} fxg3 (46... Kxg6 47. Kxe4 $18) (46... Ke5 47. Re6+ $3) 47. Rg8 $1 Nd2+ (47... Rf2+ 48. Ke3 Rf1 {(...Cf6 Txg3)} 49. Rd5+ Ke6 50. Rd4 $1) 48. Ke3 $3 (48. Kxg3 $2 Ke4 $1 49. Rdd8 Nf1+) 48... Nf1+ 49. Kd4 $8 g2 50. h5 $18) 42. Rh6 (42. h5 Kg5 $1 (42... gxh5 $2 43. Rg7+ Kh4 44. Kf4 $18) 43. hxg6 Kxg6 44. Rdd7 Rxc2 45. Rc7 $1 (45. Rxb7 Ng5 $1 46. Rbg7+ {(Rh2!)} Kf6 47. Rc7 f4+ $1 {and not ...Rxg2? as mat in 2}) 45... Ra2 46. Rxb7 Ng5 47. Rbg7+ Kf6 48. Ra7 $1 Nxh7 $8 (48... Rxa7 $2 49. Rxa7 Ne6 50. Ra6 $1 Ke5 51. Kf3 $18) 49. Rxa2 Nf8 $1 (49... Kg5 $1 50. Ra8 Nf6 $8 51. Kf3 Nd5 $11) 50. Ra6+ Kg5 $8 51. Kf3 Ng6 $11) (42. Rxb7 Rc4 $1 {(threatens ...f4+)} ( 42... Rxc2 43. Rb6 g5 44. hxg5 Kxg5) (42... Kxh4 43. Kf4 g5+ $8 44. Kf3 {(Kxf5 ...Nd6+)} Nf6 $8 45. Rd4+ Kh5) 43. Rd8 (43. Rdb3 Kxh4) 43... Rc3+ (43... Kxh4 44. Rb6 g5) 44. Kd4 Rxc2 45. Rg8 Kf4 $1 (45... Rxg2 $4 46. Rxg6+ Kh3 47. Rxg2 Kxg2 48. h5 $18) 46. g3+ (46. Rxg6 Rd2+ $8 47. Kc4 Nd6+) 46... Nxg3 47. Rxg6 Rh2 48. Rh7 Kf3 49. Rg5 f4 (49... Kf4) 50. h5 Rh3 $1 (50... Kg2 $1 51. Ke5 $1 f3 $2 {(...Rh4! h6 ...Kh2!! followed by ...f3)} 52. Rhg7 Rh3 53. Kf4 Rh4+ 54. Ke3 Rh3 55. Rb5 f2 56. Rb2 Kh1 57. Kxf2 Ne4+ 58. Ke1 $1 Rxh5 59. Rbg2 $3 Nf6 60. Kf1 $1 {(Rf2!)} Rf5+ 61. Rf2 $8 Rxf2+ 62. Kxf2 Kh2 63. Rg6 $8 Ne4+ 64. Ke3 $18) (50... Kf2 $1 51. h6 {(Ke5 ...Rxh5 for ...Ke3!)} f3 52. Rg6 Rh4+) 51. h6 Kg2 $8 52. Rb5 f3 53. Rb2+ f2 54. Rf7 Rxh6 $8 55. Rfxf2+ Kh3 $8 56. Rh2+ Kg4 57. Rxh6 Nf5+ $8 58. Ke4 Nxh6 $11) 42... Kg3 $1 43. h5 (43. Rd8 Nf6 $1 $11 {VK} ( 43... Nf2 $1)) (43. Rb3 Nf2 $1 (43... Kxg2 $1 44. Kf4 b5 $1 45. Rxb5 Nf2) 44. h5 gxh5 $8 (44... Ng4+ $2 45. Kd4+) 45. Rxh5 Rxc2 $11) 43... gxh5 $8 44. Rxc6 ( 44. Rxh5 Rxc2 45. Rxf5 Nf2 $8 46. Rg5+ (46. Rb3 Nd1+) 46... Kh4 47. Rdd5 Ng4+ $8 48. Kd3 Rxg2 $11) 44... bxc6 $11 45. Rd8 Nf6 46. Kd4 Ng4 (46... Kxg2 47. Rf8 Ng4 $11) (46... f4 47. Ke5 Ng4+ 48. Ke4 Ne3 49. Rg8+ Kf2 50. Kxf4 h4 $11) 47. Rh8 h4 $8 48. c4 f4 49. c5 (49. Rg8 f3 $1 50. gxf3 $8 Kxf3 $8 51. Rh8 Kg3 $8 52. Kc5 h3 $11) 49... Kxg2 (49... Ne3 50. Ke4 Nxg2 51. Rh6 h3 52. Rg6+ $8 {/\ Rc6= VK}) 50. Rxh4 Kg3 {We are in a case where a perfect game results in a draw, but each side is likely to lose} 51. Rh7 $2 {Sometimes you have to go "as far as possible", even if this notion was mocked in a famous article from 2006! And even twice: see the horizontal echo in 56...Kh4?.} ( 51. Rh8 $1 f3 $8 (51... Nf6 $2 52. Rh6 $1 Ng4 53. Rxc6 $8 f3 54. Rc8 $18) 52. Kd3 $1 (52. Rf8 $1 f2 53. Kd3 $8) 52... Kg2 (52... f2 53. Ke2) 53. Rf8 $8 f2 54. Ke2 $8 Kg3 $1 (54... Kg1 $2 55. Rf4 $1 $18) (54... Kh3 $1 55. Rf7 Kg3 $1) 55. Rf7 (55. Rg8 Kf4 $11) 55... Kh3 $1 (55... Kg2 $2 56. Rf3 $3 {ZZ [#]} Ne5 57. Rxf2+ {(the same move won over ...Kh2)} Kg3 58. Rf5 $1 Nd7 59. Ke3 $18) ( 55... Kh4 $1 56. Rc7 Kg3 $1) 56. Rf3+ Kg2 $3 {ZZ [#]} (56... Kh4 $2 57. Ra3 $3 { (as far as possible! Rb3? : see further)} Kg5 58. Ra6 $8 Ne5 59. Kxf2 $8 Nd3+ 60. Ke3 Nxc5 61. Ra5 $8 $18 {: no need to go through b3 !}) 57. Rf4 (57. Rf8 Kg3 $1 $11) 57... Kg3 $1 58. Rf8 Kh3 $1 $11) ({Or as close as... possible !} 51. Rh5 $1 f3 $8 52. Kd3 $1 (52. Rf5 $1) 52... Kg2 53. Rf5 $8 f2 54. Ke2 $8 {as above}) (51. Rh1 $2 f3 $8 52. Ra1 f2 53. Kd3 Kg2 $1 ( 53... Kf3 $1) 54. Ke2 Nh2 55. Ke3 f1=Q 56. Rxf1 Kxf1 (56... Nxf1+ 57. Ke4 Nd2+ {vers a5}) 57. Ke4 Ng4 58. Kf5 Ke2 $1 59. Ke6 Kd3 $8 60. Kd6 Ne5 $8 61. Kxe5 Kc4 $8 62. Kd6 Kb5 $8 $19) 51... f3 $8 52. Kd3 Nf2+ $2 (52... Kg2 $3 53. Rg7 ( 53. Rf7 Ne5+ $8 {: the difference}) 53... f2 $3 {[#]} 54. Rxg4+ Kf3 $8 $19 {because} 55. Rg8 f1=Q+ $8) (52... f2 $2 53. Ke2 $8 Kg2 54. Rf7 $8 {as already seen}) 53. Ke3 $11 (53. Kd2 $11) 53... Nd1+ (53... Ng4+ 54. Kd2 $8 $11) 54. Kd2 f2 55. Rh1 $1 {Given ?? by VK. A final attempt to win ?} (55. Ke2 $1 $11) (55. Rg7+ $1) (55. Rf7 $1) 55... Nb2 $8 {And indeed, other moves lose.} (55... Kg2 $2 56. Rxd1 $8 f1=Q 57. Rxf1 $8 Kxf1 58. Ke3 $18) 56. Ke2 $2 {the real mistake.} (56. Ra1 $1 {(or on b1 or on c1)} Kg2 57. Kc3 $3 {[#]} Na4+ 58. Kb4 $1 (58. Kd4 $1 f1=Q 59. Rxf1 Kxf1 60. Ke5 $8 Nxc5 61. Kd6 $8 $11) 58... f1=Q $1 (58... Nb2 $1 59. Kc3 $8) (58... Nxc5 $1 $11) 59. Rxf1 Nxc5 $8 (59... Kxf1 $2 60. Kxa4 $18) 60. Rf6 Ne4 $11) (56. Kc3 $1 Na4+ $1 57. Kb4 $1 (57. Kd4 $1) 57... Kg2 58. Ra1 $11 {idem}) 56... Na4 $2 {Lack of time? Or fear of scoring an entire point against a titan, especially when returning from hell ?} (56... Kg2 $8 57. Rf1 (57. Ra1 Na4 $8) 57... Nd3 $8 {VK} 58. Ra1 Nxc5 59. Rd1 Ne4 $1 60. Ke3 Nd6 61. Ke2 (61. Kd4 Nc8 $1 62. Kc5 Ne7) 61... Nf5 $1 62. Ra1 f1=Q+ 63. Rxf1 Ng3+ $8 64. Ke3 Kxf1 $8 65. Kd4 Nf5+ $8 66. Kc5 Ne7 $8 $19) 57. Rh8 1/2-1/2 [Event "?"] [Site "?"] [Date "2016.??.??"] [Round "?"] [White "Arestov, P & Tarasiuk V"] [Black "0040.13"] [Result "1/2-1/2"] [SetUp "1"] [FEN "6K1/1pp2P2/2kp4/8/8/1b6/4B3/8 w - - 0 1"] [PlyCount "37"] [EventDate "2016.??.??"] [SourceDate "2000.07.25"] 1. Bf3+ $8 {Double foreground: neither Kg7? nor Bd1? works.} (1. Kg7 $2 Bxf7 $8 2. Kxf7 Kc5 $1 (2... Kd5 $1 3. Bf3+ Ke5 $8) 3. Ke6 c6 $1 (3... b5 $1 4. Kd7 d5 $8) 4. Kf5 d5 $8 5. Ke5 b5 $8 (5... b6 $6 {the only other winning move, is a waste of time}) 6. Bh5 b4 $8 (6... Kc4 $2 7. Be8 $8 c5 {(...Kc5 Kf4!)} 8. Bf7 $8 $11) 7. Be2 (7. Bd1 Kc4 $8) 7... b3 $8 $19) (1. Bd1 $2 { (bad with bK on c6)} Bxf7+ 2. Kxf7 Kd5 $8 3. Bf3+ Ke5 $8 4. Bxb7 c5 $8 5. Ba6 d5 $8 $19) 1... Kb6 $1 (1... Kc5 2. Bxb7 $8 c6 3. Kg7 Bxf7 4. Kxf7 $11) 2. Bd1 $3 {[#]Now that there is no more ...Kd5.} (2. Kg7 $2 Bxf7 $8 3. Kxf7 c6 $8 4. Ke6 Kc5 $8 (4... d5 $2 5. Kd6 $8 $11) 5. Kd7 d5 $8 6. Be2 (6. Kc7 b5 $8 7. Kb7 b4 $8 $19) (6. Bd1 b5 $1) 6... b5 $8 7. Bd1 d4 $3 (7... b4 $2 8. Bb3 $8 d4 9. Ke6 $8 $11) 8. Be2 b4 $8 (8... Kd5 $2 9. Kc7 $8 c5 10. Kb6 $3 c4 11. Kxb5 $8 d3 12. Bf1 $8 $11) 9. Ke6 d3 $3 {[#]} (9... b3 $2 10. Ke5 $8 b2 11. Bd3 $8 $11) 10. Bxd3 Kd4 $8 11. Bg6 c5 $1 (11... b3 $1) 12. Kd6 c4 $1 $19) 2... Be6 (2... Bxf7+ 3. Kxf7 $8 {: text}) 3. Kg7 $8 (3. Bg4 $2 Bxf7+ $1 (3... Ba2 $1 4. Bf3 c6 $1) 4. Kxf7 Kc5 $1 (4... d5 $1 5. Ke6 Kc5 $8 6. Ke5 b5 $8 7. Bh5 c6 $3 {(...b4? Bd1!! ...Kc4 Be2+!! as d5 is not protected)} 8. Be2 b4 $8 9. Bf1 {(Fd1 ... Rc4!!)} b3 $8 10. Bd3 b2 $8 11. Bb1 Kc4 $1) 5. Ke6 b5 $1 (5... d5 $1 6. Ke5 b5 $8) 6. Bd1 c6 $1 7. Ke7 (7. Bb3 d5 $8) 7... d5 $8 8. Kd7 d4 $8 $19 {as already seen on 2 Kg7?}) 3... Bxf7 4. Kxf7 $8 {With the bishop on d1 instead of f3 (2nd move commentary) or g4 (3rd move commentary), nothing wins.} d5 ( 4... c6 5. Ke6 $1 Kc5 6. Kd7 $8 d5 7. Kc8 $8 {: text}) (4... Kc5 5. Ke6 $1 d5 6. Kd7 $8 {: texte}) 5. Ke6 $8 Kc5 6. Kd7 $8 c6 (6... b5 7. Kxc7 $8 b4 (7... d4 8. Kd7 $8 b4 9. Ke6 $8) 8. Bb3 $1 (8. Kd7 $1) 8... d4 9. Kb7 $8 d3 10. Ka6 $8 $11) 7. Kc8 $3 {[#]Usually, we defend ourselves by attacking the black pawns from the back with the Bishop. Here, it is the White King himself who takes on this noble task.} (7. Kc7 $2 b6 $3 {ZZ [#]} 8. Kc8 (8. Kb7 {(on Bc2 or Be2 or Bf3 etc. would follow the same move)} b5 $8 {ZZ : see comment on 8th move}) 8... d4 $3 (8... b5 $2 9. Kb7 $8 {: text}) 9. Kb7 (9. Be2 Kb4 $3 10. Kc7 c5 $8 11. Kxb6 c4 $8 12. Kc6 d3 $8 $19) 9... d3 $8 (9... b5 10. Be2 $3 {: see 9th black move}) 10. Ka6 Kb4 $1 11. Kxb6 c5 $8 $19) (7. Be2 $2 b5 $8 $19 {: see commentary on the 2nd white move}) 7... b6 $1 (7... b5 8. Kb7 $8 {: text}) 8. Kc7 $8 {ZZ [#]} (8. Kb7 $2 b5 $8 {ZZ [#]} 9. Bc2 (9. Be2 b4 $8 {(wins because the bP is still in d5)} 10. Ka6 b3 $1 11. Ka5 b2 $1 12. Bd3 Kd4 $8 {: bK needed this square}) (9. Ka6 Kc4 $1 10. Ka5 d4 $1) 9... Kc4 $8 (9... d4 $2 10. Bd3 $8) 10. Kxc6 d4 $1 (10... b4 $1) 11. Bb1 b4 $8 $19) 8... b5 (8... d4 9. Be2 $8 (9. Bc2 $2 b5 $8 10. Bd3 b4 $8) 9... b5 (9... Kb4 10. Kxc6 $8) 10. Kb7 $8 {: see below}) 9. Kb7 $8 {ZZ. [#]The White King has to watch c6 while threatening to slip through the "a" file. It is remarkable that the square d1 is the only white square on the board where the Bishop can be without allowing a black win (this is also true for the black squares, but off-topic). Place it on a2, ...d4!! wins (because it cannot come on f1, e2 or d3). In c2, it is ...Kc4! (because ...d3 will gain an essential time). In b1, f5, g6, h7, e2, f3, g4, h5, f1, g2, h3, it is ...b4!! (because it cannot come to b3, the only square). Elsewhere, there are at least two winning black moves.} (9. Kd7 $2 d4 $8 10. Be2 b4 $8 11. Ke6 d3 $3 {as already seen}) 9... b4 (9... d4 10. Be2 $8 (10. Bc2 $2 Kc4 $1) 10... b4 11. Ka6 $8 (11. Bd3 $2 b3 $8 12. Ka6 Kb4 $8 $19) 11... b3 12. Ka5 $8 b2 13. Bd3 $8 $11) (9... Kc4 10. Kxc6 $1 (10. Be2+ $1 Kc3 11. Kxc6 $1) 10... b4 11. Kd6 $1 (11. Be2+ $1) 11... d4 12. Ke5 $8 d3 { (would win if B was on c2)} 13. Ke4 $8 Kc3 14. Ke3 $11) 10. Bb3 $3 {[#]The only good square on the board for this heroic bishop.} Kb5 (10... Kd4 11. Kxc6 $8 $11) (10... d4 11. Ka6 $8 {(if Bishop was on a2, ...b3!! Bxb3 ...Kb4!! would win)} d3 12. Ka5 $8 {(prevents just in time ...Kd4)} d2 13. Ka4 $8 Kd4 14. Kxb4 $8 $11) 11. Kc7 $8 c5 (11... d4 12. Kd6 $8 c5 (12... d3 13. Ke5 $1 $11 ) 13. Kd5 $8 d3 14. Bc4+ $1) 12. Bxd5 $8 (12. Kd6 $2 c4 $8 13. Bd1 d4 $8 14. Kd5 b3 $8 (14... d3 $2 15. Kd4 $8 b3 16. Kc3 $8 $11) 15. Kxd4 Kb4 $8 16. Bf3 c3 $8 17. Kd3 c2 $8 18. Kd2 Ka3 $8 19. Kc1 b2+ $8 20. Kxc2 Ka2 $8 21. Bd5+ Ka1 $8 $19) 12... c4 13. Kd6 $8 b3 14. Ke5 $3 Kb4 (14... b2 15. Be4 $8 $11) 15. Kd4 $8 c3 16. Kd3 $8 c2 17. Kd2 $8 Ka3 18. Bxb3 $1 (18. Kc1 $1) 18... Kxb3 19. Kc1 $8 1/2-1/2 [Event "Torino "] [Site "?"] [Date "1982.??.??"] [Round "?"] [White "Karpov, An"] [Black "Portisch, L."] [Result "1-0"] [ECO "C42"] [PlyCount "75"] [EventDate "1982.??.??"] [SourceDate "2000.07.25"] {33/432} 1. e4 e5 2. Nf3 Nf6 3. Nxe5 (3. d4 Nxe4 (3... exd4 4. e5 Ne4 5. Qxd4) 4. Bd3 d5 5. Nxe5 Nd7 6. Qe2 Nxe5 7. Bxe4 dxe4 8. Qxe4 Be6 9. Qxe5 Qd7 10. O-O (10. Be3 O-O-O 11. Qa5 Qc6 12. Nc3 $14 {(Hort,V (2545)-Short,N (2615)/BRD 42/ 385 1986)} Qxg2 13. O-O-O) 10... O-O-O 11. Be3 Bb4 $1 12. Nc3 f6 13. Qg3 Bxc3 14. bxc3 h5 $1 15. h4 g5 $1 16. f3 Rdg8 17. Rf2 Qc6 $15 {Karpov,A-Larsen,B/ Tilburg 30/236 1980}) 3... d6 4. Nf3 Nxe4 5. d4 (5. Qe2 Qe7 6. d3 Nf6 7. Bg5 Qxe2+ 8. Bxe2 Be7 9. Nc3 c6 10. O-O Na6 11. Rfe1 Nc7 12. Bf1 Ne6 13. Be3 O-O 14. d4 Re8 15. d5 Nxd5 16. Nxd5 cxd5 17. Bb5 Rd8 18. Red1 Bf6 19. c3 Nc7 20. Be2 Re8 21. Nd4 Bd7 22. Bf3 Bxd4 23. Bxd4 Bc6 24. Be3 {1/2-1/2 Spassky, B-Karpov,A/Torino 33/(431) 1982}) 5... d5 6. Bd3 Be7 7. O-O Nc6 8. Re1 {These lately, one plays rather c2-c4 or the exit of Nb1, even if the Rook ends up on e1 a little later.} (8. Nc3 Bf5 (8... Nxc3 9. bxc3 Bg4 10. Rb1 Rb8 11. Re1 {Brkic,A (2552)-Jovanic,O (2492)/Valpovo 2017}) 9. Re1 Nxc3 10. bxc3 Bxd3 11. Qxd3 {: see below 9 Nc3}) (8. c4 Nb4 9. Be2 O-O 10. Nc3 Bf5 11. a3 Nxc3 12. bxc3 Nc6 13. cxd5 (13. Re1 Re8 14. Ra2 Na5 15. cxd5 Qxd5 16. Rb2 c6 17. Ne5 Bxa3 18. Bf3 Qd6 19. Rbe2 $44 {Nakamura,H (2787)-Akobian,V (2615)/ Saint Louis 2016}) 13... Qxd5 14. Bf4 Rac8 15. Re1 Rfe8 16. Nd2 (16. h3 h6 17. Nd2 Na5 18. Bf3 Qd7 19. Ne4 Bf8 20. Ra2 Kh8 21. Rae2 {Karjakin,S (2776)-Wang Yue (2705)/Beijing 2013}) 16... Qd7 17. Nc4 Bd6 18. Bxd6 cxd6 19. Ne3 d5 20. Bf3 Be6 21. c4 Ne7 22. c5 $14 {Vachier Lagrave,M (2718)-Li Chao2 (2617)/Puerto Madryn 2009}) (8. Nbd2 Nd6 9. c3 Bf5 10. Bxf5 Nxf5 11. Qb3 b6 12. Re1 Qd7 13. Nf1 f6 14. Qc2 O-O 15. Bf4 $14 {Vachier Lagrave,M (2796)-Yu Yangyi (2738)/ Caleta 2017}) 8... Bf5 {This, however, is less common.} (8... Bg4 {(la réplique actuelle)} 9. c4 (9. Nc3 Nxc3 10. bxc3 O-O 11. Bf4 Bh5 12. Rb1 Rb8 13. Qe2 Bd6 {Navara,D (2702)-Ivanchuk,V (2776)/Havana 2011}) 9... Nf6 10. Nc3 Bxf3 (10... Nxd4 11. cxd5 {(menace Da4+)} Bxf3 12. gxf3 c5 13. d6 $6 {(dxc6)} Qxd6 14. Nb5 Nxb5 15. Bxb5+ Kf8 $8 16. Qe2 Qc7 17. Bf4 Bd6 $15 {Bruzon Batista,L (2669)-Wang Yue (2716)/Danzhou 2015}) 11. Qxf3 Nxd4 12. Qd1 dxc4 (12... Ne6 13. Bf5 c6 14. cxd5 Nxd5 15. Qg4 $14 {Radjabov,T (2740)-Gelfand,B (2741)/Medias 2010}) 13. Bxc4 c5 14. Qa4+ Qd7 15. Qxd7+ Kxd7 16. Be3 (16. Bxf7 Bd6) 16... Rhd8 17. Bxd4 cxd4 18. Bb5+ Kd6 19. Rad1 Kc5 20. Re5+ Kd6 21. Ree1 Kc5 22. Re5+ {1/2-1/2 Ivanchuk,V (2728)-Wang Yue (2730)/Danzhou 2016}) (8... f5 9. c4 Be6 10. cxd5 Bxd5 11. Nc3 Nxc3 12. bxc3 O-O 13. Bf4 (13. Qe2) 13... Bd6 14. Bxd6 Qxd6 15. Ne5 Rae8 16. c4 $2 {(Loewenthal,J-Morphy,P/London 1858)} Nxd4 $1 17. f4 Bc6 $17) 9. c4 {"Prepared by I. Zaitsev and myself for the Merano match, but I played in the 4th game 9 Bb5, influenced by Timman-Portisch" (AK).} ( 9. Bb5 Bf6 (9... O-O 10. Bxc6 bxc6 11. Ne5 {Timman,J-Portisch,L/Moscow 31/370 1981}) 10. Nbd2 O-O 11. Nf1 Ne7 12. c3 Ng6 13. Bd3 Nd6 14. Bxf5 Nxf5 15. Qb3 { Karpov,A-Korchnoi,V/Merano (m/4) 32/404 1981}) (9. Nbd2 Nxd2 10. Qxd2 Bxd3 11. Qxd3 O-O 12. c3 Qd7 13. Bf4 a6 (13... Rfe8 14. h3 a6 15. Re3 Bd6 16. Ng5 g6 17. Bxd6 Qxd6 18. Rae1 Qd7 {Adorjan,A-Huebner,R/Bad Lauterberg (m/10) 29/219 1980}) 14. Re3 (14. Re2 Rae8 15. Rae1 Bd8 16. Nd2 Rxe2 17. Qxe2 {So,W (2792)-Fedoseev, V (2731)/Tbilisi 2017}) 14... Rae8 15. Rae1 Bd8 16. h3 Rxe3 17. Rxe3 f6 18. Nd2 Ne7 $11 {Kasparov,G-Karpov,A/USSR 31/369 1981 et Leko,P (2700)-Karpov,A (2700) 76/(296) Dortmund 1999}) (9. a3 O-O 10. c4 Bf6 (10... Bh4 11. g3 Bf6) 11. Nc3 Nxc3 12. bxc3 Bxd3 13. Qxd3 dxc4 14. Qxc4 Na5 15. Qa4 b6 16. Bf4 Qd5 17. Bxc7 Rac8 18. Be5 Rxc3 19. Bxf6 gxf6 20. Qb4 (20. Rac1 Rxc1 21. Rxc1 Rd8 22. h3 Qb3 {1/2-1/2 Kavalek,L-Karpov,A/Torino 33/431 1982}) 20... Rfc8 21. Qe7 Kg7 $11) ( 9. Nc3 {(the most played... 30 years later)} Nxc3 10. bxc3 Bxd3 11. Qxd3 O-O 12. Rb1 (12. Re2 Qd6 13. Bd2 Bf6 14. Rae1 h6 15. Qf5 Rad8 16. Qh5 $14 {Naiditsch,A (2698)-So,W (2653)/Belfort 2012}) (12. Bf4 Bd6 13. Ng5 g6 14. Qh3 h5 15. Qg3 Bxf4 16. Qxf4 Qd7 17. Re3 Rae8 18. Rae1 Rxe3 19. fxe3 $14 {Vachier Lagrave,M (2710)-Giri,A (2714)/Beijing 2011}) 12... Na5 13. Re2 c6 14. Bf4 Bf6 15. Rbe1 Nc4 16. h3 h6 17. Nh2 Bg5 18. Bxg5 Qxg5 19. Ng4 Nd6 20. Re5 {(Naiditsch,A (2702)-Hambleton,A (2479)/Douglas 2017)} Rae8 $1 21. Rxg5 Rxe1+ 22. Kh2 hxg5 $11) 9... Nb4 10. Bf1 $1 (10. cxd5 $2 Nxf2 $1 {AK [#]}) 10... O-O (10... dxc4 11. Nc3 $1 Nf6 (11... Nxc3 12. bxc3 Nd5 13. Bxc4 Be6 14. Qb3) 12. Bxc4 O-O 13. a3 Nc6 14. d5 $14 {Karpov-Portisch Luzern 1982 34/377}) (10... Nf6 11. Qa4+ Kf8 ( 11... Nc6 12. Ne5 Bd7 13. Qd1) 12. Na3 Nd3 13. Bxd3 Bxd3 14. Qb3) 11. a3 Nc6 12. Nc3 (12. cxd5 Qxd5 13. Nc3 Nxc3 14. bxc3 Bg6 (14... Rfe8 15. Ne5 Nxe5 16. Rxe5 Qd7 17. Qf3 {AK}) (14... Rad8 15. Bf4 {AK}) (14... Bf6 15. Bf4 Qd7 {(... Rac8 Rc1 Anand-Karpov 1999)} 16. Ra2 {(Db3)} Rae8 17. Rae2 Rxe2 18. Qxe2 Be6 { (Nikolenko,O (2524)-Kunin,V (2533)/Moscow 2009)} 19. Qb5) 15. c4 Qd7 (15... Qd6 16. d5 Bf6 17. c5 {AK}) 16. d5 Bf6 17. Ra2 (17. Bg5 $2 Bxa1 18. dxc6 Qxd1 19. Rxd1 Bb2) (17. Bd2 Nd4 $11 {AK}) 17... Na5 18. Bf4 (18. Bd2 b6 19. Bxa5 bxa5 20. Ne5 Qd6 21. c5 {(Nc6 AK)} Qxc5 22. Nd7) (18. Ne5 Bxe5 19. Rxe5 b6 20. Bf4 Rfe8 21. Rae2 {AK}) 18... Rfe8 (18... b6 19. Ne5) 19. Rae2 Rxe2 (19... Rec8 $2 20. Ne5 $1 {[#]} Qf5 $2 {(...Bxe5 Rxe5)} 21. Bd2 $1 $18 Nxc4 {(...b6 g4 ...Qc2 Qxc2)} 22. g4 $1 Nxe5 23. gxf5 Nf3+ 24. Kg2 Bh5 25. Qa4 Nh4+ 26. Kh3 Bxe2 27. Bxe2 { 1-0 Karpov,A (2700)-Portisch,L (2625)/Luzern 1982}) (19... c5 20. Be5) 20. Qxe2 c6 (20... c5 21. Ne5 Qa4 22. Nxg6 hxg6 23. Bc7) (20... Bf5 21. Bxc7 Bc3 22. Rc1 Re8 23. Qd1 Qxc7 24. Rxc3 $16) (20... Bc3 21. Ne5) 21. d6 (21. Ne5 Bxe5 22. Qxe5) 21... b6 22. Ne5 Bxe5 23. Qxe5 $16) 12... Nxc3 13. bxc3 dxc4 (13... Be6 14. cxd5 Bxd5 15. Nd2 $16 {AK}) (13... Bf6 14. Bf4 dxc4 (14... Ne7 15. Qb3 Rb8 16. a4) 15. Bxc4 Qd7 16. Ba2 (16. Bd3) (16. Ra2) 16... Rfe8 17. Qd2 b5 18. Bg5 $14 {Adams,M (2705)-Karpov,A (2700)/Dortmund 1999}) 14. Bxc4 {White has a powerful central pawn, which in the middle game is significant.} Bd6 ( 14... Na5 15. Ba2 Bd6 16. Bg5) (14... Bf6 15. Bd3 (15. Bf4 Qd7 {above}) 15... Qd7 16. Bf4) 15. Bg5 Qd7 16. Nh4 $1 {[#]"Gives a strong initiative" (AK).} (16. Ne5 {(seems to have no effect)} Nxe5 (16... Bxe5 17. dxe5 h6) 17. dxe5 Bc5 $11) 16... Na5 $1 (16... Bg4 17. f3 (17. Qb1 Na5 18. Bd3 {AK}) (17. Qd3 Bh5) 17... Na5 $1 (17... Bh5 18. g4 {AK}) 18. Ba2 Be6 $1 19. d5 Bf5 $11) 17. Ba2 b5 (17... Be6 $1 18. Bxe6 (18. d5 Bg4) 18... fxe6 {(the weakness e6 is compensated by the weakness c4)} 19. Qg4 Rae8 20. Nf3 (20. d5 Bc5) 20... Rf5 (20... Qf7) 21. Re4 (21. Re2 Nc4) 21... Qf7 (21... Nc4 22. Rae1 Bxa3 23. d5) 22. a4 Nc4 $11) 18. a4 $1 a6 $6 {"After the game, Portisch and I spent a lot of time discussing the variations arising from ...bxa4" (AK).} (18... bxa4 19. c4 (19. Bd5 { (that AK intended to play)} Rae8 20. Rxe8 Rxe8 21. Nxf5 Qxf5 22. Qxa4 Rb8 23. Re1 {(with best chances according to AK)} c6 $1 {[#](...Qxg5 Qxa5)} 24. Qxa5 $8 {(Bxc6? ...Qxg5)} cxd5 25. Qxa7 h6 $1 26. Bh4 {(Bc1 Qc2!)} Rb1 $1 27. Qa8+ Kh7 28. Qe8 Rb2 $44) (19. Nxf5 Qxf5 20. Be7 Rfe8) 19... c5 $1 20. Nxf5 { (d5 ...Tab8)} (20. dxc5 $6 Bxc5 21. Re5 (21. Nxf5 Bxf2+ $1 22. Kxf2 Qxf5+ 23. Kg1 Qxg5 24. Qxa4 Qc5+) 21... Qxd1+ 22. Rxd1 Bc2 $1 (22... Bg4 $6 23. Rb1 { (rather than Rxc5 ...Bxd1 Rxa5 ...Rfb8 AK or Rdd5 ...f6! AK Rxc5 ...Nb3)} Rfc8 { (...Bb6 c5)} 24. Rb5) (22... Bxf2+ $2 23. Kxf2 f6 24. Rxa5 {(still better than Rxf5 AK)}) 23. Rc1 $6 {AK} (23. Rxc5 Bxd1 24. Rxa5 Rfb8 $17) 23... Rfe8 $3 {[#]} 24. Rxc5 Nb3 $3 25. Nf3 (25. Bxb3 axb3 26. Nf3 b2 $19) 25... Nxc1 26. Bxc1 Rad8 $1 27. Rd5 Bb3 $1 28. Bxb3 axb3 $19) 20... Qxf5 21. h4 (21. Be3) 21... Nb3 22. Bb1 Qd7 23. dxc5 Nxc5 24. Ra2 {AK} (24. Qd5 Qc7 25. Bf6 $1 Rae8 26. Bxh7+ Kxh7 27. Qh5+ Kg8 28. Bxg7 $11) 24... Qc6 (24... Rfe8 25. Rxe8+ Qxe8 $8 {(...Rxe8? Rd2)} 26. Bxh7+ Kxh7 27. Qxd6 Qe4 28. Ra1) 25. Rd2 Bc7 26. Be7 Rfe8 $11) 19. axb5 ( 19. Nxf5 Qxf5 20. Be7 Rfe8 21. Bxd6 cxd6 22. axb5 axb5 23. Bb1 {: see below 21...Rfe8}) 19... axb5 20. Nxf5 Qxf5 21. Be7 Rfb8 $6 (21... Rfc8 22. Bb1 Qd7 23. Qf3 $1 g6 24. Ba2 $18 {AK}) (21... Rfe8 22. Bxd6 cxd6 (22... Rxe1+ 23. Qxe1 cxd6 24. Bb1 {(Qe7 ...g6 Qxd6? ...Nc4!)} Qc8 25. Bd3) 23. Bb1 Qd7 ( 23... Qh5 $2 24. Rxe8+ Rxe8 25. g4 Qh3 26. Rxa5 Qxc3 27. Rxb5 $1 {(Ra2 AK)} Re1+ 28. Kg2 g6 29. Qd3 $18) (23... Rxe1+ 24. Qxe1 Qe6 {(Qc8)} 25. Qxe6 fxe6 26. Bd3 $16 {AK}) 24. Be4 d5 25. Bxd5 $1 Qxd5 26. Rxa5 $16 {AK}) (21... Bxe7 { (seems to be a less evil)} 22. Rxe7 c6 23. Qe2 (23. Bb1 Qg5 24. Re5 Qf6) 23... Nc4 24. Re1 Nd6 $1 (24... Qd5 $6 25. Bb3 $1 (25. Re5 Rxa2 $1 26. Qxa2 Nxe5 27. Qxd5 cxd5 28. Rxe5 Rd8 29. Re7 Rc8 30. Rb7 {AK} Kf8 31. Rxb5 Rxc3 32. Kf1) (25. h4) 25... f6 (25... Ra3 26. Re8 {AK}) 26. Qg4 Rf7 27. h4 g6 28. Qf4 (28. h5 Rxe7 29. Rxe7 Ra1+ 30. Bd1 $8 f5 31. Qe2 Nd6) 28... Raf8 29. Qh6 Qd8 30. R7e6 $16) 25. Bb1 Qd5 (25... Qf6) 26. Re5 (26. h4 $14) (26. Qd3 g6) 26... Qb3 27. Qf3 (27. Rc5 Rfe8) 27... g6 28. Qxc6 Rfd8 $44) 22. g4 $1 {[#]"This surprised the spectators, who did not see the idea" (AK).} (22. Bxd6 cxd6 23. g4 Qd7 24. Bd5 Ra7) 22... Qd7 $6 {Puts its head in the wolf's mouth, but there seems to be a white advantage in all cases.} (22... Qf4 23. Bxd6 Qxd6 ( 23... cxd6 24. Bd5 $1 {AK} Ra7 25. Re4 Qf6 26. Qe2 $1 Qd8 27. Rb1 $16) 24. Qf3 Qd7 $1 (24... Rf8 25. Bxf7+ Kh8 26. Qg3 $1 {AK or stronger Re5!}) 25. Re2 $1 { (threatens Rae1 & Re7 AK)} (25. Bb1 {AK}) (25. Bd5 c6 26. Be4) 25... Nc4 (25... Ra6 26. Rae1 Rf6 27. Qg3 {AK}) (25... Nc6 26. Rae1 Rf8 {(Re8? Qxf7+ AK)} 27. Bd5) (25... c6 26. Rae1 Nc4 27. Bxc4 bxc4 28. Re5) 26. Rae1 Rf8 (26... c6 27. Bxc4 bxc4 28. Re5 Re8) 27. Bxc4 bxc4 28. Re7 (28. Re5 Ra6 29. Rc5 Rg6) 28... Qd8 29. R1e5 $16) (22... Qg6 23. h4 (23. Bb1 Qh6 $8) 23... Bxe7 24. Rxe7 Rf8 ( 24... Nc4 25. Qf3 {(Rxc7 ...h5)} c6 26. Rae1 h5) 25. Bxf7+ Rxf7 26. Rxa5 Rxa5 27. Re8+ Rf8 28. Qb3+ Qf7 29. Rxf8+ Kxf8 30. Qb4+ Kg8 (30... Qe7 31. Qxa5 Qxh4 32. Qa8+) 31. Qxa5 Qf3 32. Qxc7 Qxg4+ 33. Qg3 $16) 23. Bxf7+ $1 {[#]Here it is.} Kh8 $6 {Acceptance was the lesser evil, knowing that a pawn is lost anyway, which is certainly not pleasant against a monster such as AK !} (23... Kxf7 24. Rxa5 $1 Rxa5 $2 (24... Bxe7 $2 25. Qf3+ {/\ Ra8}) ({but} 24... Qc6 $1 25. Rxa8 Rxa8 26. Bxd6 cxd6 27. Qb3+ Qc4 28. Qb1 Kg8 29. Re7 Qxc3 30. Qxb5 Rf8 {(...Qxd4? Re8+)} 31. Qd5+ Kh8 32. Rf7 $16) ({or} 24... Kg8 $1 25. Rxa8 Rxa8 26. Qb3+ Kh8 27. Bxd6 cxd6 28. h3 $16 {or Qe6}) 25. Qb3+ Kg6 (25... Ke8 26. Qg8#) 26. Re6+ $8 {AK} Kf7 27. Re5+ $1 (27. Rxd6+ Kxe7 28. Rxd7+ Kxd7 29. Qf7+) 27... Kg6 28. Rg5+ Kh6 29. Qf7 $8 g6 30. Rh5+ $8 gxh5 31. g5# (31. Qf6#)) 24. Bxd6 $18 Qxf7 (24... Qxd6 25. Qf3) 25. Re7 Qf8 26. Bc5 (26. Bxc7 Qxe7 27. Bxb8 {AK} Rxb8 28. Rxa5 Qc7 29. Ra3 $18) 26... Qf4 27. Qe2 h6 28. Re4 (28. h3 { (for Kg2, Ra3 & Qa2)} Nb3 29. Rxa8 Rxa8 30. Bb4 Nd2 31. Kg2 $18) 28... Qf7 29. Re5 (29. Re7 Qf4 30. h3) 29... Nc4 30. Rxa8 Rxa8 31. Rf5 (31. Re6) 31... Qg6 32. Qe4 $1 Kh7 33. h3 Ra1+ (33... Re8 34. Qd3 Re6 35. Qg3) 34. Kg2 Rc1 35. Bb4 Nd6 (35... c6 36. Kh2 {for h4}) 36. Bxd6 cxd6 37. Qd3 d5 38. f3 {[/\ h4-h5]} 1-0 [Event "2#"] [Site "?"] [Date "1940.??.??"] [Round "?"] [White "Van Dijk, J."] [Black "4251.33"] [Result "1-0"] [SetUp "1"] [FEN "3N1Q1b/8/3BP3/R3qPPK/2p1pk2/2p4R/2B5/8 w - - 0 1"] [PlyCount "1"] [EventDate "1940.??.??"] [SourceDate "2000.07.25"] 1. -- 1-0 [Event "2#"] [Site "?"] [Date "1891.??.??"] [Round "?"] [White "Tonetti, G."] [Black "1443.24"] [Result "1-0"] [SetUp "1"] [FEN "4B2K/8/5p1k/4p3/2p1P2p/5n1P/2r2Q2/3b2R1 w - - 0 1"] [PlyCount "1"] [EventDate "1891.??.??"] [SourceDate "2000.07.25"] 1. -- 1-0 [Event "2#"] [Site "?"] [Date "2013.??.??"] [Round "?"] [White "Felin, C."] [Black "4828.02"] [Result "1-0"] [SetUp "1"] [FEN "2K5/B1p4Q/r3n3/r3k3/R3N1R1/3p4/BNnq4/8 w - - 0 1"] [PlyCount "1"] [EventDate "2013.??.??"] [SourceDate "2000.07.25"] 1. -- 1-0 [Event "2#"] [Site "?"] [Date "1891.??.??"] [Round "?"] [White "Sherrard, CHW."] [Black "4435.32"] [Result "1-0"] [SetUp "1"] [FEN "K4Nbn/p6q/2kPp3/r1P1R3/PQ6/3N4/8/8 w - - 0 1"] [PlyCount "1"] [EventDate "1891.??.??"] [SourceDate "2000.07.25"] 1. -- 1-0 [Event "2#"] [Site "?"] [Date "1891.??.??"] [Round "?"] [White "Perry, WE."] [Black "4275.42"] [Result "1-0"] [SetUp "1"] [FEN "6Q1/2RN3n/4b3/3kPR2/1P3P2/1pP5/q6p/1B1N2bK w - - 0 1"] [PlyCount "1"] [EventDate "1891.??.??"] [SourceDate "2000.07.25"] 1. -- 1-0 [Event "2#"] [Site "?"] [Date "1976.??.??"] [Round "?"] [White "Melnichenko, V."] [Black "1588.04"] [Result "1-0"] [SetUp "1"] [FEN "1B1RN2b/7R/bK2k2N/2p1rp1B/2ppn3/6n1/6Q1/8 w - - 0 1"] [PlyCount "1"] [EventDate "1976.??.??"] [SourceDate "2000.07.25"] 1. -- 1-0 [Event "2#"] [Site "?"] [Date "1950.??.??"] [Round "?"] [White "Garcia Llamas, J."] [Black "4885.44"] [Result "1-0"] [SetUp "1"] [FEN "8/1Qrp1b2/3P4/p5RB/1rkn4/P1N1p2q/P1NBP1p1/2RK2b1 w - - 0 1"] [PlyCount "1"] [EventDate "1950.??.??"] [SourceDate "2000.07.25"] 1. -- 1-0 [Event "2#"] [Site "?"] [Date "1951.??.??"] [Round "?"] [White "Casasnovas, J."] [Black "1518.02"] [Result "1-0"] [SetUp "1"] [FEN "5rn1/7R/2R1Nk1p/4N3/4p3/3nQ2K/8/B7 w - - 0 1"] [PlyCount "1"] [EventDate "1951.??.??"] [SourceDate "2000.07.25"] 1. -- 1-0 [Event "2#"] [Site "?"] [Date "2013.??.??"] [Round "?"] [White "Krizhanivskyi, V."] [Black "1272.35"] [Result "1-0"] [SetUp "1"] [FEN "2B5/3p2Q1/N3b1p1/R2PpR1P/2pNkb2/4P2p/4K3/8 w - - 0 1"] [PlyCount "1"] [EventDate "2013.??.??"] [SourceDate "2000.07.25"] 1. -- 1-0 [Event "2#"] [Site "?"] [Date "2015.??.??"] [Round "?"] [White "Mosiaschwili, G."] [Black "1277.15"] [Result "1-0"] [SetUp "1"] [FEN "n7/1B1Q1b2/p1K1p3/R4p2/1Np1k3/4pR2/1b2P1n1/8 w - - 0 1"] [PlyCount "1"] [EventDate "2015.??.??"] [SourceDate "2000.07.25"] 1. -- 1-0 [Event "2#"] [Site "?"] [Date "1891.??.??"] [Round "?"] [White "Marin, y Llovet V"] [Black "1145.22"] [Result "1-0"] [SetUp "1"] [FEN "1BN2b2/4pR2/2pnkNP1/8/3QP1K1/8/8/8 w - - 0 1"] [PlyCount "1"] [EventDate "1891.??.??"] [SourceDate "2000.07.25"] 1. -- 1-0 [Event "3#"] [Site "?"] [Date "1991.??.??"] [Round "?"] [White "Aschwanden, R."] [Black "1358.56"] [Result "1-0"] [SetUp "1"] [FEN "6NK/1p2Bp1p/1PP1p2n/n1p1k1P1/Q3B3/Pb1P4/2p1N3/5r2 w - - 0 1"] [PlyCount "1"] [EventDate "1991.??.??"] [SourceDate "2000.07.25"] 1. -- 1-0 [Event "3#"] [Site "?"] [Date "1992.??.??"] [Round "?"] [White "Soroka, I & Gavrilev E"] [Black "4585.51"] [Result "1-0"] [SetUp "1"] [FEN "7q/1Np4r/P1k1P3/P3P3/1B5b/nRN2R2/KQPr2B1/7b w - - 0 1"] [PlyCount "1"] [EventDate "1992.??.??"] [SourceDate "2000.07.25"] 1. -- 1-0 [Event "3#"] [Site "?"] [Date "2015.??.??"] [Round "?"] [White "Ataiants, G."] [Black "4688.46"] [Result "1-0"] [SetUp "1"] [FEN "1NB3b1/B1K1p1rr/2ppP3/1p1k1N2/1p1P1Q2/1Pb1pP2/3q1n2/4n3 w - - 0 1"] [PlyCount "1"] [EventDate "2015.??.??"] [SourceDate "2000.07.25"] 1. -- 1-0 [Event "4#"] [Site "?"] [Date "1974.??.??"] [Round "?"] [White "Rudenko, V."] [Black "4577.36"] [Result "1-0"] [SetUp "1"] [FEN "n4K2/2p2pp1/1p3p2/bB1k1P2/3P1Q1R/2Prp3/1nN3q1/2R2b2 w - - 0 1"] [PlyCount "1"] [EventDate "1974.??.??"] [SourceDate "2000.07.25"] 1. -- 1-0 [Event "4#"] [Site "?"] [Date "2013.??.??"] [Round "?"] [White "Marandiuk, M."] [Black "1658.37"] [Result "1-0"] [SetUp "1"] [FEN "N1Q4K/B2p1N1n/p2pp3/1P1kpp2/Bp6/P4P2/b2r4/2n1r3 w - - 0 1"] [PlyCount "1"] [EventDate "2013.??.??"] [SourceDate "2000.07.25"] 1. -- 1-0 [Event "4#"] [Site "?"] [Date "1958.??.??"] [Round "?"] [White "Antonoff, G."] [Black "0372.52"] [Result "1-0"] [SetUp "1"] [FEN "6r1/2B5/Nb6/4N2b/1PPk4/3PpPp1/1P6/4K3 w - - 0 1"] [PlyCount "1"] [EventDate "1958.??.??"] [SourceDate "2000.07.25"] 1. -- 1-0 [Event "4#"] [Site "?"] [Date "1958.??.??"] [Round "?"] [White "Grunenwald, A."] [Black "0042.21"] [Result "1-0"] [SetUp "1"] [FEN "8/4p3/4P3/4N1b1/k7/PN6/K3B3/8 w - - 0 1"] [PlyCount "1"] [EventDate "1958.??.??"] [SourceDate "2000.07.25"] 1. -- 1-0 [Event "10#"] [Site "?"] [Date "2016.??.??"] [Round "?"] [White "Schmitt, O."] [Black "3355.57"] [Result "1-0"] [SetUp "1"] [FEN "2bK2B1/p2pB1p1/8/1Pp1kPN1/2p3Pp/rP2p3/1n1PN3/q7 w - - 0 1"] [PlyCount "19"] [EventDate "2016.??.??"] [SourceDate "2000.07.25"] 1. Bf8 $1 {(2 Bxg7+)} (1. d4+ $2 cxd4 $1) (1. Nf3+ $2 Ke4 2. Bd5+ Kd3 $1) 1... Kf6 (1... Ra6 $2 2. Bxg7+ Rf6 (2... Kd6 3. Ne4#) 3. Ke7 $1 Qa6 4. bxa6 exd2 5. Bxf6#) 2. Ne4+ $1 (2. Nf3 $2 g6 $1 {and the h4 pawn prevents 3 Ng3}) 2... Ke5 3. Nxc5 $1 {Threatens 4 Bxg7+.} (3. N4c3 $2 Kf6 4. Be7+ Ke5 5. Bxc5 Kf6 $1 {would be a bad way to make the pawn disappear c5}) 3... Kf6 (3... d5 $2 4. Ke7 $1 {(the justification of Pa7)} Ra6 5. Bxg7+) 4. Ne4+ Ke5 5. Ng5 $1 {Back.} Kf6 $1 (5... Ra6 $2 6. d4+ cxd3 7. Nf3+ Ke4 8. Bd5+ {as in the text}) 6. Be7+ Ke5 {This is the diagram without the Pc5, so...} 7. d4+ $1 cxd3 {There will be no no more escape of the King in d3.} 8. Nf3+ Ke4 9. Bd5+ $3 {A nice conclusion. } Kxd5 {Forced considering the essential Pe3 and its sidekick that we have driven to d3.} 10. Nc3# $1 {A combination of 6 moves to eliminate a troublesome pawn c5, then an en passant capture, a sacrifice and a mirror model mate: variety of effects, respecting balance and harmony.} 1-0 [Event "h#2"] [Site "?"] [Date "2017.??.??"] [Round "?"] [White "Zamanov, V."] [Black "3812.14"] [Result "1-0"] [SetUp "1"] [FEN "K3R2r/5p1p/8/8/Rq1NNk2/1p1P4/5p2/B4r2 b - - 0 1"] [PlyCount "1"] [EventDate "2017.??.??"] [SourceDate "2000.07.25"] {AV deleted an unnecessary Nb1 (confirmed by the author 6 months later ).} 1... -- 1-0 [Event "h#3 b) Pb4 on a3"] [Site "?"] [Date "2016.??.??"] [Round "?"] [White "Csak, J."] [Black "0080.11"] [Result "1-0"] [SetUp "1"] [FEN "8/3bKBB1/8/8/1P3b2/3p4/2k5/8 b - - 0 1"] [PlyCount "1"] [EventDate "2016.??.??"] [SourceDate "2000.07.25"] 1... -- 1-0 [Event "h#4 2 sol"] [Site "?"] [Date "2017.??.??"] [Round "?"] [White "Foster, G."] [Black "0331.11"] [Result "1-0"] [SetUp "1"] [FEN "8/8/4N3/2p2K2/2k1rb2/8/2P5/8 b - - 0 1"] [PlyCount "1"] [EventDate "2017.??.??"] [SourceDate "2000.07.25"] 1... -- 1-0 [Event "h#4 b) Rg2 on h2"] [Site "?"] [Date "1923.??.??"] [Round "?"] [White "Onitiu, V."] [Black "+3373.10h8e6"] [Result "1-0"] [SetUp "1"] [FEN "5n1K/4b2b/4k1q1/8/4P3/8/6r1/3B4 b - - 0 1"] [PlyCount "1"] [EventDate "1923.??.??"] [SourceDate "2000.07.25"] 1... -- 1-0 [Event "s#2 b) +wPd5"] [Site "?"] [Date "1959.??.??"] [Round "?"] [White "Bedoni, R."] [Black "1141.43"] [Result "0-1"] [SetUp "1"] [FEN "8/N2P4/1B6/b1p2p2/1k3P2/2pKQ3/2P1P3/R7 w - - 0 1"] [PlyCount "1"] [EventDate "1959.??.??"] [SourceDate "2000.07.25"] 1. -- 0-1 [Event "h#2"] [Site "?"] [Date "1967.??.??"] [Round "?"] [White "Neiman, M."] [Black "4575.56"] [Result "0-1"] [SetUp "1"] [FEN "8/3rp3/PbQ1P1p1/qp2K1P1/1pN2P2/pP1k1b1R/R3p2n/1NB5 w - - 0 1"] [PlyCount "1"] [EventDate "1967.??.??"] [SourceDate "2000.07.25"] 1. -- 0-1 [Event "s#3"] [Site "?"] [Date "1964.??.??"] [Round "?"] [White "Ojanen, A."] [Black "0252.43"] [Result "0-1"] [SetUp "1"] [FEN "2N1R2b/8/2kN4/B7/1PP2PB1/1pp1P3/1p6/1K1R4 w - - 0 1"] [PlyCount "1"] [EventDate "1964.??.??"] [SourceDate "2000.07.25"] 1. -- 0-1