Still the same concern of censorship for the clerk deprived of many things for this last session of the season.
Let's hope that the switch to Blizz ( https://www.blizz.com/fr/) will solve the problems at the beginning of the school year.
Below, the Master's verbose report.
---
Master's words
---
"Good people often find an excuse for their qualities, others are always looking for pretexts for their defects".
Alcibiades once asked Socrates why he did not drive away such a troublesome woman. "Because," Socrates replied, "by tolerating her difficult character at home, I get used to and practice putting up with general arrogance and injustice more easily outside."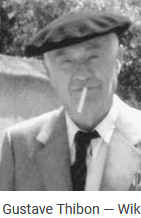 Quote of the day. "The philosophical spirit consists in preferring to the lies that make you live the truths that make you die" (G. Thibon). When I read (too quickly) this sentence, I first understood the opposite of what it said. But, a little later, I realised that the opposite would probably be true if we replaced "the philosophical spirit consists in" with "philosophers choose to".
Saint-Simon called an archbishop "seminary excrement", I am a bit like him in malice, if not in talent. Didn't I once, hesitating to call a socialite a "false c...", a "licker" or, (I was angry), a "troud... I finally decided that all three qualities were appropriate, and kept all three terms. What is more serious: I am no longer angry now, but the terms in question have never seemed so justified to me. I won't tell you who it is, you might find out.
Two non-materialist pawn endgames, making the Q / Pc2 areas revise.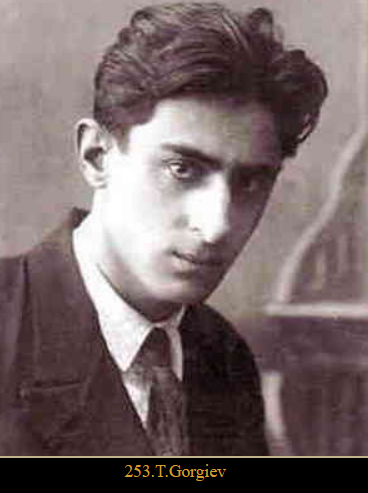 A study by Gorgiev that is generally misunderstood, with the reciprocal zugzwang often forgotten, as well as the attempt reaching the wrong side. Bishops of different colours are not a drawing factor!
The complete file on Rook and Knight versus Rook, showing the lack of culture of a world champion... of chatter.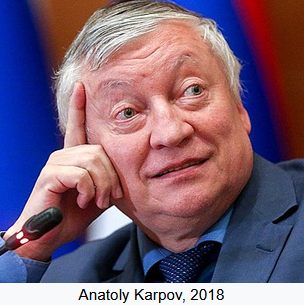 An artistic duel of rooks, despite two black knights, the aim being to force one of them to sacrifice himself against the last pawn.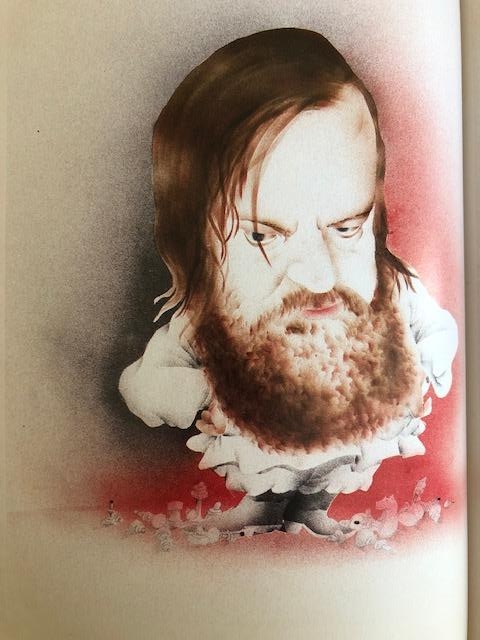 The 43rd move of the day's game is a "problem move", as generally say those, grandmasters included, who ignore everything about artistic chess. But there are other surprising moves.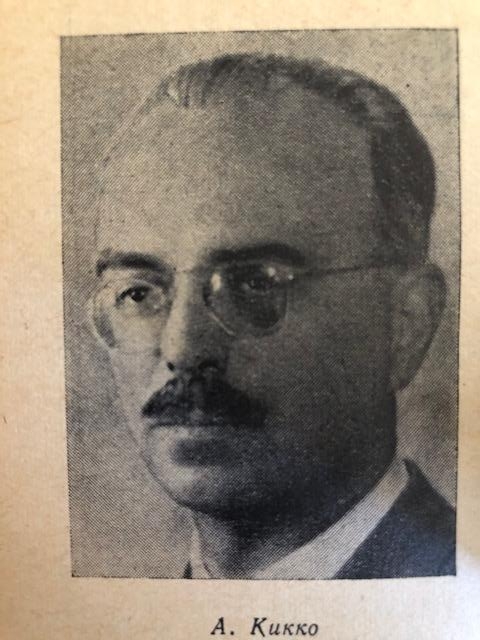 Amongst the fairy tales, an Italian masterpiece from... 1940, already presented at the course more than 20 years ago, showing a Nightrider unleashed on a cylindrical chessboard, where he goes so far as to make... seven knight steps in one move.
A harvest of problems for the summer, non-trivial 2#, 3# of very variable difficulty, 4# from different periods, then a "kilometre" for which I leave the solution, although it is clearly easier than one of the 3#. But which one? Finally, four helpmates and one selfmate.
Good luck and see you in about three months. Have a good summer and may God keep you.
Master's diagrams
[Event "?"] [Site "?"] [Date "1926.??.??"] [Round "?"] [White "Adamson, H."] [Black "+0000.22g7d4"] [Result "1-0"] [SetUp "1"] [FEN "8/6K1/2p2p2/8/3k4/7P/3P4/8 w - - 0 1"] [PlyCount "21"] [EventDate "1926.??.??"] [SourceDate "2000.07.25"] {Do you have to win material to win the game ?} 1. Kg6 $3 {[#]Refusal of capture. } (1. Kxf6 $2 Kd3 $1 (1... c5 $1 2. h4 Kd3 $8 {idem}) 2. h4 Kxd2 $1 3. Ke5 (3. h5 c5 $8 4. h6 c4 $8 5. h7 c3 $8 6. h8=Q c2 $8 $11) 3... c5 $8 4. Kd5 Kd3 $8 5. Kxc5 Ke4 $8 $11 {in Réti's style}) 1... f5 (1... Kd3 2. h4 $8 c5 3. h5 $8 Kxd2 4. h6 $8 c4 5. h7 $8 c3 6. h8=Q $8 c2 7. Qh2+ $1 Kd1 8. Qg1+ Kd2 9. Qd4+ Ke2 10. Qc3 Kd1 11. Qd3+ Kc1 12. Kh5 $1 (12. Qd4 $1 Kb1 {(on ...f5 one plays Kg5 and especially not Kxf5?)} 13. Qb4+ $8 Ka2 14. Qc3 $8 Kb1 15. Qb3+ $8 Kc1 16. Kf5 $1 Kd2 17. Qb2 {etc.}) (12. Kf5 $2 Kb2 $8 $11 {: the bK is on the small side}) 12... Kb2 ( 12... f5 13. Kg5 $1 f4 14. Kf5 $1 f3 15. Ke4 f2 16. Ke3 $8 Kb2 17. Qb5+) 13. Qd2 Kb1 14. Qb4+ $8 Ka2 (14... Kc1 15. Kg4 f5+ 16. Kf3) 15. Qc3 $8 Kb1 16. Qb3+ $8 Kc1 17. Kg4 $8 f5+ 18. Kf3 $8 Kd2 (18... f4 19. Ke2 f3+ 20. Kd3) 19. Qe3+ $1 Kd1 20. Qd4+ $1 Kc1 (20... Ke1 21. Qd3 $1) 21. Ke2 $1 Kb1 22. Qb4+ Kc1 23. Kd3 f4 24. Qb3 $18) (1... c5 2. h4 $8 c4 3. h5 $8 Kd3 4. h6 $8 Kxd2 5. h7 $8 { as above}) 2. Kg5 $3 {[#]New refusal to capture.} (2. Kxf5 $2 Kd3 $1 3. h4 Kxd2 $1 4. h5 c5 $8 5. h6 c4 $8 {as already seen}) 2... Ke4 (2... f4 3. Kxf4 $8 c5 4. h4 $8 Kd3 5. h5 $8 Kxd2 6. h6 $8 c4 7. h7 $8 c3 8. h8=Q $8 c2 {(wK is this time in the area, expanded when the bK is on the long side)} 9. Qb2 $1 Kd1 10. Kf3 $1 Kd2 11. Ke4 Kd1 12. Kd3 $1 $18) 3. h4 $8 f4 4. Kg4 $8 f3 5. Kg3 $8 f2 (5... c5 6. h5 $1 $18) (5... Kd3 6. Kxf3 Kxd2 7. h5 $8 $18 {: wK is now very close, compare with 1 Kf6?}) 6. Kxf2 $8 Kf4 7. d4 $1 (7. h5 $1 Kg5 8. Ke3 $1 Kxh5 9. Kf4 $8 Kg6 10. Ke5 $8 Kf7 11. Kd6 $8 $18) 7... Kg4 8. Ke3 $8 Kxh4 9. Kf4 $8 Kh5 10. Ke5 Kg5 11. Kd6 $8 1-0 [Event "?"] [Site "?"] [Date "1926.??.??"] [Round "?"] [White "Adamson, H."] [Black "+0000.23e6b2"] [Result "1-0"] [SetUp "1"] [FEN "8/8/4Kp2/2p2p2/7P/8/1k1P4/8 w - - 0 1"] [PlyCount "33"] [EventDate "1926.??.??"] [SourceDate "2000.07.25"] {Do you have to win material to win the game ?} 1. Kd5 $3 {[#]} (1. Kxf5 $2 Kc2 $8 2. h5 Kxd2 $1 3. h6 c4 $8 4. h7 c3 $8 5. h8=Q c2 $8 {(the Pf6 prevents Qb2! compare with 2...f5+ below)} 6. Qd8+ (6. Qh2+ Kc3 $8 7. Qf4 Kb2 $8 $11) ( 6. Qh6+ Kd1 $8 7. Qh5+ Kd2 $8 $11 {: Pf6 prevents Qg5+! ...Kd1 Qg1+ ...Kd2 Qd4+}) 6... Kc3 $8 7. Qc7+ Kb2 $8 {(small side)} (7... Kd2 $2 8. Qf4+ $1 Kd1 9. Qd4+ Ke2 10. Qc3 $8 Kd1 11. Qd3+ Kc1 12. Ke4 $1 f5+ 13. Kd4 $1 {: voir texte }) 8. Qb6+ Ka2 9. Qc5 Kb2 10. Qb4+ Ka2 11. Qc3 Kb1 $8 12. Qb3+ Ka1 $8 $11 {: the pawn f6, being blocked, does not play its anti-stalemate role}) 1... f4 (1... c4 2. Kxc4 $1 Kc2 3. h5 Kxd2 4. Kd4 $18) (1... Kc2 2. h5 $8 Kxd2 3. h6 $8 f4 4. h7 $18) 2. Ke4 $8 Kc2 (2... f5+ 3. Kxf4 Kc2 4. h5 $8 c4 5. h6 $8 Kxd2 6. h7 $8 c3 7. h8=Q c2 8. Qb2 $1 Kd1 9. Kf3 $1 Kd2 10. Qd4+ Kc1 (10... Ke1 11. Qd3) 11. Ke2 Kb1 12. Qb4+ Kc1 13. Kd3) 3. h5 $8 (3. Kxf4 $2 Kxd2 $11) 3... Kxd2 4. h6 $8 c4 5. h7 $8 c3 6. h8=Q $8 c2 7. Qh2+ $1 ({Other check is also good :} 7. Qd8+ $1 Kc3 (7... Kc1 8. Qxf6) 8. Qxf6+ Kd2 9. Qxf4+) 7... Kd1 (7... Kc3 8. Qxf4 Kb2 (8... f5+ 9. Kd5 Kb2 10. Qb4+) 9. Qd2 Kb1 10. Qb4+ $8) 8. Qg1+ $1 Kd2 9. Qf2+ $1 Kd1 10. Qf1+ $1 Kd2 11. Qxf4+ Kd1 12. Qf1+ Kd2 13. Qd3+ $1 Kc1 14. Kd4 $1 Kb2 15. Qc3+ $1 Kb1 16. Qb3+ Kc1 (16... Ka1 17. Qxc2 $8) 17. Kd3 1-0 [Event "?"] [Site "?"] [Date "1935.??.??"] [Round "?"] [White "Gorgiev, T."] [Black "+0440.22d5a7"] [Result "1-0"] [SetUp "1"] [FEN "8/kPp2B2/5R2/3K4/1r1bp3/P7/8/8 w - - 0 1"] [PlyCount "25"] [EventDate "1935.??.??"] [SourceDate "2000.07.25"] {After B. Horwitz 1879.} 1. Ra6+ $8 (1. Rf1 $2 c6+ $1 (1... Ra4 2. Be8 $1 Rxa3 $8 3. Bc6 Bg7 $8 4. Rg1 Rd3+ $1 5. Kxe4 Rd6 $11) 2. Kxe4 (2. Kxc6 Rxb7) 2... Ra4 $8 $11) (1. axb4 $2 Bxf6 $8 $11) 1... Kxa6 (1... Kxb7 2. axb4 $8 Kxa6 3. Kxd4 $8 Kb5 4. Kc3 $8 $18) 2. axb4 $8 Ba7 (2... Kxb7 3. Kxd4 $8) 3. b8=N+ $3 {[#]} (3. b8=Q $2 c6+ $8 4. Kxc6 Bxb8 $11) (3. Kc6 $2 Bb8 $8 4. Bc4+ Ka7 $11) 3... Bxb8 (3... Kb5 4. Nc6 $8 (4. Be8+ $2 Kxb4 $8 5. Nc6+ Kc3 $8 6. Nxa7 e3 $8 7. Bb5 Kd2 $8 $11) 4... Bf2 5. Bh5 $8 Be1 6. Be2+) 4. Kc6 $8 e3 {Very well, and now: how do you win with one less pawn ?} (4... Ka7 5. Bc4 (5. b5 e3 6. Bc4 $1 {: text}) 5... Ka8 6. Bd5 $8 e3 7. b5 $8 {: text}) 5. Bc4+ $3 {[#]The move Bh5, which seems to be equivalent, is not at all: we get the ZZ on the wrong side.} (5. Bh5 $2 Ka7 $8 6. b5 (6. Be2 Ka8 7. Bf3 e2 $8 8. Bxe2 Ba7 $8 $11) 6... Ka8 $8 7. Bf3 (7. Be2 Ba7 $8) 7... Ka7 $8 {ZZ[#]} (7... e2 $2 8. b6 $8 e1=N 9. Be4 $1 Nd3 10. Kb5+) 8. Bg4 Ka8 $8 {(threatens again ...Ba7)} 9. Bf3 Ka7 $8 $11) 5... Ka7 6. b5 $8 (6. Be2 $2 Ka8 7. Bf3 (7. b5 Ba7 $8) 7... e2 $3 8. Bxe2 Ba7 $8 $11) 6... Ka8 (6... e2 7. Bxe2 $8 {: text on 9th}) 7. Bd5 $3 Ka7 (7... e2 8. b6 $3 {[#]} e1=Q 9. Kb5+ c6+ 10. Bxc6#) (7... Ba7 8. Kxc7#) 8. Bf3 $8 {ZZ [#]} e2 {The most resistant.} (8... Ka8 9. b6 $8 {is given in the large database vdH 2015 !}) 9. Bxe2 $8 Ka8 10. Bf3 $8 Ka7 11. Bg2 $1 {Z. Or elsewhere on the diagonal.} Ka8 12. b6 $8 cxb6 (12... Ba7 13. Kxc7#) 13. Kxb6# {Presented at the Belgian Championship 2002, but only the 7...e2 variation is considered in the official scoring (according to L. Palmans).} 1-0 [Event "?"] [Site "?"] [Date "1996.??.??"] [Round "?"] [White "Polgar Ju, Kasparov"] [Black "0403.10"] [Result "0-1"] [SetUp "1"] [FEN "8/8/3k4/7R/6r1/P6K/4n3/8 b - - 0 58"] [PlyCount "65"] [EventDate "1996.??.??"] [SourceDate "2000.07.25"] {66/203} 58... Rg3+ 59. Kh4 Rxa3 $10 60. Kg4 $1 (60. Rh8 $1 Rg3 61. Re8 $1 Rg2 62. Kh3 Nf4+ 63. Kh4 Rg7 64. Rd8+ Ke5 65. Re8+ Kf5 (65... Ne6 66. Kh3 $11) 66. Re5+ Kf6 67. Rf5+) 60... Ke6 (60... Rg3+ 61. Kf5 $1) 61. Rb5 $6 {It was possible to avoid the band confinement, which however is not serious.} (61. Rh3 $1 Ra4+ 62. Kg5 $8 Ra5+ 63. Kg4 $1) (61. Rh6+ $1 Ke5 62. Rh5+ Ke4 63. Kg5 $1 Ra5+ (63... Rg3+ 64. Kf6) 64. Kg4 $1) 61... Rg3+ 62. Kh4 Rg1 63. Rg5 Rf1 64. Ra5 {It is not the most comfortable defence.} (64. Kg4 $1 {(imitating the "2nd row defence" in R / R+B)} Kf6 (64... Rg1+ 65. Kh4 {(or Kh5-h6)} Rh1+ 66. Kg4 $11) (64... Rf4+ 65. Kh3 $1 {(or on h5)} Nd4 66. Kg2 $11) 65. Ra5 Rf4+ 66. Kh3 $8 (66. Kh5 $4 Ng3+) 66... Rf3+ 67. Kg2 $1 $11) 64... Kf6 65. Ra8 $6 {Same remark.} (65. Kg4 $1 Rf4+ 66. Kh3 $8 {as above}) (65. Ra6+ $1 Kf5 66. Ra5+ Ke4 67. Ra4+ Nd4 68. Kg4 Rg1+ 69. Kh4 $1 {Cochrane's style}) 65... Rg1 $1 66. Rf8+ Ke5 67. Re8+ (67. Rf7) (67. Rf2 Nf4 68. Ra2 $1) 67... Kf4 68. Rf8+ (68. Rxe2 $4 Rh1+) 68... Ke4 69. Re8+ Kf3 70. Kh5 $1 ({Correct but turbulent is} 70. Rf8+ $1 Nf4 71. Rg8 $3 {[#]} Ng6+ (71... Rxg8 $10) (71... Rh1+ 72. Kg5 Rg1+ 73. Kh4 $8 $10) (71... Ng2+ 72. Kh5 $8 {(Kg5? ...Ne3+)} Nf4+ 73. Kh4 $8) 72. Kh5 $8 Kf4 73. Kh6 (73. Rg7 Kf5 74. Rf7+ $8 {Dvoretzky}) (73. Ra8 Kf5 74. Ra5+ $1 {(Kh6)} Ne5 75. Kh6 $1 {or Kh4!}) 73... Kf5 74. Ra8 $1 (74. Re8 $2 Kf6 $8) 74... Rg2 (74... Ne5 75. Rf8+) 75. Kg7 Ne5+ 76. Kf8 $11) 70... Ng3+ 71. Kh6 $6 {Unnecessarily attracts the knight to a good square.} (71. Kh4 $2 Nf5+ $8 72. Kh5 Ng7+ $8) (71. Kg5 $1 Ne4+ 72. Kh6 $8 (72. Kf5 $2 Nd6+ $8) 72... Kf4 73. Rf8+) (71. Kg6 $1 Ne4+ 72. Kh6 $8 (72. Kh7 $2 Nf6+ $8) 72... Kf4 73. Rf8+) 71... Nf5+ 72. Kh7 $8 (72. Kh5 $2 Ng7+ $8) 72... Kf4 73. Rb8 $1 (73. Rg8 $2 Rh1+ $8 74. Kg6 Ne7+) (73. Rf8 $1) 73... Rg7+ 74. Kh8 Rd7 75. Re8 {There is, still, however, a wide range of good moves} ({However, not this one} 75. Rf8 $2 Kg5 $8 76. Ra8 (76. Rg8+ Kh6 $8) 76... Kg6 $8 77. Rg8+ (77. Rb8 Rh7+ 78. Kg8 Ne7+ {(or ...Nh6+)} 79. Kf8 Rh8+) (77. Ra6+ Nd6 $8 78. Ra8 Rh7+ 79. Kg8 Rg7+ 80. Kf8 Rf7+ $8 81. Kg8 Ne4) 77... Kh6 $8 78. Rg1 Rd8+ $8 79. Rg8 Rd3 $3 {[#]} ( 79... Rd2 $6 80. Rg2 $1 Rd8+ $8) (79... Rd4 $6 80. Rg4 Rd8+ $8) 80. Rg1 (80. Rg4 Rf3 $8 81. Rg1 Rf2 $1 82. Rg2 Rf1 83. Rg1 Rf3 $8 {idem}) 80... Rf3 $8 81. Rg4 (81. Kg8 Ne7+ $8 82. Kh8 Rf8+) 81... Ne7 $8 82. Rh4+ Kg6 $8 (82... Kg5 $2 83. Rh6 $3 {[#]} Ng6+ 84. Kg7 $1 $11) 83. Rg4+ (83. Rh6+ Kf7 $8 84. Rh7+ Kf8 $8 85. Rh1 Ng8 $8 86. Kh7 Kf7 $8 87. Rh2 Rg3 $19) 83... Kf7 84. Rg7+ Kf8 $19) (75. Kg8 Kg5 76. Kf8 Kf6 77. Ke8 $8 (77. Rb6+ $2 Nd6 $8) 77... Ke6 78. Rb1 $1) (75. Rb1 $1 Kg5 76. Rg1+ $1 (76. Rf1 $2 Rd6 $3 77. Kh7 (77. Rg1+ Kf6 $8 78. Rf1 Kg6 $8 79. Rg1+ Kf7 $8) 77... Rh6+ $8 78. Kg8 Rg6+ $8 79. Kh7 Kf6 $8) 76... Kf6 77. Rf1 $8 Rd6 78. Kg8 $1 {(strong defensive formation)} Ra6 79. Rf2 Ra7 80. Rf1 Rg7+ 81. Kf8 $8 Ra7 82. Re1 $1 {[#](in the style of Philidor, but with more success than in R+B / R)}) (75. Rb6 Kg5 76. Kg8 Nd6 77. Rb1 Kf6 78. Rf1+ Nf5 79. Rf2 $11) 75... Kg5 76. Re6 (76. Re1 Kf6 77. Rf1 $8 Ra7 (77... Kg6 78. Rg1+ $8) 78. Kg8 $1 $11) 76... Nd4 77. Re1 (77. Rb6 Re7 (77... Kf5 78. Kg8 Ne6 79. Rb1 $1 Kg6 80. Rg1+ $8 Ng5 81. Kf8 $8 $10) 78. Kg8 Ne6 79. Rb1 $1 Kg6 80. Rg1+ $8 Ng5 81. Kf8 $8 $10) (77. Re5+ $2 {(suicidal)} Kg6 $1 78. Re8 Nf5 $1 79. Re6+ Kf7 $8 80. Re5 (80. Ra6 Rd1) 80... Kf6 81. Re1 Rd3 $3 {(threatens ...Rh3+ then ... Ne7+)} 82. Rh1 Kg6 83. Rg1+ Ng3 $3 {: the tip}) 77... Kf6 78. Rd1 $6 { Forces White, just after, to make a single move.} (78. Rf1+ $1 Nf5 (78... Ke7 79. Kg7 $10) 79. Kg8 $1 {(again this configuration encountered at the 75th & 76th moves)} (79. Rf2 $1 {or on f4}) (79. Rf3 $2 Kg6 $1) 79... Rg7+ 80. Kf8 $8 ( {not at all} 80. Kh8 $2 Rg5 $3 81. Rf2 Kf7 $8 82. Rh2 Rg8+ 83. Kh7 Rg4 $1 84. Kh8 Rf4 $3 {: see below 82nd black move and following, column "f" being here equivalent to the 6th row}) 80... Ra7 81. Re1 $1 $11 {(see above 75 Rb1!)}) (78. Rh1 $1 Nf5 79. Rh6+ $1 {[#]} (79. Rf1 $1)) 78... Rd5 $1 79. Ra1 $2 {The decisive mistake. But you have to know how to refute it, which is not the case for the "world champion".} (79. Rh1 $2 Nf3 $3 {[#]} 80. Rh6+ Kf7 $8 81. Rh7+ Kg6 $8 (81... Kf8 $2 82. Ra7 $10) 82. Rg7+ Kf6 $8 83. Rg4 (83. Rg8 $6 Rh5#) 83... Ng5 $3 84. Rf4+ Kg6 $8 85. Kg8 Ne6 $8 86. Rg4+ Kf6 $8 87. Kh7 Ng5+ $8 88. Kh6 Nf7+ $8 89. Kh7 Rh5+ $8 90. Kg8 Rh8#) (79. Rf1+ $8 {(the only rescue)} Nf5 80. Rf2 $1 ( 80. Kg8 $1) 80... Rd4 {(threatens ...Kg6 Rg2+ ...Kf7)} (80... Kg6 81. Rg2+ $8 Kf7 82. Rf2 $8 Rd8+ 83. Kh7 Kf6 84. Rf1 $1 $10) (80... Kf7 81. Kh7 {(or Rf1 but not Rf3? ...Kg6!)} Kf6 82. Kg8) 81. Kg8 $8 {[#](the studied subject)} (81. Rh2 $2 Kf7 $1 82. Rh1 Rf4 $3 {as already seen in 78th, and developed in 82nd}) 81... Kg6 82. Rg2+ $8 Kf6 83. Rf2 $8 $11) (79. Rd2 $2 Rh5+ $8 80. Kg8 Rg5+ $8 81. Kh7 Nf5 $8 82. Rh2 Kf7 $8 83. Kh8 Rg1 $1 84. Rh7+ Kf8 $8 85. Rh2 Nd6 $8 86. Kh7 Nf7 $1 87. Rg2 Ng5+ $8) 79... Ne6 $8 {[#]Threatens ...Rd8+ then ...Ng5+.} 80. Ra6 (80. Rf1+ Kg6 $8 81. Rg1+ Ng5 $8 $19) 80... Kf7 81. Ra7+ Kg6 $8 82. Ra8 Rd7 $6 {Kasparov does not know exercise 662! He does not think of placing his Rook in the sixth row.} (82... Rd6 $3 {(Centurini 1850)} 83. Kg8 (83. Rg8+ Kf7 $1 84. Rb8 Ng5 $1 85. Rf8+ Kg6 $8 86. Rg8+ Kh6 $8 87. Ra8 Nh7 $8 88. Rb8 Nf6 $8 89. Rf8 Rc6 $1 {Z} 90. Rd8 Rc7) (83. Rb8 Ng5 $1) 83... Ng5 $1 {(the only plan if wR is on b8)} (83... Nc7 $1 {(taking advantage of the Ra8 attack)} 84. Rb8 Nd5 $3 85. Kf8 Rd7 $1) 84. Kf8 Re6 $8 85. Kg8 (85. Ra7 Nh7+ $8) 85... Nh7 $8 86. Rc8 Re7 $1 87. Rc6+ Nf6+ $8) 83. Rb8 (83. Rg8+ Kh6 $8 84. Rc8 Nf4 $1 85. Kg8 Ng6 $8 86. Rc7 Ne7+ $8) 83... Rc7 $6 (83... Rd6 $1) 84. Kg8 Rc5 $6 (84... Rc6 $1) (84... Rd7 85. Kh8 Rd6 $1) 85. Ra8 Rb5 $6 (85... Rc6 $1) (85... Rd5 86. Rb8 Rd6 $1) 86. Kh8 Rb7 $6 (86... Rb6 $1 87. Kg8 Ng5 $1 88. Kf8 Re6 $8 {as already seen on 82nd}) 87. Rc8 Nc7 $6 {The sixth (!) missed opportunity.} (87... Rb6 $1 88. Kg8 ( 88. Ra8 Ng5 $1) (88. Rg8+ Kf7 $1) 88... Ng5 $1 89. Kf8 Re6 $8 {as above} ) 88. Rg8+ Kh6 $8 89. Rg1 $6 {What a shame !} (89. Rf8 $1 {(would have forced the Black player to find the only good plan, which he obviously does not know, even though it dates from the 19th century)} Rb6 $3 {[#]} (89... Nd5 $2 90. Rf6+ $3 {[#]} Kg5 91. Ra6 { ou Tf1}) (89... Kg6 $6 {(waste of time)} 90. Rg8+ Kh6 $8) 90. Kg8 Kg6 $8 91. Rd8 Ne6 $1 92. Re8 Rd6 $1 {Z} 93. Rc8 Ng5 $1 (93... Nc7 94. Kh8 Ne8 $1 95. Rxe8 Kf7 $8) 94. Kf8 Re6 $8 $19) (89. Rc8 $1 {(also forces White to play his Rook on the 6th row)} Ne6 $1 90. Kg8 Kg6 $8 91. Kh8 Rb6 $8 92. Kg8 Ng5 $1 93. Kf8 Re6 $8 $19) 89... Rb8+ $8 (89... Ne6 $2 90. Kg8 $8 Ng5 91. Kf8 $11) 90. Rg8 Ne8 $1 {[#]} (90... Ne8 $1 91. Rf8 Kg6 92. Rg8+ Kf7 $8 93. Rg1 {(idem Kh7)} Nf6+) 0-1 [Event "?"] [Site "?"] [Date "2009.??.??"] [Round "?"] [White "Osintsev, S."] [Black "0406.11"] [Result "1/2-1/2"] [SetUp "1"] [FEN "6R1/1nk1K1pr/8/6P1/8/8/8/1n6 w - - 0 1"] [PlyCount "19"] [EventDate "2009.??.??"] [SourceDate "2000.07.25"] 1. g6 $8 (1. Kf8 $2 Nc5 $1 2. g6 (2. Rxg7+ Nd7+ $8) 2... Rh1 $1 3. Rxg7+ Kd6 $1 4. Rh7 Nd7+ $8 (4... Ne6+ $2 5. Kg8 $8 Rg1 6. g7 $8) 5. Kg8 Rg1 $1 6. g7 Nc3 $1 7. Kf7 (7. Kh8 Nf6 $8) 7... Rf1+ $8 8. Kg6 Ne5+ $1 (8... Nf6 $1 9. Rh8 Ncd5 $8) 9. Kh6 Rg1 10. Rh8 Nf7+ $8 11. Kh7 (11. Kh5 Ne4 $1) 11... Nd5 $1 $19) 1... Rh2 (1... Rh1 2. Rxg7 $8 Nd6 3. Rh7 $3 {[#]} ({and not} 3. Rf7 $2 Re1+ $8 4. Kf6+ Kd8 $8 5. g7 (5. Ra7 Nc3 $1 6. g7 Nd5+) 5... Rg1 $8 6. Ke6 (6. Rf8+ Ne8+ $8) 6... Ne8 $8 7. Rb7 Nxg7+ $8 8. Kf7 Nf5 $1 $19) 3... Re1+ (3... Rg1 4. Kf8+ $8 Kd8 5. g7 $8) 4. Kf6+ $3 (4. Kf8+ $2 Kc6 5. g7 Re8#) 4... Kd8 5. g7 $8 Rg1 (5... Ne8+ 6. Kf7 $1 {(or on g6)} Rf1+ 7. Kg6 $1 Rg1+ 8. Kf7 $8 Nd6+ 9. Kf8 $8 Rf1+ 10. Kg8 Nc3 11. Rh6 $8 Nce4 12. Rxd6+ $1 {(or immédiatly 12 Kh7!)} Nxd6 13. Kh7 $8 Rh1+ 14. Kg6 $8 Rg1+ 15. Kh7 $8 $11) 6. Rh1 $3 {[#]} (6. Ke5 Ne8 7. Rh1 $8 {idem}) 6... Ne8+ 7. Ke5 $1 Rxg7 8. Rxb1 $11) (1... Rh3 2. Rxg7 Nd6 3. Rf7 $3 {: text} ) 2. Rxg7 $8 Nd6 {What is your 3rd move if the black rook is on h2? And if it is on h1 ?} (2... Kc6 3. Rf7 $8 Re2+ (3... Nc3 4. g7 Nd5+ 5. Kf8 $8) 4. Kf6 $8 Nd6 5. g7 $8 Ne8+ 6. Kg6 $8 Rg2+ 7. Kh7 $11) 3. Rf7 $3 {[#]In relation to the continuation 1...Rh1, the good has become bad, the bad has become good} (3. Rh7 $2 Re2+ $8 (3... Rg2 $2 4. Kf8+ $8 Kd8 5. g7 $8 Rf2+ 6. Kg8 Nc3 7. Rh6 $3 {[#]} Nf7 8. Kh7 Nxh6 9. Kxh6 $8 $11) 4. Kf6+ Kd8 $8 {(same move on 4 Kf8+)} 5. g7 Rg2 $8 6. Ke6 (6. Rh1 {(the bR not being in g1, this move has no more compare with the continuation 1...Rh1)} Nc3 $19) (6. Rh8+ Ne8+ $8) (6. Rh2 Ne8+ $8 7. Ke5 Rxg7 $19) 6... Rg6+ $8 7. Ke5 Ne8 $8 8. Kf5 Rg1 $1 $19) 3... Re2+ (3... Nxf7 4. gxf7 $11) 4. Kf6+ $8 Kd8 5. g7 $8 Rg2 6. Ke6 $8 Ne8 (6... Rg6+ 7. Rf6 $8) 7. Rb7 $3 {[#]Nb1 is not protected: it was in the continuation 1...Rh1.} Nxg7+ (7... Nc3 8. Rb8+ $8 Kc7 9. Rxe8 $8 $11) 8. Kf7 $8 Nc3 (8... Rg1 9. Rb8+ $1 Kd7 10. Rg8 $8) 9. Rb8+ $8 Kd7 10. Rg8 $8 1/2-1/2 [Event "USSR (ch) "] [Site "?"] [Date "1983.??.??"] [Round "?"] [White "Karpov, A."] [Black "Youssoupov, A."] [Result "1-0"] [ECO "C82"] [PlyCount "87"] [EventDate "1983.??.??"] [SourceDate "2000.07.25"] {35/427} 1. e4 e5 2. Nf3 Nc6 3. Bb5 a6 4. Ba4 Nf6 5. O-O Nxe4 6. d4 b5 7. Bb3 d5 8. dxe5 Be6 9. c3 (9. Nbd2) 9... Bc5 10. Nbd2 O-O 11. Bc2 Bf5 (11... f5) 12. Nb3 Bg6 13. Nfd4 Bxd4 14. cxd4 (14. Nxd4 Qd7 $1) 14... a5 15. Be3 (15. f3 a4 $1 ) 15... a4 (15... Nb4 16. Bb1 a4 17. Nd2 a3 18. Qc1 {(Karpov,A (2540)-Savon,V (2570)/Moscow 1971)} axb2 (18... c5 19. dxc5 Nc6 20. b4 Ra4) 19. Qxb2 Ra4 20. Nb3 (20. Rd1 Qd7 21. Nb3) 20... Na6 (20... Qe7 21. Rc1) 21. f3 Ng5 22. Bxg6 hxg6 23. Qe2 c6 24. Rfc1 Nb8 (24... Rc4 25. a4 $1 bxa4 {(...Txa4 Txc6)} 26. Rxc4 dxc4 27. Nc1 $16) (24... Ne6 25. Rxc6) 25. Nc5 Rc4 (25... Ra3 26. Bf2) 26. Qd2 Ne6 27. Nxe6 fxe6 28. a4 $16) 16. Nd2 (16. Nc1 a3 17. b3 (17. Rb1 f6 18. f3 fxe5 19. fxe4 Rxf1+ 20. Qxf1 exd4 21. Bd2 Ne5 22. Bf4 Nc4 23. b3 Nb2 24. Nd3 dxe4 25. Nxb2 axb2 26. Rxb2 Qf6 27. Bb1 e3 $11 {Unzicker,W-Korchnoi,V/ Beer-Sheva 37/364 1984}) (17. bxa3 Rxa3 18. Bb3 Nc3 19. Qd2 b4 20. Nd3 Bxd3 { (...Nxa2 Nc5! Ljubojevic,L-Timman,J/Bugojno 37/365 1984)} 21. Qxd3 Na5 22. Bc2 Qh4 23. Bc1 Rxa2 24. Rxa2 Nxa2 25. Bg5 {(Short,N (2630)-Jussupow,A (2620)/ Belfort 45/(388) 1988)} Qe4 $8 26. Qd2 Nc4 $8 27. Qd1 Nc3 28. Bxe4 Nxd1 29. Bxd5 Ncb2 30. e6) 17... f6 18. exf6 (18. Nd3 fxe5 19. Nxe5 Nxe5 20. Bxe4 dxe4 21. dxe5 Qxd1 22. Rfxd1 Rfd8 23. h3 Bf7 24. Rxd8+ Rxd8 25. Rc1 Rc8 26. Bc5 Bd5 27. Kf1 c6 {Ivanchuk,V (2700)-Timman,J (2635)/Riga 63/(299) 1995}) 18... Qxf6 19. Ne2 Nb4 (19... Qe7 20. Rc1 Nb4 21. Bb1 Rae8 22. Nc3 Nxc3 23. Rxc3 Bxb1 24. Qxb1 c6 25. Bc1 Qe1 26. Re3 Rxe3 27. Bxe3 Qxb1 28. Rxb1 Re8 {Speelman,J (2615) -Timman,J (2635)/London (m/4) 48/455 1989}) 20. Bb1 Qe7 21. Qe1 (21. Re1 Nxf2 22. Bxf2 Bxb1 23. Rxb1 Rxf2 24. Kxf2 Rf8+ 25. Nf4 Rxf4+ 26. Kg1 Re4 27. Qd2 Nd3 28. Rf1 Rxd4 29. Rf3 Nf4 30. Qf2 g5 31. Re3 Re4 32. Rxe4 dxe4 33. Qe3 Nd3 34. Rf1 Qe5 35. Kh1 Kg7 36. h4 g4 37. g3 h6 {1/2-1/2 Short,N (2695)-Timman,J (2590) /Yerevan (ol) 67/434 1996}) 21... Rfe8 22. Nf4 Bf7 23. Qc1 c5 $1 {Karpov, A-Kortschnoj,V 6th of the match, Merano 1981}) 16... a3 (16... f6 17. exf6 Qxf6 18. Rc1 Rae8 (18... Qd6 19. f3 Nxd2 20. Qxd2 Na5 21. Bxg6 Qxg6 22. Qc2 Nc4 23. Bf2 Qg5 24. h4 Qf4 25. Rfe1 Ra7 26. b3 axb3 27. axb3 Nd6 28. Qc5 $18 {Quesada Perez,Y (2584)-Milos,G (2589)/Mendes 2009}) 19. Nxe4 Bxe4 20. Bxe4 Rxe4 $11 21. Qd3 Kh8 $6 (21... Nxd4 $1 22. f3 Rh4 23. g3 $4 {(f4 ...Cf5! ou Ff2 ...Tf4)} Nxf3+ $1 24. Rxf3 Qxf3 25. gxh4 Rf4 $3 $19 {[#]}) (21... Qe6 $1) 22. f3 Re6 23. Bf2 Qf4 (23... b4) 24. Rfd1 Rb8 (24... Nb4 25. Qxb5 Rb6 26. Qd7) (24... b4 25. Qb5 Qd6 26. Qxa4) 25. Rc5 Nb4 $2 (25... Qg5 26. Rxb5 Rf8 27. Rb7) 26. Rxb5 c6 $2 27. Qf5 $1 {1-0 Carlsen,M (2698)-Fressinet,L (2640)/Cap d'Agde 2006}) 17. Nxe4 (17. b3 $4 Nc3 $1 $19) 17... axb2 18. Rb1 Bxe4 (18... dxe4 19. Rxb2 Qd5 (19... Ne7 20. Rxb5 Rxa2 21. Qb1 Qa8 22. Rc1 {AK}) 20. a4 bxa4 21. Bxa4 Rfb8 22. Bb3 Qd7 23. Qb1 h6 24. Rc1 $14) 19. Rxb2 $14 Qd7 20. Bd3 $1 {Hübner.[#]} (20. Bxe4 dxe4 21. Rxb5 Nxd4 22. Rc5 Rfd8 $11 23. Bxd4 Qxd4 24. Qxd4 Rxd4 25. Rxc7 h6 26. Rc2 Re8 27. Rc5 Ra8 28. Rc2 {1/2-1/2 Polgar,J (2630)-Anand,V (2715)/Monte Carlo 1995}) 20... Bxd3 (20... b4 21. Bb5 Rfb8 22. Rxb4 $16 {AK} Rxa2 $4 23. Bxc6 $18) 21. Qxd3 Rfb8 (21... b4 22. Bd2 Rfb8 23. Rfb1 Qg4 24. Be3 Rb6 25. h3 Qc8 26. Rc1 (26. Rc2 $2 b3 $1 27. Rxb3 Nb4 $15 {1/2-1/2 Huebner,R-Korchnoi,V/ Luzern (ol) 34/408 1982}) 26... Ra3 27. Qb1 $11) 22. Rfb1 (22. Rxb5 Rxb5 23. Qxb5 Nxe5 24. Qb7 Qc6 25. Qxc6 Nxc6 26. Rc1 Ra6 $11 {AK}) 22... b4 23. h3 $146 {Avoiding the liquidation of the Queenside.} (23. a3 bxa3 (23... f6) 24. Rxb8+ Rxb8 25. Rxb8+ Nxb8 26. Qxa3 Qc6 27. g4 (27. Qe7 Qd7 $8 28. Qa3 {= 34/(408)}) 27... h6 (27... Nd7) 28. f4 Nd7 29. f5 Nb6 30. Bf2 {(Hübner)} Nc4 31. Qa2 h5 $3 {[#]} 32. h3 (32. gxh5 Qh6) 32... hxg4 33. hxg4 Qd7 (33... g6 34. f6 Qe6 35. Qe2 Nd6 $1) (33... Qb7) 34. Qa8+ Kh7 35. Qf8 Qa4 $1 36. Qxf7 Qd1+ 37. Kh2 Qxg4 38. f6 Nd2 $11) 23... h6 (23... Ra3 $4 24. Qxa3 bxa3 25. Rxb8+ Nd8 26. Bg5 f6 27. e6 Qd6 28. Bf4 $18) (23... Rb6 $1 24. Qc2 Rab8 25. Rc1 R8b7 26. Qc5 {1/2-1/2 Popovic, P-Jussupow,A/Sarajevo 37/(363) 1984}) 24. Rc1 Rb6 (24... Na5 25. Qb1 $14 Nc4 ( 25... Nc6 26. Rbc2 Rb6 27. Rc5) 26. Rxb4 Rxb4 27. Qxb4 Qe8 (27... Rxa2 $4 28. Qb8+ Kh7 29. Qb1+ {AK}) 28. Rc2) 25. Qb1 Rab8 {Threatens ...Na5.} (25... Ra7 26. Rc5 Ra4 (26... Na5 $2 27. Rxb4 Nc4 28. Rb3 Rab7 29. Kh2 c6 30. Ra5 Qc8 31. Ra4 Qb8 32. Rxb6 Rxb6 33. Qf5 Qb7 34. Bc1 Rb5 {(Popovic,P-Timman,J/Sarajevo 1984 37/363)} 35. e6 $1 fxe6 36. Qxe6+ Kh7 37. Qf5+ g6 38. Qf8 $18) 27. Qc2 Rba6 $11 ) (25... Ra4 26. Qc2 Rba6) (25... Rba6 26. Rc5 (26. Bd2 Nxd4 27. Bxb4 Rg6) 26... Ra5) 26. Rc5 (26. Rbc2 R8b7 27. Rc5 Nd8) 26... Nd8 27. Rcc2 $1 Nc6 (27... Ne6 28. f4 $16 {AK}) 28. Qc1 R8b7 29. Rc5 Ne7 30. Kh2 {[/\ g4]} Nf5 $6 { Overestimating the danger, Black gives a pawn for an insufficient initiative.} (30... Rb5 {(+/= according to AK)} 31. a4 {(Qc2 ... R5b6 or ...Rxc5)} ( 31. Rxb5 Rxb5 (31... Qxb5 32. Bd2 Qc4 33. Qxc4 dxc4 34. Rxb4 Rxb4 35. Bxb4 Nd5 36. Bd2) 32. Qb1 Qf5 33. Qf1 Rb6 34. Qc1 Qd7) 31... Rxc5 (31... bxa3 $2 32. Rbxb5 Rxb5 33. Rxc7 Qd8 34. Qc3 $3 {[#](Ra7? ...Ra5! or Rc3 ...a2 Ra3 ...Ra5=)} Qa8 {(...Rb8 Ra7+/-)} 35. Rxe7 $1 a2 36. Bxh6 $3 {(e6 ...fxe6 allow ...Rb7)} Rb6 {(...a1Q Qg3 ...g6 Qf4 or ...Rb7 Qg3)} 37. Qf3 Qf8 38. Ra7 $18) (31... R5b6 $1 32. a5 Ra6 {(or on c6)} 33. Bd2 Nc6) 32. Qxc5 Nc6 (32... b3 33. Qa3 Ra7 34. a5 Nc6 35. a6 Nb8 36. Rxb3 Nxa6 37. Bxh6 $3 gxh6 38. Rg3+ Kh7 39. Qf8 $18) 33. Rb3 $1 (33. Bd2 Ra7 34. Rxb4 Ra8 $1 35. Rb5 Rxa4) 33... Nb8 (33... Ra7 $2 34. Rxb4 Ra8 35. Rb5 $1 Rxa4 36. Qxd5 $16) (33... f5 $6 34. exf6 Qd6+ 35. Qxd6 cxd6 36. fxg7 Na5 37. Rb1 b3 {(...Kxg7 Bd2)} 38. Bxh6) 34. Bxh6 (34. Rxb4 $2 Na6) 34... Qc6 $3 {[#](spiritual response to the 34 Qc3!! above)} (34... gxh6 $2 35. Rg3+) 35. Qe7 (35. Bd2 Qxc5 {(...Qxa4? Qxd5)} 36. dxc5 Nc6 37. a5 {(f4 ...Ra7! Bxb4? ...Rb7!)} Nxa5 38. Rxb4 Rxb4 39. Bxb4 Nc6 $11 40. Bc3 $6 d4 $1) 35... Qxh6 36. Qe8+ (36. Rf3 Qe6 37. Qd8+ Kh7 38. Rf4 Nc6 $8 39. Rh4+ $8 Kg6 40. Qh8 Nxe5 $8 $11) 36... Kh7 37. Qxf7 Qg6 38. Qxd5 Qc6 39. Qf7 Qd7 40. Qf3 Nc6 41. d5 Ne7 (41... Nxe5 $2 42. Qh5+) 42. Qe4+ (42. Qh5+ Kg8 43. e6 Qd6+ $8 44. Kh1 Qf4 $11) 42... Kg8 $11) (30... c6 {(+/= according to AK)} 31. Qb1 Ra6 32. Rxb4 Rxb4 33. Qxb4 Rxa2 34. Qb8+ Nc8 35. Rc1 (35. g4 Ra7 36. Kg2 Rb7 37. Qa8) 35... Ra5 36. g4 Kh7 37. Kg2 Na7 (37... Rb5 38. Qa8) 38. Qb1+ Kg8 39. Qb6 Rb5 40. Qa6 Rb8 41. Qa3 $14) (30... Ra7 $11) (30... Ra6 $11) 31. Rbc2 $16 (31. g4 Nxe3 32. Qxe3 Ra6 ) 31... Rg6 (31... Nxe3 32. fxe3 b3 (32... Rg6 33. Rxc7 Rxc7 34. Rxc7 Qf5 35. Qd2 $16) 33. axb3 Rxb3 34. Rxc7 Rxc7 35. Rxc7 Qf5 36. Ra7 {(pour Ta3)} (36. Rc3 Rb1) 36... Rb1 37. Qc6 Qf2 $1 (37... Rf1 38. Qa8+ Kh7 39. Ra1 Rxa1 40. Qxa1 Qd3 41. Qe1 $16) 38. Qe8+ Kh7 39. Qxf7 Qg1+ 40. Kg3 Qxe3+ 41. Qf3 Rb3 42. Qxe3 Rxe3+ 43. Kf4 Re4+ 44. Kf5 Rxd4 45. e6 Re4 46. Rd7 $16) 32. Rxc7 Rxc7 33. Rxc7 Qb5 {Threatens ...Qe2 with idea Rc2 Rxg2+!.} 34. g4 $1 {[#]} (34. Qc2 $2 Qf1 $1 {AK} 35. g4 Nxe3 36. Rc8+ Kh7 37. fxe3 Qf3 $11) (34. Rc2 Qd3 (34... Nh4 35. g4)) 34... Nh4 (34... Nxe3 35. Rc8+ $1 (35. Qxe3 {AK} Rc6 36. Rxc6 Qxc6 37. a3) 35... Kh7 36. Qxe3 Rc6 37. Rf8 $1 Rc7 38. e6 $1 fxe6 39. Qxe6 Qd7 40. Qg8+ Kg6 41. Rd8 $18) 35. Rc8+ $1 (35. Qc5 $1 Qxc5 (35... Qf1 36. Qxd5) (35... Nf3+ 36. Kg3) 36. Rxc5 Ra6 37. Rxd5 Rxa2 38. Rb5 Ra1 39. Rxb4 g5 40. Rb6 Kg7 41. e6 Nf3+ 42. Kg3 Nh4 {(threatens mat in 2)} 43. f4 $1 Ra3 44. fxg5 hxg5 45. Kf2 Ra2+ 46. Kf1 fxe6 47. Rxe6 Nf3 48. Rc6 $1 $16) (35. Ra7 Rc6) 35... Kh7 36. Qd1 $1 (36. Rd8 $1 {(not considered by AK)} Rc6 (36... Qc4 37. Qxc4 dxc4 38. Rb8) 37. Qb1+ g6 (37... Ng6 38. Qf5 $1 $18) 38. Kg3 $6 ({better} 38. Qh1 $1 Rc2 39. Qxd5 Qxd5 40. Rxd5 Rxa2 41. Rb5 g5 42. Rxb4 Ra1 43. Rb7 {as in 35 Qc5!}) 38... Rc3 $1 39. Rd6 $1 (39. Kxh4 Rxe3 40. fxe3 Qe2 $3 $11 {[#]} 41. Qg1 Qf3 $8 42. g5 $8 Qh5+ $8 43. Kg3 Qxg5+) 39... Qe2 $1 (39... Rxe3+ 40. fxe3 Qe2 41. Rf6 $3) 40. Rf6 Nf5+ $1 (40... Rxe3+ $6 41. fxe3 Qg2+ $2 42. Kxh4 {(g6 pawn is pinned !) } Kg7 43. Qf1 $3 g5+ 44. Kh5 $18) 41. Rxf5 gxf5 42. Qxf5+ Kg8 43. e6 $1 Rxe3+ ( 43... fxe6 $6 44. Qxe6+ Kg7 45. Qxh6+) 44. fxe3 Qxe3+ 45. Kh4 fxe6 46. Qf6 Kh7 47. Qf7+ Kh8 48. Qg6 Qxd4 49. Qxh6+ Kg8 50. Qxe6+ Kf8 51. Kh5 $16) 36... Qa6 ( 36... f5 37. Kg3 $1 fxg4 38. Kxh4 gxh3 39. Qb1 $1 h2 40. Rc1 Qd7 41. f3 $16) ( 36... Qd7 37. Qc2 h5 (37... Nf3+ 38. Kg3 Ne1 39. Rc7) 38. Rc7 Qe6 39. g5 f6 40. Qe2) 37. Rc2 $1 {[/\ Bf4-g3]} (37. Rc7 $1 f6 (37... Qxa2 38. Rxf7 Qa6 39. Qb1 Qe6 40. Rf8 Qe7 41. Rb8 $18) 38. Bf4 fxe5 (38... Qb6 39. Rc5 fxe5 40. Bxe5) 39. Bg3 $1 (39. Bxe5 Qxa2) 39... Qb6 40. Bxe5 Qa6 41. Qc2 Nf3+ 42. Kg3 $8 Nxe5 43. dxe5 h5 44. Qf5 hxg4 45. hxg4 Qe6 46. Kh4 $18) 37... f5 (37... Qa3 38. Rc7 $1 ( 38. Qe2 f5 (38... b3 39. axb3 Qxb3 40. Rc7 $16 {AK}) 39. Kg3 (39. f4 {(Rb2!)} Ra6 40. Bf2) 39... fxg4 40. hxg4 (40. Kxh4 b3) 40... Nf5+ 41. Kh2 Nxe3 42. fxe3 $16) 38... Kg8 (38... f6 39. e6 $18) 39. Qb3 {followed soon by Rb7xb4}) (37... Qa4 38. Qb1 $1 {(threatens Rc7)} Qd7 39. Rb2) (37... Qa7 38. f4 $1 (38. Bf4 $2 Qxd4 $1) 38... Ra6 39. Qb1) 38. Kg3 $3 {[#]"Settling the case of the Knight with great phlegm". (AK).} (38. gxf5 $2 Nxf5 $11) (38. f4 $1 Qa3 39. Qe2 b3 40. axb3 Rb6 41. Bc1 $1 Qxb3 42. Rb2) 38... fxg4 (38... f4+ 39. Bxf4 (39. Kxh4 fxe3 40. fxe3) 39... Nf5+ 40. Kh2 Ne7 41. Be3 $18) 39. Kxh4 gxh3 40. f4 $1 (40. Kxh3 $1 {(dangerous, but finally winning)} Qe6+ 41. Kh2 Qf5 {(/\ Qe4 AK)} 42. Rc1 $3 {[#]( (better than "aggressive" moves)} (42. Rc7 {(Rc5? ...Qe4! Qf1 ... Rg4!)} Kg8 $1 (42... Qe4 $2 43. Qf1 $8 Rg4 44. f3 $8 Rh4+ 45. Kg3 $8 Qxe3 46. Kxh4 Qxd4+ 47. f4 $18) 43. e6 Qe4 44. Qf1 Qxe6) 42... Qe4 43. Qf1 $8 Rg4 44. f3 $8 Rh4+ 45. Kg3 $8 Qxe3 46. Kxh4 Qg5+ (46... Qxd4+ 47. f4) 47. Kh3 Qh5+ 48. Kg3 Qg5+ 49. Kf2 Qd2+ 50. Qe2 $8 Qxc1 51. e6 $8 Qc6 52. e7 Qe8 53. Qe6 g6 54. f4 h5 55. Kg3 Kh6 56. Kh4 $18) 40... Qe6 {"The following white move is intended to to prevent ...h5" (AK). However, it is not a threat because of f5! ... Qxf5 Qxh5+ ...Rh6 Bxh6. Instead, the threat is ...Qf5! followed by ...h5!.} 41. Qh5 $3 {[#]Sometimes it is appropriate to use a whole Queen to block a pawn.} (41. Rf2 $2 {(threatens f5 but...)} h2 $1 42. Rxh2 (42. f5 $4 Rg1 $3 43. Rxh2 Qe7+ $8 44. f6 g5+ $3) 42... Qe7+ 43. Kh3 Qe6+ 44. Kh4 $11) 41... Qe7+ 42. Kxh3 Qf7 $1 {[/\ Rg3]} 43. Rh2 $3 {[#]Defends the white Queen by anticipation.} (43. Kh4 $6 Qe7+ 44. Kh3 Qf7 45. Rh2 $8) (43. Qe2 $2 Qf5+ $8 44. Kh4 Qe4 $1 (44... h5 45. Bf2 $1 Qxf4+ 46. Kh3 Qf5+ 47. Kh2 h4 $1 48. Bxh4 Qf4+ 49. Kh3 $11) 45. Rd2 $1 (45. Rb2 $2 h5 $1) 45... Qh1+ (45... h5 $2 46. Rd1) 46. Qh2 Qe1+ 47. Qf2 $11) 43... Qd7+ (43... Rg3+ 44. Kxg3 $8 Qxh5 45. Rxh5 {all simply}) 44. f5 1-0 [Event "2#"] [Site "?"] [Date "1950.??.??"] [Round "?"] [White "Musante, H."] [Black "4885.25"] [Result "1-0"] [SetUp "1"] [FEN "6R1/p2K4/1p2P2B/4pN2/2n1R2P/QN1b1k1B/5pp1/3rbrq1 w - - 0 1"] [PlyCount "1"] [EventDate "1950.??.??"] [SourceDate "2000.07.25"] 1. -- 1-0 [Event "2#"] [Site "?"] [Date "1969.??.??"] [Round "?"] [White "Migliarino, M."] [Black "1553.33"] [Result "1-0"] [SetUp "1"] [FEN "2b1r3/6p1/3B4/7P/2P1kP2/2R1p2p/1KR5/nB4Q1 w - - 0 1"] [PlyCount "1"] [EventDate "1969.??.??"] [SourceDate "2000.07.25"] 1. -- 1-0 [Event "2#"] [Site "?"] [Date "2013.??.??"] [Round "?"] [White "Neptaev, N & Stepochkin A"] [Black "4887.16"] [Result "1-0"] [SetUp "1"] [FEN "K2N1n2/b1B1p3/2Q1p3/7p/Rn1kb1Rr/2p1pP2/1r1pB3/1q6 w - - 0 1"] [PlyCount "1"] [EventDate "2013.??.??"] [SourceDate "2000.07.25"] 1. -- 1-0 [Event "2#"] [Site "?"] [Date "1891.??.??"] [Round "?"] [White "Greenway, NH."] [Black "4857.72"] [Result "1-0"] [SetUp "1"] [FEN "3b2q1/1Kp1n3/nPR2B2/1PPkPP1R/1r1p3r/1P1N1P2/B5Q1/8 w - - 0 1"] [PlyCount "1"] [EventDate "1891.??.??"] [SourceDate "2000.07.25"] 1. -- 1-0 [Event "2#"] [Site "?"] [Date "1933.??.??"] [Round "?"] [White "Brenev, G."] [Black "4225.33"] [Result "1-0"] [SetUp "1"] [FEN "8/3N4/3P1B1K/1Qp2kP1/R3nN2/1p2p2P/2q5/1B3R2 w - - 0 1"] [PlyCount "1"] [EventDate "1933.??.??"] [SourceDate "2000.07.25"] 1. -- 1-0 [Event "2#"] [Site "?"] [Date "1961.??.??"] [Round "?"] [White "Ekestubbe, G."] [Black "4028.12"] [Result "1-0"] [SetUp "1"] [FEN "8/1n5q/4p3/np1kN3/4NP2/Q2K1B2/8/6B1 w - - 0 1"] [PlyCount "1"] [EventDate "1961.??.??"] [SourceDate "2000.07.25"] 1. -- 1-0 [Event "2#"] [Site "?"] [Date "1950.??.??"] [Round "?"] [White "Zaldo, J."] [Black "1548.35"] [Result "1-0"] [SetUp "1"] [FEN "4R3/p1K5/3p1P2/n2kp3/NR1Nprb1/4p2B/P3P3/1Q1n4 w - - 0 1"] [PlyCount "1"] [EventDate "1950.??.??"] [SourceDate "2000.07.25"] 1. -- 1-0 [Event "2#"] [Site "?"] [Date "1928.??.??"] [Round "?"] [White "Van Dijk, J."] [Black "4184.43"] [Result "1-0"] [SetUp "1"] [FEN "B7/1R1p4/8/7Q/1b1pk3/pb4P1/qNPn1PP1/2B4K w - - 0 1"] [PlyCount "1"] [EventDate "1928.??.??"] [SourceDate "2000.07.25"] 1. -- 1-0 [Event "2#"] [Site "?"] [Date "2008.??.??"] [Round "?"] [White "Murashov, P."] [Black "1545.25"] [Result "1-0"] [SetUp "1"] [FEN "8/1N2p2b/1p5Q/3npp2/4k1P1/rp5R/PB3R2/4K2N w - - 0 1"] [PlyCount "1"] [EventDate "2008.??.??"] [SourceDate "2000.07.25"] 1. -- 1-0 [Event "2#"] [Site "?"] [Date "1960.??.??"] [Round "?"] [White "Ten Cate, P."] [Black "1448.44"] [Result "1-0"] [SetUp "1"] [FEN "8/2p5/2BP1p2/K1PRb1P1/4k1P1/2pp1rnN/6Q1/3N1n2 w - - 0 1"] [PlyCount "1"] [EventDate "1960.??.??"] [SourceDate "2000.07.25"] 1. -- 1-0 [Event "2#"] [Site "?"] [Date "1961.??.??"] [Round "?"] [White "Ekestubbe, G."] [Black "1588.13"] [Result "1-0"] [SetUp "1"] [FEN "8/BR1p2QR/P1k4r/1N4p1/2n5/4Np1b/2n4b/2K2B2 w - - 0 1"] [PlyCount "1"] [EventDate "1961.??.??"] [SourceDate "2000.07.25"] 1. -- 1-0 [Event "3#"] [Site "?"] [Date "1908.??.??"] [Round "?"] [White "Geary, W."] [Black "1110.01"] [Result "1-0"] [SetUp "1"] [FEN "8/1K6/8/8/4kpR1/Q7/1B6/8 w - - 0 1"] [PlyCount "1"] [EventDate "1908.??.??"] [SourceDate "2000.07.25"] 1. -- 1-0 [Event "3#"] [Site "?"] [Date "1911.??.??"] [Round "?"] [White "Wood, WJ."] [Black "0230.10"] [Result "1-0"] [SetUp "1"] [FEN "8/8/8/1R6/2P5/K2b1R2/8/k7 w - - 0 1"] [PlyCount "1"] [EventDate "1911.??.??"] [SourceDate "2000.07.25"] 1. -- 1-0 [Event "3#"] [Site "?"] [Date "2014.??.??"] [Round "?"] [White "Kutzborski, D."] [Black "1878.46"] [Result "1-0"] [SetUp "1"] [FEN "br6/N1R1p2p/B3P3/p2p3K/NpnknQ1R/2p5/1PP1P3/1r4b1 w - - 0 1"] [PlyCount "1"] [EventDate "2014.??.??"] [SourceDate "2000.07.25"] 1. -- 1-0 [Event "3#"] [Site "?"] [Date "1981.??.??"] [Round "?"] [White "Miltner, V."] [Black "1628.08"] [Result "1-0"] [SetUp "1"] [FEN "6BK/p7/1p1N4/4kN1p/1Qp3pB/3p1p2/1prn4/1r1n4 w - - 0 1"] [PlyCount "1"] [EventDate "1981.??.??"] [SourceDate "2000.07.25"] 1. -- 1-0 [Event "4#"] [Site "?"] [Date "2016.??.??"] [Round "?"] [White "Kuzovkov, A."] [Black "3788.36"] [Result "1-0"] [SetUp "1"] [FEN "nb3B1n/r3P2b/1P3R2/2p3pr/q1p1kNP1/2pp1N2/2p2KB1/8 w - - 0 1"] [PlyCount "1"] [EventDate "2016.??.??"] [SourceDate "2000.07.25"] 1. -- 1-0 [Event "4#"] [Site "?"] [Date "1920.??.??"] [Round "?"] [White "Halliwell, E."] [Black "1130.11"] [Result "1-0"] [SetUp "1"] [FEN "7K/8/8/8/8/8/3pP3/3kb1RQ w - - 0 1"] [PlyCount "1"] [EventDate "1920.??.??"] [SourceDate "2000.07.25"] 1. -- 1-0 [Event "4# "] [Site "?"] [Date "1964.??.??"] [Round "?"] [White "Wermelinger, C."] [Black "0131.12"] [Result "1-0"] [SetUp "1"] [FEN "R7/8/8/8/p7/P4N2/5p2/b4K1k w - - 0 1"] [PlyCount "1"] [EventDate "1964.??.??"] [SourceDate "2000.07.25"] 1. -- 1-0 [Event "11#"] [Site "?"] [Date "1987.??.??"] [Round "?"] [White "Baer, W."] [Black "3787.07"] [Result "1-0"] [SetUp "1"] [FEN "2b4b/r5rq/p3p1np/8/7B/2pN1p1p/k1B3pK/1R4n1 w - - 0 1"] [PlyCount "21"] [EventDate "1987.??.??"] [SourceDate "2000.07.25"] 1. Rb4 $1 (1. Rb3 $2 Rgb7) (1. Nc1+ $2 Ka3 2. Bf2 Rgc7 $1) 1... Bd7 2. Nc1+ Ka3 3. Rb3+ Ka4 4. Rb1+ Ka3 5. Bf2 $1 {Rg7 can no longer operate.} Rc7 (5... Rb7 $2 6. Bc5+) 6. Nd3 $1 Ka2 7. Rb3 $1 Rb7 8. Nc1+ Ka1 9. Ra3+ Kb2 10. Ra2+ Kxc1 11. Be3# $1 1-0 [Event "h#2 2 sol b) Bh2 on d8"] [Site "?"] [Date "2014.??.??"] [Round "?"] [White "Onkoud, A."] [Black "3870.22"] [Result "1-0"] [SetUp "1"] [FEN "5R2/8/3p1b2/5k1P/r4rp1/5R2/1q2P2B/1b2K3 b - - 0 1"] [PlyCount "1"] [EventDate "2014.??.??"] [SourceDate "2000.07.25"] 1... -- 1-0 [Event "h#3 with Set Play"] [Site "?"] [Date "1956.??.??"] [Round "?"] [White "Scotti, L."] [Black "0435.24"] [Result "1-0"] [SetUp "1"] [FEN "K7/R4Npp/rp3bkN/pP4n1/P7/8/8/8 w - - 0 1"] [PlyCount "1"] [EventDate "1956.??.??"] [SourceDate "2000.07.25"] 1. -- 1-0 [Event "h#6,5"] [Site "?"] [Date "2014.??.??"] [Round "?"] [White "Abdurahmanovic, F."] [Black "0073.02"] [Result "1-0"] [SetUp "1"] [FEN "6Bk/1p5n/8/8/3b4/1K6/1p6/5b2 w - - 0 1"] [PlyCount "1"] [EventDate "2014.??.??"] [SourceDate "2000.07.25"] 1. -- 1-0 [Event "h#7,5 2 sol"] [Site "?"] [Date "2014.??.??"] [Round "?"] [White "Babic, M."] [Black "0360.12"] [Result "1-0"] [SetUp "1"] [FEN "5b2/8/4K3/5p2/3p4/3k4/p2P4/1b5r w - - 0 1"] [PlyCount "1"] [EventDate "2014.??.??"] [SourceDate "2000.07.25"] 1. -- 1-0 [Event "s#5"] [Site "?"] [Date "2017.??.??"] [Round "?"] [White "Satkus, Vid"] [Black "1020.02"] [Result "0-1"] [SetUp "1"] [FEN "8/8/2Q5/4pk1B/8/8/5p2/2B2K2 w - - 0 1"] [PlyCount "1"] [EventDate "2017.??.??"] [SourceDate "2000.07.25"] 1. -- 0-1