greffier's word
---
New record for the number of listeners with the arrival of Antoni in addition to Eric and the hard core...
A bit of enchantment for this course to make up for the lack of the last session.
I leave the Master for his traditional (and always remarkable) report
Master's words
---
Erratum: my formulation of "ancestor of the Babson", concerning Pauly's problem of 1913, is unfortunate. I was obviously thinking of Leonid Jarosch's superb finds in the direct mate, in 1983, realising Pierre Drumare's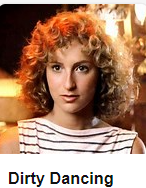 dream (his 1980 Bab would be the first if the position were not illegal). But as it is a selfmate, the first complete Babson dating from 1926 (H. Bettmann), it would be more like a daddy, or even a big brother!
The "duty" for today came down to a curious R + P / N struggle where the White King is a little far from the theatre of operations. In order to get closer to it, he must paradoxically stand in the corner. Like a young dancer in a successful film from 30 years ago.
We follow this with an improved analysis of a suggestion to restart a draw. It doesn't win any more, but it is always good to put your opponent under pressure. If he has three cancelling moves, he is able to play... a fourth one, which does not lose in itself but forces him to a tighter defence. And, who knows, push him to a fault.
Then a study of a former, and probably future, world composition champion. A regular on our course, whose last visit was earlier this year. Observe carefully the path of the Knight, initially in d8.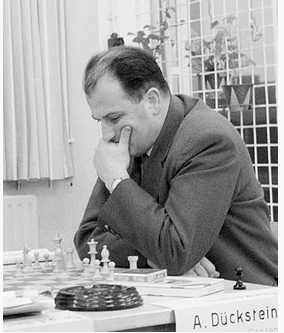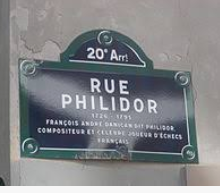 Two little (easy) twins to look for in the next class. The trial of one is the solution of the other, and vice versa, as it should be.
A brilliant attack on a renowned theorist. To think that the winner was not even a grandmaster... But no, I won't say anything bad, for once, about our current grozélos. And I won't talk about the yawning contest caused by the 2016 "Candidates' Tournament". I'll just relive the 1959 tournament in Slovenia, Croatia and Serbia.
You will say to me, "Objection, your honour, at least the penultimate round woke you up, didn't it?". Indeed, unless it was a nightmare. A multiple Russian champion agrees to defend a T + F against T, when he could easily avoid it. So we assume he knows it well. Not at all, he plays like a monkey typist.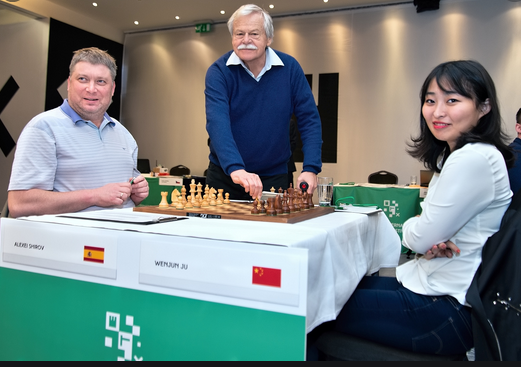 His opponent is in Philidor's gain. It is then that this player, a gifted of the 21st century (or pretended to be) shows the world that he was unable to understand an analysis dating from the 18th century... I quote: "I have studied this position of Philidor many times, but I never remember what to do".
Game of the day: many times we have observed the curious, and unexpected, homage of analytical engines to the geniuses of the human species. But modest humans, too, dream of burning their bridges, setting off the turmoil first. It becomes a firefight. What is it? What are you saying? They don't play like that anymore? I didn't dare say it.
Three 2# for practice. In the 2nd, we would have another mate in 2 by placing the white king on d7. The first 3# is from an Alsatian often represented in our class. Like our Russian-Ukrainian tandem (last minute: the Ukrainian part of this tandem has unfortunately just passed away at the age of 78; peace be with him). The last one is a little promotion party. Our 4# are, for once, exclusively French, with a curious feature: their 4 names start with a "g".
The helpmate 2# has quadruplets of the "Forsberg" type: we change the nature of the figure to b5. To which answers... but let's not reveal anything. Two amusing 3# helpmates: in the second, there is an "apparent play" (we would say nowadays "2.5# helpmate").
pinning and un-pinning in the 2# selfmate, then again some promotion stories. Finally, a superb 7# selfmate with just one black pawn, which has just been donated to the Slovakian Championship. You can quickly see the mate boards of each twin, but it takes a little time to force them. Look for it, you won't regret it. Note: (b) is easier than (a).
Master's diagrams
[Event "?"] [Site "?"] [Date "1989.??.??"] [Round "?"] [White "Frolovski, A."] [Black "+0143.11b3b6"] [Result "1-0"] [SetUp "1"] [FEN "8/8/8/1k1b2R1/8/5P2/1K6/6n1 w - - 0 6"] [PlyCount "27"] [EventDate "1989.??.??"] [SourceDate "2000.07.25"] {End of a demolished study. It is not enough to capture a piece, it is necessary not to lose the pawn !} 6. f4 $3 {[#]} (6. Rxd5+ $2 Kc4 $8 (6... Kc6 $2 7. Rd3 Ne2 8. Rd2 Nf4 9. Kc2) 7. Rf5 Kd4 $1 {(or on d3)} 8. Rf8 Ke3 $1 9. f4 Ke4 $1 10. f5 Nh3 $1 (10... Ke5 $1) (10... Nf3 $1) 11. f6 (11. Rh8 Ng5 $8 12. f6 Kf5) 11... Kf5 $8 12. f7 (12. Rh8 Ng5 $8) 12... Ng5 $8 $11) (6. Rxg1 $2 Bxf3 $8 $11) 6... Ne2 (6... Kc4 7. Rxg1 $8 Kd4 8. Re1 $1 Be4 9. Kb3 Kd3 10. Kb4 Kd4 11. Kb5 Kd5 12. Kb6 Kd4 13. Kc7) (6... Nh3 7. Rxd5+ $8 Kc6 (7... Kc4 8. Ra5 $1 Kb4 9. Rh5 $1) 8. Rd4 $8 (8. Rf5 $2 Kd6 $1 9. Kc3 Ke6 $8) 8... Kc5 9. Kc3 $1) 7. Rxd5+ $8 Kc6 $1 (7... Kc4 8. Re5 $1 (8. Ra5 $1 Nd4 9. f5) (8. Rf5 Kd4 9. Rf8 $1 Ng3 10. Re8 $8) 8... Ng3 (8... Nxf4 9. Re4+ $8) 9. Kc2 Kd4 10. Kd2) 8. Rf5 $8 Kd6 {A non-reciprocal Z.} (8... Kd7 $6 9. Ka3 $8 {: text on 13th}) 9. Kb1 $3 {[#]} ( 9. Ka3 $2 Ng1 $1 {(idem on 9 Ka2)} (9... Nc1 $1 10. Kb4 (10. Re5 Nd3 $8) 10... Nd3+ $8 11. Kc4 Ke6 $8 {: see further 10 Ka2?!}) (9... Nd4 $2 10. Re5 $8 Ne6 11. Re4 $8 Kd5 12. f5 $1 Nc5 13. Re1 Nd7 14. Kb4) 10. Kb4 (10. Re5 Nh3 $8 11. Re4 Kd5 $8 12. f5 {(no longer attacks knight)} Kxe4 $8 13. f6 Ng5) 10... Nh3 $1 (10... Ke6 $1) 11. Kc4 Ke6 $8 12. Re5+ (12. Rf8 Ke7 $8) 12... Kf6 $8 13. Re4 Kf5 $1 $11) (9. Rf8 $2 Ke7 $8) (9. Rf7 $2 Ke6 $8) (9. Kb3 $2 {(or on c2)} Nd4+ $8) (9. Ka1 Ng1) 9... Kd7 $1 (9... Ng1 10. Kc2 $8 Nh3 11. Kd2 $1 Ke6 12. Re5+ $8 Kf6 13. Ke3 $1) (9... Nd4 10. Re5 $1 (10. Ra5 $1 Ke6 11. Ra4 $8 Nf3 12. Kc2 Kf5 13. Kd3) 10... Ne6 (10... Nf3 11. Re3 Nd4 12. Kc1 Ne6 13. f5) 11. Re4 $8 Kd5 12. f5 $1 {as already seen}) (9... Ke6 $6 10. Re5+ $8) 10. Ka1 $3 {[#]"Nobody puts baby in the corner". But the White King is very well off.} (10. Ka2 $6 Nc1+ $1 11. Kb2 $2 (11. Kb1 $8 Ne2 12. Ka1 $8) (11. Ka1 $2 Ke6 $1 12. Re5+ Kf6 $8) 11... Nd3+ $8 12. Kc3 Ke6 $8 13. Rf8 Ke7 $8 14. Kxd3 (14. Rf5 Ke6 $8) 14... Kxf8 $8 15. Ke4 Ke8 $3 16. Ke5 Ke7 $8 17. Kf5 Kf7 $8 $11) 10... Kc6 $1 (10... Kd6 11. Kb2 $8 {: text}) (10... Nd4 11. Rd5+ $1) (10... Ng3 11. Re5 $1 Kd6 12. Kb2 $1) (10... Nc3 11. Re5 $1 Kd6 12. Kb2 $1 (12. Re1 $1 Nd5 13. f5 $1) 12... Nd5 13. Re4 $8) (10... Kc7 11. Rc5+ $1 (11. Ka2 $1 {text}) 11... Kd6 12. Rc4 $8 Kd5 13. Rb4 Kc5 14. Re4 Ng3 15. Re3) (10... Nc1 11. Re5 $1 (11. Rd5+ $6 Ke6 12. Rd1 $8)) 11. Ka2 $3 (11. Kb2 $6 Kd6 $1 {: back on 8th move}) 11... Kd6 (11... Nc1+ 12. Kb2 Ne2 13. Ka3 $8 {idem}) 12. Kb2 $22 {[#]As on the 8th black move, but changed move. Not by a triangulation, but by a quadrangulation, while Black was triangulating!} (12. Ka3 $2 Ng1 $1 { déjà vu}) 12... Kd7 (12... Nd4 13. Re5 $1) (12... Ke6 13. Re5+ $8) 13. Ka3 $8 Kd6 (13... Ng1 14. Re5 $8 Nh3 {(compare with the variant of the 9th white move: the bK is no longer in contact with the Rook)} 15. f5 $1 (15. Re4 $1 Kd6 16. f5 $8) 15... Kd6 16. f6 $1) 14. Kb4 $8 Nd4 (14... Ng3 15. Re5 $1) 15. Rc5 $8 (15. Rh5 $6 Ne6 16. Rf5 $8) (15. Rf8 $2 Ke7 $8 16. Rh8 Ne2 $1 17. f5 Ng3 $1 $11) (15. Re5 $2 Nc6+ $8) 15... Ne6 (15... Ne2 16. f5 $1 (16. Rc4 $1 Ng3 17. Kc3 Ne2+) 16... Nd4 17. Kc4 $1 Nf3 18. Rb5 $1 Ne5+ 19. Kd4) (15... Nc6+ 16. Kc4 $1) 16. Rc4 $8 Ke7 (16... Kd5 17. Kc3 $1 (17. f5 $1 Ng5 18. Rc5+ $8 Kd6 19. Kc4) 17... Nc5 18. Rd4+ $1 Ke6 19. f5+ $1 (19. Kc4 $1 Nb7 20. Kd3 Nd6 21. Ra4 $1) 19... Ke5 20. Kc4 $8 Na4 21. Rd5+ $1 Kf6 22. Rb5) 17. Kc3 $8 Kf6 18. Kd3 $1 Kf5 19. Ke3 $8 1-0 [Event "?"] [Site "?"] [Date "2002.??.??"] [Round "?"] [White "Anand, Ivanchuk"] [Black "0400.44"] [Result "1/2-1/2"] [SetUp "1"] [FEN "8/1p4k1/2p2pP1/P4P2/3r4/3p4/6P1/3R2K1 b - - 0 35"] [PlyCount "55"] [EventDate "2002.??.??"] [SourceDate "2000.07.25"] {84/106} 35... c5 (35... Rf4 36. Rxd3 Rxf5 37. Rd7+ Kxg6 38. Rxb7 $15) 36. Kf2 $8 c4 37. Ke3 Rd5 38. g4 Rxa5 (38... Kg8 39. Ke4 Rxa5 40. g5 fxg5 (40... Kg7 41. Rh1 $1) (40... Ra6 41. gxf6 Rxf6 42. Ke5 Rf8 43. f6) 41. f6 {VA} Ra2 $1 ( 41... Ra6 $1 42. Kf5 Ra5+) 42. Rh1 Rf2 $8 43. Ke5 $8 Re2+ $8 44. Kf5 $11) 39. Kd4 b5 40. Rh1 Ra8 (40... Kg8 41. g5 $1 fxg5 42. f6 d2 $8 43. Kc3 $2 (43. Ke5 $1 b4+ $8 (43... c3 $2 44. f7+ Kg7 45. Rh7+ Kxg6 46. f8=N# $1) 44. Ke6 Ra6+ 45. Kf5 Ra5+ $11 {VA}) (43. Ke4 $1 Ra7 $8 44. f7+ (44. Ke5 c3) 44... Kg7 $8 $11) 43... Ra3+ $2 (43... b4+ $8 {(not considered by VA)} 44. Kxd2 (44. Kxc4 Rf5 $8) 44... c3+ $1 45. Kc2 Rf5 $8 $19) (43... Ra8 $2 44. Kxd2 $8 Rf8 45. Rf1 b4 $11) 44. Kxd2 Rf3 45. Rg1 $1 (45. Rb1 $2 Rf5 $3 {[#](not considered by VA)} (45... Rxf6 $2 46. Rxb5 Rxg6 47. Rc5 g4 48. Rxc4 g3 49. Rc1 $11 {VA}) 46. g7 g4 $8 47. Rg1 Rxf6 $8 48. Rxg4 Rf7 $8 49. Rg5 b4 $8 50. Rb5 Rf2+ $8 (50... b3 $2 51. Kc3 $1 Rc7 52. Rg5 Rxg7 53. Rc5 $1 Rb7 54. Kb2 $1 Rb4 55. Rg5+ $8 Kf7 56. Rg1 $1 Ke6 57. Kc3 $1 $11) 51. Ke3 (51. Kc1 b3 52. Rc5 Rc2+ $8) 51... Rb2 $8 $19) (45. Rh5 $1 Rxf6 (45... Rf5 46. Kc3) 46. Rxg5 Rf2+ 47. Kc3 Rf3+ 48. Kc2 b4 49. Rc5 $11) 45... c3+ 46. Kc2 $8 Rxf6 47. Rxg5 $8 b4 48. Rb5 $8 (48. Kb3 $2 Rc6 49. Rg1 Rb6 $8 50. Rg2 Kg7 51. Rg4 Rc6 $8 52. Rg1 Rxg6 $8 $19) 48... Rf2+ 49. Kc1 Rb2 ( 49... Rf4 50. Rb7 $11) 50. Rb7 b3 51. Rc7 Rc2+ 52. Kb1 $11 {VA}) 41. Rh7+ Kg8 42. Rd7 Rf8 43. Kc3 Rc8 44. g5 Rf8 (44... b4+ 45. Kxb4 c3 46. gxf6 $8 c2 47. Rg7+ $8 Kf8 48. Rh7 Rb8+ $8 49. Ka4 Ra8+ 50. Kb5 Ke8 51. Re7+ (51. Rc7 Kd8) 51... Kf8 52. Rh7 $11) 45. gxf6 Rxf6 46. Rd5 Rb6 (46... b4+ 47. Kxc4 d2 $1 $11) 47. Rd8+ Kg7 48. Rd7+ Kg8 49. Kd4 $1 {Indicated by Radjabov. This move is certainly not winning, but at least the game goes on. And Black, having the embarrassment of choice, can wander... This is all the more that this suggestion by VA is wrong !} (49. Rd8+ Kg7 50. Rd7+ {0,5-0,5 Anand-Ivanchuk}) 49... d2 $6 {The most natural, yet the most risky !} ( 49... b4 $1 50. Kxc4 b3 $11) (49... Rc6 $1 50. Kc3 Rf6 $1 $11) (49... c3 $1 50. Kxc3 (50. Kxd3 b4 51. Kc2 b3+ 52. Kxc3 b2 $8 53. f6 $8) (50. Ke5 c2 51. f6 $8 Rb8 $8 52. Rg7+ Kf8 $8 53. Rh7 Ke8 $8 54. Re7+ $8 Kf8 $8) 50... b4+ 51. Kb3 Rf6 $8 52. Rd5 Kg7 53. Kxb4 d2 $8 $11) 50. Ke5 $1 {A diabolic trap !} (50. Kc3 Rf6 $11) 50... Rb7 $3 {[#]Not considered by VA.} (50... c3 $2 51. f6 $8 Rb8 52. Kf5 $3 {(not considered by VA)} (52. Rg7+ $2 Kf8 $8 53. Rh7 Ke8 $8 54. Re7+ $8 Kf8 $8 $11 {VA}) (52. Ke6 $2 d1=Q $3 (52... Rb6+ $2 53. Kf5 $8) (52... c2 $2 53. Rg7+ $8 Kf8 54. Rh7 $8) 53. Rxd1 c2 $8 54. Rc1 (54. Rh1 b4 $8 55. g7 Rb6+ $8 56. Ke5 Rb5+ $8) (54. Ra1 Rc8 $1) 54... Rb6+ $8 55. Ke5 Rc6 $8 56. Kd5 $1 $11) 52... c2 53. Rg7+ $8 Kf8 54. Rh7 $8 Ke8 55. Re7+ $8 Kf8 56. g7+ $8 Kg8 57. Kg6 $8 Rf8 58. Re8 $1 Rxe8 59. f7# $1) (50... Rb8 $2 51. f6 $8 b4 (51... c3 52. Kf5 $8 {idem}) 52. Rxd2 c3 53. Rd7 c2 54. Rg7+ $8 Kf8 55. Rh7 $8 Ke8 (55... Kg8 56. f7+ $8 Kf8 57. Rh8+ $8) 56. Rc7 $8 Kf8 57. g7+ Kg8 58. Kf5 $8 Kh7 59. Rxc2 $8) (50... b4 $2 51. f6 $1) 51. Rxd2 (51. Rxb7 $2 d1=Q $8) 51... c3 $3 {[#]} (51... Kg7 $2 52. Rh2 $8 Re7+ 53. Kf4 $8 c3 (53... Kf6 54. Ra2 $3 Re1 55. Ra6+ $8) 54. Kg5 $8 Re5 55. Rh7+ $8 Kg8 56. Rc7 $18) 52. Rd3 (52. Rd5 Kg7 $8) 52... Kg7 $8 { Unlike the previous move, the defence succeeds while the attack fails.} (52... b4 $2 53. f6 $8 Rb5+ (53... Rb8 54. Rd7 $8 {idem}) 54. Ke4 (54. Ke6 Rb6+ 55. Kf5 $8 Rb5+ 56. Kg4 Rb8 57. Rd7 $8) 54... Rb8 55. Rd7 $8 {: déjà vu dans 50...Tb8?}) 53. Rxc3 (53. Rh3 c2 $1 54. Rc3 (54. Rh7+ $2 Kg8 $8) 54... b4 55. Rxc2 b3 $8 56. Rb2 Rb5+) 53... b4 $8 54. Rc8 (54. Rg3 Rb5+ $1 55. Kf4 Rb6 $1 (55... Rb7 $1) (55... b3 $2 56. f6+ $8) 56. Rh3 b3 57. Kg5 (57. Rh7+ Kg8 $8 58. Kg5 b2 59. f6 Rxf6 $8 60. Rb7 $11) 57... b2 58. Rh1 b1=Q 59. f6+ $8 Rxf6 $8 60. Rxb1 $11) (54. Rb3 Rb5+ $1) (54. Rh3 Rb5+ $8) 54... b3 $8 55. Kf4 (55. f6+ Kxg6 $8 56. Rg8+ Kh7) 55... b2 56. Kg5 $8 Rb5 $8 (56... b1=Q $2 57. f6# $1 {modèl mat}) (56... Rb6 $2 57. Rc7+ Kf8 58. f6 Rb8 59. Kh6 b1=Q 60. g7+ $8 Kg8 61. f7# $1 {: stepped echo model mat of the previous one}) 57. Rc7+ $8 Kg8 58. Kh6 (58. Rc8+ Kg7 $11) 58... Rxf5 $8 (58... Rb8 $2 59. f6 $8 b1=Q 60. f7+ $8 Kf8 61. g7# $1 {: le 4e mat modèle}) 59. Rg7+ Kf8 60. Rb7 Kg8 $8 61. Rb8+ (61. Rxb2 Rf8 $8) 61... Rf8 62. Rxb2 Ra8 1/2-1/2 [Event "?"] [Site "?"] [Date "2009.??.??"] [Round "?"] [White "Pervakov, O."] [Black "0084.22"] [Result "1/2-1/2"] [SetUp "1"] [FEN "3N3k/b7/5P1B/5P2/Bp6/6K1/p7/1b4n1 w - - 0 1"] [PlyCount "25"] [EventDate "2009.??.??"] [SourceDate "2000.07.25"] {No, the White Knight will not oppose the promotion to a1. How on earth could he? Yet...} 1. Bg7+ $8 (1. Ne6 $2 Ne2+ $8 (1... Kh7 $2 2. Bg7 $8 {texte}) 2. Kg4 Nd4 $8 3. Bg7+ Kg8 $8 4. Nxd4 a1=Q (4... Bxd4 5. Bb3+ Kh7)) (1. Bb3 $2 a1=Q 2. Nf7+ Kh7 $8 3. Ng5+ Kxh6 $8 4. Nf7+ Kh7 $8 5. Ng5+ Kh8 $8 6. Nf7+ Kg8 $8 7. Ng5+ Kf8 $8 8. Nh7+ Ke8 9. f7+ Kd7 $8 10. Be6+ (10. f8=Q Qc3+) 10... Kc6 11. f8=Q Qc3+ 12. Kg4 Qh3+ 13. Kg5 Qxh7 $19) (1. f7 $2 Bc5 $1 2. Ne6 a1=Q 3. Nxc5 Qe5+ 4. Kg2 Qd5+) (1. Nf7+ $2 Kh7 $8 (1... Kg8 $2 2. Ng5 $8) 2. Bg7 Be3 $1) 1... Kh7 (1... Kg8 2. Bb3+ $1 (2. Be8 $1) 2... Kh7 3. Ne6 $8) 2. Ne6 $8 {Threatens Ng5+ or Nf8+.} (2. Nf7 $2 Be3 $1) 2... Ne2+ (2... a1=N $2 3. Ng5+ Kg8 4. Be8 $18) 3. Kh4 $3 {[#]To attract bB on f2.} (3. Kg4 $2 Bxf5+ $8 4. Kxf5 Nd4+ $8 5. Nxd4 a1=Q $8 6. Bc2 b3 $3 7. Nxb3 (7. Bxb3 Qxd4) 7... Qf1+ $8 8. Ke5+ Kg8 $8 9. Be4 Bb8+ $1 10. Kd4 Qd1+ 11. Kc4 Qe2+ 12. Bd3 Qg4+ 13. Kc5 Qc8+ 14. Kd5 Qd7+ 15. Kc4 Qa4+) 3... Bf2+ (3... Nd4 $2 4. Ng5+ $8 Kg8 5. Bb3+ $8 Nxb3 6. Bh6 $8 Bc5 7. f7+ $8 Kh8 8. f6 $8 a1=Q 9. Bg7# $1) (3... Bxf5 $2 4. Ng5+ $1 Kg6 (4... Kg8 5. Bb3+) 5. Be8#) 4. Kg4 $8 (4. Kg5 $2 Nd4 $1 5. f7 Be3+ $8 6. Kh4 (6. Kh5 Nxe6 $8 7. fxe6 Kxg7 8. e7 Bg6+ $8) 6... Nxf5+ $8 7. Kg4 Nxg7 8. f8=Q a1=Q $8 $19) 4... Bxf5+ (4... Nd4 5. Ng5+ $8 Kg8 6. Be8 $3 Bxf5+ 7. Kh5 $8 Be6 8. Bg6 a1=Q 9. Bh7# $1) 5. Kxf5 $8 Nd4+ 6. Nxd4 $8 (6. Kg4 $2 a1=Q $8 7. Ng5+ Kg8 $8 8. Bh6 Qg1+ $8 9. Kh5 (9. Kf4 Qh2+) 9... Qh1+ $8 10. Kg6 Qb1+ $8 11. Kh5 Ne6 $8 12. f7+ (12. Nxe6 Qh1+ 13. Kg6 Qe4+ $8) 12... Kh8 13. Nxe6 Bc5 $3 {[#]} 14. Nxc5 (14. Bc6 Qf5+ $8 15. Ng5 b3 $19) 14... Qf5+ $8 15. Kh4 Qxf7 $1 16. Nb3 (16. Ne4 Qc4) (16. Nd3 Qg6) 16... Qf2+ $1 17. Kh3 Qa2 $1 18. Nc5 Qd5 $19) 6... a1=Q (6... Bxd4 7. Kg5 a1=Q (7... a1=N $2 8. Bc6) 8. Bc2+ $8) 7. Bc2 $8 { Compared to the 3rd move trial, the bB is on f2 instead of a7.} b3 $8 (7... Qxd4 8. Kg5+ $8 Kg8 9. Bb3+ $8) (7... Kg8 8. Bb3+ $8 Kh7 9. Bc2 $8) 8. Nxb3 $8 (8. Bxb3 $2 Qxd4) 8... Qa3 $1 {No ...Qf1+ as in the trial 3 Kg4?.} (8... Qc3 9. Be4 $1 (9. Na1 $1 Qg3 10. Ke6+ $8 {: text}) 9... Qg3 (9... Qxb3 10. Ke5+ $8 Kg8 11. Bd5+ $8) 10. Nd2 $1 Be3 (10... Bd4 11. Nf3) 11. Ke6+ $8 Kg8 12. Bd5 $8 Bxd2 13. Ke7+ Kh7 14. Be4+ Qg6 $11) 9. Na1 $3 {[#]The knight occupies a1... after the promotion has taken place. It is much more chic !} (9. Be4 $2 Qd6 $3 {[#]} 10. Nc1 (10. Kg5+ Kg8) 10... Bd4 $1 11. Nd3 (11. Bb1 Bxf6 12. Bxf6 Qc5+ 13. Ke6+ Kg8 14. Ba2 Qxc1 15. Kf5+ Kf8 $19) 11... Kg8 $1 {(threatens ...Kf7)} 12. Kg5 (12. Bf3 Bc3 $1) 12... Qe6 $1 13. Bf5 Qe3+ 14. Kg4 (14. Kg6 Qg3+) 14... Kf7 15. Nf4 Bxf6 16. Bxf6 Qg1+ $8 17. Kf3 Kxf6 $19) (9. Nd4 $2 Bxd4 $8) 9... Qg3 (9... Qxa1 10. Kg5+ Kg8 11. Bb3+ $8) 10. Ke6+ $8 Kg8 11. Bb3 $8 Qc7 (11... Kh7 12. Bc2+ $8) 12. Kf5+ $8 Kh7 13. Bc2 $8 1/2-1/2 [Event "Varna ol (Men)"] [Site "Varna"] [Date "1962.??.??"] [Round "10"] [White "Dueckstein, A."] [Black "Pachman, L."] [Result "1-0"] [ECO "B48"] [PlyCount "57"] [EventDate "1962.09.16"] [EventType "team"] [EventRounds "15"] [EventCountry "BUL"] [SourceDate "2000.07.25"] 1. e4 c5 2. Nf3 Nc6 3. d4 cxd4 4. Nxd4 e6 5. Nc3 Qc7 6. Be3 a6 7. Bd3 Nf6 8. O-O Nxd4 9. Bxd4 Bc5 10. Bxc5 Qxc5 11. Qe2 d6 12. Kh1 b5 13. f4 Bb7 $2 (13... b4) 14. e5 $1 {[#]} dxe5 15. fxe5 Nd7 16. Rae1 (16. Be4) 16... b4 (16... Qb4) 17. Ne4 $1 Qxe5 18. Qd2 $1 $16 Qc7 19. Qxb4 Bxe4 20. Qxe4 (20. Rxe4) 20... Nb6 21. a4 ( 21. Qh4) 21... Qd7 (21... Ra7 22. a5 Nc8 23. Qd4 O-O 24. Rxe6 $1 fxe6 25. Bxh7+ Kxh7 26. Rxf8 Qxa5 27. Qh4+ $8 Kg6 28. Qg4+ Qg5 29. Qe4+) 22. c4 (22. a5 Nd5 23. c4 Nc7 24. Rd1) (22. Rd1) 22... Rb8 (22... Rd8) 23. a5 (23. c5 Nd5 24. Bxa6 O-O 25. Bd3) 23... Na4 24. Bc2 Nxb2 25. Rb1 f6 $6 (25... Qd6 26. Rf3 $1 g6 27. Rb3 Rxb3 28. Bxb3) (25... Rb4 26. Qe5 $1 f6 27. Qc3) (25... Qc7 26. Rf2 $1 g6 27. Rxb2 Rxb2 28. Qd4) 26. Ba4 $3 {[#]} (26. Rxb2 $2 Rxb2 27. Rd1 $8 Qc8 $1 28. Ba4+ Kf8 $8 29. Rd7 Rb4 30. Qd3 Qxc4 $8 31. Rd8+ Kf7 $8 32. Rd7+ Kf8 $11) (26. c5 $2 Qd5 $1) 26... Qxa4 (26... Nxa4 27. Rxb8+) 27. Qxe6+ $8 Kd8 (27... Kf8 28. Rxf6+ $3 {[#]} (28. Qd6+ Kf7 29. Qc7+ Kg6 30. Rf3 $3 Nxc4 31. Rg3+ Kf5 32. Re1 $1) 28... gxf6 29. Qxf6+ $8 (29. Rf1 $2 Qe8 $8 30. Qxf6+ Kg8 $8 31. Qg5+ Qg6 32. Qd5+ $8 Kg7 $8 $11) 29... Kg8 30. Qg5+ $8 Kf7 31. Rf1+ $8 Ke8 (31... Ke6 32. Re1+ Kd7 33. Re7+) 32. Qe5+ (32. Re1+ Kf8 33. Qf4+) 32... Kd7 33. Rf7+ Kc6 34. Qd5#) 28. Qd6+ $8 (28. Rfd1+ $2 Qxd1+ $8 29. Rxd1+ Nxd1 $11) 28... Kc8 29. Rf5 $3 {[#]} (29. Qc5+ $6 Kd8 30. Qa7 $1) (29. Rf5 $3 Qd7 (29... Qxc4 30. Rc5+ Qxc5 31. Qxc5+ Kd7 32. Rxb2) 30. Rc5+ Kd8 31. Qxb8+) 1-0 [Event "Deutschland "] [Site "?"] [Date "1991.??.??"] [Round "?"] [White "Shirov, A."] [Black "Kovalev, An"] [Result "1-0"] [ECO "E94"] [WhiteElo "2610"] [BlackElo "2550"] [PlyCount "83"] [EventDate "1991.??.??"] [SourceDate "2000.07.25"] {53/621. "I like this game for its tension, its complex calculations, its creativity" (AS).} 1. d4 Nf6 2. c4 g6 3. Nc3 Bg7 4. e4 d6 5. Nf3 O-O 6. Be2 e5 7. O-O Na6 8. Be3 Ng4 9. Bg5 Qe8 10. dxe5 dxe5 (10... h6 11. Bd2 Nxe5 12. Nd4 { 58/657}) 11. h3 h6 (11... Nf6 {is usual (AS)}) 12. Bc1 Nf6 13. Be3 Nh5 {48/ 804, 51(617), 66/526-527} (13... c6 14. c5 (14. a3 Qe7 15. b4 {57/601}) 14... Nh5 (14... Qe7 {57/602}) 15. Nd2 (15. Bxa6 bxa6 16. Qd6 f5 17. Rad1 f4 18. Bc1 g5 19. Rd2 $1 g4 20. hxg4 Bxg4 21. Nh2 Be6 22. Rfd1 Bf6 23. Qd3 {[#]}) 15... Nf4 16. Nc4 Qe7 (16... Be6 17. Nd6 Qd7) 17. Nd6 Qg5 $11 18. Bxf4 $2 (18. Bg4 $1 f5 ( 18... h5 19. Bxf4 exf4 20. Bxc8) 19. exf5 (19. Qb3+ Kh7 20. exf5 gxf5 21. Bf3 e4) 19... gxf5 20. Bf3 Nxh3+ (20... e4 21. Kh2 exf3 22. g3) 21. Kh2 f4 (21... Nf4 22. g3 Qf6 23. gxf4) 22. Qb3+ (22. gxh3 fxe3 23. Qb3+) 22... Kh8 23. Nce4) (18. g3 Bxh3 19. Kh2 Bxf1 20. Qxf1 Nc7) 18... exf4 19. Nxc8 (19. Bxa6 Bxh3 20. Qf3 Bg4) 19... Nxc5 $3 {[#]} $17 (19... f3 20. Bxf3 Raxc8) 20. h4 (20. Nxa7 Rxa7 ( 20... Bxc3) 21. Qc2 b5 {Villeneuve,A (2330)-Apicella,M (2410)/Angers 1990}) ( 20. Nd6 Rad8) 20... Qxh4 (20... Qe5 21. Bg4 h5 22. Bh3) 21. Qd6 Ne6 (21... Qg5 22. Ne7+ Kh7 23. Nf5) 22. Ne7+ Kh7 23. Nxg6 (23. Qa3 $2 Nd4) 23... Kxg6 24. e5 Kh7 (24... Rad8 25. Bd3+) 25. Qb4 Kh8 26. Qe4 Ng5 27. Qf5 Rae8) (13... Nd7 {48/ (804), 51/617}) 14. c5 Nf4 15. Bb5 $1 Qe6 16. Re1 $1 $146 (16. Qa4 $4 {52/640} Nxg2 $1) 16... Nxg2 {[#]Who is the first to put "fire on board"? ?} (16... g5 {(Glek)} 17. Bxa6 (17. Rb1 c6 18. Bf1) 17... bxa6 (17... Nxg2 $2 18. Kxg2 Qxh3+ 19. Kg1 bxa6 20. Nh2 $18 {AS}) (17... Qxa6 18. Bxf4 exf4 19. Nd5 Rb8 20. Nxc7 (20. Qc2) 20... Qc6 21. Qd6 $1 Be6 (21... Bd7 22. Nd5) (21... Bxb2 22. Rab1 Qxd6 $8 23. cxd6 Bg7 24. e5 $1 $16 {AS}) 22. Nxe6 fxe6 23. Rad1) 18. Bxf4 exf4 19. Nd5 Rb8 {(not considered by AS)} (19... Be5 20. Qa4 {(/\ Rad1, Qa5+/-) } (20. Rc1) 20... Rb8 21. Rad1 Rxb2 22. Nd4 $1 Qe8 23. Qa3 $16 {AS}) (19... Rd8 20. Qa4) 20. Nxc7 (20. Nd4 Qe8 21. Rb1 Be5 22. b4) 20... Qc4 21. Qd5 Qa4 22. b3 Qa5 23. Qd6 Bxa1 24. Rxa1) (16... c6 17. Bxa6 bxa6 18. Bxf4 (18. Qd6 $14 { Kovalev}) 18... exf4 19. e5 $1 (19. Nd4 Qc4 20. Nxc6 Qxc5) 19... Qe7 20. Qd2 ( 20. Qd6 Qb7) 20... g5 21. Ne4 $1) (16... Kh7 {AS}) 17. Kxg2 Qxh3+ 18. Kg1 Bg4 ( 18... b6 19. cxb6 axb6 20. Bf1) (18... c6 19. Bf1) 19. Bf1 $1 (19. Be2 Rad8 $1 (19... f5 $6 {AS} 20. Qd5+ Kh7 21. Nxe5 Bxe2 22. Nxe2 Bxe5 23. Qxe5 Rae8 24. Qh2) 20. Nd2 Bxe2 21. Qxe2 f5 22. Qf3 (22. exf5 gxf5 23. Qf3 Qh4 $1 $44) 22... Qxf3 23. Nxf3 f4 $11) 19... Qh5 (19... Qxf3 $6 20. Be2) 20. Be2 (20. Bg2 $2 Kh8 {(/\ f5 AS)} 21. c6 b6 (21... bxc6 22. Qe2) 22. Qe2 Nb4 23. a3 Nxc6) 20... Rad8 {"Leaves White a better game without any real effort, even if objectively it is perhaps the best move. From a practical point of view, 20...f5 was interesting" (AS). In AS's mind, it should probably read "more interesting"! After all, he loves it when he's not the only one setting fire to something.} ( 20... f5 21. Nxe5 $1 (21. Nh2 $2 Bxe2 22. Qxe2 Qxe2 23. Rxe2 f4 $13 {AS}) (21. exf5 gxf5 $8 (21... Rxf5 $2 22. Nd2) 22. c6 (22. Qd5+ Kh7 23. Nxe5 $2 Bxe5 24. Qxe5 Rg8 $19) 22... Rad8 23. Nd2 Rf6) 21... Bxe2 22. Nxe2 f4 {(does not deserve a "!", but rather a "?!")} (22... Bxe5 23. Qd5+ Kh7 24. Qxe5 Rfe8 25. Qh2 $18 {AS}) (22... fxe4 $1 {(not considered by AS)} 23. Nd7 (23. Nc4 Rad8 24. Qb3 Nxc5 25. Bxc5 Rd3 26. Bxf8 Rxb3 27. axb3 Bd4 $3 $11 {[#]}) 23... Qg4+ 24. Ng3 Rf3 $3 {[#]} 25. Kg2 Rd8 $1 {[#]} 26. Ne5 (26. Qd5+ Rf7 27. Ne5 $1 (27. Qxb7 $6 Rdxd7 28. Qxa6 Rf3 $1 {[#](back)} 29. c6 Rdf7 30. Qb5 Kh7 $1 31. Rad1 Rxe3) 27... Qxg3+ 28. fxg3 Rxd5 29. Nxf7 Kxf7 30. c6 b6 $11) (26. c6 bxc6 27. Ne5 Bxe5 28. Qxd8+ Kf7 $11) 26... Bxe5 27. Qxd8+ Kf7 $8 (27... Kh7 28. Qe7+ Bg7) 28. Qd5+ (28. c6 Rxg3+) 28... Kf6 $8 29. Bg5+ $1 {[#](the Bishop gets 3 times en prise, it's the only chance to escape the perpetual)} (29. Rad1 Rxg3+ 30. fxg3 Qxg3+ 31. Kf1 Qf3+ 32. Bf2 Qh3+ 33. Ke2 $8 Qf3+ $8 34. Kf1 $8 $11) 29... hxg5 $8 (29... Qxg5 $2 30. Qd8+) (29... Kxg5 $4 30. Qxe5+) 30. Qxe4 Rxg3+ 31. fxg3 Qxg3+ 32. Kf1 Nxc5 $44 33. Qe3 Qf4+ 34. Qxf4+ gxf4) 23. Nxf4 $1 (23. Bxf4 $1 Kh7 (23... Rxf4 24. Qd5+ Kh7 25. Nxf4) (23... Rad8 24. Qb3+ Kh7 {(~~ according to AS)} 25. c6 Nc5 (25... Rxf4 26. Nxf4 Qxe5 27. Ne6) 26. Qg3 Nxe4 27. Qh2 Qf5 (27... Qxh2+ 28. Kxh2) 28. Ng3 Qxf4 29. Rxe4 $18) 24. Nd3 Rad8 25. Bg3 g5 (25... Qf3 26. Nef4) 26. Qc2 Rf3 27. Ndc1 (27. Rad1 Rfxd3 28. Rxd3 Nb4) 27... Qg4 28. e5+ Kh8 29. Rd1 Rxd1+ 30. Qxd1 Nxc5 31. Qd5 Bf8 (31... Ne6 32. Kg2) 32. Kg2 (32. Nd4 Rxg3+ 33. fxg3 c6 34. Qd8 Qxg3+ 35. Kf1 Kg8 36. Nce2 Qh3+) 32... Ne4 33. Nd3 Rf5 34. Re1 Qf3+ 35. Kg1 Nxg3 36. Qxf3 Rxf3 37. Nxg3 Rxd3 38. e6 Bc5 39. e7 Rxg3+ 40. Kh2 Bxe7 41. Kxg3 $16) (23. Qd5+ Kh7 24. Bxf4) 23... Qxe5 (23... Qg5+ 24. Qg4 $1 Bxe5 25. Qxg5 hxg5 26. Nxg6 Rfe8 (26... Bxb2 27. Rab1 Bc3 28. Rec1 $18 {AS}) 27. Nxe5 Rxe5 28. Bd4 Re7 29. Kg2 (29. c6 b6 30. Kg2) 29... Rae8 30. f3 Rd7 31. Be3 g4 32. c6 bxc6 33. Rg1 $1 Rf7 (33... Nb4 34. Kf2) 34. Kh2) (23... Qxd1 24. Raxd1 Bxe5 25. Nxg6 Rfe8 26. c6) 24. Nxg6 Qxe4 $1 25. Nxf8 Rxf8 26. Qh5 $1 {(/\ Bh6)} Rf6 (26... Rf5 27. Qh1 {AS} (27. Qh3) 27... Qg4+ 28. Qg2 $16) (26... Qf5 27. Qxf5 Rxf5 28. Rac1 $16) 27. Rad1 $1 Rg6+ (27... Nb4 28. Re2 {idem}) 28. Kf1 $16 {AS} Nb4 29. Re2 Qg2+ 30. Ke1 Qe4 31. f3 Qe6 32. Kf2 $16) 21. Nd2 $8 f5 $1 {Eh well, the "interesting" move is played out in the end !} (21... Bxe2 22. Qxe2 $16 {better than with bQ in h3 : see 19 Be2}) 22. exf5 $1 (22. Bxg4 {(gratified with a "?" by AS, perhaps too severe)} fxg4 $40 {(/\ Rf3 AS)} 23. Qe2 Rf3 $1 {[#](encore !)} (23... Nb4 24. Nd5 Nc2 25. Qc4) 24. Nf1 (24. Nxf3 gxf3 25. Qc4+ Kh7 26. Qf1 Nxc5 27. Rad1 Rd4 $1) 24... c6 (24... Rh3 25. Ng3) 25. Rad1 (25. Nb1 Kh7 26. Nbd2 Qh3 27. Nh2 Rxe3 28. fxe3 Qg3+ 29. Kh1 Qh4) (25. Ng3 Qh4) 25... Rdf8 $8 26. Qc4+ Kh7 27. Ne2 Qh3 28. Neg3 R3f7 (28... h5 29. Rd7 Kh8 30. Qe6 R3f6 31. Qe7 R6f7 32. Qxf7 Rxf7 33. Rxf7 $18) 29. Rd6 h5 (29... Nc7 30. Red1) 30. Qe6 (30. Red1 h4 31. Rd7) 30... Rf6 $8 (30... Bf6 31. Rd7) (30... h4 $2 31. Qxg6+) 31. Qb3 Nc7 (31... R6f7 32. Rd8) (31... h4 32. Rxf6 Rxf6 33. Qxb7 ) 32. Rxf6 (32. Red1) (32. Qxb7 Ne6) 32... Rxf6 33. Rd1 h4 34. Rd6 Ne8 35. Rd8 $16) (22. f3 Bh3 $1 (22... Qh3 $6 23. Bf2 $1 Rxd2 24. Qxd2 Bxf3 25. Bxf3 Qxf3 26. Qe2) 23. Bf1 f4 24. Bf2 Bc8 (24... Nb4 25. Qb3+ Kh8 26. Bxh3 Qxh3 27. Re2) (24... Be6) 25. Qe2 (25. Re2) 25... Qg5+ (25... Nb4 26. Nd5 Nc2 27. Ne7+ Kh7 28. Nxc8 Rxc8 29. Nc4) 26. Kh2 Qh5+ 27. Kg1 $11) 22... gxf5 $8 (22... Bxe2 23. Qxe2 Qxe2 24. Rxe2 gxf5 25. f3 $16) 23. Bxg4 Qg6 $1 {"After a long thought, my opponent finds this move leading to great complications". (AS). Two arsonists on the rampage.} (23... fxg4 $2 24. Nce4 (24. Qb3+ $1 Qf7 ( 24... Kh8 25. Qxb7 Rf3 26. Nde4) 25. Nde4 $18) (24. c6) 24... Rf3 25. Ng3 $1 ( 25. Qb3+ Kh7 26. Nxf3 gxf3 27. Qe6) 25... Qh3 (25... Qh4 $2 26. Nxf3 $18) 26. Qb3+ Kh7 (26... Kh8 27. Qxb7 Nxc5 28. Bxc5 Rxd2 29. Nh1 g3 30. Qxf3 gxf2+ 31. Qxf2 Rxf2 32. Nxf2) 27. Nde4 $1 {(/\ Rad1)} (27. Ndf1 $1) 27... Nxc5 28. Qc2 $1 (28. Bxc5 $1 Rxb3 29. axb3 b6 30. Be3 a5 31. Rad1 {Qh3 AS}) 28... Nxe4 29. Nxe4 Kh8 30. Qxc7 $18) 24. Nce4 $1 {[#]"With two extra pieces, White should be able to eliminate Black's counterplay" (AS). Translation to familiar language: if I, Shi-shi, am unable to win with 2 pieces up, there is a problem !} (24. Qb3+ $2 Kh7 (24... Kh8 $1 25. Qxb7 e4 26. Ndxe4 Rb8 $1) 25. Qxb7 Qxg4+ (25... e4 {AS} 26. Ndxe4 Qxg4+ (26... Rb8 27. Ng5+ $1) 27. Ng3) (25... f4 26. Qe4) 26. Qg2 Qxg2+ 27. Kxg2 f4 $11) (24. Kh1 $1 {(seems even better)} fxg4 (24... Qxg4 25. Qxg4 fxg4 26. a3) 25. Qb3+ Kh8 26. Nce4 (26. Nde4 Rd4) 26... b6 27. cxb6 (27. Rac1) 27... axb6 28. Qc4 $16) 24... h5 $1 {"Do your best to fan the flames" (AS). Indeed: White, having a piece en prise, places a second one, applying the old principle that one cannot capture two tricks in one move. Whereupon Black refers to another old principle: there are often better things to do than wasting time recovering the material.} (24... fxe4 $2 25. Kh1 $1 Nxc5 ( 25... Rxd2 26. Bxd2 Nxc5 (26... Rxf2 27. Be3 $18 {AS}) 27. Be3 (27. Rg1) 27... Nd3 28. Rg1 $1 Nxf2+ 29. Bxf2 Rxf2 30. Qd8+ $1 (30. Qd7 $1 Kh7 31. Bf5 $18 {AS} ) (30. Rc1 $1) 30... Rf8 (30... Kh7 31. Bf3) 31. Qxc7 Kh8 32. Qxb7) (25... Nb4 26. Rg1) 26. Bxc5 Rxd2 27. Qb3+ $1 (27. Qxd2 Qxg4 28. Re3 $6 Rf3 $1 29. Qd5+ Kh8 $11 30. Qxe4 $2 {AS} Rh3+ $3 {[#]}) 27... Kh7 28. Rg1 Rf4 29. Bh3 $18) (24... Nb4 $1 25. Kh1 fxg4 26. Qb3+ Nd5 27. Qxb7 (27. Nd6 Qe6) (27. Rad1) 27... Rf3 28. Kg2 Rh3 29. Rad1 Qh5 30. Rh1 $16) 25. Bg5 $1 {[#]"The decisive move, the rest will be will be a matter of technique" (AS).} (25. Ng5 {(with a "?" by AS)} f4 $8 {(~~ according to AS)} 26. Qb3+ Kh8 27. Nde4 fxe3 (27... Bf6 28. Bd2 Bxg5 29. Qh3) (27... hxg4 28. Bc1) 28. Rxe3 hxg4 29. Ne6 (29. Kg2 Bh6 30. Rh1) 29... Bh6 30. Nxf8 Rxf8 31. Re2 Qc6 (31... Bf4 32. Kg2) (31... Rf3 32. Qxb7 Bf4 33. Rd1) 32. Qc4 b5 33. Qc3) (25. Kf1 $6 Qxg4 (25... hxg4 26. Qb3+ Qf7 27. Qxf7+ Rxf7 28. Ng5 Rf6 $44 {/\ Rg6, f4 AS}) 26. Qb3+ (26. Qxg4 hxg4) 26... Kh8 27. Qxb7 (27. Ng5 f4 28. Nde4 fxe3 29. Rxe3 Nxc5) 27... h4 $1 28. Re2 (28. Qxa6 $2 fxe4 29. Qc6 Rxd2 $1 30. Bxd2 Qf3 $19) 28... f4 29. Qxa6 h3 $1 30. Bxf4 $8 Qg2+ 31. Ke1 Rxf4 $17) 25... fxe4 $8 (25... Rxd2 $2 26. Bxf5 $3 {[#]} (26. Bxh5 $2 Rxd1 27. Bxg6 Rxa1 28. Rxa1 fxe4) 26... Rxf5 (26... Qxf5 27. Qxd2 Qg4+ 28. Ng3 h4 29. Re4 $18 {AS}) 27. Qxd2 Nxc5 28. Nxc5 Rxg5+ 29. Kh1 Rg4 30. Re4 $1 (30. Qd8+ Kh7 31. Re3 Qc6+ 32. Ne4 $1 Rxe4 33. Qd3) 30... Rxe4 (30... Qc6 31. f3) 31. Qd5+) (25... hxg4 $2 26. Qb3+ Kh7 27. Bxd8 (27. Kg2 Qc6 28. Bxd8 fxe4 29. Rh1+ Kg6 30. Rh4 $3 {[#]} e3+ 31. f3) 27... Rxd8 (27... fxe4 28. Bh4) 28. Rad1 fxe4 29. Nxe4) 26. Bxd8 Rxd8 (26... Rf4 27. Rxe4 $1 $18 {AS}) (26... Nxc5 27. Nxe4 $1 Rf4 28. Qd5+ $1 Kh8 29. Qxc5 Rxg4+ 30. Ng3 $18 {AS} h4 31. Bxh4 Rxh4 32. Qxc7) 27. Qb3+ ({even more convincing seems to be} 27. Kf1 $1 hxg4 (27... Qxg4 28. Qxg4 ) 28. Qb3+ Kh7 29. Nxe4 Rd4 30. Qxb7) 27... Kh8 (27... Kh7 28. Nxe4 Qxg4+ 29. Qg3) 28. Nxe4 $1 {This order of moves authorises the taking over by bQ.} Qxg4+ ( 28... hxg4 29. Kg2 $18 {AS}) 29. Qg3 Qf5 (29... Qxg3+ 30. fxg3) 30. Qg5 $1 (30. Qh4 $1 Rd4 31. Rad1) 30... Qxg5+ 31. Nxg5 Rd4 $6 $138 {"This active move, in fact actually makes things simpler" (AS).} (31... Rg8 32. Kf1 $1 (32. Ne4 $6 Nb4 $1 $132 {AS}) (32. Nf7+ Kh7 33. Kh1 Nxc5 34. Nxe5) (32. Ne6 Bf6+ 33. Kf1 Kh7 (33... h4 34. c6) 34. c6) 32... Nxc5 33. Rad1 $1 (33. Nf7+ Kh7 34. Nxe5) 33... Re8 (33... Bf6 34. Nf7+ Kg7 35. Nxe5 $18 Re8 36. Nd7 $1 {AS}) (33... a5 34. Rd5 b6 35. Nf7+) 34. b4 Na6 35. a3 c5 36. bxc5 Nxc5 37. Nf7+ Kg8 38. Nxe5) 32. Ne6 $1 Rg4+ 33. Kf1 Bf6 34. Rad1 $1 Kh7 (34... Nb4 35. Rd7 $18 {AS}) 35. Re3 $1 Kg6 36. Rf3 $1 {[/\ Rd7+-]} e4 37. Nf8+ Kf7 38. Rd7+ Kxf8 39. Rxf6+ Ke8 40. Rh7 $18 {"The Rooks are just doing their job" (AS).} Nxc5 41. Rxc7 Nd7 42. Rh6 1-0 [Event "2#"] [Site "?"] [Date "1916.??.??"] [Round "?"] [White "Ellerman, A."] [Black "1257.24"] [Result "1-0"] [SetUp "1"] [FEN "QBB5/6p1/6P1/4N2p/R4R2/3P2k1/4p2p/2K1nb1n w - - 0 1"] [PlyCount "1"] [EventDate "1916.??.??"] [SourceDate "2000.07.25"] 1. -- 1-0 [Event "2#"] [Site "?"] [Date "1955.??.??"] [Round "?"] [White "Tucakov, J."] [Black "1041/13"] [Result "1-0"] [SetUp "1"] [FEN "3BK3/7p/6Np/6bk/4Qp2/7P/8/8 w - - 0 1"] [PlyCount "1"] [EventDate "1955.??.??"] [SourceDate "2000.07.25"] 1. -- 1-0 [Event "2#"] [Site "?"] [Date "1985.??.??"] [Round "?"] [White "Zalokotski, R & Gavrilov E"] [Black "1118.37"] [Result "1-0"] [SetUp "1"] [FEN "8/B1p1pP1P/2K1pnQ1/3pk1P1/2p2p2/N3np2/5N2/1R6 w - - 0 1"] [PlyCount "1"] [EventDate "1985.??.??"] [SourceDate "2000.07.25"] 1. -- 1-0 [Event "3#"] [Site "?"] [Date "1970.??.??"] [Round "?"] [White "Meyer, Ad"] [Black "1042.53"] [Result "1-0"] [SetUp "1"] [FEN "4bQ2/8/P1NBP3/p2k4/p7/p6P/P2NP3/5K2 w - - 0 1"] [PlyCount "1"] [EventDate "1970.??.??"] [SourceDate "2000.07.25"] 1. -- 1-0 [Event "3#"] [Site "?"] [Date "1982.??.??"] [Round "?"] [White "Rudenko, V & Chepijnyi V"] [Black "1542.66"] [Result "1-0"] [SetUp "1"] [FEN "3B4/K1p1r1pN/2P2RPp/p5b1/3p2Pk/Q2P1pR1/2N1P2P/8 w - - 0 1"] [PlyCount "1"] [EventDate "1982.??.??"] [SourceDate "2000.07.25"] 1. -- 1-0 [Event "3#"] [Site "?"] [Date "1956.??.??"] [Round "?"] [White "Niemeijer, M & Hartong J"] [Black "1134.21"] [Result "1-0"] [SetUp "1"] [FEN "2n3R1/k2p3Q/4P3/1P1b4/2N5/8/8/6K1 w - - 0 1"] [PlyCount "1"] [EventDate "1956.??.??"] [SourceDate "2000.07.25"] 1. -- 1-0 [Event "4#"] [Site "?"] [Date "1970.??.??"] [Round "?"] [White "Gre, P & Gandy JC"] [Black "4104.41"] [Result "1-0"] [SetUp "1"] [FEN "1N6/8/P7/2PP4/1Q6/3P4/qp6/kn1R2K1 w - - 0 1"] [PlyCount "1"] [EventDate "1970.??.??"] [SourceDate "2000.07.25"] 1. -- 1-0 [Event "4# b) after key"] [Site "?"] [Date "1956.??.??"] [Round "?"] [White "Glaeser, G."] [Black "0151.16"] [Result "1-0"] [SetUp "1"] [FEN "8/3p4/2pB2B1/1bPp2N1/2pk2p1/2Rp4/3K4/8 w - - 0 1"] [PlyCount "1"] [EventDate "1956.??.??"] [SourceDate "2000.07.25"] 1. -- 1-0 [Event "4#"] [Site "?"] [Date "1956.??.??"] [Round "?"] [White "Grunenwald, A."] [Black "0444.24"] [Result "1-0"] [SetUp "1"] [FEN "4r3/3n4/5pNp/2pP1k1K/5p2/5B2/3P2R1/1b6 w - - 0 1"] [PlyCount "1"] [EventDate "1956.??.??"] [SourceDate "2000.07.25"] 1. -- 1-0 [Event "h#2 b) bRb5 c) bB d) bN"] [Site "?"] [Date "1936.??.??"] [Round "?"] [White "Lindner, L."] [Black "3015.55"] [Result "1-0"] [SetUp "1"] [FEN "8/1Np2Pp1/2P1p1p1/1q4P1/2Pk4/2p3N1/K6P/4n2B b - - 0 1"] [PlyCount "1"] [EventDate "1936.??.??"] [SourceDate "2000.07.25"] 1... -- 1-0 [Event "h#3"] [Site "?"] [Date "1956.??.??"] [Round "?"] [White "Abragam, D."] [Black "0102.10"] [Result "1-0"] [SetUp "1"] [FEN "3R4/8/5k2/1N6/2N5/8/3P4/K7 b - - 0 1"] [PlyCount "1"] [EventDate "1956.??.??"] [SourceDate "2000.07.25"] 1... -- 1-0 [Event "h#3 with Set Play"] [Site "?"] [Date "1970.??.??"] [Round "?"] [White "Krikheli, I."] [Black "1330.23"] [Result "1-0"] [SetUp "1"] [FEN "8/8/3b4/2kP4/8/1P5p/p6p/rQ5K b - - 0 1"] [PlyCount "1"] [EventDate "1970.??.??"] [SourceDate "2000.07.25"] 1... -- 1-0 [Event "h#2"] [Site "?"] [Date "1955.??.??"] [Round "?"] [White "Bartolovic, H."] [Black "1512.46"] [Result "0-1"] [SetUp "1"] [FEN "5N2/4p3/4P1pk/7p/3Q1NPR/3p1P1R/2prpP2/2B1K3 w - - 0 1"] [PlyCount "1"] [EventDate "1955.??.??"] [SourceDate "2000.07.25"] 1. -- 0-1 [Event "s#3"] [Site "?"] [Date "1950.??.??"] [Round "?"] [White "Bjorklund, S."] [Black "1252.73"] [Result "1-0"] [SetUp "1"] [FEN "4R3/p7/P7/KPk2N2/PN2Q1P1/2b1p3/3PP1pP/2R3BB w - - 0 1"] [PlyCount "1"] [EventDate "1950.??.??"] [SourceDate "2000.07.25"] 1. -- 1-0 [Event "s#3"] [Site "?"] [Date "1952.??.??"] [Round "?"] [White "Joergensen, W."] [Black "4888.63"] [Result "0-1"] [SetUp "1"] [FEN "2b2Knq/RP1BP1rr/7b/4p1p1/1N2k1P1/3n2P1/1pQPP3/NR4B1 w - - 0 1"] [PlyCount "1"] [EventDate "1952.??.??"] [SourceDate "2000.07.25"] 1. -- 0-1 [Event "s#7 b) Pa2 on a3"] [Site "?"] [Date "2016.??.??"] [Round "?"] [White "Holubec, J."] [Black "1120.21"] [Result "0-1"] [SetUp "1"] [FEN "7B/8/8/1p1Q1P2/1R6/1K6/P3B3/2k5 w - - 0 1"] [PlyCount "1"] [EventDate "2016.??.??"] [SourceDate "2000.07.25"] 1. -- 0-1