Master's word
---
As an aperitif, a 3# with Q+B that a regular of "France-échecs" (a site where the best and the worst come together, going from "Francs-échecs" to "Rance-échecs") was sorry not to solve. Let him be reassured about his mental state: you can easily spend 30 minutes or more there (much less if you have "à la Portisch" concentration).
A forgotten precision: the 2nd study is the work of a Frenchman; there are not only calves, as thought an infamous temporary general ... From one French number 1 to another... After the problem's grandmaster MC, we had the pleasure to see again, after a long absence, the best French Japanese chess player (shogi) named EC. His little "paw moves" in the analysis of the most famous "training game" in history prove that he did not lose his hand in western chess.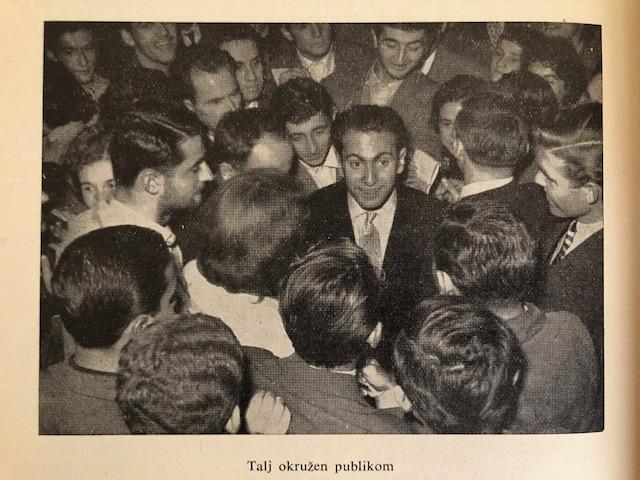 The absence of Pierre, a living encyclopaedia, has delayed the moment when the listeners of Saint-Lazare, though cultured, recognise the game of the day. The multiple French champion JLS, who had let hope for a welcome presence, was finally unable to receive the compliments that would not have failed to fly: "the Latvian JLS", the only one in any case who was world champion, and who, nevertheless modest (and sarcastic) liked to say: "the title of former world champion is the one I prefer: it can never be taken away from me!
Master's diagrams
[Event "?"] [Site "?"] [Date "1907.??.??"] [Round "?"] [White "Carr, G."] [Black "+0800.21a5a7"] [Result "1-0"] [SetUp "1"] [FEN "7R/kp5R/8/KP5r/7r/8/7P/8 w - - 0 1"] [PlyCount "5"] [EventDate "1907.??.??"] [Source "ChessBase"] [SourceDate "2000.10.30"] {Must be solved in 15 seconds.} 1. h3 $3 (1. Rxh5 $4 b6#) 1... Rf4 (1... Rxh7 2. b6#) (1... -- $11) 2. Rxb7+ $1 (2. Ra8+ Kxa8 3. Rxh5 Kb8 4. b6) 2... Kxb7 3. Rxh5 {"Enchanted castles".} 1-0 [Event "?"] [Site "?"] [Date "1981.??.??"] [Round "?"] [White "Cathignol, P."] [Black "+0000.88f1f8"] [Result "1-0"] [SetUp "1"] [FEN "5k2/8/pppppppp/8/PPPPPPPP/8/8/5K2 w - - 0 1"] [PlyCount "27"] [EventDate "1981.??.??"] 1. d5 $3 (1. a5 $2 bxa5 $8 (1... b5 $2 2. d5) 2. d5 a4 3. dxc6 Ke7) (1. b5 $2 cxb5 $8 (1... axb5 $2 2. c5)) (1. c5 $2 dxc5 (1... bxc5 2. d5 exd5 3. exd5 cxb4 ) 2. b5 cxb5) (1. e5 $2 fxe5 (1... dxe5)) (1. g5 $2 fxg5 (1... hxg5)) 1... exd5 (1... cxd5 2. a5 $1 (2. cxd5 $2 exd5) 2... bxa5 3. b5 axb5 4. cxb5 Ke7 5. b6 Kd7 6. b7 Kc7 7. g5 {(text with e4/e6 more)}) (1... c5 2. a5 bxa5 3. b5) 2. exd5 $1 cxd5 (2... c5 3. a5 bxa5 4. b5 axb5 5. cxb5) 3. a5 $3 bxa5 4. b5 axb5 5. cxb5 Ke7 6. b6 Kd7 7. b7 Kc7 8. g5 $1 fxg5 (8... hxg5 9. f5 $1) 9. h5 $1 gxh5 10. f5 a4 11. f6 a3 12. f7 a2 13. b8=Q+ Kxb8 14. f8=Q+ 1-0 [Event "3#"] [Site "?"] [Date "1905.??.??"] [Round "?"] [White "Wheeler, CH."] [Black "1010.00"] [Result "1-0"] [SetUp "1"] [FEN "8/Q7/5k2/8/7K/8/B7/8 w - - 0 1"] [PlyCount "1"] [EventDate "1905.??.??"] 1. -- 1-0 [Event "Riga"] [Site "Riga"] [Date "1957.??.??"] [Round "?"] [White "Tal, M."] [Black "Koblencs, Al"] [Result "1-0"] [ECO "B63"] [PlyCount "73"] [EventDate "1957.??.??"] [EventType "game"] [EventCountry "URS"] 1. e4 c5 2. Nf3 d6 (2... Nc6 {(played according to A O'Kelly, so really played)} 3. d4 cxd4 4. Nxd4 Nf6 5. Nc3 d6 {text}) 3. d4 cxd4 4. Nxd4 Nf6 5. Nc3 Nc6 6. Bg5 e6 7. Qd2 (7. Nxc6 bxc6 8. e5 Qa5 (8... dxe5 9. Qf3 $40) 9. Bb5 cxb5 10. exf6 b4 11. Ne4 (11. Qf3 Qe5+ 12. Ne4 d5 13. Rd1 (13. O-O-O) 13... Ba6 14. Rd4 dxe4 (14... Qxd4 15. fxg7 Qxg7 (15... Bxg7 16. Nf6+ Ke7 17. Nxd5+ Kd6) 16. Nf6+ Kd8) (14... g6) 15. Rxe4 (15. Qxe4 Qxe4+ 16. Rxe4 Rg8) 15... Qxg5 16. Rxe6+ fxe6 17. Qxa8+ Kf7 18. Qxa7+ Kxf6 19. Qxa6 Qc1+ {0-1 Tal,M-Pigit/LAT 1953}) (11. fxg7 Qe5+ 12. Qe2 Bxg7) 11... Qe5 12. f3 (12. Qe2 Bb7 13. fxg7 Bxg7 14. Qb5+ Qxb5 15. Nxd6+ Kd7 16. Nxb5 Kc6 17. a4 a6 {Sokolsky-Lissitsyn/Leningrad-ch/1943}) ( 12. Qd3 d5) 12... d5 13. Qd2 (13. O-O Bd7 (13... dxe4 $2 14. fxg7) (13... Ba6 $2 14. c4 $1 dxe4 15. Qa4+)) (13. fxg7 Bxg7) 13... h6 (13... dxe4 $2 14. O-O-O (14. fxg7 $2 exf3+ 15. Kd1 Qe2+ $19) 14... Qd5 15. fxg7 Bxg7 16. Qe3 Qa5 17. Qc5) (13... Qxb2) 14. Bh4 g5 (14... Qxb2 $6) 15. Bg3 (15. Bf2 dxe4 16. O-O-O Qc7 $19) 15... Qxb2 16. Rd1 (16. O-O dxe4 17. Rad1 Bc5+ 18. Bf2 Bxf2+ 19. Rxf2 O-O $19) 16... Ba6 17. Nd6+ Bxd6 18. Bxd6 Rc8 19. Rc1 Rc4 20. O-O Kd7 21. Be7 Rhc8 22. Rf2 $2 (22. Qe3 Bb5) 22... Rxc2 $1 23. Qxc2 (23. Rxc2 Qb1+) 23... Qxc1+ {0-1 Nilsson,Z-Geller,E/Stockholm 1954}) 7... Be7 (7... a6 8. O-O-O Bd7) 8. O-O-O O-O 9. Nb3 (9. Bxf6 Bxf6 10. Nxc6 bxc6 11. Qxd6 Qa5 (11... Qb6) 12. Qg3 (12. Bc4 Ba6 13. Bxa6 Bxc3 14. bxc3 Qxa6 $17 {Keres,P-Heinicke,H/Bad Nauheim 1936}) 12... Bxc3 (12... Bb7 13. f4 Bxc3 14. Qxc3 Qxc3 15. bxc3 c5 16. e5 {Beni,A-Kupper,J/Opatija 1953}) 13. Qxc3 Qxa2 14. Bc4 Qa4 15. Kb1 Rb8 (15... c5) 16. Rd6 Rb6 (16... Qb4) 17. Rhd1 Ba6 $2 (17... Qb4) 18. Bxe6 $1 Qxe4 (18... fxe6 19. Rd7) 19. R1d4 Qe2 20. Bb3 Rbb8 (20... Qf1+ 21. Rd1 Qxg2 22. Qc5 $1 Rbb8 (22... h6 23. Rd8 $18)) (20... c5) 21. Qxc6 Bb5 22. Qc7 Qxf2 23. Rd2 Qe1+ 24. Rd1 Qe8 25. Qxa7 $16 {Padevsky,N-Popov,V/Sofia 1958}) (9. Ndb5 Qa5 10. Bxf6 Bxf6 11. Nxd6 Rd8 (11... Bxc3 12. Qxc3 Qxa2 13. Bc4 Qa5 14. Qxa5 Nxa5 15. Be2 $16) 12. f4 (12. Nc4 $4 Rxd2 {0-1 Harandi,K-Speelman,J/London 1989}) 12... e5 $1 (12... Be7) 13. Qd5 (13. Bc4 exf4 14. Bxf7+ Kf8 15. Bc4 Be5 (15... Bg4 16. Qd5 Qxd5 17. Rxd5) 16. Ncb5 Qxd2+ 17. Rxd2 a6 18. Nc7 Rb8 19. Rhd1 Bg4) (13. Kb1 Be7 14. Ncb5 Bg4 15. Qxa5 Nxa5) 13... Qc7 (13... Qxd5 14. Rxd5 exf4) 14. f5 Nd4 15. Ndb5 Qa5 (15... Bg5+ 16. Kb1) (15... Qe7 16. Qc4) 16. Qc4 Bxf5 $1 {1/ 2-1/2 Kortschnoj,V-Boleslavsky,I/Moscow 1952/URS-ch} 17. b4 (17. exf5 Rac8 18. Qa4 Qxa4 19. Nxa4 Nb3+ 20. axb3 Bg5+ 21. Rd2 Rxd2 22. Nac3 a6) 17... Qa6 18. Nxd4 (18. exf5 $2 Rac8) 18... Qxc4 19. Bxc4 Rxd4 20. Rxd4 exd4 21. exf5 dxc3 22. Re1 $11) (9. f4 Nxd4 10. Qxd4 Qa5 11. e5 dxe5 12. Qxe5 Qxe5 13. fxe5 Nd5 14. Bxe7 Nxe7 15. Bb5) 9... Qb6 10. f3 a6 11. g4 {This 'anti-dragon' counter formation was already in use against other systems and therefore does not deserve the name "English" attack.} Rd8 12. Be3 Qc7 13. h4 $6 (13. g5 $1 Nd7 14. h4 b5 {is the exact text according to O'Kelly, and therefore certainly the exact text at all.}) 13... b5 $6 (13... d5 $1 $10 {Timman} 14. g5 dxe4) 14. g5 {"The both sides clearly indicate their intention to storm the enemy fortress. The infantry opens the lines to the heavy pieces" (A. O'Kelly).} Nd7 15. g6 hxg6 (15... fxg6 16. h5 gxh5 17. Rxh5 Nf6 18. Rg5 (18. Rh1 Ne5 19. Qf2 Rb8 20. Nd4 Nc4 21. Bh3 Qc5 22. Nf5 Qc7 23. Nxe7+ Qxe7 24. Bg5 Rf8 25. Qe2 Bd7 26. f4 d5 27. Nxd5 exd5 28. Bxd7 Qxd7 29. e5 Ne8 30. e6 Qc6 (30... Qd6) 31. f5 Rxf5 (31... Qc7 $2 32. Rxh7 $1 Qe5 33. Qxe5 Nxe5 34. Rdh1 Nf7 35. Be7 Nh6 36. R7xh6 gxh6 37. Rg1+ Ng7 38. f6 Rxf6 39. Bxf6 Rb7 40. e7 {1-0 Petrushin, A-Ragozin,E/Orel 1992}) 32. Qh2 Qxe6 33. Rde1 Qg6 34. Qxb8 Qxg5+ 35. Kb1 Ncd6) (18. Rh2 d5) 18... Ne5 (18... b4 19. Na4 Rb8 20. Qh2 Ne5 21. Be2 Bf8 22. Qg1 Re8 23. Bd4 Ned7 24. Nd2 Bb7 25. Bc4 Kh8 26. Bb3 Bc6 27. Qh2 Rec8 28. Rdg1 Rb5 29. f4 Ra5 (29... e5 30. Qg3 $1 Ne8 31. Rh1) 30. Nb6 $1 Nxb6 (30... Rxg5 31. fxg5) 31. Rxa5 Bb5 32. e5 (32. Bxf6 gxf6 33. f5) 32... dxe5 33. fxe5 Ng8 34. Ne4 (34. Qh3) 34... Nd5 (34... Nc4 35. Bxc4) 35. Rxb5 (35. Nd6) 35... axb5 36. Ng5 Nh6 37. Nxe6 Qd7 38. Nxf8 Rxf8 39. e6 {1-0 Simagin,V-Paoli,E/Salgotarjan 1967}) (18... d5) 19. Qg2 $40 Bf8 20. f4 (20. Be2 Nc4 21. Bxc4 bxc4 22. Nd4 Rb8 23. Rh1 $1 Rb7 (23... Qb7 24. Nd1) 24. Rh6 Kf7 (24... g6 25. Rgxg6+ hxg6 26. Rxg6+ Kf7 27. Qg5 Ne8 28. Rxe6 Bg7 29. Nd5) 25. Rh4 Qb6 26. Nd1 Qc7 27. f4 h6 28. Rg6 Re8 29. f5 e5 (29... exf5 30. exf5 Re5) 30. Nc3 $1 Qd8 31. Nc6 {1-0 Tal,M-Mohrlok,D/Varna 1962}) (20. Qf2) 20... Nc4 21. Bxc4 bxc4 22. Nd4 Rb8 23. Rg1 Rb7 24. Nxe6 $1 {(but yes !)} Bxe6 25. Bd4 d5 (25... Ne8 26. f5) 26. Be5 ( 26. Bxf6 $2 Qxf4+) 26... Qe7 27. exd5 Nxd5 28. Ne4 c3 (28... Kh8 29. f5 Ne3 30. f6) 29. Nxc3 Nxc3 30. Bxc3 Bxa2 31. Qf3 Qf7 (31... Qd6) 32. Bxg7 Bxg7 33. Rxg7+ Qxg7 34. Rxg7+ Rxg7 35. b3 Rf8 (35... Rg1+ 36. Kb2 Bb1 37. Qc6) 36. Qd5+ Kh8 37. Qd6 Rgf7 38. Qe5+ Kg8 39. Qg5+ Kh8 40. Qe5+ Kg8 41. Qg5+ Rg7 42. Qd5+ Kh8 { 1/2-1/2 Spassky,B-Boleslavsky,I/Riga 1958/URS-ch}) (15... Nc5 16. gxf7+ Kxf7 17. Bh3 Na4 18. f4) (15... Nce5 16. gxf7+ Kxf7 17. f4 Nc4 18. Bxc4 bxc4 19. Nd4 Nf6 20. Rhg1 Rb8 21. Qg2 Bf8 22. f5 exf5 23. Bg5 Be7 24. exf5 Qb7 {Nikolenko, O-Verner,A/Moscow 1996}) 16. h5 gxh5 17. Rxh5 Nf6 18. Rh1 {/\ 19.Qh2} d5 $2 ( 18... Ne5 {Timman}) 19. e5 $2 (19. Bf4 $1 Bd6 20. Bxd6 Qxd6 21. f4 $1 {(/\ 22. Qh2, 22.e5 +- Timman)} Ng4 22. e5 (22. Rg1 b4) (22. Bh3 Nh6 23. exd5 exd5 24. Nxd5 Bxh3) 22... Qc7 23. Qg2) 19... Nxe5 (19... Qxe5 $2 20. Bf4 Qf5 21. Bd3) 20. Bf4 (20. Qh2 Kf8 21. Qh8+ $2 (21. Bf4 Bd6 22. Qh8+ {texte} Ke7 $1) 21... Ng8 22. Rh7 Bf6 23. Bc5+ (23. Ne4 Ng6 24. Bc5+ Qxc5) 23... Qxc5 24. Nxc5 Ng6 25. N3e4 Be5 $17) 20... Bd6 21. Qh2 Kf8 (21... Nd3+ $2 22. Kb1 $18) (21... Ng6 $1 22. Bxd6 Qxd6 $15) 22. Qh8+ Ng8 $2 (22... Ke7 $1 23. Qh3 (23. Qxg7 $2 Rg8 24. Qh6 Nd3+) (23. Qh4 Nxf3 (23... Bd7) 24. Bxd6+ Qxd6 25. Qf2 Ne5) 23... Bd7 ( 23... Nd3+ 24. Bxd3 Bxf4+ 25. Kb1 Ra7)) 23. Rh7 f5 (23... f6 $6 24. Bh6 Rd7 25. Bxb5 Ng6 26. Nd4 Re7 27. Bxg7+ Rxg7 28. Bd7 $1 Qxd7 29. Nxe6+ Qxe6 30. Qxg7+ Ke8 31. Qxg6+) 24. Bh6 Rd7 25. Bxb5 $1 (25. Nd4 Rf7 26. Nxf5 gxh6 27. Rxf7+ Qxf7 28. Nxd6 Qf4+ 29. Kb1) 25... Rf7 (25... Re7 26. Rg1) (25... axb5 26. Nxb5 $18) (25... Ng6 $1 26. Nd4 $1 (26. Bxd7 $2 Bf4+ 27. Kb1 Bxh6) 26... Re7 27. Bxg7+ Rxg7 28. Bd7 $3 {(Nowotny and Plachutta hybrid)} Qxd7 (28... Nxh8 $2 29. Nxe6+ Ke7 30. Rxg7+) 29. Nxe6+ Qxe6 30. Qxg7+ Ke8 31. Nxd5 a5 (31... Bd7 32. Qxg8+ $1 Qxg8 33. Nf6+ Kd8 34. Nxg8 Kc7 35. Nf6) (31... N8e7 32. Nf6+ (32. Nxe7 $2 Bxe7) 32... Kd8 33. Rxd6+ $1 Qxd6 34. Rh8+ Nxh8 35. Qf8+ Kc7 36. Ne8+) (31... N6e7 32. Nxe7 Nxe7 33. Rh8+ Kd7 34. Rh6 Qe3+ 35. Kb1 Qc5 36. Rhxd6+ (36. Qd4)) (31... Be5 32. Nc7+ Bxc7 33. Qxc7) 32. Nf6+ (32. f4 a4 (32... Ba6 33. Nf6+) 33. Rhh1) (32. Nc7+ Bxc7 33. Qxc7 Ba6 34. Qc3 (34. Qxa5 Bb7 $1 (34... N8e7 35. Re1 Qg8 $1 36. Rhxe7+ Nxe7 37. Qc7 Qg5+ $8 38. f4 Qf6)) (34. b3 N8e7) 34... Nf4) (32. Qxg8+ Qxg8 33. Nf6+ Kf8 34. Rxd6 $1 Qxh7 35. Nxh7+ Kg7) 32... Qxf6 (32... Nxf6 33. Qxg6+ Kd8 34. Rf7) 33. Qxg8+ Nf8 (33... Bf8 34. Re1+ Ne7 35. Rexe7+) 34. Rxd6 Be6 (34... Qxd6 35. Qf7+ Kd8 36. Rh8) 35. Rh8 Ke7 36. Rxe6+ Qxe6 37. Qg7+ Qf7 38. Qe5+ Qe6 (38... Kd7 39. Rh6 Ng6 40. Rxg6) 39. Qg7+) 26. Rg1 Ra7 (26... Ng4 27. fxg4) 27. Nd4 $1 {"The tension has reached its breaking point" (A. O'Kelly).} (27. Bxa6 $1 Nxf3 (27... Rxa6 28. Rgxg7) (27... Bxa6 28. Nd4 Nd3+ (28... Bc8 29. Ndb5) 29. cxd3 Bf4+ 30. Kb1 Bxd3+ 31. Ka1 Qe5 32. Rhxg7 Rxg7 33. Bxg7+ Rxg7 34. Nxe6+) 28. Nb5 (28. Rgxg7 Rxg7 29. Bxg7+ Qxg7 30. Rxg7 Rxg7) (28. Bxc8 Nxg1 (28... Bf4+ 29. Bxf4) 29. Bxe6) 28... Bf4+ (28... Nxg1 29. Nxc7 Raxc7 30. Bxc8) 29. Kb1 Bxh6 (29... Qe5 30. Bxf4 Qxf4 31. Rgh1 $1 Rxa6 32. Qxg8+) 30. Nxc7 Rxa6 31. Rg3) (27. Be8 Re7) 27... Ng4 $6 (27... Nc4 $142 28. Nxf5 $1 (28. Bxc4 Bf4+ (28... Be5 29. Nxf5) 29. Kb1 Bxh6 30. Rxh6 Qxc4 ) (28. Rgxg7 $2 Bf4+) (28. Be8 $2 Bf4+) 28... Bf4+ $8 (28... exf5 29. Nxd5 Qb7 30. Rgxg7 Rxg7 31. Rxg7 Qxg7 32. Bxg7+ Rxg7 33. Bxc4) 29. Kb1 exf5 30. Nxd5 Bxh6 (30... Nd2+ 31. Ka1 Bxh6 32. Nxc7 Raxc7 33. Rxh6 axb5 34. Rd6 Rcd7 35. Rxd7 Bxd7 (35... Rxd7 36. Qh3 Ne7 37. f4) 36. f4) (30... Qe5 $6 31. Bxc4 Bxh6 32. Rxh6 Qd4 (32... Rab7 33. b3) 33. Rgh1 $1 Rfd7 34. Qxg8+ Kxg8 35. Ne7+ Kf8 36. Ng6+ Ke8 37. Rh8#) 31. Nxc7 axb5 32. Rxh6 Raxc7 33. Rh2 Rfd7 34. Qh5) ( 27... Bc5 28. Be8 $1 (28. Rgxg7 Rxg7 29. Rxg7 Qxg7 30. Bxg7+ Rxg7 31. Qh4 Kf7 ( 31... axb5 32. Qd8+ Kf7 33. Qc7+) 32. Be2) (28. Rhxg7) 28... Re7 (28... Kxe8 29. Rgxg7 Rxg7 30. Rxg7 Nf7 31. Rxg8+ Ke7 (31... Kd7 32. Rg7) 32. Nxf5+) (28... Bxd4 29. Bxf7 Nd3+ 30. cxd3 Qxf7 31. Bxg7+ Bxg7 32. Rhxg7 Qxg7 33. Rxg7 Rxg7 $18) 29. Rgxg7 Rxg7 30. Rxg7 Qxg7 31. Bxg7+ Rxg7 32. Nce2 Bxd4 33. Nxd4 Rg1+ 34. Kd2 Nc4+ 35. Kc3 Kxe8 36. b3 Na5 (36... Ne3 37. Qe5) (36... Na3 37. Qh5+ Kd7 (37... Ke7 38. Qh2) 38. Qf7+) 37. Qh5+ Kf8 (37... Kd8 38. Qh2 Rd1 39. Nxe6+ Bxe6 40. Qe2) 38. Qh2 Rd1 39. b4 (39. Qc7 Ne7 $1 40. f4 (40. b4 e5 (40... Nb7 41. Nc6) 41. Qxe5 Nc4) (40. Qxa5 $2 Rxd4) 40... Ke8) (39. Qe2) 39... Rxd4 ( 39... Nc4 40. Qc7 Ne7 41. Nc6) 40. Kxd4 Nc4 41. Kc5 Ne7 42. a4 e5 43. b5) ( 27... Nxf3 28. Nxf3 Bf4+ 29. Kb1 (29. Bxf4 Qxf4+ 30. Nd2 axb5 31. Nxb5 Rab7) 29... Bxh6 30. Rxh6 (30. Nh4 Rf6) 30... Qc5 31. Be2 Rab7 32. Na4) 28. fxg4 Be5 (28... Bf4+ 29. Bxf4 (29. Kb1 Bxh6 30. gxf5 Qh2) 29... Qxf4+ 30. Kb1 Qxd4 ( 30... axb5 31. Ndxb5 Rab7 32. gxf5) 31. Rgh1 Rfb7 (31... Rab7 32. Qxg8+) 32. Be8 $1 (32. g5 e5 33. g6 Be6) 32... Rxb2+ 33. Kc1 $1 (33. Kxb2 Rb7+ 34. Kc1 Qf4+ 35. Kd1 Qxg4+ 36. Ne2 Rb1+ 37. Kd2 Qg5+ 38. Kd3 Rxh1 39. Rxh1 e5 $132) 33... Qf4+ (33... Qxc3 34. Qxg8+ Ke7 35. Qxg7+) 34. Kxb2 Qb4+ (34... Rb7+ 35. Ka1) 35. Kc1 Qf4+ 36. Kd1 Qd4+ 37. Ke2 Qc4+ (37... Qxg4+ 38. Ke1) 38. Kf2 Qf4+ 39. Ke1 Qg3+ 40. Kd1 Qf3+ 41. Ne2 $18) (28... gxh6 29. gxf5 Bf4+ 30. Kd1 (30. Kb1 $6 Rg7) 30... Bg5 (30... Bg3 31. Rxf7+ Qxf7 32. Rxg3 $40) 31. Rxh6 Qf4 ( 31... Rg7 32. Rxg5 (32. Bd7 $1)) (31... Rh7 32. Rf6+) 32. Rxg5 Qxg5 33. Rg6 $18 ) 29. Nc6 (29. Be8 Kxe8 (29... Bxd4 30. Bxf7 Qxf7 31. Rf1) 30. Nxe6 (30. Nxf5) (30. Qxg8+ Rf8 31. Nxe6) 30... Bxe6 31. Qxg8+ Ke7 (31... Rf8 32. Qxe6+ Qe7 33. Qxd5 (33. gxf5)) (31... Kd7 32. gxf5 Bf4+ (32... Rxf5 33. Rhxg7+ Bxg7 34. Rxg7+ ) 33. Kb1 Qb8 (33... Bxh6 34. Rxh6 gxh6 35. fxe6+ Kxe6 36. Qg6+ Ke5 37. Re1+ Kd4 38. Qd3+ Kc5 39. Qxd5+ Kb6 40. Na4#) 34. Qxb8 Bxb8 35. Rgxg7) 32. gxf5 Qc8 (32... Rxf5 33. Rgxg7+ Bxg7 34. Rxg7+ Rf7 35. Qxf7+ Bxf7 36. Nxd5+) (32... Bxc3 33. Bg5+ (33. fxe6) 33... Bf6 34. Bxf6+ Kxf6 (34... gxf6 35. Re1) 35. fxe6) 33. f6+ (33. Qxc8 Bxc8 34. Nxd5+ Kd6) 33... Bxf6 (33... Kxf6 34. Bxg7+ Rxg7 35. Nxd5+ Kf5 (35... Bxd5 36. Rh6+) 36. Rh5+ Ke4 37. Re1+ Kf3 38. Qxc8) (33... Kd6 34. Qxc8 Bxc8 35. fxg7) 34. Nxd5+ Kd6 35. Qxc8 Bxc8 36. Nxf6 gxf6 37. Bf4+) ( 29. Nf3 $1 Bxc3 30. Nh4 Ke7 (30... Rf6 31. g5) 31. Qxg8 axb5 32. bxc3) 29... Bxc3 $6 (29... axb5 $142 30. Nxe5 (30. Nxa7 Qxa7 31. Rh1 b4 $1 (31... Bxc3 32. bxc3 gxh6 (32... Rc7 33. Kb1) 33. R1xh6 Rxh7 34. Rxh7 Qe3+ 35. Kb2 Qg5 36. Qe5) (31... Rb7) 32. Bg5 Rb7 (32... bxc3 $2 33. Qxg8+) 33. Nd1 Qxa2 34. gxf5) (30. Nxb5 $2 Qxc6 31. Nxa7 Qb6) 30... Qxe5 31. gxf5 exf5 32. Bd2 Rfe7 33. Re1) ( 29... f4 30. Re1) 30. Be3 $1 (30. bxc3 f4 (30... Qb6 31. Rg3 Qxb5 32. gxf5 (32. Nxa7 Qf1+ 33. Kb2 Rb7+ 34. Ka3 gxh6 35. Rxb7 Bxb7 36. Qe5) 32... Rab7 33. Nb4 Qf1+ 34. Kb2 Qc4 35. a3 (35. Rgxg7 Rxb4+)) (30... gxh6 31. gxf5 Rg7 32. Rgxg7) 31. Rf1 e5 32. Rxg7 $1 Rxg7 33. Nxe5 $1) 30... d4 31. Rgh1 $1 Rd7 (31... Rf6 32. Bg5 Rb7 33. Bxf6 Qf4+ 34. Kb1 gxf6 35. Rxb7 Bxb7 36. gxf5 (36. Ne7 $1)) ( 31... g5 32. Rxf7+ Qxf7 33. Nxa7) 32. Bg5 $2 (32. gxf5 $1 Rd5 (32... dxe3 33. fxe6) (32... Qg3 33. fxe6) 33. fxe6 (33. bxc3 $1 dxe3 34. f6 $1 (34. Nxa7 Qxc3) ) (33. Nxa7 Bxb2+ 34. Kxb2 Qc3+) 33... Bxe6 34. Rf1+ Rf5 35. Rxf5+ Bxf5 36. Bc4 Bxh7 37. Qxh7 Qxc6 38. Qxg8+ Ke7 39. Bg5+ Kd6 40. Qf8+ Kc7 41. Qd8+ Kb7 42. Bd5 $18) 32... axb5 (32... d3 $2 33. bxc3 axb5 34. R1h6 $3 {text}) 33. R1h6 $1 { "Black is knocked out by the precision of White's moves" (A. O'Kelly).} d3 $2 (33... Qxc6 $1 34. Rf6+ (34. bxc3 Qe4 $1 35. Rf6+ Ke7 36. Qxg7+ Kd6) 34... gxf6 35. Bh6+ Rg7 36. Bxg7+ Ke7 37. Bxf6+ Kd6 38. Be5+ Kd5 39. Rxa7 Bxb2+ 40. Kxb2 Qc3+ 41. Kc1 Qe1+ 42. Kb2 $11 Qxe5 43. Qxg8 d3+ 44. Kb3 d2 45. Qxc8 Qe3+ ( 45... d1=Q $2 46. Rd7+) 46. Qc3 Qxa7 $8 (46... Qxc3+ $2 47. Kxc3) 47. Qxd2+ Kc6 $11) (33... gxh6 $2 34. Bxh6+) 34. bxc3 d2+ 35. Kd1 Qxc6 36. Rf6+ $1 Rf7 (36... gxf6 37. Bh6+ Rg7 38. Bxg7+ Ke7 39. Bxf6+ Kd6 (39... Kf8 40. Bg7+ Ke7 41. Bh6+) 40. Be5+ Kd5 41. Bb8 Qxc3 (41... Rxh7 42. Qd4#) 42. Qxc3 $18) 37. Qxg7+ 1-0