Master's word
---
So the so-called "civilised" world found nothing better than to put Bobby Fischer in prison in Japan.
"Distrustful as a rat, deceived by too many people" (G. de Nerval), Bobby has been robbed, swindled, cheated since he was at least 18 years old. He has put up with ardently denigrating jealousies, emanating from the worst mediocre people in the chess world, and from others. But even more, he has suffered constantly from inhuman loneliness. Having met him briefly in Monaco in 1967, I had the impression, perhaps the illusion, to understand him.
Like many others, I saw the American politicians licking his boots in 1972 and withering away in 1992.
I remember a Spanish-French histrion who swore by him. When his problems worsened, when certain statements, usually extorted and distorted, didn't please the dogma's supporters, did you see him support him, help him in any way? Like most, he chose the way out. Donec eris felix multos numerabis amicos; tempora si fuerint nubila, solus eris (as long as you are happy, your friends will be many; come adversity, you will be alone).
Let's wish for a start of civilization-sic.
The selected game is the one you can see in the videos.
Have a good reading.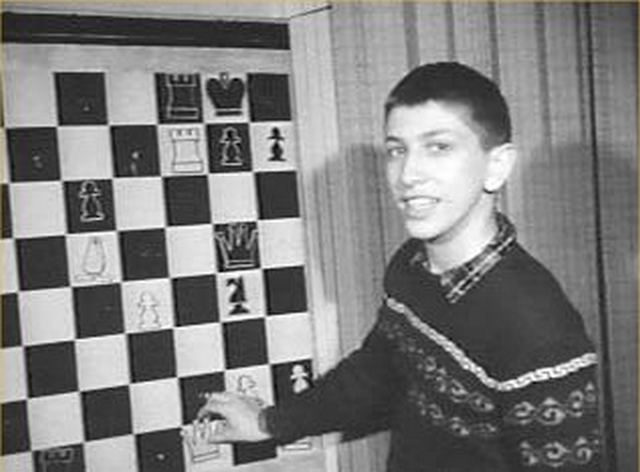 Master's diagrams
[Event "3#"] [Site "?"] [Date "1875.??.??"] [Round "?"] [White "Walker, A."] [Black "0211.23"] [Result "1-0"] [SetUp "1"] [FEN "8/6pR/4p1Np/3kB2P/K1R5/1P6/8/8 w - - 0 1"] [PlyCount "1"] [EventDate "1875.??.??"] 1. -- 1-0 [Event "h#6 b) Rb2 on f2"] [Site "?"] [Date "2003.??.??"] [Round "?"] [White "Ravarini, R."] [Black "3310.02"] [Result "1-0"] [SetUp "1"] [FEN "KB6/2q5/3k4/8/3p4/8/1r5p/8 b - - 0 1"] [PlyCount "1"] [EventDate "2003.??.??"] 1... -- 1-0 [Event "?"] [Site "?"] [Date "1946.??.??"] [Round "?"] [White "Lommer, H."] [Black "=0703.30g4f6"] [Result "1/2-1/2"] [SetUp "1"] [FEN "7R/5n2/5kPP/5r1r/5PK1/8/8/8 w - - 0 1"] [PlyCount "11"] [EventDate "1946.??.??"] 1. g7 $8 Nxh6+ (1... Rh1 2. g8=Q) (1... Rxh6 2. g8=N+ $8 Kg7 3. Nxh6) 2. Rxh6+ $8 Rxh6 3. g8=N+ $3 {[#]} (3. g8=Q $2 Rg6+ $8) 3... Kg6 4. Ne7+ $8 (4. Nxh6 $2 Rf8 $1 $19) 4... Kf6 5. Ng8+ $8 (5. Nxf5 $2 Rg6+ $8) 5... Kg6 6. Ne7+ $8 {We do not capture any Rook.} 1/2-1/2 [Event "?"] [Site "?"] [Date "1978.??.??"] [Round "?"] [White "Mitrofanov, L."] [Black "0410.33"] [Result "1-0"] [SetUp "1"] [FEN "kB6/3K3p/7P/1P6/4p3/1p5R/4P2p/7r w - - 0 1"] [PlyCount "15"] [EventDate "1978.??.??"] 1. Kc8 $8 (1. Bxh2 $2 b2 2. Kc6 Rxh2 $8 3. Rg3 b1=Q 4. Rg8+ Ka7 $11) (1. Rxh2 $4 Rxh2 2. Bxh2 b2 $19) 1... Rc1+ (1... Rf1 2. Bxh2 $1 (2. Rf3 $4 h1=Q 3. b6 Rc1+) 2... Rf8+ 3. Kc7 $8 (3. Kd7 $2 Rf3 $3 {[#]} 4. exf3 b2 $11) 3... Rf7+ 4. Kc6 $1 Rf6+ 5. Bd6 $1 $18) 2. Bc7 $8 h1=Q (2... Ka7 3. b6+ (3. Rxb3) 3... Ka6 4. b7) 3. Rxh1 $8 (3. Rxb3 $2 Rxc7+) 3... b2 (3... Rc2 4. Ra1+ Ra2 5. b6) (3... Rxh1 4. b6 $8) 4. Rh3 $3 {[#]} (4. b6 $2 b1=Q $8 5. Rxc1 e3 $3 {[#]} 6. Rc2 (6. Rf1 Qf5+ $8) 6... Qb2 $8 7. Rc3 Qb3 $8 8. Rc4 Qb4 $8 $11 {: systematic defensive movement} ) 4... Ra1 (4... e3 5. Rxe3 $8 Ra1 6. Rb3 $8 b1=Q 7. Rxb1 Rxb1 8. e4 $8 (8. b6 $2 Rxb6 $11) 8... Rxb5 9. e5 $8 Rb4 (9... Rb6 10. Bd6 $8 Rb8+ 11. Kd7) 10. e6 Re4 11. Kd7 $8 Kb7 12. Bd6 $18) 5. b6 $3 (5. Rb3 $2 b1=Q 6. Rxb1 Rxb1 $11) 5... b1=Q 6. Rh1 $3 {[#]White to move, they would play e3!, so it's not a "reciprocal" Z.} e3 (6... Qb2 7. Rxa1+ $8 Qxa1 8. b7+) 7. Rf1 $3 {[#]It is necessary to obviously prevent ...Df5+.} Qxb6 8. Rxa1+ $8 {Given at the 2003 Dutch championship.} 1-0 [Event "USA-ch"] [Site "New York"] [Date "1957.??.??"] [Round "7"] [White "Fischer, R."] [Black "Sherwin, J."] [Result "1-0"] [ECO "B87"] [PlyCount "71"] [EventDate "1957.??.??"] [EventType "tourn"] [EventRounds "13"] [EventCountry "USA"] 1. e4 c5 2. Nf3 d6 3. d4 cxd4 4. Nxd4 Nf6 5. Nc3 a6 6. Bc4 e6 7. O-O b5 8. Bb3 b4 9. Nb1 (9. Na4 Bb7 (9... Nxe4 10. Re1 Nf6 11. Bg5 $40) (9... Bd7 $1 10. f4 Nc6) 10. Re1 Nbd7 11. a3 Nxe4 12. Nxe6 fxe6 13. Bxe6 Be7 (13... Ndf6 14. f3 d5 15. fxe4 dxe4 16. axb4 Bxb4 {De Firmian,N-Hort,V/Baden-Baden/1981} 17. Qxd8+ Rxd8 18. c3 $16 {De Firmian}) 14. Qd4 Nef6 15. axb4) 9... Bd7 (9... Nxe4 10. Qf3 (10. a3 d5 11. Re1) 10... d5 (10... Bb7 11. Ba4+ Nd7 12. Nc6 (12. Nd2 Nec5 13. Bc6 Qc7) (12. Bc6 Bxc6 13. Nxc6 Qb6 14. Qxe4 d5) (12. Re1 Nec5 13. Bc6) 12... Nec5 $1 (12... Qc7 $2 13. Qxe4 d5 14. Bf4 Qc8 15. Qxd5 $3 exd5 16. Re1+ Be7 17. Nxe7 $18 {Lipnitsky}) 13. Nxd8 Bxf3 14. Nxe6 fxe6 15. Bxd7+ Nxd7 16. gxf3 Rc8) (10... f5 $2 11. Bxe6 (11. Nxe6)) 11. c4 {[#]} (11. Nd2 Nxd2 12. Bxd2 Bc5) (11. a3 Bc5) 11... bxc3 (11... Bc5) 12. Nxc3 Nxc3 13. bxc3 Bc5 (13... Bd6 14. Nf5 (14. c4 $2 Qh4 $19) (14. Rd1) 14... O-O (14... exf5 $2 15. Qxd5 Ra7 16. Re1+ Be6 17. Qd4 $1 Re7 18. Qxg7 Rf8 19. Bh6 $18) (14... Be5) 15. Nxd6 Qxd6 16. Bf4 Qd7 $1 (16... Qc6 $2 17. Qg3 Bb7 18. Bh6 $18) (16... Qd8 17. c4 Nc6 18. Rad1 Bb7) 17. c4 Bb7) (13... Be7 14. c4) 14. Qg3 O-O 15. Bh6 (15. Bg5 Be7 ( 15... Bd6) (15... f6 16. Bf4 $1 e5 17. Qf3 Bb7 18. Ne6 Qd6 19. Nxc5 Qxc5 20. Be3 Qd6 21. Rfd1 $16) 16. Bh6 Bf6 17. Bc2 e5 18. Nf5 Bxf5 19. Bxf5 Nc6) (15. Nf3 Nd7) 15... Bxd4 (15... Qf6 16. Bg5 Qg6 17. Bc2 f5) 16. cxd4 Qf6 17. Bf4 Nc6 18. Rfd1 Bd7 19. Bc2 g6 20. Bg5 Qh8 21. Qf4 f6 22. Bh6 Rf7 23. Qd6 f5 24. Ba4 Nxd4 25. Bxd7 Rd8 26. Rab1 $1 Qf6 27. Rb7 g5 28. Rxd4 Qxd4 29. h4 Kh8 30. Bxe6 Rff8 31. Qe7 {1-0 Khasin,A-Krogius,N/Leningrad 1954}) (9... Bb7) 10. Be3 Nc6 ( 10... Nxe4 11. Qf3 d5 12. c4) 11. f3 {For once, Fischer does not play f2-f4 against the Sicilian !} Be7 $6 (11... Na5 {Soltis} 12. c3 $14 Nxb3 13. axb3) 12. c3 (12. a3) 12... bxc3 (12... a5 13. Nb5 $1 (13. Nxc6 Bxc6 14. Ba4) 13... Qb8 14. a4) 13. Nxc6 Bxc6 (13... cxb2 $2 14. Nxd8 bxa1=Q 15. Bd4 $1 (15. Nxf7 $1 O-O 16. Nh6+ gxh6 17. Bd4) 15... Qxd4+ 16. Qxd4 Rxd8 17. Ba4 Kf8 18. Qb6 Bc8 19. Rc1) 14. Nxc3 O-O 15. Rc1 Qb8 (15... d5 16. Nxd5) (15... Bb7 16. Qd3 (16. Na4) 16... Rc8 17. Rfd1 Nd7 18. Na4) (15... Qd7 16. Na4) 16. Nd5 $1 exd5 $2 ( 16... Nxd5 17. exd5 Bxd5 (17... Bb5 $2 18. dxe6 Bxf1 19. exf7+ Kh8 20. Qxf1 $16 ) 18. Bxd5 {ci-dessous}) (16... Bxd5 17. exd5 Nxd5 (17... e5 18. Rc6 $1 a5 ( 18... Qb5 19. Qd2) (18... Rc8 19. Rb6 Qc7 20. Qd3) 19. Qe2 Qb4 20. Rfc1 (20. Bc4)) (17... exd5 18. Re1) 18. Bxd5 exd5 19. b3 Qb5 20. Qd2 Bf6 (20... Rfe8 21. Rfd1 Bf6)) 17. Rxc6 $16 dxe4 18. fxe4 Qb5 (18... Nxe4 19. Rxf7 $1 (19. Bd5 $1 { (threatens Rb6)} Bg5 20. Bd4 $1 Nf6 21. Rb6 $16) (19. Rb6 Qe8 20. Bd5 Bg5) (19. Qd3 Nc5) 19... Rxf7 20. Bxf7+ (20. Qd5 $2 Ng5 $1 21. Bxg5 Qa7+ 22. Kh1 Raf8) 20... Kxf7 21. Qd5+ Kf8 22. Qxe4 Qe8 23. Bf4 Kg8 24. Qc4+) (18... Qb7 19. Qc2) 19. Rb6 Qe5 20. Bd4 Qg5 $18 (20... Qxe4 $2 21. Re1) 21. Qf3 $6 (21. Rb7 $1 Rae8 (21... Nxe4 22. Re1 Rac8 23. Qe2 $1 d5 24. Rxe7 Qxe7 25. Bxd5) (21... Bd8 22. Bxf7+ Rxf7 23. Rxf7 Kxf7 24. Qb3+ Kg6 25. Qb7 $18) 22. Ba4 Nxe4 23. Bxe8 Rxe8 24. Qa4 $18) (21. Rf5 Qh4) (21. Qe2 Qh4 (21... a5 22. Rb7)) 21... Nd7 $1 (21... Qg6 $2 22. Rb7 Rae8 23. Ba4 Nxe4 24. Bxe8 Rxe8 25. Ra7) (21... Qg4 $2 22. Qxg4 Nxg4 23. Bd5 Ra7 24. Rb8 $3 {[#]} (24. Rxf7) 24... Rxb8 25. Rxf7 $18) 22. Rb7 (22. Bxf7+ $1 Kh8 23. Rb7 Nc5 $2 (23... Ne5 {Soltis} 24. Qe3 $1 Qxe3+ 25. Bxe3 Bf6 26. Bd5 Ng4 27. Ba7 $16) (23... Bf6 24. Be3 Ne5 25. Qf2 $16) 24. h4 $3 {[#]} (24. Be3 Qe5) (24. Bxc5 dxc5) (24. Rxe7 $2 Qxe7 25. Qh5 Nxe4 $1 $19 {(and not the Queen because of Bxg7+!)}) (24. Rb4 Qh6 25. Qh5 Qxh5 26. Bxh5 Nxe4 27. Rxf8+ Rxf8 28. Be2 Nc5 29. Rb6 $14 a5 30. b3) (24. Qc3 Nxb7 25. Rf5 Qh6 26. Rh5) 24... Qxh4 25. Qc3 $3 Bf6 26. Rxf6 $18) 22... Ne5 23. Qe2 (23. Qe3) 23... Bf6 $14 24. Kh1 (24. Bd5 Nf3+) 24... a5 (24... Qg4 25. Bc4 a5) (24... Qh4 25. h3 (25. Rc7 Ng4 26. Bg1 Bd4 $2 27. g3)) 25. Bd5 Rac8 (25... Qh4) (25... a4 $2 26. Bxe5 dxe5 ( 26... Qxe5 27. Rb5) 27. Qb5 (27. Rxf7)) 26. Bc3 a4 (26... Ng4 27. Bd2 (27. Qf3 Ne5 28. Qh3) 27... Qh4 (27... Rc2 28. Rxf7 $1 {[#]} Rxf7 29. Qb5 $1 Qxd5 30. Qxd5 Rxb2 31. h3) 28. h3 Rc2 (28... Ne5 29. Bxa5) 29. Qd3) 27. Ra7 (27. Qa6 Qh4) 27... Ng4 28. Rxa4 (28. Bd2 Qg6 (28... Rc2 29. Rxf7 $1 {above}) 29. Bf4) ( 28. Qf3 h5 29. h3 (29. Bxf6)) (28. Bxf6 Nxf6 29. Rxa4 Nxd5 30. exd5 Qxd5 31. Qf2 (31. Ra7 Rce8) 31... f6) 28... Bxc3 29. bxc3 Rxc3 $2 (29... Ne3 $1 30. Qd2 h6) (29... Qh4 30. g3 Qh3 31. Kg1) (29... Rc7) (29... Kh8 30. Ra7 Ne3 (30... f5 31. exf5 {(Be6 is not so smart because of ...Qh6)} Rxf5) (30... Rxc3) 31. Qd2 f6 $44) 30. Rxf7 $1 {[#]} (30. Bxf7+ $2 Kh8 $1) 30... Rc1+ $2 (30... h5 $1 { (offering White a choice of... 9 moves !)} 31. Rxf8+ $1 (31. Qe1 $2 Rxf7 32. Bxf7+ Kh7 $1 33. Qxc3 Qf4 $3) (31. Rf1+ $2 Kh7 32. Rxf8 Rc1+ 33. Rf1 (33. Qf1 Rxf1+ 34. Rxf1 Qe5) 33... Qf4 $1) (31. Qb2 $2 Rxf7 (31... Kh7 32. Qxc3 Rxf7 33. Bxf7 Qf4 34. Bg8+ Kh8) 32. Bxf7+ Kh7 $19) (31. Qf1 $6 Kh7 $8 (31... Rxf7 $2 32. Qxf7+ Kh7 33. Qg8+ Kh6 34. Qh8+ Kg6 35. Bf7+ $3 {[#]} Kxf7 36. Ra7+ Kf6 37. Qd8+ Kg6 38. Rxg7+) 32. Rxf8 Rc1 33. Ra3 (33. Bg8+ Kh6 34. Bc4 $2 {(threatens #2, but...)} Rxf1+ 35. Bxf1 Qe5 36. g3 Qb2 37. Bg2 Ne3 $19) 33... Rxf1+ 34. Rxf1 Qe5 35. Rg3 Nxh2 36. Kxh2 h4 37. Rff3 $11) (31. Rf3+ $2 Kh7 32. Rxc3 Qd2 $1 ( 32... Qe5) 33. Bc4 Qxc3 $19) (31. Raa7 $2 Rc1+ 32. Rf1+ Kh8) (31. Rc7+ $2 Kh7 32. Rxc3 Qd2 $1 {[#]}) (31. Rc4 $1 Rxc4 (31... Rxf7 $2 32. Bxf7+ Kxf7 33. Rxc3 Qe5 34. Rf3+ Ke7 35. g3) 32. Qxc4 $1 (32. Rxf8+ $2 Kxf8 33. Qxc4 Nf2+ 34. Kg1 Nh3+ 35. Kf1 Qf6+) 32... Rxf7 33. Bxf7+ Kh7 (33... Kf8 34. Be6) 34. Qf1 $1 g6 35. h3 $16) 31... Kxf8 32. Qf1+ Nf6 (32... Qf6 33. Ra8+ Ke7) 33. Rc4 Rxc4 34. Qxc4 Qf4 (34... Nxd5 35. exd5 Qe5 36. g3 $16) 35. Be6 (35. g3 Qf3+ 36. Kg1 Qe3+ 37. Kf1 Qf3+ 38. Ke1 Qh1+) (35. Qc8+ Ke7 36. Qc7+ Nd7 37. Qa7 Qc1+ 38. Qg1 Qc3 39. h3) 35... Nxe4 36. Bd5 (36. Qc8+ Ke7 37. Qd7+ Kf6 38. Qf7+ Ke5 39. Qxf4+ Kxf4 40. g3+ Ke5 41. Bf7 Nc3) (36. h3 Ng3+) 36... Qg4 37. h3 Nf2+ 38. Kh2 Qf5 39. a4 $16 ) (30... Qc1+ $2 31. Qf1 $3 (31. Rf1+ $2 Kh8)) (30... Ne3 $2 31. Qxe3 $1 (31. Qf1 $1)) (30... Rcc8 $2 31. Ra8 $3 {[#]} (31. Qf1 $2 Rxf7) 31... Rxa8 32. Rf5+ Kh8 33. Rxg5 Rac8 34. Bc4 $1) (30... Rfc8 $2 31. Rc4 $1 (31. Qf1 $1 Qxd5 32. exd5 Ne3 33. Rxg7+ $1 Kxg7 34. Ra7+) 31... Qc1+ 32. Qf1 $1) (30... Qxd5 $2 31. Rxf8+ Kxf8 32. Qf1+ $8 Qf7 33. Ra8+ Ke7 34. Ra7+) 31. Qf1 $3 {[#]} (31. Rf1+ $4 Kh8 32. Ra8 Rxa8 33. Bxa8 Qf4 $19) 31... h5 (31... Rxf1+ 32. Rxf1+ Qxd5 33. Rxf8+ Kxf8 34. exd5 $18) 32. Qxc1 $1 (32. Rxf8+ $2 Kh7 33. Ra3 (33. Bg8+ Kh6 34. Ra3 Rxf1+ 35. Rxf1 Qe5 36. Rg3 Nxh2 $1) 33... Rxf1+ 34. Rxf1 Qe5 35. Rg3 Nxh2 $1 36. Kxh2 h4 37. Rff3 hxg3+ 38. Kh3 $11) 32... Qh4 (32... Qxc1+ 33. Rf1+) 33. Rxf8+ Kh7 ( 33... Kxf8 34. Qc8+ Ke7 35. Ra7+ Kf6 36. Qf5#) 34. h3 (34. Bg8+ Kg6 35. Bf7+ Kh7 36. Rh8+ Kxh8 37. Qc8+ Kh7 38. Qf5+ Kh8 39. Ra8+) 34... Qg3 35. hxg4 h4 36. Be6 1-0