Selivanov's sefmate : the diagram had remained "pocket remaining" (sorry) but it takes much more to capture the phenomenal memory of Rémy, the grandmaster greffier. Even more phenomenal, I hope, will be the strength of character of the recipients, who will not look too quickly at the solution.
Three performances of the previously titled "grandmaster" against a heap of scrap metal (one will excuse the analyses made on the spot, in the style of the above, far from the quality of the Saint-Lazar's deepening).
.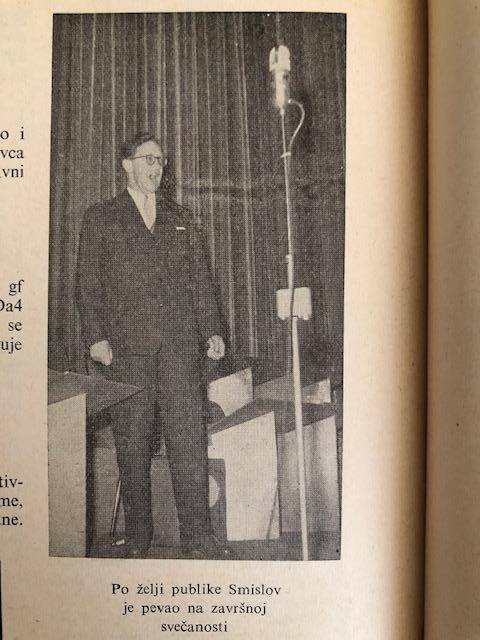 The most surprising of the three studies comes from the great Smyslov: hope in a desperate situation... Also attached is (another) testimony to the ignorance in the finals of certain great players, from another generation (and above all, from another intellectual background) than that of Smyslov, it is true.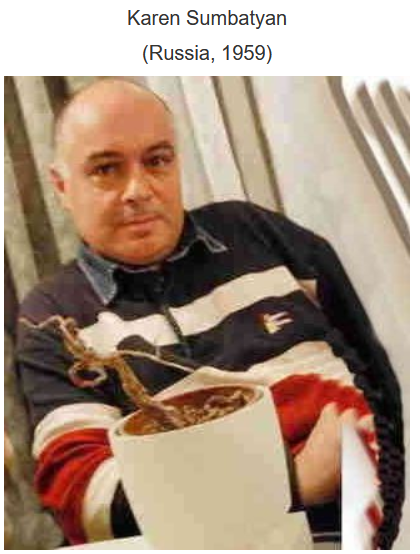 I couldn't verify the fairies, always having trouble getting into the "chess base" of the circus with semi-neutral Chinese nightriders with 27 locusts and a few nereids.
Master's diagrams
[Event "s#6"] [Site "?"] [Date "2002.??.??"] [Round "?"] [White "Selivanov, A."] [Black "1228.41"] [Result "0-1"] [SetUp "1"] [FEN "Rn3knR/5P2/5QP1/1N1Kp2N/2P2P2/8/2B5/4B3 w - - 0 1"] [PlyCount "12"] [EventDate "2002.??.??"] 1. Na7 $1 e4 (1... exf4 2. Bf2 $1 f3 3. Qb6 $1 Ke7 4. Bc5+ Kd7 5. Ba4+ Nc6 6. Nf6+ Nxf6# $1 {[#]}) 2. Ke5 $1 e3 3. Bf5 e2 4. Qg7+ Ke7 5. Bh4+ Nf6 6. Nc6+ Nxc6# $1 0-1 [Event "s#6"] [Site "?"] [Date "2002.??.??"] [Round "?"] [White "Selivanov, A."] [Black "1222.66"] [Result "0-1"] [SetUp "1"] [FEN "8/6N1/1p1R2p1/1p1B1pP1/1P1k1P2/P1p3NP/2Q2KpP/2R3B1 w - - 0 1"] [PlyCount "12"] [EventDate "2002.??.??"] 1. Nh1 $3 {Order of increasing difficulty: R, N, B & Q .} (1. Ne4 $2 fxe4 2. Ke1+ e3 3. Nf5+ gxf5 4. Qe4+ fxe4) 1... gxh1=Q (1... gxh1=R 2. Kf3+ $1 Rxg1 3. Qf2+ Kd3 4. Rxc3+ $1 Kxc3 5. Rc6+ Kd3 6. Be4+ fxe4# $1) (1... gxh1=B 2. Qd2+ $3 (2. Bb3+ $2 Bd5 3. Qd1+ Ke4 4. Qf3+ {for Kg2-h1} Kd4 5. Kg2#) (2. Ba2+ $2) 2... cxd2 3. Kf1+ $1 Kd3 4. Be4+ Kxe4 5. Rd4+ Kf3 6. Rd1 Bg2# $1) (1... gxh1=N+ 2. Ke2+ $1 (2. Ke1+ $2 Nf2) 2... Nf2 3. Nh5 gxh5 4. Rf1 h4 5. Ke1 Ke3 6. Qd2+ cxd2# $1) 2. Be6+ $3 (2. Kg3+ $2 Qxg1+ 3. Bg2+ Kc4 $1 (3... Ke3 $2 4. Qf2+ Qxf2#)) (2. Bf3+ $2 Kc4 3. Rc6+ Kd4 4. Ke2+ Qxg1 5. Rc4+ Kxc4 (5... bxc4 $2 6. Qd3+ cxd3#)) (2. Ba2+ $2 Qd5 3. Qd1+ Ke4 4. Qf3+ Kd4) (2. Bg8+ $2 Qd5 3. Kf1+ Kc4) (2. Be4+ $2 Kc4 3. Rd4+ Kxd4 4. Qxc3+ Kxe4 5. Re1+ Kxf4 (5... Kd5) 6. Qf3+ Kxg5 (6... Qxf3#)) 2... Qd5 3. Kf1+ Kc4 4. Rxb6 $1 Qxe6 5. Qa2+ Kd3 6. Qe2+ Qxe2# $1 0-1 [Event "Match Kasparov-Fritz"] [Site "New-York"] [Date "2003.??.??"] [Round "1"] [White "Kasparov, G."] [Black "Fritz"] [Result "1/2-1/2"] [ECO "D45"] [PlyCount "73"] [EventDate "2003.??.??"] 1. Nf3 d5 2. c4 c6 3. d4 Nf6 4. Nc3 e6 5. e3 Nbd7 6. Qc2 Bd6 7. g4 Bb4 8. Bd2 Qe7 9. Rg1 Bxc3 10. Bxc3 Ne4 11. O-O-O $146 (11. Bd3 Nxc3 12. Qxc3 dxc4 13. Qxc4 (13. Bxc4 O-O (13... b5 14. Bd3 {1/2-1/2 Chabanon,J-Fontaine,R/Aix les Bains 2003}) 14. h4 (14. O-O-O b5 15. Bd3 Bb7 16. Ne5 {Malakhov,V-Potkin,V/ Togliatti 2003}) 14... c5 15. g5 cxd4 16. Qxd4 Rd8 17. O-O-O b5 18. Bxb5 Bb7 19. Qd6 Rac8+ {Moiseenko,A-Potkin,V/Istanbul 2003}) 13... c5 14. Rc1 b6 15. Be4 Rb8 16. Qa4 O-O 17. Qxa7 cxd4 18. Nxd4 Qb4+ 19. Kf1 e5 20. a3 Qd2 21. Nb3 Qxb2 22. Qa4 Nc5 {Djukic,N-Kosic,D/Herceg Novi 2001}) (11. cxd5 exd5 12. Bd3 O-O 13. O-O-O Re8 {Palo,D-Nielsen,P/Skanderborg 2003}) 11... Qf6 12. Be2 Nxf2 13. Rdf1 (13. g5 Qe7) 13... Ne4 $8 (13... Nh3 $2 14. g5 $1) 14. Bb4 (14. Ne5 Qh4 (14... Qg5 15. Nxf7 Qxe3+) 15. Nxf7 (15. Be1 Qh3 16. Nxf7 Qxe3+ 17. Bd2 Nxd2 18. Qxd2 Qxd2+ 19. Kxd2 O-O) 15... O-O) 14... c5 15. cxd5 exd5 16. dxc5 Qe7 17. Nd4 (17. Rd1 b6 {GK}) 17... O-O $1 (17... Ndxc5 $2 18. Bb5+ Kf8 (18... Bd7 19. Bxc5 Nxc5 20. Nf5 Qf8 21. Nxg7+) 19. Rf4 $1 {[#]} b6 (19... Kg8 20. Rxe4 Qxe4 21. Qxc5 Bxg4 (21... Qxe3+ 22. Kc2 Qf2+ 23. Kb3) 22. Kd2 (22. Qe7) 22... h5 23. Bd3 Qe5 24. Rg3 $16) (19... Nd3+ 20. Bxd3 Qxb4 21. Bxe4 dxe4 22. Rgf1 $18) 20. Bc6 (20. Rgf1 $36 {GK}) 20... Nd6 21. Rgf1 Ba6 22. Bxa8 Nd3+ 23. Qxd3 Bxd3 24. Bxd6 Qxd6 25. Rxf7+ Ke8 26. Bc6+ Kd8 27. R1f2 $18) (17... Ne5 18. Bb5+ Kf8 19. Nf5 Bxf5 20. gxf5 {GK}) 18. Nf5 (18. Bd3) 18... Qe5 19. c6 (19. Bd3 a5 20. Ba3 Re8 21. Bxe4 (21. c6 bxc6 22. Bxe4) 21... Qxe4 (21... dxe4 22. Nd6) 22. Qxe4 Rxe4 (22... dxe4 23. Nd6 Rf8 24. Rf4) 23. c6 bxc6 24. Ne7+ Kh8 25. Rxf7 Ba6 26. Nf5 Ne5 27. Rxg7 {Shipov}) 19... bxc6 20. Bxf8 (20. Ne7+ Kh8 21. Nxc6 Qg5 22. Bxf8 Qxe3+ 23. Kb1 Nd2+ 24. Ka1 Nxf1 25. Bxg7+ Kxg7 26. Rxf1 Nf6 27. Qd1 (27. g5 Ne4) 27... Be6) 20... Kxf8 $1 (20... Nxf8 21. Bd3) 21. Ng3 (21. Rf4 Kg8 22. Rgf1 a5) (21. h4 Kg8 22. g5) (21. Qxc6 Nb6 22. Qc2 Bd7) 21... Ndc5 22. Nxe4 Nxe4 23. Bd3 Be6 24. Bxe4 (24. h4 Rb8) (24. Rg2) (24. Kb1 Kg8 (24... Rb8 25. Rc1 Nd6) 25. Rg2) 24... dxe4 25. Rf4 (25. Kb1 $142 Rb8 26. Rc1 Kg8 27. Rg2) 25... Bd5 $1 (25... Bxa2 26. Qxc6 (26. Rxe4 Qb5 27. Rd4 $16) 26... Re8 (26... Rb8 27. Rg2 Bb3 28. Rf5) 27. Rd1 $16) 26. Qc5+ (26. g5 Kg8 (26... Qd6 27. Kb1 Qb4 28. Rc1) 27. Qc3) (26. Qc3 Qxc3+ (26... Qd6 27. Kb1 Kg8 28. h4 Qe6 29. Qa3 {GK}) 27. bxc3 Bxa2 28. Rxe4 a5 29. Kb2 Bd5 30. Ra4 Rb8+ 31. Ka1 Rb3 (31... Re8 32. Rg3) 32. e4 Be6 33. Rg3 (33. Rxa5 Rxc3) 33... Rb5) (26. Kb1 Rb8 27. Rc1) 26... Kg8 27. Rgf1 (27. Qd4 Qg5 28. Kb1) (27. Rd1) 27... Rb8 28. R1f2 Qc7 ( 28... Qe6 $2 29. Rxf7) (28... Qe8) 29. Rc2 (29. Rd2 Rb5 30. Qc3) 29... Qd7 30. h4 (30. b3 $142 Rb5 31. Qd4 Qe7 32. Kb2 h6 33. Rf5 {GK} a5 34. Re5 (34. g5 hxg5 35. Re5 Qf6) 34... Qh4 35. h3 Qxh3 36. g5) 30... Qd8 $1 (30... Bxa2 31. Qxc6 Qd8 32. Qc7 $16) 31. g5 Bxa2 32. Rxe4 (32. Qxc6 $2 Bb3 33. Rd2 Qa5 $1) (32. Rd2 $142 Qe8 (32... Bd5 $2 33. Rxe4 Qc8 34. Rb4) 33. Qxa7 (33. h5 Bd5 34. h6 Qf8 35. Qxa7 Ra8 36. hxg7 Qe8 {GK}) 33... Bd5 $8 34. Rxd5 cxd5 35. Rxf7 Rc8+ (35... Qxf7 $2 36. Qxb8+ Qf8 37. Qxf8+ Kxf8 38. Kc2 Ke7 39. Kc3) 36. Rc7 Qd7 37. Rxc8+ Qxc8+ 38. Kd2 Qc4 $11 39. Qb6 (39. h5)) (32. Qxa7 $6 Bd5 33. Qc5 (33. Rd2 Ra8) 33... Ra8) 32... Qd3 $1 33. Rd4 (33. Qf5 Be6 (33... Rf8 34. Re5 Qd6 35. Rd2 Bd5 36. h5) 34. Qf4 Qb5 35. h5 Bb3 36. Re5 Qa6 37. Ra5 Qb6) 33... Qxe3+ 34. Rcd2 ( 34. Rdd2 $2 Rxb2 $3 {[#]}) 34... Qe1+ (34... Re8 35. Qc3) 35. Rd1 (35. Kc2 $4 Bb1+) 35... Qe3+ (35... Qe8 36. Rb4 (36. Qxa7 Bd5 37. R4d3) (36. Rd7 Bd5 37. Qe7) 36... Ra8 37. Rb7) 36. R1d2 (36. Kc2 $2 Qb3+ $1 (36... Bb3+ 37. Kb1 Qe8) 37. Kd2 Qxb2+) 36... Qg1+ 37. Rd1 1/2-1/2 [Event "Match Kasparov-Fritz"] [Site "New-York"] [Date "2003.??.??"] [Round "2"] [White "Fritz"] [Black "Kasparov, G."] [Result "1-0"] [ECO "C66"] [PlyCount "77"] [EventDate "2003.??.??"] 1. e4 e5 2. Nf3 Nc6 3. Bb5 Nf6 4. d3 (4. O-O Nxe4 5. d4) 4... d6 5. c3 g6 6. O-O Bg7 7. Nbd2 O-O 8. Re1 Re8 $146 (8... Bd7 9. a4 a6 10. Bc4 Be6 11. a5 Bxc4 12. dxc4 Nh5) (8... Nd7) 9. d4 Bd7 10. d5 Ne7 (10... Nb8 11. Bxd7 (11. Bf1) 11... Nbxd7 12. Nc4 Nc5 13. Bg5 h6 14. Bxf6 Bxf6 15. b4 Nd7 16. Na5 Qc8 17. c4) 11. Bxd7 Nxd7 12. a4 $146 (12. Nf1 h6 13. Ng3 Rf8 14. a4 a5 15. c4 Qe8 16. Nh4 Kh7) 12... h6 13. a5 a6 14. b4 f5 15. c4 Nf6 16. Bb2 (16. Qb3) 16... Qd7 17. Rb1 (17. Rc1) (17. Qc2) (17. Qb3) 17... g5 (17... f4) (17... Rf8) 18. exf5 Qxf5 (18... g4 $142 19. Nh4 Nxf5 20. Nxf5 Qxf5 21. Nf1 h5 {GK}) 19. Nf1 Qh7 (19... Qg6 20. Ng3 Nf5 21. Qc2) 20. N3d2 Nf5 (20... Ng6 21. Ng3 Nf4 22. Nde4) 21. Ne4 (21. f3) (21. Qc2) 21... Nxe4 22. Rxe4 h5 23. Qd3 Rf8 24. Rbe1 $6 Rf7 25. R1e2 g4 $1 26. Qb3 Raf8 27. c5 (27. b5) 27... Qg6 (27... Ne7 28. Qc4 Bh6 {GK}) 28. cxd6 cxd6 (28... Nxd6 29. R4e3 h4 30. Bxe5 Bxe5 31. Rxe5 Rxf2 32. Rxf2 Rxf2 33. Qe3 Rf5) 29. b5 axb5 (29... Ne7 30. bxa6 bxa6 31. Qb7 (31. Rb4 Rf3 $1 32. Qa2 h4 33. Qa4 R3f4 34. Rxf4 Rxf4 35. Qd7 Bf8) 31... h4 {GK}) 30. Qxb5 Bh6 (30... h4 $1 31. Qb4 (31. Qc4 Nd4) 31... g3 (31... Nd4 32. Bxd4 exd4 33. Re6 Qf5 34. Qxd6 d3 35. Rd2 Qxf2+ $3 36. Rxf2 Rxf2 37. Re1 Rxf1+ 38. Rxf1 Bd4+ 39. Rf2 Rxf2 ) 32. Rg4 gxf2+ (32... Qh5 33. f3 Nd4 34. Ree4 Rxf3 $1) 33. Rxf2 Qh5 34. Qc4 ( 34. h3 Nh6 35. Rxh4 Qd1 $19) 34... Ne3 $19) 31. Qb6 Kh7 (31... Rg7 $1 32. Ng3 h4 33. Nxf5 Rxf5 34. Ba3 (34. Qd8+ Rf8 35. Qxh4 Rf4 $1 36. Qd8+ Kh7 $19) 34... Rf6 35. g3 h3 36. Qd8+ Kh7 $17 {GK}) 32. Qb4 Rg7 $4 (32... Rc8 $15 33. Ng3 Ne7 34. Qxb7 h4 35. Nf1 Rc5 36. a6 Nxd5 37. Qb8 Rcc7 38. g3 Be3 $1) (32... Rg8 $11 33. Ng3 Nxg3 34. hxg3 h4 35. Ba3 (35. gxh4 g3 36. fxg3 Qxg3 37. Qc3 Bf4 38. Qxg3 Rxg3 $44) 35... hxg3 36. fxg3 Qf5 37. Qe1 {GK}) (32... Bf4 33. Rxf4 exf4 34. Re6 Qg5 35. Nd2) 33. Rxe5 $1 (33. Bxe5) 33... dxe5 34. Qxf8 Nd4 (34... Re7 35. Qd8 Bg7) 35. Bxd4 exd4 36. Re8 Rg8 37. Qe7+ Rg7 (37... Qg7 38. Qe4+ Qg6 39. Re7+ Rg7 40. Rxg7+ Bxg7 41. Qe7 d3 42. Qxb7) 38. Qd8 Rg8 39. Qd7+ (39. Qc7+ Rg7 40. Qc8 Rg8 41. Qxb7+) 1-0 [Event "Match Kasparov-Fritz"] [Site "New-York"] [Date "2003.??.??"] [Round "3"] [White "Kasparov, G."] [Black "Fritz"] [Result "1-0"] [ECO "D45"] [PlyCount "89"] [EventDate "2003.??.??"] 1. Nf3 Nf6 2. c4 e6 3. Nc3 d5 4. d4 c6 5. e3 a6 6. c5 (6. b3) 6... Nbd7 7. b4 a5 8. b5 e5 (8... Ne4 $2 9. Nxe4 dxe4 10. Nd2 f5 11. f3 Qh4+ (11... exf3 12. Qxf3) 12. g3 Qh6 13. Qe2 $16) 9. Qa4 $1 (9. bxc6 bxc6 10. dxe5 Ne4 11. Nxe4 dxe4 12. e6 fxe6 13. Nd4 Nxc5 14. Bc4 (14. Qh5+ g6 15. Qe5 Rg8) 14... Nd3+ 15. Bxd3 exd3 (15... Bb4+ {Korchnoi,V-Godena,M/Saint Vincent 2003})) (9. Be2 e4 10. Nd2 Be7 11. O-O O-O 12. Na4 Ne8 13. b6 f5 14. f4 exf3 15. Nxf3 Ndf6 16. Nc3 g6 17. Bd2 Ng7 18. Be1 Ne6 19. Bg3 Qe8 20. Qd2 Nd7 21. Kh1 Bf6 22. Ne1 h5 23. Nd3 Kh7 24. Bd6 Rf7 25. Rae1 Qd8 26. Na4 Ng5 27. Bf3 Bg7 28. Qd1 Bh6 29. Bf4 Nf6 30. Ne5 Re7 31. Nc3 Qg8 32. Qc1 Qg7 33. h4 Ne6 34. Ne2 Bd7 35. Qc2 Rae8 36. Rb1 Bc8 37. Rb3 Kg8 38. Ra3 g5 39. hxg5 Bxg5 40. Rxa5 Ng4 41. Qd2 Qf6 42. g3 Rh7 43. Kg2 Qh6 44. Rh1 Nxe5 (44... Nxe3+ 45. Qxe3 $18 {Albareda,M-Wade,R/ Barcelona 1946}) 45. dxe5) 9... Qc7 (9... e4 10. Nd2 Nb8 11. b6 g6 12. Nb3 Bh6 13. Bd2 O-O 14. Be2 Ne8 15. O-O-O Nd7 16. Qa3 f5 17. g3 Rf7 18. Na4 Bf8 19. Qb2 Bg7 20. Qc2 Nef6 21. Rdf1 Nf8 22. Kb1 Ne6 23. h3 Nd7 24. Bc3 Qf6 25. a3 h6 26. Ka2 Qe7 27. Qd2 Bf6 28. h4 Rg7 29. Kb2 Rh7 30. Bd1 Bg7 31. Rfg1 Qf8 32. Ka2 Nf6 33. Nc1 Ng4 34. Rf1 Bf6 35. Bxa5 g5 36. hxg5 hxg5 37. Rxh7 Kxh7 38. Rh1+ Kg6 39. Bb4 Bg7 40. Nc3 Nf6 41. a4 Kf7 42. a5 f4 43. gxf4 gxf4 44. f3 exf3 45. Bxf3 Ng5 46. Qg2 Nxf3 47. Qxf3 fxe3 48. Nd3 Kg8 49. Qxe3 Ne4 50. Nxe4 dxe4 51. Ne5 Qf5 52. Rg1 Be6+ 53. Ka3 Bd5 54. Qg3 Qf6 55. Bd2 Bf7 56. Rg2 Bh5 57. Qb3+ Bf7 58. Nxf7 Qxf7 59. Bh6 Rxa5+ 60. Kb2 {1-0 Mueller,H-Herrmann,L/Bad Elster 1940}) 10. Ba3 (10. Be2 e4 11. Nd2 g6 12. Nb3 Bh6 13. Bd2 O-O 14. O-O-O (14. b6 Qd8 15. Nxa5 Qe8 16. Qb4 Nb8 17. a4 Nfd7 18. Nb3 f5 19. g3 Qe7 20. Kd1 Na6 21. Qa3 Rf7 22. Kc2 Bf8 23. a5 Ndb8 24. Raf1 Be6 25. Na2 Qd8 26. Qc1 Be7 27. Kb2 Qf8 28. f4 exf3 29. Rxf3 Bf6 30. Bd3 Kh8 31. h3 Bg7 32. Bc3 Kg8 33. Rhf1 Qc8 34. R1f2 Re7 35. Qf1 Qe8 36. Qg2 Qc8 37. Rf1 Bd7 38. Rg1 Qe8 39. Bd2 h5 40. Kb1 Bh6 41. Qf2 Re4 42. Nac1 Be6 43. Qh2 Bg7 44. Rf4 Nd7 45. Be2 Nf6 46. Nd3 Nb8 47. Nb4 Bd7 48. Rf3 Bh6 49. Bd3 Bxe3 {1/2-1/2 Smejkal,J-Minev,N/Luhacovice 1973}) 14... b6 15. bxc6 Nb8 16. cxb6 Qxb6 17. Qb5 Qxc6 18. Qxc6 Nxc6 19. Na4 Bg4 20. Rde1 Bxe2 21. Rxe2 Nd7 22. Kb1 Rfc8 23. Rc1 Bf8 24. Kb2 Nb4 25. Rxc8 Rxc8 26. Bxb4 axb4 27. Rc2 Rxc2+ 28. Kxc2 Bd6 29. h3 Kf8 30. Nbc5 Ke7 31. Kb3 Bh2 32. Kxb4 Bg1 33. Nc3 Nf6 (33... Bxf2 34. Nxd5+ Kd6 35. Nxe4+) 34. Nd1 Kd6 35. Kb5 Kc7 36. a4 g5 37. a5 Ne8 38. Na6+ Kb7 39. Nb4 Nc7+ 40. Kc5 f5 41. Nxd5 {1-0 Pachman,L-Fichtl,J/Prague 1954}) 10... e4 11. Nd2 Be7 12. b6 (12. Be2 h5 13. b6 Qd8 14. h3 Nf8 15. O-O-O Ne6 16. Ndxe4 Nxe4 (16... dxe4 17. d5 O-O (17... Bxc5 18. dxe6 Bxa3+ 19. Kc2) 18. dxe6 Qe8) 17. Nxe4 h4 (17... dxe4 18. d5) 18. Nd2 O-O 19. Rhg1 Re8 20. Bd3 Bf8 21. Bb2 Ng5 22. Qc2 a4 23. a3 Qe7 24. Rde1 Ne4 25. Nf1 Qg5 26. f3 Nf6 27. Kb1 Nh5 28. Bc3 Bd7 29. f4 Qh6 30. Qf2 Qf6 31. Kb2 Bf5 32. Qc2 Be4 33. g4 hxg3 34. Nxg3 Nxg3 35. Rxg3 Bxd3 36. Qxd3 Re4 37. Reg1 Rae8 38. Rf1 Qh4 39. Rfg1 R8e6 40. Qd2 f5 41. Qd3 Qh5 42. Bd2 g6 43. Rg5 Qxh3 44. R1g3 Qh2 45. Rxg6+ Rxg6 46. Rxg6+ Kf7 47. Rg5 Be7 48. Rxf5+ Bf6 49. Kc3 (49. Qc2 Ke6 50. Re5+) 49... Qh3 50. Rxf6+ (50. Re5) 50... Kxf6 51. Qc2 Qf1 52. Qxa4 Qa1+ 53. Kc2 Re8 54. Qb3 Ra8 55. Bc1 (55. Bb4) 55... Rh8 56. e4 $2 Rh1 $1 57. e5+ Ke7 58. Qe3 Qa2+ 59. Kc3 Rh2 60. Qd3 Qa1+ 61. Kb3 Qxc1 62. f5 Qb2+ 63. Ka4 Rh8 {0-1 Reshevsky,S-Keres,P/NLD/URS 1948}) 12... Qd8 13. h3 O-O 14. Nb3 Bd6 $6 (14... Ne8 $142 15. Rb1 f5 16. g3 g5) 15. Rb1 (15. cxd6 $4 Nxb6) (15. Bc1) (15. Nxa5 $2 Nxb6 16. cxb6 Bxa3 17. Qxa3 Qxb6) 15... Be7 $6 {Le "monstre" se ridiculise.} (15... Ne8) (15... Bb8 16. Bc1 Nh5 17. g4 Nhf6 18. Nxa5 Qe8 19. Bd2) 16. Nxa5 Nb8 {"Even a player at 1700 knows that Black must undermine the base of the white pawn chain by ...f7-f5-f4 ... The designers of Fritz's designers still have work to do" (Shipov)} 17. Bb4 Qd7 (17... Na6 18. a3) 18. Rb2 $3 {Excellent anti-monster prophylaxis, making one "forget" the weakness of f2 in a pure calculation of variants, which has the effect of the numerical evaluation of the machine: passivity definitely gets the "best grade".} Qe6 19. Qd1 Nfd7 20. a3 Qh6 21. Nb3 Bh4 { sic !} 22. Qd2 Nf6 23. Kd1 Be6 24. Kc1 Rd8 25. Rc2 (25. g3 Bg5 26. h4 Ng4) 25... Nbd7 (25... Na6 26. Kb2 Nxb4 27. axb4) 26. Kb2 Nf8 27. a4 Ng6 (27... N8d7 28. a5 Nb8) 28. a5 Ne7 29. a6 $1 (29. Na2 Rdb8 30. Bc3 Qg6 31. Nb4 Bc8 32. Kb1 Bg5 33. Ra2 Bh6 (33... Ne8 34. a6 bxa6 35. Nxa6) 34. Rg1 Ne8 35. a6 bxa6 36. Nxa6 Bxa6 (36... Rb7 37. Na5 Rd7 38. Nb4) 37. Rxa6 (37. Bxa6 Nf6 38. Bb7 Rxa2 39. Qxa2 Qf5 40. Qa7 Nd7 41. Ba6)) 29... bxa6 30. Na5 (30. b7 Ra7 31. Na5 Rb8 32. Na4) 30... Rdb8 31. g3 (31. Na2 Qg6 32. Bc3 Bc8 33. Nb4 Ne8 34. f4) 31... Bg5 32. Bg2 (32. h4 Ng4 33. Nd1 (33. Na2)) 32... Qg6 33. Ka1 (33. Na2 Bf5 34. Bc3 Bc8 35. Nb4) 33... Kh8 34. Na2 Bd7 35. Bc3 Ne8 (35... Bc8 36. Rb1 (36. Nb4 Ne8 37. Ra2) 36... Bb7 37. Nb4 (37. Nc1)) 36. Nb4 Kg8 37. Rb1 Bc8 38. Ra2 Bh6 39. Bf1 (39. f4 exf3 (39... Qxg3 40. Nbxc6) 40. Bxf3 Bf5 (40... Bxh3 41. g4)) 39... Qe6 40. Qd1 (40. Qc2 Kh8 41. Qa4 Bb7 42. Qd1 Bc8 43. Qh5 Kg8 44. Qe5 Qd7 45. Bxa6) 40... Nf6 41. Qa4 Bb7 (41... Kh8 42. Nbxc6 Bd7 43. b7 Ra7 (43... Nxc6 44. bxa8=Q Rxa8 45. Rb6 Nxa5 46. Rxe6 Bxa4 47. Rxa6 Rxa6 48. Bxa6 Nb3+ 49. Kb2) 44. Nxb8 Bxa4 45. Rxa4 $18) 42. Nxb7 (42. Be2 g6 43. h4 Bg7 44. g4) 42... Rxb7 43. Nxa6 (43. Bxa6 Rd7 (43... Kf8 44. Bxb7 Rxa4 45. Rxa4) (43... Rbb8 44. b7 ( 44. Qd1 Qxh3 45. g4 Nxg4 46. Qh1 Nxf2 47. Rxf2 Qxe3) (44. h4 Kf8 45. Qd1) 44... Rxb7 45. Bxb7 Rxa4 46. Rxa4 g6 47. Ra6) 44. Qd1 Ne8 (44... Qxh3 $2 45. Bf1 Rxa2+ 46. Nxa2 Qe6 47. b7) 45. Qg1 Rdd8 46. g4) 43... Qd7 (43... Ne8 44. Qd1 Qc8 45. Rbb2 Qe6 46. Nb4 Rd8 47. Ra5 Nf6 48. Qa4 Rdb8 (48... Qd7 49. Ra8) 49. Ra7 Qd7 50. Nxc6 $1) 44. Qc2 (44. Rbb2) (44. Qd1 Ng6 45. Rbb2) (44. Rb3 Kh8 45. Rba3 Nc8 (45... Ne8 46. Qd1) 46. Qd1) 44... Kh8 45. Rb3 (45. Rb3 Ne8 (45... Qc8 46. Rba3 g6 47. Nc7 Rxa3 48. Rxa3 Rb8 49. Qa2) (45... Qf5 46. Nc7 Rxa2+ 47. Qxa2 Nd7 48. Qa7 $1 (48. Ra3)) 46. Rba3 Nc8 47. Nb4 Rab8 48. Ra8 Bg5 49. Rxb8 Rxb8 50. Ra6 Bd8 51. Qa4 Ne7 52. Ra8 Rxa8 53. Qxa8) 1-0 [Event "?"] [Site "?"] [Date "2000.??.??"] [Round "?"] [White "Smyslov, V."] [Black "0130.23"] [Result "1/2-1/2"] [SetUp "1"] [FEN "8/5k1p/b3p3/2K3RP/5P2/8/p7/8 w - - 0 1"] [PlyCount "19"] [EventDate "2000.??.??"] 1. Rg1 Bd3 2. h6 $3 (2. Ra1 $2 Bb1 3. Kd6 (3. h6 Kg6 4. Kd6 Kxh6 5. Kxe6 Kg6) ( 3. Kd4 Kf6 4. Ke3 Kf5 (4... e5) 5. Kf3 (5. h6 Kg4) 5... e5 (5... h6) 6. fxe5 Kxe5 7. Kg4 (7. Ke3 Kf5) 7... h6) 3... h6 $1 (3... Kf6 $2 4. h6 {texte}) 4. Ke5 Ke7 $19) (2. Rd1 $2 Kf6) (2. f5 $2 Bb1 3. fxe6+ Kxe6) 2... Kf6 (2... Bb1 3. Rg7+ Kf6 4. Ra7 Kf5 5. Ra4 $11) 3. Ra1 Bb1 4. Kd6 $1 (4. Kd4 $2 Kf5 5. Ke3 Kg4 $19) 4... Kf5 (4... Kg6 5. Kxe6 Kxh6 6. f5 Kg7 7. Ke7 $11) 5. Ke7 $1 (5. Kd7 $2 e5 $1 6. fxe5 Kxe5 7. Ke7 Kd4 8. Kf6 Kc3 $19) 5... Kxf4 (5... e5 6. fxe5 Kxe5 7. Kf7) 6. Kxe6 (6. Kf6 $2 e5 7. Kg7 e4 (7... Kg5 8. Kh8 e4 9. Kxh7 e3+ 10. Kg7 (10. Kg8 Kxh6) 10... e2 11. h7 e1=Q $8 (11... Bxh7 $2 12. Kxh7 Kf4 13. Kg6 Ke3 14. Kf5 Kd3 15. Kf4 Kc3 16. Ke3 $11) 12. h8=Q Qe7+ 13. Kg8 Kg6) (7... Kg4) 8. Kxh7 e3+ 9. Kg7 e2 10. h7 Bxh7 $8 11. Kxh7 Ke3 12. Kg6 Kd3 13. Kf6 Kc3 14. Ke5 (14. Re1 Kd2) 14... Kb2) 6... Kg5 (6... Ke4 7. Kf6 Kd3 8. Kg7 Kc3 9. Rxa2) 7. Kf7 $1 (7. Ke5 $2 Kxh6 8. Kf4 Kh5 9. Kg3 Kg5 10. Kh3 h5 11. Kg3 h4+ 12. Kh3 Kh5 $19) 7... Kxh6 8. Kg8 $3 {[#]} Kg6 (8... Kg5 9. Rxa2) 9. Kh8 $3 {[#]} h5 10. Rxa2 1/2-1/2 [Event "?"] [Site "?"] [Date "1997.??.??"] [Round "?"] [White "Gemmell, J."] [Black "0000.33"] [Result "1/2-1/2"] [SetUp "1"] [FEN "6k1/8/7p/4P1pP/3K1pP1/8/8/8 w - - 0 1"] [PlyCount "21"] [EventDate "1997.??.??"] 1. Kc3 $3 (1. Kd3 $2 Kf7 $1 2. Kd4 Ke7 $19) (1. Kc4 $2 Kf8 $1 {[%csl Rb7,Gc3, Yc6,Gc7,Rd3,Yd4,Rd7,Ye7,Ge8,Rf7,Gg8]} 2. Kc3 {[%csl Yb6,Yc4,Yd8]} Ke8 3. Kc4 Kd8 4. Kc3 Kc7 5. Kc4 Kb6 $19) (1. Ke4 $2 Kf8 $1 2. Kd3 (2. Kd4 Ke7) 2... Kf7 $19) (1. -- $11 Kf8 (1... Kf7 2. Kd3) 2. Kc4) 1... Kf8 2. Kc4 $1 Ke8 3. Kc3 $1 Kd8 4. Kc4 $1 Kc7 5. Kc3 $1 {[%csl Gb6,Gc4,Rd3,Rd7,Ye4,Ye6]} Kd7 (5... Kb6 6. Kc4 (6. Kd4 $2 Kc6 7. Kc4 f3) 6... Kc6 (6... Kb7 7. Kd3) 7. Kd4 f3 (7... Kb5 8. Kd5) 8. Ke3 Kd5 9. Kxf3 Kxe5 10. Ke3 $11) 6. Kd3 $1 Ke7 7. Kd4 $1 (7. Ke4 $2 Ke6 8. Kd4 f3 9. Ke3 Kxe5) 7... Kf7 8. Kd3 $1 Ke6 9. Ke4 $1 f3 10. Kxf3 Kxe5 11. Ke3 1/2-1/2 [Event "?"] [Site "?"] [Date "1998.??.??"] [Round "?"] [White "Gusev, B & Sumbatyan K"] [Black "0311.10"] [Result "1-0"] [SetUp "1"] [FEN "K7/8/8/1P5B/k7/8/3r4/N7 w - - 0 1"] [PlyCount "15"] [EventDate "1998.??.??"] 1. b6 Ka3 (1... Ra2 2. b7 Kb5+ 3. Kb8 Rxa1 4. Kc8 Rc1+ 5. Kd7) (1... Rd5 2. Bf3 (2. Bg4 Ra5+ 3. Kb7) 2... Ra5+ 3. Kb7 Kb4 4. Nc2+) 2. b7 Rd8+ 3. Ka7 Kb2 4. Bg4 $1 Re8 (4... Kxa1 5. Bc8 Rd2 6. b8=Q Ra2+ 7. Ba6 $8) (4... Rh8 5. Nc2) 5. Bd7 $1 Rh8 (5... Rf8 6. Nb3 $1 {[#]} Kxb3 7. Bc8 Rf7 8. Be6+) (5... Rg8 6. Nb3) (5... Rd8 6. Bc8) 6. Nc2 $1 {[#]} Kxc2 7. Bc8 Rh7 8. Bf5+ 1-0 [Event "USA-ch"] [Site "El Paso"] [Date "1973.09.19"] [Round "9"] [White "Benko, P."] [Black "Browne, W."] [Result "1/2-1/2"] [ECO "E60"] [WhiteElo "2530"] [BlackElo "2530"] [SetUp "1"] [FEN "8/8/6p1/3B2k1/8/6P1/6K1/4r3 w - - 0 51"] [PlyCount "71"] [EventDate "1973.09.??"] [EventType "tourn"] [EventRounds "13"] [EventCountry "USA"] [EventCategory "6"] [Source "ChessBase"] 51. Bf3 {" P. B. : Do you know this position is draw ? --- W. B. : I know it , but I don't believe it ! "} Re3 52. Kf2 Rc3 53. Kg2 Kf5 54. Kf2 Ke5 55. Kg2 Kd4 56. Kf2 Rc2+ 57. Kg1 Ke3 58. Bb7 Rc7 59. Bd5 Rc5 60. Bb7 Rc1+ 61. Kg2 Rb1 62. Bc6 Rb6 63. Bd5 Rd6 64. Bb7 Rd2+ 65. Kg1 Kd4 66. Bf3 Ke5 67. Kf1 Kf6 68. Kg1 Kg5 69. Kf1 Kf5 70. Ke1 Rh2 71. Kf1 Ke5 72. Kg1 Rd2 73. Kf1 Kd4 74. Kg1 Ke3 75. Bb7 g5 76. Bc6 Rf2 77. Bb7 g4 78. Bc6 Rf3 79. Kg2 Rf6 80. Bb7 Rb6 81. Ba8 Rb8 82. Bc6 Kd4 83. Kf2 Rc8 84. Bb7 Rc7 85. Ba8 Ra7 86. Bc6 1/2-1/2