Master's word
---
Some Babson in homage to Costeff (following the fantastic tribute to our friend Afek) flirting with the Babson in study.
A classic endgame often misquoted by so-called erudites who can't read printed books and reproduce the mistakes of the 3 million-games "bases".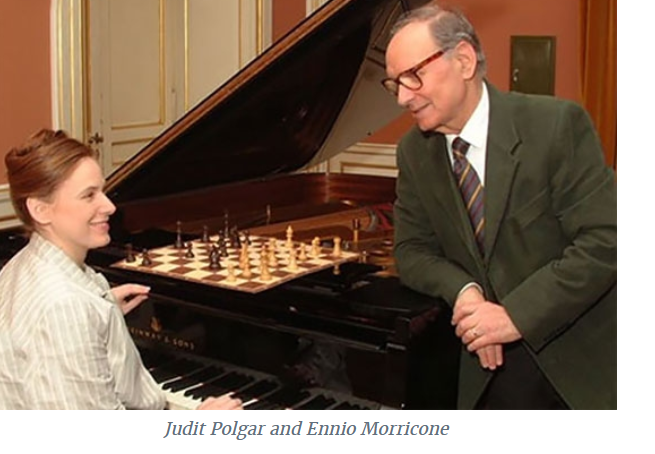 The game of the day illustrates that a muddy beginning is nothing, as long as one is determined, follows one's plan and doesn't tremble in the face of complications...(only a tactical genius can refute...(tribute to the rotten beginnings that incite mistakes)... and engender such exciting games!
I present a Martian circe (twins) to the after-course agape; I am very proud to have solved them both in the TGV, without even using the systematic half-hour late of all the T(P)Vs I borrow; my "pupils" from Saint-Lazare demolish the two twins in a few minutes... We are really living in an amazing time.
Good " regalade " (for the Parisian gourmets, avoid the so-called " regalade " rue jean moulin which gives more and more in the register " restaurants for amerloques or hurried bobos who go to the cinema " and go rather to the " gourmand " rue de l'ouest, good welcome for the chess players coming from the marquis) [unfortunately disappeared since].
Master's diagrams
[Event "4#"] [Site "?"] [Date "1986.??.??"] [Round "?"] [White "Jarosch, L."] [Black "1252.86"] [Result "1-0"] [SetUp "1"] [FEN "1N3b2/p1kN3p/K4PPP/P1p1P3/2R2P2/1P1P4/3pppBB/3Q1R2 w - - 0 1"] [PlyCount "7"] [EventDate "1986.??.??"] 1. g7 (1. Nxf8 $2 hxg6 2. Rxc5+ Kd8 3. Ne6+ Ke8) 1... e1=Q (1... e1=R 2. gxf8=R {[#]} Rxe5 3. f5 Kd6 4. Bxe5#) (1... e1=B 2. gxf8=B {[#]} Kd8 3. Be7+ Ke8 (3... Kc7 4. Rxc5#) 4. Qh5#) (1... e1=N 2. gxf8=N {[#]} Nxd3 (2... Kc8 3. Ne6) 3. Ne6+ Kc8 4. Bb7# ) (1... Bxg7 2. Rxc5+ (2. hxg7) 2... Kd8 3. hxg7) (1... Bd6 2. exd6+) 2. gxf8=Q {[#]} Qxe5 (2... Qe4 3. Rxc5+ (3. Rxe4)) (2... Qe3 3. Nxc5 (3. Nb6)) 3. f5 Qxh2 (3... Qd6+ 4. Bxd6#) 4. Rxc5# 1-0 [Event "4#"] [Site "?"] [Date "1985.??.??"] [Round "?"] [White "Hoffmann, P."] [Black "0252.75"] [Result "1-0"] [SetUp "1"] [FEN "K1b3B1/PP5P/2P1P1p1/p2kB1P1/R2PR3/8/4ppp1/4N1N1 w - - 0 1"] [PlyCount "7"] [EventDate "1985.??.??"] 1. Re3 (1. bxc8=Q $2 Kxe4) 1... f1=Q (1... Bd7 2. Rxa5+ Kc4 (2... Kxc6 3. b8=Q (3. Rc3+) (3. Rb3)) 3. Nc2 Bxc6 4. Rc5#) (1... Kxc6 2. bxc8=Q+ (2. b8=Q) (2. d5+ Kb5 3. bxc8=Q)) (1... f1=R 2. bxc8=R {[#]} (2. bxc8=Q Rf7) 2... Rf2 (2... Rf6 3. gxf6) (2... Rf7 3. exf7) 3. e7+) (1... f1=B 2. bxc8=B {[#]} Kxc6 3. Rb3 Kd5 4. Bb7#) (1... f1=N 2. bxc8=N {[#]} (2. bxc8=Q Nxe3) 2... Nxe3 (2... Kxc6 3. Rxa5 Nxe3 4. Rc5# ) 3. e7+ Ke4 (3... Kxc6 4. e8=Q#) 4. Nd6#) (1... Bxb7+ 2. Kxb7 f1=Q 3. e7+) ( 1... fxg1=Q 2. bxc8=N) 2. bxc8=Q {[#]} Qf7 3. e7 Qe6 (3... Qxg8 4. hxg8=Q#) 4. Bxe6# 1-0 [Event "4#"] [Site "?"] [Date "1985.??.??"] [Round "?"] [White "Hoffmann, P."] [Black "1225.85"] [Result "1-0"] [SetUp "1"] [FEN "7N/Rn2P3/3PPB2/4PkPp/Kp5P/pPpN1P2/Q1Bp1R2/8 w - - 0 1"] [PlyCount "7"] [EventDate "1985.??.??"] 1. Rxb7 (1. e8=Q $2 Nc5+) 1... d1=Q (1... d1=R 2. e8=R {[#]} Rxd3 3. Ng6 $1 Kxg6 4. Bxd3#) (1... d1=B 2. e8=B {[#]} Bxf3 (2... Bxc2 3. Bg6+) 3. Rxb4 Kxe6 4. Nf4#) (1... d1=N 2. e8=N {[#]} Nb2+ 3. Qxb2 cxb2 4. Ng7#) (1... Kxe6 2. Nf4#) 2. e8=Q {[#]} Qxd3 (2... Qxf3 3. Rxb4 $1 Qxf2 4. Nxf2#) (2... Qe2 3. Qg6+ Kxe6 4. Nf4#) (2... Qd2 3. Qf7 (3. Rf7)) 3. Ng6 $1 (3. Rxb4 $2 Qe4) 3... Qxc2 (3... Qe4 4. Bxe4#) 4. Qxc2# 1-0 [Event "4#"] [Site "?"] [Date "2003.??.??"] [Round "?"] [White "Hoffmann, P."] [Black "4892.64"] [Result "1-0"] [SetUp "1"] [FEN "6r1/1B3qR1/1P2PkNP/6r1/K4pPB/1NP2P2/1BpppR2/2B1Q3 w - - 0 1"] [PlyCount "7"] [EventDate "2003.??.??"] 1. exf7 {(2 fxg8Q)} d1=Q (1... d1=R 2. fxg8=N+ {[#]} (2. fxg8=Q $2 Rd4+ $1) 2... Ke6 3. Qxe2+ (3. Rxe2+ $2 Re5 $1) 3... Kd6 (3... Re5 4. Qxe5#) 4. Qe7#) (1... d1=B 2. fxg8=R {[#]} (2. fxg8=N+ $2 Ke6) 2... Ke6 3. Re7+ Kd6 (3... Kf6 4. c4#) 4. Rd8# ( 4. Ba3+ $2 Rc5)) (1... d1=N 2. fxg8=Q {[#]} (2. fxg8=N+ $2 Ke6 3. Qxe2+ Ne3 $1) 2... Nxb2+ 3. Bxb2 c1=Q 4. Qf7#) (1... Rf8 2. Qxe2 (2. Rxe2) 2... Ra8+ 3. Bxa8) ( 1... Ra8+ 2. Bxa8 d1=Q (2... Ke6 3. Nd4+ (3. f8=N+)) 3. f8=Q+) (1... Rxg7 2. f8=Q+) 2. fxg8=B {[#]} (2. fxg8=Q $2 Qd7+ $1) 2... Qd7+ (2... Qxc1 3. Qxc1 e1=Q 4. Qxf4#) (2... Qd4+ 3. c4 Qxb2 (3... Qe5 4. Bxe5#) 4. Bxb2#) 3. Rxd7 Kxg6 4. Rd6# {Cyclic Babson QB-BR-RN-NQ.} 1-0 [Event "Black to move"] [Site "?"] [Date "1997.??.??"] [Round "?"] [White "Costeff, G."] [Black "+0447.75d3f6"] [Result "1-0"] [SetUp "1"] [FEN "6b1/1Pr1P1p1/pn3kN1/P4Pp1/6P1/PpPK4/1B2p1n1/R7 b - - 0 1"] [PlyCount "20"] [EventDate "1997.??.??"] [Source "ChessBase"] [SourceDate "2000.10.30"] 1... Bc4+ (1... e1=Q 2. Rxe1 Nxe1+ 3. Ke2 Rxe7+ 4. Nxe7 Nd7 5. Nxg8+ Kf7 6. Kxe1 Kxg8 7. Kd2 Kf7 8. c4 Ke7 9. Be5) 2. Kd4 (2. Ke4 $2 Bd5+ 3. Kd3 Bc4+ 4. Ke4 Bd5+ 5. Kd4 Rc4+ 6. Kd3 e1=Q 7. Rxe1 Nxe1+ 8. Kd2 Nf3+ 9. Kd1 Re4 10. c4+ Kf7 11. Ne5+ Rxe5) 2... Rd7+ 3. Kc5 Na4+ 4. Kxc4 (4. Kc6 $2 Bb5#) 4... Ne3+ ( 4... Nxb2+ 5. Kc5) (4... Rc7+ 5. Kd5) 5. Kb4 (5. Kxb3 $2 Rxb7+ 6. Kxa4 Nd1 7. e8=N+ Kf7 8. Nd6+ Kf6 9. Nxb7 e1=Q 10. Kb3 Qe2 11. Rb1 Qb5+ 12. Ka2 Qc4+ 13. Ka1 Nxc3 14. Bxc3+ Qxc3+ 15. Ka2 Qc2+) 5... Rxb7+ 6. Kxa4 Nd1 (6... Rxe7 7. Nxe7 Nc2 8. Nd5+) 7. Rxd1 (7. e8=N+ $2 Kf7 8. Nd6+ Kg8 9. Nxb7 e1=Q 10. Kxb3 Qd2 11. Rb1 Qd5+) 7... exd1=R {[#]} (7... exd1=Q 8. e8=Q {[#]} Qd4+ 9. c4 $1 (9. cxd4 $2 Rb4+ 10. axb4)) (7... exd1=N 8. e8=N+ {[#]} $1 Kf7 9. Nd6+) 8. e8=R {[#]} $1 (8. e8=Q $2 Rd4+ 9. c4 Rb4+ 10. axb4) 8... Rd2 9. Rf8+ Rf7 10. Rxf7+ Kxf7 11. Kxb3 1-0 [Event "?"] [Site "?"] [Date "1981.??.??"] [Round "?"] [White "Costeff, G."] [Black "+0810.24h1f1"] [Result "1-0"] [SetUp "1"] [FEN "2r1R3/8/3P4/1B1p4/3p4/3P4/1R2pp2/1r3k1K w - - 0 1"] [PlyCount "17"] [EventDate "1981.??.??"] [Source "ChessBase"] [SourceDate "2000.10.30"] 1. d7 (1. Rxb1+ $2 e1=Q) 1... Rxe8 2. Rxb1+ e1=N {[#]} (2... e1=B 3. dxe8=B $1 {[#]} Ke2 4. Bh5+ (4. Rb2+ $1 Kf3 5. Bh5+ Kg3 6. Be2) 4... Ke3 5. Kg2) (2... e1=Q 3. dxe8=Q $1 {[#]} Qxb1 4. Bd7 Qxd3 5. Bb5) 3. dxe8=N $1 {[#]} (3. dxe8=B $2 Ke2 4. Rb2+ Ke3 5. Rxf2 $11) 3... Ke2 4. Rb2+ Ke3 5. Rxf2 Kxf2 6. Nf6 (6. Nc7) 6... Ke3 7. Nxd5+ Kd2 8. Nf4 Ke3 9. Ng2+ 1-0 [Event "?"] [Site "?"] [Date "2003.??.??"] [Round "?"] [White "Costeff, G."] [Black "1047.58"] [Result "1-0"] [SetUp "1"] [FEN "1k1n1N2/3PbPpp/pK2PPB1/7p/2pP4/8/ppp2n2/7Q w - - 0 1"] [PlyCount "101"] [EventDate "2003.??.??"] 1. Qh2+ $1 (1. Qb1 $2 c1=Q 2. fxe7 Qg5 3. Qxb2 a1=Q) (1. Bxc2 $2 Nxh1 2. Bb1 gxf6) 1... Ka8 2. Qg2+ Kb8 3. Qg3+ Ka8 4. Qf3+ Kb8 5. Qf4+ Ka8 6. Be4+ Nxe4 7. Qxe4+ Kb8 8. Qf4+ Ka8 9. Qf3+ (9. fxe7 $2 b1=Q+ 10. Kc5 Qb5+ 11. Kd6 Qb6+ 12. Kd5 a1=Q) 9... Kb8 10. Qg3+ Ka8 11. Qg2+ Kb8 12. Qh2+ Ka8 13. Qh1+ Kb8 14. Qb1 $3 {A la Anderssen.} c1=Q (14... Bxf6 15. Qxb2 Bxd4+ 16. Qxd4 c1=Q 17. Qd6+ Ka8 18. Kc7 $1 a1=Q 19. Kxd8) (14... cxb1=Q 15. fxe7) 15. fxe7 Qg5 16. Qxb2 a1=Q ( 16... Qxe7 17. Kxa6+ Ka8 18. Qxa2 Qb4 (18... Qd6+ 19. Kb5+ Kb7 20. Qxc4) 19. Qg2+ Kb8 20. Qg3+ Ka8 21. Qf3+ Kb8 22. Qf4+ Ka8 23. Qe4+ Kb8 24. Qe5+ Ka8 25. Qd5+ Kb8 26. Qb5+ Qxb5+ 27. Kxb5) 17. Qh2+ $1 Ka8 18. Qg2+ $1 Kb8 19. Qg3+ $1 { Le troisième escalier.} (19. Qxg5 $2 Qb2+ 20. Kxa6 (20. Kc5 Qb5+) 20... Qb7+) 19... Ka8 20. Qf3+ (20. Qxg5 $2 Qb2+ 21. Kc5 Qb5+ 22. Kd6 Qb8+ 23. Kd5 Qb5+ 24. Ke4 Qb1+ 25. Ke5 Qb8+ 26. Kf5 Qb1+ 27. Kf4 Qc1+ 28. Kf5 Qb1+ 29. Kf4 Qc1+ 30. Kf3 Qf1+ (30... Qxg5 $2 31. exd8=Q+ Qxd8 32. Nxh7) 31. Ke3 Qc1+ 32. Kf3 Qf1+ ( 32... Qd1+ 33. Ke4 Qb1+) 33. Kg3 Qg1+) 20... Kb8 21. Qf4+ Ka8 22. Qe4+ Kb8 23. Qe5+ Ka8 24. Qd5+ Kb8 25. Qd6+ Ka8 26. Kc7 $1 Qaa5+ (26... Qga5+ 27. Kc8 Qb2 28. exd8=N c3 (28... Qbb6 29. Qxb6 Qxb6 30. Nc6 Qxc6+ 31. Kd8 c3 32. Ke7 Qc7 33. Nxh7) 29. Qc6+ Ka7 30. Nb7 Qab5 (30... Qab6 31. d8=N c2 32. Nd7) 31. d8=N c2 32. Qc7 $3 c1=Q 33. Nc5+ Ka8 34. Nfd7) 27. Kc8 Qgb5 28. exd8=N (28. exd8=Q $4 Qb7#) 28... c3 (28... Qab6 29. Nc6 Q6xc6+ (29... Qb7+ 30. Kd8 Q5b6+ 31. Ke8) 30. Qxc6+ Qxc6+ 31. Kd8 c3 32. Ke7 (32. e7 $4 Ka7 33. e8=Q Qb6+ 34. Ke7 Qf6#) 32... Qc7 33. Nxh7) 29. d5 (29. e7 $2 c2 30. Qc6+ Ka7 $1) 29... c2 (29... Qab6 30. Qxb6 Qxb6 31. Nc6 c2 32. d8=N c1=Q 33. Nd7) 30. Qc6+ Qxc6+ (30... Ka7 31. Qxb5 Qxb5 32. Nc6+ Ka8 (32... Kb6 33. d8=Q+) 33. Kc7 Qxd5 34. d8=Q+ Qxd8+ 35. Kxd8 c1=Q 36. Nd7 (36. e7)) 31. Nxc6 Qxd5 (31... Qb6 32. d8=N c1=Q 33. Nd7) ( 31... c1=Q 32. d8=Q Qxd8+ 33. Kxd8) 32. d8=N $1 {Et le troisième Cavalier.} ( 32. Kc7 $2 Qxc6+) (32. d8=Q $2 Qxc6+ 33. Qc7 c1=Q $19) 32... c1=Q 33. Nd7 $3 ( 33. e7 $2 Qcxc6+ 34. Nxc6 Qxc6+ 35. Kd8 Kb7 36. e8=N Qc8+ 37. Ke7 Qc5+ 38. Nd6+ Kc6) 33... Qcxc6+ 34. Nxc6 Qxe6 (34... Qxc6+ 35. Kd8 Qxe6 (35... Kb7 36. f8=Q Qc7+ 37. Ke8) 36. f8=Q $18) 35. Nce5 $3 (35. f8=Q $2 Qxc6+ 36. Kd8 Kb7 (36... a5) (36... Qb7)) 35... Qd6 (35... Qxf7 36. Nxf7 Ka7 37. Kc7 a5 38. Nc5) 36. f8=Q Qxf8+ 37. Nxf8 Ka7 38. Kc7 a5 39. Nfd7 (39. Ne6) 39... Ka6 40. Kc6 a4 41. Nc4 a3 42. Nc5+ Ka7 43. Nxa3 Kb8 (43... h4 44. Kc7) 44. Nb5 (44. Nc4) 44... Kc8 45. Nb7 Kb8 46. N7d6 h4 47. Kb6 h3 48. Nd4 h2 49. Nc6+ Ka8 50. Nb5 h1=Q 51. Nc7# 1-0 [Event "?"] [Site "?"] [Date "1937.??.??"] [Round "?"] [White "Stahlberg, Fine"] [Black "0040.44"] [Result "1/2-1/2"] [SetUp "1"] [FEN "4k3/5p1p/2b3p1/4P3/1K3P2/p5P1/B6P/8 w - - 0 37"] [PlyCount "22"] [EventDate "1937.??.??"] [Source "ChessBase"] {p. 149} 37. Kxa3 Ke7 {With wKe7 / bKg7 (and wPh4 / bPh5, otherwise g4, f5-f6), win with Bxf7! followed by e6 etc.} 38. Kb4 f6 $1 39. Kc5 Bd7 40. Bg8 (40. Bb1 h6 $4 {given in the "mégabase-sic" 2003, which is absurd}) 40... h6 (40... fxe5 41. fxe5 h6) 41. Kd5 (41. h4 g5 $1 {comme dans le texte}) 41... Ba4 42. Kd4 Bd7 43. Bc4 Ba4 44. Bd3 Be8 45. h4 g5 $1 {0,5-0,5 Stahlberg-Fine} 46. f5 Ba4 (46... gxh4 47. gxh4 Ba4) 47. e6 Kd6 1/2-1/2 [Event "Sigeman & Co"] [Site "Malmo"] [Date "2000.05.25"] [Round "3"] [White "Timman, Jan H"] [Black "Polgar, Judit"] [Result "0-1"] [ECO "E15"] [WhiteElo "2655"] [BlackElo "2658"] [PlyCount "80"] [EventDate "2000.05.23"] [EventType "tourn"] [EventRounds "6"] [EventCountry "SWE"] [EventCategory "15"] [Source "ChessBase"] [SourceDate "2000.07.27"] {78/474} 1. Nf3 Nf6 2. c4 b6 3. d4 e6 4. g3 Ba6 5. Qb3 {This is the sharpest of all the alternatives at White's disposal (Stohl).} Nc6 {[%cal Rc6a5]} (5... d5 6. cxd5 Qxd5 (6... exd5 7. Nc3 $14) 7. Qc2 c5 8. Nc3 Qc6 9. dxc5 Bxc5 10. Bg2 Bb7 11. O-O Nbd7 12. Bd2 O-O 13. Rac1 Rfc8 14. Qb1 a5 15. Nh4 Qc7 16. Nb5 Qb8 17. Bf4 e5 18. Bg5 Bxg2 19. Nxg2 $14 {Piket,J-Karpov,A/Amber blind/1995/}) (5... c6 6. Bf4 d5 7. cxd5 Nxd5 (7... cxd5 $2 8. Bxb8 $1 Bc4 9. Qa4+ $1 b5 10. Qc2 Rxb8 11. b3 $18) 8. Bg5 Be7 9. Bxe7 Qxe7 10. Nbd2 O-O 11. Rc1 Rc8 12. e4 Bxf1 13. Kxf1 Nf6 14. e5 Ne8 15. Kg2 Qb7 16. Ne4 Na6 17. Rc4 Rc7 18. Rhc1 Rac8 19. a3 h6 20. Qe3 c5 21. dxc5 bxc5 22. R1c2 Qd5 23. Qc3 $16 {Stohl,I-Danailov, S/Leipzig/1986/}) (5... c5 6. d5 exd5 7. cxd5 d6 8. Bg2 g6 9. O-O Bg7 10. Nc3 O-O 11. Bf4 Re8 12. Rfe1 {(the wQ looks oddly placed, but it prevents . ..b5)} Ne4 13. Nxe4 $1 (13. Qc2 Qe7 14. Nxe4 Qxe4 15. Qxe4 Rxe4 16. Bxd6 Nd7 17. Rab1 Rxe2 18. Rxe2 Bxe2 19. b3 c4 20. bxc4 Bxc4 21. Nd2 Bxa2 22. Rc1 Nf6 23. Be5 Re8 24. Bxf6 Bxf6 25. Ne4 Bb2 26. Rd1 f5 $17 {Fominyh,A-Epishin,V/ RUS-ch Elista/1997/}) 13... Rxe4 14. Qc2 Rc4 15. Qd2 Qe7 16. e4 $1 $16 Nd7 17. e5 $1 (17. Bf1 Ra4 18. Bxa6 Rxa6 19. a4 b5) 17... Nxe5 18. Nxe5 dxe5 19. d6 Qf8 20. Bxe5 (20. Bxa8 Rd4)) 6. Bd2 (6. Nbd2 {[%csl Rc4,Ge4]} d5 (6... Na5 7. Qa4 Bb7 8. Bg2 c5 9. dxc5 bxc5 10. O-O Qc7 (10... Be7 11. Ne5 Bxg2 12. Kxg2 O-O 13. Ndf3 d6 14. Bd2 $1 dxe5 15. Bxa5 Qb8 16. Bc3 Bd6 17. Rfd1 $14 {Sorin,A-Almasi, Z/Buenos Aires/1996/}) 11. Rd1 Nc6 $132) (6... Be7) 7. Qa4 Bb7 8. Bg2 (8. Ne5 Bd6 $1 9. Nxc6 Qd7 $15) 8... Bd6 9. O-O O-O 10. a3 a5 11. e3 Ne7 $13) 6... Bb7 {[%cal Rc6d4] /\Nd4} (6... Rb8 7. Bg2 b5 8. c5 b4 9. a3 bxa3 10. Qxa3 Bc4 11. Nc3 Rb3 12. Qa4 Rb4 13. Qc2 Bb3 14. Qd3 Bc4 $11) (6... Na5 7. Qa4 $1 $14 (7. Bxa5 bxa5) 7... Bb7 8. Bxa5 (8. Bg2) 8... bxa5 9. Qxa5 c5) 7. Bc3 (7. d5 $6 Ne7 $1 (7... exd5 8. cxd5 Ne7 9. d6 cxd6 10. Bg2 $44) 8. dxe6 fxe6 9. Bg2 Nf5 10. O-O Bc5 11. Bc3 (11. Nc3 O-O 12. Qc2 Qe8 13. Bg5 Ng4 14. h3 Nxf2 15. Rxf2 Nxg3 16. Qd2 Nf5 17. Re1 Qh5 18. Bf4 Bxf2+ 19. Kxf2 Nh4 $17 {Fominyh,A-Sakaev,K/ Moscow/1999/}) 11... Ne4 12. Nbd2 O-O 13. Nxe4 Bxe4 14. Rad1 a5 15. Qa4 d6 16. a3 Qc8 17. Ng5 Bxg2 18. Kxg2 h6 19. Nf3 Qb7 20. Qc2 a4 21. Qd3 Rf7 22. Kg1 Raf8 $15 {Fominyh,A-Poluljahov,A/RUS-ch Samara/ 2000/}) 7... Ne4 8. a3 {White must waste some more precious time due to the threats against d4. It's curious he will never get to play Bg2 anymore (Stohl).} (8. Bg2 $2 Nxc3 9. bxc3 (9. Nxc3 Nxd4 $19) 9... Na5 $17) 8... Nxc3 9. Qxc3 Be7 (9... Qf6 $6 10. d5 $1 Ne7 11. e4 Qxc3+ 12. Nxc3 a6 13. Bg2 g6 14. O-O Bg7 15. Rfe1 h6 16. h4 O-O 17. Rad1 exd5 18. cxd5 d6 19. e5 Rae8 20. exd6 cxd6 21. Nd4 Nf5 22. Nc6 b5 23. a4 $36 { Epishin,V-Ehlvest,J/New York op/1998/}) 10. Qd3 $1 {[%csl Rb7,Gc4,Gd4,Ge4]} ( 10. e4 $6 f5 $1 {[#]} (10... Bf6 11. e5 $2 (11. Qd3) 11... Nxd4 12. Nxd4 Bxe5 $19) ( 10... O-O) 11. d5 (11. Bd3 Bf6 $36) (11. exf5 $2 Nxd4 $17) 11... Bf6 12. Qe3 Ne5 13. Nxe5 Bxe5 14. f4 (14. exf5 Qf6 $1 $15) 14... Bxb2 15. Ra2 Bf6 16. exf5 O-O $44 {[%csl Re1] ->,Ke1}) (10. Bg2 Bf6 11. e3 (11. O-O Nxd4 12. Nxd4 Bxg2 13. Kxg2 c5 14. Nxe6 dxe6 $15) 11... Ne7 $1 12. Qd3 c5 13. Nc3 cxd4 14. exd4 Rc8 15. Nb5 d5 16. cxd5 a6 17. d6 (17. Nc3 $6 Nxd5 18. Ne4 Be7 19. O-O Qc7 20. Ne5 f6 21. Nf3 Qc2 (21... Qc2 22. Qxc2 Rxc2 23. Rab1 Kf7 24. Rfe1 Rhc8 25. Bf1 h6 26. h4 b5 $17 {Ehlvest,J-Ivanchuk,V/President's Cup/1998/})) (17. Na7 $6 Ra8 18. Nc6 Nxc6 19. dxc6 Bxc6) 17... Nd5 (17... Nf5 18. Ne5 (18. Nc7+ Kf8)) (17... Nc6 18. d5) 18. Nc3 Qxd6 (18... Nxc3 19. Ne5 $1 Bxg2 20. d7+) 19. Ne4 Qc7) (10. d5 Bf6 11. Qc2 (11. Qd2 $2 Na5) 11... Ne5 $15 {[%cal Gf6a1]}) 10... d5 {[#]} (10... Bf6 11. e4 e5 12. d5 Nd4 13. Nxd4 exd4 14. f4 $1 (14. Nd2 c5 15. h4 O-O 16. Bh3 d6 17. Kf1 $6 b5 $1 18. cxb5 a6 19. Kg2 axb5 20. Qxb5 Ba6 21. Qc6 Bd3 22. b3 Ra6 23. Qd7 Qa5 24. Ra2 Qc3 $17 {Epishin,V-Rodriguez Lopez,R/Linares op/1998/}) 14... Qe7 15. Be2 (15. Bh3 b5 $13) 15... d6 16. Nd2 c5 17. Bg4 $14 {Here the [+] is closed and the ^^ don't have that much scope. White has chances for an advantage (Stohl).}) 11. cxd5 Qxd5 $32 12. e4 $146 {[%csl Rd4,Re1,Re4]} (12. Nc3 $2 Ne5 $3 {[#]} (12... Qh5 13. Bg2 O-O 14. O-O Rfd8 15. Rad1 Bf6 16. Qe3 (16. e3) 16... Ne7 17. Ne4 Bxe4 18. Qxe4 Qb5 19. Rd2 c5 20. dxc5 bxc5 21. Rc2 Rab8 22. e3 Qd3 23. Qxd3 Rxd3 24. Rxc5 Rxb2 25. a4 Ra3 26. Ra5 Rb4 27. Rxa7 Rbxa4 28. Rxa4 Rxa4 {1/2,Epishin,V-Razuvaev,Y/RUS-ch St Petersburg/1998/}) (12... Qd6 13. e3) 13. dxe5 (13. Nxe5 Qxh1 14. O-O-O Qxh2) 13... Qxd3 14. exd3 Bxf3) (12. Bg2 $2 Nxd4 $1 13. Nh4 Qc5 14. Bxb7 $2 Qc1+) 12... Qa5+ (12... Qd7) (12... Ne5 $2 { est à présent 3 fois réfuté !}) 13. Nbd2 (13. Nc3 {closes the <->c for White.} O-O-O (13... Bf6 $6 14. e5 Be7 (14... Nxd4 $2 15. Qxd4 $1 Bxf3 16. Bb5+ c6 17. b4 $18)) (13... Rd8) 14. Qc4 (14. Qe3 f5 $17) 14... f5 (14... Bf6 15. O-O-O Rd7 16. d5 $1 $13 {/\Bh3<=>}) 15. Bd3 Nb4 $40 {[%csl Rd4,Re4] ><[+]}) 13... O-O-O 14. Rc1 $1 {A 'hard-line' move perhaps, but the only one in line with the position. "Good or bad, it's the only move" said "it's only me" alias Miles.} (14. O-O-O $6 Nxd4 $1 15. Nxd4 Qc5+ 16. Nc4 Bf6 $17 (16... b5)) (14. Qc4) 14... f5 (14... Nxd4 $2 15. Nxd4 Qe5 (15... Bf6 16. Qc2 $18) 16. N2f3 Qxe4+ 17. Qxe4 Bxe4 18. Ba6+ Kb8 19. Nc6+ Bxc6 20. Rxc6 $16) (14... Bf6 $1 15. b4 (15. Qc2 Bxd4 16. b4 Qxa3 17. Nxd4 Rxd4 18. b5 Rxd2 $1 {[#]} 19. Kxd2 (19. Qxd2 Nd4) 19... Rd8+ 20. Bd3 (20. Ke1 Qb4+) 20... Qd6 (20... f5 21. Rhe1 (21. bxc6 Ba6) 21... Qd6) (20... Qe7) 21. bxc6 Ba6 $19 22. Qc3 Bxd3 (22... Qxd3+ 23. Qxd3 Rxd3+ 24. Kc2 (24. Ke1 Bb5) 24... Rf3 25. Rhd1 Rxf2+ 26. Kb3 Bb5) (22... Qe7) 23. Rhd1 f5 24. Ke1 (24. exf5 Qd5 $1 $19 {[#]}) 24... fxe4 25. Qxg7 Qd5 26. Qf6 (26. Qe7 Qf5) 26... e3) (15. Qc3 Bxd4) 15... Qa4 (15... Qh5 $6 16. Qc3 $13 {[%cal Gc1c8] /+/=,|^<->c[#]}) 16. Rc4 (16. Qc4 Rd7 17. e5 Be7 {[%cal Rc6d4,Ra4a3]}) (16. Qc3 Bxd4 17. Nxd4 Rxd4 18. b5 $2 (18. Be2 Rhd8 (18... Rd7)) (18. Nc4 Rhd8) 18... Rxe4+ $1 19. Nxe4 (19. Be2 Rxe2+ 20. Kxe2 Nd4+ 21. Ke1 Nxb5) 19... Qxe4+ 20. Kd2 Qd4+ (20... Qxh1 21. bxc6 Qd5+ 22. Ke3 Ba8 $17 23. Qxg7 Rd8 24. Qc3 e5 25. Bh3+ (25. f4 exf4+) 25... Kb8 26. Bd7 Rxd7 27. cxd7 Qf3+ 28. Kd2 Qxf2+ 29. Kd3 e4+ 30. Kc4 Qa2+ 31. Kd4 Qd5+ 32. Ke3 Qxd7 33. Qh8+ Kb7 34. Qd4 (34. Rc3 f5 ) (34. Kxe4 Qa4+ 35. Kf3 Qxa3+) 34... Kc8 $17) (20... Rd8+) 21. Bd3 (21. Kc2 Nb4+) 21... Qxf2+ 22. Kd1 Rd8 23. Re1 (23. bxc6 Ba6) 23... Qf5 24. Kc2 Rxd3 25. Qxd3 Nd4+ 26. Kc3 (26. Kd2 Nf3+ 27. Kc2 Nxe1+ 28. Rxe1 Qxd3+ 29. Kxd3 a6 $17) 26... Nxb5+ 27. Kd2 Qxd3+ 28. Kxd3 Nxa3 $17 {(five (!) pawns against two exchanges)} 29. Ra1 Nb5 30. Ra4 h6 31. h4 Kd7) 16... Nxd4 $1 (16... Ba6 $6 17. b5 Qxb5 18. Qc2 Bb7 19. Rc5 $14) (16... b5 17. Rxc6 $1 (17. Qc2 Qxc2 18. Rxc2 Nxd4 19. Nxd4 Rxd4) 17... Bxc6 18. Bg2 $15 {/~~}) 17. Nxd4 (17. Rxd4 Bxd4 18. Nxd4 Qd7 19. N2f3 e5 $19) 17... b5 18. Qc2 Qxc2 19. Rxc2 Rxd4 20. Bg2 (20. Bxb5 Rxe4+ $1) (20. f3 Rhd8) 20... Rd3 $17) (14... Kb8 15. b4 Nxb4 16. axb4 Bxb4 17. Qc2 (17. Qe3) 17... Bxd2+ (17... g5 18. h3 f5 (18... Bxd2+) 19. Bd3 g4 20. hxg4 fxg4 21. Ne5 (21. Qxc7+ Ka8 22. Rxh7) 21... Rxd4 22. Qxc7+ Ka8 23. Nc6) (17... f5 18. Bd3) 18. Qxd2 Qxd2+ 19. Nxd2 Rxd4) 15. b4 $8 (15. Bg2 $2 fxe4 16. Qxe4 Nxd4 $19) 15... fxe4 (15... Nxb4 $2 16. axb4 Bxb4 17. Qc2 c5 18. Bd3 fxe4 19. Bxe4 Bxd2+ 20. Nxd2 Rxd4 21. Bxb7+ Kxb7 22. Ke2 {JP}) 16. Qc3 $8 (16. Qxe4 Qxa3 (16... Qf5 {JP}) 17. Rxc6 Bxb4 $19 {[%cal Rd8d6]}) (16. Nxe4 Qf5 {/\Nb4,Nd4-+}) 16... Qd5 (16... Bxb4 17. axb4 Qxb4 18. Nxe4 Qxc3+ (18... e5 19. Qxb4 Nxb4 20. d5 $1 Bxd5 21. Nfd2 $132) 19. Rxc3 Nxd4 20. Nfd2 $13) (16... Qf5 17. Ne5 Rhf8 ( 17... Bc5 18. Nxc6 Bxc6 19. bxc5 e3 20. fxe3 Bxh1 21. cxb6 c6 22. e4 $1 Bxe4 23. Bd3 $1 $18) 18. f4 $1 (18. Nxc6 Qxf2+ 19. Kd1 e3 $1 20. Nxd8 Bxd8 $19) 18... e3 19. Ndf3 $16) 17. Ne5 $8 (17. Bc4 $2 Qf5 18. Ba6 Bxa6 19. Qxc6 Kb8 $1 20. Qxc7+ (20. Ne5 Bd6) 20... Ka8 21. Qxe7 Rc8 $1 $40 {JP}) (17. b5 $2 exf3 18. bxc6 Ba8 {[%cal Rd8d6] /\Rd6-+}) 17... e3 18. Ndf3 exf2+ (18... Rhf8 $1 19. Be2 (19. Bg2 $2 exf2+ 20. Kf1 Ba6+ 21. Kxf2 Qxd4+) (19. fxe3 $2 Rxf3 20. Bg2 Rxe3+) (19. Nxc6 Qxf3 $1 (19... Bxc6) 20. Nxe7+ Kb8) (19. Bc4 exf2+ 20. Kf1 Qd6 {JP} 21. Nxc6 Bxc6 22. Ba6+ Kb8 23. Qxc6 Qxc6 24. Rxc6 Rxf3) 19... exf2+ 20. Kf1 ( 20. Kd1 Bc5 21. bxc5 Nxd4 $1 22. Qxd4 Qb3+ $19) (20. Kxf2 Qxd4+ (20... Nxd4 $4 {typo error in the Informant} 21. Qxc7#) 21. Qxd4 Nxd4 $19) 20... Bc5 $1 {[#]} ( 20... Rd6 $2 21. b5 $16) (20... Bg5 21. b5 $1 (21. Rc2 Bd2 $1 22. Nxc6 (22. Rxd2 $2 Nxe5 23. dxe5 Rxf3 $19) 22... Bxc3 23. Ne7+ Kb8 24. Nxd5 Rxf3 $1 25. Bxf3 Bxd4 26. Rxc7 Bxd5 {[%csl Gf2]} 27. Rf7 $8 Bxf3 (27... Bc4+ 28. Be2) 28. Rxf3 Kc7 $15) (21. Bc4 Rxf3 (21... Qe4)) 21... Bd2 22. Qc2 $1 Bxc1 23. bxc6 $132) 21. bxc5 (21. dxc5 Nxe5 22. cxb6 Qc6 $1 {[#]} (22... Rd7 23. Qxe5 Rxf3 24. Rxc7+) 23. bxc7 Rd7 24. Qxc6 Nxc6 {[%cal Rc6e7]} 25. h3 (25. Kxf2 $2 Nd4) 25... Ne7) (21. Nxc6 Bxc6) 21... Nxe5 22. cxb6 Rd7 23. dxe5 Rxf3 24. Bxf3 Qxf3 25. Qxf3 Bxf3 26. Kxf2 Bxh1 27. Rxh1 axb6 $17 {JP}) (18... Bc5 19. Bc4 (19. bxc5 Nxe5 20. Nxe5 exf2+ $1 21. Ke2 Qxh1 22. cxb6 Qe4+ $19) 19... exf2+ 20. Kf1 Qe4 21. Bd3 Qe3 (21... Qd5 $11) 22. bxc5 Nxe5 23. Nxe5 Rxd4 (23... Bxh1 $2 24. Ba6+ ) 24. c6 Qxe5 25. cxb7+ Kb8 26. Be2 $13) 19. Kxf2 Rhf8 20. Kg2 $8 (20. Kg1 Bc5 $1 {[#]} 21. Bc4 (21. Nxc6 Qxc6) 21... Qe4 22. bxc5 Nxe5 $19) (20. Nxc6 $2 Bxc6 21. Bg2 Qd6 22. Qxc6 (22. Rhd1 Bb7) 22... Qxd4+ 23. Ke2 Qd3+ 24. Kf2 Bc5+ $1 {[#]} 25. Rxc5 Qd2+ 26. Kf1 Qd1+ 27. Kf2 Rd2+ 28. Ke3 Qe2#) 20... g5 $2 (20... Bc5 21. Bc4 Qe4 (21... Nxe5 22. Bxd5 Bxd5 23. dxe5 Rxf3 (23... Bxf3+ $2 24. Kh3 {JP}) 24. Qxf3 Bxf3+ 25. Kxf3 Bd4 26. b5 $14) (21... Qxc4 $6 22. Qxc4 (22. Nxc4 Nxd4 23. Rhf1 Nxf3) 22... Nxe5 23. dxe5 Bxf3+ 24. Kh3) 22. Rhe1 (22. Bd3 Qxd4 23. Nxd4 Nxe5+ 24. Kh3 Rf6 $1 $19 {->}) 22... Nxe5 23. Rxe4 Bxe4 24. dxc5 (24. Bxe6+ Kb8 25. dxe5 Rxf3 26. Qxf3 Rd2+ $17) 24... Nxf3 $40) (20... Rxf3 21. Nxf3 b5 $1 {[#]} $17 {[%cal Ga8h1]} 22. Be2 (22. Bd3 Rf8 (22... Rd7 23. Rhe1 Nxd4 24. Be4 Qxe4 25. Rxe4 Bxe4 26. Rf1) (22... Bg5 23. Rc2 Rd7 24. Rf1 Nxd4 25. Re2 (25. Bxh7 Nxf3) 25... Nxf3 $1 (25... Bf6 $1) (25... Bd2 $1 26. Qc5 (26. Qb2 Nxf3 27. Be4 Qxe4 28. Rxe4 Bxe4) (26. Qa1 Qh5) (26. Rxd2 Nxf3) (26. Qxd2 Nxf3) 26... Qxc5 27. bxc5 Bxf3+) 26. Be4 Qxe4 27. Rxe4 Bxe4) 23. Rhf1 g5 24. g4 h5 25. h3 Bd6 {JP} 26. Rce1 Rf4) (22. Kf2 Rf8 23. Bg2 Qxd4+ (23... Bf6 24. Kg1) 24. Qxd4 Nxd4 25. Rc3 e5 26. Re1 Bd6 27. Rd1 g5) (22. Kg1 Bf6 23. Bg2 Qd6 24. Qc5 Nxd4 25. Qxd6 Rxd6) 22... Rd7 (22... Bg5 23. Rc2 Rd7 24. Rd1 Bf6) (22... g5 23. h3 h5 24. g4 hxg4 25. hxg4 Bf6 26. Rh7 (26. Rhd1 Rd7 (26... Qd6)) (26. Kf1 Bxd4) 26... Bxd4) 23. Rhd1 Bf6 24. Qe3 Nxd4 25. Kf2 (25. h4 Qe4) 25... Rf7 26. Rc3 Nf5 (26... Qe4) 27. Qxa7 Qa2 28. Rcd3 Bd4+ 29. Rxd4 Nxd4 $19) (20... Bg5 21. Nxc6 Qxf3+ 22. Qxf3 Rxf3 23. Ba6) 21. Nxc6 Rd7 $8 (21... Bc5 $2 22. Ne7+) 22. g4 $2 {[%csl Rf4,Rg4,Rh4]} (22. Nxa7+ $142 $1 Kb8 23. Nc6+ Ka8 24. g4 $14 (24. h3) (24. Be2)) (22. h3 h5 (22... Bc5 23. b5) 23. Nxa7+ Kb8 24. Nc6+ Kc8 25. Be2 g4 26. hxg4 hxg4 27. Rh7 $14) 22... Bc5 $1 {[#]} 23. Bb5 (23. b5 $6 Bxd4 $1 24. Qd3 ( 24. Ncxd4 Qxd4 $19) 24... e5 $40 {/\e4, Rdf7 JP}) (23. bxc5 Qxc6 24. Be2 (24. d5 Rxd5 25. Be2 Rd2 $1 {[#]} (25... Re5 26. Qxe5 Rxf3 27. Qxc7+ (27. Bb5 Rg3+ 28. Kf2 Qf3+) 27... Qxc7 28. c6 Rc3 $1 29. Rxc3 Bxc6+ $17) (25... Rxc5 26. Qe3) 26. Qxd2 Rxf3 27. Bxf3 Qxf3+ 28. Kg1 Qxh1+ 29. Kf2 Qxh2+) (24. Ba6 Bxa6) 24... Rxd4 $1 (24... h5) 25. cxb6 (25. Qxd4 $2 Rxf3 $19) 25... Qxb6 $17 {->}) (23. dxc5 Qxc6 24. Be2 Rd2 $1 {[#]} 25. Kf1 Rxe2) 23... Bxc6 24. Bxc6 Qxc6 25. Rhf1 {A solid move, White's king finally wants to leave the long diagonal and free his knight from the annoying pin. But in the resulting endgame Black is already better (Stohl).} (25. bxc5 Rxd4 (25... h5 26. cxb6 Qe4 27. Rhe1 $1 (27. b7+ $2 Kb8 28. Rhe1 Qxg4+ 29. Kf2 Qh3 $1 $17) 27... Qxg4+ 28. Kf2 axb6 29. Re3 $132 { [%csl Rc7]}) (25... Qe4 26. Rhf1 $1 Qxg4+ 27. Kh1 $16) 26. h3 (26. Qxd4 $2 Qxf3+ 27. Kg1 bxc5 $19) (26. cxb6 $2 Rxg4+ 27. Kf2 Qxb6+ 28. Qc5 Rgf4 $19 {_|_} ) (26. Kg3 Qe4 $1 {[#]} (26... Rdf4 27. Ne5 {JP}) 27. Nxd4 Qf4+ 28. Kh3 (28. Kg2 Qf2+ 29. Kh3 Rf6 30. Nf5 exf5) 28... h5 29. Rhg1 hxg4+ 30. Kg2 Qe4+ 31. Kg3 Rh8 $1 $40 32. h4 $8 (32. Kf2 Rxh2+ 33. Kf1 Qf4+ 34. Nf3 Rh3 35. Ke1 gxf3 $19) 32... Rxh4 33. Rh1 Rxh1 34. Rxh1 Qxh1 35. Qe3 (35. Kxg4 $2 Qh4+) 35... e5 36. Ne2 ( 36. Qxe5 Qg1#) 36... Qh3+ 37. Kf2 Qxe3+ 38. Kxe3 Kd7 $17) 26... Qd5 (26... h5 27. Rhf1 {/\} hxg4 28. Qxd4 Rxf3 29. cxb6 $1 Rc3+ 30. Kg1 Rxc1 (30... Rg3+ 31. Kf2 $18) 31. b7+ $1 Kb8 32. Qh8+ Kxb7 33. Qb2+) (26... b5) 27. cxb6 Rc4 28. Qe3 Rxf3 $1 29. Qxf3 Qd2+ 30. Qf2 Qd5+ $11) (25. dxc5 $2 h5 $1 $40 26. b5 (26. cxb6 Rd2+) 26... Qe4 (26... Qxf3+ 27. Qxf3 Rd2+)) 25... h5 $1 26. Kg1 $8 (26. h3 $2 hxg4 27. hxg4 Qe4 {[#]} 28. bxc5 (28. dxc5 Qxg4+ 29. Kf2 Rd2+ $1 {[#]} 30. Ke1 Qe4+ $1 31. Kxd2 Rd8+ 32. Nd4 Rxd4+ 33. Qxd4 Qxd4+) 28... Qxg4+ 29. Kf2 Rdf7 30. Ke2 Rxf3 $1 31. Qxf3 (31. Rxf3 Qg2+) 31... Rxf3 32. Rxf3 Qxd4 $19) 26... Rxf3 (26... Bxd4+ $6 27. Qxd4 $1 Rxd4 28. Rxc6 Rxg4+ 29. Kf2 $11) (26... Rdf7 27. Nd2 Rf4 28. Rxf4 (28. h3 Bxd4+ 29. Qxd4 Qxc1 30. Qxf4 {JP})) 27. Qxf3 Qxf3 (27... Bxd4+ $2 28. Kg2 Qxf3+ 29. Kxf3) 28. Rxf3 hxg4 29. Rg3 Bxd4+ 30. Kh1 $15 (30. Kg2 Be5 31. Rxg4 Bf4 32. Rc2 (32. Rf1 e5 $17) 32... e5 33. b5 Kb7 $36 (33... Rh7 $17 { [%csl Ra3,Rb5,Rg4,Rh2]})) 30... Be5 31. Rxg4 Bf4 32. Rc2 $6 (32. Rc3 $142 e5 33. Rg2 {[%cal Yg2c2,Yh1g2,Yg2e2]}) 32... e5 (32... Rd3 33. Kg2 e5 $17 (33... Rxa3 $6 34. h4)) 33. Rc3 (33. Kg2) 33... e4 34. Rc4 (34. Rg2 Rd1+ 35. Rg1 Rd2 36. Rg2 e3) (34. h4 Bd2 35. Rh3 e3 36. Re4 gxh4 37. Rhxh4 Rd3 38. a4 Bxb4 {JP}) 34... e3 35. Re4 c5 $2 (35... Rd1+ $142 36. Rg1 Rd2 37. Rg2 c5 $1 38. bxc5 bxc5 39. Rc4 (39. h4 Rd4 $19) 39... Kd7 {[%cal Rd7d5]}) 36. bxc5 bxc5 37. h4 $2 (37. Rc4 Re7 $1 38. Rxc5+ Kb7 39. Rc1 (39. Rg1 e2 40. Rb1+ Ka6 $19) 39... e2 40. Re1 Bd2 $19) (37. Rg2 Rd1+ 38. Rg1 Rd4 $1 39. Re7 Kd8 $19) (37. Re8+ $1 Kc7 38. h4 Rd1+ (38... Rd4 $2 39. hxg5 Kd7 40. g6 $1 Bh6 41. Ree4 $18) 39. Kg2 Rd2+ 40. Kf1 (40. Kg1 Rd4 41. Kf1 $15 {/=}) 40... Rf2+ 41. Ke1 gxh4 42. Rxh4 Bg3 43. Rhe4 $15) 37... Rd4 $1 $19 {[%csl Ge3] o^e} 38. Rxd4 $8 (38. Re7 Kd8 39. Re6 Kd7 {[%cal Re3e2]}) 38... cxd4 39. Kg2 d3 40. Kf3 (40. Kf1 e2+ 41. Ke1 Be5 $19) 40... e2 (40... e2 41. Rg1 gxh4 42. Kxf4 d2 $19) 0-1