Master's word
---
The author of the 3# is Alexeï Ivanovitch. He should not be confused with the grandmaster Alexander Kotov, author of a successful book inviting the reader, if not to become a grandmaster himself, at least to "think like a grandmaster". His advice has helped many players, even if the principles he sets out often have to be circumvented. The key to this problem is surprising.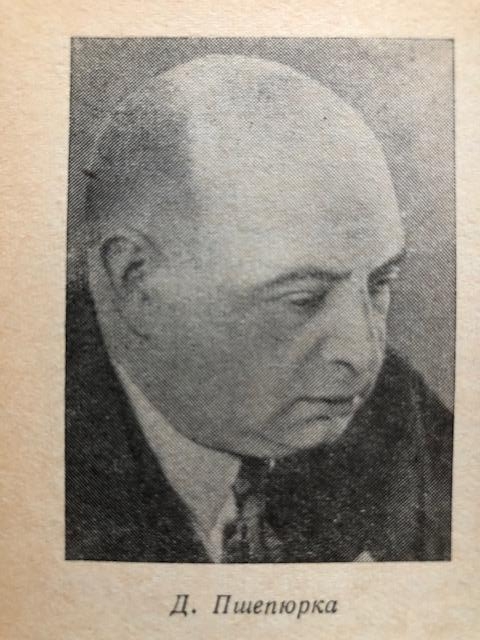 The 6# is a brilliant and difficult work that prefigures the work of a French composer of the 50s and 80s. And this time it is indeed the very strong Polish player Dawid Przepiorka (pronounced pjépiourca) who counts victories over Janowski, Fahrni, Spielmann, Mieses, Duras, Rubinstein, L. Steiner, Tarrasch, Opocensky, Saemisch, Nimzovitch, Sultan Khan and many others.
Finally two helpmates, the easiest not necessarily the easiest being the one who seems to be...
How can bishop and pawn dominate a rook? A small Latvian miracle. Then a study of the former world champion, that you will solve better than a computer. And a curiosity: the study that prevented the current world champion of solving, Piotr Murdzia, from doing 100% in Portoroz last September. But, unlike him, you have the solution in front of you!
The part of the day is a demonstration of who was to become world champion five years later. He plays a gambit whose acceptance gives a strong centre of pawns to Black. This allows the initiative and then an attack on the white castling: too good a gift in front of such a creator. It is curious that the same idea is found 50 years later in Spassky-Tal, with the same effect, with the outgoing world champion being deconquered in the same way. Not to say crush.
Not everyone can, like Kortchnoï, swallow pawns without damage. Passing from Quebec directly to Africa, I will recall this salutary advice: "If you can't digest the cassock, don't eat the missionary" (Bantu proverb).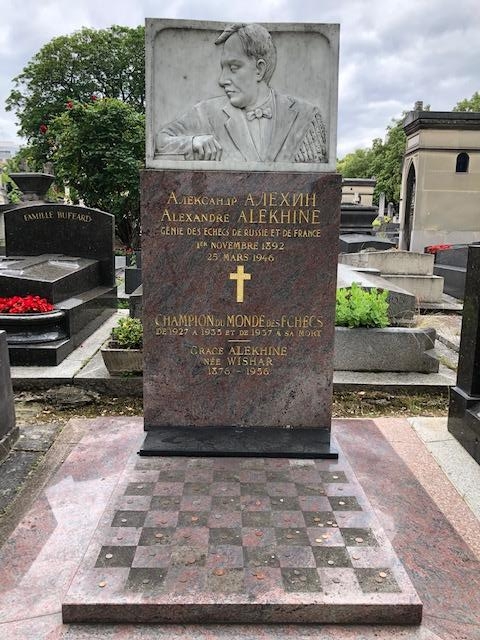 A passing comment on Alekhine's alleged "antisemitism". He must have been quite a masochist, considering that his 4th wife (since 1934), Grace Wishard-Freeman, was an American Jew; she is buried with him in Montparnasse. This is probably unknown to the sycophantic inkwell and viperine journalists.
Imagine that I married an English woman, instead of a woman further east. But no, I'm joking...
Enjoy your meal.
Master's diagrams
[Event "3#"] [Site "?"] [Date "1997.??.??"] [Round "?"] [White "Kotov, A."] [Black "0220.64"] [Result "1-0"] [SetUp "1"] [FEN "6R1/7p/4pP2/3pP2B/1K1P4/PPB5/1p2R1P1/3k4 w - - 0 1"] [PlyCount "1"] [EventDate "1997.??.??"] 1. -- 1-0 [Event "6#"] [Site "?"] [Date "1912.??.??"] [Round "?"] [White "Przepiorka, D."] [Black "1487.47"] [Result "1-0"] [SetUp "1"] [FEN "4Q3/1n6/1P3p1n/1P4r1/p1Rpp1p1/p2P3p/K1P1B3/b1k2NBb w - - 0 1"] [PlyCount "1"] [EventDate "1912.??.??"] 1. -- 1-0 [Event "h#4"] [Site "?"] [Date "1965.??.??"] [Round "?"] [White "Ringeltaube, N."] [Black "0011.20"] [Result "1-0"] [SetUp "1"] [FEN "8/8/8/8/3NP3/K2P4/2B2k2/8 b - - 0 1"] [PlyCount "1"] [EventDate "1965.??.??"] 1... -- 1-0 [Event "h#6"] [Site "?"] [Date "2001.??.??"] [Round "?"] [White "Stepochkin, A & Zhuravlev A"] [Black "0040.26"] [Result "1-0"] [SetUp "1"] [FEN "8/6p1/6p1/1p4P1/bPp5/2p5/p6K/kB6 b - - 0 1"] [PlyCount "1"] [EventDate "2001.??.??"] 1... -- 1-0 [Event "?"] [Site "?"] [Date "1914.??.??"] [Round "?"] [White "Mattison, H."] [Black "+0310.20e5a7"] [Result "1-0"] [SetUp "1"] [FEN "8/k7/4P3/4K3/5B2/P7/8/r7 w - - 0 1"] [PlyCount "13"] [EventDate "1914.??.??"] 1. Be3+ $8 (1. Ke4 $2 Rh1 $3 2. e7 Rh8 $8) (1. e7 $2 Re1+ $8) (1. Kf5 $2 Rh1 $1 (1... Re1 $1) 2. Be5 Rf1+) (1. Bd2 $2 Rb1 $1 (1... Rh1 $1)) 1... Kb7 2. e7 $8 Rxa3 (2... Re1 3. Ke4) 3. Ba7 $3 { [#] The Rook should be banned from the 8th row.} ( 3. Bd2 $2 Ra8 $3 {[#]}) 3... Ra1 (3... Ra2 4. Kf4 $1 Ra4+ 5. Kf5 Ra5+ 6. Kf6 Ra6+ 7. Kf7 $8) (3... Kxa7 4. Kd4 $1 Ra4+ 5. Kd5 $8 Ra5+ 6. Kd6 $8 Ra6+ 7. Kd7 $8) ( 3... Rxa7 4. e8=Q $8) 4. Kf4 $8 Rf1+ (4... Re1 5. Be3 $8 Rf1+ 6. Ke4) 5. Bf2 $3 {[#]Second sacrifice of the Bishop.} Rxf2+ 6. Ke3 $8 Rf1 7. Ke2 $1 {Selected in "Endgame magic".} (7. Kd2 Rf2+ 8. Ke1) 1-0 [Event "?"] [Site "?"] [Date "1998.??.??"] [Round "?"] [White "Smyslov, V."] [Black "+0032.56h4a8"] [Result "1-0"] [SetUp "1"] [FEN "k7/p1b4p/P3P1pP/4p1P1/4P2K/8/6pp/2N3N1 w - - 0 1"] [PlyCount "17"] [EventDate "1998.??.??"] [EventCountry "RUS"] 1. e7 $8 h1=Q+ (1... Bb8 2. Nce2 (2. e8=Q $2 h1=Q+ 3. Kg3 Qh4+) 2... h1=Q+ 3. Kg3 {: texte}) 2. Kg3 $8 Bb8 3. Nce2 $8 (3. e8=Q $2 Qh4+) 3... Qh5 4. Nf3 $8 Qh1 (4... g1=Q+ 5. Nexg1 {: text}) 5. Neg1 $8 (5. e8=Q $2 g1=Q+ 6. Nexg1 Qg2+) 5... Qh5 6. Nh3 $3 (6. e8=N $2 Qh1 $8 {ZZ}) 6... g1=Q+ {The "deep fritz" is just beginning to conceptualise the under-promotion.} 7. Nhxg1 Qh1 8. e8=N $3 {[#]ZZ } (8. e8=Q $2 Qxg1+ (8... Qxf3+)) 8... Qh5 (8... Bc7 9. Nxc7+ Kb8 10. Ne8 Kc8 11. Nf6 Kc7 12. Ng4 (12. Nxh7) 12... Kd6 13. Nf2 Qh5 14. Ngh3) (8... Bd6 9. Nxd6 Kb8 10. Ne8) 9. Nh3 $8 1-0 [Event "?"] [Site "?"] [Date "2002.??.??"] [Round "?"] [White "Van_Tets, A."] [Black "4516.03h1g8"] [Result "1/2-1/2"] [SetUp "1"] [FEN "3B2kq/7n/3R3p/6p1/4r1R1/5n2/7p/6QK w - - 0 1"] [PlyCount "25"] [EventDate "2002.??.??"] 1. Qd1 $3 (1. Rg6+ $2 Kf7 2. Rg7+ (2. Qa7+ Kxg6 3. Rxe4 Qxd8) 2... Kxg7 $1 ( 2... Qxg7 $2 3. Qa7+ Kg8 4. Qxg7+ Kxg7 5. Rxe4) (2... Kf8 $1 3. Qa1 Re1+ $8) 3. Qa1+ Kg6 (3... Kf7 4. Qa7+ Kg6) 4. Qb1 Nd2 $1) (1. Qf1 $4 Rxg4 $1 2. Rg6+ (2. Qxf3 Qa1+ 3. Rd1 Rg1+ 4. Kxh2 Qxd1 5. Qa8 Rg4) 2... Kf7 3. Qxf3+ Rf4 $19) (1. Qc1 $4 Rxg4) (1. Qb1 $2 Qb2 $3 {[#]} 2. Rg6+ Kf7 $8 3. Rg7+ Kf8 $3 $19) 1... Re1+ ( 1... Qe5 2. Rg6+ (2. Rxe4 Qxe4 3. Qd5+ Qxd5 4. Rxd5) 2... Kh8 3. Ba5) 2. Qxe1 $8 Nxe1 3. Bxg5 $3 {[#]} (3. Bf6 $2 Qxf6 4. Rxf6 Nxf6 $19) 3... Qg7 (3... hxg5 4. Rd8+ $8 Nf8 5. Rxg5+ $8 Kf7 6. Rf5+ Ke6 7. Rdxf8 Qh4 8. R8f6+) (3... Kf7 $2 4. Rf4+ $8 (4. Bxh6 $2 Qa8+ 5. Kxh2 Qa2+ 6. Kh1 Nf3)) 4. Rd8+ $8 Nf8 5. Rxf8+ $3 {[#]} Kxf8 (5... Kh7 6. Re8 $3 Qb7+ 7. Rge4) 6. Bxh6 $3 Qxh6 7. Rf4+ $8 (7. Rg8+ $2 Kf7 $19) 7... Kg7 8. Rg4+ $8 Kf6 9. Rf4+ $8 Kg5 10. Rf5+ $8 Kg4 (10... Kg6 11. Rf6+ $8) 11. Rf4+ $8 Kg3 12. Rf3+ $8 Kg4 13. Rf4+ $8 {Given at the 2002 World Championship. This study prevented Murdzia from making 100%.} (13. Rg3+ $2 Kf5) 1/2-1/2 [Event "Bad Pistyan"] [Site "Bad Pistyan"] [Date "1922.??.??"] [Round "1"] [White "Tarrasch, S."] [Black "Alekhine, A."] [Result "0-1"] [ECO "E10"] [PlyCount "76"] [EventDate "1922.??.??"] [EventType "tourn"] [EventRounds "18"] [EventCountry "CSR"] 1. d4 Nf6 2. c4 e6 3. Nf3 (3. Nc3 Bb4 4. Bg5 h6 5. Bh4 c5 6. d5 b5 7. dxe6 (7. e4 g5 8. Bg3 Nxe4 9. Be5 $13 {Levenfish,G-Estrin,J/URS/1951/}) 7... fxe6 8. cxb5 d5 9. e3 O-O 10. Nf3 Qa5 11. Bxf6 Rxf6 12. Qd2 a6 13. bxa6 $6 Nc6 $1 14. Be2 d4 15. exd4 Rxf3 $3 16. Bxf3 cxd4 {Spassky,B-Tal,M/Tallinn 1973}) 3... c5 4. d5 (4. g3) 4... b5 5. dxe6 $6 (5. Bg5 $1 h6 (5... Qa5+ 6. Nc3 Ne4 7. Bd2 (7. cxb5 Nxc3 8. bxc3 Qxc3+ 9. Bd2 Qc4) 7... Nxd2 8. Qxd2 b4 {55/489} 9. Nd1 $1 $14 ) 6. Bxf6 Qxf6 7. Nc3 $1 b4 (7... bxc4 8. e4) 8. Nb5 Na6 (8... Qd8 9. d6 Na6 10. e4 $16) 9. e4 $1 {[#]} Qxb2 (9... g5 10. e5 Qf4 11. Bd3 $1 g4 12. Qd2 Qxd2+ 13. Nxd2 Kd8 14. dxe6 fxe6 15. Be4 Rb8 16. Nxa7 Bg7 17. f4 gxf3 18. Nxf3 $16 { Polugaevsky,L-Ljubojevic,L/Manila 1975}) (9... e5) 10. Bd3 Qf6 (10... Bb7 11. O-O g5 12. Re1 g4 13. Nfd4) 11. e5 Qd8 12. dxe6 dxe6 (12... Bb7) 13. Be4 $1 Qxd1+ 14. Rxd1 Rb8 15. Bc6+ Ke7 16. Nxa7 $18 g5 17. Bb5 Bg7 18. Nc6+ {1-0 Gruenfeld,E-Bogoljubow,E/Vienna 1922}) (5. e4 Nxe4 (5... bxc4 6. Nc3 exd5 7. e5 d4 8. exf6 d5 9. Qe2+ Be6 10. Ng5 Qd7 11. g3 d3 12. Qe5 Bd6 13. Qe3 d4 14. fxg7 Rg8 15. Qe4 dxc3 16. bxc3 Nc6 17. Bg2 Rc8 18. f4 Ne7 19. Nxh7 f5 20. Qe3 Kf7 21. Nf8 Rgxf8 22. gxf8=Q+ Kxf8 23. Bd2 Nd5 24. Qf3 Nf6 25. O-O Ne4 26. Qd1 Bd5 27. Rb1 Be7 28. Rb2 Bf6 29. Bxe4 Bxe4 {(threatens ...Bc6 & ...Qd5 ; Vukovic, V-Spielmann,R/Vienna 1922)} 30. Be1 Bc6 31. h3) (5... d6) 6. dxe6 fxe6 7. Bd3 Nf6 8. cxb5 (8. Ng5 Qe7 9. cxb5 d5 10. O-O g6 11. Re1 Bg7 12. Qe2 c4 13. Bc2 O-O 14. Nxe6 Re8 15. Nf4 Qf7 16. Qf1 a6 17. Rxe8+ Nxe8 18. Nc3 Bb7 19. Qe1 d4 20. Ne4 axb5 21. Ng5 Qd7 $8 22. Nfe6 Na6 {Rubinstein,A-Tartakower,S/ Teplitz-Schoenau 1922}) (8. O-O bxc4 9. Bxc4 d5) 8... d5 9. O-O Bd6 10. Nc3 O-O 11. Re1 Re8 12. b3 Bb7 13. Ne5 Nbd7 14. f4 Qc7 15. Qe2 Rac8 16. Bd2 Nb6 17. Rad1 c4 18. bxc4 Nxc4 19. Nxc4 dxc4 20. Be4 Bd5 (20... e5) 21. Qf3 Nxe4 22. Nxe4 Rf8 23. g3 Be7 24. a4 Qb6+ 25. Kf1 a6 26. Bc3 axb5 27. Qg4 g6 28. axb5 Ra8 29. Bd4 Qxb5 (29... Qb7 30. Nc3 Rf5 31. Qe2 {Rytov,B-Vaganian,R/Leningrad 1970} ) 30. Nc3 Qc6 31. Nxd5 Qxd5 $11) 5... fxe6 6. cxb5 d5 (6... Bb7 7. g3 Be7 (7... Qa5+ 8. Nc3 a6 9. bxa6 Rxa6 $44) 8. Bg2 O-O 9. O-O Qb6 10. Nc3 a6 11. bxa6 Rxa6 12. b3 d5 13. Ne5 $1 Nc6 14. Nd3 $14 {Gagarin,V-Buturin,V/Smolensk/1991}) 7. e3 $6 (7. Nbd2 {AA} Bd6 8. g3 (8. b3)) (7. g3 Qa5+ 8. Nc3 (8. Nbd2) 8... d4 9. Qa4 Qb6 (9... Qxa4 10. Nxa4 Bd7 $6 11. e3) 10. Nb1 Bd7 11. Na3 a6 12. Ne5 Qb7 13. Nxd7 Qxh1 14. Nxb8 Rxb8 15. bxa6+ Kf7 16. Nc4) 7... Bd6 8. Nc3 (8. Nbd2 O-O 9. Bd3 (9. Be2 Bb7 10. O-O Qe7 11. Qc2 Nbd7 12. e4 Nxe4 13. Nxe4 dxe4 14. Ng5 Nf6 15. Nh3 Nd5 16. f3 e3 17. Bc4 Rae8 18. b3 Rf6 19. Bb2 Rh6 20. Rfe1 Qc7 { Sahovic,D-Barlov,D/Vrnjacka Banja 1981}) 9... Bb7 10. O-O a6 11. b3 (11. Re1 c4 12. bxa6 Nxa6 13. Bf1 Nc5 $13) 11... e5 12. e4 c4 13. Nxc4 (13. bxa6 Nxa6 14. Be2 c3 15. Nb1 Nxe4 $17) 13... dxc4 14. Bxc4+ Kh8 15. Ng5 axb5 16. Nf7+ Rxf7 17. Bxf7 Nxe4 {Moisieev,O-Vaganian,R/Riga 1970/URS-ch}) (8. Be2 O-O 9. O-O Nbd7 10. Nbd2 Bb7 11. b3 Qe8 12. Bb2 e5 13. e4 dxe4 14. Nh4 Bc7 (14... Rd8 15. Qc2) 15. Rc1 Rd8 16. b4 Nd5 $2 (16... Bb6) 17. bxc5 Nxc5 18. Rxc5 Bb6 19. Nxe4 (19. Ba3) 19... Nf4 20. Bc4+ Kh8 21. Qg4 h5 22. Qg5 Bxc5 23. Bxe5 Rd7 24. Qh6# { Karpov,A-Lobron,E/Walldorf 1997}) 8... O-O (8... Bb7 9. e4 (9. Be2) 9... dxe4 $6 (9... d4 10. e5 Bxf3 11. Qxf3 Bxe5 12. Ne4 $1 Nbd7 13. Ng5 Ke7 14. Bc4 Nb6 15. Bxe6 h6 16. Nf7 Qe8 17. Nxe5 Kxe6 18. O-O Nbd5 19. Re1 Qxb5 20. a4 Qa6 21. Qh3+ Ke7 22. Bg5 $1 Rhd8 23. Bxf6+ Nxf6 24. Nc6+ Kf8 25. Nxd8 Rxd8 26. Re6 Qa5 27. Rae1 d3 28. Rxf6+ gxf6 29. Qxh6+ Kg8 30. Re7 {1-0 Rethy,P-Rellstab,L/Brno 1931}) (9... Nbd7 10. exd5 exd5 11. Qe2+ Kf8 12. Ng5 Qb6 13. Bd2 Re8 $6 14. Na4 $3 {[#]} Qc7 15. Ne6+) 10. Ng5 Bd5 11. Qc2 Nbd7 12. Ngxe4 $16 Be5 13. Nxd5 (13. Be2 Nxe4 14. Nxe4 O-O 15. Ng5 Rf5) (13. f4) 13... exd5 14. Nxf6+ Qxf6 15. Be2 (15. Bd3) 15... O-O 16. O-O Bd4 17. Be3 $1 {[#]} (17. Bf3 Qe6 {/\Ne5, Rf3}) 17... Bxb2 ( 17... Bxe3 18. fxe3 Qg5 19. Qd3 Rae8 20. Bf3 Nb6 21. Rae1 $16) 18. Rad1 Nb6 ( 18... Bd4 19. Bxd4 cxd4 20. Qd2 Rae8 21. Bf3) 19. Qxc5 $16 Rac8 20. Qb4 Bc3 21. Qg4 $6 (21. Qb3 Kh8 22. Bxb6 axb6 23. Qxd5) 21... Qe5 22. Bf3 (22. Bd3 d4 23. Bg5 Nd5 24. Qh4 h6 25. Bc1) 22... Rc4 $1 23. Qh3 d4 24. Bc1 Ra4 (24... Qxb5 $2 25. Be2) 25. a3 Qxb5 $6 (25... Nc4) 26. Be4 $1 (26. Qe6+ Rf7 27. Bc6 Qc4 28. Qe8+ Rf8 29. Bxa4 Rxe8 30. Bxe8 d3) 26... g6 (26... h6 27. Qe6+ Kh8 28. Bc6 Qc4 29. Qe7) 27. Qe6+ Rf7 (27... Kg7 28. Qe7+ Rf7 29. Bh6+ Kxh6 30. Qxf7) 28. Bc6 Qc4 29. Qd6 Ra6 30. Bh6 $1 (30. Rde1 Bxe1 31. Rxe1 {Browne,W-Quinteros,M/ Buenos Aires 1980}) 30... Nd7 31. Rfe1 $18) (8... Nbd7 9. Bd3 (9. g3 Bb7 10. Bg2 e5 11. Nh4 Nb6 12. Nf5 O-O 13. O-O Re8 14. a4 Bf8 15. a5 Nc4 16. e4 $1 $18 {Nevednichy,V-Ardeleanu,A/Calimanesti 1999}) 9... O-O 10. O-O Bb7 11. Qe2 Ng4 12. e4 c4 13. Bc2 Rxf3 14. Qxf3 Qh4 15. Qh3 Qxh3 16. gxh3 Nxh2 17. Rd1 d4 18. Kg2 (18. f4) 18... Rf8 19. Rxd4 Bc5 20. Rxd7 Rxf2+ 21. Kg3 Nf1+ 22. Kg4 (22. Kh4 $18) 22... Nh2+ 23. Kg3 (23. Kh5 g6+ 24. Kh6 Bf8+ 25. Kg5 Nf3+ 26. Kf4 $18) 23... Nf1+ 24. Kg4 Nh2+ 25. Kg3 {1/2-1/2 Leitao,R-Gonzalez,B/Guarapuava 1992}) 9. Be2 (9. e4 dxe4 (9... d4 10. e5 dxc3 11. exd6 Nd5 12. bxc3) 10. Ng5) 9... Bb7 (9... Nbd7 10. O-O Bb7 11. a3 Qe7 12. b4 e5 13. bxc5 Nxc5 14. Na4 Nce4 15. Nd2 Nxd2 16. Bxd2 Bxa3 17. Qb3 Bd6 18. Rab1 Ne4 19. Bb4 Bxb4 20. Qxb4 Qxb4 21. Rxb4 Rac8 22. f3 Nd6 23. g4 Rc2 {Shestoperov,A-Rotshtein,E/Rowy 2000}) 10. b3 ( 10. e4 {Tartakower} Nbd7 11. O-O (11. exd5 exd5 12. O-O) 11... Qc7 12. Ng5 (12. g3 d4) 12... Bxh2+ 13. Kh1 Rae8 14. Bg4 Nxg4 15. Qxg4 Qd6 (15... Nf6 16. Qh3 Be5 17. Nxe6) 16. f4 h6 17. Nh3 (17. Nxe6 $2 Rxe6 18. exd5 Rg6 19. Qh3 Bg3 20. Ne4 Qxd5) 17... d4 18. Ne2 (18. Rd1 Qc7 19. e5 Bxf4 20. Bxf4 dxc3 21. bxc3 Rf5 22. Bxh6 Nxe5 23. Qg3 Qf7) (18. Kxh2 dxc3 19. bxc3 Nf6) 18... Nf6 19. Qh4 Bxf4 20. Bxf4 e5 21. Bxh6 gxh6 22. Ng3 Bc8 23. Rac1) (10. O-O Qe7 11. e4 Nxe4 12. Nxe4 dxe4 13. Nd2 Qh4 (13... Bc7) 14. g3 Qe7 15. Qc2 e3 16. fxe3 Nd7 17. Nc4 $2 (17. Ne4) 17... Ne5 $2 (17... Bxg3 18. hxg3 Qg5) 18. Bd2 $16 {Nunez,A-Gomez,A/ Hermanos Saiz 1992}) 10... Nbd7 11. Bb2 Qe7 12. O-O Rad8 (12... e5 {Réti} 13. Rc1 e4 (13... Kh8 14. a4 Rae8 15. Nh4 Bb8 (15... g6) 16. Nf5 Qf7 17. Ng3 d4 18. Nb1 Rd8 (18... Qd5 19. f3 dxe3 20. Nc3) 19. Nd2 Qg6 20. e4 Rfe8 (20... Nxe4 $4 21. Ndxe4 Bxe4 22. Bh5) 21. Ba3 Bd6 22. Bd3 Bc8 23. Nc4 Bc7 24. b4 cxb4 25. Bxb4 $16) 14. Nh4 (14. Nd2 Qe5 15. g3 Qe6) 14... Qe5 (14... Qe6) 15. g3 Qg5) ( 12... Kh8 13. a4 e5 14. a5 e4 15. a6 Bc8 16. Nxd5 Nxd5 17. Qxd5 Nb6 18. Qg5 exf3 19. Qxe7 Bxe7 20. Bxf3 Rxf3 (20... Be6 21. Bxa8 Rxa8 22. Rfb1 Bf5 23. Rc1 Bd3 24. e4 Bxb5 25. Ra5 Bd3 26. Ba3 Rc8 27. Bxc5 Nd7 28. Be3 Rxc1+ 29. Bxc1 Bxe4 30. Be3 {1-0 Lebredo,G-Januario Pereira,S/Pouso Alegre 1997}) (20... Bd7 21. Bxa8 Rxa8 22. Rfd1) 21. gxf3 Bd7 22. Rfd1 (22. Ra5 c4) 22... Bxb5 23. Kg2) 13. Qc2 e5 14. Rfe1 {"White will defend himself with ingenuity, but his game is too much compromised by the strategic error of the opening, giving the centre in exchange for a low-value pawn" (AA).} (14. e4 $2 d4 {(the wQN is definitely better in d2)} 15. Bc4+ Kh8 16. Nd5 Nxd5 17. Bxd5 Bxd5 18. exd5 e4 19. Rae1 Rxf3 $1) 14... e4 15. Nd2 Ne5 16. Nd1 Nfg4 17. Bxg4 (17. Nf1 Nf3+ $1 {AA} 18. gxf3 exf3 19. Bd3 Qh4 20. Bxh7+ Kh8 $19) (17. h3 Nh6 $17 {AA} 18. Rc1 Nf5 19. a4 Qg5 20. Bxe5 Nh4 21. g3 (21. Bg4 Qxe5 22. Nf1 h5) (21. Bg3 $2 Rxf2 $1 22. Nxe4 Rxg2+ 23. Kh1 Qg6) 21... Qxe5 22. Qc3 (22. Nf1 Nf3+) 22... Qg5 23. Bg4 Ng6 $1 (23... Nf5 24. Qa5) 24. Qa5 Ne5 (24... Bc8 25. Bxc8 Rxc8) 25. Qxa7 Nxg4 (25... Qe7 26. a5 Ra8 27. Qb6 Nd3) 26. hxg4 Qxg4 27. Nf1 (27. Qxb7 $2 Bxg3) 27... Qd7 (27... Rd7 28. Rxc5 Rf6 29. b4 Qh5) 28. Rxc5 (28. Qa5 Rf6) 28... Ra8 29. Qb6 Bxc5 (29... Rf6 $1) 30. Qxc5 Rf6 31. f4 exf3 32. Nf2 Rg6 $17) 17... Nxg4 18. Nf1 Qg5 $1 {"Aim for g2, points f2 & h2 having been properly defended" (AA).} 19. h3 {For Kh1, Nh2 & Rg1.} (19. Rc1 d4 20. exd4 cxd4 21. Bxd4 Ba3 22. Be3 Nxe3 23. Ndxe3 Bxc1 24. Rxc1 Qxb5 $17) 19... Nh6 {Vers h4.} 20. Kh1 Nf5 21. Nh2 d4 $1 {[#]} (21... Nh4 22. Rg1 d4 23. exd4 (23. Nf1 d3 ) 23... cxd4 24. Qc4+ Rf7 25. Bxd4 Bxh2 26. Kxh2 e3) 22. Bc1 (22. exd4 e3 $1 ( 22... cxd4 $1 23. Rxe4 Nh4 $1) (22... Bxh2 23. Kxh2 cxd4 24. Rxe4) 23. Ng4 (23. d5 exf2 (23... Bxd5 24. Ng4 {(on Nf3, the simpler is to capture, then ... Qh6)} exf2) (23... Nd4 24. Bxd4 cxd4) 24. Nxf2 Bxd5 (24... Ne3 25. Rxe3 Qxe3 26. Nhg4 Qe7) (24... Bxh2 25. Kxh2 Qg3+ 26. Kh1 {(sinon ...Ch4)} Bxd5 27. Ne4 Qg6) 25. Nfg4 h5 26. Ne5 Nh4 27. Re2 Bxe5 28. Bxe5 Rde8 $19) (23. Nf3 Bxf3 24. gxf3 Qh4) (23. Rg1 exf2 $1 (23... Qg3 {AA}) (23... Ng3+)) (23. Qc4+ Kh8 (23... Rf7) 24. Ng4 cxd4 (24... h5)) (23. Nxe3 Nxe3 24. fxe3 Qg3 $1 {AA} 25. Ng4 (25. Nf1 Rxf1+ 26. Rxf1 Qh2#) 25... Qxh3+ 26. Kg1 Qxg4 $19) 23... cxd4 24. Qc4+ Kh8 25. Bxd4 Nxd4 26. Qxd4 Qh4 27. Ndxe3 Qxh3+ 28. Kg1 Bxg2 $1 29. Nxg2 Bh2+ 30. Nxh2 Rxd4 $19) 22... d3 (22... Ng3+ $1 23. Kg1 d3 24. Qc4+ (24. Qb1 Ne2+ 25. Kh1 Bxh2 26. Kxh2 Nxc1) 24... Bd5) (22... Rf6 23. exd4 (23. Ng4 Re6) 23... e3) (22... h5 23. Rg1 (23. exd4 e3) 23... Ng3+ $1 (23... Qg3 24. Nf1) 24. fxg3 Qxg3 ) (22... Qg6 23. Bb2 Rf7) 23. Qc4+ Kh8 24. Bb2 Ng3+ $1 {[#]} 25. Kg1 (25. fxg3 Qxg3 26. Bxg7+ (26. Ng4 Qxe1#) 26... Kxg7) 25... Bd5 $1 (25... d2 {AA} 26. Rf1 Nxf1 27. Nxf1 Be5 $17) 26. Qa4 (26. Qc3 $2 Ne2+ {AA} 27. Rxe2 dxe2) 26... Ne2+ 27. Kh1 Rf7 $1 {A defensive move, but also a prosaic twofold.} 28. Qa6 ( 28. Ng4 h5) (28. Nf1 Rdf8 29. Qa6 Bb8 30. b6 (30. Nd2 Rxf2 31. Nxf2 Rxf2) (30. Nh2 Ng3+ 31. Kg1 d2 $1 32. Rf1 Ne2+ 33. Kh1 Qd8) (30. Rb1 Rf3 $1) 30... Qd8 {[#] (prepares another doubling)} (30... Qg6) 31. Rxe2 (31. Qb5 axb6) (31. Nd2 Qd6 ) 31... axb6 (31... dxe2 32. Qxe2 axb6) 32. Bc3 (32. Rd2 Ra7 33. Qb5 Ra5) 32... Ra7 33. Qb5 Bc6 $1 34. Qxc6 dxe2 $19) 28... h5 $1 {"It is difficult to dismantle a position without the help of the pawns" (Réti).} (28... Ng3+ 29. Kg1 d2 30. Rf1 Nxf1 31. Nxf1 Be6) 29. b6 (29. Qa5 Rdf8 30. Nf1 Rxf2 31. Nxf2 Rxf2 32. g4 Qxe3 $1 (32... Qf4 $1) (32... Qh4 $1)) (29. Nf1 Be6 {[#]} 30. Qc6 Bxh3 31. Qxe4 Bg4 (31... Re7 32. Qc6 Rc8 33. f4 Qh4)) 29... Ng3+ $1 {[#]Bis !} (29... axb6 $6 30. Rxe2 dxe2 31. Qxe2 {AA}) 30. Kg1 (30. fxg3 Qxg3 $19) 30... axb6 31. Qxb6 d2 32. Rf1 Nxf1 33. Nxf1 Be6 $3 (33... Kh7 $2 34. Nxd2) 34. Kh1 (34. Qc6 Rf3 $3 { AA [#]} (34... Bxh3 $1 35. Qxe4 Re7 (35... Rdf8 $1 36. Nxd2 Rf3 $3 {[#]}) 36. Qc6 (36. Qf3 Bg4 37. Qc6 Re6 38. Qb7 Be5 39. f4 Bxb2) (36. f4 $2 Rxe4 37. fxg5 Rg4) 36... Qg6 (36... Re6 37. Qf3 Bg4 38. Qf7 Re7 39. Qc4 Bh3 40. g3) (36... Bc8) 37. Ng3 (37. Kh1 Rc7 38. Qd5 Bf8) 37... Be6 38. e4 Bxg3 39. fxg3 Qxg3 40. Qxc5 Rf7 $19) (34... Qg6 35. Kh1 (35. Nxd2 Bxb3 $1) 35... Rfd7) 35. h4 (35. Qxe4 Bd5 36. Qa4 Qxg2+ $1 37. Kxg2 Rg3+ 38. Kh2 Rg2+ 39. Kh1 Rh2+ 40. Kg1 Rh1# {AA}) ( 35. Qb7 Bxh3 36. Qxg7+ Qxg7 37. Bxg7+ Kxg7 38. gxf3 exf3 39. Rb1 Be5 40. e4 Kf6 $19) 35... Qg6 $1 (35... Qg4 36. Nxd2 Bd5) (35... Qf5 $2 36. Nxd2 Rh3 37. Qxe4) (35... Qxh4 $1 36. gxf3 Bd5) 36. Qb6 (36. g3 Bh3 {(...Bxg3 is even more destructive)} 37. Be5 Rf6 $1 {[#]} 38. Bxd6 Rfxd6 39. Qxc5 Qg4 40. Nh2 Qe2 $19) (36. Qa6 Bh3) (36. Qb7 Rd7 37. Qa8+ Rf8 38. Qa6 Bh3) 36... Rd7 $1 (36... Be7 37. Ng3 ) (36... Rff8 {(threatens ...Bh3)} 37. Qb7 Rd7) 37. Qc6 (37. Qa6 Bh3 38. Ng3 Rxg3) 37... Bh3 $1 (37... Rh3 38. Nc3 Bf5) 38. Ng3 (38. g3 Qg4 $1 $19) 38... Rxg3 39. Qa8+ Kh7 40. fxg3 Qxg3 (40... Bxg2 $1{[#]}) 41. Qxe4+ g6 42. Qf3 (42. Nf2 Rf7) 42... Qe1+ (42... Qh2+ 43. Kf2 Bxg2) 43. Qf1 Bxg2 $19) (34. h4 Qxh4 35. Bc3 Qg5 36. Nxd2 Bh3) (34. Nxd2 Bxh3 35. Qxd8+ Qxd8 36. gxh3 Qh4 (36... Bh2+)) 34... Bxh3 $1 35. gxh3 (35. Ng3 Bxg3 36. fxg3 Qxg3 37. Qxd8+ Kh7) 35... Rf3 36. Ng3 h4 ( 36... Bxg3 37. fxg3 Qxg3 $2 (37... Rxg3 $1) 38. Qh6+ $1 (38. Qxd8+ $2 Kh7)) ( 36... Qh4) 37. Bf6 Qxf6 38. Nxe4 Rxh3+ (38... Rxh3+ 39. Kg1 (39. Kg2 Qf3+) 39... Bh2+) 0-1