Master's report
---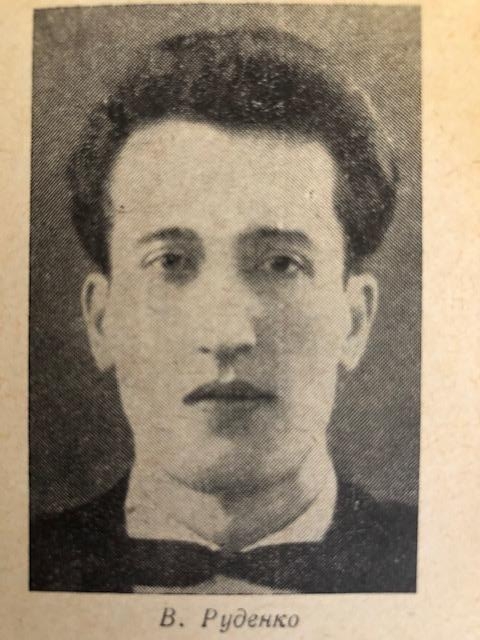 A 2# by a very great composer, containing... 3 tries. Vigilance is essential. Rest with a German 3#, rather humorous. In the Austrian 6#, the question is "where would you play your rook (h6)"? Then, what will become of it? In the 6# helper, the White Queen alone will have to be well inspired. The reverse seems to have 3 variants; it will have 4. Finally, 3.5 !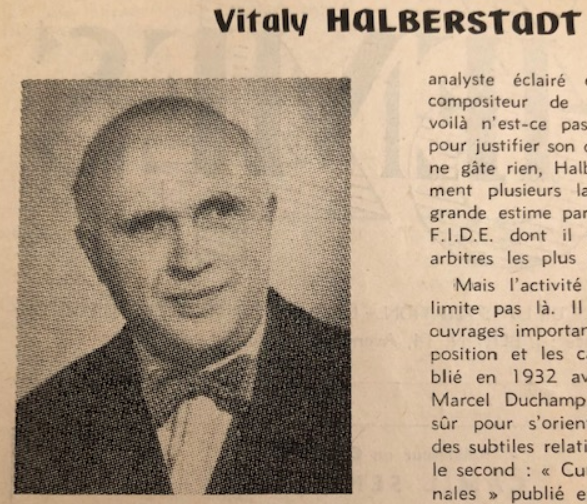 Let us celebrate, within a few days, the 100th anniversary of the birth of our best representative in study composition, Vitaly Halberstadt (of the same origin as VR above). His passion for chess did not force him to die at 64, but it is his ultimate form of humour. First of all a Q + N / Q fight with, obviously, a ZZ, to be reached on the right side.
The 2nd study deals with an ungrateful material, where fritzoids have wreaked a lot of havoc. In fact, there is indeed a dual at the 5th move, but to end up... at the same key position, line changed. After the Master has created, here again, a ZZ, it is natural that the machine, in his homage, composes a simple Z! And the whole of his work, far from being damaged, is enriched by it. But if the judges' cold piss grumble, one can always stop at the end of the diamond. Without a computer, they wouldn't have done any better anyway.
A little exercise in the middle of the game, in the series "the moves you've always dreamed of".
Once is not customary, the game features unknown players. And it is the lowest ranked player who, with the Blacks, creates the game, playing the famous gambit that I dared to refuse 24 years ago (but Daniel and all of Normandy still remember it). Then by doubling his rooks... on a closed column. Finally, as one can imagine, by sacrificing them. But force will remain at the law of elo, and the Whites will repel the attack.
This game was played at the Geller Memorial, which concludes our homage to Ukraine.
Enjoy the game.
Master's diagrams
[Event "2#"] [Site "?"] [Date "1962.??.??"] [Round "?"] [White "Rudenko, V."] [Black "1448.22"] [Result "1-0"] [SetUp "1"] [FEN "2Bb3K/8/5n2/1PrR1p1n/3Nk3/4pNP1/4Q3/8 w - - 0 1"] [PlyCount "1"] [EventDate "1962.??.??"] 1. -- 1-0 [Event "3#"] [Site "?"] [Date "2002.??.??"] [Round "?"] [White "Kutzborski, D."] [Black "0221.33"] [Result "1-0"] [SetUp "1"] [FEN "4B3/2p5/3NkP2/R3p1P1/1B2p3/2K1P3/8/7R w - - 0 1"] [PlyCount "1"] [EventDate "2002.??.??"] 1. -- 1-0 [Event "6#"] [Site "?"] [Date "1985.??.??"] [Round "?"] [White "Wenda, K & Chlubna F"] [Black "+3585.05e8e4"] [Result "1-0"] [SetUp "1"] [FEN "4K3/1B6/7R/bNprp3/R1q1k2N/3bp3/2p1p2B/3n4 w - - 0 1"] [PlyCount "1"] [EventDate "1985.??.??"] 1. -- 1-0 [Event "h#6 2 sol"] [Site "?"] [Date "2002.??.??"] [Round "?"] [White "Fiebig, R."] [Black "4066.05"] [Result "1-0"] [SetUp "1"] [FEN "7b/5b1k/8/8/1p5p/pp6/pQq2n1n/K7 b - - 0 1"] [PlyCount "1"] [EventDate "2002.??.??"] 1... -- 1-0 [Event "s#4"] [Site "?"] [Date "1933.??.??"] [Round "?"] [White "Wiewiorowski, L."] [Black "1720.64"] [Result "0-1"] [SetUp "1"] [FEN "B7/B7/7p/1Q5P/1p1r4/P1P2R1P/P3P1pp/4K1kr w - - 0 1"] [PlyCount "1"] [EventDate "1933.??.??"] {wPh3 added by AV (otherwise 1 Rh3).} 1. -- 0-1 [Event "?"] [Site "?"] [Date "1938.??.??"] [Round "?"] [White "Halberstadt, V."] [Black "+4001.02g5e6"] [Result "1-0"] [SetUp "1"] [FEN "8/8/4kN2/6K1/1p6/p2Q4/q7/8 w - - 0 1"] [PlyCount "19"] [EventDate "1938.??.??"] 1. Qe3+ $8 (1. Qd7+ $2 Ke5 $22 {[#]ZZ} 2. Qe7+ (2. Ng4+ Ke4 3. Qf5+ Kd4) 2... Kd4 $8 3. Qe4+ Kc5 $1 (3... Kc3 $1)) 1... Kd6 (1... Kf7 2. Qe8+ $8 Kg7 3. Nh5+ $8 Kh7 4. Qg6+) 2. Qb6+ $8 Ke5 (2... Ke7 3. Qc7+ $1 Kf8 (3... Ke6 4. Qc6+ {texte}) 4. Qd8+ Kg7 5. Nh5+ $1 Kf7 6. Qd7+ $8 Kf8 7. Qg7+ $8) 3. Qc5+ $8 Ke6 4. Qc6+ $8 Ke5 5. Qd7 $22 {[#]ZZ. The position of the 1 Qd7+? try, but with Black to move.} Qc4 (5... Qg2+ 6. Ng4+ $8 Ke4 7. Qc6+) (5... Qb3 6. Ng4+ $8 Ke4 7. Nf2+ $8 Ke5 (7... Ke3 8. Qh3+) 8. Nd3+ Ke4 9. Nc5+) (5... Qe6 6. Ng4+) 6. Qe7+ $8 ( 6. Ng4+ $2 Ke4 $8 7. Qf5+ Kd4 8. Qe5+ Kd3 9. Qe3+ Kc2) 6... Kd4 (6... Qe6 7. Qc5+ $8) 7. Qe4+ $8 Kc3 (7... Kc5 8. Nd7+ $8 Kb5 9. Qb7+ $8 Ka5 10. Qb6+ Ka4 11. Nc5+) 8. Nd5+ $8 Kb3 9. Qb1+ $8 Ka4 10. Nb6+ $8 1-0 [Event "?"] [Site "?"] [Date "1955.??.??"] [Round "?"] [White "Halberstadt, V."] [Black "+3102.00f7h7"] [Result "1-0"] [SetUp "1"] [FEN "4N3/5K1k/8/7N/1R6/8/8/7q w - - 0 1"] [PlyCount "23"] [EventDate "1955.??.??"] 1. Nef6+ $8 (1. Nhf6+ $2 Kh6 $8 (1... Kh8 $2 2. Nc7 $8 Qb7 3. Rh4#) 2. Ng7 (2. Rb5 Qf3 $1) (2. Rg4 Qb7+ $8) 2... Qf3 $1 (2... Qe1 $1 3. Rb5 Qe2 $8 {idem}) 3. Rb5 Qe2 $3 4. Nf5+ Kg5 5. Ne4+ Kf4 $1 {VH}) 1... Kh6 (1... Kh8 2. Rb8#) 2. Ng3 $3 {[#]} (2. Rb5 $2 Qf1 $3 {(attack on the Rook saves)} (2... Qf3 $2 3. Ng3 $1 { see below 2nd black move} (3. Nf4 $6)) (2... Qd1 $2 3. Ng8+ $1 (3. Nf4 $1 Qf3 4. Ng8+ $8 Kh7 5. Rb8 $3 {[#]} Qd1 6. Nf6+ Kh6 7. Ne6) (3. Ng3 $2 Qf3 $8 {ZZ see below 3rd white move}) 3... Kh7 4. Ne7 $8 Kh8 (4... Kh6 5. Nf6 $8) 5. Rb8+ $1 (5. Ng6+ $1 Kh7 6. Nf6+ Kh6 7. Ne7 {idem}) 5... Kh7 6. Nf6+ $8 Kh6 7. Rb5 $8) (2... Qh4 $2 3. Ng8+ $3 (3. Nf4 $2 Qg5 $3 4. Rb1 Qg7+ $8) (3. Ng3 $2 Qc4+ $8) 3... Kh7 4. Nf4 $3 {[#]} (4. Nhf6+ $2 Kh8 5. Rb8 Qc4+ $8) 4... Qh1 (4... Qxf4+ 5. Nf6+ $8) 5. Nf6+ $1 Kh6 6. Ng4+ $1 (6. Rb8 $6 Qf3 7. Rh8+ $8 Kg5 8. Ne6+ $8 Kf5 9. Nd4+ $8) 6... Kh7 7. Nh5 $1) (2... Qh3 $2 3. Ng8+ $1 (3. Ng3 $1) (3. Nf4 $2 Qf5 $3 {[#]} 4. Rb8 Kg5 $8) 3... Kh7 4. Ne7 $3 {[#]} Kh6 (4... Kh8 5. Rb8+ $1) 5. Nf6 $8) 3. Rc5 Qf3 $11) (2. Ng7 $2 Qf3 $1 (2... Qe1 $1 {: no check on h4} ) 3. Rb5 Qe2 $3) 2... Qd1 $1 (2... Qe1 $6 3. Rh4+ $1 Kg5 4. Rg4+ Kh6 5. Rg6#) ( 2... Qh3 3. Rb5 $1) (2... Qf3 3. Rb5 $8 {ZZ [#]} Qd1 4. Nf5+ Kg5 5. Ne3+ $8 Kh6 6. Ng8+) 3. Nf5+ $8 (3. Rb5 $2 Qf3 $8 {: same ZZ, on the other side} 4. Nf5+ (4. Rb8 Kg5 $1) 4... Qxf5 $8 (4... Kg5 $2 5. Nd4+ Kh6 6. Rb8 $3 {[#]} Qd1 7. Ne6)) (3. Ng8+ $2 Kg5 $8 4. Ne4+ Kf5 $8 (4... Kh5 $2 5. Ngf6+ $8 Kh6 6. Ng3 $3)) 3... Kg5 4. Ng7 $3 {[#]Complete the knight's diamond shape : h5-g3-f5-g7.} (4. Nh4 $2 Qd3 $1 ( 4... Qe2 $1 5. Ne4+ Kxh4 $8 6. Nc3+ Qg4 $8 $11 {VH}) 5. Ne4+ Kh5 $8) 4... Kh6 $1 (4... Qe2 5. Nh7+ $1 Kh6 6. Rh4+) (4... Qd3 5. Rg4+ $1 Kh6 6. Ng8+ Kh7 7. Rh4#) 5. Ne6 $1 {[#]} (5. Rh4+ $1 Kg5 6. Rc4 $3 Kh6 7. Ne6 $8 Qh1 8. Ng4+ $8 Kh5 9. Rb4 $3 {[#]} Qe1 (9... Qh3 10. Nf6+ {idem}) 10. Nf6+ $8 Kh6 11. Rb8 $1 (11. Rb5 $1 Qe2 12. Rf5 $1 Qd1 13. Rg5 $1)) (5. Rb8 $6 Kg5 6. Rb4 $8 (6. Ne6+ $2 Kh4 $8)) 5... Qh1 $1 (5... Qe1 6. Rb8 $1) (5... Qa4 6. Ng4+ $1) 6. Ng4+ $1 { "Paradoxically, the position is too strong: White must try to to weaken his position" (VH).} (6. Rb8 $2 Qb7+ 7. Rxb7) (6. Ng8+ $1 { (aussi)} Kh7 $6 (6... Kh5 $1 7. Ng7+ Kg5 8. Nf6 $8 {texte}) 7. Nf8+ $8 Kh8 8. Ng6+ $8 Kh7 9. Nf6+ $8 Kh6 10. Rb5 $8 Qd1 {(idem sur ...Df3 & ...Dh3)} 11. Ne7 $1 Qf3 12. Neg8#) 6... Kh5 {It was imperative to go through this position. But it is more advantageous, Black to move, hence the bifurcation of the 5th white move.} (6... Kh7 7. Ng5+) 7. Ng7+ $8 Kg5 (7... Kh4 8. Nf2+ $8) 8. Nf6 $8 {Position after 4th white move, except for one detail: the bQ in h1 instead of instead of d1.} Kh6 (8... Qh3 9. Ne6+ $1 (9. Ne4+ $1 Kh6 10. Rb6+ $8) 9... Kh6 10. Rb8 $1) 9. Rb8 (9. Nf5+ $1 Kg5 10. Ne4+ $8) 9... Qf3 (9... Qc6 10. Rh8+ $8 Kg5 11. Ne6+ $8 Kf5 12. Rh5#) (9... Kg5 10. Ne6+ $8) 10. Rh8+ $8 Kg5 11. Ne6+ $8 Kf5 12. Nd4+ $8 1-0 [Event "Argentine"] [Site "?"] [Date "1985.??.??"] [Round "?"] [White "Paglilla, Carbone"] [Black "4400.77"] [Result "1-0"] [SetUp "1"] [FEN "3r3k/p1p1qp2/1pQ1pPpp/8/8/8/PPP2PPP/3R2K1 w - - 0 1"] [PlyCount "5"] [EventDate "1985.??.??"] {40/C19.} 1. Qa8 $3 {[#]} (1. Rf1 $2 Qxf6) (1. Rxd8+ $2 Qxd8) 1... Rxa8 2. fxe7 Re8 3. Rd8 {The previous moves could be ...Bg7xNf6, exf6, ...Re8-d8.} 1-0 [Event "RUS-Cup03 (Geller mem)"] [Site "Moscow"] [Date "1999.02.11"] [Round "?"] [White "Polovodin, I."] [Black "Chigvintsev, A."] [Result "1-0"] [ECO "A52"] [WhiteElo "2468"] [BlackElo "2387"] [PlyCount "109"] [EventDate "1999.02.10"] [EventType "swiss"] [EventRounds "9"] [EventCountry "RUS"] 1. d4 Nf6 2. c4 e5 3. dxe5 Ng4 4. Nf3 (4. Bf4 Bb4+) 4... Bc5 5. e3 Nc6 6. Be2 O-O 7. O-O Re8 8. Nc3 Ngxe5 9. b3 (9. Nxe5 Nxe5 10. b3 {: texte avec un coup de moins de part et d'autre}) 9... Nxf3+ 10. Bxf3 Ne5 11. Be2 a5 12. Bb2 (12. Ne4 Ba7 (12... Bf8 13. c5 Qh4 14. f4 Nc6 15. Ng5 Nd8 16. Qc2) 13. Bb2 d6 14. Nd2 Bf5 15. Nf3 Be4 16. Nxe5 dxe5 17. Bf3) 12... Ra6 {[#]} 13. Ne4 (13. Qd5 Ba7 14. c5 Rh6) (13. Na4 Bf8 14. f4 Rd6 15. Qc2 Nc6) (13. Nd5 Rh6 14. g3 d6 15. Bd4 Qd7 16. h4 Ng6 17. Bf3 Nxh4 18. gxh4 Rg6+ 19. Bg2 Rxg2+ 20. Kxg2 Qh3+ 21. Kg1 Re4 $11 22. Nf4 Rxf4 23. exf4 Bxd4 24. Qxd4 Qg4+ 25. Kh2 Qh3+) 13... Ba7 (13... Bf8 14. Ng3 Rae6) 14. Qd5 (14. c5 Rh6 15. f4 Nc6 16. Ng5 Qe7 17. Bc4 Qxe3+ (17... Nd8 18. Kh1 Bxc5 19. e4 d6 20. Qf3 Ne6 21. Rae1 $44) (17... Rf8) 18. Kh1 Nd8 $8 (18... Re7 $2 19. Qg4 $1 Qxc5 20. Nxf7) (18... Rf8 $2 19. Nxf7 $1 Rxf7 20. Re1) 19. Re1 (19. Qg4 $6 d5 $1 20. Qxc8 dxc4) (19. Rc1 Bxc5 20. Rc3 Qe7) 19... Qxe1+ 20. Qxe1 Rxe1+ 21. Rxe1 Kf8 (21... Ne6 22. f5) 22. Bxg7+ (22. Be5 Bxc5 23. Bxc7 Ne6 24. Bxa5 b6 $11) 22... Kxg7 23. Re8 Bxc5 (23... b5 $1) 24. Rxd8 Rd6 25. h4 Rd1+ 26. Kh2 d5 27. Rxc8 dxc4 28. Rxc7 Bd6 29. Rxc4 b5 30. Re4 Rd2 $11 31. Nf3 Rxa2 32. Nd4 Bb8 33. Nxb5 Rb2 34. Nd4 Bc7 35. Kg3 Bb6) (14. Bd4 Bxd4 15. exd4 Ng6 16. Ng3 Nf4 17. Bf3 d5 $11) 14... Rh6 (14... Rae6 15. Qxa5 Bb6 (15... Nc6 16. Qc3 Nd4) 16. Qb4 (16. Qc3 Qh4 17. f4 Rh6 $13) 16... Qh4 (16... d6 17. c5 dxc5 18. Nxc5 Rg6 19. Bxe5 Rxe5 20. Nd3 $16) 17. c5 Bxc5 (17... Rh6 $6 18. Nf6+ $1 Qxf6 19. cxb6 Qxb6 20. Qxb6 Rxb6 21. Rac1 Rc6 $6 22. Bc3 $1 b6 23. Rfd1 $16) 18. Qxc5 Qxe4 19. Bxe5 (19. Qxc7 Rg6 20. g3 Nf3+ 21. Bxf3 Qxf3 22. Rac1 $1 h5 $132 {[%csl Rf3,Rg2,Rh1,Rh3][%cal Gb7b5,Gc8b7,Gb7h1,Gd7d5,Gc8h3,Gh3f1] Blatny}) 19... Qxe5 20. Qxe5 Rxe5 21. Rac1 $14 {_|_}) (14... Qe7) 15. Bxe5 (15. g3 $6 c6 16. Qd1 Nxc4 $1 (16... d5 17. cxd5 cxd5 18. Nc3 d4 19. Nb5 Qd7 20. h4 Qh3 21. Nxa7 Bg4 22. exd4 Rxh4 $11 {48/89}) 17. Bxc4 (17. Nf6+ gxf6 18. bxc4 d5 19. cxd5 Qd7 20. h4 Qh3 21. Bd4 Rxe3 $3 22. Bxe3 Bxe3 $19 {Lembak,J-Kantorik,M/ SVK-chT 1995}) (17. bxc4 Rxe4) 17... d5 (17... Rxe4 18. Bxf7+ Kh8 19. Bh5 d5 20. Bf3) 18. Bd3 (18. Qf3 Rxe4) (18. Nf6+ gxf6 19. Bd3 Qd7 20. Qf3 Qh3 $17) 18... dxe4 19. Bxe4 Qg5 20. Bg2 Rd8 $15 21. h4 (21. Qc2 Qh5) 21... Rxd1 22. hxg5 Rxa1 23. Rxa1 (23. gxh6 Rxa2 24. Rd1 Bb6 $15 25. Bd4 Bg4 $1 26. f3 c5 27. Be5 Bf5) 23... Rg6 24. Rd1 Bb6 25. Bd4 Rd6 26. Kf1 (26. Bf3 Bd8 27. Bc3 $11) 26... Be6 (26... c5 27. Rc1)) (15. c5 $6 c6 16. Qd4 d5 17. Ng3 b6 $1 18. cxb6 Bxb6 19. Qa4 Rh4 $40 {Castagna,R-Niederost,B/Zuerich 1991}) 15... c6 16. Qd3 $6 (16. Bf6 $1 gxf6 (16... cxd5 $2 17. Bxd8 dxe4 (17... Rxd8 18. cxd5 $16) (17... dxc4 18. Bg5 Rg6 19. Bxc4 $18) 18. Bxa5 Bb8 19. h3 Be5 20. Rab1 Ra6 21. b4 b6 22. c5 bxa5 23. Bxa6 Bxa6 24. b5 Bc8 (24... Bb7 25. Rfd1 $18) 25. Rfd1 $18 {PB} ) (16... Qc7 17. Qd6 $16) 17. Qf5 (17. Qd3 f5 (17... d5) 18. Ng3 $1 {PB} (18. Nd2 f4 $1 19. exf4 Qh4 20. Nf3 Qxf4 $36 {Legky,N-Gusev,V/Leningrad 1989}) 18... f4 19. Nf5 Rf6 20. exf4 d5 21. Bg4) 17... Bb8 $1 (17... d5 $6 18. Qf4 $8 Rg6 19. cxd5 cxd5 20. Ng3 $16 Be6 21. Bd3 $16) (17... Re6 18. Rad1) 18. Ng3 d5 19. Qf3 (19. Qd3 f5 20. f4 Ba7 $40 {Trinh,R-Plachetka,T/Val Maubuee 1990}) 19... f5 (19... Rh4 20. h3 $14) 20. h3 Qg5 $13 {Cervenka,I-Kantorik,M/SVK-chT 1995} 21. cxd5 Bxg3 22. Qxg3 Qxg3 23. fxg3 Rxe3 24. Kf2 $14) 16... Rxe5 17. Nd2 (17. f4 $2 {[%csl Re3,Rg1][%cal Ga7g1]} Re8 18. c5 d5 $1 19. cxd6 (19. Nd6 Rxd6 20. cxd6 Rxe3 $19) 19... Bf5 20. Bf3 Rhe6 21. d7 R8e7 $19 {PB}) (17. Nd6 $2 Qc7 $1 18. Nxc8 (18. Rfd1 Ree6) 18... Rd5 $1 19. Ne7+ Kf8 $19) 17... d5 $1 18. Nf3 Reh5 $1 {[#]A little test for those entering the room at this moment: who is the is the bQR, who is the bKR ?} 19. Rfd1 (19. cxd5 Rxh2 $3 {[#]} 20. Nxh2 Qh4 21. f3 Qxh2+ $1 (21... Bf5 $1 22. Qd2 (22. Qc3 Qg3 $3 {[#]}) 22... Qxh2+ (22... Qg3 $2 23. Ng4 Bxg4 24. dxc6 Rd6 25. Bd3) 23. Kf2 Qh4+ 24. Kg1 (24. g3 Qh2+ 25. Ke1 Qxg3+ 26. Kd1 Qe5 $19 {PB}) 24... cxd5 $1 (24... Bh3 25. Rf2 cxd5 26. gxh3 Qxh3 27. Rg2 d4 $1) (24... Qb4 $6 {PB}) 25. f4 (25. Rae1 d4) 25... Qh2+ 26. Kf2 Re6 $19) ( 21... Qf4 22. Ng4 (22. Kf2 Bf5) 22... Bxg4 23. Kf2 Bf5 24. Qd2 Qh4+ 25. Kg1 cxd5 $1 {below}) 22. Kf2 Qh4+ (22... Rg6 23. Ke1 Qe5) 23. Kg1 (23. g3 Qh2+ 24. Ke1 Qxg3+ (24... Rd6) 25. Kd2 (25. Kd1 Qe5 26. Rc1 Bxe3 27. Rc3 Bf4 $17) 25... Rd6 26. Rac1 Be6 27. e4 Qf4+ 28. Kd1 cxd5 29. exd5 g6 30. Rc4 Qe5 $19) 23... Bf5 $3 (23... Bh3 $6 24. Qe4 $8 Qxe4 25. fxe4 Bxe3+ 26. Rf2 Bd7 $17 {PB}) 24. Qd2 cxd5 $1 (24... Bh3) 25. Rae1 (25. f4 Qh2+ 26. Kf2 Re6) 25... d4 $1 26. Bc4 Bb8 $19) 19... Bf5 $1 (19... Qc7) (19... Rxh2 $6 20. Nxh2 Qh4 21. Bf3 $1 Qxh2+ 22. Kf1 d4 23. exd4 Qh1+ (23... Rf6 24. Qd2 Re6 25. g4 $8 Bb6 26. Re1 Bd7 27. c5) 24. Ke2 Re6+ 25. Kd2 Qh4 26. Kc2 Qxf2+ 27. Rd2 $16) 20. Qc3 (20. e4 $2 Rxh2 $3 (20... Qb6 $19) 21. Nxh2 Qh4 22. Bh5 Qxf2+ 23. Kh1 Rxh5 $19 24. Qf3 ( 24. exf5 Bb8) 24... Rxh2+ 25. Kxh2 Qh4+ {PB}) 20... Bb8 21. g3 {There would be no more rescue ?} (21. h3 $2 Bxh3 $19 22. gxh3 Rxh3 23. Kf1 Rh1+ 24. Kg2 (24. Ng1 Rxg1+ 25. Kxg1 Qg5+) 24... Qd7) (21. Kf1 {(lesser evil)} Bxh2 22. cxd5 (22. g3 Qc7 23. Nd4 Rg5) 22... Bd6 $1 23. Bc4 (23. dxc6 $2 Rh1+ 24. Ng1 Rxg1+ $1 25. Kxg1 Rh1+ $3 26. Kxh1 Qh4+ 27. Kg1 Qh2+ 28. Kf1 Qh1#) 23... c5 (23... b5 24. Bd3) 24. Ke2 Be4 $17) 21... Be4 $1 22. cxd5 {"What else ?" asks Blatny. I thought at first that 22 Qd4 saved but it didn't (AV).} (22. Qd4 Rxh2 $1 (22... Qe7 $1 23. cxd5 (23. Rac1 c5) 23... c5 $1 (23... Rxd5 24. Qc4) 24. d6 (24. Qd2 Rf5) 24... Bxd6 25. Qa4 Rf5 26. Nh4 Rff6 (26... Rxh4 27. Rxd6) 27. Rac1 g5 $1 28. Rxd6 Rxd6) (22... Qc8 23. cxd5 cxd5 24. Rac1) (22... f5 23. cxd5 cxd5 24. Rac1) (22... Qe8 23. cxd5 cxd5 (23... Rxd5 24. Qb6) (23... Bxd5 24. e4) 24. Rac1 g5 25. Qc3 (25. Qc5) (25. Rc3 $2 Be5 $3) 25... Rc6 26. Qxa5) 23. Nxh2 (23. Qxe4 $2 Qc8 $1) 23... Qg5 $1 (23... Rxh2 $4 24. Qxe4) 24. Nf3 Qg4 $1 (24... Qh5 $2 25. Nh4) (24... Qf5 $1 25. Qb6 f6) 25. Nh2 (25. Qb6 f6 $3) 25... Rxh2 $1 26. Qxe4 $8 Qxe4 27. Kxh2 Qc2 28. Re1 dxc4) (22. Rd4 c5 23. Rxd5 Bxd5 24. cxd5 Rxd5 (24... b6)) 22... Rxh2 $3 {[#]Ollé !} 23. Nxh2 Rxh2 $1 24. f4 $8 (24. Kxh2 $4 Qh4+ 25. Kg1 Qh1#) (24. f3 $2 Qg5 25. Qe1 Bxg3 $19) 24... Rxe2 $2 {Black loses the thread of the game here (and not 2 moves further on as Blatny believes).} (24... Rg2+ $1 25. Kf1 Rxg3 $1 {[#]} 26. Qd4 (26. dxc6 Qh4) (26. Rd4 Qh4) (26. Qc4 Bf5) 26... Bg2+ (26... Bxd5) 27. Ke1 (27. Kf2 $2 Qh4) 27... c5 $3 {[#]} (27... Bxd5 $2 28. Bc4 $3 (28. Kd2 $2 Bc7 $1 29. Rg1 Bb6) (28. e4 $2 Qh4 29. exd5 Bxf4 30. Qf2 Be3) (28. Bf1 $2 Qh4) (28. Rd3 $2 Bd6 $1) 28... Qe7 (28... Qh4 29. Kd2 Rg2+ 30. Kd3 $1) 29. Bxd5 cxd5 30. Rac1 Rxe3+ 31. Kf2 $1 (31. Kf1 $2 Rf3+) (31. Kd2 $6 Re2+ 32. Kd3 Qe8) 31... Re2+ $8 32. Kf1 Qe8 33. Qxd5 $11) (27... Qh4 $2 28. Kd2 $8) 28. Qxc5 (28. Qc3 Qh4 29. Kd2 Rxe3 $1) (28. Qc4 Rxe3 29. Kd2 Re4) 28... Bd6 $3 29. Qd4 Bb4+ 30. Rd2 Rh3 $3 (30... Bxd5)) 25. dxc6 Qb6 26. Qd4 $1 (26. Kf1 Rc2 (26... Rxe3 $4 27. Qxe3 $18) (26... Rh2) 27. Qd4 Bg2+ 28. Ke1 $1 (28. Kg1 $6 Bc7 29. cxb7 Bxb7 30. Rac1 Rg2+ 31. Kf1 Qa6+ $1 (31... h5 $6 32. Qxb6 Bxb6 33. Rd7 Bf3 {PB} 34. Rc3 Rxg3 35. Rd6 $1 {[#]} Rg6 36. Rxg6 fxg6 37. Kf2 Bb7 38. Kg3 (38. b4 axb4 39. Rc4 b3 40. axb3 h4 $1 41. Rb4 Bxe3+) 38... Kf7 39. a3 Ke6 $17) 32. Rc4 $8 (32. Qc4 $2 Qh6 $1) (32. Qd3 $2 Qa8 $1) 32... g5 $1) 28... Qxd4 (28... Bc7 29. cxb7 Bxb7 30. Rac1 $11) 29. Rxd4 Bc7 30. Rad1 h5 31. cxb7 Bxb7 $15 {PB}) 26... Rg2+ $1 (26... Bc7 $6 27. Qxe4 $8 (27. cxb7 $2 Bxb7 28. Qxb6 Bxb6 29. Rd7 Bf3 {PB} 30. Rc1 g5 31. Rc3 gxf4 32. gxf4 Rxe3) 27... Rxe3 28. Qd4 $8 Re1+ $2 (28... bxc6 29. Kg2 $16) 29. Kf2 $1 ( 29. Kh2 Re2+ $1 30. Kh3 $8 Qxc6 $8 31. Qd5 $8 Qh6+ 32. Kg4 g6 33. Rac1 Bb6 34. Rh1 Qf8 $8 35. a3 $14) 29... Re8 30. Qxb6 Bxb6+ 31. Kf1 bxc6 32. Rac1 $18) 27. Kf1 $8 (27. Kh1 $4 Qxd4 28. Rxd4 (28. exd4 Rxg3+) 28... Rxa2+ 29. Rxe4 Rxa1+) 27... Qa6+ $1 28. Qc4 $8 Qxc4+ $8 29. bxc4 Bc7 $2 (29... Kf8 $1 30. Rd8+ (30. cxb7 $2 Ke7) 30... Ke7 31. Rxb8 Bxc6 32. a4 Rxg3 $11) (29... h5 $2 30. cxb7) 30. Rd7 $1 $16 bxc6 31. Rxc7 $6 (31. Re7 $1 f5 32. Rxe4 Rh2 33. Kg1 Rc2 34. Re7 ) 31... f5 32. Rc8+ (32. Rd1 $6 h5 33. Rdd7 Rxg3 34. Ra7 h4 35. Rxa5 h3 $13 {PB }) 32... Kf7 33. Rd1 Rxg3 (33... Rxa2 34. Rc7+ Ke6 (34... Kg6 35. Rd6+ Kh5 36. Rxg7 h6 37. Rd8 $18 {[%csl Rh5][%cal Gd8h8,Gg7g5]}) 35. Rxg7 $1 (35. c5 Bd5 36. Rxg7 Rh2 {[%csl Gd5,Rf1,Gh2][%cal Ga5a1]} 37. Rd4 $16 {PB}) 35... Bf3 36. Rdd7) 34. Rd7+ Kg6 (34... Kf6 $4 35. Rcc7 $18) (34... Ke6 35. Rcc7 $1 {[%csl Re6] [%cal Gc4c5,Gd7d6]} Rxe3 (35... Rf3+ 36. Ke2 c5 37. Rxg7 $18) 36. c5 (36. Rxg7 $2 Kd6 $1) 36... Rd3 37. Rxd3 Bxd3+ 38. Kf2 Kd5 39. Rxg7 (39. Ra7 Kxc5 40. Rxa5+ Kb6 41. Re5 h6 42. Ke3 Bb1 43. a3 g5 $11) 39... Kxc5 40. Rxh7 $16 {_|_ PB }) 35. Rcc7 Kh6 $6 (35... Rxe3 36. Rxg7+ Kf6 (36... Kh5 37. a4 {PB} h6) 37. Rcf7+ Ke6) 36. Ke2 Rg2+ 37. Kd1 a4 38. a3 Bc2+ (38... Bf3+ 39. Ke1 (39. Kc1 Be4 $16) 39... Re2+ 40. Kf1 Rxe3 41. Rxg7 Rxa3 42. Rxh7+ Kg6 43. Rhg7+ Kh6 (43... Kf6 $2 44. Rgd7 $1 {PB}) 44. Rg3 Be2+ 45. Kf2 Rxg3 46. Kxg3 $18 {PB}) 39. Ke1 Be4 40. c5 Rg3 (40... Ra2 41. Rxg7 Rxa3 42. Rxh7+ Kg6 43. Rh3 $18 {[%csl Rg6] [%cal Gc7h7,Gh3h6] PB} Bd5 44. Kd2 (44. Rch7 Rxe3+ 45. Rxe3 Kxh7)) (40... Bf3 41. Ra7 Re2+ 42. Kf1 Rxe3 43. Rxg7 Rxa3 44. Rxh7+ Kg6 45. Rag7+ Kf6 46. Rf7+ $1 Kg6 (46... Ke6 $4 47. Rd7 $18) 47. Rhg7+ Kh6 48. Rg3 $1 Be2+ 49. Kf2 Rxg3 50. Kxg3 Kg6 51. Ra7 Bb5 52. Kf3 Kf6 53. Ke3 Ke6 54. Kd4 Kf6 55. Rd7 Ke6 56. Rd6+ Ke7 57. Rh6 Kf7 58. Ke5 Kg7 59. Rd6 Kf7 60. Rd7+ Kg6 61. Ra7 $18 {PB}) 41. Kd2 Bd5 42. Kd3 $18 Rg1 43. Kd4 Be4 44. Re7 Rd1+ 45. Ke5 Rg1 (45... Rd5+ 46. Ke6 Rxc5 47. Rxg7 Kh5 48. Rg5+ Kh6 49. Rg3 $18 {[%csl Rg6][%cal Gg3h3,Gc7h7,Gh6g6, Gh3h6]}) 46. Ra7 Rg3 47. Kd4 Rg1 48. Rxa4 Rd1+ 49. Ke5 Rd5+ 50. Ke6 Rd3 (50... Rxc5 51. Raa7 Kh5 52. Rxg7 $18) 51. Raa7 Kh5 52. Rxg7 h6 53. Rg1 Rxe3 54. Kf6 ( 54. Rh7 $1 Bg2+ $8 55. Kf6 Rg3 56. Rg7 Rxg7 57. Kxg7 Be4 58. a4 $18) 54... Bc2 $2 (54... Kh4 $8 55. a4 $18) 55. Rh7 {[%csl Rh5][%cal Gg1g5]} 1-0