After a technical problem at the beginning, the first course of 2020 went off without a hitch with a clean sound and no lag.
This first lesson saw Pierre's switchback and Han as well as the arrival of a newcomer with a well-honed tactical sense despite a microphone failure.
The game of the day, although known, contains an exceptional richness...
that you will discover below in the Master's high level report
---
Master's words
---
For this new beginning, my wishes for health and artistic joys, without obscurantism and ignorance prevailing around you. May you be indifferent to what swarms, frogs and scribbles, as a great man taught 50 years ago, who was not always so well inspired. And a reminder for some ignorant people: we are now in the last year of a decade (started 1-1-2011), not the first of the next.
"We Have All The Time In The World" (L. Armstrong).
"Fought: often; beaten: sometimes; shot: never" (F.-A. Charette de la Contrie).
"Who knows how to die will never be a slave" (Seneca).
"[Chess has] sometimes made your pleasure, as [it has] made the pleasure of the greatest men" (Ph. Stamma to Lord Harrington, 1737).
A little warm-up in the pawn endgame: the choice of the right square for the King is repeated in the pawn-rook vs. Queen endgame which occurs, known since the 16th century.
A Ukrainian exercise in virtuosity, based on stalemate.
How to draw with one less bishop. White's conductor is best known for a book devoted to a very strong and magnificent tournament, yet forgotten by some historical books, the 1964 Russian Zonal, from which we have extracted a game here: http://lecoursdumaitre.e-monsite.com/pages/cours/cat-2009/14-avril-2009.html
Exercises: another pawn endgame, an example of an embarrassment of riches and a Knight and 2 pawns vs Rook struggle.
Someone asks who are the "positional masters"? This question obviously makes no sense, the word "positional" being a nonsense that I have been enduring for 60 years. A bit like saying that a foot-ball player has a very good "ball skills". Completely idiotic.
Any chess player, whether a strategist or a tactician, is obviously interested in "position". The only possible meaning might be this: a player who only cares about what happens on the board, as opposed to those who only see the clock, playing anything to induce a time crisis blunder from their opponent.
But no, those who use this term mean a calm player, who does not provoke, does not set the board on fire like Lasker, Tal, Shirov and others. A player who is more of a strategist, that's more glorious! The proof is that they cite Capablanca as an example. Or Petrossian. Do they know that neither of them feared the storm, knowing perfectly well how to face it? At most, they were not particularly looking for it, having other ideas. Calm, yes, if you like.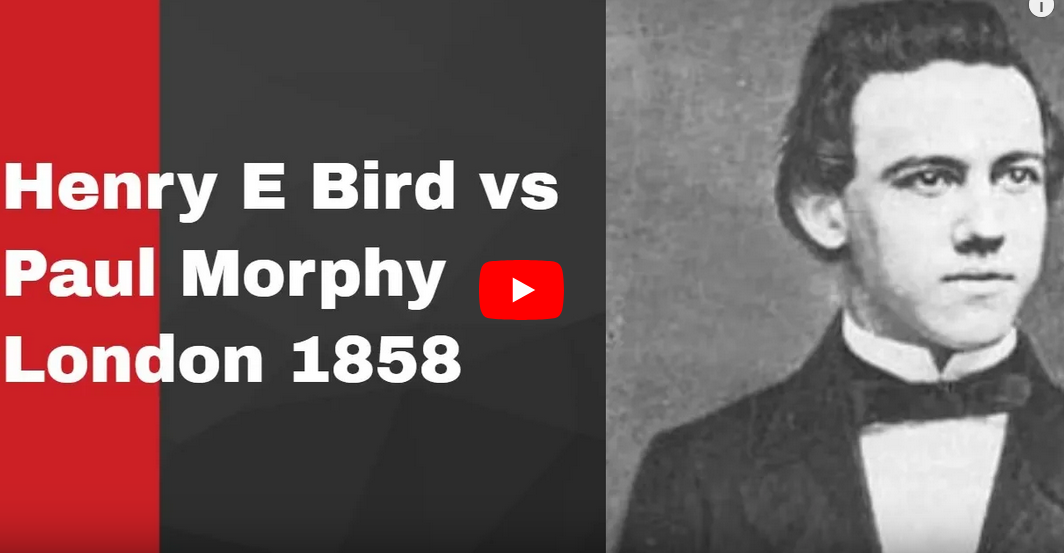 I saw that Morphy was mentioned as a player who preferred strategy. This is indeed very wise, because if some people think he is a wild and romantic player, you have to compare him to his predecessor Anderssen. And indeed, compared to him, he calms the game. He places his figures where they are needed, does not set fire to anything, just the occasional ember, after generations of pyromaniacs. As the experts of La Régence said, "Morphy is not as brilliant as La Bourdonnais, but solid, precise and analytical"! Lasker describes him as a "rational player".

To be continued: there is no reason why you should not participate, at the top right (discussion forum, an important theoretical novelty!), or directly at the bottom of each page.
Our game of the day (Bird-Morphy) is justly famous for its rook sacrifice, immediately followed by a Queen's move in capture (but impregnable) on an unusual square. We complete it with an analysis, beside which the game itself seems disconcertingly simple.
A pleiad of riches, but one can "crack" for the mini-studies of the 38th, 40th, 41st & 42nd moves, with in particular a new example of what I had called the "Mandler theme": the reversal of the good move and the bad move in two variations. And a triple middle ground... bicolour!
Did you know that? Morphy is the son of Alonzo Morphy (whose father lived in Madrid) and Thelcide Carpentier, daughter of Joseph Le Carpentier. He is therefore both Spanish and French, just as Bobby Fischer is both Hungarian and Polish. Long live the new world!
Training: a variety of 2# from all periods, the first two ,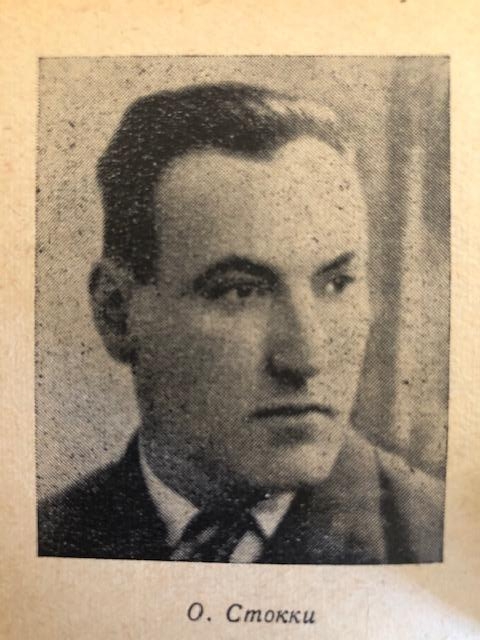 the 9th and the last seem to me to be the easiest. The 3# are very different; the first shows us a dynamic Queen, the second is very clever, the last (182 years old) should give you a rest.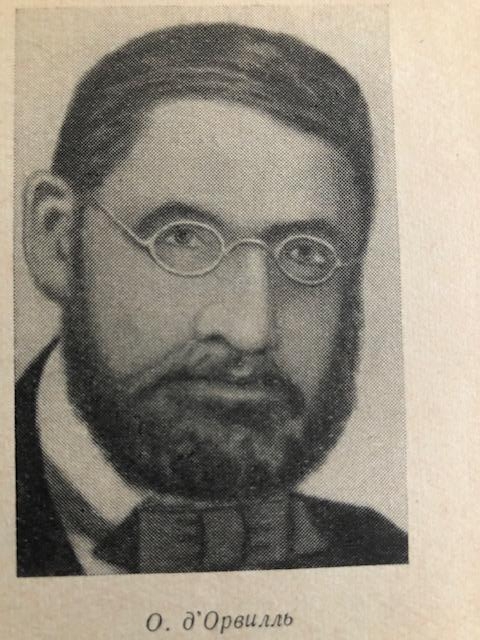 The second 4# has been corrected by yours truly, the pretty mats remain but without a spurious solution. The 5# is a rex solus, ending (obviously) with a model mate. The two short helpmates come from a world championship already long gone. The long helpmate, from a Brazilian author, is strategic, with an echo of manoeuvres. We end with a selfmate with many sacrifices.

Have a good time. See you in February. Adeus.
Master's diagrams
[Event "?"] [Site "?"] [Date "1985.??.??"] [Round "?"] [White "Botokanov, A."] [Black "0000.43"] [Result "1/2-1/2"] [SetUp "1"] [FEN "8/8/p3K3/Pp6/1P3k1p/5P2/6P1/8 w - - 0 1"] [PlyCount "43"] [EventDate "1985.??.??"] [SourceDate "2000.07.25"] {The White King will necessarily have to pass through the squares g8, c8 and b8 to save himself.} 1. Kf7 $8 (1. Kf6 $2 Kg3 $8 2. Kg5 (2. Kg7 Kxg2 $8 3. f4 h3 $8 {: see below}) 2... Kxg2 $8 3. Kxh4 (3. f4 h3 $8) 3... Kxf3 $8 4. Kg5 Ke4 $19) 1... Kg3 {Where would you play your King? Same question... 16 and 17 moves later !} 2. Kg8 $3 {[#]Quo vadis ?} (2. Kg7 $2 Kxg2 $8 3. f4 h3 $8 4. f5 h2 $8 5. f6 h1=Q $8 6. f7 Qa1+ $8 7. Kg8 Qa2 $8 8. Kg7 Qb2+ $8 9. Kg8 Qxb4 $1 $19) 2... Kxg2 (2... h3 $2 3. gxh3 $18) 3. f4 $8 h3 4. f5 $8 h2 5. f6 $8 h1=Q 6. f7 $8 Qh6 7. f8=Q $8 Qxf8+ 8. Kxf8 Kf3 9. Ke7 $1 {Or on e8.} Ke4 10. Kd6 $1 {Or on d7.} Kd4 11. Kc6 $1 Kc4 12. Kb6 $1 Kxb4 13. Kxa6 $8 Kc5 14. Kb7 $8 b4 15. a6 $8 b3 16. a7 $8 b2 17. a8=Q $1 b1=Q+ 18. Kc8 $3 {[#]} (18. Kc7 $2 Qh7+ $8 19. Kc8 Qg8+ $8 20. Kb7 Qf7+ $8 21. Kc8 (21. Ka6 Qe6+ $8) 21... Qe8+ 22. Kb7 Qd7+ $8 23. Kb8 (23. Ka6 Qb5+ $1 24. Ka7 Qb6#) 23... Kb6 $8 $19) 18... Qf5+ 19. Kb8 $3 {[#]The symmetrical square of the second move.} Qf4+ 20. Ka7 $8 {As Polerio had established in the 16th century, the Black King suffers from not being on b5. The bQ would then have the diagonal a7-g1.} Qa4+ (20... Qc7+ 21. Qb7 $8) 21. Kb8 $8 Qe8+ ({With the Black King on b5, we would win by} 21... Kb5 22. -- Qf4+ $8 23. Ka7 Qd4+ $3 {[#]} 24. Kb8 Qd8+ $1 25. Ka7 (25. Kb7 Qd7+ $8 {as already seen}) 25... Qb6#) 22. Ka7 $8 1/2-1/2 [Event "?"] [Site "?"] [Date "2012.??.??"] [Round "?"] [White "Didukh, S & Tkachenko SN"] [Black "0032.23"] [Result "1/2-1/2"] [SetUp "1"] [FEN "8/6N1/1pp5/1Pk5/K7/pP3N2/8/2b5 w - - 0 1"] [PlyCount "28"] [EventDate "2012.??.??"] [SourceDate "2000.07.25"] 1. Ne6+ $8 (1. b4+ $2 Kc4 $8 {(otherwise Kb3)} 2. Ne5+ (2. Nd2+ Bxd2 $8 3. Kxa3 Bxb4+ $1 4. Ka2 Kxb5 $19) 2... Kc3 $8 3. bxc6 a2 $8 4. c7 a1=Q+ $8 5. Kb5 Qa8 $8 6. Nf5 (6. Nc6 Bf4 $3 7. Ne6 Bg3 $1 8. Ne7 {(Kxb6 ...Qc8)} Bxc7 $1 9. Nxc7 Qb7 $8 10. Ncd5+ Kd4 $19) (6. Nd7 Qd5+ $1 {(or ...Be3! Nxb6 ...Bxb6 & ...Qc8)} 7. Nc5 $1 bxc5 $8 8. c8=Q Qc4+ $1 9. Kb6 cxb4 $8 10. Qh3+ Qd3 $1 11. Qc8+ Kb2 $1 $19) 6... Kb3 $3 {[#]} 7. Nd3 (7. Nd6 {(or on e7)} Be3 $8 8. c8=Q Qa4#) (7. Nd4+ Ka2 $3 8. Kxb6 {(Nc4 ...Qd5+)} Bf4 $1) 7... Qe8+ $1 8. Kxb6 Qe6+ $8 9. Kb7 Qd5+ $8 10. Kb6 (10. Kb8 Qb5+ $8) 10... Qxf5 $8 11. Kb7 Qb5+ 12. Ka8 Qc6+ $1 13. Kb8 Be3 $1 14. Ne5 (14. c8=Q Ba7+ $8) 14... Qb5+ 15. Ka8 Qa6+ {and mate in 4}) 1... Kd5 2. Ned4 $8 (2. Nf4+ $2 Ke4 $8 3. Ne2 Bb2 $8 4. Nc3+ Kxf3 $1 (4... Bxc3 $1 5. Kxa3 Kxf3 $8 6. bxc6 Be5 $8 {idem}) 5. bxc6 (5. Na2 c5 $8 6. b4 c4 $8) 5... Bxc3 $8 6. Kxa3 (6. c7 a2 $8) 6... Be5 $8 7. Kb4 Ke4 8. Kb5 Bc7 $8 $19) 2... a2 (2... c5 3. Ne2 $1 (3. Nc2 $1 a2 4. Nd2 $8 {: text}) 3... Bb2 4. Nc3+ $3) 3. Nc2 $8 c5 $1 4. Nd2 $3 {[#]Very subtle.} (4. Ng5 $2 Bxg5 $8 5. Ka3 a1=Q+ $1 6. Nxa1 Kd4 7. Nc2+ Kd3 $8 8. Ne1+ (8. Kb2 Bf6+ $8 {idem}) 8... Ke2 $8 9. Nc2 (9. Ng2 Kf2) 9... Kd2 $8 10. Kb2 (10. Na1 Bf6 $1) 10... Bf6+ $8 11. Kb1 Kc3 $8 12. Ne3 (12. Na1 Kb4) 12... Kxb3 $8 13. Nd5 Bd8 $8 $19) (4. Nfe1 $2 Ke4 $8 5. Na1 ( 5. b4 c4 $8) 5... Kd4 $8 6. Nf3+ (6. Nac2+ Kc3 $8 7. Na1 Bb2 $8 8. Nf3 {(Nac2 . ..Kd2!)} Kd3 $3 {(...Bxa1? Ka3!)} 9. Ne1+ Kd2 10. Nf3+ Kc1 11. Ne1 Bxa1 12. Ka3 Kb1 $1) 6... Kd5 $8 (6... Kc3 $2 7. Ne5 $8 Kb2 {(...Bb2 Nc4)} 8. Nd3+ $8) 7. Ne1 (7. Nd2 Bxd2 $8 8. Ka3 Kd4 $1 9. Kxa2 Kc3 10. Kb1 Bh6 11. Ka2 Bg7 12. Kb1 Kb4 $1) 7... Ke4 $8 {[#]Z but not ZZ} 8. Nac2 (8. -- Kd4 $8 9. Nf3+ Kd5 $8 10. Ne1 Ke4 $8) 8... Bb2 $8 9. b4 (9. Ng2 Kd3 $8 10. Nge1+ Kd2) 9... c4 $8 $19) 4... Bxd2 5. Ka3 $8 (5. Nb4+ $2 Kd4 $8 6. Nxa2 Bf4 7. Ka3 Kd3 $1 8. Kb2 Kd2 $1 9. Nc1 (9. Kb1 Be5 $1) 9... Be5+ $8 10. Kb1 Kc3 $8 11. Ka2 Kc2 12. Ne2 Bh2 $8 $19) 5... a1=Q+ $1 (5... Bb4+ 6. Kxa2 Ke4 7. Na3 $11) 6. Nxa1 Kd4 {What do you do against the threat of ...Kc3 which seems devastating ?} 7. Nc2+ $8 (7. Kb2 $2 Bc3+ $8 8. Kb1 Bxa1 9. Kxa1 Kc3 $8 10. Ka2 Kb4 $8 (10... Kc2 $2 11. Ka3 $8 {: see text}) 11. Kb2 Kxb5 $19) (7. Ka2 $2 Kc3 $1 8. Kb1 Bf4 $1 9. Ka2 Be5 $1 10. Kb1 (10. Ka3 Kd2 $1) 10... Kb4 $1 $19) (7. b4 $2 c4 $1 $19) 7... Kd3 ( 7... Kc3 8. Nb4 $3 {[#]} (8. Na1 $2 Kd3 $1 9. Ka2 Bc3 $1) 8... cxb4+ (8... Bc1+ 9. Ka4 $8) 9. Ka4 $8 {and stalemate is inevitable}) 8. Kb2 $8 Bc3+ {In comparison with the 4 Ng5? try, the bB is on c3 instead of f6, it hinders his King.} 9. Kb1 $8 (9. Kc1 $2 Be5 $1 (9... Bf6 $1 {idem}) 10. Na3 Kc3 $8 11. Nc4 Bc7 $8 12. Nd2 { (otherwise ...Kxb3)} Bf4 $8 $19) 9... Bb4 (9... Bf6 10. Na3 $1 Kc3 11. Nc4 $1 Bd8 12. Ka2 $8 Kb4 13. Kb2 Kxb5 14. Kc3 Bf6+ 15. Kd3 Kc6 16. b4 $1 (16. Ne3 $1) 16... cxb4 17. Kc2 $8 $11) 10. Kb2 $8 Kd2 (10... Bd2 11. Na3 $8) (10... Bc3+ 11. Kb1 $8 {: repeat}) 11. Na3 $3 {[#]} Bxa3+ 12. Kxa3 Kc3 13. Ka4 $8 Kb2 (13... Kd3 14. Ka3 $8) 14. b4 c4 {Stalemate.} 1/2-1/2 [Event "?"] [Site "?"] [Date "1999.??.??"] [Round "?"] [White "Karklins, Gufeld"] [Black "0030.32"] [Result "1/2-1/2"] [SetUp "1"] [FEN "8/1k5p/6p1/2K1P3/8/8/5P1P/5b2 w - - 0 46"] [PlyCount "28"] [EventDate "1999.??.??"] [SourceDate "2000.07.25"] {77/138} 46. Kd6 Kc8 $1 (46... g5 $1 47. Ke6 g4 $1 48. Kf5 Be2 $19) (46... Bh3 $1 47. e6 Kc8 $1) 47. Ke7 g5 $2 (47... Bh3 $1 48. Kf6 Kd7 $8 49. f4 Bf5 $19) ( 47... Bd3 $1 48. Kf7 (48. e6 g5) 48... Kd7 $8 49. e6+ Kd6 $8 50. e7 Bb5 51. e8=Q Bxe8+ 52. Kxe8 Ke6 53. Kf8 h5 54. Kg7 Kf5 $19) 48. Kf6 $8 g4 49. Kg5 $8 Bh3 {White played Kf6 and lost. Was there nothing to do ?} (49... Be2 50. Kh6 $8 Kd7 51. Kxh7 $8 Ke6 52. Kg6 Kxe5 53. Kg5 $8 Bf3 54. Kh4 $8 Kf4 55. h3 $8 $11) 50. Kh4 $3 {[#]Obviously not considered by the commentator.} (50. Kf6 $2 Kd8 $1 51. Kf7 (51. e6 Ke8) 51... Bf1 $1 (51... Bg2 $6 52. f4 $1 Bd5+ $8 { (...gxf3 e6=)} 53. e6 Kc7 $8 54. f5 Kd6 $8 55. Kf6 Bb3 $1 56. Kg5 Ke7 $1 57. Kxg4 Kf6 $8 58. Kh5 Kg7 $8 59. Kg5 h6+ $8) 52. e6 Bc4 $8 53. Kg7 Ke7 54. Kxh7 Kxe6 55. Kg6 Ke5 $8 56. Kg5 Be6 $8 {0-1 was the game}) 50... Kd7 (50... Bg2 51. Kxg4 Kd7 52. Kg5 Ke6 53. Kh6 Be4 54. f4 $11) 51. f4 $1 (51. f3 $1 {( simpler)} h5 52. f4 $8 Ke6 53. Kxh5 Kf5 54. Kh4 $11) 51... Ke6 (51... gxf3 52. Kxh3 $8) 52. Kg5 $8 h6+ (52... Bf1 53. Kxg4 $8 Bd3 54. Kg5 $11) 53. Kxh6 Kf5 54. Kh5 $1 (54. e6 $1 Kxe6 55. Kg6 $8 Bf1 56. f5+ $1 Ke7 57. Kg5 Bh3 (57... Be2 58. Kh4) 58. Kg6 $8 Kf8 59. f6 $1 Kg8 60. f7+ Kf8 61. Kf6 $8 Bf1 62. Kg5 $1 Be2 63. Kh4 $11) 54... Bg2 55. Kh4 $1 (55. e6 $1 Bf3 56. e7 Bc6 (56... g3+ 57. Kh6 $8 gxh2 58. e8=Q $8 h1=Q+ 59. Kg7) 57. e8=Q Bxe8+ 58. Kh4 $8 Kxf4 59. h3 {idem} ) 55... Kxf4 56. e6 $8 (56. Kh5 $2 Bd5 $8 (56... Bc6 $2 57. e6 $8 Be8+ 58. Kh4 $8 Bg6 59. e7 $8) 57. Kh4 Bf7 58. h3 g3 $8 $19) 56... Bc6 57. e7 $1 (57. Kh5 $1 Bd5 58. e7 $8 $11) 57... Bd7 (57... Kf3 58. Kg5 $1) (57... Kf5 {(or ...Be8)} 58. h3 $1) 58. h3 $1 {This idea can already be found in a study by V. Ganshin 1951.} (58. e8=Q $1 Bxe8 59. h3 $11) 58... g3 (58... gxh3 59. e8=Q $11) 59. e8=Q $1 Bxe8 {Stalemate.} 1/2-1/2 [Event "London "] [Site "London"] [Date "1858.??.??"] [Round "5"] [White "Bird, H."] [Black "Morphy, P."] [Result "0-1"] [ECO "C41"] [PlyCount "124"] [EventDate "1858.??.??"] [EventType "game"] [EventCountry "ENG"] [SourceDate "2000.07.25"] {"When you asked him, after a game, what he would have replied to such and such a move, he immediately explained, without hesitation, what he had envisaged. It was impossible not to admire the abundance of possibilities he had seen and how much he had and how well he had calculated them" (L. Paulsen on Morphy). The end of the game is given at the 22nd move (it lasted 29).} 1. e4 e5 2. Nf3 d6 3. d4 f5 {[#]A la Philidor.} (3... exd4 {is almost the only move played "in our time" :} 4. Nxd4 Nf6 5. Nc3 Be7 6. Be2 O-O 7. O-O Re8 8. Re1 Bf8 9. Bg5 h6 10. Bh4 g5 11. Bg3 Nxe4 12. Nxe4 Rxe4 {(Safarli,E (2593)-Mamedyarov,S (2767)/ Khanty-Mansiysk 2019)} 13. Qd3 $44) (3... Nf6 4. dxe5 Nxe4 5. Bc4 c6 6. O-O d5 7. Bd3 Nc5 {Xu,Y (2430)-Jobava,B (2702)/Doha 2016}) (3... Nd7 {(was recommended 60 years ago)} 4. Bc4 c6 5. O-O Be7 6. a4 Ngf6 7. Nc3 O-O 8. Re1 a5 9. h3 exd4 10. Nxd4 Nc5 11. Bf4 Qb6 (11... Be6) 12. b3 Be6 13. Nxe6 fxe6 14. Bxd6 Rad8 {(Areshchenko,A (2710)-Makarov,M (2516)/St Petersburg 2012)} 15. e5 Bxd6 16. exd6 Nd5 17. Qd4 Rxd6 18. Rad1 $16) 4. Nc3 (4. exf5 e4 (4... Bxf5 5. Nc3) 5. Ng5 Bxf5 6. f3 (6. Nc3 d5 7. f3) 6... exf3 $6 (6... Be7 7. Nxe4 $16) 7. Qxf3 Qe7+ $2 (7... Nh6 8. Qxb7) 8. Kd1 $18 {Charbonneau,P (2513)-Nakamura,H (2733) Lloydminster 2010}) (4. dxe5 {(most played)} fxe4 5. Ng5 d5 6. e6 (6. Nc3 Ne7 $2 {(...Bb4!)} 7. e6 Ng6 8. Nf7 Qf6 9. Nxh8 {1-0 Fischer,R-Chaney,K Houston 1964}) (6. c4 Bb4+) 6... Bc5 (6... Nh6 7. Nc3 $1 {(Nxh7 ...Bxe6 or f3 . ..Bc5 but interesting is Be2 ...Be7 Bb5+! -- now that Nh6 is only defended by the pawn -- ...c6 Qh5+!)} c6 8. Ngxe4 {(better g3!)} Nf5 $3 {[#] (...dxe4? Qh5+ for Qe5 : Staunton & Owen- Morphy & Barnes 1858)} 9. Ng5 Qf6) ( 6... Bb4+ 7. c3 Bc5 8. Nxe4 $1 Be7 9. Ng5 {(Qg4)} Bxg5 10. Qh5+ g6 11. Qxg5 Qxg5 12. Bxg5 Bxe6 13. Bf4 $1 $16 {Sax,G (2600)-Kosten,A (2510) Hastings 1990}) (6... Nf6 7. Nf7 Qe7 8. Nxh8 Bxe6 9. Nc3 Nc6 10. Bb5) 7. Nf7 (7. Nc3 Nf6 $1 { (...Qf6? Ngxe4)} 8. Nf7 Qe7 9. Nxh8 Bxe6) (7. Nxe4 $1 Be7 8. Qg4 $16) 7... Qf6 8. Be3 (8. Qd2 {Steinitz} Bxe6 9. Nxh8 Nd7 10. Qf4 O-O-O $11) 8... d4 $2 (8... Bxe6 $1 {(...Bxe3! idem)} 9. Nxh8 Bxe3 10. fxe3 Qxb2 $11) 9. Bg5 $1 (9. Qh5 $2 dxe3 $1 10. Nd6+ {(on Nxh8+? ...g6 bB is uncapturable)} Ke7 $8 11. Nxc8+ Kd8 $8 $17) 9... Qf5 (9... Qxe6 10. Nxh8) 10. Bc4 $3 {[#]} (10. Nxh8 $2 Qxg5 $15 11. Bc4 Nc6 $1 {(...Qxg2?! Qh5+! ...g6 Qxh7!)} 12. Nf7 $2 {(0-0)} Qxg2 $19 {Barnes, Th-Morphy,P/London 1858}) 10... h6 11. g4 $1 Qg6 12. Bh4 $18) (4. Bc4 exd4 $6 ( 4... Be7 $2 5. dxe5 $1 fxe4 6. Qd5 $1 exf3 7. Qf7+ Kd7 8. Qxg7 fxg2 9. Rg1 $18) (4... fxe4 $6 5. Nxe5 $1 d5 {(...dxe5? Qh5+)} 6. Qh5+ g6 7. Nxg6 Nf6 8. Qe5+ Be7 9. Nxe7 $1 {(or Nxh8 ...dxc4 Nc3)} Qxe7 10. Bg5 $3 {[#](Bb3 ...Nc6)} Qxe5 {(.. .Rf8 Qxe7+ and Bxd5)} 11. dxe5 dxc4 12. Bxf6 Rg8 13. Nc3 Rxg2 14. O-O-O $18) ( 4... Nc6 {(less evil ?)} 5. Ng5 Nh6 6. d5 Ne7 7. Nc3 $16) (4... Nf6 $6 5. Ng5 $1 d5 6. exd5 $1 {(dxe5 ...Nxe4)} e4 7. Nc3) 5. Ng5 $1 (5. O-O $1) 5... Nh6 6. O-O $1 (6. Nxh7 $2 Ng4 $1 {(or ...Qh4! Bg5 ...Qg4! but not ...Qe7? Bg5! ... Qxe4+ Kd2)} 7. Ng5 Qf6 8. Bf7+ Kd8 9. Bb3 fxe4 10. Nxe4 Qe5 $11) 6... Nc6 7. exf5 $1 Bxf5 8. Re1+ Kd7 9. c3 $1 Qf6 (9... Be7 10. Ne6) 10. Qb3 $1 Be7 11. Ne6 $18 {Adorjan,A (2530)-Mestel,J Moscow 1977}) 4... fxe4 $1 (4... Nf6 $2 5. dxe5 Nxe4 6. Bc4 $1 (6. Nxe4 fxe4 7. Ng5 d5 8. e6) 6... Nxc3 (6... Nc6 7. Qd5) 7. bxc3 Be7 (7... d5 8. Bxd5 Be7 9. O-O) 8. exd6 Qxd6 9. Qe2 $18) (4... exd4 $6 5. Qxd4 (5. Nxd4 fxe4 6. Bc4) 5... fxe4 6. Bg5 Nf6 7. Nxe4 Be7 8. Bc4 (8. O-O-O O-O 9. Nxf6+ Bxf6 10. Bc4+ Kh8 11. Bxf6 Qxf6 12. Qxf6 gxf6 {(...Rxf6 Rhe1)} 13. Nd4 $16 {Tseshkovsky,V (2595)-Inkiov,V (2495) Minsk 1982}) (8. Bxf6 Bxf6 9. Qd5 ) 8... Nc6 9. Qe3 $16) (4... Nc6 5. Bb5) (4... Be7 5. dxe5) 5. Nxe4 (5. Bg5 Be7 ) 5... d5 {The most logical move.} (5... Nf6 6. Nxf6+ (6. Bg5 Be7) 6... gxf6 (6... Qxf6 7. dxe5 dxe5 8. Bg5 Qd6 $8 9. Bc4 $16) 7. Bc4 $1 (7. dxe5 dxe5 {(... fxe5? Nxe5!)} 8. Bd3 Be6) 7... d5 8. Bb3 e4 9. Nh4 $16) (5... exd4 6. Bb5+ $1 c6 7. Qe2 Be7 8. Bd3 $1 (8. Bf4 $1 cxb5 9. O-O-O Nc6 10. Nxd4 $1) 8... c5 (8... d5 9. Neg5 Nf6 10. Nxd4) 9. O-O Nc6 10. Re1 (10. Nfg5 Nh6 11. Bc4 $16) 10... Kf8 11. Neg5 Nf6 12. Nh4 $1 $16) 6. Ng3 $6 {It seems that here we have to be ready to sacrifice.} (6. Nxe5 $1 {Zukertort} dxe4 7. Qh5+ g6 8. Nxg6 Nf6 $6 (8... hxg6 9. Qxg6+ Kd7 10. Qf5+ Ke8 11. Qe5+ Be6 $1 12. Qxe6+ Ne7 13. Qe5 $1 Rg8 14. Bc4 $1 Nbc6 15. Qh5+ Rg6 16. Be3 $16 {(c3 stronger) Zelcic,R (2500)-Doric,N (2265) Pula 1995}) 9. Qe5+ $1 Kf7 (9... Be7 10. Nxh8 Nc6 11. Bb5 $1 Qd7 12. Bxc6 Qxc6 13. Bg5 $1 Bd7 14. O-O-O $18 {Arbakov,V (2483)-Afromeev,V (2405) Tula 2001}) 10. Bc4+ Kg7 (10... Kxg6 11. Qg5#) 11. Bh6+ $3 {[#]} (11. Nh4 Be7 $1) (11. Nxh8 Nc6 $1) 11... Kxh6 12. Nxh8 {(threatens mate in 2)} Bb4+ 13. c3 Qxh8 14. h4 $1 (14. cxb4 $1) 14... Kg7 (14... Qg7 15. Qf4+ Kh5 16. Bf7+ $1) 15. Qg5+ Kf8 16. cxb4 Qg7 17. O-O-O $18) (6. Neg5 $1 h6 (6... exd4 7. Bb5+ c6 8. O-O cxb5 9. Re1+ $1 {(Ne5!)} Be7 10. Ne5 $18) (6... e4 7. Ne5 Nh6 8. Nxe4 $1 dxe4 9. Bxh6 Qf6 10. Qh5+ $1 {(10 Bd2!)} g6 11. Qg5 $18 {Garcia,G (2410)-Gutierrez Castillo,J Bogota 1979}) 7. Nf7 $3 {[#]} Kxf7 8. Nxe5+ Ke7 9. Ng6+ Kf6 10. Qf3+ Bf5 11. g4 $1 (11. Nxh8 Qe7+ 12. Be2 Qe4 13. g4 $18 {Stepanov,P (2375)-Maljutin,E (2465) Moscow 1992}) 11... Qe8+ 12. Ne5 $18) 6... e4 $1 (6... exd4 $6 7. Bd3) 7. Ne5 Nf6 {now, the odds can be considered equal, with the slight White development lead being compensated by the strong outpost on e4.} 8. Bg5 (8. f3 exf3 (8... Bd6 9. fxe4 O-O 10. Bg5 {(better exd5)} Qe8 11. Qd2 Nxe4 $1 {(...c5 0-0-0 -- Vogt,L (2475)-Maus,S (2430) Germany 1995 -- .. .cxd4 Nf3 ...dxe4 Nxd4)} 12. Nxe4 dxe4 $11) 9. Qxf3 Be7 $2 (9... Bd6 $1 10. Bd3 {(Bg5 O-O)} O-O 11. O-O Nc6 $1 {but not ...Ne4? Bf4! or Nf7!}) 10. Bd3 $1 (10. Bb5+ $1 c6 {(...Bd7 Nf5)} 11. Bd3 O-O 12. Nf5 $1 $16 Ne4 $2 {(...Bd6)} 13. Bxe4 dxe4 14. Qb3+ $1) 10... O-O (10... Nc6) 11. O-O (11. Nf5 Nc6 $1) 11... Nbd7 $2 (11... Nc6 $1 12. Nxc6 bxc6 13. Nf5 $16) 12. Bxh7+ $3 {[#]} (12. Bf4 $2 Nxe5 13. Bxe5 Ng4 {Von Buelow,G (2354)-Ferreira,K (2067) Rio de Janeiro 2007}) (12. Nh5 $2 Nxe5 $1) 12... Kxh7 (12... Nxh7 13. Qxd5+ {and mate}) 13. Qf5+ $8 Kg8 (13... Kh8 14. Qh3+ Kg8 15. Ng6 {idem}) 14. Qe6+ $8 Kh7 15. Qh3+ $8 Kg8 16. Ng6 $8 Bd6 ( 16... Nb6 17. Qh8+ Kf7 18. Ne5+ Ke8 19. Qxg7 Qd6 20. Bg5 $18) 17. Bg5 $1 Bxg3 18. hxg3 Qe8 19. Qh8+ $8 Kf7 20. Nxf8 Qxf8 21. Qh7 $8 {(paralyse Nd7)} Ke8 22. Rae1+ Kd8 23. g4 $18) (8. Be2 Bd6 9. c4 $11) 8... Bd6 $1 (8... Be7 9. Be2 ( 9. c4) 9... O-O 10. O-O Nc6 (10... Be6) 11. f3 (11. c4) 11... exf3 12. Bxf3 Ne8 $6 (12... Qd6 13. Bf4 Qb4) 13. Bxe7 Nxe7 14. Qd3 $16 {Morovic Fernandez, I-Varga,M Buenos Aires 1978}) 9. Nh5 $6 (9. Qd2 O-O 10. O-O-O Nc6 11. Nxc6 bxc6 $11 {Radulovic,D (2337)-Jovanovic,A (2214) Belgrade 2006}) (9. c4 O-O 10. cxd5 Nbd7 $1 11. Qb3 (11. Nxe4 $2 Qe8 $3) (11. Nxd7 Bxd7 $11) 11... Nxe5 12. dxe5 Bxe5 13. Nxe4 Bxb2 $1 14. Qxb2 Qe8 15. f3 Nxe4 $8 16. fxe4 Qxe4+ $8 17. Qe2 $8 Qa4 $1 (17... Qxd5 18. Be3 $8 Kh8 $44) 18. Qc4 Qe8+ 19. Be2 (19. Qe2 $11) 19... Qe5 $1 $44) 9... O-O $8 $15 10. Qd2 $6 (10. Bxf6 $2 gxf6 11. Ng4 $8 f5 $1 12. Ne5 c5 $1 (12... f4 $1 13. g3 f3 $17) (12... Nc6 $1) 13. c3 Nc6 14. Nxc6 bxc6 15. g3 Rb8 $17) (10. Be2 $1 Qe8 11. c4 Bb4+ 12. Kf1 Nbd7 $15) (10. Nxf6+ $2 gxf6 11. Bh4 c5 $1 $19) 10... Qe8 $1 $17 (10... c5) (10... Be7) 11. g4 $2 (11. Nxf6+ $6 gxf6 12. Bxf6 e3 $3 {[#]} (12... Rxf6 13. Qg5+ {: see below}) 13. Qxe3 Rxf6 14. O-O-O (14. Qg5+ Rg6 $19) 14... Qf8 15. f3 Qh6 $19) (11. Bxf6 $8 gxf6 ( 11... Qxh5 12. Be2 Qf5 13. Bh4 c5 14. Bg4 e3 $8 $11) 12. Nxf6+ (12. Qh6 $2 Qe7 $8) 12... Rxf6 13. Qg5+ Rg6 14. Nxg6 hxg6 15. Qxd5+ {(1/2-1/2 Lengyel,B (2338) -Orso,M (2352) Budapest 2002)} Kg7 $17) (11. Nxg7 $2 Kxg7 12. Bh6+ Kh8 $8 13. Qg5 Qe7 $19) 11... Nxg4 $1 (11... Bxe5 $1 12. Nxg7 (12. dxe5 Nxg4 13. Qxd5+ Be6 14. Nxg7 Kxg7 15. Qxe4 Bf5 $19) 12... Kxg7 13. dxe5 Nxg4 14. Rg1 Kh8 $19) ( 11... Nxh5 12. gxh5 c5 (12... Qxh5) 13. h6 Rf5 $17) 12. Nxg4 (12. Nxg7 Kxg7 13. Nxg4 (13. Rg1 h5 $1 {(or ...Bxe5)} 14. h3 Nxe5 15. Bh6+ Kh7 $19) 13... Bxg4 14. Rg1 Bf5 15. Bh6+ Kf7 $1 16. Bxf8 (16. Qg5 Qe6) 16... Qxf8 17. Qg5 Ke6 $19) (12. Nf4 Nc6 $1 $19) (12. Ng3 Nxf2 $19) 12... Qxh5 (12... Bxg4 13. Nxg7 Qg6 $1 14. Rg1 Bf3 $1) 13. Ne5 Nc6 $6 ({After} 13... c5 $1 14. Be2 Qe8 $1 $19 {(threat ... cxd4) the gain would have been prosaic and the game would be absent from the anthologies !}) ({Also good} 13... Bxe5 $1 14. dxe5 Nc6 $1 15. Be2 (15. Qxd5+ Kh8 $19) 15... Qf7 $1 (15... Bg4 $1) 16. Be3 Rd8 $19) 14. Be2 $8 Qh3 (14... Qe8 15. Nxc6 Qxc6 16. h4 $17) 15. Nxc6 bxc6 {Threatens ...Qg2.} 16. Be3 (16. Qe3 Qf5 17. Rg1 Kh8) 16... Rb8 (16... a5 17. O-O-O a4 18. a3 Rb8) 17. O-O-O (17. c3 Bg4 $1 ({ here the computer --- jealous! -- proposes} 17... Qh4 $1 18. O-O-O $6 Ba3 $3 {[#]} 19. bxa3 Qe7 $8 $19) 18. O-O-O Bf3 (18... Bxe2 19. Qxe2 a5) 19. Rhe1 a5 $17) 17... Rxf2 $3 {[#]Is only a preparation for... a simple side change! Needless to say that the analytical engines of the 21st century do not envisage this move. "Morphy's impetuosity cannot resist the temptation of a brilliant sacrifice, although he has one more pawn with an excellent game" (W. Steinitz).} (17... Bg4 $17) (17... Kh8 $17) 18. Bxf2 Qa3 $3 {[#]And that's it !} ({ simplest} 18... Ba3 {unfortunately does not work} 19. Qe3 $1 Rxb2 20. Qxh3 Bxh3 21. Rhg1 (21. Kd2 Bb4+ $8 22. Ke3 Rxc2) 21... Rb3+ 22. Kd2 Bb4+ 23. c3 Rxc3 $8 24. Rb1 e3+ $1 25. Bxe3 Rb3+ 26. Kc2 Rxe3 27. Rxb4 Rxe2+ 28. Kb3 $11) 19. c3 $8 (19. Qc3 $2 Qxa2 $8 20. Rhg1 Rxb2 $1 $19) (19. Qg5 $2 {Steinitz} Qxb2+ $1 ( 19... Rxb2 $3 20. Qd8+ Bf8 21. Kd2 e3+ $3 22. Bxe3 {(on Ke1 ...Qc3xc2!)} Qb4+ {and mate to come}) 20. Kd2 h6 $3 {[#]} (20... Bb4+ $1 21. Ke3 Qc3+ {(Maroczy prefers ... Qa3+)} 22. Bd3 {WS} exd3 23. Qd8+ Bf8 $8 24. cxd3 c5 $1 25. Qxd5+ {(dxc5 ... De5+)} Kh8 26. Qd8 cxd4+ 27. Kf4 $8 Qc5 $1 28. Bxd4 Qf5+ 29. Ke3 c5 $1 30. Bxg7+ Kxg7 31. Qc7+ Kh8 32. Qxb8 Bh6+) 21. Qh4 (21. Qd8+ Kh7 {Threatens ...Bf4+}) (21. Qh5 Qa3 $1) (21. Qg6 Bf4+ $1 {(...Qb4+! is the same)} 22. Ke1 Qc3+ $8 23. Kf1 Bh3+ $8 24. Kg1 Rf8 $3 {[#](or ...Bg5!, but not ...Be3? Qg3!)} 25. Qh5 Be3 $1 $19) 21... Bb4+ $1 (21... Qa3 22. Rc1) 22. Ke3 Qc3+ 23. Bd3 exd3 24. cxd3 (24. Rxd3 Qxc2) 24... Bf5 $19 {with multiple threats}) (19. bxa3 $4 Bxa3#) 19... Qxa2 $1 (19... e3 $6 20. Bxe3 $1 Bf5 21. Qc2 $3 {[#]} (21. Bg4 $2 Bxg4 { (or ...Be4 Qf2 ...Qxa2)} 22. Kb1 Bxd1 23. Rxd1 Qa6 $17) 21... Qxa2 $8 22. Bd3 $8 Bxd3 23. Rxd3 Rxb2 $1 (23... Ba3 $1) 24. Qxb2 Ba3 25. Qxa3 $8 Qxa3+ 26. Kd1 c5 $1 27. dxc5 (27. Bc1 Qa6) 27... Qa4+ $1 28. Ke2 (28. Kd2 Qa2+ $8 29. Ke1 $8 Qa1+ $1 30. Rd1 $8 Qxc3+ $8 31. Ke2 Qc4+ $1 32. Rd3 Qg4+ $1) 28... Qg4+ $8 29. Kf2 $8 Qf5+ $1 30. Ke2 $8 Qg4+ $8 31. Kf2 $8 $11) 20. b4 $8 (20. Qc2 $2 Bf4+ $1 (20... Rxb2 $1) 21. Rd2 e3 $19) 20... Qa1+ $8 21. Kc2 Qa4+ $8 22. Kc1 $8 { White missed the right defence here and lost quickly. What follows is a published analysis, fanciful but interesting, which we endeavour to correct.} ({It was played} 22. Kb2 $2 Bxb4 $1 23. cxb4 Rxb4+ 24. Qxb4 Qxb4+ 25. Kc2 ({it was believed at the time that} 25. Ka2 {would draw ! but...} c5 $3 {[#]} 26. Be1 { (dxc5 ...d4)} Qa4+ $8 27. Kb2 Ba6 $1 {(or ...cxd4)} 28. Bg4 Bd3 $19) 25... e3 $1 (25... c5 $1) 26. Bxe3 (26. Be1 Bf5+ 27. Bd3 Qa4+ $1 28. Kc1 Bxd3 {& ... Qa1-a2-g2}) 26... Bf5+ 27. Rd3 (27. Bd3 Qc4+) (27. Kc1 Qc3#) 27... Qc4+ 28. Kd2 Qa2+ 29. Kd1 (29. Ke1 Bxd3 30. Bxd3 Qa1+) 29... Qb1+ {0-1 Bird-Morphy}) (22. Kb1 $2 Bxb4 $1 23. Qb2 Rb7 $1 24. cxb4 Rxb4 25. Rd2 Rxb2+ 26. Rxb2 e3 $1 { (for ...Bf5+)} 27. Rb8 Kf7 $1 28. Rxc8 Qb4+ 29. Ka2 Qd2+ 30. Kb3 exf2 $19) 22... a5 $1 {Proposed by Karpov.} (22... Bxb4 $2 23. cxb4 Rxb4 24. Qg5 $3 {[#] (prepares the escape Kd2-e1 while threatening Qd8xc7xc8)} (24. Qc2 $2 Qa3+ $8 25. Kd2 Rb2 $8 26. Qxb2 Qxb2+ 27. Ke1 Qc3+ $1) (24. Qc3 $2 Rb3 $8 25. Qc2 Qa3+ $1 26. Kd2 Qb4+ 27. Kc1 Bf5 $3 {threatens ...e3}) 24... h6 25. Qd8+ $8 Kh7 26. Qxc8 $8 (26. Kd2 $2 Rb2+ $1 27. Ke3 Qc2 $1 28. Rhe1 Rb3+ $1 29. Kf4 Qxe2 $3 {[#](but not ...e3? Qxc8!= rather than a mate in 2 on Bh4?)} 30. Rxe2 Rf3+ 31. Ke5 Rf5#) 26... Qa2 $8 (26... Rb3 $2 27. Bg4 $1 $18) 27. Qf5+ $8 Kg8 $8 $11) (22... Bf5 23. Be3 $1 (23. Qe3 $2 Qa2 $1 24. Rhg1 a5 $1) (23. Be1 $6 e3 24. Qb2 a5 $1) 23... Bxb4 $1 (23... a5 24. Qc2 $1 {(or Qb2! ...axb4 c4)} Qa3+ $8 25. Qb2 axb4 $8 26. Qxa3 bxa3 {(text with 26...Bf5)} 27. Rd2 $1 Rb3 $8 28. Rc2 $1 {(or Kc2!)} a2 $8 29. Rxa2 $8 Rxc3+ $8 30. Kd2 $8 Bb4 $1 31. Rb1 Ra3+ $1 32. Rxb4 Rxa2+ 33. Ke1 Ra3 34. Kf2 Ra2 35. Ke1 $11) 24. cxb4 Rxb4 {(there is no more Qg5)} 25. Qc2 $8 Qa3+ (25... Rb3 26. Rdf1 $11) 26. Kd2 Rb2 (26... Rxd4+ 27. Ke1 $1) 27. Qxb2 $8 Qxb2+ 28. Ke1 Qb4+ 29. Kf2 Qd6 $1 $15) 23. Qc2 $1 (23. Bg3 $2 axb4 $1 24. Qb2 (24. Qc2 b3 $1) (24. Bxd6 Qa1+ $1 25. Kc2 b3#) 24... bxc3 $1 25. Qxb8 Ba3+ $8 26. Kb1 c2+ $8 27. Ka1 Bc1#) ({Interesting is} 23. Rhg1 $1 Bf5 $1 24. Be3 $1 (24. Qc2 $2 Qa3+ $1) 24... axb4 $1 (24... Bf4 25. Rg3 $8 {(Bxf4? ... Qa1+ & ...e3+)} axb4 26. Qb2 $1) 25. Qb2 $8 Be6 $1 {(against c4 which would come on ...Qa8 or ...Ra8)} (25... bxc3 $2 26. Qxb8+ Kf7 27. Bh5+ $8 g6 28. Rg2 $3) 26. Rdf1 Qa8 (26... Ra8 27. Bd1 Qa5 28. cxb4 Bxb4 29. Kc2 $8 Qb5 $1 30. Kb1 $8 Bg4 $3 {[#]} 31. Bc1 $3 {(Bxg4? ...Qd3+! Qc2 ...Ra1+)} Bxd1 32. Rxd1 Qa4 { (threatens ...Bc3!)} 33. Rg2 $1 Qxd1 34. Qxb4 $11) (26... Rb6 $2 27. c4 $1 $16 dxc4 28. Bxc4 Bxc4 29. Rxg7+ $3) 27. c4 $3 {(still)} dxc4 28. Bxc4 $8 Bxc4 29. Rxg7+ $3 {[#]} Kh8 $8 (29... Kxg7 $2 30. d5+ {then mate in 3}) 30. Rg2 $1 (30. d5 $2 Be5 $3 31. Bd4 Bxd4 32. Qxd4 $8 Qa3+ $8 33. Kd1 Qd3+ $1) (30. Rg4 $1) 30... Bd5 $1 (30... Qa3 $2 31. Qxa3 bxa3 32. Bg5 $1 h5 $8 33. Bf6+ Kh7 34. Rg7+ Kh6 35. Rfg1 $8 Bf4+ $8 36. Kc2 $16) 31. Bh6 $1 Rg8 $8 32. Rxg8+ Qxg8 $8 33. Qf2 $1 Qg6 $11) (23. b5 $2 Qa1+ $1 {and mate in 2}) 23... Qa3+ $8 24. Qb2 (24. Kd2 $2 axb4 $8 25. Ra1 bxc3+ 26. Ke3 (26. Qxc3 Rb2+) 26... Bf4+ $1 (26... Qb4) 27. Kxf4 Qd6+ $1 28. Ke3 Qh6#) ({Complex is} 24. Kb1 e3 $1 (24... Bf5 25. b5 $1 cxb5 {(...Bg4 c4!)} 26. Bg3 b4 27. Qb2 $8) (24... axb4 25. Qb2 $8 Qa4 26. c4 $1 Ra8 27. Bg3) 25. Bxe3 (25. Bg3 Bxb4 $1) 25... axb4 26. Qb2 $8 Bf5+ 27. Bd3 $8 Qa8 $1 28. c4 $8 Bxd3+ 29. Rxd3 dxc4 30. Bh6 $3 {[#]} (30. Rd2 $1) 30... gxh6 (30... cxd3 $2 31. Qb3+ $8 Kh8 32. Bxg7+ $8 {with mate to come}) (30... c5 31. d5 $8 c3 $8 32. Qg2 $8 c2+ 33. Kc1 $8 $11) 31. Qc1 $3 Kh8 $1 (31... cxd3 $2 32. Qxh6 $18) 32. Qxc4 $8 Qa5 $11) 24... axb4 $8 25. Qxa3 (25. Kb1 {(also complex but playable)} Qa4 $1 (25... Bf5 $6 26. Qxa3 bxa3+ 27. Ka1 $8 Rb2 28. Rhe1) ( 25... Qxc3 26. Rc1 Qa3 27. Bg3 $1 Bxg3 28. hxg3 Qxg3 29. Rxc6) 26. c4 $1 Ra8 ( 26... b3 27. c5 Bf4 28. Bg3 Bh6 29. Qa1) 27. Bg3 (27. c5 Bf4 28. Bg3 Bh6) 27... Ba6 (27... Bf5 28. Rhf1) (27... Be7) 28. Rd2 $1 {(for Qa2)} b3 $1 29. Bxd6 cxd6 30. cxd5 e3 31. Rd3 $8 Bxd3+ 32. Bxd3 cxd5 $15) (25. Kc2 $6 b3+ $1 (25... Ba6 $1) 26. Kc1 (26. Kb1 Qa4 27. Rhg1 Ba3 28. Qa1 e3 $1 {(...Ba6 Rd2 ...Ra8)} 29. Bxe3 Qa5 $1 30. Bd3 b2 $8 $19) 26... Qa2 $3 {[#]} 27. Qxa2 bxa2 28. Kd2 (28. Kc2 e3 $8) 28... Rb2+ $1 29. Ke3 c5 $1 30. Ra1 cxd4+ 31. cxd4 c5 $1 $19) (25. cxb4 $2 Qa4 $3 {[#]} (25... Bxb4 $1 26. Qxa3 Bxa3+ 27. Kd2 Rb2+ $8 28. Ke3 Rb3+ $8 29. Kd2 e3+ $8 30. Bxe3 Bb4+ $8 31. Kc2 Rc3+ $1 32. Kb2 {(on Kd2 it's mate in 2)} Rxe3 33. Bd3 Bg4 $19) 26. Be1 Bxb4 27. Bxb4 Rxb4 $19) 25... bxa3 {Strongly threatening . ..Bf4+.} 26. Be3 {Karpov leaves us the choice between the two moves of this Bishop. Others have continued the analysis, with more or less success.} (26. Bg3 Be7 (26... e3 27. Bxd6 {(Bd3 ...a2 Kc2 ...Ba3)} cxd6 28. Bd3 $11) (26... a2 27. Kd2 $8 {(Kc2 ...Ba3)} Rb2+ 28. Ke3 Ba3 $1 29. Ra1 $1 Rc2 30. Bxc7 Rxc3+ 31. Kd2 Bb2 32. Bf4 $8 $11) 27. Bf4 (27. Kd2 $2 Bg5+ $1 28. Ke1 a2 $19) (27. h4 e3 {(...a2) } 28. Bxc7 Rb3 $1 29. Rdf1 {(Kc2? ...Rb2+ for ...Ba6+)} Rb2 $1 30. Bd3 {(Rh2 . ...Rb7! for ...a2! Kc2 ...Rb1 Rxb1 ...Bf5+ exploiting the weakening of the first rank)} Rd2 $1 31. Bc2 Bg4 $1 $17) 27... a2 {(the most tempting; but there are 2 other possibilities, probably better)} (27... e3 $1 28. Bd3 $8 {(Bxe3? ...a2 Kc2 ...Ba3)} a2 $1 {(...c5 Bb1)} 29. Kc2 $8 Ba3 $8 30. c4 $8 c5 $3 {[#]} 31. Bxe3 {(dxc5 ...d4 or Ra1 ...Rb2+ Kc3 ...Rd2)} Be6 $1 32. dxc5 dxc4 33. Be4 $8 Rb2+ 34. Kc3 Rb3+ $8 35. Kd2 Bb4+ $8 36. Ke2 Bg4+ $8 37. Kf2 Rb2+ $1 38. Kg3 Bxd1 39. Rxd1 Bc3 $17) (27... Bf5 $1 28. Kd2 $8 a2 $1 29. Ra1 Rb2+ $8 30. Ke3 $8 c5 $1 {(threatens ...cxd4+ cxd4 ...c5)} 31. Bd1 Kf7 {(...cxd4+ Kxd4 ...Be6) } 32. Bxc7 {(Ba4 ...Ke6)} cxd4+ 33. cxd4 Bb4 $17) 28. Kc2 $1 (28. Kd2 $6 c5 $1) 28... Ba3 $8 29. Ra1 $8 Rb2+ $8 30. Kd1 $8 {(we don't see how black progress)} e3 (30... c5 31. dxc5 $8) (30... Bf5 31. Be3 g6 32. h4) 31. Bxe3 Rb1+ 32. Kd2 $8 Rxh1 33. Rxh1 Bb2 $8 34. Bd3 a1=Q 35. Rxa1 Bxa1 36. Kc2 $1 Kf7 37. Bd2 c5 38. Kb1 (38. dxc5 $6 d4 $1) 38... cxd4 $11) (26. Kd2 $2 Bf4+ $8 27. Ke1 a2 $1 28. Bg3 Be3 $19) (26. Rd2 $2 Bf4 $8 $19) 26... Rb3 $1 (26... a2 $6 27. Kc2 $8 Ba3 $8 28. Ra1 $8 Rb2+ $8 29. Kd1 $8 {(as above -- variation 26 Bg3 -- with Bf4 on e3)} c5 (29... Rb1+ 30. Kc2 $8 $11) (29... Bd7 30. h4 {(or Rg1)} c5 31. dxc5 {is similar to}) (29... Bh3 30. Rg1) 30. dxc5 Bd7 31. Bd4 $1 Ba4+ 32. Ke1 Rb1+ {(...Bb3?! Kf2 ...Bc4 Rhe1)} (32... Bb3 $6 33. Kf2 Bc4 $2 34. Rhe1 $18) 33. Kd2 Rxh1 $8 34. Rxh1 Bb2 $8 35. h4 a1=Q 36. Rxa1 e3+ $1 37. Bxe3 Bxa1 38. Bd4 Bb2 $11) (26... Bf5 $11 {already seen in 22...Bf5}) 27. Kd2 $8 ( 27. Bd2 $2 e3 $1 (27... c5) 28. Bxe3 Bf5 $3 {[#](not allowing Bd3)} (28... Rxc3+ $2 29. Kd2 Bb4 30. Rb1 $1) 29. Kd2 (29. Bd3 Rxc3+ $8) 29... Rb2+ $1 30. Ke1 a2 $8 31. Ra1 Rb1+ $8 32. Kd2 Rxh1 $8 33. Rxh1 Bb1 $8 $19) (27. Bg5 $2 h6 $1 (27... Rxc3+ $2 28. Kb1 $1 e3 29. Rc1) 28. Be3 (28. Bh4 Bf4+) 28... Rxc3+ 29. Kd2 Bb4 $19) 27... Rb2+ $8 28. Ke1 a2 $1 (28... Bh3 $6 29. Ra1 $1 a2 30. Kd1 $1 Ba3 31. Rg1) 29. Ra1 (29. Kf2 Ba3 $1 (29... Bg4 $2 30. Rd2 $8) 30. Rhe1 (30. Rd2 $6 Rxd2 31. Bxd2 Bb2 {now that white King has moved away}) 30... Bg4 $8 31. Ra1 Be7 $3 32. Kf1 (32. Bf4 Bh4+ 33. Bg3 Bg5 $1) 32... Bh3+ $8 33. Kg1 Bh4 $8 34. Bf2 Bg5 $8 35. Bf1 Bxf1 $8 36. Rxf1 (36. Kxf1 Bd2 $8 37. Red1 g5 {Z}) 36... e3 $8 37. Be1 e2 $1 38. Rf3 Bh4 $3 {[#]} 39. Rxa2 (39. Bxh4 Rb1+) 39... Rxa2 40. Bxh4 Ra1+ $8 41. Kg2 e1=N+ 42. Bxe1 Rxe1 $19) 29... Bd7 $3 { target a4.} (29... c5 $2 {(too soon)} 30. dxc5 Be7 31. c6 $1) 30. Kd1 {Threat Bc1 without fearing ...Rb1.} (30. Kf1 $6 c5 $1 31. dxc5 Be5 $1 32. Bd4 Bxd4 33. cxd4 e3 $1) (30. Kf2 $6 Be7 $1 {as above}) 30... c5 $3 {[#]The strength of doubled pawns !} 31. dxc5 (31. Bc1 $2 Ba4+ $8) (31. c4 $2 Be7 $1 32. h4 (32. cxd5 Bh4 $1) 32... Bf6 $1 $19) 31... Be7 $1 {Threatens ...Bh4 for ...Ba4+.} ( 31... Be5 32. Bd4 $8 Bf6 $1 33. Bxf6 gxf6) 32. h4 Ba4+ {May be not the best.} (32... h6 $1 33. Bd4 (33. h5 Bf6 $1) (33. Bf2 Bf6 $1) 33... Bxh4 $1 34. Rxa2 Rb1+ $8 35. Kd2 Rxh1 $19) (32... Bf6 $1 33. Bd4 Bxh4 $1 (33... e3 $1) 34. Kc1 (34. Rxa2 Rb1+ $8 {: no more Bc1}) (34. Rxh4 Rb1+ $8 35. Kd2 Rxa1 36. c4 Rb1 $8 37. cxd5 $6 Rb4 $3 {for ...e3+}) 34... Rxe2 35. Rxh4 Ba4 $3 {[#](White rook h4 is dominated)} 36. Rg4 $1 Rc2+ $8 37. Kd1 Rg2+ 38. Ke1 Rxg4 39. Rxa2 Be8 $8 40. Ra8 (40. Ra7 c6) 40... Kf8 $8 (40... Kf7 41. Ra7) 41. c6 (41. Ra7 c6) 41... Rg6 $8 $19) (32... Bxh4 $6 33. Rxa2 $1 Rxa2 (33... Rb1+ $2 34. Bc1) 34. Rxh4 $11) 33. Ke1 $1 Bxh4+ 34. Kf1 $1 {Otherwise ...Tb1+.} Bf6 $1 35. Bd4 $1 Kf7 {Other continuations promise more.} ({Not} 35... Bc2 $2 36. Bxf6 gxf6 37. Kf2 $1 Bd3 (37... f5 $2 38. Ke3 $1) 38. Rhe1 $8 f5 39. Ke3 $8 f4+ 40. Kxf4 $8 Bxe2 $8 41. Rg1+ $8 Kf7 42. Rg2 $8 $11) ({But} 35... Bb3 $1 36. Bxf6 ( 36. Ke1 h5 $1 37. Bxh5 Bc4 $3) 36... gxf6 37. Kf2 f5 $1 38. Ke3 f4+ $8 39. Kxf4 Rxe2 40. Rag1+ Kh8 $8 $19) ({Or even better} 35... h5 $3 {(the pawn is doubly... uncapturable)} 36. Bxf6 (36. Rxh5 Rb1+) (36. Bxh5 Bb5+ $8 37. Kg1 { (Ke1 ...Bd3)} Bxd4+ 38. cxd4 Bc4 $1 39. Bg4 Kf7 $19) (36. Rg1 Bxd4 37. cxd4 e3 38. Bd3 Bd7 $3 39. Rh1 Bg4 $1) 36... gxf6 37. Kf2 Bb5 $8 (37... f5 $2 38. Ke3) 38. Rhe1 f5 $8 39. Kf1 (39. Ke3 f4+ $8) 39... Ba4 $3 {[#](switchback of Bishop for f4-f3)} 40. Bd1 Bxd1 41. Raxd1 (41. Rexd1 f4 42. Rxd5 e3) 41... h4 $3 (41... f4 $2 42. Rxd5 $8 $11 {for Rd8-a8 or Rg5-g2}) 42. Rxd5 h3 $19) ({But not} 35... Bxd4 $6 36. cxd4 e3 37. Bd3 $8) 36. Ke1 $8 (36. Bxf6 $2 gxf6 37. Bg4 Bb5+ $1 38. Ke1 Bd3 $19) (36. Kf2 $2 Bb5 $8 37. Rae1 Bd3 $19) 36... Bb3 $6 {Seems let the win slip away.} (36... Ke6 37. Bg4+ $8 (37. Bd1 $2 Bb5 $8) 37... Ke7 (37... Kf7 38. Be2) 38. Bxf6+ $1 (38. Be2 $2 Kd7 $1) 38... Kxf6 39. Rf1+ Ke7 40. Bd1 $1 Rb1 $8 (40... Bb5 $4 41. Rf2) 41. Rxa2 $8 Rxd1+ 42. Ke2 Rxf1 43. Kxf1 Bb5+ 44. Kf2 h5 $17) (36... Bc2 $1 {(the best ?)} 37. Bh5+ (37. Rf1 Bd3 $3) (37. Bxf6 Rb1+ $8 38. Kd2 Rxh1 $8 39. Rxa2 {(idem sur Txh1)} Bb1 $8) 37... Ke7 $8 (37... g6 $2 38. Rf1) 38. Kf2 (38. Bxf6+ Kxf6 39. Kd2 {(Kf2 ...Ke5)} Bb1+ $1 40. Ke3 Rc2 $19) 38... Bd3+ $1 39. Kg3 g6 $1 40. Bd1 h5 $17) 37. Bxf6 $8 (37. Rf1 $2 Ke6 $8 (37... Ke7 $2 38. Bxf6+ $8 gxf6 39. Kf2 $8) 38. Bxf6 (38. Bg4+ Ke7 $8 {and no more Kf2}) 38... gxf6 39. Kf2 (39. Bg4+ Ke7 $1 40. Be2 f5 $1 ) 39... f5 40. Ke3 Ke5 $8 {for ...f4+ Rxf4 ...Rxe2+}) 37... gxf6 38. Kf2 $8 ( 38. Rxh7+ $2 Ke6 {(threatens ...Rb1+)} 39. Rh1 f5 $19) (38. Bd1 $2 Bxd1 $1 (38... Bc4 $1 39. Rxh7+ Ke6 $1 40. Rxc7 Rb1) 39. Kxd1 f5 $1 40. Kc1 Rf2 $1 41. Rxh7+ Kf6 $3 {[#](an example of a " middle ground ": the access of white Rook on the "e" file, while forbidding the Re8+ thread)} (41... Kg6 $2 42. Rxc7 $3 e3 $2 43. Re7 $18) (41... Ke6 $2 42. Rh8 $3 f4 43. Ra8 $3 Rf1+ 44. Kb2 Rxa1 45. Kxa1 e3 46. Kb2 $3 {(Kxa2? ...Ke7! which would now lose on Kc2!)} f3 $8 47. Re8+ $8 Kf5 $8 48. Rxe3 $8 Kf4 49. Re8 $11) 42. Rh8 (42. Rxc7 e3 43. Rc6+ Ke7 $1 44. Rc7+ Kd8 $1 $19) 42... f4 $1 43. Ra8 Rf1+ $8 44. Kb2 Rxa1 $8 45. Kxa1 e3 $1 46. Re8 (46. Kb2 e2 $1) 46... Kf5 47. Kxa2 Kg4 $8 48. Kb2 f3 $8 49. Rxe3 f2 $8 $19) 38... Ke6 (38... Bc4 {(a suite requiring a bunch of forced white replies)} 39. Rhe1 $8 (39. Rxh7+ $2 Ke6 $19) 39... f5 {(for ...f4)} 40. Kf1 $8 Bb3 {(as on the 37th black move, with Pf6 on f5 and a kind of prolonged white castling, with Re1 & Kf1 !)} 41. Bd1 $8 Bxd1 42. Rexd1 $8 {(compare with suite 38 Bd1?)} f4 {(how to fight the oil flow ?)} 43. Rd4 $3 {[#]} f3 44. Rb4 $8 Rh2 $1 (44... Rc2 45. Ra4 $1) 45. Kg1 $8 Rg2+ 46. Kf1 $8 (46. Kh1 $2 Re2 $1 47. Kg1 {(Kf1 ...Ke6!)} f2+ $1 48. Kf1 Re1+ $8) 46... Ke6 (46... e3 $6 47. Rf4+ $8) (46... Kg7 $1 47. Ra4 $8 e3 48. R4xa2 $8 e2+ 49. Ke1 $8 Rg1+ $1 50. Kd2 e1=Q+ 51. Rxe1 f2 52. Rea1 f1=Q 53. Rxf1 Rxf1 54. Kd3 h5 55. Rh2 Rf5 $17) 47. Ra4 $8 e3 48. R4xa2 $8 e2+ $8 49. Ke1 $8 Kd7 $8 (49... Kf5 $2 50. Kd2 $8 Rf2 51. Re1 $3 Rf1 {(...Rg2 Ra8!! ...f2 Rf8+)} 52. Raa1 $18) 50. Kd2 $1 Rf2 $8 51. Ra6 {(threatens Rh1 ...Rf1 Ra1 now that there is no longer ...e1Q+)} (51. Re1 Rg2 $3 {(threatens ...f2)} 52. Rea1 $1 Rf2 $8 $11 { : astounding draw by repetition !}) 51... Rf1 $8 52. Re1 $1 {(for Raa1)} f2 $8 53. Rxe2 $8 Rd1+ $8 54. Kxd1 $8 f1=Q+ $8 55. Kd2 $8 $11) (38... f5 {(has no longer the same impact)} 39. Ke3 $1 f4+ 40. Kxf4 Rxe2 41. Rxh7+ Ke8 42. Ke5 $1 ( 42. Rh8+ $2 Kd7 $8) 42... e3 43. Rxc7 Rf2 $8 44. Rb7 e2 45. Ke6 Kf8 $1 (45... Kd8 $1) 46. Rb8+ Kg7 47. Rg1+ $8 Kh7 $8 $11) 39. Ke3 $8 f5 {For 20 moves, Black has been playing with one rook less, as if it were the most natural thing in the world. Of course, this is an analysis, but it follows quite naturally from the "brilliant sacrifice".} 40. Rxh7 $1 (40. Kd4 $6 {(for Psychedelic chess)} Rxe2 41. Rh6+ $8 Kd7 $1 (41... Ke7 42. Rg1 $1) 42. c6+ $8 (42. Rg1 $2 Rd2+ $8 43. Ke5 Kc8 $3 44. c6 Kb8) 42... Kc8 43. Rxh7 Kb8 $8 44. Rg1 $3 {[#]} (44. Kc5 $2 Rc2 $3) 44... Rg2 $1 45. Rxg2 $8 a1=Q 46. Rg8+ $8 Ka7 47. Rxc7+ $8 Kb6 $8 48. Rcg7 $3 {[#](but neither on f7 nor on h7: middle ground !)} Qa4+ ( 48... Qa3 49. Ke5 $8 Bc4 50. c7 $8 Qxc3+ 51. Kf4 $8 $11) 49. Ke5 $8 d4 (49... Qa5 50. c7 $8 Qxc3+ $8 {(...d4+ Kf6!! wins, but the result would be the opposite in case of 48 Rf7? with the Bishop capturing both Rooks)} 51. Kxf5 $11) (49... Qxc6 { (this would win on 48 Rh7?)} 50. Rg6 $8 $11) 50. c7 $8 Qb5+ $8 51. Kf4 $8 Qf1+ $8 52. Ke5 $11) 40... Rb1 (40... f4+ 41. Kxf4 $8 Rxe2 42. Rh6+ $8 Ke7 ( 42... Kd7 43. Ke5 $1) 43. Rh7+ $1 Kd8 44. Ke5 $1 Rg2 45. c6 $1 $11) 41. Rxa2 $1 (41. Rh1 $6 {(acrobatic defence)} Rxh1 42. Rxh1 Ke5 43. Bh5 $3 {[#](keeping eye on f3)} (43. Ba6 $2 f4+ $8 44. Kd2 {(Ke2 does not change much here)} d4 $8 45. Rh5+ Kf6 $1 {(or ...Ke6-d5-c6)} 46. Rh6+ Kg5 $1 47. Rh1 d3 $8 48. Ra1 { (Bb7 ...Bc2! for ...Bb1)} Bc2 $1 {(...f3! Ke3 ...d2!)} 49. Bxd3 Bxd3 50. Rxa2 Kg4 $1 51. Ra8 {(Ra4 ...Kg3!)} Bc4 $1 52. Re8 e3+ $1 53. Ke1 Kg3 $8 54. Re7 f3 $8 55. Rxe3 Kg2 $19) 43... f4+ 44. Ke2 $3 {[#](a new case of " middle ground " impressive: it is necessary at the same time to supervise the arrival of the Black King on d3 and neutralize from f2 black pawn f3)} (44. Kd2 $2 d4 $8 45. cxd4+ Kxd4 $8 46. Rc1 f3 $8 $19) (44. Kf2 $2 d4 $8 45. cxd4+ Kxd4 46. Rc1 Kd3 $8 $19) 44... d4 ( 44... Bc4+ 45. Kf2 $8 d4 46. cxd4+ $8 Kxd4 47. Rc1 $8 {(for ...Kd3 Be2+)} Bd5 48. Ke2 $8 {is the same}) (44... Bc2 45. Ra1 $8 Bb1 46. Kd2 $1 {(Ke1? ... f3! or c6? ...Kd6! but Kf2! is sufficient)} d4 47. cxd4+ $8 Kxd4 48. Bf7 $8 e3+ 49. Ke2 $1 Kc3 $8 50. Bxa2 Bd3+ $8 51. Kf3 $8 Kb2 $8 $11) 45. cxd4+ $8 Kxd4 46. Rc1 $8 Bd5 {(with white Bishop on a6, the threat ...e3 then ...f3 would decide)} (46... f3+ 47. Kf2 $8 Kd3 48. Ra1 $1 Kd2 {(...Kc2 Ke3)} 49. Kg3 $3 Kc3 {(...Bd5 Kf4 ...Kc2 Rh1!! : see further)} 50. Bg6 $8 Bd5 51. Bxe4 $1) 47. Bg4 $8 {(no zugzwang !)} f3+ (47... e3 48. Bh5 {blocking}) 48. Kf2 $8 Kd3 (48... e3+ 49. Kg3 $8 f2 {(...Kd3 Bxf3! or ...Be4 Be6!)} 50. Be2 $8) 49. Kg3 $3 {[#](to avoid check on e3 and let the Rook work on the 2nd row)} Kd2 50. Rh1 $3 {(just enough space !)} (50. Rf1 $2 e3 $1 51. Bxf3 Bxf3 52. Kxf3 e2 $8 $19) (50. Ra1 $2 Kc2 $1) 50... Kc2 ( 50... e3 51. Bxf3 $8 Bxf3 $2 52. Kxf3 e2 53. Kf2 $8 $18) (50... Bb3 51. Ra1 $3 Kc3 52. Bf5 $8) (50... f2 51. Rd1+ $8 Ke3 52. Ra1 Bc4 53. Bh3 $8) 51. Kf4 $3 Kb2 52. Rh2+ $8 Ka3 53. Rh1 $8 $11) (41. Rh6+ $2 Ke5 $8 42. Rh1 f4+ $1 43. Kf2 Rb2 $1 $19) 41... Bxa2 42. Rxc7 $2 {"normal" move and... wrong.} (42. Kf4 $3 Rb2 (42... d4 43. cxd4 $8 Rb2 44. Bh5 $1) 43. Rh6+ $8 Ke7 (43... Kf7 44. Bh5+ $1 Kg7 45. Rc6) 44. Ba6 $3 {[#](it is funny that White saves the game by having 2 pawns less: a tribute to their opponent)} (44. Bh5 $2 Rh2 $3 {: Thus, good and bad are interchanged, compared to the continuation of the 41st move}) 44... Rf2+ (44... Bc4 45. Bxc4 dxc4 46. Kxf5 e3 47. Re6+) (44... Bb3 45. Kxf5 Rf2+ 46. Ke5 $11) (44... Rb3 45. Rh7+ $1 Kd8 46. c6 $1) 45. Ke5 $3 {[#] (magnificent radiance)} d4 (45... f4 $2 46. c6 $18) (45... e3 $2 46. Rh7+ $1 Kf8 {(...Kd8 Ke6! ...d4+ c4! +-)} 47. Kf6 $1 Kg8 48. Rxc7 $16) 46. cxd4 e3 47. d5 e2 48. d6+ cxd6+ 49. cxd6+ Kf7 50. Rh7+ Kg6 51. Rh1 $8 $11) 42... Re1 $3 {[#]} (42... Rh1 $2 43. Kf4 $1 Rh4+ 44. Kg3 $11) 43. Kd2 (43. Kf2 Rc1 $1 44. Ke3 Bc4 $3 ( 44... Rxc3+ 45. Kd4) 45. Kd2 (45. Bxc4 Rxc3+) 45... Rh1 $3 {[#](as far away as possible, but the motivation is not remoteness !)} 46. Bxc4 dxc4 47. c6 f4 $8 {(with bR in g1, there would now be Rh7!!)} 48. Rg7 e3+ $8 49. Ke2 Rh2+ $8 50. Kf3 Rf2+ $8 {and the Rook on g7 forbids Kg4}) (43. Rc6+ Ke5 $8) 43... Rh1 $1 44. Ke3 Bc4 $1 (44... Rh3+ $2 45. Kd4 $1) 45. Bxc4 dxc4 46. c6 Rh3+ $8 47. Kd4 (47. Kd2 f4 $1) (47. Ke2 Rxc3 48. Rh7 Rg3 $1) 47... e3 $3 {[#]} 48. Rc8 f4 $1 ( 48... Kd6 $1 49. Re8 f4 $1 50. Ke4 Kxc6 $1 51. Kxf4 e2 $8 52. Rxe2 Rxc3 $8 53. Ke4 Rd3 $1 $19) 49. Kxc4 (49. Re8+ Kd6 $8) 49... Kd6 $8 50. Kd3 (50. c7 Rh2 $1) 50... Rh2 $1 (50... Rf3 $1) 51. Re8 Kxc6 52. Ke4 Rf2 $8 53. Kd3 {Still some finesse.} Kd5 $3 {[#]} (53... Kd6 $6 54. c4 $1 {Z} Rh2 $1 55. Ke4 (55. Re4 Rd2+ $1 56. Kc3 Rf2 $8 57. Kd3 Kc5 $8 {: text}) 55... Kd7 $8 56. Re5 Rf2 $8 57. Kd3 Kc6 $3 {[#]} (57... Kd6 $6 58. Re8 {Z}) 58. Re8 Kd6 $8 {Z : see text}) ( 53... Rd2+ $6 54. Ke4 Kd7 55. Re5 Rf2 $8 56. Kd3 Kd6 $1 57. Re8 Kd5 $8 {: waste of time}) 54. c4+ (54. Rd8+ Ke5 $1 55. Re8+ Kf5 {to f3}) 54... Kd6 $8 {Z} 55. Re4 (55. Rd8+ Ke7 $1) (55. Rf8 e2 $1 56. Kd2 f3 $1) 55... Kc5 $8 56. Re5+ Kb4 $8 57. Re8 Rf1 $8 58. Rb8+ Kc5 $8 59. Rb2 (59. Re8 Rd1+ $1 60. Ke2 ( 60. Kc3 f3 $1) 60... Rd4 $1) (59. Rc8+ Kd6 $8) 59... Rd1+ $1 60. Ke2 (60. Ke4 Rd2 $1 61. Rb1 Rf2 $1) 60... Rd4 $1 61. Kf3 Kxc4 62. Rb8 Kc3 {The simplest plan is to is to place the bR on c4, the bK on c1 and play ...Rc4-c2.} 0-1 [Event "2#"] [Site "?"] [Date "2016.??.??"] [Round "?"] [White "Gavrilovski, Z."] [Black "1854.22"] [Result "1-0"] [SetUp "1"] [FEN "b5B1/2nrrP2/1K1PR2Q/1p1kNp2/1R6/6B1/8/8 w - - 0 1"] [PlyCount "0"] [EventDate "2016.??.??"] [SourceDate "2000.07.25"] 1-0 [Event "2#"] [Site "?"] [Date "1928.??.??"] [Round "?"] [White "Van Dorst, P."] [Black "1413.24"] [Result "1-0"] [SetUp "1"] [FEN "8/K2pQn1B/1pp5/4R3/2pk4/3P2r1/3P4/8 w - - 0 1"] [PlyCount "0"] [EventDate "1928.??.??"] [SourceDate "2000.07.25"] 1-0 [Event "2#"] [Site "?"] [Date "1960.??.??"] [Round "?"] [White "Stocchi, O."] [Black "4835.45"] [Result "1-0"] [SetUp "1"] [FEN "8/ppQKNN2/5p2/5R2/2pkPR2/b4p1q/2PP1P2/1r1nr3 w - - 0 1"] [PlyCount "0"] [EventDate "1960.??.??"] [SourceDate "2000.07.25"] 1-0 [Event "2#"] [Site "?"] [Date "1979.??.??"] [Round "?"] [White "Ruchlis, E."] [Black "4518.24"] [Result "1-0"] [SetUp "1"] [FEN "r7/7p/2N1Q2K/p2n2p1/P1kPN1R1/5R1p/n6q/4B3 w - - 0 1"] [PlyCount "0"] [EventDate "1979.??.??"] [SourceDate "2000.07.25"] {Presented at the Serbian Championship 2017.} -- 1-0 [Event "2#"] [Site "?"] [Date "1930.??.??"] [Round "?"] [White "Pleasants, L."] [Black "4828.32"] [Result "1-0"] [SetUp "1"] [FEN "2N5/2Pq2nQ/r1R1RB2/1Nrk4/1P4p1/2pB4/2P2nK1/8 w - - 0 1"] [PlyCount "0"] [EventDate "1930.??.??"] [SourceDate "2000.07.25"] 1-0 [Event "2#"] [Site "?"] [Date "1964.??.??"] [Round "?"] [White "Orlik, P."] [Black "4128.32"] [Result "1-0"] [SetUp "1"] [FEN "8/4K3/P3NP1B/4p2R/1NnPk3/1p6/2n1B3/qQ6 w - - 0 1"] [PlyCount "0"] [EventDate "1964.??.??"] [SourceDate "2000.07.25"] 1-0 [Event "2#"] [Site "?"] [Date "2016.??.??"] [Round "?"] [White "Ewald, K."] [Black "4475.44"] [Result "1-0"] [SetUp "1"] [FEN "1Q2b2b/P7/r7/1R1p2N1/qP1k2pp/2pP3n/2P1K2B/N7 w - - 0 1"] [PlyCount "0"] [EventDate "2016.??.??"] [SourceDate "2000.07.25"] 1-0 [Event "2#"] [Site "?"] [Date "1930.??.??"] [Round "?"] [White "Fegan, B."] [Black "4018.21"] [Result "1-0"] [SetUp "1"] [FEN "2N1nK2/1n3Q2/k2pN3/1q1P4/1P6/8/8/5B2 w - - 0 1"] [PlyCount "0"] [EventDate "1930.??.??"] [SourceDate "2000.07.25"] 1-0 [Event "2#"] [Site "?"] [Date "1962.??.??"] [Round "?"] [White "Bwee, Touw Hian"] [Black "1522.13"] [Result "1-0"] [SetUp "1"] [FEN "3R1R2/3B1N2/r7/2pN2p1/3PkB2/pQ6/8/K7 w - - 0 1"] [PlyCount "0"] [EventDate "1962.??.??"] [SourceDate "2000.07.25"] 1-0 [Event "2#"] [Site "?"] [Date "1995.??.??"] [Round "?"] [White "Rossomakho, Y."] [Black "0258.53"] [Result "1-0"] [SetUp "1"] [FEN "8/B1n2R2/2N4p/R3P1p1/1b1NkP2/6pP/B2PP3/nK6 w - - 0 1"] [PlyCount "0"] [EventDate "1995.??.??"] [SourceDate "2000.07.25"] 1-0 [Event "2#"] [Site "?"] [Date "1923.??.??"] [Round "?"] [White "Van der Ven, A."] [Black "1234.13"] [Result "1-0"] [SetUp "1"] [FEN "1b2K3/3pP2N/R1p1k3/6R1/5p1n/Q7/8/8 w - - 0 1"] [PlyCount "0"] [EventDate "1923.??.??"] [SourceDate "2000.07.25"] 1-0 [Event "2#"] [Site "?"] [Date "1982.??.??"] [Round "?"] [White "Brown, DL."] [Black "4281.44"] [Result "1-0"] [SetUp "1"] [FEN "qB6/3B4/2p2p1K/5R2/1p1pk3/Q1P5/2PRbPP1/1Nb5 w - - 0 1"] [PlyCount "0"] [EventDate "1982.??.??"] [SourceDate "2000.07.25"] 1-0 [Event "2#"] [Site "?"] [Date "1965.??.??"] [Round "?"] [White "Gooderson, A & Reeves Ch"] [Black "1584.43"] [Result "1-0"] [SetUp "1"] [FEN "4N3/1bpP2BB/4p3/1P1k1n2/4RP2/1P1N3K/Q1rpR3/b7 w - - 0 1"] [PlyCount "0"] [EventDate "1965.??.??"] [SourceDate "2000.07.25"] 1-0 [Event "3#"] [Site "?"] [Date "2017.??.??"] [Round "?"] [White "Lambrinakos, P."] [Black "1001.24"] [Result "1-0"] [SetUp "1"] [FEN "3N1K2/6pp/5k2/3p3P/8/4p1P1/2Q5/8 w - - 0 1"] [PlyCount "0"] [EventDate "2017.??.??"] [SourceDate "2000.07.25"] 1-0 [Event "3#"] [Site "?"] [Date "1949.??.??"] [Round "?"] [White "Knudsen, B."] [Black "1210.48"] [Result "1-0"] [SetUp "1"] [FEN "1R5B/p3p3/P1k1P3/2P3p1/p3Pp2/p2pp3/K1R4Q/8 w - - 0 1"] [PlyCount "0"] [EventDate "1949.??.??"] [SourceDate "2000.07.25"] 1-0 [Event "3#"] [Site "?"] [Date "1837.??.??"] [Round "?"] [White "D'Orville, A."] [Black "0012.21"] [Result "1-0"] [SetUp "1"] [FEN "3N4/1N6/8/2Bk4/4pP2/2K5/4P3/8 w - - 0 1"] [PlyCount "0"] [EventDate "1837.??.??"] [SourceDate "2000.07.25"] 1-0 [Event "4#"] [Site "?"] [Date "1962.??.??"] [Round "?"] [White "Guttman, EMH."] [Black "1313.22"] [Result "1-0"] [SetUp "1"] [FEN "r5nk/4P3/2p3Q1/2P5/1p6/1B4K1/8/8 w - - 0 1"] [PlyCount "0"] [EventDate "1962.??.??"] [SourceDate "2000.07.25"] 1-0 [Event "4#"] [Site "?"] [Date "1963.??.??"] [Round "?"] [White "Paboucek, J."] [Black "0025.17"] [Result "1-0"] [SetUp "1"] [FEN "5k2/ppN4K/3p2Pn/3N4/4p1p1/2p5/B1p5/6B1 w - - 0 1"] [PlyCount "0"] [EventDate "1963.??.??"] [SourceDate "2000.07.25"] {e & g pawns added by AV.} -- 1-0 [Event "5#"] [Site "?"] [Date "1964.??.??"] [Round "?"] [White "Caresmel, A."] [Black "0112.00"] [Result "1-0"] [SetUp "1"] [FEN "8/8/5N2/2BNk3/8/5R2/8/1K6 w - - 0 1"] [PlyCount "0"] [EventDate "1964.??.??"] [SourceDate "2000.07.25"] 1-0 [Event "h#2 3 sol"] [Site "?"] [Date "1988.??.??"] [Round "?"] [White "X..."] [Black "3786.43"] [Result "1-0"] [SetUp "1"] [FEN "4r1r1/4nk2/p1q3p1/2Pn1P1p/1PK1b2P/5R2/BB3b2/8 b - - 0 1"] [PlyCount "0"] [EventDate "1988.??.??"] [SourceDate "2000.07.25"] {Presented at the 1988 World Championship.} -- 1-0 [Event "h#3"] [Site "?"] [Date "1951.??.??"] [Round "?"] [White "Tipary, E."] [Black "0113.46"] [Result "1-0"] [SetUp "1"] [FEN "8/2p1p1B1/2K3p1/3nPpP1/3p3R/3Pk3/4P2p/8 b - - 0 1"] [PlyCount "0"] [EventDate "1951.??.??"] [SourceDate "2000.07.25"] {Presented at the 1988 World Championship.} -- 1-0 [Event "h#6,5"] [Site "?"] [Date "2017.??.??"] [Round "?"] [White "Lois, J."] [Black "3376.27"] [Result "1-0"] [SetUp "1"] [FEN "6q1/8/2np1n1r/3b2p1/3pB1p1/k1p1p2p/2P1Pb2/7K w - - 0 1"] [PlyCount "0"] [EventDate "2017.??.??"] [SourceDate "2000.07.25"] 1-0 [Event "s#3"] [Site "?"] [Date "1964.??.??"] [Round "?"] [White "Hernitz, Z."] [Black "1071.46"] [Result "0-1"] [SetUp "1"] [FEN "bBQ5/8/6p1/Pp1k2P1/1P4p1/1p6/1P3p1p/5NbK w - - 0 1"] [PlyCount "0"] [EventDate "1964.??.??"] [SourceDate "2000.07.25"] 0-1