---
Letter to J. H. Ulrichsen: when I was in Norway (1980-1) I saw a 13 year old boy presented as a great hope, his name was S. Agdestein. Now he is an old man (!!) and Carlsen is all that is talked about. A Bob Dylan song says that one has not had time to be born, one is already preparing to die ("not busy being born, he's busy dying"). That's how it is... Well, the "old man" will reach 40 years of age, but in a field that we are told is mainly concerned with sport, he is indeed an old man.

A useful reminder: seven of the ten studies Dvoretzky gives as examples (for the competition for studies "likely to please players" to celebrate his 60th birthday) were presented in St-Lazare, as attentive listeners will be able to testify.

Talking about studies and endgames, do you know the "hollow brick" of the Batave Van Perlo which manages the feat of being the chess book containing the most errors I have read in 40 years, which may seem incredible in the era of Fritz and tablebases? But this brick contains 1105 positions (which I tried to read in full this summer between Slovenia, Croatia, Hungary and keeping the Bosnian cows), some of which, let's face it, were worth digging up.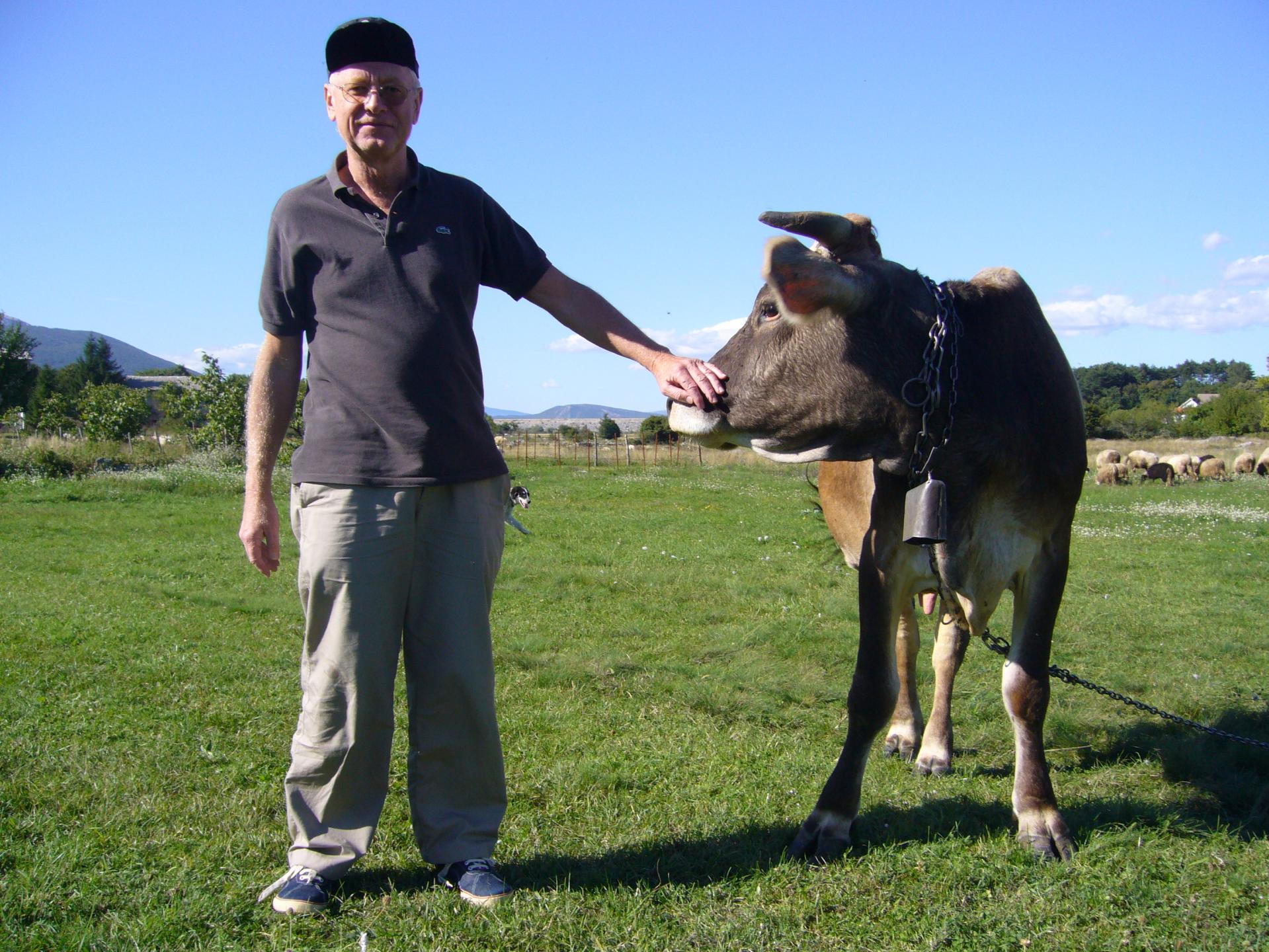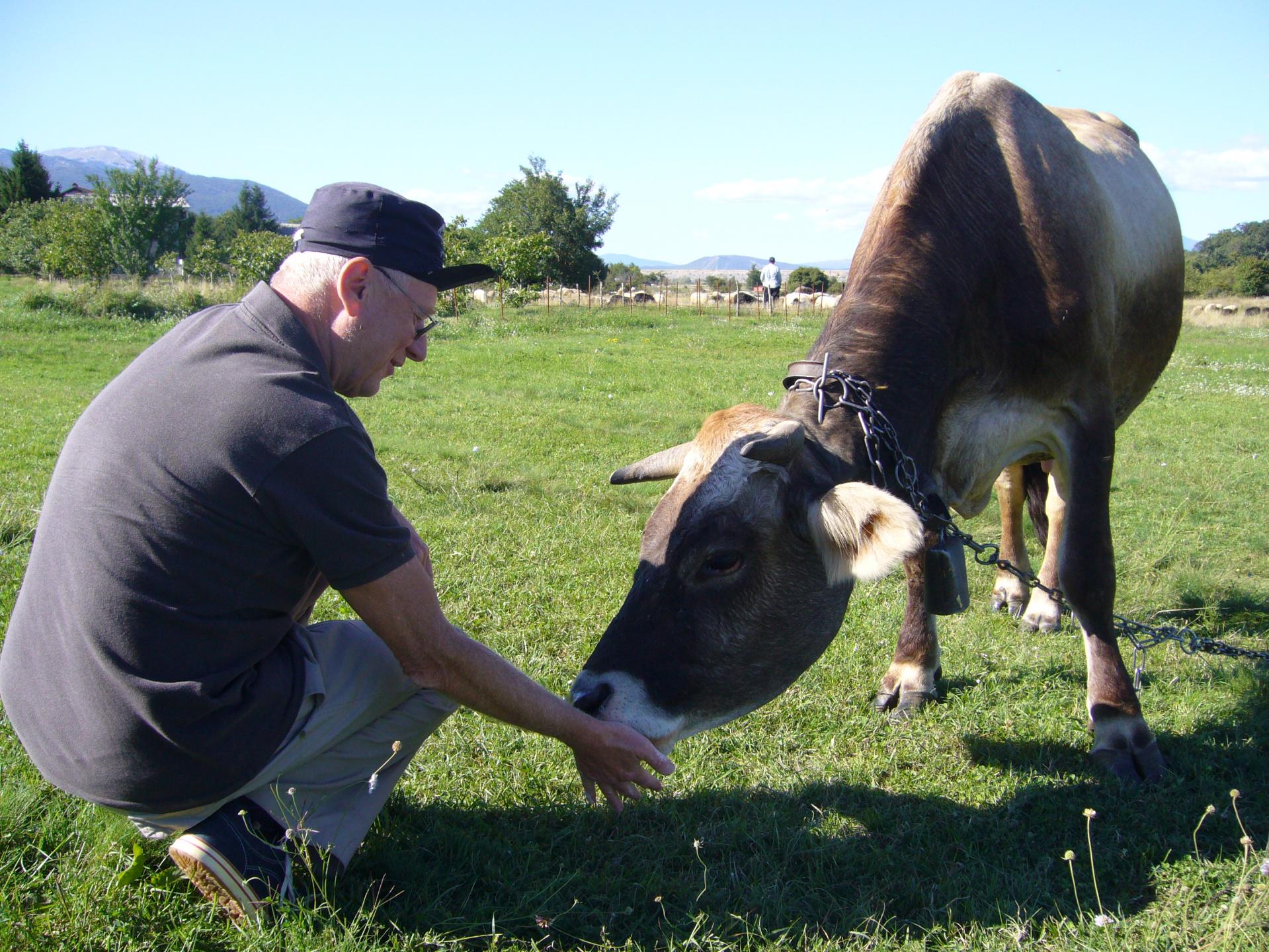 Two anecdotes relating to Paul Kérès, the unanimously appreciated Chess gentleman, who is not generally expected in the role of a biting commentator. To Pachman telling that his mother, when she taught him Chess, confused the initial location of the Bishop and the Knight, Kérès remarked: "This is something one should keep in mind when studying your books on openings". To Euwe telling that Alekhine took off his jacket after he had sacrificed a Knight, Keres asks, "If you had sacrificed the Queen, do you think he would have taken off his trousers?" Anecdotes (among many others) told last year, by Wolfgang Unzicker, "world champion of amateurs", as Karpov called him, for his 80th birthday party.

After these few summer scents, let's get to work.

What could these three 2# have in common? It's not very difficult. The first 3#, however, took me 30 minutes. That's a lot of time (in the world championship, you have one hour for three). Who can do better? The second one is not easy either. Moreover, it is dedicated to V. Rudenko. So it can't be bad! The first 4# is easier, the mate can be guessed: it's just a question of the floor! The second one reminds me of the great Adolf Anderssen, I wonder why. The helpmate 5# was recently offered at two national solving championships. We preceded it with an easy 2# helpmate so as not to frighten.

Five studies: a joke that confuses the analysis engines (they don't like zugzwang). Then a single pawn supposed to keep two linked pawns at bay. The ending is unexpected, to say the least. Another rescue where the linked pawns have this time the beautiful role, to the point of playing with two less figures. Then a festival of sacrifices by both sides. We finish with an impressive harvest of ZZ ("reciprocal zugzwangs") in Bishop against Rook + pawn. Of course, this last study being a quarter of a century old, all this precision was established with simple brains. A little better trained than ours? But what are you looking for?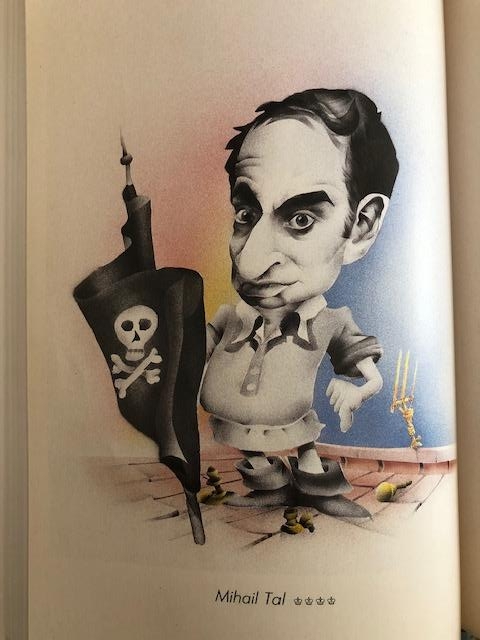 Two world champions at loggerheads, for the game mentioned on 20 May 2003. To give Tal such an activity is to put his head between the jaws of the lion. He will indeed find himself in a winning situation, but an unexploited inaccuracy could have led these two great players into the galaxy of artistic chess, with a trio of corresponding wQ/bQ squares.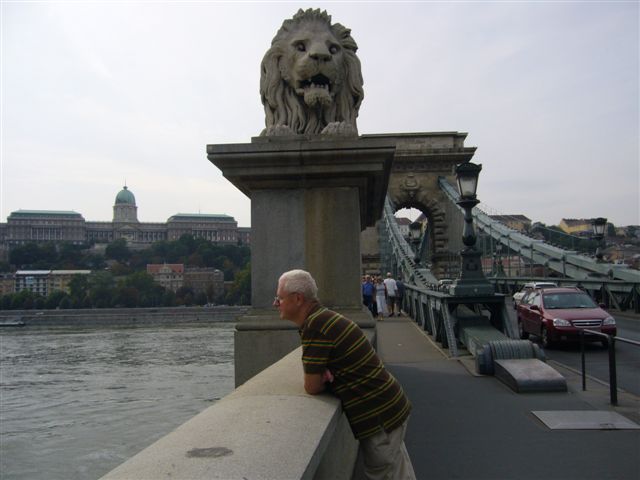 Have a good meal. See you in a fortnight and may God keep you.
Master's diagrams
[Event "2#"] [Site "?"] [Date "1892.??.??"] [Round "?"] [White "Loyd, S."] [Black "+1122.01h8h4"] [Result "1-0"] [SetUp "1"] [FEN "7K/8/8/8/R4pNk/8/1Q6/2BB1N2 w - - 0 1"] [PlyCount "1"] [EventDate "1892.??.??"] 1. -- 1-0 [Event "2#"] [Site "?"] [Date "1973.??.??"] [Round "?"] [White "Macleod, N."] [Black "+4852.33d7f7"] [Result "1-0"] [SetUp "1"] [FEN "6rR/2PK1kp1/R7/3N1pr1/4pP2/B1Q1P2N/B5q1/b7 w - - 0 1"] [PlyCount "1"] [EventDate "1973.??.??"] 1. -- 1-0 [Event "2#"] [Site "?"] [Date "1979.??.??"] [Round "?"] [White "Mansfield, C."] [Black "+4226.15h2f5"] [Result "1-0"] [SetUp "1"] [FEN "5n2/1p5n/3R4/3p1k1B/4pB1P/3p4/p2Q3K/q4R2 w - - 0 1"] [PlyCount "1"] [EventDate "1979.??.??"] 1. -- 1-0 [Event "3#"] [Site "?"] [Date "1905.??.??"] [Round "?"] [White "Cisar, V."] [Black "+1742.35e8e6"] [Result "1-0"] [SetUp "1"] [FEN "4Kb2/4NP1p/1p1pk2r/1R1Nr1p1/Q1B2p2/7P/3P4/8 w - - 0 1"] [PlyCount "1"] [EventDate "1905.??.??"] 1. -- 1-0 [Event "3#"] [Site "?"] [Date "1998.??.??"] [Round "?"] [White "Agapov, I & Bakharev A"] [Black "+0458.35c7e5"] [Result "1-0"] [SetUp "1"] [FEN "8/BpK2p1r/5p2/n1N1kb2/1R1N1pP1/1Pp2B2/4P2n/8 w - - 0 1"] [PlyCount "1"] [EventDate "1998.??.??"] 1. -- 1-0 [Event "4#"] [Site "?"] [Date "1922.??.??"] [Round "?"] [White "Knotek, L."] [Black "+1100.12g2d5"] [Result "1-0"] [SetUp "1"] [FEN "8/4Rp2/8/3k4/6Q1/6p1/1P4K1/8 w - - 0 1"] [PlyCount "1"] [EventDate "1922.??.??"] 1. -- 1-0 [Event "4#"] [Site "?"] [Date "1887.??.??"] [Round "?"] [White "Kondelik, K."] [Black "+1216.26b7d6"] [Result "1-0"] [SetUp "1"] [FEN "6n1/1K2p2n/3kB3/2p2P2/1p6/4p3/p2pP3/Q3R2R w - - 0 1"] [PlyCount "1"] [EventDate "1887.??.??"] 1. -- 1-0 [Event "h#2 3 sol"] [Site "?"] [Date "1995.??.??"] [Round "?"] [White "Parrinello, M."] [Black "+4048.06e5b6"] [Result "1-0"] [SetUp "1"] [FEN "1N1n4/1p2p3/Nk2p3/q2pK3/npB3Q1/8/6p1/6b1 b - - 0 1"] [PlyCount "1"] [EventDate "1995.??.??"] 1... -- 1-0 [Event "h#5 2 sol"] [Site "?"] [Date "1996.??.??"] [Round "?"] [White "Jonsson, Ch"] [Black "0043.14"] [Result "1-0"] [SetUp "1"] [FEN "8/8/2k1n3/3p4/3B1p1p/1p6/1K1P4/4b3 b - - 0 1"] [PlyCount "1"] [EventDate "1996.??.??"] 1... -- 1-0 [Event "?"] [Site "?"] [Date "1927.??.??"] [Round "?"] [White "Kubbel, L."] [Black "+0000.23d6c4"] [Result "1-0"] [SetUp "1"] [FEN "8/8/1p1K4/Pp6/2k1p3/8/1P6/8 w - - 0 1"] [PlyCount "13"] [EventDate "1927.??.??"] 1. a6 $8 (1. axb6 $2 e3 $8 2. b7 e2 $8 3. b8=Q e1=Q $8 $11) 1... e3 2. a7 $8 e2 3. a8=Q $8 e1=Q 4. Qd5+ $8 Kb4 5. Qd3 $3 {ZZ[#] A good illustration of the "ideal distance": a knight's step.} Qc1 (5... Qa1 6. Qc3+ $8 Ka4 7. b3+ $8 {[#]} ) (5... Ka4 $6 6. Qa3#) (5... Qh1 6. Qc3+ {(ou en a3)}) (5... -- $11 6. Kd5 (6. Kd7 Qe5 $1) 6... Qh1+ $8) 6. Qa3+ $8 Kc4 7. b3+ $8 {[#]symetrical echo.} 1-0 [Event "?"] [Site "?"] [Date "1994.??.??"] [Round "?"] [White "Mironenko, N."] [Black "=0400.12d5b5"] [Result "1/2-1/2"] [SetUp "1"] [FEN "8/8/8/1k1KP3/2p5/1p6/2r5/4R3 w - - 0 1"] [PlyCount "16"] [EventDate "1994.??.??"] 1. e6 $8 Rd2+ 2. Ke5 $8 (2. Ke4 $2 Rd6 $1 3. Kf3 Rxe6 $1 {(the linked pawns are too strong)} 4. Rxe6 b2 5. Re8 c3 $19) 2... Rd8 (2... Kc6 3. Re4 $1 b2 (3... Rd5+ 4. Kf4 $8) 4. Rxc4+ $8 Kb5 5. Rc8 $8 $11) 3. e7 $8 Rc8 (3... Re8 4. Kd4 $8 Kb4 5. Re6 $8) 4. Kd4 $8 c3 {Here again, the tied pawns seem to have the upper hand. } (4... Re8 5. Kc3) 5. Re3 $3 {[#]} (5. Re5+ $2 Kb4 $8 $19) 5... b2 (5... c2 6. Rxb3+ Ka4 7. e8=Q+ Rxe8 8. Rc3 $8 $11) (5... Kb4 6. Rxc3 $8) 6. Rxc3 $8 b1=Q 7. e8=Q+ $1 (7. Rb3+ $2 Qxb3 $8 8. e8=Q+ Rc6 $8 {[#]} 9. Qb8+ Rb6 $8 10. Qe8+ Ka5 $8 11. Qa8+ Ra6 $8 12. Qd8+ Qb6+) 7... Rxe8 8. Rb3+ $3 {[#]} Qxb3 {mirror stalemate.} 1/2-1/2 [Event "?"] [Site "?"] [Date "1990.??.??"] [Round "?"] [White "Rubnikov, B & Tkachenko S"] [Black "=0331.20b8b6"] [Result "1/2-1/2"] [SetUp "1"] [FEN "1K6/8/1kNPP3/1r6/7b/8/8/8 w - - 0 1"] [PlyCount "13"] [EventDate "1990.??.??"] 1. Nd8 $3 (1. Na7 $2 Rh5 $1 2. d7 (2. Kc8 Rh8+ 3. Kd7 Rd8#) 2... Rh8+ 3. Nc8+ Kc6 $8 $19) (1. Ne7 $2 Bg3 $1 2. Kc8 Bxd6 3. Kd7 Bxe7 4. Kxe7 Kc7 $19) (1. Nd4 $2 Rh5 $1 $19) (1. d7 $2 Kxc6+ 2. Kc8 Re5 $19) 1... Kc5+ (1... Bxd8 2. Kc8 $8 Re5 (2... Kc6 3. e7 $8) 3. Kxd8 $8 (3. Kd7 $2 Rd5 $3 4. Kxd8 Rxd6+ $8 5. Ke7 Kc7) 3... Rxe6 4. d7 $8 {[#]} Kc6 (4... Kb7 {stalemate}) 5. Kc8 $11) 2. Kc7 $3 (2. Nb7+ $2 Kc6 $8 3. e7 Rxb7+) (2. Kc8 $2 Kxd6 $8 $19) 2... Bxd8+ 3. Kc8 $3 {[#]} (3. Kxd8 $2 Kxd6) (3. Kd7 $2 Rb7+ $1 4. Kc8 Kc6) 3... Kxd6 4. e7 $3 {[#]} Bc7 (4... Kxe7 {pat}) ( 4... Bxe7 {stalemate}) (4... Rc5+ 5. Kxd8 $8) 5. e8=N+ $3 {[#]} Kc6 6. Nxc7 $8 Re5 7. Kd8 $8 (7. Kb8 $2 Re7 8. Na8 (8. Na6 Kb6) 8... Rf7 $19) 1/2-1/2 [Event "?"] [Site "?"] [Date "2000.??.??"] [Round "?"] [White "Rezvov, N & Tkachenko S"] [Black "3411.10"] [Result "1-0"] [SetUp "1"] [FEN "7K/4P1N1/6B1/4q1k1/5r2/8/8/R7 w - - 0 1"] [PlyCount "17"] [EventDate "2000.??.??"] 1. Rg1+ $8 (1. e8=Q $2 Qxa1 2. Bc2 Qd4 $11) 1... Kh6 (1... Kf6 2. e8=Q $8) 2. Be8 $3 {[#]Threatens mat.} (2. Bh7 $2 Qb8+ $8 3. Bg8 (3. e8=Q Rf8+ $8) 3... Rf8 4. exf8=Q Qxf8 $8 5. Rh1+ Kg6 $8 6. Rh7 Qf6 $11) (2. Bh5 $2 Qb8+ $1 3. Be8 Rf6 $11 ) (2. Bb1 $4 Qb8+ $8) 2... Qxg7+ {The Queen gives herself, but the three remaining figures will imitate her, seduced by her example. Especially the Black Rook, who will sacrifice herself three times.} (2... Rg4 {(idem Rf6)} 3. Rh1+ $1 Kg5 4. Rh5+) 3. Rxg7 $8 Rf8+ $1 (3... Re4 4. Rg6+ Kh5 5. Re6+) 4. Rg8 $8 Rf7 $1 5. Rg4 $3 {[#]} (5. Rg2 $2 Rh7+ $8 6. Kg8 Rg7+ $8 7. Kf8 Rxg2 $8 8. Bb5 Kh7 $3 $11 9. Bc4 Rf2+ (9... Kh8 10. e8=Q Rg8+ $8)) (5. Rg6+ $2 Kxg6 $8 6. Kg8 Kf6 $8 7. Bxf7 Kxe7 $8 $11) 5... Rh7+ (5... Rxe7 6. Rg6+ $8 Kh5 7. Re6+ $8) 6. Kg8 Rg7+ 7. Kf8 $8 Rxg4 8. Bg6 $3 {[#]} Rf4+ (8... Rxg6 9. e8=Q $8) 9. Kg8 $8 1-0 [Event "?"] [Site "?"] [Date "1982.??.??"] [Round "?"] [White "Kopnin, A & Kondratiev V"] [Black "=0310.01d2a1"] [Result "1/2-1/2"] [SetUp "1"] [FEN "8/8/8/8/8/8/3Kpr1B/k7 w - - 0 1"] [PlyCount "17"] [EventDate "1982.??.??"] 1. Be5+ $8 {[%csl Yb1,Gb2,Rb3,Yd4,Re1,Gh4] With wKd2/bRg2, we have the Bh4/bKb2, Bd4/bKb1, Be1/bKb3 and also Be1/bKb1.} (1. Bg3 $2 Rg2 $8 2. Bh4 (2. Be1 Kb1 $3 {(ZZ[#] as after the 3rd white move in the text, but changed move)} 3. Bh4 {(Re3 Rc1)} Rg4 $8 {(because White has no more check on f6)} 4. Bf2 Re4 $8) (2. Be5+ Ka2 $3 3. Bd4 Kb3 $1 4. Ke1 Kc2 $1) 2... Kb2 $3 {ZZ[#]} ( 2... Kb1 $2 3. Be1 $8 {: text on 3rd}) (2... Ka2 $2 3. Ke3 $8) 3. Be1 (3. Ke3 Kc2 $1) 3... Kb3 $6 {(a waste of time; correct is ...Kb1! as already seen, but this allows us to discover another ZZ: Black to move: see below 5 Be1!)} 4. Bh4 (4. Kd3 Kb2 $8 5. Kd2 Kb1 $8) (4. Ke3 Kc2 $8) 4... Kc4 $1 {(ou ...Tg4-e4)} 5. Ke3 Kc3 $8 6. Kf3 (6. Bf2 Rxf2 $8) 6... Rh2 $8 $19) (1. Bd6 $2 Rg2 $8 2. Bc5 Kb2 $8 $19) 1... Kb1 (1... Ka2 2. Bd4 $3 (2. Ke1 $2 Rf8 $1) 2... Rg2 (2... Rh2 3. Ke1 $8) 3. Ke1 $8 Kb3 4. Bf2 $8 $11) 2. Bg3 $3 ( 2. Bd4 $2 Rg2 $8 {ZZ[#]} (2... Rh2 $2 3. Bg1 $8 {(Fe5 Th4 puis Te4)} Rg2 4. Bd4 $8 {ZZ[#]} Rg4 {(...Ra2 Re1)} 5. Be3 $8 Re4 6. Kxe2 $8) (2... Rf4 $2 3. Be3 $8) 3. Ke1 Kc2 $1 $19) 2... Rg2 (2... Rf3 3. Be1 $8 (3. Bh4 $2 Rf4 $8 4. Be1 Re4 $8)) 3. Be1 $8 {[%csl Gb1,Ge1] ZZ[#]} Kb2 (3... Rh2 4. Bg3 $8 Rg2 5. Be1 $8) (3... Ka2 4. Ke3 $8 Kb2 5. Bf2 $1) 4. Bh4 $8 {ZZ[#]} Kb3 (4... Kb1 5. Be1 $8 {repeats the moves}) (4... Rg4 5. Bf6+ $8 {(exploits the location of the bK on b2)} Kb3 6. Kxe2 $8) 5. Kd3 $1 {[%csl Ye1,Gg2,Yh2,Gh4] (ZZ ; with wKd3/bKb3, we have the Bh4/Rg2 & Be1/Rh2 pairs)} (5. Be1 $1 {ZZ} Kc4 {(Rb2 Fh4!)} 6. Ke3 $8 Rh2 7. Bf2 $8) 5... Rh2 (5... Rg4 6. Bf2 $1 {and not ...Re4}) 6. Be1 $8 {ZZ} Kb2 7. Kd2 $8 Kb1 8. Bg3 $8 Rg2 9. Be1 $8 1/2-1/2 [Event "Tallinn"] [Site "?"] [Date "1973.??.??"] [Round "?"] [White "Spassky, B."] [Black "Tal, M."] [Result "0-1"] [ECO "E30"] [PlyCount "80"] [EventDate "1973.??.??"] {15/518} 1. d4 Nf6 2. c4 e6 3. Nc3 Bb4 4. Bg5 h6 5. Bh4 c5 6. d5 b5 (6... d6 7. e3 Bxc3+ 8. bxc3 Qe7 9. Nf3 Nbd7 10. Nd2 O-O 11. Be2 Ne5 12. Ne4 $1 $36 { Bareev,E-Chandler,M/Hastings/1991 53/528}) (6... Bxc3+) (6... exd5) 7. dxe6 ( 7. e4 g5 (7... exd5 8. exd5 O-O 9. Nf3 d6 10. Be2) (7... d6) 8. Bg3 Nxe4 9. Qf3 (9. Be5 $13 {Levenfish,G-Estrin,J/URS/1951/} O-O) 9... exd5 (9... Bxc3+ 10. bxc3 exd5 (10... Qa5 $2 11. Be5) (10... Qf6 $2 11. Qxf6 Nxf6 12. Be5 $18) 11. O-O-O (11. cxd5 O-O 12. Bd3 f5 13. Bxe4 fxe4 14. Qe3 Qf6 15. h4 g4 16. Ne2 d6 17. O-O $13) 11... Qa5 12. Rxd5 Qa3+ 13. Kc2 Qxa2+ 14. Kc1 Qa1+ 15. Kc2 Qa2+ { 1/2-1/2 Bronstein,D-Unzicker,W/Tallinn 23/595 1977}) 10. O-O-O $1 Bxc3 11. Rxd5 $1 Qe7 12. bxc3 d6 $1 (12... Nxg3) 13. Be5 (13. Bxd6 Nxd6 14. Rxd6 Qxd6 15. Qxa8 Qf4+ 16. Kc2 bxc4) (13. cxb5 Bb7 14. Bc4 $140 Nd7 $17) (13. Bd3 Nxc3) 13... Rf8 $1 {[#]} (13... O-O 14. Qxe4 Bb7 15. Qf5 Bxd5 $2 16. Bd3 $1) 14. Qxe4 Bb7 15. Qf5 Bxd5 16. Qc8+ Qd8 17. Qxd8+ Kxd8 18. Bf6+ Kc7 19. cxd5 Nd7 20. Bg7 Rg8 21. Bxh6 Rg6 22. f4 Rxh6 23. fxg5 Rh5 $15) (7. cxb5 $6 g5 8. Bg3 Nxd5) (7. Rc1) 7... fxe6 8. cxb5 {Not exactly the ideal choice against Tal, but after all, when you're the reigning world champion, you should be able to afford it...} d5 (8... Qa5 {12/575}) 9. e3 O-O 10. Nf3 (10. a3) (10. Bd3 d4 (10... Qa5 11. Bxf6 Rxf6 12. Nge2 d4 13. exd4 cxd4 14. a3) (10... a6 11. Nge2 c4 12. Bc2 axb5 13. O-O Nc6 14. Nxb5 e5 15. b3 Bg4 {Short,N (2690)-Aleksandrov,A (2615)/Pula 1997}) 11. exd4 cxd4 12. a3 Ba5 13. b4 dxc3 14. bxa5 Bb7 $13 15. Nf3 (15. Ne2 Qxa5 ( 15... Bxg2 16. Rg1 Bf3 17. Bc2 Nbd7 $13) 16. O-O Nbd7 17. Bc4 Bd5 (17... Nd5 18. Be7 {Timman,J-Unzicker,W/Haifa (ol) 22/657 1976}) 18. Bxd5 Nxd5 (18... exd5 19. Nd4 Qb6 20. Re1 Rae8) 19. Qd3 Rac8 20. Rfc1 {(+/- according to Timman)} Qa4 (20... Nc5) 21. Bg3 Rf7 $15 22. Nxc3 $2 Qb3 $1) 15... Qxa5 16. O-O Nbd7 17. Qe2 Bxf3 ( 17... Rae8 18. Ne5 Nxe5 19. Qxe5 Bd5) 18. Qxf3 Ne5 19. Qe2 Nxd3 20. Qxd3 Nd5 21. Bg3 Rac8 22. Be5 Rf7 (22... c2 $6 23. Rfc1 Qa4 24. Ra2 $1 Nb4 $2 25. Qd7 $18) 23. Rfe1 Qb6 24. Re2 Nf4 (24... Qc5 {1/2-1/2 Spassky,B-Unzicker,W/Bath 16/ 572 1973}) 25. Bxf4 Rxf4 $15 26. Rc1 Rd4) 10... Qa5 (10... Nbd7 11. Bd3 e5 $2 ( 11... Qa5 $1 $15) 12. Bf5 $1 Nb6 (12... Qe7 $2 13. Bxd7 Bxd7 14. Bxf6 $16) ( 12... e4 $2 13. Be6+ $1 Kh8 14. Bxd5 $18 {Spassky,B-Liebert,H/Sochi 4/692 1967} ) 13. Bxc8 Rxc8 14. Nxe5 d4 15. a3 dxc3 16. axb4 cxb2 17. Rb1) 11. Bxf6 (11. Qc2 Ne4 (11... Bd7 12. Rc1 Bxb5) 12. Rc1 a6 13. Bd3 Bxc3+ 14. bxc3 axb5 15. O-O Qxa2 16. Bxe4 dxe4 17. Qxe4 Ra4 18. Qg6 {(Sasikiran,K (2470)-Short,N (2660)/ Torquay 1998)} Nc6 19. Bf6 Ra7 $11) 11... Rxf6 12. Qd2 (12. Qc1 {/\a3}) (12. Rc1 Qxa2 13. Rc2 a6 14. Be2 (14. Ne5 axb5 15. Bxb5 Qb3 16. Bd3 c4 17. Be2 Ra2) 14... axb5 15. Bxb5 Qb3 16. Bd3 c4 17. Nd2 Bxc3 18. bxc3) 12... a6 13. bxa6 $6 (13. b6) (13. Be2 axb5 14. O-O) 13... Nc6 $1 {[#]} 14. Be2 {It seems that everything is after an impending castling, but...} (14. Qc1 Bxa6 (14... d4 15. a3 Bxc3+ 16. bxc3 dxc3) 15. a3 (15. Bxa6 Qxa6 16. Qd2 d4 17. exd4 Rxf3) 15... Bxf1 16. Kxf1 c4) (14. a3 d4) 14... d4 $1 (14... Bxa6 15. O-O) 15. exd4 Rxf3 $3 {[#]} 16. Bxf3 cxd4 17. O-O (17. Rc1 Bxa6 18. Bxc6 Rd8 19. Qc2 dxc3 20. bxc3 Qe5+ 21. Be4 Bd3 $1 $19 (21... Rc8) (21... Bxc3+ 22. Qxc3 Qxe4+ 23. Qe3 Qxg2)) (17. Bxc6 $2 dxc3 $19) 17... dxc3 18. bxc3 (18. Qe3 cxb2 19. Rab1 Bc5 (19... Rxa6 20. Rxb2) 20. Qe4 Rxa6 21. Rxb2 Nd4 $17) 18... Bxc3 19. Qd6 Rxa6 20. Bxc6 (20. Rad1 Nd4) 20... Bb4 $1 (20... Bxa1 21. Rxa1 Qb6 $8 22. Rc1 $8 Rxa2 $11) 21. Qb8 Rxc6 22. Rac1 Bc5 $1 $17 23. Rc2 Qa4 24. Qb3 (24. Rfc1 $2 Bxf2+ $1) 24... Qf4 $1 {It is rather Tal who is used to playing rook and pawn finals against two "minor" pieces! It is understandable that he has no desire to exchange the Queens.} (24... Qe4 25. Rfc1 Bb7 26. Qxb7 (26. Qf3 Qg6) 26... Bxf2+ 27. Kf1 Qd3+ 28. Kxf2 Rxc2+ 29. Rxc2 Qxc2+ 30. Kf3 Qxa2 $15) 25. Qg3 (25. Qf3 Qc7 (25... Qd6) ( 25... Qxf3 26. gxf3 e5 {(threatens ...Rg6+)} 27. Kh1 Bb7 28. h4) 26. Rfc1 Bb7) ( 25. h3) 25... Qf5 26. Rfc1 Bb7 $1 {The natural move, but at the same time a little trap.} 27. Qf3 (27. Qb8+ $2 Kh7 28. Qxb7 Bxf2+) 27... Qg5 {Un autre.} 28. Qb3 (28. Qg3 $2 Bxf2+ $1 {[#]} 29. Qxf2 (29. Kxf2 Rxc2+ 30. Rxc2 Qf5+) 29... Qxc1+ $1) (28. h3) 28... Rc7 $1 {[#]But this time, the Bxf2+ threat becomes unstoppable.} (28... Bxf2+ $2 29. Kxf2 Rxc2+ 30. Rxc2 Qxg2+ 31. Ke3 Qf3+ 32. Kd2 $11) (28... Qf4 29. Re1) (28... Rb6 29. Qg3) 29. g3 (29. Qg3 Bxf2+ $1 30. Kxf2 Qf5+ 31. Kg1 Rxc2 32. Qb8+ Bc8) (29. Qh3 Bxf2+ $1 30. Kxf2 Qf4+ 31. Ke1 Qe4+) 29... Bxf2+ $1 {[#]} 30. Kxf2 Qf6+ (30... Qf5+ $1 31. Kg1 Qe4 $19) 31. Ke1 (31. Kg1 Qd4+ $1 32. Kf1 Rf7+) (31. Ke2 Qe5+ $1 (31... Ba6+ $2 32. Ke3) 32. Kf1 Qf5+ 33. Ke1 (33. Kg1 Qe4) 33... Qe4+ 34. Kd1 Rd7+ 35. Rd2 Qh1+ 36. Kc2 Rc7+) 31... Qe5+ 32. Kf1 Ba6+ $6 {A slight hesitation that allows us to discover new richness.} (32... Qf5+ $8 33. Kg1 Qe4 $3 {: texte au 35e}) 33. Kg1 Qd4+ $1 34. Kg2 Qe4+ $1 35. Kg1 $6 (35. Kh3 $6 Rxc2 36. Qxc2 Bf1+) (35. Kf2 $1 Rf7+ 36. Kg1 Bd3 $3 {[#]} (36... Bb7 $2 37. Rc8+ $8 Bxc8 38. Rxc8+ Kh7 39. Qc2 $11) (36... Qd4+ $6 37. Kg2 Qe4+ 38. Kg1 Bd3 $8) 37. h4 $8 Rf3 $3 {[#]} 38. Kh2 Bxc2 (38... Qe3 39. a4) ( 38... Qg4 39. Rg2 Bf1 40. Qb8+ Kh7 41. Qb1+) 39. Qxc2 Qe3 40. Qc8+ (40. Qc7 Rf2+ {idem}) 40... Rf8 {(according to the choice of the white Queen, her colleague will have to occupy the corresponding square; the trio is c4/f3, c7/e2 & c6/e5)} 41. Qc6 $1 (41. Qc4 $6 Rf2+ 42. Kh3 Qf3 $3 {[#]} 43. Qxe6+ Kh7 44. Rc6 Qg2+ 45. Kg4 Rf6 $19) ( 41. Qc7 $6 Rf2+ 42. Kh3 Qe2 $3 {[#]} 43. Qb8+ Kf7 $1 (43... Kh7 44. Qb1+ $1) 44. Rc7+ Kg6 45. Qb1+ (45. Qe8+ Kh7 $8) 45... Kf6 46. Qa1+ (46. Qh1 h5) 46... e5 $1 47. Qh1 Kg6 $3 48. Rb7 (48. Rc6+ Kh5 49. Rc4 Qxc4) 48... h5 $1 49. Rb4 Kf5 $3 {[#] (menace ...Dg4+!)} 50. Qb1+ e4 $8 51. Rb5+ Kg6 $8 52. Rg5+ Kh7 $19) 41... Rf2+ 42. Kh3 (42. Kh1 Rxa2 43. Rg1 Qe2) 42... Qe5 $3 {[%csl Rc4,Gc6,Yc7,Ye2,Ge5,Rf3] [#]} (42... Qe2 $2 43. Qh1 $8) 43. Rc3 $1 (43. Rc5 Qe2 44. Qh1 e5 $1 45. Ra5 { (on Rc3 threatens Qd5+ then Qd3+, we capture the precaution ...Kh7!)} h5 46. Ra4 e4 $3 {[#]} 47. Rxe4 Qb5 $1 {(or on c2)} 48. Rd4 Qf5+ 49. g4 hxg4+ 50. Rxg4 Rf3+) (43. Rg1 $1 Qf5+ 44. g4 Qd3+ 45. Rg3 Qf1+ {idem}) 43... Qf5+ $1 44. g4 Qb1 $1 45. Rg3 Qf1+ 46. Rg2 Re2 47. Kh2 Qf4+ 48. Kh1 Re1+ 49. Rg1 Rxg1+ 50. Kxg1 Qxg4+ 51. Kf1 Qd1+ 52. Kf2 Qd2+ 53. Kg3 Qxa2 54. Qe8+ Kh7 55. h5 Qb1 $1 56. Kf3 (56. Qxe6 Qg1+ 57. Kf3 Qh1+ 58. Kg4 Qg2+ 59. Kf4 Qg5+) 56... Qf5+ 57. Ke2 e5 $17) 35... Bb7 $3 {[#]} 36. h4 Qh1+ 37. Kf2 Rf7+ 38. Ke2 Qe4+ 39. Qe3 (39. Kd1 Rd7+ {as already seen at the 31st}) 39... Ba6+ 40. Kd2 Rd7+ 0-1