Master's word
---
The common point between the direct mat and the helpmate should be obvious. But there are other effects in the 5#.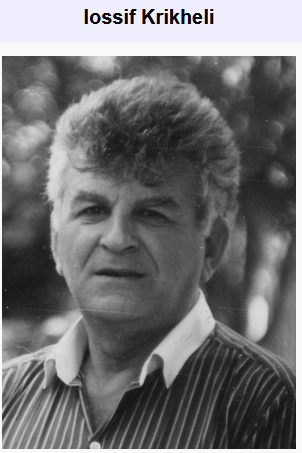 Iosif Krikheli, generally considered to be Georgian, was of Ossetian origin: a people descended from the... Alains, it is not invented. In fact, although infinitely more talented, he had one thing in common with your lecturer, he liked the game, the problem and the study at the same time. The game, perhaps a little too much, because he died at 57 years old playing a blitz game. He is best known for his long direct mates (from 6 to 20 moves) and his helpmates, but tonight, let's focus on three minimum endgames, where he joins the great specialist A Mandler. In each one, a rook has to win against one or two black pawns. The first two are very didactic. About the third one, J. Beasley says: "this masterpiece does not have the honours of the FIDE album, a collection of artificial and introverted problems in contemporary style". We join him in his regrets.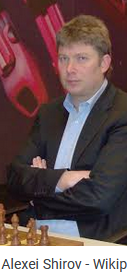 Just 20 years ago, in a Parisian tournament, I found myself in front of a kid who was not yet 11 years old. As a former Paris champion, I had to set an example. I played the ambitious Botvinnik variant. Surprisingly, the little guy came up with an "TN", a theoretical novelty of the Informateur, the bible yougo that was indispensable at the time. And there was not the slightest "example": I found myself lost, with White, on the 18th move. I had to pull out "all my technique", as they say afterwards, to draw the game. You guessed it was Joël Lautier. Ah! A precision: when I spoke of NT of the Informant, I meant... of the next Informant!
The Latvian wizard, it's fortunate for him, treats this opening better, moreover with the two colours, which is a good way to exploit the sequels that bothered us. His opponent doesn't play Joël's trick, which was used later against Ljubojevic and Kramnik... who won't react much better than me! Only Beliavsky will treat him convincingly.
Don't miss also, in the notes, the legendary game Polugayevsky-Torre, a classic of this complicated variation.
A good regalade
Master's diagrams
[Event "5# "] [Site "?"] [Date "1987.??.??"] [Round "?"] [White "Hairabedian, K."] [Black "0112.33"] [Result "1-0"] [SetUp "1"] [FEN "5N2/6p1/6Pk/7N/5p1P/4p3/4B1P1/4K2R w K - 0 1"] [PlyCount "1"] [EventDate "2004.??.??"] 1. -- 1-0 [Event "h#4 2 sol"] [Site "?"] [Date "2003.??.??"] [Round "?"] [White "Chebanov, N."] [Black "0533.62"] [Result "1-0"] [SetUp "1"] [FEN "7k/8/8/8/1n4P1/3P3p/1Pp1PP1P/1brRK2R b K - 0 1"] [PlyCount "1"] [EventDate "2003.??.??"] 1... -- 1-0 [Event "?"] [Site "?"] [Date "1986.??.??"] [Round "?"] [White "Krikheli, I."] [Black "0100.01"] [Result "1-0"] [SetUp "1"] [FEN "2K5/8/8/1p6/1k6/8/4R3/8 w - - 0 1"] [PlyCount "11"] [EventDate "1986.??.??"] 1. Re7 $3 {The King must not approach too early, it is necessary to give beforehand maximum activity to the Rook... without it getting in the way.} (1. Kb7 $2 Kc3 $8 (1... Ka3 $2 2. Re3+ $8 Ka2 3. Re4 $8 Ka3 4. Kb6 b4 5. Kc5 b3 6. Rb4 $8 b2 7. Kc4 $8 Ka2 8. Ra4+ $3 {(of course on Kc3, Black promotes to Knight)} Kb1 9. Kb3 $8 Kc1 10. Rc4+ $8 Kb1 11. Rc5 $1 {(not Rc2? because of the stalemate after ...Ka1)} Ka1 12. Ra5+ $8 Kb1 13. Ra2 $8) 2. Re3+ (2. Kc6 b4 $8) (2. Re6 b4 $8) 2... Kc2 $8 3. Re4 Kc3 $8 4. Ka6 b4 $8 $11) (1. Re6 $2 Ka3 $3 {[#]} 2. Ra6+ Kb3 $8 3. Kb7 b4 $8 $11 {and the square a6 is not available to the King}) 1... Kb3 {The only move blocking the pawn leaves time for the wK to return.} (1... Kc3 2. Rc7+ $3 {[#](the usual check to force bK to choose)} Kd3 (2... Kb3 3. Kb7 $1) 3. Rb7 $8 Kc4 4. Kc7 $8 Kc5 (4... b4 5. Kb6 $8 b3 6. Ka5 $8) 5. Rb8 $1 b4 6. Rb7 $22 Kc4 7. Kb6 $8) (1... Ka3 2. Ra7+ $3 {[#](the same)} Kb3 3. Kb7 $8 b4 4. Ka6 $3 {: text}) 2. Kb7 $3 b4 3. Ka6 $3 {[#]But it must immediately clear the way for space.} (3. Kb6 $2 Kc3 $1 4. Rc7+ Kd3 $1 $11) 3... Kc3 (3... Ka2 4. Kb5 b3 5. Kb4 b2 6. Ra7+ $8 Kb1 7. Kb3 $1 {as above}) 4. Rc7+ $8 Kd3 5. Rb7 $3 {[#]Justification for 3rd white move.} (5. Rd7+ $6 Kc3 6. Rc7+ $8 {: waste of time}) 5... Kc3 6. Ka5 $1 1-0 [Event "?"] [Site "?"] [Date "1995.??.??"] [Round "?"] [White "Krikheli, I."] [Black "0100.02"] [Result "1-0"] [SetUp "1"] [FEN "5K2/7R/8/p4p2/8/8/8/2k5 w - - 0 1"] [PlyCount "19"] [EventDate "1995.??.??"] 1. Rh2 $3 {Breaks the cooperation between the black king and the pawns.} (1. Rh4 $2 Kd2 $8 2. Rf4 (2. Ke7 Ke3 $8) 2... a4 $8 3. Rxa4 (3. Rxf5 Kc3 $1) 3... Ke3 $8) (1. Ke7 $2 a4 $8 2. Rh3 Kb2 $8) (1. Ra7 $2 Kd2 $1 2. Rxa5 f4 $8) (1. Rf7 $2 Kc2 $1 2. Rxf5 a4 $8) 1... Kb1 (1... Kd1 2. Rf2 $1 (2. Ra2 $1 f4 3. Rf2 $8 a4 4. Rxf4 $8) 2... a4 3. Ke7 $1 a3 4. Kd6 $1 f4 (4... Ke1 5. Rxf5 $8) 5. Kd5 $1 Ke1 6. Rxf4 $8) (1... f4 2. Ra2 $1 (2. Ke7 $1) (2. Rf2 $2 a4 $8) 2... f3 (2... Kd1 3. Rf2 $8) 3. Ke7 Kd1 4. Rf2 $8) (1... a4 2. Ra2 $3 Kd1 3. Rxa4 $8) 2. Rh4 $3 {[#] Now that the bK is far from e3.} Kc2 3. Ke7 $8 Kb3 (3... Kd3 4. Kd6 $1 (4. Rf4 $1) 4... Ke3 (4... Kc3 5. Ra4 $1) 5. Ke5 $8) 4. Kd6 $8 a4 5. Kc5 $8 a3 6. Rh3+ $8 Kb2 (6... Ka4 7. Kc4 $8 a2 8. Rh1 $8 Ka3 9. Kc3 $8) 7. Kb4 $8 a2 8. Rh2+ $8 Kb1 9. Kb3 $8 a1=N+ 10. Kc3 $8 1-0 [Event "?"] [Site "?"] [Date "1995.??.??"] [Round "?"] [White "Krikheli, I."] [Black "0100.02"] [Result "1-0"] [SetUp "1"] [FEN "3K3R/8/2p1p3/8/8/3k4/8/8 w - - 0 1"] [PlyCount "37"] [EventDate "1995.??.??"] {The White King is far away, but on which side should he return? It is at the 17th move that we will understand the difference.} 1. Ke7 $3 (1. Kc7 $2 e5 $8 (1... c5 $2 2. Rd8+ $1 Ke3 3. Kb6 $1 c4 4. Rc8 $8) 2. Rd8+ (2. Kxc6 e4 $8) 2... Kc3 $8 3. Kd6 e4 $8 4. Re8 Kd4 $3 5. Ke6 c5 $8 6. Kf5 c4 $1 (6... Kd3 $1 7. Kf4 c4 $8 8. Rd8+ Ke2 $8 {idem}) (6... e3 $2 7. Kf4) 7. Kf4 Kd3 $8 8. Rd8+ (8. Kg3 c3 $1 9. Kf2 c2 $1 10. Rd8+ Kc3 $11) (8. Rxe4 c3 $8) 8... Ke2 $3 9. Rc8 Kd3 $8 10. Kg3 c3 $8 11. Kf2 Kd2 $8 12. Rd8+ Kc1 13. Ke2 c2 14. Rb8 e3 15. Ke1 e2 16. Ra8 {(a column is missing)} Kb2 $11) (1. Kd7 $2 e5 $1 (1... c5 $1)) (1. Rh5 $2 Kd4 $8) 1... c5 (1... e5 2. Rd8+ $1 (2. Kf6 $1 e4 3. Rd8+ $8 Kc3 4. Re8 $8) 2... Kc3 3. Kf6 $8 e4 4. Re8 $8 Kd3 5. Ke5 $8 (5. Kf5 $2 c5 $8) (5. Rd8+ $6 Kc3 6. Re8 $8 Kd3 7. Ke5 $8) 5... c5 (5... e3 6. Kf4 $8 e2 7. Kf3) 6. Rd8+ $8 Ke3 7. Ra8 Kf3 (7... c4 8. Ra3+ $8 Kd2 9. Kd4 $8) 8. Rf8+ $8 Ke3 9. Rf4 $1 c4 10. Rxe4+ $8 Kd3 11. Rd4+ $8 Kc3 12. Kd5 $1) 2. Rd8+ $3 {[#]} (2. Kxe6 $2 c4 $8 3. Kd5 c3 $8 4. Rh3+ Kd2 $8 $11) (2. Kd6 $2 c4 $8) 2... Ke3 3. Kd6 $8 (3. Rc8 $6 {(waste of time)} Kd4 4. Rd8+ $8 (4. Kd6 $2 e5 $8)) 3... c4 (3... Kd4 4. Kc6+ $1 Kc4 5. Rh8 e5 (5... Kb4 6. Rb8+ $1 Kc4 7. Rb5) 6. Rh4+ $1 Kd3 7. Kd5 $8) 4. Rc8 $8 (4. Kc5 $2 c3 $8) 4... Kd4 (4... Kd3 5. Kc5 $8 e5 6. Rd8+ $1) 5. Kc6 $3 e5 ( 5... c3 6. Kb5 $8) 6. Kb5 $8 e4 (6... Kd3 7. Kb4 $8 e4 8. Rd8+ $8 {: texte}) ( 6... c3 7. Kb4) 7. Kb4 $3 (7. Rxc4+ $2 Kd3 $8) 7... Kd3 (7... e3 8. Rd8+ $8) 8. Rd8+ $3 {[#]} (8. Ka3 $2 e3 $8 (8... Ke2 $2 9. Kb2 $1 e3 10. Kc2 Kf2 11. Rf8+ $8 {: texte}) 9. Kb2 e2 $8) (8. Rxc4 $2 e3 $8) 8... Kc2 9. Re8 $8 (9. Kxc4 $2 e3 $8) 9... Kd3 (9... c3 10. Kc4 $8 Kd2 11. Rd8+ $8 Kc2 12. Rh8 $1 Kb2 13. Rb8+ $8 Kc2 14. Rb3) 10. Ka3 $3 (10. Rd8+ $6 {(waste of time)} Kc2 11. Re8 $8) 10... e3 11. Kb2 $8 Kd2 (11... e2 12. Kc1 $8 {: compare with try 8 Ka3?}) 12. Rd8+ $3 {[#]For the third time (see 2nd and 8th moves).} Ke1 13. Kc2 $1 (13. Kc1 $1 e2 14. Rf8 $8 c3 15. Rf7 $1 c2 16. Rh7 $8 {idem}) 13... e2 (13... Kf2 14. Rf8+ $8 Ke1 15. Rf7 (15. Kc1) 15... e2 16. Rf6 c3 17. Kc1 $8 c2 18. Rh6 $8 {idem}) 14. Rf8 $3 {[#]} (14. Rh8 $2 Kf2 15. Rh2+ Kf1 16. Rh1+ Kf2 17. Kd2 c3+ $8) 14... c3 15. Kc1 $8 c2 16. Rh8 $3 {[#]Return. In the try, there was a lack of space.} Kf2 17. Rh2+ $8 Kf3 (17... Kf1 18. Rh1+ $8) 18. Rh1 $8 Kf2 19. Kd2 $8 1-0 [Event "Aruba (m)"] [Site "Aruba"] [Date "1995.??.??"] [Round "4"] [White "Shirov, A."] [Black "Piket, Je"] [Result "1-0"] [ECO "D44"] [WhiteElo "2710"] [BlackElo "2670"] [PlyCount "89"] [EventDate "1995.02.??"] [EventType "match"] [EventRounds "8"] [EventCountry "NAU"] {63/379} 1. d4 d5 2. c4 c6 3. Nc3 Nf6 4. Nf3 e6 5. Bg5 dxc4 (5... h6 6. Bh4 dxc4 7. e4 g5 8. Bg3 b5 {Kasparov-Tal/Moskau izt/1982}) 6. e4 b5 7. e5 h6 8. Bh4 g5 9. Nxg5 hxg5 (9... Nd5 10. Nxf7 Qxh4 11. Nxh8) 10. Bxg5 Nbd7 (10... Be7 11. exf6 Bxf6 12. Bxf6 Qxf6 13. g3 {Polugaevsky,L-Flear,G/London 1986}) 11. exf6 (11. g3 Rg8 (11... Qa5 12. exf6 b4 13. Ne4 Ba6) (11... Bb7 12. Bg2 Rg8) 12. h4 Rxg5 13. hxg5 Nd5 14. g6 fxg6 15. Qg4 Qe7 16. Bg2 Kd8 17. Qxg6 (17. Bxd5 cxd5 18. Qxg6 Rb8 19. Rh7 Qe8 20. Qxe8+ Kxe8 21. f4 {Bacrot,E-Fressinet,L/Val d'Isere 2002}) 17... Qb4 18. Qc2 Qa5 19. O-O (19. O-O-O N7b6) 19... N7b6 20. Ne4 Kc7 21. Nf6 Qb4 22. Qg6 Nxf6 23. exf6 Bd7 24. Rae1 Qxb2 25. Qf7 Re8 26. Bh3 Bd6 27. Bxe6 Qxd4 28. Rd1 Qc5 29. Bxd7 Rf8 30. Qg7 Nxd7 31. f7 Ne5 {0-1 Kramnik,V-Shirov,A/Monaco 2002}) 11... Bb7 12. g3 c5 (12... Qb6 13. Bg2 O-O-O 14. O-O Bh6 $1 (14... Ne5 $6 {Botvinnik} 15. dxe5 $1 (15. Qe2) 15... Rxd1 16. Raxd1 b4 (16... Bc5 17. Ne4 Bd4 18. Nd6+ Kc7 19. Bf4 Rf8 20. Bh6 Rh8 21. Bg7 Rd8 22. Nxf7 Bxf2+ 23. Kh1 Rxd1 24. Rxd1 Qe3 25. Nd6 Qe2 26. Ra1 $3 {(neither on b1 because of ...Qh5-h7, nor on c1 because of ...Be3)} Qh5 27. g4 $1 Qh7 28. f7 Bg3 29. h3 c5 30. Nxb7 Qxg7 31. Rf1 Qf8 32. Nxc5 {1-0 Hollis,A-Baumbach,F/corr 1976 21/484}) (16... c5 17. Bxb7+ Qxb7 18. Rfe1 a6 19. Ne4 a5 20. h4 a4 21. a3 ) 17. Ne4 Qa5 (17... c5 18. Bf4 a5 19. h4 a4 20. Rd2 a3 21. bxa3 b3 22. axb3 cxb3 23. Rc1 Qa5 24. Nxc5 Bxc5 25. Be3 {Izoria,Z-Zivanic,M/Oropesa del Mar 2000 }) 18. Bf4 c3 (18... Qxa2 19. Rd2 Qa5) 19. bxc3 Ba6 (19... bxc3 20. Rc1 Bb4) 20. cxb4 (20. Rfe1 bxc3 21. Rc1 $14) 20... Bxb4 21. a3 $1) (14... c5 15. d5 b4 16. Na4 Qb5 17. dxe6 Bxg2 18. e7) 15. Ne4 (15. Bxh6 Rxh6 16. Ne4 c5) 15... c5 16. Bxh6 Rxh6 17. Qf3 $1 (17. Nxc5 $2 Bxg2 18. Nxd7 Qb7 $19 {Villeneuve, A-Lautier,J/Paris 1984}) (17. Qd2 Rh5 18. Qf4 Bxe4 19. Qxe4 cxd4 20. a4 Nxf6 21. a5 Qc7 22. Qa8+ Kd7 23. Qf3 Rf5 $17 {Ljubojevic,L-Lautier,J/Monaco 2000}) ( 17. dxc5 Nxc5 18. Qe2 Bxe4 19. Bxe4 Rxf6) (17. Qc1 Rdh8 {(Kramnik,V (2780) -Piket,J (2605)/Tilburg 74/443 1998)} 18. h4 cxd4) (17. a4) 17... Bxe4 (17... Rxf6 18. Nd6+ Kc7 19. Qxb7+ Kxd6 20. dxc5+ Nxc5 21. Rad1+ Nd3 22. Qe4 Ke7 23. Rd2 Rd7 24. Re2 Qd4 25. Qxd4 Rxd4 {Van Wely,L-Piket,J/Wijk aan Zee blitz 1999} ) (17... Nxf6 18. dxc5 Bxe4 19. Qxe4) 18. Qxe4 cxd4 19. a4 Nc5 20. Qf4 Rh5 21. axb5 Rf5 (21... Nd3 22. Qe4) 22. Qc1 $1 c3 23. Qc2 cxb2 24. Qxb2 Kb8 25. Ra2 e5 26. Qe2 e4 27. Rfa1 Rxf6 28. Qh5 Rd7 29. Rc2 Rc7 30. Rac1 Rh6 31. Qe5 Re6 32. Qxd4 Rd6 33. Qh8+ Rc8 34. Qe5 f6 35. Rxc5 Rxc5 36. Qxc5 Rd1+ 37. Bf1 {1-0 Beliavsky,A-Palac,M/Bled 1996 66/365}) 13. d5 Qb6 (13... b4 14. Bxc4 $1 Qc7 15. dxe6 Qe5+ 16. Kf1 O-O-O 17. exd7+ Rxd7 18. Qg4 bxc3 19. Bb5 Qd4 20. Qxd7+ Qxd7 21. Bxd7+ Kxd7 22. Rg1 cxb2 23. Rb1 Rxh2 24. Rxb2 Ba6+ 25. Ke1 c4 26. Be3 Ba3 27. Rb8 Rh5 28. Kd2 $16) (13... Nb6 14. dxe6 $3 Qxd1+ (14... Bxh1 15. e7 Qd7 16. Qxd7+ Nxd7 17. Nxb5 Bxe7 18. fxe7 f6 19. Be3 Kxe7 20. h4 Bf3 21. Bxc4 Rhc8 22. Rc1 Ne5 23. Na3 Rab8 24. b3 Rb4 25. Bf1 Kf7 26. Nc4 $18) 15. Rxd1 Bxh1 (15... fxe6 16. Rg1) 16. e7 a6 (16... Bc6 17. Rd6 b4 18. Rxc6 bxc3 19. Rxb6 axb6 20. Bxc4 Kd7 21. bxc3 Bh6 22. h4 Bxg5 23. hxg5) 17. h4 $3 (17. exf8=Q+ Kxf8 {(the capture with Rook is also good : Smejkal-Bednarski 1975)} 18. Rd6 Rb8 19. Be3 Rh5 20. Be2 Re5 21. Nd1 Kg8 22. Bf4 Ree8 23. Ne3 Be4 $15 { Beliavsky,A-Bagirov,V/USSR 31/467 1981}) 17... Bh6 18. f4 $1 b4 19. Rd6 Rb8 ( 19... bxc3 20. Rxb6 cxb2 21. Rxb2 Kd7 22. Bxc4 Bxg5 23. fxg5 Rhb8 24. Rxb8 Rxb8 25. Bxf7) 20. Nd1 Bxg5 21. fxg5 Nd5 $1 (21... Bd5 22. Ne3 Be6 $8 23. Bg2 Bd7 24. Be4) 22. Bxc4 Nxe7 23. fxe7 Kxe7 24. Rf6 $1 (24. Rxa6 Rhe8 25. Rf6 Kf8+ 26. Kf2 Re7 27. g6 Rd8 28. Ne3 Rd2+ 29. Ke1 Rxb2 30. Rxf7+ Rxf7 31. gxf7 Be4 32. Ng4 Bf5 33. Ne5 Rh2 34. Bd5 Kg7 35. g4 $16 Rh3 36. Kf2) 24... Rhf8 25. Ne3 Be4 26. Rxa6 Rbd8 27. Rf6 (27. h5 Rg8 28. g6 fxg6 $2 29. Re6+) 27... Rd6 28. Rf4 Rd4 29. h5 Bd3 30. Nd5+ Kd6 31. Rxd4 cxd4 32. Bb3 $6 (32. Bxd3 $1 Kxd5 33. h6 Rg8 34. h7 Rh8 35. Kd2 Kd6 36. Kc2 Ke7 37. Kb3 Kf8 38. Kxb4 Kg7 39. Kc4) 32... Bc2 33. Bxc2 Kxd5 34. Bb3+ $2 (34. h6 $1) 34... Ke5 35. g4 Kf4 $2 (35... d3 $1 36. g6 fxg6 37. hxg6 Kf6 38. Bf7 Rd8 39. Kd2 $11) 36. g6 $1 Ke3 (36... fxg6 37. hxg6 Re8+ 38. Kd2 Re7 39. Bf7) 37. g7 Rc8 38. Kf1 (38. h6 $2 Rc1+ 39. Bd1 d3) 38... d3 (38... Kf3 39. Bd1+) 39. Kg2 Kf4 40. h6 {1-0 Polugaevsky,L-Torre,E/ Moskva 1981 31/ 468}) (13... Bh6 14. Bxh6 Rxh6 15. Qd2 Qxf6 16. Ne4 (16. O-O-O Kf8 $1 17. f4 Nb6 $1 18. Bg2 exd5 19. Qf2 Rc8 $1 {Shirov}) (16. Bg2 Ne5 17. Ne4 Nf3+) 16... Qf3 17. Nd6+ Ke7 18. Nxb7 Rh5 $1 19. Rg1 (19. d6+ Ke8 20. Rg1 c3 21. bxc3 Re5+ 22. Be2 Rxe2+) 19... Rxd5 20. Bg2 Rxd2 21. Bxf3 Rxb2 22. O-O-O Rxa2 23. Kb1 Ra3 24. Rxd7+ Kxd7 25. Nxc5+ Kd6 26. Bxa8 Kxc5 27. h4 b4 28. h5 Rb3+ 29. Kc2 $14 {Zontakh-Popov 2001}) (13... Nxf6) (13... Ne5) 14. Bg2 O-O-O ( 14... b4 15. O-O bxc3 (15... O-O-O 16. Rb1 {ci-dessous}) 16. bxc3 (16. dxe6 Ne5 $1 (16... O-O-O 17. e7 cxb2 18. exd8=Q+ Kxd8 19. Rb1 c3) 17. Re1 Bxg2 (17... cxb2 18. Rb1 Bxg2 19. Rxe5 Qc6 20. e7) 18. Rxe5 (18. Kxg2 Qc6+ 19. f3 cxb2) 18... Qc6 $1 19. e7 (19. Qd7+ $2 Qxd7 20. exd7+ Kxd7 21. Kxg2 cxb2 $19) (19. Qe2 Bh3 20. exf7+ Kxf7 21. Qxc4+ Kg6 22. Qd3+ Kf7 23. Qc4+ $11 { Rosenlund-Ivkov, Yugoslavia 1977}) 19... Bh6 (19... cxb2 20. exf8=Q+ Kxf8 21. Rb1 {(threatens Qg4)} Bh1 22. f3 Bxf3 23. Qd2) (19... Bh1 20. exf8=Q+ Kxf8 21. f3) 20. bxc3 {(not Bxh6 because of ...Bh1!)} Bxg5 21. Rxg5 Qxf6 22. Rxc5 Bc6) (16. Re1 cxb2 17. dxe6 Ne5) 16... Qc7 (16... e5 17. Rb1 Qa6 18. Rxb7 Qxb7 19. d6 Qc8 20. f4 $1 e4 21. Bxe4 $40) (16... exd5 17. Re1+) 17. dxe6 (17. Re1 O-O-O 18. dxe6 fxe6 19. Bxb7+ Qxb7 20. f7 Bg7 21. Bxd8 Rxd8 22. Qg4 Bxc3 23. Rab1 Qd5 24. Rxe6 Bd4 $13 {Se.Ivanov}) (17. Rb1) 17... fxe6 18. Qb1 (18. Qg4 Kf7) 18... O-O-O 19. Bxb7+ Qxb7 20. Re1 Bh6 21. Qxb7+ Kxb7 22. f4 $1 $14 {Sakaev-Se. Ivanov, Russia 1995}) 15. O-O b4 16. Na4 (16. Rb1 Qa6 (16... Bh6 17. Bxh6 Rxh6 18. b3) 17. dxe6 Bxg2 18. e7 $36 {Kasparov,G-Kramnik, below} (18. Re1 Ne5 $6 (18... Bc6 19. e7) (18... Qc6 19. exd7+ Rxd7 20. Qg4) (18... bxc3 19. exd7+ Rxd7 20. Re8+ Kc7 21. Qe2) (18... fxe6 $1 19. Kxg2 bxc3 20. bxc3 Qc6+ 21. Kg1) 19. Qxd8+ Kxd8 20. e7+ Bxe7 (20... Ke8 21. Rxe5 Bf3 22. Nd5 Qc6 23. exf8=Q+ Kxf8 24. Ne7) 21. fxe7+ Kc7 (21... Ke8 $2 22. Rxe5 {73/488}) 22. Rxe5 Bc6) (18. Kxg2 Qxe6) 18... Bxf1 (18... Ba8 19. Nd5 Qb7 20. exf8=Q Rhxf8 21. Ne7+ Kc7 22. Bf4+ Kb6 (22... Ne5 23. Bxe5+ Kb6 24. f3 Rxd1 25. Rbxd1) 23. Qd6+ Kb5 24. a4+ Ka5 25. Qc7+ Kxa4 $2 {(Franco Ocampos,Z-Korneev,O/Dos Hermanas 2003)} 26. b3+ $3 (26. Ra1+ Kb3) 26... Kb5 (26... cxb3 27. Ra1+ Kb5 28. Qa5+) 27. bxc4+ Kxc4 28. Rfc1+ Kb5 29. Rxb4+ $3 cxb4 30. Qc4+ $8 Ka5 31. Ra1+ Kb6 32. Qxb4#) (18... Bb7 19. exd8=Q+ (19. Nd5) 19... Kxd8 20. Ne2 (20. Na4) 20... Kc8 21. Nf4 (21. Qc2) 21... Bd6 (21... Ne5) 22. Qe2 (22. a3) 22... Qc6 23. f3 $8 Be5 24. Kg2 ( 24. Rbd1 Bd4+) 24... Bd4 25. Rbd1 Ne5 26. Rxd4 Nxf3 27. Qxf3 Qxf3+ 28. Rxf3 cxd4 29. Kf2 (29. h4) 29... Bxf3 30. Kxf3 Rxh2 {-/+ Rogers,I-Stellwagen,D/Wijk aan Zee 2003}) 19. Kxf1 (19. Qd5 Bxe7 20. fxe7 Bd3 (20... Rdg8 21. Ne4 Rg6 22. Qa8+ $1 (22. Rxf1 $2 Qc6 23. Qxc6+ Rxc6 {1/2-1/2 Kasparov,G-Kramnik,V New York PCA 25 mn 1994}) 22... Nb8 23. Bf4 $1 (23. Rxf1 Qc6 24. Rd1 Qxa8 25. Rd8+ Kc7 26. Bf4+ Kb6 27. Rxh8 Re6 28. e8=Q Rxe8 29. Rxe8 Qd5 30. Rxb8+ Ka6 (30... Ka5 31. Re8 f5 32. Nxc5 $1) 31. Nd2 $1 c3 32. bxc3 bxc3 33. Nb3 c4 34. Nc1 Qd1+ $1 (34... c2 $2 35. h4 $18 {GK}) 35. Kg2 Qd5+ 36. f3 Qd2+ $3 {(non envisagé par GK)} 37. Kf1 Qxh2 38. Ne2 Qh5 39. Kg2 c2 40. Rd8 Qf5 41. Rd2) 23... Qb7 24. Qxb7+ Kxb7 25. Kxf1 Kc6 26. Rd1 Re8 (26... Nd7 $2 {GK} 27. Nd6 $1 $18) 27. Bxb8 Rxe7 28. f3) (20... Rde8 21. Ne4) 21. Ne4 Bxb1 (21... Bxe4 22. exd8=R+ Rxd8 23. Qxe4) 22. Nd6+ Kc7 23. Bf4 (23. exd8=Q+ Rxd8 24. Nxf7 (24. Bxd8+ $2 Kxd8 25. Nb7+ Kc7 26. Qxd7+ Kxd7 27. Nxc5+ Kd6 28. Nxa6 c3 $19) (24. Bf4) 24... Re8 25. Bf4+ Kb6 $8 26. Qd6+ Ka5 27. Qxd7 Re1+ 28. Kg2 Be4+ 29. f3 Bc6 30. Qd8+ Ka4 31. Qd2 Ra1) (23. Nxc4 f6 24. Bf4+ Ne5) (23. Nxf7 Rc8 24. Bf4+ Kb6) 23... Kb6 $1 24. Nxc4+ (24. exd8=Q+ Rxd8 25. Nxf7 Re8) 24... Kb5 25. Nd6+ Kb6 26. exd8=B+ Rxd8 27. Nc4+ Kb5 28. Nd6+ Kb6 29. Nc4+ (29. a4 bxa3 30. Nc4+ Qxc4 31. Qxc4 a2) 29... Kb5 $11 {Topalov,V-Kramnik,V Dortmund 1996}) (19. exd8=Q+ Kxd8 20. Qxf1 bxc3 21. bxc3 Bd6) 19... Qc6 (19... bxc3 20. Qd5 (20. bxc3 Bxe7 21. fxe7 Rde8 22. Qd5) 20... Bxe7 21. fxe7 c2 22. exd8=Q+ Rxd8 23. Rc1 c3+ 24. Kg2 cxb2 25. Qa8+ Nb8 26. Rxc2 Qb6 $4 (26... b1=Q 27. Rxc5+ Kd7 28. Qd5+) (26... Qa3 $1) 27. Bxd8 Kxd8 28. Qd5+ Nd7 29. Rd2 Qb5 30. a4 {1-0 Uhlmann,W-Alexandria,N/Halle 1981}) (19... Bxe7 20. fxe7 Rdg8 21. Ne4 (21. Qd5 Rxg5 $1 22. Qxg5 bxc3) 21... Qc6 22. Nd6+ Kb8 23. Bf4 Rxh2 24. Ke2 Ka8 25. Qc2 $14 {1/2-1/2 Kamsky, G-Kramnik,V/Dos Hermanas 1996}) 20. exd8=Q+ Kxd8 21. Nd5 Rxh2 22. Kg1 Rh8 23. Bf4 Qe6 (23... Bd6 24. Bxd6 Qxd6 25. Qf3 {Kramnik,V-Shirov,A/Monaco blind 1996} ) 24. Qf3 Qh3 25. Rd1 b3 (25... Qh2+ 26. Kf1 Qh1+ 27. Ke2 Qxf3+ 28. Kxf3) 26. a4 Qh2+ 27. Kf1 Qh1+ 28. Ke2 Qxf3+ 29. Kxf3 Kc8 30. g4 Rh3+ 31. Ke4 $16 { Nikolic,P-Shirov,A/Linares 1997}) 16... Qd6 $6 (16... Qb5 $1 17. a3 {: voir Ponomariov-Shirov 2003}) (16... Qa6 17. a3 $1) 17. dxe6 (17. Bf4 $1 e5 (17... Qa6 18. dxe6 (18. a3) 18... Nxf6 (18... Bxg2 19. e7 Qc6 20. exd8=Q+ Kxd8 21. Re1 Bh1 22. f3 Bxf3 23. Qc2 $16) (18... Qxe6 19. Re1 Qa6 20. Bxb7+ Qxb7 21. Qe2 $16) (18... fxe6 19. Bxb7+ Qxb7 20. Qg4 {67/509}) 19. Bxb7+ Qxb7 20. Qe2 Bd6 21. Qxc4 (21. Bxd6 Rxh2 $1) 21... Bxf4 (21... Rxh2 22. f3 Bxf4 23. Kxh2 Rd2+ 24. Kh1) 22. Nxc5 $1 Qc6 23. Qxf4 Rxh2 24. Ne4 $1 Nxe4 25. Kxh2 (25. Rac1 $2 Nc5) 25... Rh8+ 26. Kg2 Nxg3+ 27. f3 $1 Nxf1 28. Rc1 Rh2+ 29. Kg1 Rc2 30. Rxc2 Qxc2 31. exf7 $18) 18. Be3 (18. Bg5 Bh6 $13 {AS}) 18... Bh6 19. Qc1 $1 (19. Qc2 ) 19... Bxe3 20. Qxe3 (20. fxe3) 20... Ba6 $2 (20... Kb8 $8) 21. a3 Kb8 22. h4 $1 Rdg8 23. Nxc5 $1 Nxc5 24. axb4 $18 {67/510}) 17... Qxe6 $8 (17... fxe6 $2 18. f7 (18. Bxb7+ Kxb7 19. f7 Rc8 20. Qxd6 Bxd6 21. Rad1 (21. f4) 21... Kc6 22. Rfe1 (22. Rxd6+ $2 Kxd6 23. Rd1+ Kc6 24. Be7 Ne5 25. Nxc5 Nxf7 26. Nxe6 a5 { Agzamov})) 18... Bxg2 19. Kxg2 Qc6+ 20. f3 Bd6 21. Bxd8 Kxd8 22. a3) (17... Qxd1 $2 18. Rfxd1) 18. Re1 Ne5 $1 $146 (18... Qf5 $6 19. Bxb7+ Kxb7 20. Bf4 $1 (20. h4 Bh6 21. Bxh6 Ne5) 20... Qxf6 $8 (20... Qd3 21. Re3 $1) 21. Re8 $1 (21. Qf3+ Qc6) 21... Bg7 22. Rxh8 Bxh8 23. Qd5+ Qc6 24. Nxc5+ {34/510} Nxc5 (24... Kb6 25. Nxd7+ Rxd7 26. Be3+ Kb7 27. Qa5 $1) 25. Qxd8 Bxb2 (25... Nd3 26. Qb8+ Ka6 27. Qxh8) 26. Rb1 Bc3 (26... Nd3 27. Qe7+ Ka6 28. Be3) 27. Qe7+ (27. Qb8+ Ka6 28. Be3) 27... Ka6 28. Be3 Nd7 (28... Qe4 29. Qd6+ Kb7 30. Rd1) 29. Rd1 Nb6 30. Bxb6 axb6 31. Qxf7 $18) 19. Qxd8+ (19. Bxb7+ Kxb7 20. Qxd8 (20. Qe2 Qh3 $1 21. Qe4+ $1 (21. Qxe5 Qxh2+ 22. Kf1 Qh3+ 23. Ke2 Qg4+ 24. Kf1 $8 Qh3+ $10 {AS}) (21. f3 Qxh2+) 21... Ka6 22. Qh1 $1 {[#]} (22. Qg2 Qxg2+ 23. Kxg2 Nd3) 22... Qxh2+ 23. Qxh2 Nf3+ 24. Kg2 Nxh2 25. a3 $1 (25. Rh1 Kb5) (25. f3 Kb5 26. b3 cxb3 27. axb3 Rd3 28. Rh1 Rg8) 25... Rd5 26. Bh4 Ng4 27. Nxc5+ Kb5 28. axb4 Kxb4 29. Ne4 a5 30. Re2 $16) 20... Nf3+ 21. Kg2 Qc6 $1 (21... Nxe1+ $2 22. Rxe1 Qxe1 23. Qd7+ Ka6 24. Qc6+ Ka5 25. Bf4 Rxh2+ 26. Kxh2 Qxf2+ 27. Kh3 Qf1+ 28. Kh4 $18) ( 21... Qf5 $2 22. Bf4) 22. Re8 (22. Re7+ Bxe7 23. Qxe7+ (23. Qxh8 Nxg5+ {AS} 24. Kg1 $8 Nf3+ (24... Bxf6 {AS} 25. Nxc5+ Kc7 $8 26. Qf8 $11) 25. Kf1 Nd4 26. Kg1 $11) 23... Ka8 (23... Ka6 $2 24. Qe4 $1 $18) 24. Bh6 $1 (24. h4 $2 Nxh4+ 25. Kf1 Nf5) (24. Be3 $2 Nxh2+ 25. Kg1 Nf3+ 26. Kf1 Nd4 $3 {[#]} 27. Bxd4 Qf3 $19) (24. Qxc5 $6 Rxh2+ $1 25. Kf1 Rh1+ 26. Ke2 Qxc5 27. Nxc5 Nd4+ 28. Ke3 Nf5+ $1 29. Kf4 Rxa1 $17 30. Kxf5 Rxa2 $17) (24. Nxc5 $1 Nxg5+ 25. Kf1) 24... Nxh2+ 25. Kg1 Nf3+ (25... Ng4 $2 26. Rd1) 26. Kf1 $8 Nd4 27. Kg1 $8 Qxa4 28. Qxf7 Qc6 29. Qg7 $11) (22. Nxc5+ $2 Bxc5 23. Qxh8 Nxe1+ 24. Kf1 (24. Kh3 Qe6+) 24... Qf3 25. Kxe1 Bxf2+ 26. Kd2 Qd3+ 27. Kc1 b3 28. axb3 cxb3 $19) (22. Kf1 Nd4 $3 (22... Nxg5 $2 23. Re8 $16 {Kortchnoï}) (22... Rxh2 $2 23. Be3 Nxe1 24. Rxe1 Qf3 25. Qd7+ Ka6 26. Nxc5+ $1) (22... Nxh2+ $2 23. Ke2 Qf3+ 24. Kd2 Qxf2+ 25. Kd1) 23. f3 $1 Rxh2 24. Re7+ (24. Re4 $2 Ne6 $1) 24... Ka6 $8 (24... Bxe7 $2 25. Qxe7+ Ka6 26. Nxc5+ Kb5 27. a4+ $1 bxa3 28. Rxa3) 25. Nxc5+ Qxc5 26. Qxf8 (26. a3 b3) 26... Qf5 $1 (26... c3 $1 27. Qa8 cxb2 28. Qb7+ Ka5 29. Rae1 $8 Nc2 30. Be3 $8 Nxe3+ 31. R7xe3 $8 Qxe3 32. Qd5+ Kb6 $11) (26... Rh1+ $2 27. Kg2 Rxa1 28. Qxf7 $1 {(menace Tc7 ou Fe3)} Qc6 29. Re4 c3 30. Be3 $1 cxb2 31. Bxd4 b1=Q 32. Qxa7+ Kb5 33. Re5+ Kc4 34. Rc5+ Kd3 35. Qh7+) 27. Rxa7+ $8 Kxa7 28. Qe7+ $8 Ka6 ( 28... Ka8 29. Qe8+ Kb7 30. Qe7+ Kc8 31. Qf8+ Kd7 32. Qxf7+ Kd8 $11) (28... Kb6 29. Qd8+) 29. Qd6+ $8 Kb5 30. a4+ (30. Qb8+) 30... bxa3 31. Qb8+ $8) 22... Rxh2+ $1 (22... Nd4+ $2 {(idem on d2)} 23. f3 $1) (22... Nxg5+ $2 23. Kf1 Qh1+ (23... Qxa4 24. Rd1) (23... Ka6 24. Rd1 Rxh2 25. Qc8+ Qxc8 26. Rxc8) 24. Ke2 Qf3+ 25. Ke1 Qh1+ 26. Kd2 Ne4+ (26... Nf3+ 27. Kc2 Nd4+ 28. Qxd4 Qxa1 29. Qd7+) 27. Kc2 b3+ 28. axb3 cxb3+ 29. Kxb3 Qf3+ 30. Ka2 $18) (22... Nxh2+ $2 23. Kg1 Nf3+ 24. Kf1 Rh1+ (24... Nh2+ 25. Ke2 Qf3+ 26. Ke1 Qh1+ 27. Kd2 Nf3+ 28. Ke3) 25. Ke2 Nd4+ 26. Kd2 Qxa4 (26... Rxa1 27. Qa8+) (26... Nf3+ 27. Ke3) 27. Qd5+ $1 (27. Rxh1 $2 Qc2+) (27. Qc8+ Kb6) 27... Ka6 28. Qxc4+ Ka5 29. Rxh1 $18) 23. Kf1 Nd2+ $1 {[#]} (23... Rh1+ $2 24. Ke2 Nd4+ 25. Kd2) 24. Ke1 (24. Qxd2 Qg2+ $1 ( 24... Rh1+ 25. Ke2 Qxe8+ 26. Be3 Rxa1 27. Qd5+) 25. Ke2 Qxf2+ 26. Kd1 Qf3+ 27. Kc1 $1 (27. Kc2 $6 Rxd2+ 28. Bxd2 b3+ 29. axb3 cxb3+ 30. Kc1 Kc6 $1 31. Nc3 Qd3 32. Kd1 Bh6 33. Nb1 Bg5) 27... Rxd2 28. Bxd2 Qc6 (28... Bd6 29. Re3 Qxf6) ( 28... Kc6) 29. Rxf8 Qh1+ 30. Kc2 Qe4+ 31. Kc1 $11) (24. Bxd2 Qg2+ 25. Ke2 Qxf2+ 26. Kd1 Qf3+ 27. Kc1 Rh1+ 28. Re1 Rxe1+ 29. Bxe1 Bh6+ 30. Bd2 Qf1+ 31. Kc2 Qf5+ 32. Kd1 Qf1+ 33. Kc2 $11 (33. Be1 $2 Qf3+ 34. Kc2 b3+)) (24. Ke2 $4 Qf3+) 24... Nf3+ (24... Qh1+ $2 25. Kxd2 Rxf2+ 26. Re2) 25. Kd1 (25. Ke2 Nd4+ 26. Kd2 Rxf2+ 27. Ke1 Qh1+) 25... Qxa4+ $1 (25... Rh1+ $2 26. Ke2) 26. b3 cxb3 27. Qc8+ Kb6 $11) 19... Kxd8 20. Bxb7 Kc7 $2 {The 2nd move recommended by "Fritz" (after 20... Bd6) !!} (20... Bd6 21. Bf4 {AS} (21. Rad1 {Marin} Kc7 22. Bg2 Qf5 $1 (22... Re8 23. f4 Qf5 (23... Nf3+ 24. Bxf3 Qxe1+ 25. Rxe1 Rxe1+ 26. Kf2 Ra1 27. Ke3 Rxa2 28. Bd1 $14) (23... Qg4 24. fxe5 Bxe5 25. Bc1) 24. fxe5 Rxe5 25. Be3) ( 22... Rh5 23. f4) 23. Bf4 (23. f4 $2 Nd3) 23... Re8 $1 (23... Nd3 $2 24. Re7+ Kd8 (24... Kc8 25. Bxd6 Qxf2+ 26. Kh1 {(threatens #2)} Qxf6 27. Rc7+ Kd8 28. Be7+) 25. Bxd6 Qxf2+ 26. Kh1 Qc2 (26... Qd4 $2 27. Bc7+ Kc8 28. Bb7+ Kxb7 29. Be5+) (26... Qxf6 27. Bxc5) 27. Rf1 Qxa4 (27... Nf2+ 28. Rxf2 Qxf2 29. Nxc5 Qxf6 30. Nb7+ Kc8 31. Rc7+ Kb8 32. Rxf7+) 28. Bb7 $1 Qa5 29. Rf5 $3 $18 {Stohl[#]} ) (23... Nf3+ $2 24. Bxf3 Bxf4 25. Re7+) 24. Rd5 Nf3+ $2 (24... Qc2 $1 25. Bxe5 Rxe5 26. Rdxe5 Bxe5 27. Rxe5 Qxa4 28. Rxc5+ Kd6 29. Rxc4 a5) 25. Bxf3 Rxe1+ 26. Kg2 Qxf6 (26... Be5 27. Nxc5 {(prevents ...c3 because of capture, followed by Nd3) } Kc8 28. Bd2 $1 Ra1 29. Bxb4 Qxf6 30. Ba5 $1 {IS}) 27. Rxc5+ Kd7 (27... Kb8 28. Rc6) 28. Rd5) (21. f4 Qh3 22. fxe5 Qxh2+ 23. Kf1 Qxg3 $132 24. Rad1 (24. exd6 Qxg5 25. Rad1 Rh2 26. Re2 Qf5+ 27. Ke1 Rxe2+ 28. Kxe2 Qc2+ 29. Rd2 Qxa4 $17) 24... Qxg5 25. Rxd6+ Kc7 26. Bg2 (26. Bf3 Qf4 $19) 26... Qf4+ 27. Kg1 Qh2+ $10) (21. Bg2 $2 Qf5) 21... Qxf6 (21... Kc7 $2 22. Nxc5 {AS} Qxf6 23. Rad1) ( 21... Re8 $2 22. Bxe5 $1 Bxe5 23. Rad1+ Kc7 24. Nxc5 Qxf6 25. Rd7+ Kb6 26. Na4+ Kb5 27. b3 $18 {AS}) (21... Qh3 $2 22. Bxe5 $18 {AS}) 22. Nxc5 $1 Nd3 $1 (22... Bxc5 $2 23. Rxe5 {AS}) (22... Re8 23. Red1 $1 Kc7 24. Ne4 Nf3+ 25. Kg2 Nh4+ 26. Kf1 {IS} Rxe4 27. Rxd6) (22... Kc7 23. Bg2 Nf3+ 24. Bxf3 Bxf4 25. Ne4 Qg6 26. a3 {IS}) 23. Re6 $1 {[#]} (23. Ne4 $2 Qxb2 24. Bxd6 f5 $1) (23. Nxd3 cxd3 24. Bxd6 Qxd6 25. Rad1 {IS} Kc7 26. Bf3 d2 27. Re2 Rd8 28. Kg2 Qd4 29. Rexd2 Qxd2 30. Rxd2 Rxd2 31. h4 Rxb2 32. Bd5 f6 33. h5 Rd2 34. Bf7 Rd7) 23... Qxf4 $1 (23... fxe6 24. Bg5) (23... Qxb2 24. Rxd6+ Ke7 25. Rd7+ Ke8 26. Rf1 Nxc5 27. Rd2 Qc3 28. Re2+ Ne6 29. Rd1 Qa3) 24. gxf4 fxe6 25. Nxd3 cxd3 26. Rd1 Bxf4 $11 {IS}) ( 20... Qf5 $1 {("saves Black" AS)} 21. Rxe5 $1 (21. Rad1+ Nd3 22. Bf4 Bd6 $1 (22... Qd7 23. b3 Qxb7 24. bxc4 Qd7 25. Re3 Qxa4 26. Rexd3+ Kc8 27. Rd8+ Kb7 28. R1d7+ Ka6 29. Rc7 Qxa2 30. Rc6+ Kb7 31. Rc7+ Ka6 $11) (22... Qh3 23. Bg2 $8 Qxh2+ 24. Kf1 Kc8 25. Re8+ Kd7 26. Rxf8 Rxf8 27. Nxc5+) 23. Be4 Qh5 $1 (23... Qh3 24. Rxd3 cxd3 25. Bxd6 Qxh2+ 26. Kf1 Qh1+ $1 27. Bxh1 Rxh1+ 28. Kg2 Rxe1 29. Bf4 Re2 30. Kf3 c4 $1 $17 {AS} 31. g4 c3 32. bxc3 Rxa2 33. Nc5 d2 $17) ( 23... Qxf6 24. Bxd3 Bxf4 25. Bxc4+) 24. Bxd3 (24. Rxd3 $6 cxd3) (24. h3 Re8 $1 25. Bxd6 Rxe4) 24... Qxh2+ 25. Kf1 Qh3+ $1 26. Ke2 Re8+ 27. Be3 Qg4+ 28. Kd2 cxd3 $17) (21. Be3 $6 Nd3) (21. Bf4 Nd3 22. Rad1 Bd6 {ci-dessus}) 21... Qxe5 22. Rd1+ Kc7 $8 (22... Ke8 $2 23. Bc6#) (22... Bd6 23. Bf4) (22... Qd4 23. Bf3) 23. Bf4 $8 Qxf4 24. gxf4 Kxb7 25. Rc1 $1 (25. Rd8 $6 {Marin} Kc6 {(/\Bg7, / \Kb5)} 26. Rc8+ Kb5 $1 27. Nxc5 $8 Bxc5 28. Rxh8 c3 {IS} 29. bxc3 bxc3 $17) ( 25. Rd7+ $1 Kc6 26. Rxf7 a5 27. Kf1 Kb5 28. b3 c3 29. Ke2 Bd6 30. Rb7+ Kc6 $8 31. Rb6+ Kd5 32. Ra6 $11) 25... c3 (25... Rh6 26. Rxc4 Kc6 $10 {AS} 27. b3 Rxf6 28. Nb2 Rd6) (25... Kc6 26. Rxc4 Rh6) 26. bxc3 Rh6 27. cxb4 cxb4 28. Nc5+ Bxc5 29. Rxc5 Kb6 30. Rc4 (30. Rf5 a5) 30... a5 $11) (20... Qd7 $6 21. Rxe5 (21. Rad1 Nd3) 21... Qxb7 (21... Qxa4 22. Bf4 Bd6 23. b3 Bxe5 24. Rd1+ Qd7 25. Rxd7+ Kxd7 26. Bxe5 c3 27. Be4 Ke6 28. Bf4 Rd8 29. Bc2 $18) (21... Kc7 22. Nxc5 Bxc5 23. Rxc5+ Kxb7 24. Rxc4 Qb5 25. Rg4) 22. Rd1+ Kc7 23. Bf4 Kc6 24. Re8 Kb5 25. Rb8 (25. b3 {Stohl} Qf3 26. Rb8+ Kc6 27. Rdd8 cxb3 28. axb3 Qxb3) 25... Qxb8 26. Bxb8 Kxa4 27. Rd7 c3 (27... Bh6 28. Be5) 28. bxc3 bxc3 29. Be5 c2 30. Bb2 Bh6 31. f4 Rb8 32. Rxa7+ Kb5 33. Rxf7 Kc4 34. Ba3 $16) (20... Rh5 21. Rxe5 (21. h4 {IS}) 21... Qxe5 22. Rd1+ Kc7 23. Bf4 Qxf4 24. gxf4 Kxb7 25. Rd7+ {IS}) 21. Bg2 $1 (21. Rxe5 $6 Qxe5 22. Bf4 Qxf4 23. gxf4 Kxb7 {above}) 21... Qd7 ( 21... Bh6 22. Bxh6 Rxh6 23. f4 Rh5 24. Re4) 22. Bf4 $1 {"Probably the move forgotten by Piket" (AS).} (22. b3 Nd3) 22... Qxa4 23. Bxe5+ (23. a3 $1 Bd6 ( 23... Qd7 24. axb4 $18 {AS}) (23... b3 24. Bxe5+ Kc8 25. Rad1) 24. axb4 Qxb4 25. Bxe5 $40 {AS}) (23. b3 $1 {Marin} Qa6 (23... cxb3 24. axb3 Qxb3 25. Rxa7+ $40) (23... Qa3 24. Bxe5+ Kb6 25. bxc4) 24. Rxe5 Kc8 (24... Bd6 25. Rxc5+ Kb8 26. Rc6) (24... Kb6 25. Re8 Bg7 26. Rd1 $1 Rxe8 27. Rd6+) 25. Re8+ (25. Rd1 Bd6 26. Rxd6 Qxd6 27. Re8+ Rxe8 28. Bxd6 Re1+ 29. Bf1 c3) 25... Kd7 26. Rb8 cxb3 27. Rd1+ Ke6 28. Re8+ Kf5 (28... Kxf6 29. Be5+) 29. Be4+ Kg4 (29... Kxf6 30. Be5+ Kg5 31. Bxh8 $40) 30. f3+ Kh5 (30... Kh3 31. Bf5#) 31. Rd5#) 23... Kb6 ( 23... Bd6 24. Bxd6+ Kxd6 25. b3 $3 {(d1)[#] } cxb3 (25... Qa3 26. Re7 {/\Rd1#}) 26. axb3 Qxb3 (26... Qb5 27. Re7 Qd3 28. Be4 Qe2 29. Bb7 Qd3 30. Ra6+) 27. Ra6+ Kc7 28. Rxa7+ Kb6 (28... Kd6 29. Ra6+ Kc7 30. Re7+ Kb8 31. Ra8#) (28... Kb8 29. Ra8+ Kc7 30. Re7+ Kb6 31. Rb7#) 29. Rb7+ Ka6 30. Ra1+) 24. Rad1 $1 $18 (24. a3 $6 Qd7 $13 {AS}) 24... Rh5 (24... Qxa2 25. Ra1 $1 (25. Rd8 $1 Kb5 26. Bd5 $18) 25... Qb3 26. Red1 $18) (24... Bh6 25. Rd6+ Ka5 26. b3 (26. Bb7 Qb5 27. Bc6) 26... Qxa2 (26... cxb3 27. Bf1 $18) (26... Qe8 27. bxc4 $40 Bf8 28. Rc6 $18) ( 26... Qa3 27. Bb7 Kb5 28. bxc4+ Kxc4 29. Ba6+) (26... Qb5 27. Bf1) 27. Ra1 Qxa1+ 28. Bxa1 {(menace Ff1)} Re8 29. Bf1 {(ou Rf1)} Re1 30. Kg2 Bf8 (30... Rxf1 31. Kxf1 cxb3 32. Rd7) 31. Rc6 Kb5 32. Rc8 $18) 25. Rd8 Rxe5 $8 (25... Bh6 26. Rb8+ Ka5 (26... Ka6 27. Bb7+ Kb6 28. Bd5+) 27. Bc7+ Ka6 28. Bb7+ Kb5 29. Bd5+) 26. Rxe5 c3 (26... Bh6 27. Rd6+ (27. Re7 $1 a6 28. Rd6+ Ka5 29. Ra7) 27... Kc7 28. Rc6+ Kb8 (28... Kd8 29. Rd5+ Ke8 30. Rc8#) (28... Kd7 29. Re7+ Kd8 30. Rd6+ Kc8 31. Bb7+ Kb8 32. Rd8#) 29. Re8+ Kb7 30. Rxc5+ Kb6 31. Rc6+ Kb7 32. Rxc4+ Ka6 (32... Kb6 33. Rxb4+ Qxb4 34. Rb8+ Kc5 35. Rxb4 Kxb4 36. Bd5 $18) 33. Rc6+ Kb7 34. Re7+ Kb8 35. Rd6 Qa5 36. Rdd7 $18) 27. bxc3 bxc3 28. Rb8+ $6 ( 28. Be4 $1 {AS} c2 29. Bxc2 Qxc2 30. Rxf8 Qxa2 31. Kg2 a5 (31... c4 32. Rxf7) 32. h4) 28... Ka5 (28... Ka6 29. Bf1+ Ka5 (29... c4 30. Bh3) 30. Rxf8) 29. Rxf8 Qd1+ 30. Bf1 Qd6 31. Rfe8 (31. Re7 c2 32. Rxa7+ Kb4 33. Rb7+ $1 (33. Rfa8 Kc3 $1 (33... Qc6 34. Rb8+ Kc3 35. Ra3+) (33... c1=Q 34. Ra4+ Kc3 35. Rc4+ Kd2 36. Rxc1 Kxc1 37. Ra4 Kb2 38. Rf4 {AS}) 34. Ra3+ Kd2 35. Re8 c1=Q 36. Re2+ Kd1 37. Rae3) 33... Kc3 34. Rb3+ Kd2 35. Rbb8 c1=Q 36. Rbd8) (31. Ree8 $3 c2 (31... Qxf6 32. Rb8 c4 33. Rfc8) 32. Rxf7 $1 {[#]} c1=Q (32... a6 33. Re1 c4 34. Rfe7 Qxf6 35. R7e5+ Kb4 36. R5e4) 33. Rxa7+ Kb4 34. Rb7+ Kc3 35. Rb3+ Kc2 (35... Kd2 36. f7 Qa6 37. Rb2+ $1 Kc3 38. Rbe2 $1) 36. Re2+ Kd1 37. f7 $1 Qa1 38. Rf3 $18) 31... c2 32. Re1 Qd1 33. R8e7 $1 Kb6 (33... c1=Q 34. Rxd1 Qxd1 35. Rxa7+ Kb6 36. Rxf7 c4 37. Re7 c3 38. f7 Qf3 39. Re3 Qxf7 40. Rxc3 $18) 34. h4 $1 c1=Q 35. Rxd1 Qxd1 36. Rxf7 c4 (36... Qa1 37. h5 Qxa2 38. Rd7 Qe6 39. f7 Qf6) 37. Re7 c3 38. f7 Qf3 39. Rb7+ $1 (39. Re3 Qxf7 40. Rxc3 Qxa2 $132 {o^a}) 39... Kc5 (39... Qxb7 40. f8=Q c2 41. Qb4+ Kc7 42. Qf4+) (39... Kxb7 40. Bg2) 40. Rc7+ Kd6 41. Bg2 (41. Rxc3 $18 {AS}) 41... Qd1+ (41... Qxf7 42. Rxf7 c2 43. Rf6+ Kd7 44. Rc6 ) (41... Qf5 42. Be4 $1) 42. Kh2 Kxc7 43. f8=Q c2 44. Qf4+ Kb6 45. Bf3 $1 (45. Bf3 Qb1 46. Be4 $18) 1-0